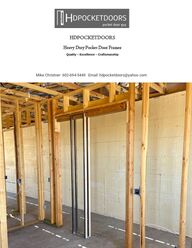 Return to flip book view
HEAVY DUTY POCKET DOOR FRAMES
Page 1
HDPOCKETDOORS
Heavy Duty Pocket Door Frames
Mike Christner 602-694-5449 Email: hdpocketdoors@yahoo.com
Quality – Excellence – Craftsmanship
Page 2
HDPOCKETDOORS has a reputation for quality craftsmanship while providing stellar service. We specialize in superior heavy duty pocket door frames.
Our Pocket door frames are available in an all-inclusive kit for a complete installation by the consumer. The system consists of snap in place tubular steel post which prevent and warping and twisting while providing strength and stability.
We utilize the best track and hardware on the market providing multiple hardware choices with specific weight ratings to fit your specific application. We provide a 1-1/2" T floor guide which can be installed on the sub floor.
Our most popular track and hardware series is the Grant SD rated for up to 150# doors and the Grant HD rated for up to 325# doors equipped with ball bearing nylon rollers, both are compatible with our silent system with soft close soft open. (The silent system with soft close open requires a minimum 28" wide door.)
All our tracks are attached to an LVL header assembly where the hardware is pre-loaded. This is a superior material used only in our header assemblies, which stays flat and straight leading to an easy and precise installation.
Kits are available in standard door sizes in our web store.
Stock sizes include 6/8, 7/0, 8/0 for both2x4 and 2x6 walls. However, our custom products can be for any door or wall sizes including arches and converging doors.
For custom applications Contact Mike 602-694-5449 hdpocketdoors@yahoo.com
Christner Construction, Inc. dba HDPOCKETDOORS
44329 N. 11th Street New River, Arizona 85087
Director of Operations Mike Christner 602-694-5449 hdpocketdoors@yahoo.com
http://www.heavydutypocketdoorframes.com
Quality – Excellence – Craftsmanship
Introduction
Page 3
HDPOCKETDOORS Manufactures Heavy Duty Pocket Door Frame Kits. Shipping Nationwide. Learn more about us on our blog.
Blog
Page 4
Browse our installation videos on our YouTube channel
Page 5
Page 6
Page 7
Page 8
Page 9
Page 10
Page 11
Page 12
Page 13
HEAVYDUTYPOCKETDOORFRAMES.COM SHOP OUR WEB STORE:
Christner Construction, Inc. dba HDPOCKETDOORS
44329 N. 11th Street New River, Arizona 85087
Director of Operations Mike Christner 602-694-5449 hdpocketdoors@yahoo.com
http://www.heavydutypocketdoorframes.com
Page 14
Thanks for browsing our online booklet. We look forward to working with you. Contact: Mike Christner
Christner Construction, Inc. dba HDPOCKETDOORS
44329 N. 11th Street New River, Arizona 85087
Director of Operations Mike Christner 602-694-5449 hdpocketdoors@yahoo.com
http://www.heavydutypocketdoorframes.com
Follow us on Instagram