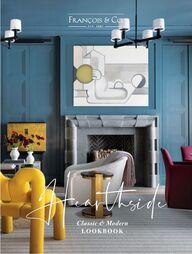 Return to flip book view
Hearthside Collection - Moderne
Page 1
No 04 MODERNE 
Page 2
The Hermes Moderne Hearthside Mantel.
Page 3
"For two decades this year, François & Co. has upheld its absolute pledge to meticulous craftsmanship and timeless design. Every material, every sculptural element in our carefully-curated collection is something we have fallen in love with. Let this booklet serve as your introduction to the François & Co. product line—a 'distilled' version of our product offerings. Thierry François founder /principal"
Page 4
Page 5
MODERN DESIGN IS KNOWN FOR ITS CLEAN LINES WITH FEW ORNAMENTAL FLOURISHES TO INTERRUPT THEM. Geometric shapes, including squares and rectangles, circles and ovals, create some of these lines. The eect is sophisticated, minimal, and streamlined—yet inviting. Each carefully chosen piece of furniture or art makes a tremendous impact.
Page 6
04 ARCHITECTURALS COLLECTIONMODERNE a lifestyle
Page 7
05HEARTHSIDE MANTELS'MODERN STYLE ' IS INFLUENCED BY THE MODERN ART MOVEMENT OF THE LATE 19TH TO EARLY 20TH CENTU RY.It often incorporates an array of materials, such as wood, glass, plastic, and metals like stainless steel. Flooring is typically hardwood, tile or polished concrete. This aesthetic can work with any interior, however it lends itself particularly well to industrial spaces, or new homes with large, uncovered windows and high ceilings. Walls and furnishings tend to come in shades of white, neutral, or black, with occasional bold splashes of color in the form of an accent wall, large-scale pieces of art, or geometric floor coverings. Often a textured architectural element is highlighted, such as wooden beams, brick walls, or exposed air ducts.
Page 8
The Digne featured in De Corbusier Pewter. Photography by Max Kimbee.
Page 9
The Digne featured in De Corbusier Pewter. Photography by Max Kimbee. manierp. 20hermesp. 22madisonp. 24calixp. 26cleop. 28varianp. 30elitep. 08atriump. 12dignep. 14modenop. 16calypsop. 18MODERNE
Page 10
08 ARCHITECTURALS COLLECTIONPHOTOGRAPHYEmily J. FollowillINTERIOR DESIGNRobert Brown InteriorstheELITEThe dominant right angles of the Elite mantel are offset by its two gently-rounded concave inner panels for a balanced, modernist effect.ModerneCBACBALM54"63 ¾"42"47 ¾"48"54"
Page 11
The Elite featured in Atlanta Homes and Lifestyles magazine, September 2016
Page 12
10 ARCHITECTURALS COLLECTIONThe Elite featured in Cold Cast Pewter.
Page 13
11HEARTHSIDE MANTELSPHOTOGRAPHYMatthew MillmanINTERIOR DESIGNCandace Cavanaugh Interiors
Page 14
12 ARCHITECTURALS COLLECTIONThe Atrium as featured on Front Cover in Scagliola Stone™ Volcana.
Page 15
13HEARTHSIDE MANTELSCBAPHOTOGRAPHYEmily J. FollowillINTERIOR DESIGNJames Farmer DesigntheATRIUMThe solid block construction of the Atrium mantel may be imposing, yet its concave shape is soft and inviting. This design offers a uniquely striking way to accent a modern interior.ModerneCBAM68 ¼"47 ½"54 ½"
Page 16
14 ARCHITECTURALS COLLECTION PHOTOGRAPHY Erica George Dines INTERIOR DESIGN John Oetgen Design
Page 17
15HEARTHSIDE MANTELSCBAtheDIGNEDignified in its simplicity, the clean, unadorned lines of the Digne mantel will easily compliment a wide variety of decors.ModerneCBAMS58"63 ½"42"42"48"53 ¼"
Page 18
16 ARCHITECTURALS COLLECTIONtheMODENOThe Modeno features a straight lintel. Simple and bold, this mantel has a clear definition and masculine appeal.ModerneABCCBAMS58"66 ¼"42"42 ¼"48"55 "
Page 19
17HEARTHSIDE MANTELSPHOTOGRAPHY Joe LoehleINTERIOR DESIGN Valarie Britz Interiors
Page 20
18 ARCHITECTURALS COLLECTIONABCtheCALYPSOThe Calypso's smoothly curved structure is accented with bold quoin accents allowing for an elegant juxtaposition of hard and soft.ModerneCBAL85"56"60 ¾"
Page 21
Page 22
20 ARCHITECTURALS COLLECTIONINTERIOR DESIGN Christopher Burns
Page 23
21HEARTHSIDE MANTELSCBAtheMANIERThe Manier is a simple and elegant mantelpiece featuring a linear molded body that incorporates convex and concave elements, resulting in a strong, yet delicate statement.ModerneCBAMSL60"66"72"42"48"54"48"50"56"
Page 24
22 ARCHITECTURALS COLLECTIONModernetheHERMESThe Hermes mantel's elegant and clean lines are pure. It boasts a protruding and elliptical shelf supported by two strong pilasters.CBAPHOTOGRAPHYEmily J. FollowillINTERIOR DESIGNThe Design Atelier: Melanie MillnerCBALM65"82 ½"49"58 ½"51"60 ¼"
Page 25
23HEARTHSIDE MANTELSThe Hermes also featured on inside of Front Cover.
Page 26
PHOTOGRAPHYEmily J. Followill INTERIOR DESIGNBeth Webb Interiors
Page 27
25HEARTHSIDE MANTELSCBAtheMADISONThe Madison's bold geometric shape is inspired by the Art Deco movement. The minimalist, stepped rectilinear design weaves an aura of tranquility and elegance.ModerneCBAMSXLL56"62"64"41"47"44"48"50"58"68"53" 54"
Page 28
26 ARCHITECTURALS COLLECTIONCBAtheCALIXThe Calix is characterized by its clean lines and a dimensional profile. There is a robust feel to this beautifully proportioned surround.ModerneCBAMSL61 ⁄"67 ⁄"73 ⁄"42" 48" 54" 48" 50" 50"
Page 29
27HEARTHSIDE MANTELSPHOTOGRAPHYEmily J. Followill
Page 30
28 ARCHITECTURALS COLLECTIONPHOTOGRAPHYMali AzimaINTERIOR DESIGNShayelyn Woodbery
Page 31
29HEARTHSIDE MANTELSACBtheCLEOSolid, bold and sculptured, the Cleo's surround is subtly defined by a curved profile reflecting a keen sense of scale.ModerneCBAMSL64"70"76"40"46"52"48"50"50"
Page 32
30 ARCHITECTURALS COLLECTION NOTE: Width/Height Adjustable.CBAtheVARIANThe Varian is a sculptural element subtly defined by curved lines and clear sense of refined balance.Moderne
Page 33
31HEARTHSIDE MANTELS The Varian featured in Scagliola Stone™ Volcana.
Page 34
moderne I classic R ANGE HOODDISCOVERouralsoCL ASSIC&MODERNEcollections
Page 35
The Cinto from our Moderne Collection.
Page 36
ATLANTA I SAN FRANCISCO I MINNEAPOLIS I DENVER I CHARLOTTE I NASHVILLE I PALM BEACH I NAPLES FRANÇOISANDCO.COMsales & support 888.313.3237architecturalsHearthside Mantels Range HoodsElements of AccentsurfacesWood Stone Terra Cotta Mosaics PewterBrassCopper