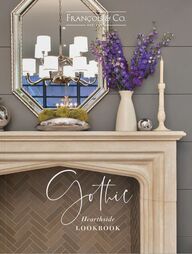 Return to flip book view
Hearthside Collection - Gothic
Page 1
No 03 GOTHIC 
Page 2
The Bourgogne original Antique Reproduction Mantel.
Page 3
"For two decades this year, François & Co. has upheld its absolute pledge to meticulous craftsmanship and timeless design. Every material, every sculptural element in our carefully-curated collection is something we have fallen in love with. Let this booklet serve as your introduction to the François & Co. product line—a 'distilled' version of our product offerings. Thierry François founder /principal"
Page 4
GOTHIC COLLECTIONthePROVINCIAL / URBAN
Page 5
GOTHIC DESIGN BRINGS TO MIND THE IMPOSING FACADE OF NOTRE DAME CATHEDRAL IN PARIS—Great stone monuments to God, that reach for the heavens and tower over the surrounding town. Airy vaulted arches, flying buttresses, and vast stained-glass windows depicting detailed religious scenes are some typical features. 'Gothic style' is redolent of luxury and opulence, conjuring romance and power.
Page 6
04 ARCHITECTURALS COLLECTIONGOTHIC STYLE an air of mystery
Page 7
05HEARTHSIDE MANTELSGOTHIC ARCHITECTURE EMERGED IN NORTHERN FRANCE AROUND 1100 AND FLOURISHED IN EUROPE THROUGHOUT THE MEDIEVAL PERIOD.First applied to important churches, fine examples of Gothic architecture can be found among the great cathedrals and abbeys of Europe, including Notre Dame de Paris. Majestic dimensions characterized the architecture with ample light, and soaring heights. In their day, these cathedrals would have been the tallest buildings most had ever seen, proclaiming the power of the religious institutions they represented. Over time, the 'Gothic style' of architecture filtered down to smaller churches and secular structures. Gradually the style fell out of favor by the 16th Century—until it was enthusiastically embraced by a 19th Century Victorian Neo-Gothic revival.
Page 8
Page 9
p. 18 p. 20 p. 23 p. 26p. 28p. 31p. 09p. 10p. 13p. 17gothic
Page 10
08 ARCHITECTURALS COLLECTION PHOTOGRAPHY Susan Gilmore BUILDER Lake Country Builders
Page 11
09HEARTHSIDE MANTELSGothictheMASSALIAThe Massalia is a substantial neo-Gothic mantelpiece featuring an ornate, decorative frieze with five stylized quatrefoils over a vaulted opening. The castellated shelf is also reminiscent of medieval architecture.ACBCBALM77 ½"88"46 ½"46 ½"70"70"
Page 12
10 ARCHITECTURALS COLLECTIONtheBEAUCHAMPSA Gothic mantelpiece of exceptional refinement, the Beauchamps features an elegant design that highlights its carefully calculated architectural proportions.GothicABCCBAMSL59 ½"65 ½"71 ½" 42" 48"54"50½" 56½" 52½" NOTE: Shelf Optional. Adjusted height to include Shelf.
Page 13
11HEARTHSIDE MANTELSPHOTOGRAPHYRaeford Dwyer INTERIOR DESIGNAnne Chessin Design The Beauchamps featured on Front Cover.
Page 14
thePUGINThe Pugin is a beautifully rendered Gothic mantelpiece with a deeply carved, graceful motif and a vaulted opening. This mantel is available with a choice of two bas-relief designs and an optional shelf.Gothic
Page 15
13HEARTHSIDE MANTELSACBCBAMSL61 ½"67 ½"72" 42" 48" 47" 48" 50" 62" NOTE: Ornate Foliage Carvings Optional. PHOTOGRAPHYErica George DinesINTERIOR DESIGNJoel Kelly Design
Page 16
SCAGLIOL Astone™ ...discoverFRANÇOIS & CO.
Page 17
The Massalia Hearthside Mantel detail featured in Scagliola Stone™""By extracting the essence of the Scagliola technique, an original process of forming hand-crafted limestone and marble, our Scagliola Stone™ has the look of natural, hand-cut stone. Using an intricate, artisanal approach, this one-of-a-kind "cross-batch" technique provides the antique character found in each piece. Various stains and colorings add the charm of age and texture resulting in the finest of handmade stone available. —Thierry François
Page 18
PHOTOGRAPHYEmily Followill INTERIOR DESIGNMelanie Turner Interiors
Page 19
17HEARTHSIDE MANTELStheEDWINA fine example of a Gothic/Tudor fireplace featuring a low pointed arch opening beneath finely carved spandrels inset with carved florals and an oak leaf detail.GothicCBACBAS76"52 ½"49 ¼" antique reproduction sealGenuine Impression of the Original
Page 20
18 ARCHITECTURALS COLLECTIONtheBOURGOGNE A stunning reproduction of an early 17th century Gothic mantel. Acquired from an antique dealer in France, the original is one-of-a-kind. The Bourgogne features richly detailed carvings with crisp Gothic ornamentations. The frieze is entirely covered with a very high-relief sculpture (linen folds). A central cartouche presents a shield carved with a decorative "Fleur-de-Lys" symbol.GothicCBAARM73"92 ¾"49 ½"61 ⁄"61"78 ⁄"ACB antique reproduction sealGenuine Impression of the Original
Page 21
OrigineLe StyleGothic Bourgogne PHOTOGRAPHY Colleen Duffley INTERIOR DESIGN Susan Bohlert Smith
Page 22
20 ARCHITECTURALS COLLECTIONtheNOTRE DAMEThe neo-Gothic Notre Dame features an arched lintel supported by a set of columns. The frieze is richly decorated with carved motifs inspired by Gothic tracery.GothicABCCBALMXL81 ½"92 ½"123" 51" 50 ¾"81 ¼"70" 72" 72"
Page 23
21HEARTHSIDE MANTELSPHOTOGRAPHYMargot Hartford
Page 24
Page 25
23HEARTHSIDE MANTELStheLA ROCHELLEThis 17th century reproduction of a one-of-a-kind Gothic mantel features a richly decorated high relief frieze that rests on powerful jambs made of bundled columns. The elaborate and intricate carvings include a pair of dragons that guard the central crest. A unique mantelpiece where the integrity of the original artist's work remains astonishingly pristine. The execution of this masterpiece will have special appeal for the connoisseur.GothicABC antique reproduction sealGenuine Impression of the OriginalCBAS87 ¾"46"74 ⁄"
Page 26
Each and every one of the François & Co. Period Reproduction pieces is born from the original antique— "The Masterpiece." We scrupulously follow the molding techniques and the exacting processes used by museums to capture and preserve the integrity of masterworks of all kinds. —Thierry François""
Page 27
The Bourgogne original Antique Reproduction.
Page 28
26 ARCHITECTURALS COLLECTIONtheLILY MARIEThe Lily Marie, a petite Gothic mantel, is a charming piece detailed with an intricate floral carving and a decreasing progression of smooth arches.GothicABCCBAM69 ½"40"54 ¾"
Page 29
27HEARTHSIDE MANTELS PHOTOGRAPHY IBI Designs: Edward Butera
Page 30
28 ARCHITECTURALS COLLECTIONtheVICTORIAThe Victoria is richly decorated with carved motifs reminiscent of Gothic architecture. The jambs are adorned with delicate bas-reliefs, while the arched opening is framed by two spandrels featuring quatrefoil motifs.GothicABCCBAS76 ½"48"70 ⁄" antique reproduction sealGenuine Impression of the Original
Page 31
The Victoria featured in Atlanta Homes and Lifestyles magazine, Feb 2016 PHOTOGRAPHYErica George DinesINTERIOR DESIGNCarol Weaks Interiors
Page 32
30 ARCHITECTURALS COLLECTION The Flixton mantel featured with an embellished Grapevine Frieze. INTERIOR DESIGNSuzanne Kasler Interiors BUILDERPhillip Clark Custom Builders
Page 33
31HEARTHSIDE MANTELStheFLIXTONThe Flixton is a Tudor-style fireplace mantel with a characteristic arched opening, recessed spandrels, plain jambs and beveled inside edge. The front of the frieze is embellished with a grapevine design.GothicABC NOTE (RIGHT): Also Available without Grapevine Frieze Detail.CBAMSL65"72"77"40⁄"48"52⁄"48 ½"52"55 ½"
Page 34
moderne I classic R ANGE HOODDISCOVERouralsoCL ASSIC&MODERNEcollections
Page 35
The Constantine from our Moderne Collection.
Page 36
ATLANTA I SAN FRANCISCO I MINNEAPOLIS I DENVER I CHARLOTTE I NASHVILLE I PALM BEACH I NAPLES FRANÇOISANDCO.COMsales & support 888.313.3237architecturalsHearthside Mantels Range HoodsElements of AccentsurfacesWood Stone Terra Cotta Mosaics PewterBrassCopper