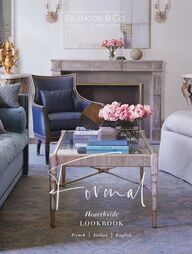 Return to flip book view
Hearthside Collection - Formal
Page 1
 No 02 FORMAL
Page 2
The Tourvel original Antique Reproduction mantel.
Page 3
"For two decades this year, François & Co. has upheld its absolute pledge to meticulous craftsmanship and timeless design. Every material, every sculptural element in our carefully-curated collection is something we have fallen in love with. Let this booklet serve as your introduction to the François & Co. product line—a 'distilled' version of our product offerings. Thierry François founder /principal"
Page 4
TAKING INSPIRATION FROM THE DRAWING ROOMS AND SALONS OF PARIS, LONDON, OR ROME IN THE 18TH AND 19TH CENTURIES, FORMAL STYLE IS A PORTAL TO A MORE ROMANTIC ER A.The décor may be grand or intimate, opulent or austere, but it is always refined, elegant and charming. It's founded on harmonious classical proportions, pleasing sinuous lines, and delicate, finely-detailed ornamentation. Naturally, the vintage and the antique take pride of place. Although traditional, there is room to express one's personality through carefully chosen treasured objects. And, of course, the focal point of any room is a classic mantel.This era in decorative arts is characterized by superb craftsmanship, which drew on the fine arts of painting and sculpture. Rococo and Baroque came to prominence during this period. The style is lavish, opulent, and highly ornamental, yet also playful. URBAN / ESTATE FORMAL COLLECTIONthe
Page 5
frenchp. 04italianp. 36englishp. 62
Page 6
04 ARCHITECTURALS COLLECTIONFRENCH FORMAL a lifestyle
Page 7
05HEARTHSIDE MANTELSWHEN WE THINK OF 'FRENCH FORMAL STYLE', WE THINK OF THE GRANDEUR OF LOUIS XIV THROUGH LOUIS XVI, THE PALACE OF VERSAILLES AND THE GRAND MAISONS OF PARIS—a style considered the height of elegance and refinement, which enchants us to this day. Furniture and architectural elements made liberal use of exotic woods, marble, and gilt. Architecture employed fluid, asymmetrical lines and graceful curves, accented with light colors and intricately delicate, yet complex patterns. In keeping with this sensibility, French Formal interior décor tends toward ornate furniture, ornamental mirrors, tapestries, wall paintings, decorative friezes and plasterwork.
Page 8
Page 9
p. 20p. 25p. 26p. 28p. 31p. 32p. 34p. 08p. 11p. 12 p. 15p. 18french formal
Page 10
08 ARCHITECTURALS COLLECTIONtheBUSSETThe sleek lines of this mantel are typical of Louis XVI style. The straight jambs are topped with rosettes. The entablature features a motif of volute waves running across a set of symmetrically unfolding pomegranates.French FormalACB antique reproduction sealGenuine Impression of the OriginalCBAS61" 50 ½" 45 ¼"INTERIOR DESIGNSuzanne Kasler Interiors
Page 11
09HEARTHSIDE MANTELSOrigineLe StyleLouis X VIBourgogne
Page 12
10 ARCHITECTURALS COLLECTIONOrigineLe StyleLouis X VICharente
Page 13
11HEARTHSIDE MANTELStheMOSELLEThe entablature of this classic Louis XVI style mantel is delicately decorated with fluting and a paneled tablet at its center. Two elegant rosettes rest on straight jambs featuring a set of stopped flutes or cabled fluting.French FormalACB antique reproduction sealGenuine Impression of the OriginalCBAS 63 ¾" 52 ¼" 45 ⁄"
Page 14
12 ARCHITECTURALS COLLECTIONtheMUSEA beautifully executed piece featuring classic stop fluted jambs surmounted by square paterae. The frieze is decorated with an exquisitely carved centerpiece bearing musical instruments. The original was discovered buried in the basement of a Paris antique dealer.French FormalACB antique reproduction sealGenuine Impression of the OriginalCBAS60 ⁄" 50" 43 ¼"
Page 15
13HEARTHSIDE MANTELSOrigineLe StyleLouis XVIParis
Page 16
14 ARCHITECTURALS COLLECTIONINTERIOR DESIGN Suzanne Kasler Interiors
Page 17
15HEARTHSIDE MANTELSFrench FormaltheMONT RICHARDTypical of the reign of Louis XV, this mantel features a classic bolection molding profile. Its simple uncluttered lines combined with generous curves makes this mantelpiece compatible with classic or contemporary interiors. The Mont Richard also has optional cornice shelves typically seen in bolection style mantel combinations.ACB antique reproduction sealGenuine Impression of the OriginalCBAMSLL60"66"70"43 ¼"49 ¼"53 ¼"48"48"56"74 ½" 57 ¾" 56"
Page 18
16 ARCHITECTURALS COLLECTIONOrigineLe StyleLouis XIVParis
Page 19
17HEARTHSIDE MANTELSThe Mont RichardPHOTOGRAPHYEmily J.FollowillINTERIOR DESIGNSmith Boyd InteriorsPROFILE 1: optional shelvesPROFILE 1: PROFILE 2:
Page 20
18 ARCHITECTURALS COLLECTIONABCtheCAPRIA striking design of elegant architectural form, the Capri incorporates a corniced shelf and bolection moulding.French FormalCBAMSL58 ½"64 ½"70 ½"40"46"52"55 ¾"55 ¾"59 ¾" NOTE: Also Available without Mantel Base.
Page 21
Page 22
20 ARCHITECTURALS COLLECTIONtheJOSEPHINEThis classic Louis XVI mantel features two fluted half columns as jambs. They are crowned by capitals with carved acanthus leaves. The frieze is sculpted with a quiver, a bow and laurel branches. French FormalACB antique reproduction sealGenuine Impression of the OriginalCBAS65 ⁄" 46 ⁄"41 ⁄"
Page 23
21HEARTHSIDE MANTELSOrigineLe StyleLouis XVILyon PHOTOGRAPHY Erika George Dines INTERIOR DESIGN CREDIT Suzanne Kasler Interiors
Page 24
22 ARCHITECTURALS COLLECTION The Perigord Antique Reproduction featured in Scagliola Stone™ SCAGLIOLAstone™...discoverFRANÇOIS & CO.
Page 25
23HEARTHSIDE MANTELS"By extracting the essence of the Scagliola technique, an original process of forming hand-crafted limestone and marble, Scagliola Stone™ has the look of natural, hand-cut stone. Using an intricate, artisanal approach, this one-of-a-kind "cross-batch" technique provides the antique character found in each piece. Various stains and colorings add the charm of age and texture resulting in the finest of handmade stone available. —Thierry François"
Page 26
24 ARCHITECTURALS COLLECTIONOrigineLe StyleLouis XIVBourgogne PHOTOGRAPHYEmily J. Followill INTERIOR CREDITMelanie Turner Interiors
Page 27
25HEARTHSIDE MANTELSthePERIGORDThis is a beautifully ornate reproduction of a rare Régence period mantel, circa 1720. The frieze is finely carved with a flourishing central motif of flowers and foliage. The top and bottom of the jambs are also adorned with fine foliage carvings.French FormalACB antique reproduction sealGenuine Impression of the OriginalCBAS67 ⁄" 52 ⁄" 43⁄"
Page 28
26 ARCHITECTURALS COLLECTIONtheESTERELThe curved and paneled jambs of the Esterel support a serpentine shaped shelf decorated with a carved floral motif in the center. Pastoral themes like these were very popular during the 18th century.French FormalABC antique reproduction sealGenuine Impression of the OriginalCBAS53 ¼" 43 ¾" 45"
Page 29
OrigineLe StyleLouis XVBordeaux
Page 30
28 ARCHITECTURALS COLLECTIONINTERIOR DESIGNSuzanne Kasler InteriorstheLOUISA Classic Louis XV style mantel with generous curves. The paneled legs with acanthus leaves on the bases rise up to end on consoles decorated with scroll and leaf motifs. The frieze features a beautiful carved inverted shell with foliage at its center.French Formal antique reproduction sealGenuine Impression of the OriginalCBACBAMSAR56 ¼"73 ½"73 ½"40 ¼"52 ½"52 ½"43 ¼"44 ¼"53 ⁄"
Page 31
29HEARTHSIDE MANTELSOrigineLe StyleLouis XVParis
Page 32
OrigineLe StyleRégenceBordeauxPHOTOGRAPHYEmily J. Followill
Page 33
31HEARTHSIDE MANTELStheMADELEINEThe Régence style ornamentation is present throughout this mantel, such as the richly detailed shell in the center of the moulded serpentine frieze and the scrolls sculpted in low-relief on each jamb resting on endblocks.French FormalCBAS65 ½" 47 ⁄" 44 ¾"ACB antique reproduction sealGenuine Impression of the Original
Page 34
32 ARCHITECTURALS COLLECTIONtheMANDELIEUThe Mandelieu is a French Régence mantel with elegant contours highlighted by boudin moldings running along the jambs and hearth opening. It has an unusual central carving of an inverted shell and foliage on the frieze. It is featured here with a Louis XIV detailed overmantel.French FormalCBAS65 ½" 51 ½" 46 ¼" antique reproduction sealGenuine Impression of the OriginalCBA
Page 35
33HEARTHSIDE MANTELS PHOTOGRAPHY Thomas WatkinsOrigineLe StyleRégenceLorraine
Page 36
34 ARCHITECTURALS COLLECTIONtheCLEMENTEThe city of Poitiers in the region of Poitou-Charentes, France, was the home of the Clemente mantel. Circa 1750, it is a beautiful example of a classic Louis XV style mantel. Its curved lines and thin, delicate jambs make it a rare piece. The Clemente features curved paneled legs and a serpentine molded shelf with a delicate shell carving at its center.French FormalACB antique reproduction sealGenuine Impression of the OriginalCBAS65" 54 ⁄" 48 ⁄"
Page 37
OrigineLe StyleLouis XVPoitiersINTERIOR DESIGNSuzanne Kasler Interiors
Page 38
Page 39
ITALIAN FORMAL STYLE COMES FROM ITS VENERABLE AND CHARMING PALAZZOS where exquisite craftsmanship is a hallmark. The Italian's love of beauty and art is evident everywhere, from captivating trompe-l'œil wall paintings and ceiling frescoes to elaborate stucco friezes and classical mosaics reminiscent of the Renaissance. Italian style may have religious imag-ery and themes, steeped as it is in the history of the Catholic Church. Yet its elegance may be leavened by whimsy, grand proportions and intricate details expressed with exuberance.
Page 40
38 ARCHITECTURALS COLLECTIONITALIAN FORMAL a lifestyle
Page 41
39HEARTHSIDE MANTELSRICH IN HISTORY, 'ITALIAN FORMAL STYLE' IS DOTTED WITH ROMANTIC TERRA COTTA TILE, STONE VILLAS AND PAL A ZZOS —some of which date back to the days of the Roman Empire. 'Italian Formal style' exudes a deeply appealing warmth, a timeless aesthetic which never fails to enchant.With prominent stone fireplaces as focal points; the villas are intended to last generations. Decorative elements include hand-troweled plaster walls and its soft reddish limestone, 'rosso ammonitico', that gives ancient Italian villas their sun-burnished rosy glow. Ceiling architecture is often embel-lished with tiled barrel-ceilings, or massive timber beams, with stucco accents.
Page 42
Page 43
p. 51p. 53p. 55p. 56p. 42p. 44p. 48p. 59p. 60italian formal
Page 44
42 ARCHITECTURALS COLLECTIONtheRENAISSANCEClassically proportioned, this robust mantel is a typical Renaissance piece. The sturdy pilasters curve up into scrolled capitals and support an elegant entablature bearing at its center a rectangular tablet. A succession of recessed and protruding mouldings give a strong architectural relief to this mantel.Italian FormalABCCBAMSL72"78"96 ¼"44 ¼"50 ¼"61"57"57"76"
Page 45
43HEARTHSIDE MANTELSPHOTOGRAPHYThomas WatkinsINTERIOR DESIGNRobert Brown Interiors
Page 46
44 ARCHITECTURALS COLLECTIONtheCHEVALIERThe Chevalier Mantel, a 13th century original, boasts an extraordinary stature and history. The mantel's heavily sculpted legs rise up to two corbels decorated with gargoyle figures which support a shelf enhanced with blazons. The blazon on the right bears a lion and on the left an eagle. The central motif is carved in the shape of an "oriflamme" or medieval banner with pointed streamers.Italian FormalACB antique reproduction sealGenuine Impression of the OriginalCBAS69 ⁄" 50 ⁄" 71 ¼"
Page 47
OrigineLe StyleRenaissanceVendée
Page 48
46 ARCHITECTURALS COLLECTION PHOTOGRAPHY Erica George Dines INTERIOR DESIGN Lindsey Coral Harper, LCH Interiors
Page 49
47HEARTHSIDE MANTELS The Chevalier Antique Reproduction hearthside mantel detail.Each and every one of the François & Co. Period Reproduction pieces is born from the original antique— "The Masterpiece." We scrupulously follow the molding techniques and the exacting processes used by museums to capture and preserve the integrity of masterworks of all kinds. —Thierry François""
Page 50
48 ARCHITECTURALS COLLECTIONtheCHÂTEAUROU XThe Châteauroux is an elegant fireplace mantel featuring an arched opening and pretty foliate carvings. It can be further embellished with our optional lion's head or keystone design.Italian FormalACBCBAMSL70 ⁄"82 ¾"97"48"48"61 ¼"60"65 ½"76" NOTE (PAGE RIGHT): Also available without Foliate Detail, Lions Head and Mantel Base.
Page 51
49HEARTHSIDE MANTELS PHOTOGRAPHY Mali Azima INTERIOR DESIGN K Kong Designs
Page 52
50 ARCHITECTURALS COLLECTION The Château, Walls, Casings and Columns featured in Scagliola Stone™
Page 53
51HEARTHSIDE MANTELSItalian FormaltheCHÂTEAUItalian Renaissance inspired, the Château features a stepped shelf edged with an Egg-and-dart moulding and fluted borders.ACBCBAMSL65"71"74 ½"41 ½"47 ½"51"61"61"61"
Page 54
PHOTOGRAPHY Emily J. Followill INTERIOR DESIGN CREDITMelanie Turner Interiors
Page 55
53HEARTHSIDE MANTELStheVALENZAThe Valenza is an elegant and sophisticated mantel featuring an intricate frieze with fleur-de-lys carvings and elaborately scrolled corbels.Italian FormalACBCBAM68 ½" 36" 53 ½"
Page 56
54 ARCHITECTURALS COLLECTION PHOTOGRAPHY Emily J. FollowillARCHITECTURE Pak-Heydt & Associates
Page 57
55HEARTHSIDE MANTELStheBELLUCCIThe Bellucci exudes Mediterranean charm with its gracefully executed classical details. The cornice is trimmed with a delicate carved leaf frieze and a regal cartouche set in the crown. Four scrolled corbels support the impressive shelf, balancing the proportions of this majestic piece.Italian FormalCBAL104" 48" 71 ½"ACB
Page 58
56 ARCHITECTURALS COLLECTIONtheVALENTINEThis magnificent fireplace of Neo-Renaissance style features a very elaborate decoration carved in low relief. The entablature features an allegorical scene of antique aspiration.Italian FormalABCCBAM65 ⁄" 46 ⁄" 54 ½"
Page 59
57HEARTHSIDE MANTELS PHOTOGRAPHY Emily J. Followill INTERIOR DESIGN CREDIT Suzanne Kasler Interiors
Page 60
58 ARCHITECTURALS COLLECTIONPHOTOGRAPHY Erica George Dines
Page 61
59HEARTHSIDE MANTELStheBORDEAUXThe Bordeaux is a refined mantelpiece featuring an arched opening supported by a pair of clean, smooth columns. This mantel comes in two sizes and we offer an optional fleur-de-lys carving to ornament the façade.Italian FormalACBCBAMSL70"80 ½"96"44 ½"54 ¾"65 ¼"58 ½"58 ¼"67"
Page 62
60 ARCHITECTURALS COLLECTIONtheVILLENEUVEAn imposing, elegant mantel that boldly frames a fireplace, the Villeneuve features a cleanly-sculpted breast supported by a pair of scrolled foliate corbels.Italian FormalACBCBAMSL64 ½"70 ½"76 ½"40"46"52"59 ⁄"59 ⁄"65 ⁄"
Page 63
61HEARTHSIDE MANTELSThe Villenueve featured in Atlanta Homes and Lifestyles magazine, July 2015 PHOTOGRAPHY Emily J. Followill INTERIOR DESIGN Carol Weaks Interiors
Page 64
Page 65
ENGLISH FORMAL STYLE ELICITS ORNATE ARCHITECTURAL ELEMENTS AND FLUID GRANDEUR—high ceilings, tall windows, elaborate wall treatments lined with intricate wall paper and highly polished wood panels or trompe l'œil. Formal Style interior décor is often distinguished by features such as glistening mirrors, luxurious fabrics, and sparkling crystal chandeliers. Color can be bright with chintz florals being especially prominent, tamed with stripes, gingham's and plaids and accented with tassels, fringe and trim.
Page 66
64 ARCHITECTURALS COLLECTIONENGLISH FORMAL a lifestyle
Page 67
65HEARTHSIDE MANTELSENGLISH FORMAL STYLE ENCOMPASSES THE GRACE, RESTRAINED ELEGANCE, AND REFINEMENT OF THE GEORGIANS, AS WELL AS THE LUXURIOUS ABUNDANCE OF THE VICTORIANS. Rich dark colors abound—the red brick of a Victorian brownstone, the deep burgundy of heavy velvet drapes, the variegated reds of textured, patterned wallpaper. Rooms might be filled with mementos and collections, busts, framed paintings, and prints. The Victorians were also known for their intricate patterns—stripes, florals, geometric patterns, damasks, wallpapers, luxurious fabrics and rugs covering every surface, while the Georgians harked back to classical Roman architecture for inspiration, often using delicate gilded details to bring flashes of light and opulence to a room.
Page 68
The Carlisle featured in Scagliola Stone™ Cesarino Marble.
Page 69
p. 74p. 76p. 79p. 69p. 70p. 73english formal
Page 70
68 ARCHITECTURALS COLLECTIONINTERIOR DESIGNSuzanne Kasler Interiors
Page 71
69HEARTHSIDE MANTELStheKENDLESTONA simple and elegant mantel piece with a breakfront shelf and inner moldings running along the hearth opening. A strong architectural piece that will complement a variety of decors.English FormalACBCBALM71 ⁄"77 ⁄"42"48"56"56"
Page 72
70 ARCHITECTURALS COLLECTIONthe CARLISLEAn exceptional fireplace mantel featuring a bolection molding profile. The Carlisle features an unadorned center tablet accenting the shelf with scrolled ornaments flanking on each side.English FormalACBCBAM63" 47 ¾" 68"
Page 73
PHOTOGRAPHY Erica George Dines
Page 74
72 ARCHITECTURALS COLLECTION PHOTOGRAPHY Emily J. Followill INTERIOR DESIGN CREDIT Essary & Murphy
Page 75
73HEARTHSIDE MANTELStheKELMSCOTTBold lines and details make the Kelmscott an impressive mantel with traditional flair. The stepped-out design of the side volutes support a shelf featuring a unique reeded carved pattern.English FormalACBCBAL80" 48" 56"
Page 76
74 ARCHITECTURALS COLLECTIONtheLAUCETONThe frieze of this decorative English fireplace mantel features a rich foliage carving and is flanked with round square paterae. Inverted scrolls on the side of the legs are decorated with vase and foliage motifs as they sweep down to the plinths.English FormalABC antique reproduction sealGenuine Impression of the OriginalCBAS80 ⁄" 48" 56 ½"
Page 77
75HEARTHSIDE MANTELS PHOTOGRAPHY Bruce Buck
Page 78
76 ARCHITECTURALS COLLECTIONtheHERONDENThe Heronden is a very detailed English mantel with a dentil cornice and delicately carved frieze. The center tablet features a vase surrounded with swag and foliage motifs. The legs are ornamented with carved bellflowers tied with ribbons and surmounted by end-blockings with Athenian urn enrichments.English FormalABC antique reproduction sealGenuine Impression of the OriginalCBAS68 ¾" 42" 56 ⁄"
Page 79
77HEARTHSIDE MANTELS PHOTOGRAPHY Emily J. Followill INTERIOR DESIGN CREDIT Jennifer Healey Interiors
Page 80
78 ARCHITECTURALS COLLECTION
Page 81
79HEARTHSIDE MANTELSEnglish FormaltheWOMERSLEYA fine English fireplace mantel featuring an allegorical scene of a woman playing the lyre. Fluting is featured on the jambs and frieze. The jambs are also embellished with carved round paterae and are surmounted by end-blockings decorated with carved urns.ACB antique reproduction sealGenuine Impression of the OriginalCBAS77 ¾" 48" 55"
Page 82
moderne I classic R ANGE HOODDISCOVERouralsoCLASSIC&MODERNEcollections
Page 83
Custom kitchen hood featured in our Classic Collection.
Page 84
ATLANTA I SAN FRANCISCO I MINNEAPOLIS I DENVER I CHARLOTTE I NASHVILLE I PALM BEACH I NAPLES FRANÇOISANDCO.COMsales & support 888.313.3237architecturalsHearthside Mantels Range HoodsElements of AccentsurfacesWood Stone Terra Cotta Mosaics PewterBrassCopper