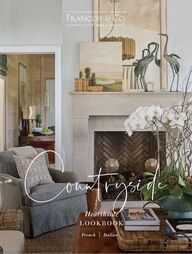 Return to flip book view
Hearthside Collection - Countryside
Page 1
No 01 COUNTRYSIDE 
Page 2
The Bastide Original Antique Reproduction Mantel.
Page 3
"For two decades this year, François & Co. has upheld its absolute pledge to meticulous craftsmanship and timeless design. Every material, every sculptural element in our carefully-curated collection is something we have fallen in love with. Let this booklet serve as your introduction to the François & Co. product line—a 'distilled' version of our product offerings. Thierry François founder /principal"
Page 4
'COUNTRY STYLE' IS, OF COURSE, RUSTIC AND RELAXED, BUT IT IS PARTICULARLY WARM, ELEGANT AND ROMANTIC. In contrast to the more opulent sensibility that might be found in the drawing rooms and salons of Paris, London, or Rome, Country décor is lived-in, timeless, and enduring. It is earthy—using light colors that are complimented by sunlight paired with natural materials and textures; surfaces are gently time-worn, edges softened. 'Country style' represents centuries of slow-paced, yet industrious living; family life centered around a glowing hearth, traditions and methods handed down through generations. It also transports you to gracious outdoor entertaining—Summer days with family and good friends gathered to enjoy fine wine and a simple meal of fresh local ingredients. This is truly 'la belle vie' or 'bella vita.'PROVINCIAL / ESTATE COUNTRYSIDE COLLECTIONthe
Page 5
Page 6
04 ARCHITECTURALS COLLECTIONFRENCH COUNTRY a lifestyle
Page 7
05HEARTHSIDE MANTELS 'FRENCH COUNTRY STYLE' SPRINGS FROM THE GENTLE HILLS AND VALLEYS OF RURAL FRANCE. Stone farmhouses, terra-cotta tiled roofs, fields of fragrant lavender, golden light—it is rustic, warm, welcoming, and unpretentious, with an unstudied elegance. Natural materials like wood and stone figure prominently, and décor is built around a few well-loved family heirlooms. The soft color palate reflects France's bountiful, sun-dappled landscapes, incorporating gentle hues of lavender, yellow, terra-cotta, and pale washes. The eect is humble and authentic, feeding the soul as well as the eye.
Page 8
Page 9
p. 18p. 20p. 24p. 27p. 31p. 33p. 34 p. 37p. 38p. 08p. 11p. 12 p. 17french countryp. 11
Page 10
08 ARCHITECTURALS COLLECTIONtheCAMPANILEFrench Provencial Style. The original, circa 1480-1490, came from a "Mas" (farmhouse) in Provence. The Campanile combines elegant proportions with crisp architectural lines. The wide protruding entablature and deeply curved legs are authentically characteristic of the Louis XIII period. A typical 'French Country' design seen in châteaus and farmhouses across France.French CountryABC antique reproduction sealGenuine Impression of the OriginalCBASXSARL60"66"72"41"47"53"52"54"60"90 ⁄"63 ⁄"73 ¼"70" 51" 54"M
Page 11
09HEARTHSIDE MANTELSPHOTOGRAPHYEmily J. FollowillINTERIOR DESIGNCourtney DickeyARCHITECTURETS Adams StudioOrigineLe StyleLouis XIIIProvence
Page 12
10 ARCHITECTURALS COLLECTIONABCAnjouCBAMSARL66"73"76"45"50"53"52"56"60"85 ⁄"60 ⁄"76"ABCSavignac antique reproduction sealGenuine Impression of the Original
Page 13
11HEARTHSIDE MANTELS The Anjou featured in Atlanta Homes and Lifestyles magazine, September 2016 theANJOU & SAVIGNACFrench Louis XIII, minimal and unadorned, The Anjou is handsomely striking and fits many interior and exterior applications. Its design balances between strong, clean lines and flowing curves and edges.OrigineLe StyleLouis XIIIProvence PHOTOGRAPHY Emily J. Followill INTERIOR DESIGN Westbrook Interiors
Page 14
OrigineLe StyleRenaissanceGordes The Bastide featured in Atlanta Homes and Lifestyles magazine, November 2016
Page 15
PHOTOGRAPHY Erica George Dines INTERIOR DESIGN Huff-Dewberry
Page 16
14 ARCHITECTURALS COLLECTIONThe Bastide also featured on inside of Front Cover. PHOTOGRAPHY Mali Azima INTERIOR DESIGN Wendy Peterson Interiors
Page 17
15HEARTHSIDE MANTELStheBASTIDEAn early 17th century piece, the Bastide has all the characteristics and appeal of a Renaissance period mantel. It features sturdy bases rising up into beautifully carved corbels and a lintel with an exquisitely executed cartouche at its center.French Country antique reproduction sealGenuine Impression of the OriginalACBCBAMM7o"72 ⁄"46 ⁄"44 ½"59 ¼"68 ½"
Page 18
PHOTOGRAPHY Emily J. Followill INTERIOR DESIGN Melanie Turner Interiors
Page 19
17HEARTHSIDE MANTELStheFRENCH COASTALThe French Coastal has a robust Louis-Philippe shelf and a clean linear design. It is a simple piece with rustic French charm.French CountryABCCBAMSXLL64"74"80"39 ½"47 ½"49"52"54"60"86"55"60"
Page 20
18 ARCHITECTURALS COLLECTIONthePROVENCEA classic rustic French mantelpiece, the Provence features a robust shelf resting on a pair of powerful pilasters. A classic design that truly captures the heart of Provence.French CountryABCCBAMSL64"72"80"41 ½"49 ½"53 ½"52"54"61"
Page 21
19HEARTHSIDE MANTELSINTERIOR Ainsworth-NoahThe Provence featured on Front Cover.
Page 22
the AIXOISECirca 1750, the Aixoise mantel has a Louis XV style, featuring a prominent "brow" or "Boudin," along the edge of the lintel. The deep concave carving on the outer legs finishes this exquisite mantelpiece.French Country
Page 23
PHOTOGRAPHY Chris Little INTERIOR DESIGN CREDIT J Hirsch Interiors
Page 24
22 ARCHITECTURALS COLLECTIONOrigineLe StyleLouis XVCharente
Page 25
23HEARTHSIDE MANTELSCBAARM66"74 ¾"48 ¼"57"48"56" antique reproduction sealGenuine Impression of the OriginalABCThe AixoisePHOTOGRAPHYErica George DinesINTERIOR DESIGNJames Michael Howard Interiors
Page 26
24 ARCHITECTURALS COLLECTIONthePARISClassic Louis XIII. This mantelpiece conjures up romantic images of a 19th century Provençal Mas, a traditional stone farmhouse. The Paris comes with an optional acanthus leaf detail.French CountryACBCBAMSL64"70"76"41 ⁄"47 ⁄"53 ⁄"59 ¼"59 ¼"59 ¼" NOTE (PAGE RIGHT): Acanthus Leaf Detail Optional.
Page 27
PHOTOGRAPHY Roger DaviesINTERIOR DESIGN Anthony Baratta
Page 28
26 ARCHITECTURALS COLLECTIONPHOTOGRAPHYEmily J. FollowillARCHITECTURETS Adams StudioOrigineLe StyleLouis XVMeuse
Page 29
27HEARTHSIDE MANTELStheCONDÉThis well executed 18th century Louis XV mantel was discovered in the Meuse region of Northeast France. The gently curved jambs feature decorative moulded panels and fluting. The serpentine shelf is ornate with a central carved "Fleur de Lys" and symmetrical volute motifs.French CountryCBALS64 ¾"74 ¾"53"63"44 ⁄"53" antique reproduction sealGenuine Impression of the OriginalBAC
Page 30
The Pontigny Antique Reproduction featured in Hand Carved Limestone.
Page 31
"Each and every one of the François & Co. Period Reproduction pieces is born from the original antique— "The Masterpiece." We scrupulously follow the molding techniques and the exacting processes used by museums to capture and preserve the integrity of masterworks of all kinds. —Thierry François"
Page 32
30 ARCHITECTURALS COLLECTIONOrigineLe StyleLouis XIVBourgogne ARCHITECT Harrison Designs
Page 33
31HEARTHSIDE MANTELSthePONTIGNYThe Pontigny, an 18th century Louis XIV mantel, was originally discovered in a farmhouse in the region of Bourgogne. The original was carved in limestone giving it a beautiful French country appeal. The mantel has curved paneled jambs and a serpentine moulded shelf. It features a deeply carved "foliage and scrolls" cartouche at its center.French CountryCBAS52 ½" 41 ⁄" 41 ¾" antique reproduction sealGenuine Impression of the OriginalACB
Page 34
32 ARCHITECTURALS COLLECTIONOrigineLe StyleLouis XIIIProvence PHOTOGRAPHY Emily J. Followill INTERIOR DESIGN Chenault James Interiors
Page 35
33HEARTHSIDE MANTELSFrench CountrytheLAUSANNEThe original, circa 1760-1789, was discovered in the Bourgogne region. The Lausanne mantel features delicate lines, refined details, "pieds en demi-lune" (half-moon legs), and a clean, paneled lintel—a petite and charming piece. antique reproduction sealGenuine Impression of the OriginalCBAS58 ⁄" 44 ⁄" 45 ⁄"ACB
Page 36
34 ARCHITECTURALS COLLECTIONCBAMSL60"65"70"43 ¾"48 ¾"53 ¾"48"50"55"ACBtheNORMANDIEA graceful classic, the Normandie features supple lines, inspired by a stone mantel found in the Loire Valley.French Country
Page 37
PHOTOGRAPHY Emily J. FollowillINTERIOR DESIGN Robert Robert Interiors
Page 38
36 ARCHITECTURALS COLLECTIONOrigineLe StyleLouis XVBourgogne PHOTOGRAPHY Emily J. Followill INTERIOR DESIGN Melanie Turner Interiors
Page 39
37HEARTHSIDE MANTELStheSAINT REMIThe Saint Remi is a beautiful reproduction of a 17th century Régence style mantel found on an Estate in Burgundy, France. This elegant mantelpiece features a prominent "brow" moulding running up the jambs and along the arched shelf.French CountryCBALS59" 74 ¼"46 ¼"56 ½"50 ¼"61 ¼"ABC antique reproduction sealGenuine Impression of the Original
Page 40
38 ARCHITECTURALS COLLECTIONCBALS61 ¾"82"48 ½"64 ⁄"47 ⁄"61 ⁄ "theTOURVELThis exquisite French Louis XVI mantel was originally carved from a light cream limestone. The gently curved paneled jambs support an understated, yet elegant lintel. The hearth opening has a crossbow shape allowing very decorative curves.French CountryACB antique reproduction sealGenuine Impression of the Original
Page 41
39HEARTHSIDE MANTELS PHOTOGRAPHY Emily J. FollowillOrigineLe StyleLouis XVICharente
Page 42
Page 43
INSPIRED BY THE TEMPERATE CLIMATE AND LUSH ROLLING HILLS OF OLIVE GROVES, the perfectly spaced slender Italian cypresses lining road-ways, 'Italian Country style' is a timeless aesthetic that never fails to enchant. Rich in history, the Italian countryside is dotted with romantic terra-cotta tiled stone villas and farmhouses, some of which date back to the days of the Roman Empire, 'Italian Country style' is strong, simple, romantic, and rustic.
Page 44
42 ARCHITECTURALS COLLECTIONITALIAN COUNTRY a lifestyle
Page 45
43HEARTHSIDE MANTELSTHE ARCHITECTURE OF THE ITALIAN COUNTRYSIDE IS CHARACTERIZED BY ITS IMPRESSIVE MASONRY, USING LOCALLY AVAILABLE MATERIALS: NATURAL STONE, STUCCO, AND TERRA-COTTA BRICK. Large and small stones are randomly combined in wall con-struction, creating a pleasing effect of undulating, irregular lines, and sturdy walls that can be up to three-feet thick. It's the soft reddish limestone, 'rosso ammonitico', that gives ancient Italian villages their sun-burnished rosy glow—an effect that can be achieved in contemporary décors with natu-ral or cultured stone, or painted stucco. Ceiling architecture is often a highlight, with tiled barrel-ceilings, or massive timber beams, with stucco accents.The traditional Italian country home has a spacious and inviting kitchen with a prominent stone fireplace as its focal point where family and friends gather. Floors are of durable terra-cotta tile, built to last a hundred years or longer.
Page 46
Page 47
 p. 54p. 56p. 61p. 62p. 47p. 50p. 53italian country
Page 48
46 ARCHITECTURALS COLLECTION"The Italian Country palette exudes a warmth that is deeply appealing as a mix of neutrals and earth tones—colors found in nature; rusty orange and moss green, deep blues, muted browns often paired with wood trim. Furniture is heavy, of solid wood—intended to last for generations. —Thierry François"
Page 49
The ToscanePHOTOGRAPHYErica George Dines
Page 50
48 ARCHITECTURALS COLLECTION INTERIOR DESIGN June Price Interiors ARCHITECTURE Linda MacArthur
Page 51
49HEARTHSIDE MANTELSACBtheTOSCANEThe Toscane mantel marries traditional Italian rustic style with Italian flair. This mantelpiece has a commanding presence in addition to an air of refinement.Italian CountryCBA64 ¼"70 ¼"80"42"48"53"52"54"60"85"52 ½"66 ½"
Page 52
50 ARCHITECTURALS COLLECTIONtheVERLAINEThe Verlaine mantel contrasts delicate curves with strong geometric lines. The shelf has a scalloped edge. The overall effect is elegant and sophisticated.Italian CountryABCCBA67"73"42"48"54"64" NOTE (LEFT): Also Available without Mantel Base.
Page 53
PHOTOGRAPHYEmily J. FollowillINTERIOR DESIGN CREDITThe Design Atelier:Melanie Millner
Page 54
52 ARCHITECTURALS COLLECTION PHOTOGRAPHY Mali Azima INTERIOR DESIGN CREDIT K Kong Designs
Page 55
53HEARTHSIDE MANTELSthePANUNTIA well-proportioned and elegant piece, the Panunti mantel features a smooth archway and decorative Louis-Philippe shelf.Italian CountryCBA69 ⁄"89 ⁄"43 ½"58"61"64 ½"ACB
Page 56
54 ARCHITECTURALS COLLECTIONtheELYSÉE PETITWith its pleasing blend of straight and flowing lines, this mantel marries strength and beauty. The result is understated elegance. It can be beautifully paired with an overmantel.Italian CountryABCCBA 85" 54 ¼" 72 ½" NOTE: Overall Width is Adjustable.
Page 57
55HEARTHSIDE MANTELS The Elysée Petit featured in Atlanta Homes and Lifestyles magazine, July 2011 PHOTOGRAPHYErica George Dines INTERIOR DESIGNCarol Weaks Interiors
Page 58
56 ARCHITECTURALS COLLECTIONA BCtheTOULOUSEThe Toulouse mantel has a sophisticated elliptical opening and a pair of refined pilasters. This simple mantelpiece has all the romance of the countryside.Italian CountryCBA66"79 ½"44 ⁄"54"50"60"
Page 59
PHOTOGRAPHY Erica George Dines INTERIOR DESIGN Suzanne Kasler Interiors
Page 60
58 ARCHITECTURALS COLLECTION The Toulouse featured in the book Gracious Homes by Barbara Westbrook, 2015
Page 61
59HEARTHSIDE MANTELSPHOTOGRAPHYFrances Janisch INTERIOR DESIGNWestbrook Interiors
Page 62
60 ARCHITECTURALS COLLECTIONPHOTOGRAPHYEmily J. Followill INTERIOR DESIGNWestbrook Interiors
Page 63
61HEARTHSIDE MANTELStheELYSÉEThe Elysée, a substantial mantelpiece with pure clean lines, brings stately elegance to a large space. The scrolled corbels supporting the shelf add refinement and sophistication to this impressive mantel.Italian CountryACB NOTE: Overall Width is Adjustable.CBA122 ½" 67 ¾" 75"
Page 64
62 ARCHITECTURALS COLLECTIONtheSARTHEWell-balanced and stately, the Sarthe is inspired by a Louis XV design, with its proud barre de chocolat profile and prominent brow along the edge of the lintel and inner legs.Italian CountryABCCBA 65 ⁄"92 ¾"48"68 ¼"55"66 ½"
Page 65
63HEARTHSIDE MANTELS PHOTOGRAPHY Emily J. Followill ARCHITECT Bradley E. Heppner
Page 66
moderne I classic R ANGE HOODDISCOVERouralsoCLASSIC&MODERNEcollections
Page 67
The Toscany from our Classic Collection.
Page 68
ATLANTA I SAN FRANCISCO I MINNEAPOLIS I DENVER I CHARLOTTE I NASHVILLE I PALM BEACH I NAPLES FRANÇOISANDCO.COMsales & support 888.313.3237architecturalsHearthside Mantels Range HoodsElements of AccentsurfacesWood Stone Terra Cotta Mosaics PewterBrassCopper