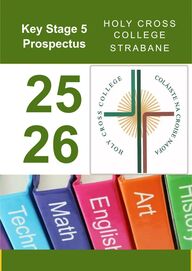 Return to flip book view
HCC KS5 Prospectus
Page 1
Page 2
CONTENTSForeword ..................................................................................page (ii)Welcome ....................................................................................page 1Which subjects? ..........................................................................page 2THE ARTS and LANGUAGESArt ..............................................................................................page 2Modern Languages ......................................................................page 3Moving Image Arts ......................................................................page 4Performing Arts ..........................................................................page 5ENGLISH AND MEDIAEnglish Literature ........................................................................page 6Media Studies ............................................................................page 6ENVIRONMENT AND SOCIETYGeography ..................................................................................page 7Government and Polics ............................................................page 7History ........................................................................................page 8Professional Business Services ....................................................page 8Religious Educaon ....................................................................page 8STEMApplied Science............................................................................page 9Biology ........................................................................................page 9Chemistry ....................................................................................page 9Physics ......................................................................................page 10Children's Play, Learning & Development ................................page 10Design & Technology - Product Design ....................................page 12Digital Technology......................................................................page 14OCR Cambridge Technical Extended Cerficate ........................page 14Health and Social Care ..............................................................page 15Maths ........................................................................................page 16Physical Educaon ....................................................................page 16How to Apply ............................................................................page 17How to Choose your Course ....................................................page 18Careers Advice/Guidance ........................................................page 20Subject Choice Sheet ................................................................page 21Extra-Curricular ........................................................................page 22UCAS support ............................................................................page 23Educaon Maintenance Allowance ..........................................page 23Past Pupil Supplement ..............................................................page 24Picture Gallery ..........................................................................page 26(i)
Page 3
FOREWORDDear Student,I am delighted to welcome you to our Prospectus for Post-16 study in Holy Cross College.As you near the end of year 12, I am sure you are starng to think about your future. What so you wantto do with your life? Where do you want to go? How will you get there?Aending sixth form in Holy Cross College will help you to answer these quesons with our wide range ofcourses as well as excellent teaching and learning opportunies. You will have the opportunity for someincredible new experiences, both in school and in the community, and we will support you to be confidentyoung men and women, fully prepared for the challenges of young adulthood.Staying on into our Sixth Form, or entering our Sixth Form from another school, will allow you to:v Be independent within a familiar environment;v Collaborate with teachers and take responsibility for your own learning;v Be an acve member of the Sixth Form community and experience the Sixth FormStudy and Common Roomv Be given every support to aain your ambions and to prepare for that excing future;v Experience responsibility;v Experience a wide range of enrichment opportunies.I hope you will take me to read the informaon presented here and look forward to welcoming you toour Sixth Form in August.Mrs Patricia DevineVice Principal(ii)My experience in 6th from has undeniably been the highlight of my me at Holy CrossCollege. Being given the opportunity to engage with my favourite subject material on adeeper level has been intellectually appealing and has taught me the value ofindependent study and responsibility, and I have built an important rapport with myteachers and year group. My experience has been not only rewarding in that it hasopened up several new career paths, but it has also enabled me to become a cricalthinker with a deep understanding of topics which are important to me.Liana MacIntyre, Head GirlI really enjoyed my me in the Sixth Form in Holy Cross College and I liked that I couldchoose the subjects I wanted to do as it allowed me to focus studying what I enjoyed. Ihave cherished the strong sense of community and the great relaonships between thestudents, teaching and pastoral staff. There is also many extracurricular opportunieswhen you join Sixth Form such as the Duke of Edinburgh and Pope John Paul ll awards.Being part of such a strong student body will help prepare you for life aer secondaryschool and allow you to obtain skills which will help develop your character and help youreach your goals in life.Shane Brown, Head Boy
Page 4
WELCOME TO HOLY CROSS COLLEGEIF YOU ARE A STUDENT IN YEAR 12 WHO IS CONSIDERING CONTINUING YOUR STUDIES INTO SIXTH FORM, HOLY CROSS COLLEGE IS THE PERFECT CHOICE. Holy Cross College will give you the opportunity to LEARN, to SHARE your abilies with others and toDREAM of your perfect future.1. We offer a wide variety of subject opons.Our ethos of Excellence in Educaon ensures that we are dedicated to providing you with the knowledgeand skills needed to prepare you for the world beyond school. The sixth form at Holy Cross is co-educaonal, and we offer one of the widest ranges of academic and vocaonal qualificaons in thisarea, that are tailored to suit each student's strengths, interests and ambions. The resources andfacilies for sixth form students are modern and spacious to encourage and support your academicdevelopment.2. We are a school community and part of the local community.We offer excellent opportunies for developing your involvement in both the school and localcommunity. We run lots of schemes to encourage and reward leadership, creavity, enterprise, andcareer preparaon. Projects such as the Queens' University Pathways programme, Living Law scheme,Peer Mentoring, Duke of Edinburgh and Reading Partnership are just some of the popular ways ourSixth Formers broaden their horizons.3. We provide support as you aim for your best future.The modern job market is ever changing and Holy Cross College has developed excellent links withuniversies, schools, businesses and the community. We have excellent careers guidance available tohelp you with progression to the next stage of your educaon or into the world of work. Workexperience and professional opportunies provide addional opportunies to support you in findingthe pathway for your best future.Holy Cross College will support your aspiraons and give you the tools to achieveexcellent results. You and your parents can have confidence that we will provide a world of opportunity and knowledge in your post-16 educaon.1
Page 5
— LEARN —Holy Cross College provides you with a broad and varied curriculum that enables access to all terarypathways – both academic and vocaonal. No other single establishment in the area offers as manyopons – supplemented with access to courses in the Derg Mourne Learning Community. Staying inHoly Cross College for sixth form gives our students the best opportunity to keep their career oponsopen while working, and developing skills in a supporve and caring environment.We commit to:Provide you with a course of study to match your ability and aspiraons;Provide you with a high quality teaching and learning environment;Track and mentor you on your qualificaons pathway.We expect you to:Work hard and collaborate with your teachers; Take responsibility for your own learning.WHICH SUBJECTS WILL YOU CHOOSE?ARTS: Art, Modern Languages, Moving Image Arts, Performing ArtsENGLISH AND MEDIA: English Literature, Media StudiesENVIRONMENT AND SOCIETY: Geography, Government and Polics, History, Professional Business Studies,ReligionSTEM: Applied Science, Biology, Chemistry, Physics, Children's Care, Learning and Development, Design andTechnology, Digital Technology, OCR Cambridge Extended Cerficate in IT, Health and Social Care, Maths, PhysicalEducaon.2THE ARTS AND LANGUAGESIn Art and Design at GCE we lay the foundaon stone on which you can build not only Visual Art and Design careers,but we also help you to develop skills that will make you aracve to future employers such as observaon,presentaon, ICT and creave skills which are highly transferable across other professions.Through studying GCE Art and Design, students have opportunies to:• Develop an interest in and enthusiasm for art, cra and design;• Gain knowledge and understanding of art, cra, design and media (including technologies) incontemporary and past cultures;• Gain experience in working in a broad range of media (including tradional and new media and technologies);• Gain an awareness of different roles, funcons, audiences and consumers of art, cra and designpracce; and• Develop and enhance their creave, intellectual and arsc abilies.An A-Level in Art and Design can lead to careers in architecture, teaching, graphic design, product design, jewellerydesign, fashion and texle design, photography, interior design, ceramics, sculpng, stage and film makeup design,theatre set design, special effects art, animaon, illustraon and painng to name but a few.For further informaon, contact the Head of Subject: jmccrory006@c2kni.netART
Page 6
3Students who opt to study a Modern Language at AS-Level will follow the CCEA Syllabus. There is a predominant useof the target language and this is enhanced within the school by the presence of a language assistant. Studentsshould have a grade A* - B at GCSE Level. At AS and A-Level there is no coursework. The topic areas to be studiedare Relaonships, Culture and Lifestyle, Young people in Society, Our Place in a Changing World. The study of a Modern Language to GCE A Level enables students to achieve oral and wrien proficiency in the targetlanguage. It also allows them to gain a cultural understanding of the countries/communies where the targetlanguage is spoken. Career opportunies with modern languages are becoming increasingly popular, not only as anend in themselves for example teaching, translaon and interpreng, but also based on the transferable skills andpersonal qualies developed through learning of a modern language. These are the skills of being an effecvecommunicator and the qualies of adaptability, imaginaon and tolerance. An increasing number of degree coursesoffer students the opportunity to combine the study of a language with disciplines like Law, Accountancy and BusinessStudies to name but a few.FrenchAS and A-level French aims to enable students to develop their interest in and understanding of the language,communicate with speakers of French and acquire knowledge that will help them progress to further study and/oremployment.Language learning can open up a world of opportunies to students. The A-Level French specificaon will helpstudents avail of these opportunies and take their place in a mullingual, global society. As well as mastering thelanguage, achieving a qualificaon in French will allow students to develop many skills including communicaonskills and problem-solving and to have an understanding and appreciaon of different cultures and ways of life.Pupils who study French can find careers in the following areas: Educaon, Travel, Tourism and Hospitality, Translator,Interpreter, Internaonal Organisaons, Media and Internaonal Business."Taking French for A-Level is a decision I am extremely happy I made. French, being an internaonal business languagehas opened up a multude of doors for me regarding career pathways while also giving me the confidence to visitFrench speaking countries. I have thoroughly enjoyed every aspect of French these past 2 years ranging from the more difficult concepts ofgrammar to learning about French culture. Personally I believe that universies look favourably upon applicants whocan offer an A-Level language; for example, when I applied for Neuroscience alongside French they made me an offer.I would definitely recommend it. Choisissez le français." ( Ciara Paon Year 14 French student)SpanishSpanish is a language that is used throughout the world. Studying A-level Spanish gives our students the opportunityto develop their language skills and to enhance their understanding of the vibrant and excing culture of the Spanishpeople.Our moo is you need LANGUAGE IN YOUR CAREER, not necessarily a career in language.If you choose to study A-level Spanish, you will have weekly access to our Language Assistant which is imperave forthe speaking modules of the exam. Pupils are always prepared thoroughly for this element of the exam and theirexcellent oral module exam results are tesmony to this. Our sixth formers are also given the chance to provide peer tutoring within the Spanish department. Through thisthe pupils can assist the teacher one lesson per week and again gain valuable experience.Spanish language learning has achieved excellent outcomes for students both at A-level and in other aspects of extra-curricular language development, most parcularly in 2015 when pupils from Holy Cross College defeated 7 otherschools from across Northern Ireland to li the winning trophy and prize for the NI Spanish Debate in Queens. Thethree girls, Taylor Sharkey, Roshanak Baghi and Derbhla Evans excelled in their performance with Taylor Sharkeynamed one of the best speakers at the debate. And in 2019 Ross Gallagher, Abbie Cheeseman, Adam Donaghey and Mark Ward also took part in the presgious NISpanish Debate in Queens, Belfast organised by NICILT. Their debate was outstanding and they were all trueambassadors for the school. Ross Gallagher received an award for best speaker in his debate. The whole day wasa real success and an unforgeable experience for the students. This experience will benefit them in so many ways. This year, our year 14 students are looking forward to seeing the presgious play La casa de Bernarda Alba by Lorca,Spain's most presgious playwright. This will be shown in the MAC Belfast. Some thoughts from our year 14 students: Emer Donaghey, Ellie Duffy, Ellen Ferry, Wilson Morgan and Zoe McGarrigle. MODERN LANGUAGES
Page 7
4"We chose Spanish for many reasons. Firstly, we all had such a posive experience of GCSE. We liked the thought ofbeing able to deepen our knowledge and understanding of one of the most spoken languages in the world. From thestart, the class has had a relaxed and happy atmosphere. Bea, our Spanish assistant has helped us immensely withour speaking. Would we recommend Spanish? 100% yes, it's hard work but it is so worth it. We can't wait to takeour Spanish studies further." IrishA-level Irish students to not only develop their Irish language skills but fully immerse themselves in a variety ofextracurricular acvies that develop their academic abilies and their appreciaon of the Irish culture. All Year 13 students volunteer one aernoon per week in the local Gaelscoil to enhance their fluency in Irish. This isan excellent arrangement which pupils both thoroughly enjoy and benefit from. It provides pupils with an amazingexperience which they can draw on when applying for university.Our sixth formers are also offered the opportunity for peer tutoring with junior classes within the Irish department.Through this the pupils assist the teacher one lesson per week and again gain valuable experience.Sixth form Irish students also have a weekly access to our Language Assistant which is imperave for the speakingmodules of the exam. Pupils are always prepared thoroughly for this element of the exam and their excellent oralmodule exam results are tesmony to this.Sixth form pupils have the opportunity of aending Gaeltacht courses in the summer months where they are totallyimmersed in Irish. This is an experience second to none where pupils can use their Irish on a daily basis both formallyin classes and informally in social situaons. This has been supported by our PTFA on many occasions.Many of our sixth formers in the Irish department are very acve in the local Irish Language community. They takepart in the St Patrick's Day masses in the local church through reading and providing music."As a sixth form Irish pupil I really love the course. We cover loads of topics and a lot of grammar. I think that thecourse is very straight forward and extremely well planned out. Our Irish language assistant is amazing and reallyhelps with the speaking modules. I also get to do work experience in our local Gaelscoil and this gives me theopportunity to use my bi-lingual skills and get an insight into teaching. I am really happy that I chose Irish as an ALevel subject!"Danielle Mc Laughlin, Year 14For further informaon, contact the Head of Subject: cmcanenny131@c2kni.net, pdevine638@c2kni.net,jkyle621@c2kni.net An extremely hands-on course, CCEA's Moving Image Arts qualificaon teaches the technical skills necessary toproduce film and animated sequences like:• lighng techniques • camera operaon• sound recording • digisaon• edingYou will also learn about essenal pre-producon processes like:• script development • character development• locaon selecon • storyboardingBut the benefits of Moving Image Arts extend beyond a career in film or animaon. Transferable skills like resourcemanagement (me, people, budgets), planning, problem solving, negoaon, and communicaon are alsostrengthened through course acvies.For further informaon, contact the Head of Subject: cmullin674@c2kni.netMOVING IMAGE ARTS
Page 8
5CCEA GCE Performing Arts The A Level in Performing Arts offers a wide range of skills in both performance and producon. This GCE gives students op-portunies to research and gain insights into the performing arts and entertainment industry and prepare for employment,further training and/or study. Students can choose to develop their skills in the Performance sector in either Drama, Dance orMusic. The specificaon includes the invesgaon of employment opportunies and working methods linked to industrypracce, as exemplified in the example of work based tasks. AS students have an opportunity to plan and realise a performingarts event. A2 students plan, perform and promote an event which they choose from a commission brief.Career OponsAn A 'Level in Performing Arts combined with two other qualificaons at A Level will allow progression onto a huge variety ofUndergraduate Degree programmes at universies both in Northern Ireland and the UK. Successful compleon of CCEA Per-forming Arts course has led many students on the right path to various career opportunies in areas such as;• Arts and Humanies • Arts, Music and Entertainment• Media and Broadcasng • Television and Film • Drama and Music Therapists • Presenng: TV and Radio • Print and Broadcast Journalism • Direcng and Choreography • Creave Performers; Acng, Music and Dance• Media – Entertainments Planner • Human Resources • Personal Assistant • Teaching; Primary and Secondary • Social Work • LawPERFORMING ARTS - DANCE, DRAMA OR MUSIC
Page 9
6This A Level Media Studies specificaon offers a broad, engaging, and smulang course of study which offers learnersthe opportunity to develop a thorough knowledge and understanding of the media and to develop analycal andpraccal producon skills.Learners study a wide range of media forms and products through the conceptual framework of media, whichencompasses media language, representaons, media industries, and audiences. Media products are also studiedin relaon to relevant contexts, and learners will study and apply a range of crical perspecves. Learners alsodevelop praccal producon skills and apply their knowledge and understanding of the theorecal framework tomedia producon work in different forms. Media Studies involves the in-depth, analycal study of Adversing andMarkeng, Film, Television, News in the Online Age, Newspapers and Magazines.Journalism allows you to explore the dynamic and rapidly changing world of journalism. You can experience what itis like to work as a reporter, a researcher, a photographer, a photojournalist, an anchor, a camera operator and manyother roles. Recent developments in technology have changed the way we receive news, and the ability to write ortalk knowledgeably about events so that other people will want to read about them and listen is in great demand,now more than ever. Studying Media will develop knowledge, understanding and skills in journalism and apply these to relevant work-related scenarios; allow you to gain experience by working on your own and in group sengs and develop yourresearch skills to develop and present your findings in a variety of formats including print, online and broadcastplaorms; and will ulmately develop skills that will help prepare you for third level educaon and/or employment. For further informaon, contact the Head of Subject: lmmons985@c2kni.netMEDIA STUDIESENGLISH AND MEDIAGCE English Literature enables you to engage crically and creavely with a substanal body of texts and gives youa variety of ways to respond to them. Across a wide range of novels, plays and poems, you will deepen yourunderstanding of the changing tradions of literature.Through independent research and crical reading, you will develop your interest and enjoyment of English literatureand become an accomplished, discerning reader with advanced study skills that prepare you for third level educaon.Why study English Literature?A level English Literature broadens your horizons and opens your mind to new perspecves and ideas. It allows youto construct well-supported arguments and appreciate alternave interpretaons of texts.The course itself covers a wide range of engaging literature including novels, plays and poems. The texts aresmulang, interesng and will give you opportunies to develop individual interests. You can use your own originalideas and creavity when responding to each text and the course invites in-depth discussion and reflecon at everyopportunity.For further informaon, contact the Head of Subject: jhughes519@c2kni.netENGLISH LITERATURE
Page 10
7"I enjoyed A level polics very much as it gave meaning to the news around me. I could understand more clearlywhat was going on both in our domesc polics and in America. Polics has helped massively studying Law atuniversity as this requires a working understanding of Polics"Kerri McCrea "I really enjoyed studying polics for A-Level because I found the class to be engaging and it wasalways a good laugh. This year I have been studying Constuonal Law so most of the topics havebeen covered before in Polics. Studying Polics was an excellent foundaon for my degree."Jake McDaid "Polics is a great choice for anyone picking their A-levels. I found it very interesng and it wasalways a good me in class. Polics has helped me a lot in university so far through essay wringand having informed opinions on both sides and being able to put them into a good structured pieceof work. I would encourage any student who is thinking about polics to choose it as it's a greatsubject."Kevin O'Kane Government & Polics is a real me subject where we study the polical world as we find it. It allows students theopportunity to gain a deeper appreciaon of how major decisions are made by governments in N Ireland, Britain,and the US. At this me of immense polical change students will engage with these issues and gain an understanding of theirpolical, internaonal, economic, and social consequences. Students will be asked to read widely on current affairs and be able to apply any learning into their work. Pupilsdevelop a range of skills that will equip them moving forward into further educaon and into a range of careers.The study of Polics can lead to careers in:Law, Polics, Public Sector, Business, Markeng, Teaching, Academia, Journalism, and many moreGOVERNMENT AND POLITICSENVIRONMENT AND SOCIETYSwitch on your television, listen to the radio or pick up a newspaper and the environment seems to be top ofeveryone's agenda. We are bombarded with facts and figures relang to the need for energy conservaon and climatechange. Sustainability is the buzz word of the 21st century. The study of geography helps students have a clearer understanding of this important world issue. It is the study ofthe earth's landscapes, peoples, places and environments – both its physical features and its polical and culturalcharacteriscs. Geographers work to examine and solve issues like those above by looking at: • paerns on the earth and the processes that created them; • how places differ from one another; • the impact of people on the environment; • the sources and impact of polluon; and • strategies for environmental protecon and restoraon. This subject provides an excellent base for a variety of courses at Third Level Instuons, such as: Lawyer,Conservaon Worker, Business/Economic Advisor and Analyst, Meteorologist, Environmental Health; Town andCountry Planning; Architecture; Social Science etc. It can also be studied as a Primary Degree before specialising inanother area such as Teaching."I like Geography because of its interacve topics on Volcanoes and relevant global issues like Climate Change" –Michael Ferguson"Studying A-level Geography helped me to beer understand global issues in my Law Degree" – Ben McGilpFor further informaon, contact the Head of Subject: pmccourt678@c2kni.netGEOGRAPHY
Page 11
8The subject of Professional Business Services introduces students to the environment thatProfessional Business Services firms operate in. It establishes the nature of the services they provide their clients,including advice in how to achieve effecve human resource and financial management. Students also invesgatethe consultancy process that Professional Business Service firms use.Studying Professional Business Services will allow students to develop competence and confidence in several skills,including independent learning, creave thinking, praccal, numeracy and problem solving, carry out praccal tasksand present findings in different formats and to appreciate the needs of business professionals operang in themarketplace of Northern Ireland and beyond.There are numerous careers that this course would lend itself to including:Business Consultant, Market Research, Human Resources, Risk Management, Communicaons, FinancialManagement, Accountancy, Business Strategist, Project Management, Law, Operaons Management, Conciliaon +Arbitraon and many more. For further informaon, contact the Head of Subject: smccann901@c2kni.netPROFESSIONAL BUSINESS SERVICESA Level Religious Studies is a very popular subject at Holy Cross College. It comprises of two classes per year and ourstudents consistently achieve top grades at AS and A2 Level. RE can open up a wide range of opportunies for furtherand higher educaon. Pupils study both The Celc Church in Ireland in the Fih, Sixth and Seventh Centuries andFoundaon of Ethics with Special reference to Issues in Medical Ethics at AS Level. At A2 Level, students study Themesin the Celc Church, Reformaon and Post-Reformaon Church and Global Ethics. Students have the opportunity to parcipate in the Pope John Paul II Award regardless of their chosen subjects.Students also have the opportunity to join our charity raising schemes which we are renowned for in the localStrabane area. Aimee says, "RE is a fun, enjoyable subject that makes learninginteresng. It is very insighul and gives us a deeper understandingof the background to the emergence of religion in Ireland and aboutcurrent ethical issues."Students of Religious Studies can go on to have careers in areas suchas teaching, law, public service, advice work, counselling, journalism,ministry, social work, charity organisaons, youth work andcommunity work.Entry Requirements: C* at GCSE and B in English Language or Pass in OCN and B inEnglish Language.For further informaon, contact the Head of Subject:bmullan186@c2kni.netRELIGIOUS EDUCATIONChoose A Level History at Holy Cross College and you will learn aboutthe past and increase your knowledge of significant events andpeople. Studying History will help you to understand people, society,change and how the world has developed over me. History A Levelwill also help you to develop important transferrable skills includinganalysis, communicaon, research and problem solving. You willbecome more of a crical thinker as you learn how to ask quesons,express ideas and develop arguments.The study of History can lead to careers in:Law, Polics, Public Sector, Business, Markeng, Teaching, Academia,Archaeology, Museum work, Journalism, PR, Publishing and manymore…For further informaon, contact the Head of Subject: lhall434@c2kni.netHISTORY
Page 12
9STEMBTEC Level 3 Naonal Extended Cerficate in Applied Science is intended as a qualificaon for post-16 studentswho want to connue their educaon through applied learning and who aim to progress to higher educaon andulmately to employment, possibly in the science sector. The Applied Science course is different from tradionalScience A-levels in that more emphasis is given to the praccal applicaon of scienfic theory. The curriculum isdelivered through meaningful, relevant and movang academic acvies. Science lends itself to praccal hands-on invesgaon and experimentaon.The qualificaon is equivalent to one A Level.Students will study four units:• Principles and Applicaons of Science (External assessment by exam)• Praccal Scienfic Procedures and Techniques (Internal assessment by assignment)• Science Invesgaon Skills. (External assessment by exam)• Physiology of Human Body Systems (Internal assessment by assignments)58% of the course will be assessed by external assessment – examinaons at the end of year 13 and year 14.42% of the course will be assessed by internal assessment where students will complete assignments. What could this qualificaon lead to?The requirements of the qualificaon mean that students develop the transferable and higher order skills which arevalued by higher educaon providers and employers. For example, when studying Unit 3: Science Invesgaon Skills,students will develop skills including how to plan invesgaons, collecng, analysing, and presenng data andcommunicang results which support some of the skills students need to progress to higher educaon, employment,self-employment or training.The qualificaon carries UCAS points and is recognised by higher educaon providers as contribung to meengadmission requirements for many courses including, but not exclusively, those which are science-related.Students who graduate in science-related subjects have excellent employment prospects. There is a clear skillsshortage in STEM disciplines at both graduate and technical levels in Northern Ireland. For further informaon, contact the Subject Support: jobrien755@c2kni.netAPPLIED SCIENCEThe beginning of the 21st century is an excing me to study Biology. New techniques and advances in molecularbiology and genecs are revoluonizing the way we catch criminals, diagnose, treat, and cure diseases and growcrops. In Biology we aim to promote an enjoyment of, and a respect for, living organisms and the environment. Weencourage pupil curiosity and develop a scienfic approach to problem-solving. We enable students to understandbiological concepts and relate these to everyday life. Pupils are given the opportunity to work in groups as well asdevelop their skills in independent study.The Biology specificaon we offer for AS and A-Level is that offered by CCEA and builds on the broad objecves ofthe revised Northern Ireland Curriculum. The A-Level award provides an excellent basis for the further study ofBiology and related courses and is relevant not only in the fields of science, engineering and medicine, but also toareas of commerce and the public service in which problem-solving and praccal skills are valued.BIOLOGYWith a good grounding in Chemistry, you'll not only understand how to balance an equaon and discuss moleculeslike a pro, but you'll also get a beer understanding of how real-world phenomena work. Nowadays, Chemistry hasbeen converted from a quest to turn lead into gold into a big business with hundreds of thousands of chemistsworking worldwide. In A-level classes, students are provided with opportunies for problem solving, group-workand independent learning acvies. A level Chemistry students are encouraged to develop their laboratory skills inpreparaon for praccal examinaons at AS level and A2 level.CHEMISTRY
Page 13
10The Chemistry AS and A-Level course has been designed to encourage students to:• Develop their interest in and enthusiasm for Chemistry, including developing an interest in furtherstudy and careers in the subject;• Appreciate how society makes decisions about scienfic issues and how the sciences contribute tothe success of the economy and society;• Develop and demonstrate a deeper appreciaon of the skills, knowledge and understanding of howscience works• Develop a crical appraisal of the Earth's finite resources and the way in which they are used.Physics is crucial to understanding the world around us, the world inside us, and the world beyond us. It is the mostbasic and fundamental science. Physics challenges our imaginaons with concepts like relavity and string theory, and it leads to great discoveries,like computers and lasers, that lead to technologies which change our lives—from healing joints, to curing cancer,to developing sustainable energy soluons. Physics encompasses the study of the universe from the largest galaxiesto the smallest subatomic parcles. Moreover, it's the basis of many other sciences, including chemistry,oceanography, seismology, and astronomy.• Free-standing AS course including a study of contemporary applicaons of Physics.• A2 course emphasising modern developments through a study of Parcle Physics.• Experimental and invesgave skills assessed through externally- examined units.• Many opportunies for IT demonstraons and simulaons.• Extensive opportunies for developing evidence for assessment of Key Skills.For further informaon on any of these, contact the Head of Science: amccloy119@c2kni.netPHYSICSBACKGROUNDThe Pearson BTEC Level 3 Naonal Extended Cerficate in Children's Play, Learning and Development provides anintroducon to study of the sector. It is intended as an Applied General qualificaon and is equivalent in size to oneA Level.Why choose BTEC Naonals?Young people taking their first steps towards a new career need the right blend of technical and academic abily inorder to become the highly skilled, work-ready individuals employers and universies look for. BTEC Level 3 Naonalsare vocaonal qualificaons designed to include this new BTEC Level 3 Naonals qualificaon taking a unit-by-unitapproach providing learners with praccal, work-related courses.This course is designed to help you develop the skills and knowledge for working in the early years sector and beyond.The range of units encourages a holisc view of child development and work experience to help develop the praccalskills required for working with children.ENTRY REQUIREMENTS IN HOLY CROSS COLLEGEEssenal: GCSE English Language - Minimum Grade CDesirable: GCSE Child Development - Minimum Grade COccupaonal Studies - Minimum Grade A/D*WHY STUDY CHILDREN'S PLAY LEARNING AND DEVELOPMENT?Why play maers and the importance of how children learn through play.Play is one of the main ways in which children learn and develop. It helps to build self-worth by giving a child a senseof his or her own abilies and to feel good about themselves. Because it's fun, children oen become very absorbedin what they are doing.Play is very important to a child's development, it is an integral part of a child's Early Years Foundaon Stage andsupports their learning journey too. Young children can develop many skills through the power of play. They maydevelop their language skills, emoons, creavity and social skills. Play helps to nurture imaginaon and give a childa sense of adventure. Through this, they can learn essenal skills such as problem solving, working with others,sharing and much more.CHILDREN'S PLAY, LEARNING AND DEVELOPMENT
Page 14
11The BTEC Level 3 Naonal Extended Cerficate in Children's Play, Learning and Development will allow you to researchand develop skills in this very important area of child development in today' child centred society. SUBJECT CONTENTThe content of this qualificaon has been developed in consultaon with higher educaon to ensure it supportsprogression to higher educaon. In addion, employers and professional bodies have been involved in order toconfirm that the content is appropriate for those interested in working in the sector. Learners taking this qualificaonwill study three mandatory units which cover the following topics: • children's development • communicaon andnumeracy • play and learning. Learners will also follow one oponal unit, which will support their progression tospecialised degree programmes in the sector.Learners will also complete 50 hours' work experience in the sector – within the age range 0-8 years.STRUCTURE OF COURSEUnit 1: Children's Development.This unit gives you the background and key theories that will govern your working pracce. You will learn abouttheories and models of development that explain how and why children develop. You will develop an understandingof a range of factors that influence a child's development. (Assessed by external exam in year 13)Unit 2: Development of children's Communicaon, Literacy and Numeracy Skills.In this unit, you will learn the sequence of children's speech, communicaon, language, literacy and numeracy skillsdevelopment. You will plan stage appropriate acvies that encourage children's development and understandingby smulang their enthusiasm, and using excing and interesng ways to enable them to find out more. (Assessedby external exam in year 14)Unit 3: Play and Learning.In this unit, you will learn about the types of play and the opportunies that should be made available to childrenat different ages and stages of development. You will consider why play is so important and how it supports children'slearning and development. (Assessed by internally assessed tasks).ASSESSMENT SUMMARYThe BTEC Level 3 Naonals Children's Play, Learning and Development qualificaons takes a unit-by-unit approachand offer a combinaon of assessment styles. This gives you the opportunity to showcase your skills and apply yourknowledge in an appropriate, work-related context, and provides evidence of what you can do when you apply toenter higher educaon or thefield of employment. All unitswill be assessed through a rangeof assignments and tasks. Someof these will be based inplacements throughobservaons and a reflecveporolio, while others willinvolve wrien assignments,presentaons, a research taskand 2 externally assessedexaminaons.
Page 15
12Synopc assessmentThe mandatory synopc assessment requires learners to apply learning from across the qualificaon to thecompleon of a defined vocaonal task. Within the assessment for Unit 3: Play and Learning learners gain anunderstanding of why play is important to children's learning and development. The unit links with a number ofdifferent theorecal approaches to children's play, learning and development that are used throughout thequalificaon. Learners complete the task using knowledge and understanding from their studies of the sector andapply both transferable and specialist knowledge and skills.The main types of assessment include: • wrien reports • projects • me-constrained praccal assessments withobservaon records and supporng evidence • recordings of performance • sketchbooks, working logbooks,reflecve journals • presentaons with assessor quesoning. PROGRESSION TO FURTHER STUDIESWhat could this qualificaon lead to?The Pearson BTEC Level 3 Naonal Extended Cerficate in Children's Play, Learning and Development is a two-yearprogramme of learning. It will enable learners to progress to a wide range of degree programmes. It supports accessto a range of further and higher educaon courses. The qualificaon carries UCAS points and is recognised by highereducaon providers as contribung to meeng admission requirements to many relevant courses.CAREER OPPORTUNITIESStudents who complete this qualificaon can progress on toHigher Educaon to pursue a Degree in Primary Teaching,Educaonal Studies, Social Work, Children's Nursing, Midwiferyor Educaon Psychology. Alternavely, you may embark on aFoundaon Degree or a Higher Naonal Diploma in any relatedfield such as Health and Social Care, Early Years or WorkingChildren and Young People.In addion, students can also progress to career opportunies in the field of Allied Health Professions including:Podiatry; Dieans; Occupaonal Therapy; Paramedics; Physiotherapy; Speech and Language Therapy; Nursing;Midwifery.Design & TechnologyThe Technology and Design Department at Holy Cross College offer AQA Design and Technology to A2 level. This isa verypopular course andhas three key components which are assessed at the end of your two years of study.We always aim to provide a good balance between creave design and design theory. It will be challenging yetinteresng as you develop an understanding of the theory alongside the demands of the coursework.The coursework project allows you to showcase your creavity, design and innovaon skills. The praccal aspectprovides you with opportunies to use a wide range of materials, CNC machines (such as the Laser-cuer and 3DPrinter), tradional workshop machines, tools and equipment.DESIGN AND TECHNOLOGY - PRODUCT DESIGN
Page 16
The majority of the design porolio is completed throughout Year 13 and the praccal outcome during Year 14. Yourteacher will assess your coursework when it is complete and an external moderator will verify the marks. Over the past ten years, at Holy Cross College –• 58% of our A Level Design & Technology students achieved a grade A*-B• 87% achieved a grade A*-C • 100% achieved a grade A*-E.Many of our students go on to study a related course in third level or higher educaon,such as Product Design,Engineering disciplines, Architecture or Graphic Design. Studying A Level Design & Technology can set you up for a career in a wide variety of industries including:• Mechanical or Civil Engineering, • Architecture, • Product Design, • Quanty Surveying, • Computer Aided Design (CAD), • Computer Aided Manufacturing (CAM), • Interior Design, • Furniture Design, • Electronics, • Informaon Technology,• EducaonCourse: Engineering - BTEC Level 3 Extended Cerficate - 2 years (1 A Level)Qualificaon Type: Naonal Extended Cerficate (BTEC) PearsonsQualificaon Level: Level 3Entry Requirements: GCSE C*Maths and GCSE C* TechnologyOverviewYou will learn about mechanical and electrical engineering principles and applicaons and how to solve real lifeengineering problems.Units of studyUnit 1 - Engineering Principles (External exam) Exam in Year 14Unit 2 - Delivery of Engineering Processes Safely as a Team (Internally assessed) Assignments in Year 13Unit 3 - Engineering Product Design and Manufacture (Externally assessed) Exam in Year 14Unit 41- Secondary Machining Processes (Internally Assessed) Assignments in Year 14For further informaon, contact the Head of Subject: aconnolly195@c2ken.net 133D PrinterLaser Cung
Page 17
14Essenal Criteria Students intending to take this A Level must have obtained at least a Grade C at GCSE ICT. Introducon Digital technology incorporates aspects of computer science and informaon technology. It explores how we canuse technology to create, store, process, analyse and present informaon in a digital context. This includes computerarchitecture, networks, web technology, digital media, programming tools and soware applicaons. Students whoopt to study GCE Digital Technology will follow the CCEA Syllabus. The specificaon builds on the broad objecvesof the Northern Ireland Curriculum.Aims This specificaon aims to encourage students to:• develop a genuine interest in digital technology; • gain an understanding of the system development process; • gain an awareness of a range of technologies and an appreciaon of the potenal impact thesemay have on individuals, organisaons and society; • parcipate in developing an applicaon while adhering to the system development process; • develop an understanding of the consequences of using digital technology on individuals,organisaons and society, and present their findings in different formats; • develop advanced study skills that help them prepare for third level educaon; • demonstrate that they understand and can apply key concepts through challenging internal andexternal assessment. Key features The following are important features of the specificaon. • It includes four assessment units: three are internally assessed and one is internally assessed. • It gives students opportunies to progress to career paths leading to professional IT managementand the responsible use of IT with in industry. • It offers advanced study of modern technology-based systems. • It reduces the assessment burden and provides stretch and challenge for A2 students. • It offers the development of advanced skills in a range of development environments and a mixtureof examinaon formats and queson types. Career Opportunies Success in this subject will lead to quite a wide variety of opportunies in third level educaon as well asApprenceship and work based degree opportunies leading to jobs as: Network Administrator, DatabaseAdministrator, Web Developer, Systems Analyst, Soware Engineer etc. . There is a severe shortage of graduates inComputer Science/IT and they are therefore very much in demand. The salary for employees with these skills isexceponally high and there can be rapid progression to senior posions in a very short period of me.DIGITAL TECHNOLOGYThis qualificaon is designed for learners 16 years old or over who wish to connue their educaon by developing theirknowledge and understanding of the principles of IT and global informaon systems through an applied learning approach.Achievement of this qualificaon can support progression to a university or a higher educaon instuon which offers degreelevel courses in Compung and IT, Compung Science, Soware Developments, Soware Engineering, ICT and ComputerNetworks or Business Informaon Systems. Applicants are expected to have a good level of literacy and numeracy. Learners will take five units to achieve this qualificaon. There are three mandatory units that are externally assessed. These are:• Fundamentals of IT • Global informaon • Cyber security The first two mandatory units provide learners with an insight into the IT sector as they invesgate the pace of technologicalchange, IT infrastructure, the flow of informaon on a global scale and important legal and security consideraons. The thirdOCR CAMBRIDGE TECHNICAL EXTENDED CERTIFICATE IN IT
Page 18
15mandatory unit reflects an important development in the sector around informaon security and requires learners to considerhow data should be protected and the response of the IT sector to emerging threats such as cyber terrorism. Learners must then take two of the four oponal units that are centre-assessed and moderated by OCR. The oponal unitsinclude:• Project management • Product development • Systems analysis and design • Internet of Everything All units assist in the development of transferrable skills such as communicaon and problem solving. The oponal unitsencourage the development of me management, research and analycal skills as well as emphasizing the need for good wrienand verbal communicaon skills. Every unit achieved will be graded as Pass, Merit or Disncon. The Extended Cerficate takes 360 guided learning hours todeliver making it equal in size to an A-Level course. It is also awarded the same number of UCAS points as A-Level. Thisqualificaon will be accepted for a number of IT and Compung degree courses but may not be accepted for SowareEngineering or Computer Science courses at university. For clarificaon, individual universies may need to be contacted.There is a severe shortage of graduates in Computer Science/IT and they are therefore very much in demand. The salary foremployees with these skills is exceponally high and there can be rapid progression to senior posions in a very short periodof me.For further informaon on either course, contact the Head of ICT: amccourt072@c2kni.netAS/A2 Health and Social Care is an interesng and engaging two-year course for those interested in a career in theHealth, Social Care or Early Years Sector. The course gives you the opportunity to carry out invesgaons anddevelop reports on real life social situaons such as the impact of abuse in care facilies on the elderly andvulnerable members of society and the impact of domesc violence, poverty and bereavement on individuals andtheir families. Your studies will provide you with essenal invesgave skills and knowledge to fully understandthese impacts and to develop posive outcomes for those affected.All of our students would idenfy the work experience programme during their AS year of study as their mostenjoyable part of their course. This opportunity allows you to visit a care seng in the local community,throughout the school year, to explore the many dimensions of working a caringenvironment while also giving you the opportunity to explore a possible career choice.There are many reasons why Health and Social Care is an excellent subject choice... • To work in Health and Social Care - the list of potenal careers is endless!• To get the best out of the Health and Social Care Services as a user• To help lead a healthy lifestyle• For enjoyment, just because it's interesng!You do not have to have studied Health and Social Care at KS4 to study it for A Level. However, entry criteria for admission, will be applied as follows: • a generally good Level 2/GCSE profile AND If you haven't studied Health and Social Care at KS4 – • Grade B in GCSE English Language If you have studied Health and Social Care at KS4 - • Grade C in GCSE Health and Social Care with a grade C in English Language OR • Disncon in Occupaonal Studies Health Care (Environment and Society Pathway) with a grade Cin English language.For further informaon, contact the Head of Subject: lmcguigan377@c2kni.netHEALTH AND SOCIAL CARE
Page 19
Why we study Maths?Some of civilisaon's most prized and proud achievements are wholly reliant on mathemacs. Planes flying seamlessly throughthe air, high availability of complex medicines, even the computer or phone you're using now: all of these increasingly vitalcommodies rely on the use and study of numbers.As a main move for many students to study certain subjects, the potenal pay is a definite bonus factor, helped by the versalenature of the skills involved. All three areas of the subject area develop skills in numeracy, logical thinking and an analycalapproach to problem solving.You'll also learn to present complex and technical ideas verbally and in wring.All of these skills mean that graduates in mathemacs are highly sought aerContentMathemacs at A-Level consists of the study of Pure Mathemacs with Applied Mathemacs (Mechanics and Stascs).Pure Mathemacsconsists of the study of Algebra, Trigonometry, Calculus and Geometry.Mechanicsdeals with velocity, acceleraon and forces and how they affect the moon of parcles and bodies and also considersthings like circular moon, projecle moon, centres of gravity and equilibrium.Stascsuses quanfied models, representaons and probability for a given set of experimental data or real-life studies. Itsmethodologies to gather, review, analyse and draw conclusions from data.RequirementsYou need to have studied Higher Level GCSE (M4/M8)and achieved at least a Grade Bwith a minimum score of 300 UMS. Youmustalso have the approval of your class teacher.GCSE Further Mathsstudents will need to have completed the courseand achieved at least a Grade C*. These students will havean excellent grounding for the topics studied at A Level.Career OpportuniesWhile A-Level Mathemacs is essenal for several degree courses e.g.engineering at Queens, it provides an opening to many other fields includingbanking and finance, technical and scienfic occupaons, medicine, denstry,insurance, health service management, psychology and general businessmanagement.Possible Careers:Accountancy, Acouscal Engineering, Actuarial Science,Aeronaucal Engineering, Banking, Biochemical Engineering, BusinessManagement, Civil Engineering, Economics, Electrical Engineering, Genecs,to name but a few.For further informaon, contact the Head of Subject: adolan650@c2kni.net16MATHSSport and physical acvity is playing an ever-increasing role in our lives in recent years as images of sporng eventsare beamed into our living rooms and onto our mobile phones almost every day of the year. As a result, many youngpeople possess a great interest and good knowledge of many issues in the Sporng world and may wish to exploresome of these issues in greater detail. BTEC Level 3 Naonals in Sport provide an ideal plaorm for any such studentto connue their post 16 qualificaons. Holy Cross college currently provides the opon of studying sport as 1 Alevel or as a double A Level. Both courses contain 4 core units which all students follow and the double award studentswill complete an addional 5 units. Due to a strong emphasis on developing key transferrable skills in both courses,both qualificaons are highly regarded by universies for sports courses and non-sport courses alike. Pearsons RQF LEVEL 3 NATIONALS EXTENDED CERTIFICATE IN SPORT (1 A Level) Assessed externally by exam Unit 1 - Anatomy and Physiology - 120 credits Unit 2 - Fitness, Training and Programming for Health, Sport and Well-Being - 120 credits Assessed Internally by coursework Unit 3 - Professional Development in the Sports Industry Unit 4 - Sports Leadership - 60 credits PHYSICAL EDUCATION (BTEC)More Maths = More PossibilitiesMore Maths = More Possibilies
Page 20
17Pearsons RQF LEVEL 3 NATIONAL DIPLOMA IN SPORT (2 A levels) Externally Assessed by exam. Unit 1 - Anatomy and Physiology - 120 credits Unit 2 - Fitness, Training and Programming for Health, Sport and Well-Being - 120 credits Unit 22 - Invesgang Business in Sport and the acve leisure Industry - 90 credits Internally assessed by coursework. Unit 3 - Professional Development in the Sports Industry - 60 credits Unit 4 - Sports Leadership - 60 credits Unit 23 - Skill Acquision in Sport - 90 credits Unit 10 - Sports Event Organisaon - 60 credits Unit 18 - Work Experience in acve Leisure - 60 credits Unit 27 - Principles and Pracces for Outdoor and Adventurous Acvies - 60 credits Where will this qualificaon take me? Further vocaonal and academic qualificaons The BTEC Naonal in Sport suite of qualificaons contribute UCAS points on the same basis as tradional A levels.Some students mistakenly believe that BTEC Sport courses are only for those students who want to pursue a careerin a sport related sector. Although this is true for some students, many other students in the past have progressedon to a variety of university degrees not associated with sport. It is highly advisable to speak to your PE teacher inrelaon to career ambions before finalising your choices. Employment Opportunies Accountancy, Nursing, Physiotherapy, Teaching, Sales,Actuary, Paramedics, Fire Service, Sport Scienst,EventsManagement, Sport Development, Sports Coaching,Nutrionists/Dietecs, Occupaonal Therapists, Army,Fitness Instructor/ Personal Trainer, Business owners, Socialworkers, Construcon workers, Quanty Surveyors,Engineering Entry requirements Students who wish to study sport at Level 3 should haveachieved a merit or above at Level 2 sport.For further informaon, contact the Head of Subject:bgormley687@c2kni.How to ApplyIf you are already a Holy Cross College student:1. Research subject choices using the prospectus and online resources.2. Talk to your class teachers and department leaders to find out what is involved intheir subject at A-level.3. Speak to the careers advisor for their help in determining your path to your bestfuture4. Complete the opons form and return by Friday 11th February 2022.If you are not yet a Holy Cross College student:1. Complete the Post-16 student opons form.2. Complete an AP1 form available from Holy Cross College office.3. Contact Holy Cross College for an appointment with Mrs Patricia Devine, VicePrincipal.
Page 21
WONDERING HOW TO CHOOSE YOUR COURSE/ SUBJECTS AFTER GCSE? A Levels and Level 3 BTEC's are a big step up from GCSEs – they are harder! So choose your subjects wisely. Yourcareer or degree ideas may change so make sure you choose subjects which you like and can do well in.1 ENJOYMENTYou'll be studying these subjects for the next 2 years, so choosing ones you actually enjoy will keep youmovated and help you achieve the best grades possible.Unless the subject is an entry requirement for your degree, or necessary to other future plans you may have,there's no point signing up for it if you don't look forward to lessons. You'll only start to get frustrated andstressed in the long term.2 STRENGTHSThink about the subjects you excel in and why - are you beer at fieldwork than wring essays? If so, perhapschoosing Geography rather than History would be a wise move.Talking to your teachers will give you an accurate idea of where your strengths and weaknesses lie, and guideyou toward the subjects that suit you beer than others.3 PARENTS AND TEACHERSWhile listening to the advice of your parents and class tutors can be great for helping you choose which Alevels to take, you shouldn't feel pushed into a subject you don't feel comfortable with.You're the one that has to complete the coursework, exams, or praccal work for it, so only pick subjects youare confident in and don't let anyone else decide for you.4 RESEARCHTake a look at the syllabus for each subject you are considering, especially if they were not available to you atGCSE level, such as Polics or Professional Business Services.Some students take subjects they think will interest them, but quickly become disappointed when they findit's not what they were expecng. Reading the course content should give you an idea whether a parcularA level is the right opon for you.5 WORKLOADReading through the course syllabus will also give you an idea of the work involved. There's a danger you couldend up taking 3 or 4 subjects that require mountains of coursework, or big exams at the end of the year thatare worth a majority of the marks.If you don't feel you could cope with either of these extremes, you may want to try and choose 1 or 2 subjectswhere the marks are more equally weighted.6 CAREER PLANSIf you've decided you're going to apply to university, you need to check the entry requirements for the course(s)you are considering. There are a significant number of subjects where at least one parcular A level iscompulsory.You don't want to choose your A levels, only to find later you can't get onto your degree course because youaren't studying the required subjects. Not going to university? Try to pick subjects that will be valuable toemployers, and useful in the real world. 7 SUBJECTSMost Universies will accept a wide range of subjects and Level 3 qualificaons but….a limited number of topuniversies in the UK suggest some Level 3 subjects do not prepare students for a degree as well as moretradional ones such as Chemistry, Mathemacs and History.18
Page 22
If you're planning to apply to a presgious or "red brick" university, make sure you're not going to put yourselfat a disadvantage by choosing more than one of the following A levels: Media, MIA, Art, Technology andDesign, Health and Social Care. Russel Group universies recommend you choose at least 2 tradional subjectsto ensure you will be considered by their admissions tutors. Some universies will only accept one BTEC Level3 subject.Queen's University, Belfast is a Russel Group university and now accept a combinaon of A levels and BTECLevel 3 qualificaons. However, they will not accept two separate BTEC Level 3 qualificaons (SubsidiaryDiplomas, or equivalent), in place of two A levels.Pupils are advised to check carefully entry requirements on www.ucas.com for applicaons to UK universiesor www.cao.ie for applicaons to universies and colleges in Republic of Ireland. There are very differententry requirements form one college to another, so you need to check. If you're sll uncertain, phone or emailthe university admissions team and ask for their advice. Universies in the Republic of Ireland do not, generally, accept BTEC qualificaons but Instutes of Technologywill.8 OPTIONSNot sure what you want to do aer your A levels? Or no career path in mind? No worries.If you want to go travelling for a while or just get a temporary/part-me job while you think about your nextstep, pick subjects that keep your opons open.Go for ones you find interesng and are good at,especially if they are tradional subjects. This meansyou're likely to achieve high grades, and sll go to agood university if you choose to apply later on.9 MATESFinally, don't just pick the subjects your friends aredoing so you'll always have a neighbour to naer to inclass. You'll get bored eventually, and probably fallbehind with the work because you're too busysocialising instead of listening to the teacher. You mightnot want to end up with a bunch of people you don'tknow, but there's bound to be at least one person youcan strike up a conversaon with.19
Page 23
Careers Advice/ GuidanceThis is an important me, because you are making decisions that will help youmove further along your career path. Today, it is possible to follow a career path that has different routes andpossible opons.It is important to think carefully about your opons so that you pick subjectsthat can help you move towards a career that you are interested in, or if youdo not yet know precisely what you want to do, that will help you keep youropons open.You need to understand the qualificaons framework so that you can plot yourcourse ahead to progress onwards.Opons when you leave Holy Cross College with Level 3 qualificaons.Leaving school with Level 3 qualificaons gives you lots of opons.Opons when you leave Holy Cross College with Level 3 qualificaons.Leaving school with Level 3 qualificaons gives you lots of opons.20
Page 24
Page 25
— SHARE —In Our Extra-Curricular ProgrammesHoly Cross College Sixth form experience will provide you with a wide range of opportunies thatdevelop not just your academic ability, but also your talents, your skills and your confidence. Holy CrossCollege provides personal enrichment opportunies, extra-curricular acvies, volunteering and workplacement.We pride ourselves in our ability to develop strong working relaonships between students and staffand we acvely support the development of a strong student body enhanced by the sixth form studyand common room. As a member of the sixth form, you will be encouraged to contribute to thedevelopment of the college and to support the wider Strabane community.We commit to:Provide a range of extra-curricular, enhancement and leadership opportunies Provide a caring and friendly Sixth Form community.We expect you to:Contribute to school and the wider community, serving as a posive role model to younger students;Aend school every day and wear the uniform correctly;Develop as a person taking advantage of the leadership opportunies offered.With a dedicated library, Sixth Form study and 6th Form Common Room, we have facilies purposebuilt for students studying post-16. But sixth form is so much more than your academic subjects. HCCoffers a wide range of extra-curricular experiences to our sixth form, including:Cookery and Food Hygiene ProgrammeDuke of EdinburghPope John Paul II AwardLiving Law ProgrammeMock Council EventsRotary Club Young Leadership CompeonReading Partnership ProgrammePeer Mentoring ProgrammeSchool Gym and various sports teamsVarious Charity Events including the Annual Sixth Form Christmas QuizAnd our Annual Sixth Form Formal, aended by pupils and staffGet involved, develop new skills and talents, meet new friends and take the opportunity to build your leadership potenal. Work in sixth form is supplemented by visits from various groups throughout the year, including:New Driver NI and Road Safety presentaonsBlood Transfusion ServiceAnthony Nolan TrustNexusAwareAcon For Children - Blues ProgrammeHoly Cross College is dedicated to helping every student in sixth form to reach their potenalacademically, socially, emoonally, physically and spiritually so that they can move on in confidenceto become the leaders of tomorrow. WHAT WILL YOU CHOOSE TO DO FIRST?22
Page 26
— DREAM —to have your best futureUCAS SupportWhile we understand that our sixth formers will move on to a variety of desnaons, whether in furtheror higher educaon or into the world of work, we offer support to every single pupil to help them reachtheir potenal. Students are guided through the university applicaon process from start to finish. Addionally, everypupil is assigned a specific member of staff who will not only assist them with their personal statementbut will write a reference for that pupil. This personalised support enables each of our students topresent their best to universies and future employers.HOLY CROSS COLLEGE – LEARN, SHARE, DREAMEDUCATION MAINTENANCE ALLOWANCE (EMA)If you apply to be a student in Holy Cross College, you can apply for Educaon Maintenance Allowance.What is EMA? Educaon Maintenance Allowance is a weekly allowance of £30 to help 16, 17, 18 and 19 year olds with the costs offurther educaon. Payments are made every 2 weeks as long as you connue to meet your school or college's aendance requirements. Full details are available at www.nidirect.gov.uk however, here are some of the general applicaon requirements:Age Your 16th, 17th, 18th or 19th birthday falls on or between 2 July 2020 and 1 July 2021 and you are starng orconnuing in further educaon from September 2021. Course You aend a post-compulsory further educaon course at an approved school or college in Northern Ireland. Thismust be full-me at school or a minimum of 15 guided hours per week at college, studying an eligible course andaending all classes. Naonality and residency If you're a UK cizen who normally lives in the UK you should be able to get EMA. If you're not a UK cizen you may sll be able to get EMA, go to www.nidirect.gov.uk for more informaon. Household income The table below shows how much you can get based on your household income. Forms for applying will be available from Holy Cross College recepon aer the start of May 2021.Forms for applying will be available from Holy Cross College recepon aer the start of May 2022We look forward to seeing you all in September 2022!23
Page 27
My career path has taken some unexpected turns in recent years with the acquision of my Master'sdegree in Business. I was employed as a Wealth Advisor at a bank here in North Dakota unl I washead-hunted into the Digital Markeng world to Townsquare, which is the second largest mediacompany in the U.S. The digital world is fast paced and ever changing which makes it interesng andkeeps me on my toes. In addion, I coach the Century High School Varsity Boys and Girls football teamhere in our state.My me at Holy Cross was great and I look back on it with fond memories. Academically, Holy Crossshowed me that I can always do beer and do more. I wasn't your typical "A" student. However, myteachers pushed me to do more and be the best possible version of myself. That persistence hasenabled me to get to where I am at today, I don't know where I would be without it. From a sporng standpoint, there is no beer place to play sports in N. Ireland. The coaching and advice of Mr Boyle and MrDonaghey helped me to refine my skills and adjust my atude (I didn't always have the best atude). Their coaching and adviceput me in a posion to take advantage of the football scholarship opportunity that was presented to me. Eight years removedand I owe a tremendous amount to Holy Cross and its staff. Take advantage of the school, its teachers, and listen to their advice;it will be the best decision you make.Aaron Brennan - BusinessAs a pupil of Holy Cross College from 2009-2016 I will be eternally grateful fortheir massive support in not only my educaon but also in my determinedpursuit to one day fulfil my dreams of joining the World renowned "Riverdance."I love reflecng back on my me at the school as I have an abundance of fondmemories with not only my friends but also the teachers and staff off the school.Two of my favourite departments in Holy cross are the state of the art Sportsand Drama departments. I remember training in Cross Country for PE, I alwaysloved the challenge and how our PE teachers helped us find movaon to getfier and stronger. I then competed for Holy cross at a county Championshipsand very much enjoyed running alongside other pupils. Perhaps my favouriteGCSE subject was Drama, my passionate teacher Mrs McCay helped me fall inlove with the very enjoyable subject- her work with the class and myself hashelped me on stage in my role in Riverdance today. I had so many days of excitement and laughter with my form class, trips thatincluded paint-balling and kayaking, bringing us all very close as friends. As asenior pupil in the school I enjoyed being a Peer Mentor as it gave me a chanceto be a leader and to help the younger pupils sele into their new school. I also felt very honoured to be DeputyHead girl working alongside other pupils to help organise school events. With the support of my teachers I was able to connue to dance throughout my GCSE's and A-Levels. I finished myme at Holy Cross college with 3 A's in Biology, Maths and Chemistry and got offered my dream job of joiningRiverdance. None of this would have been possible without my always posive, supporng, encouraging teacherswho went out of their way to make sure I had enough me for both my school work and dancing. I now travel theWorld, dancing almost every night for audiences as big as 7000 people. I perform my dream role of lead dancer inthe show- the biggest goal I ever set for myself and feel like the luckiest girl the World geng to do what I love as ajob. One of my biggest achievements has been performing in Croke Park for the Papal visit to a live TV audience anda stadium audience of 90000 people. I want to thank Holy Cross for everything they have done for me throughout my me in school and their connuoussupport I sll receive today. I will always remember my me at the school as happy, posively challenging and agreat me of growth. Thank you for helping shape the person I am today and for helping make my dream come true!Amy Mae Dolan – Lead role in Riverdance24
Page 28
I le the Holy Cross College in 2006 and studied medicine in Liverpool. During my studentyears I formed and was chairperson of a GAA club called Liverpool Wolfe Tones. I Graduatedfrom medicine in 2011 and I have worked mainly in Liverpool moving recently to Belfast. In2015 I formed and volunteered for a charity helping raise over £16,000 to medically assist5000 refugees within Uganda. In 2017, I completed my masters with disncon in Sports medicine at UCLAN. Since thenI've been working between geriatrics and in elite sport internaonally with Fleetwood TownFC, Northern Ireland and Wales internaonal teams, Brish Gymnascs and London broncos. Chris Ellio - DoctorI have very fond memories of my me at Holy Cross College and can hardly believe that it'seight years since I've been at school! I've been so fortunate to remain close to friends that Imet as far back as first year. We have such happy memories of our me at school.My year group was the first Year 8 group of Holy Cross College and so we were inially basedin the old Convent site. I was Year 12 when we moved into the school as it is now. Teachersplayed such an important part in shaping my future, they were always encouraging andpushing me on. I remember a strong desire to learn Irish but this never came natural to me.So aside from being a bit chay and tesng Ms Kyle's paence, I don't think I gave myteachers much bother.I always knew I wanted to pursue a career in the caring profession and so Health and SocialCare was an easy choice when it came to subject choices for my A-Levels. Geography was one of my favourite subjectsin school. I remember being so disappointed the morning of my results in not having secured my predicted grade.But they say everything happens for a reason! I went on to complete an undergraduate degree in Sociology at UlsterUniversity and then Social Work at Queens University and I am now a Social Worker with the Western Trust.Danica Conway – Social WorkerHi, my name is Thomas Mullen and I was a pupil at the Holy Cross College. I enjoyed myme at Holy Cross College and achieved well. Holy Cross had a wide range of subjectsthat I could choose from and I was parcularly interested in Sport Studies. The Collegehelped me to achieve at the highest level in sports because of the facilies and theexcellent P.E. staff. I enjoyed success with the football squad and Gaelic football team.I also represented the golf team and competed in all school athlecs compeons. I believe that all the hard work I put in at the Holy Cross helped me to gain a scholarshipfor university in the USA. I am now finished my first semester at the University ofArkansas as a student Athlete. I played soccer for the University and we became RegionalChampions and I was awarded striker of the region.Thomas Mullen – Soccer Player & Internaonal StudentMy name is Stephen Boyle and I was a student at Holy Cross College College from 2004 to2006. I had inially studied in St. Colman's High School before the three secondary schoolsin Strabane amalgamated in 2004 whilst I was studying for my AS-levels.I really enjoyed my me at Holy Cross and made some lifelong friends. The educaon Ireceived was excellent and I owe a lot to all the hard-working teachers who taught me.During my me at Holy Cross, I went on to achieve 4 A's at A-Level and got into TrinityCollege Dublin to study medicine. I'm currently working as a Gastroenterology Registrar inthe Ulster Hospital, Dundonald.We met and both completed our GCSEs and A-Levels at Holy Cross College. Oncompleon of our A-Levels we moved to the south west of England where Ciaranstudied Medicine alongside an addional undergraduate degree in Human Biosciencesand Laura studied Occupaonal Therapy. We spent a further 5 years working in theSouth of England, Laura as an Occupaonal therapist in amputee and prosthecrehabilitaon and Ciaran as a foundaon Doctor. We have now moved and are workingwith the Western Health and Social Care Trust, Laura as a community OccupaonalTherapist and Ciaran as a surgical doctor. We both thoroughly enjoyed our me at Holy Cross College and upon leaving, wereequipped with the skills and qualificaons needed to pursue our respecve careers.This we owe to the me, talent and passion of the teachers we were lucky enough tohave guide us. We met many life long friends and felt well supported throughout our me at Holy Cross. Ciaran and Laura Doherty25
Page 29
PICTURE GALLERYPICTURE GALLERY26
Page 30