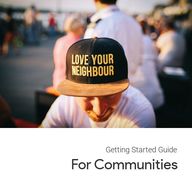 Return to flip book view
Guide For Community Services
Page 1
For Communities Getting Started Guide
Page 2
Hello,
Chances are, your community is distributing printed newsletters, event brochures, activity catalogs, bulletins, and course guides. This print communications keep your community informed and engaged, and has been doing so for many years.
But nowadays, your community is digitally connected. They live their lives on their devices.
Too many community services don't make the effort to be a part of their community's digital life. These digital channels give you the lines of communication to join your community where they are. It's time to bring your print communications to the modern world.
Page 3
Your community opens and engages with your latest content in their favorite digital channel, on their favorite device.
Imagine This
Instead of waiting to pick up a printed copy the next time they are at your community center or city hall.
Page 4
What You'll Accomplish With Simplebooklet
Turn your existing print investment in newsletters, event flyers, bulletins, program guides, an catalogs into engaging, influential online content.
Get your communications out to your community on the digital channels they live their lives on everyday.
By making Simplebooklet a part of your community digital communication strategy, you'll accomplish the following:
Build trust and confidence with your community by showing your ability to communicate effectively and bring an engaging experience.
Save money and time by reducing your printing costs and increasing your reach.
Page 5
Convenience
Instead of trying to download large files, they simply tap your link and experience your content instantly.
Timeliness
With an easy to remember weblink and the ability to install your content as an app, your community always has the latest version on the device they use everyday.
Trust and Confidence
Because your content is presented in a professional and branded layout, your content is more influential.
What Your Community Experiences
Page 6
Set up your account to make it quick and easy to add content.
How to convert your print content into digital content.
How to publish your content across multiple digital channels.
How to make a curated collection that your community can install.
How to measure your engagement with your community.
Guide Summary
In this guide, you'll learn how to do the following:
This guide will use a community center brochure as the example content when explaining how to use the simplebooklet platform. (of course you can publish content including newsletters, flyers, profiles, updates, catalogs and more.)
Page 7
From your DASHBOARD
Tap BRAND SETTINGSFill in the relevant fields
These settings can then be applied to all your content automatically.
Brand settings include your logo, your contact information, and your social network links.
Basically what you would expect to find on a business card.
Getting Set Up
This will do two things: make it faster each time you add new content, and, make it easier to update all your content from one place (for example, a change in email or phone number).
The first thing we want to do is set up your Simplebooklet account with your community service's branding and contact information.
Page 8
To set up your domain, tap CUSTOM DOMAIN on your dashboard and follow the steps.
Tip: This does require access to your domain registrar (like godaddy) so you may need some technical support for this. Instructions are available here.
Getting Set Up
Next, we'll want to add your community domain address to your Simplebooklet account. This will make sure that your community views your content under your url instead of the simplebooklet.com url.
Page 9
Page 10
A single tap opens up an impressive page flipping presentation of your content, no matter the device.
Imagine This
No downloading, no virus, and no fancy software viewing apps. You're viewing a booklet right now.
Page 11
The best way to get comfortable with Simplebooklet is to start by uploading some of your general communication content. This is content that you would share with your community that give them a sense of who you are, what you can do for them, and your roll in the community. Good examples are:
About Your Services Brochure
Program Guide
Upcoming Event Flyer
Weekly or Monthly Bulletins
Newsletters
Adding Content
Now that you've set up your Simplebooklet account, you'll be able to quickly and easily convert your communications into online content you can share everywhere.
Page 12
From the Simplebooklet DASHBOARD:
1. tap the UPLOAD button
2. select your PDF, DOC, or PPT file
3. Answer 5 questions
4. Set your URL
5. Open your booklet in DESIGN
Now you've got online content created from your communications and marketing materials.
You can start sharing everywhere. You don't need to do anything more. However, let's enhance your new digital content and really leave a lasting impression.
Adding Content
On average, it takes about 3-5 minutes to convert and customize your new flipbook. After that, you can start sharing everywhere.
Page 13
Every Simplebooklet is displayed on its own microsite. Think of it as the stage where your content is displayed. It's here where we highlight your community brand and make a lasting impression on your community.
The presentation of your content is just as important to give your community confidence and trust as your content is.
Impressive Presentations
The act of experiencing your content should give the reader as much joy as reading your content.
Page 14
Background
This sets the overall mood of your Simplebooklet presentation. Suggestions include background patterns that match your overall branding, photos from your local area, or just a solid color to keep the focus squarely on your content.
Impressive Presentations Page Buttons
You'll want to configure the page turn buttons (how they look and where they are positioned on your microsite) as well as the scale content opens in default. The default open should be set to original size for content such as a map and reports, while other content can better display as fitting to screen.
Page 15
Navigation Header and Footer
These are the top and bottom header and footer on your booklet's microsite. You can choose the colors of the header and footer and which menu options appear in them. The colors of the navbars will impact the presentation and can either emphasize or blend in with your overall presentation.
The navbar is also your opportunity to encourage engagement and out-reach. This is where your Contact Card will appear, and you'll be able to encourage your audience to install your content on their device for offline access.
Page Transition
The page transition is how your pages flip from one to the next. We've designed a lot of different transitions to choose from. You can select to display your content as a single page, double page, and even trifold. Then you select how those pages flip.
The transitions will make a very big impact on how your community consumes your page content. It is best to try and maintain the real world experience of reading your content in print format so that familiarity carries forward online.
Impressive Presentations
Page 16
You can use our THEMES to walk through these configuration elements step by step.
Impressive Presentations
Page 17
Page 18
Start sharing your content on the devices your community uses everyday.
Imagine This
Instead of waiting until the next time they are at your community center.
Page 19
Now that you have a professional piece of online content from your marketing collateral, it's time to start impressing and influencing your community.
You need to stop waiting for them to find your content buried on your website and take your content to them in the channels they visit everyday.
The content you've created works well in your social feeds, in email, and embedded on your website.
Go to the PUBLISH Tab
Publishing
This is about getting out to where your community hangs out online in their busy everyday lives.
Page 20
Social Media
Facebook, Twitter, LinkedIn, and Pinterest are very effective at getting your content into channels that people use either daily, weekly, or monthly. Pinterest can be especially effective for reaching your community.
Embed
If you manage your own blog or website, our easy to use embed code lets you place your booklet right in your website. No more forcing your community to download a large PDF, they can flip right through it on your site.
Email
Try emailing your content to yourself. You'll see how effective the result can be and then be able to start sending out emails to your community.
Publish Everywhere
Your community is everywhere. Go to them.
Page 21
Page 22
Your community can have access to all your curated programs, newsletters, and content at a single weblink.
Imagine This
The convenience of all your Simplebooklets at your community's fingertips.
Page 23
A collection displays multiple booklets on a single webpage. Think of it like your own branded pinterest board.
It's a curated archive of newletters, bulletins, or event information you want to share with your community.
Collections are effective because:
1. They give a person a single link to view all your relevant content,
2. They can be installed on any device as a native app with your logo as the launch icon.
3. They work offline.
From the DASHBOARD
1. Tap COLLECTIONS
2. Tap Create New
Make A Collection
Collections are a powerful way to create one tap access to an archive of your content.
Page 24
Making Your First Collection
Step One
Convert all the content you will want to display in your collection into Simplebooklets. For example, convert your recent year of bulletins.
Step Three
Customize the presentation of your collection by adding a background and configuring the navbar header features.
Your community will appreciate the focus you provide them with a curated collection of relevant content.
Step Four
Copy the URL of your collection and share it across social media, email and add it to your website to get your community engaged.
Step Two
From the DASHBOARD, tap COLLECTIONS and make a new one. Add the simplebooklets in the order you want them to appear.
Page 25
Page 26
Your community installs your collection on their favorite device so your content is always a tap away.
Imagine This
No hard to remember weblinks, just a simple tap on a branded launch icon with offline access.
Page 27
One Tap Access
Instead of opening a browser and typing in a url, your community taps a branded launch icon on their phone, tablet or computer desktop.
Offline Access
Every Simplebooklet and Collection can be viewed, even if your reader doesn't have a network connection.
Notifications
When you update your collection, all installed versions are automatically updated with the latest content. This is especially valuable for newsletter collections.
Installation Means Engagement
Installed collections see 4x better engagement with your community.
Page 28
For Simplebooklets:
1. Tap DESIGN
2. Tap NAVBARS
3. Toggle on INSTALL
4. Select your install icon.
Your Simplebooklets and Collections can all be installed on any device. You just need to turn on the feature.
Installation
For Collections:
1. Tap EDIT
2. Tap NAVBARS
3. Toggle on INSTALL
4. Select your install icon.
Every collection can be installed as a native like app on a person's device.
Page 29
Send An Email
Email your community and highlight the benefits of installing your new collection on their device. Focus on the convenience, offline capabilities, and always up to date benefits of your installable collection.
You'll want to encourage your community to install your collection on their device.
Once you've added your INSTALL menu button to your Navbar, it only takes a tap to put your collection on their device.
Encourage Installation
Share Your Collection Link
Add the link to your collection on all your print collateral. This way your community can access your content from any browser and be prompted to install directly without going through an app store.
People appreciate the ease with which they can access your content from a single tap.
Page 30
Page 31
Update Existing Content
If you update your print materials, make sure to use the REPLACE button for the corresponding online version. This will allow your community to keep using the same weblink and installed version of the content but now with updated information.
Enhance
Go back and enhance your content with updated buttons that will display photos, videos, and additional engaging content. Much of your content will continue having engaged community long after you first published.
Publish Often
It's okay to post older content onto your social media channels multiple times. People appreciate being reminded of content they may have neglected before.
Best Practices
Any print content you have can become valued online content.
Page 32
Thanks,
I'm very excited you are using Simplebooklet to communicate with your community.
At Simplebooklet, we pride ourselves in helping our users. You can contact me anytime through our chat messenger in the application, or email me at support@simplebooklet.com.