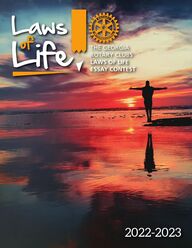 Return to flip book view
Georgia Laws of Life Essay Collection 2023
Page 1
Page 2
The Georgia Rotary Clubs Laws of Life Essay Contest is the sole program of the Georgia Rotary Districts Character Education Program, Inc (GRDCEP), a 501(c)(3) tax-exempt nonprofit organized exclusively for charitable and educational purposes.Tax ID # 27-1203817 www.georgialawso�ife.org lawso�ife@georgialawso�ife.org404.590.8039Georgia Rotary Districts Character Education Program, Inc.LeadershipCarol Gray Walker, Executive Director Linda Hatten, Program Manager - SchoolsElizabeth Kuka-Dos Santos, Program Coordinator Board of Directors Natalie MarshallBoard ChairRotary Club of GriffinDarlene DrewVice-ChairRotary Club of Peachtree CityBeth McIntyreSecretaryRotary Club of WinderAlicia MichaelTreasurerPDG 6900Rotary Club of Carrollton Dawnbreakers Mike BergPDG 6910Rotary Club of Dawson CountyDean FreeRotary Club of BainbridgeBob HaganPDG 6900Rotary Club of RoswellRay HuebschmannRotary Club of DunwoodyAndré MarriaDGN 6900Rotary Club of ThomasvilleAnu NarulaRotary Club of CantonJohn NeillRotary Club of Sandy SpringsDonna O'NealRotary Club of Greene & Putnam CountiesEd OutlawStone Mountain Passport Rotary ClubGerry TaylorDG 6910Rotary Club of The Classic City of AthensJT WuRotary Club of DuluthAdvisory RoleGeorge GranadeDG 6900Rotary Club of GriffinBobby HildrethDGN 6910Rotary Club of Morgan CountyHeather KellenDG 6920Rotary Club of PerryGordon OwensDGN 6900Rotary Club of Roswell As in years past, the student essays of Georgia Rotary Clubs Laws of Life Essay Contest rejuvenate and inspire us. Their stories of lessons learned by taking chances, love of family, navigating loss, and striving to become their stronger, better self fill us with awe and optimism.Thirty-six years ago, Sir John Templeton created the Laws of Life Essay Contest. He sought to encourage young people to embrace and share the power of a personal maxim or "law of life", that, if adopted, would guide them to live their best lives. Today, the Georgia Rotary Clubs Laws of Life Essay Contest remains committed to encouraging students to embrace the wisdom of these sayings and honoring the expressions of their personal beliefs.Since 1998, over 800,000 Georgia students have shared their story through a Law of Life essay. The Contest is not possible without the teachers who help their students explore their lives through the written word. We are thankful for the corporate, foundation and individual donors who provide pivotal support. We also thank the volunteers who serve as judges giving their time to "listen" to the writers and our Rotary Club Sponsors who recognize the deserving students. New this year is The Founder's Award, a $1,000 award given in honor of Susan G. Mason, founding Executive Director. Also, the top State Award has been increased to $1,500. Every student who writes a Law of Life essay is to be commended for sharing their stories. We thank each student for their inspiration. We particularly congratulate the eight outstanding essays shared in this publication. As you read these essays, we hope you too are filled with gratification of life's lessons and optimism for the future. Gratefully,Natalie Marshall Carol Gray WalkerBoard Chair, GRDCEP Executive Director, GRDCEPMember, Rotary Club of Griffin Member, Rotary Club of Midtown Atlanta"Choose to be optimistic. Itfeels better." – Dalai Lama
Page 3
ResilienceState WinnerDuc LeRockdale County High School12th GradeLaw of Life "Don't be afraid to give up the good to go for the great" - John D. Rockefeller"Don't be afraid to give up the good to go for the great." - John D. Rockefeller Tien Giang was a beautiful province in Vietnam. I can still remember the ever-flowing rivers, the busy street markets, and the ornate Buddhist temples that peppered the area. I spent much of my childhood there. I lived in a rural, tight-knit community and developed everlasting memories with friends who I thought I would spend the rest of my life with. To this day, I continue to reminisce upon the times we played traditional Vietnamese games at the park when there were power outages, the times we held large celebratory feasts with a glazed succulent pig that sat in the middle, and the times we held lantern festivals to celebrate the new year as people paraded the streets at night with elaborately decorated lanterns. This was genuinely one of the best times of my life, which is why I couldn't understand at the time why my parents would tear down the life I once knew and start anew in a strange foreign land.I still remember the day when I had to leave behind everything that I've ever known. The house that I've known for all my life was stripped of its life and was reduced to a hollow husk that sat abandoned on the street I used to happily frolic along. As I reflect upon this moment, I vividly remember the phone call that I received from my grandmother, who lived in the U.S. at the time, as my family packed up all our things. "Don't worry," she said, "don't be scared, you'll love it here." I remember thinking to myself, "How could you possibly say that? I'm leaving behind all my friends, my school, my community, and my culture. I don't want to leave. I can't." Still, I put on a brave face as the fear, anxiety, and despair tried to claw their way through this superficial front.The first few years I spent in the U.S were probably some of the hardest I've ever faced. I had to adapt to a whole new way of life and culture and even learn a new language. I was behind in my grade level and was forced to spend another year in the same grade so I could get a grasp on the English language. I experienced culture shock and was isolated from the people around me. I felt like an outsider, and I lost the sense of community that I felt back in Vietnam. I desperately wanted to go back, but I knew that wasn't an option. It would've been easy for me to give up back then, doing the absolute minimum and hoping I could coast through life itself. However, that wasn't the life I wanted for myself. I wanted more, so I fought to find my place here in the U.S. Slowly, but surely, I began to adapt. My cousins helped guide me through life here in the U.S. They taught me everything that I knew, and we formed an inseparable bond that ties us together not only as family but as best friends. After a year of practice, I finally became proficient in English and began to connect with my peers in school. At home, my family and I continued to uphold our culture and traditions, never letting ourselves forget our roots back home in Tien Giang.Now, as I reflect upon my past experiences as a senior in high school, I can clearly see the positive impacts my parents' decision to immigrate to the U.S. had on my life. Though my life would have been good if I had stayed, I would never have had the incredible opportunities that I've been given and achieve what was originally thought to be impossible in the small Vietnamese neighborhood where I grew up in. I would have never grown to be a nationally distinguished student leader or had such an advanced education. Eerily, sometimes I even wonder, would my battle with cancer have taken a different turn had I stayed? Immigrating to the U.S. opened a door to a whole new world of possibilities, and it taught me a motto that I continue to live by: "don't be afraid to give up the good to go for the great."
Page 4
1 st Runner UpFadil KarichiyilAlpharetta High School9th GradeLaw of Life "At the end of the day, it's not about what you have or even what you've accomplished…. It's about who you've lifted up, who you've made better. It's about what you've given back." - Denzel WashingtonCompassion Laws of Life Memoir: The Helping Hands of CompassionThe sun was mercilessly spreading its scorching rays that day- exacerbating the already sultry weather. I would have blacked out from all that Arabian heat if it wasn't for the air-conditioners. I was in 6th grade at the time, in a school in the United Arab Emirates. It was the holy month of Ramadan when all Muslims fast from dawn until sunset. I, being a Muslim, was exhausted from the fasting. I was taking a glance at the clock every now and then, to check how much more time is left until the sunset prayer- when the fast is supposed to be broken. Hunger and impatience were getting the better of me. It was the peak of summer, during the month of June, and combining that with the fact that I was fasting, and that I was in the UAE, a country in the Middle East famed for its deserts and unbearably sweltering summer weather, made it unendurable for me. I did not have to bear with doing schoolwork, though, as it was during the summer break. I was sitting on the couch, when there were only a few more hours to go- with all my energy drained and too worn out to do anything- when my dad called me along. He and a few of his friends were distributing food to the workers who lived in the so-called "labor camps". As the name might suggest, those are actual places that accommodate the impoverished migrant laborers- mostly hailing from the relatively underdeveloped South Asian countries. Behind all those glitzy skyscrapers are the blood, sweat and tears of the disadvantaged laborers who are ready to make any sacrifice for a better livelihood. Their living and working conditions are usually harsh and inhumane, as they come from underprivileged backgrounds and do jobs that are just enough to sustain their lives.We all took part in preparing the food, packaging them in individual boxes, and then finally taking them to the labor camp to be distributed. The labor camp was in a relatively isolated location. We had to venture out into the desert and had difficulty reaching our destination.This was one of those "Iftar" events- Iftar basically means breaking the fast in Arabic and refers to the meal eaten by Muslims after breaking the fast at sunset. These kinds of events are common in the Emirates, and other places around the world, during the month of Ramadan. It is usually like a feast where a lot of people congregate, patiently wait for the call to prayer, and upon hearing it, break their fast and enjoy the various dishes that are prepared. This is honestly one of my favorite things about my culture, as Ramadan teaches us to stay humble and also, brings about a sense of togetherness, a sense of brotherhood, as people reach out to others in need.We got there about an hour before sundown. We all helped in handing out the food boxes to the inhabitants of the camp who were anticipatedly looking at us and curious upon our arrival. Even I took part, despite me being the only child amongst the crew. As I handed out those parcels, I felt something inside me. I felt the joy of doing a good deed rush through my body. I suddenly felt better. I felt more enlightened and satisfied. That one incident really opened my eyes. After we handed out those food parcels, we all waited for a while longer until we heard the call to the sunset prayer. We also sat amongst them and broke the fast with them. It was certainly a gratifying experience for me, personally speaking. That one day taught me a lot of things. We may have a lot of material possessions in this world, but nothing really gives that satisfaction of doing something good for others. It may seem unimportant to us, but it certainly can turn out to go a long way for others. As it is said, "At the end of the day, it's not about what you have or even what you've accomplished…. It's about who you've lifted up, who you've made better. It's about what you've given back."
Page 5
2nd Runner UpNathanael HuntManchester High School 12th GradeLaw of Life "You need to stop worrying and live today to the fullest because I can't promise tomorrow."GratitudeLive Today To the Fullest, Because Tomorrow is Never Promised.In life, gratitude can lead to greatness. When you're stuck at the bottom, gratitude turns that nothing into something. When you're at an all-time low, that gratitude will lift you high. It can bring clairvoyance, peace, and resonate you with calm, even in the most chaotic times. Everyday, you should live to the fullest, because tomorrow is never promised - something my beloved mom told me in a harsh time. We've had our share of hardships that we managed to overcome, which lets me understand these worlds deeply. But I never realized just how meaningful these words were, until she was on Death's doorstep.I can remember it like it was just yesterday. The cold, eerily silent halls of the hospital, and the sounds of mechanical heartbeats of machinery. Hospitals were supposed to be a place of care and health, but in the late night, it felt like something straight from a horror movie. When I was there, I had slept in a futon, blanketed by a thin sheet and a single hard blanket. I passed time by counting the beeps of the heart monitor; I was restless, burdened by anxiety. It was hard for my mom to speak with the plethora of medication she'd been put on, as well as the constant nurse visits. Our chats were short.When we did speak, it made my heart throb in an ache. She was so ghoulish and pale, with weak, almost popcorn-like breaths and coughs, that I couldn't stand to make direct eye contact. She'd suffered a heart attack and stroke at the same time, and yet… she still held on. A boy as young as I was - only fifteen years old - shouldn't have had to endure watching his own mother hang by a thread. Often, she'd take my hand and try to talk about the hopes of the future to make it easier. I'd ask her things like: "You'll see me graduate, won't you?" She would smile at me, as difficult as it might've been, and nod solemnly. Too drugged and tired to even string four words together.But one time, she forced herself to. She took my hand with her cold, slender fingers and interlapsed them around mine tightly. She looked into my eyes with her sunken hazel irises and told me: "You need to stop worrying… and live today to the fullest. Because I can't promise tomorrow." What was just a whisper, felt like a mighty shout to my very soul. I can remember vividly how my chest clenched and my heart threatened to jump from my throat. With blurry vision from tears, I still managed a smile to her, and made the promise that day to spend everyday cherishing what time I had left with her, and to live it to the fullest. The next weeks in the hospital were frequent visits and a few hours to talk, play board games, or homework. I knew she wasn't good at math, but I knew that her being able to help in any way soothed her. As the days went by, she was finally dismissed from the hospital with a wheel-chair, which I volunteered to push. It was hard for her to move around the house, and stairs became her worst enemy. She'd lose her breath so quickly that it scared me to see her collapse at the top of the stairs. Even then, I promised her to not let it get to me. We took it as progress, for every new step taken. No matter how many times I had to make dinner for her, or help her out of bed, I kept myself happy and hopeful, grateful for what I still had. Then before I knew it, years later, I saw my mother with healthy skin and a bright smile. Running with the dogs, cooking the whole family delicious tacos every Tuesday, and talking to me about my graduation this year. My faith kept us going, and to this day, I couldn't be more grateful to walk the stage and take my diploma with her beside me.
Page 6
3rd Runner UpJourney AllenGeorge Walton Academy9th GradeLaw of Life "Happiness can be found, even in the darkest of times, if one only remembers to turn on the light." - J.K. RowlingOptimism The Reality of Optimism As I paced around the room, the innumerable bouquets and wreaths seemed to be closing in. I heard voices drifting in from the hallway, so I crossed into another room and stopped dead in my tracks. I could immediately tell that everything was going to be different. In the middle of an unfamiliar building, surrounded by somber bystanders, I stared at my father's casket. The mahogany wood was draped in an American flag. The floor swayed beneath my feet as I approached my mom and grandparents. It felt like all the light in the world had been swallowed by the abyss of darkness. I took deep breaths and tried to calm myself as quietly as possible, thinking about how strange my life was slowly becoming.I reflected on the past couple of days in my head. I had been tense because my dad was hospitalized with a case of pneumonia. I assumed that he would be completely fine; he always had been before. In other words, if my life were a rollercoaster, it would have been going steady for the most part, because my life was what I liked to call normal. Normal, however, is a very subjective word, and has a different application in everyone's lives. The word normal in my life meant coming home from school every day to a house containing my mom, my dad, and one or two nurses. The normal in my life meant that it was simple for me to accept that, in 2009, my dad sustained a gunshot wound to the head while deployed in Afghanistan and miraculously survived. He was left severely paralyzed, unable to walk or speak, and needed constant care. Of course, Dad had to visit the hospital from time to time, but he always bounced back. I knew he was going to be okay, and his pneumonia was probably just a setback. So when Mom picked me up from school one day, took me to the hospital to see him, and said, "He isn't going to make it," my rollercoaster plummeted to the ground at high velocity. My mom said we would be okay, but I didn't believe her. She said everything was going to be fine, but I didn't believe her. She said everything didn't have to change, but I didn't believe her.As I stood there at the visitation, next to the casket, with no idea what to do, everything was empty. My eyes darted around the room, and everyone around me seemed broken. I was just swaying there, unable to process. I barely said a word to anyone, until I caught a glimpse of one of my closest friends walking up to me with his family. In that moment, happiness flooded through me as I ran up to him. And as I embraced my friend, I somehow realized that all the people who showed up at the visitation were simply there out of love. It didn't matter if it was love for my dad, someone else in my family, or even me. After that epiphany, the people around me didn't seem so grief-stricken; they seemed caring and sympathetic. Of course, it was still a hard day, but everyone's love and support for me helped me balance my feelings after losing someone I loved.The more I thought about it, the more I knew I was going to be okay. I was able to make the best of a horrible situation, and, as a result, my rollercoaster slowed, steadying onto a straight path. That's why, when I see J.K. Rowling's quote, "Happiness can be found, even in the darkest of times, if one only remembers to turn on the light," I have a personal connection with it. I can remember that if someone simply looks inside their heart to find joy, any predicament can be turned around. No one ever has to search for happiness, or light. It is always there---it just has to be noticed. Finding joy may not be easy, but it can always be achieved.
Page 7
4 th Runner UpMark ZimmerCarrollton High School 12th GradeLaw of Life "A good man loves."DiscernmentA Good Man LovesI never learned how to shave.My relationship with my father ended on March 15, 2018. Eight dry beer bottles on his bedside table, he violently beat me until I unconsciously laid across the cold hardwood floor of his bedroom.Months later, I thought that I needed to shave. I had no idea where to begin. I tried, repeatedly. Blood dripped as I cautiously attempted to remove the grainy stubble that haphazardly jutted from my 13-year old face. I was always unsuccessful.Shaving was the unfortunate beginning. I learned to tie a necktie from a YouTube video. My mother taught me how to properly wear a suit. Learning like this became a trend. To me, masculinity was found from observation of others. No one was there to teach me, so I was left to learn on my own.As I moved through my new, fatherless life, I began to understand that I would not undergo the same experiences as my peers. All of the other boys my age were with their dad. Mine was under a restraining order.My masculinity also came from my mother. I learned how to be a man from what she saw as the perfect version of it. She provided me with examples regarding how masculinity should interact with the rest of the world. Unfortunately, her version had flaws. My mother's two broken marriages and multitude of spontaneous significant others proved useful. I was afforded the opportunity to gain a diverse outlook on the man, and eventually, I began to form the idea of what I wanted to be. I kept a list.A good man understands that he cannot be perfect.My father believed that he was perfect. He was the self-proclaimed "gold standard", and we were taught that our goal in life was to achieve his level of being. As I saw the other men that entered my mother's life, I began to understand that perfection was unattainable. The other men saw their own flaws, and they worked to understand and grow from them. A good man attempts to care for all of those around him.While many of the men in my life lacked this trait, my father and others, regardless of their circumstances or emotions at the time, ensured that my siblings and I knew that we were loved. Although we often did not reciprocate the feeling, the gesture showed me how important it was to show how much a man cares.A good man shows emotion.My mother has not encountered such a man. Instead, I learned from observation of other relationships. My aunt and uncle embody the relationship that I wish to harbor in my future, for they speak to each other constantly. Both my aunt and uncle ensure continued maintenance of communication regarding everything, from their monotonous work days to intense feelings regarding their marriage. My uncle tells my aunt how he feels, and my aunt loves him for it."Man" is an enigma so great that my growth has come to realize the unfortunate acknowledgement that I will never understand what it should embody. My masculinity developed, and is developing, in what I believe is a unique manner. Instead of being told how to be masculine and what ideals the man should uphold, I am tasked with searching for them. I still search, forever lacking a tremendous amount of answers.While I still lack answers to the question that is "Man," my growth seems to have increased my confidence in and respect for "Self." My growth is my masculinity. Observation and my family are forever enormously influential, but I now attempt to learn from introspection. I want to develop my own definition of the man, shedding all external influences, blossoming into my own person–my own man. I want to act with love, unyieldingly. My definition of masculinity prioritizes love. I want to embody it.A good man loves.
Page 8
5 th Runner UpYena BarnaColumbus High School12th GradeLaw of Life "Loving someone deeply gives you strength, while being deeply loved gives you courage." - Lao-tzuLove "Loving someone deeply gives you strength, while being deeply loved gives you courage." -Lao-tzuFrom the moment I was born, my mother, father, and I have been traveling the world; mainly due to my father's involvement in the military. The three of us were always together; eating every meal we could at the same table, watching movies together on the couch over the weekend, playing card games on sunny mornings, exploring exotic places whenever we had the time. Of course, our family naturally extended as friends became closer and our family tree grew but the three of us were still the center of it all, especially to me. This relationship was most important whenever we had to P.C.S. or move to a new permanent change of station because I would have to leave my friends behind. The three of us repeated this cycle for years, my parents sacrificing stability for the rare opportunity to truly see the world. Growing up with my parents as two of the only constants in my life was not a hindrance. Our connection created a safe haven for me: a place where change never mattered, a place where I could be comfortably vulnerable, a place where I was never alone; where something as simple as a family hug can bring the most comfort and love that I have ever known.Along with the external change that I was raised with, came the change many face while growing up and realizing who you will become. As I dealt with social problems, academic stressors, and the common obstacles that come with just being a teenager, my parents were always there for me. When I was diagnosed with scoliosis at thirteen, the last things I remember seeing before I fell asleep and the first things I saw when I woke up were their faces. Whenever I am away, on long weekends with friends or traveling on my own for swim competitions, my parents support me in everything.Now, in less than a year, I will be graduating high school and attending college as a freshman. I have become accustomed to thriving despite the change of starting over because of my childhood, but I am still terrified that I will not be ready. This journey will be the biggest change I have ever faced. I will be living by, and caring for, myself, away from the haven that has protected and nurtured me for seventeen years. But I know that I will never be truly on-my-own. Lao-tzu once said, "Loving someone deeply gives you strength, while being deeply loved gives you courage." My relationship with my mother and father is one of the most important things in my life, and will continue to be as important as it is today. My parents taught me how to be true to myself, how to communicate, how to appreciate the world, and how to show compassion for the people I encounter. I know that because of their love and support, I have the courage to try and the strength to fail, and the determination to ultimately succeed.
Page 9
George A. Stewart Jr. Character in Action AwardChase VandergriffSouth Forsyth High School11th GradeLaw of Life "You don't have to, you get to."FortitudeLaw of Life"You don't have to, you get to." I believe this phrase applies to every aspect of life. Don't feel like brushing your teeth before bed? You don't have to do it, but you get to. At least you have running water. You'd rather lay in bed watching Tik Tok than go grab dinner with your family? Well, you don't have to go, but you get to spend time with your family. Others would do anything for that opportunity.I recently moved in with my aunt and uncle after my father unexpectedly passed away in September of 2021, and they took me in at a time where I was confused, lost, and felt no motivation. They suggested that I should start exercising as it could be very good for my mental health. Working out is an enormous habit in my Aunt Marisa's life, so there is a home gym in the basement. One day in April last year, I hopped on the treadmill and picked out a running class instructed by Jess Sims to take on the Peloton app. I'm not going to lie, I was struggling to keep up with the instructor. And that's when she said, "You don't have to do this workout, you get to." She was trying to boost morale as we were in the most difficult part of the run, and she figured this was the part where our minds were starting to think about giving up on the workout. That phrase has stuck with me since I took that Peloton class.With the loss of my dad, I try my best everyday to live in his memory and make him proud. My dad and I had an amazing relationship. He was my best friend and hero. There wasn't a single thing he wouldn't do for his loved ones; he had a heart of gold. A funny thing about my dad was that he loved cleaning and detailing his cars. I know that he would not be happy with me right now if he could see how dirty my car is. So I could either get frustrated with the fact that it's another thing on my long to-do list, or I could be happy to go to the car wash. I don't have to clean my car, I get to. I think my dad would love to get to clean his car while watching the Nascar race in the garage just one more time. That's just one way to apply "You don't have to, you get to" to my situation. Here's a second way to think of it. Of course it sucks mourning a parent, but I'm so thankful that I get to miss such an amazing parent. I have friends who have no connections with one of their parents whatsoever.Any time I am struggling with finding motivation to do something, I always think of this quote and relate it to what I'm struggling with. It makes me realize that my situation could be worse, and that I should be thankful for my blessings and opportunities. Even on days where it feels like everything that could possibly go wrong has gone wrong, this quote helps me. For example, one time I was sitting at a tire shop waiting an hour in line to get a nail pulled out of my tire, and this quote improved my mindset. Of course I was very annoyed that I couldn't make it to my plans for the day anymore, but I thought "At least I have a car to sit at a tire shop for."Ever since I heard that phrase in April of 2022 during a run on the Peloton treadmill, it has stuck with me. It really helps me get out of a funk. I would say it is probably one of the best things that has helped me not fall into depression after losing my dad. My whole perspective on life has changed, and that phrase always makes me focus on the positives. If anyone were to take anything from reading this, I hope it is to live each day like it could be your last and always remember "You don't have to, you get to."The Character in Action Award is presented by the Dunwoody Rotary Club in honor of club member George Stewart for his dedication to character education and the Georgia Rotary Clubs Laws of Life Essay Contest. It is awarded to a student essayist who demonstrates good character through words and deeds.
Page 10
Susan G. Mason Founder's AwardArik TsfatiLassiter High School11th GradeLaw of Life "Hope is a survivor's trait" - Jane GoodallHopeThe Will to Live "Hope is a survivor's trait" -- Jane Goodall.In our darkest times, there exists two paths to take. A path of fear or one of hope. Our emotions and feelings often compel us to choose the path of fear; the path that hides through the shadows, sinks at the sight of a challenge, complains, and the one that gives up. Hope allows us to remain strong, despite difficulties, hanging on to the belief that in the end, life will be better, and peace can exist. A crucial part of hope involves the will to act. Action is paramount to maintaining hope, which can only exist with perseverance. April 29, 1945 -- a foundational date for my family's history -- is the story of a man who remained hopeful, persevered, and survived. Hope pierced through the windows of the halls of death, yet my great-grandfather teetered on the brink of survival. Liberation is a word that represented hope, yet my grandfather was confronted by the presence of death and his illness. He could not stand; my grandfather was paralyzed by starvation, and sickness, and needed immediate attention. The camp opened, and a rabbi came to comfort the sick and asked my grandfather to recite the Shema, so that he may have an easy death and enter heaven. Choosing not to recite the Shema, my grandfather did not give up and instead insisted on going to the hospital. For the next 2 months, my grandfather persevered, remained faithful, and gradually came back to health. After American soldiers liberated Dachau and other camps, the world began to know of the suffering of Abe Shancer and others -- people who were subject to the inexplicable crimes of genocide. The horrors of the Holocaust penetrated my grandfather's soul; taken from camp to camp and separated from his family. Abe Shancer continued to hold on to hope, dutifully searching for his family. Eventually, my grandfather immigrated to the United States with the help of his sister. He had lost both his parents, brother, and a sister. Abe Shancer built a life with his family as a barber telling his story to whoever would listen and always remaining kind and faithful.My Grandfather's story epitomizes hope and perseverance. Despite enduring human hell, my grandfather remained hopeful, optimistic, and open-minded. Abe Shancer is a hero, who not only survived but cherished life -- giving when he was starving -- and always believed in the goodness of others despite what he had suffered. My grandfather's legacy lives on in his children, grandchildren, and great-grandchildren, always instilling in me that one must hope and take direct action to better one's situation. Life is a constant struggle of emotions, the mind, and health. Being guided by hope can lead to success in all areas of life. In my life, I choose to live by the values of hope and perseverance. After leaving California and moving to Atlanta, I lived by the value of hope in my daily life. Going to a new school as a 10th grader, and leaving established friends behind, to begin a new journey. I found myself struggling with the weight of loneliness and the loss of friends. Having no close friends for an entire school year was arduously challenging and tested my mental fortitude and strength. However, I met my challenges with fierce hope and belief that I was worthy of friendship. I compelled myself to remain outgoing, think positively, be optimistic, and persevere. Reaching my 11th-grade year, I have now forged friendships in school through different activities and classes and am now reaping the rewards of my hope. When I look at my past, future, and present, I see myself defined by my values of hope, perseverance, and optimism. I will do my best to create my own and fulfill my grandfather's legacy. The Founder's Award is presented by the Buckhead Rotary Club in honor of Rotarian Susan Mason, for her commitment as the founding Executive Director of Georgia Rotary Districts Character Education Program, Inc. It is awarded to a student essayist whose writing shows the power of the written word to illuminate a core character value.
Page 11
CongratulationsSchool Winners 2022-2023Alpharetta High SchoolFadil Karichiyil, 09th GradeAthens Christian SchoolThrasher Wilkins, 10th GradeAtlanta Classical AcademyMaria Harle, 11th GradeBainbridge High SchoolWilliam Gamble Tabb, 10th GradeBarrow Arts & Sciences AcademyChloe Hebert, 10th GradeBethlehem Christian AcademyOlivia Toler, 09th GradeBremen High SchoolBryce Waldo , 12th GradeBrookwood High SchoolSean Liu, 10th GradeCampbell High SchoolKyle Gibson, 12th GradeCarrollton High SchoolMark Zimmer, 12th GradeCentral High School (Carrollton)Cade Thomas, 11th GradeChattahoochee County High SchoolMatthew Shields, 11th GradeColumbus High SchoolYena Barna, 12th GradeDawson County High SchoolMiya Sheffield, 10th GradeDeerfield-Windsor SchoolJane Strickland, 12th GradeDenmark High SchoolEllie Brown, 11th GradeEvans High SchoolCierra Gruebel, 12th GradeFannin County High SchoolOlivia Collar, 09th GradeForsyth CentralEllery Rowell, 09th GradeFurlow Charter SchoolHarmony Griffin, 11th GradeGeorge Walton AcademyJourney Allen, 09th GradeGilmer High SchoolLyric Lowman, 11th GradeGreenville High SchoolMaria Mancera, 10th GradeHaralson County High SchoolAna Mosqueda, 11th GradeHart County High SchoolMetxabel Blanco, 11th GradeHeritage High SchoolAlysa Jones, 10th GradeIndependence High SchoolJakoeb Mobley, 12th GradeJackson High SchoolJaycie Charette, 11th GradeLaFayette High SchoolLeah Willeford, 09th GradeLamar County High SchoolEvelyn Taylor, 09th GradeLambert High SchoolSarah Kim, 10th GradeLassiter High SchoolArik Tsfati, 11th GradeLovejoy High SchoolEustace Ubah, 12th GradeLumpkin County High SchoolJaedyn Gerrells, 10th GradeManchester High SchoolNathanael Hunt, 12th GradeMartha Ellen Stilwell School of the ArtsZoe Monette, 10th GradeMcIntosh High SchoolKarima Wakili, 11th GradeNorthside High School (Columbus)Marlie Williams, 09th GradeOak Mountain AcademyAutumn Giebeig, 11th GradePaul Duke STEM High SchoolJohn Cronin, 11th GradePickens High SchoolDiego Rivera, 10th GradePutnam County High SchoolMariafernanda Rangel, 10th GradeRockdale County High SchoolDuc Le, 12th GradeRome High SchoolErin River Walden, 09th GradeRoswell High SchoolAva Brinson, 09th GradeShaw High SchoolArieyana Ren'a Farrow, 10th GradeShiloh High SchoolMarisol Gonzalez, 11th GradeSouth Forsyth High SchoolChase Vandergriff, 11th GradeSt. Teresa's Catholic SchoolNicholas Sanders, 12th GradeThomasville High SchoolJordyn Bush, 10th GradeThomson High SchoolSavannah Lynn Davidson, 11th GradeWest Hall High SchoolAngel Duran, 09th GradeApalachee High SchoolChamblee Charter High SchoolCherokee Bluff High SchoolColquitt County High SchoolEtowah High SchoolGatewood SchoolGeorgia Military College Prep SchoolLake Oconee AcademyNorth Springs High SchoolParkview High SchoolSpencer High SchoolStephens County High SchoolValdosta High SchoolWinder-Barrow High SchoolWe would also like tothank the following schoolsfor participating:
Page 12
Atlanta Classical Academy, Asha Kapelina-ThomasBethlehem Christian Academy, Tammy SuertefelipeBremen High School, Jessica AllenCarrollton High School, Hunter SpurlockCentral High School (Carrollton), Megan WootenColumbus High School, Eadeinna (Lynne) JenkinsDawson County High School, Lindsey LuchanskyDeerfield-Windsor School, Irmgard Schopen-DavisGeorge Walton Academy, Carolyn SteeleGreenville High School, Patissia ChildsHaralson County High School, Carol FasickJackson High School, Christa K R MillerNorthside High School (Columbus), Sonya Trepp-FullerRome High School, Amanda B. HowellSt. Theresa's Catholic School, Tye BeckThomson High School, Teresa Cox2022-2023 Georgia Laws of Life Teachers of DistinctionWe salute the School Contest Chairs who achieved an 80 percent or higherstudent participation rate.English Teacher of State WinnerAmy McRee-Baxter, Rockdale County High SchoolEnglish Teacher of Character in Action AwardAngela Lappin, South Forsyth High School English Teacher of Founder's AwardBeth Morgan, Lassiter High School School Contest Chairs with 100% Student ParticipationCarolyn Steele, George Walton High SchoolPatissia Childs, Greenville High SchoolCarol Fasick, Haralson County High SchoolTye Beck, St. Teresa's Catholic School
Page 13
Rotary Club of AlpharettaRotary Club of AmericusRotary Club of BrookhavenRotary Club of Buckhead Rotary Club of CantonRotary Club of Carpe DiemRotary Club of ColumbusRotary Club of ConyersRotary Club of CovingtonRotary Club of Dahlonega SunriseRotary Club of Dawson CountyRotary Club of Dougherty CountyRotary Club of DunwoodyRotary Club of East CobbRotary Club of Forsyth CountyRotary Club of Greene & Putnam CountiesRotary Club of GriffinRotary Club of Gwinnett CountyRotary Club of Gwinnett MosaicRotary Club of Griffin DaybreakRotary Club of HartwellRotary Club of Jackson-Butts County Rotary Club of Johns CreekRotary Club of LafayetteRotary Club of Lake Spivey/Clayton CountyRotary Club of Lanier ForsythRotary Club of LawrencevilleRotary Club of Marietta MetroRotary Club of Martinez-Evans Rotary Club of Meriwether CountyRotary Club Midtown Atlanta Rotary Club of MilledgevilleRotary Club of Muscogee-ColumbusRotary Club of North Columbus Rotary Club of North FultonRotary Club of Peachtree CityRotary Club of Roswell Rotary Club of South DekalbRotary Club of South ForsythRotary Club of Stone MountainRotary Club of Stone Mountain PassportRotary Club of SugarloafRotary Club of ThomasvilleRotary Club of Vinings CumberlandRotary Club of WinderEssay Judge Volunteers from:Thank You"As an essay judge I find the essays are very personal and often very touching. It is clear, just from reading the essays, that they make a powerful impact on the student as they put these personal thoughts in writing. This is borne out as winners are awarded and recognized. It has been my privilege to volunteer as a judge over the past seven years." - Joel Terry, Rotary Club of East Cobb
Page 14
"I have seen the Laws of Life essay contest transform my classroom and school in many ways. Not only does the essay allow students the invaluable opportunity of self-reflection, but it also allows me to build deeper relationships with the students that I teach. Students at our school have experienced firsthand that their stories and experiences DO matter and CAN make a difference in someone else's life. That's the beauty of this program— it gives students validation..."- Lindsey Luchansky, Dawson County High School"I started to read some of the essays of past winners, and I found that I actually learned a lot from the experiences of others. I wanted to set out and write my own essay that would hopefully impact other students in positive ways should they read it…. for the longest time, I couldn't come up with anything. My mind was completely drawing a blank. I just let my mind stick to the paper and I finally came to one sentence, "It is important to understand the pain of others."- Pradyun Pulipaka, Forsyth Central High School2018-19 2019-20 2020-212021-22 2022-2375 50 25 0 2018-19 2019-20 2020-212021-22 2022-2350,000 40,000 30,000 20,000 10,000 0 Number of SchoolsNumber of Essays Written2018-19 2019-20 2020-212021-22 2022-2375 50 25 0 2018-19 2019-20 2020-212021-22 2022-2350,000 40,000 30,000 20,000 10,000 0 Number of SchoolsNumber of Essays Written
Page 15
66SCHOOLPARTNERS 10% 6% 16% 3% 8% 33,239ESSAYSWRITTEN $21,200CASHREWARDS 147ESSAYJUDGES 66ROTARYCLUBPARTNERS2022-2023 Contest HighlightsOUR MISSION OUR VISION OUR BIG IDEATo transform lives by engaging Georgia high school students to reflect upon and express their personal values through an essay contest. To see the Georgia Laws of Life Essay Contest in every Georgia high school providing students the opportunity to reflect upon their lives, express personal beliefs and affirm strong character values. Believing in the power of personal maxims or "Laws of Life", that if lived by would make the world a better place, Sir John Templeton created the Laws of Life Essay Contest. The Georgia Laws of Life Essay Contest remains committed to the vision of encouraging young people to embrace the wisdom of these sayings and live their best lives. $ 121,784FY22 REVENUE Rotary ClubsFoundationsIndividualsOtherCorporates$63,500$48,817$6,861$2,105$50052.1%40.1%5.6%1.7%0.4%FY22 EXPENSES$ 121,784ProgramMgt & GeneralFundraisingOther$101,933$12,481$8,912$-1,54282.7%10.1%7.2%-1.3%Essays Written1999-002004-052009-102014-152019-202022-231,000,000750,000500,000250,0000807, 886
Page 16
Presenting SponsorsThe John Templeton Foundation The Rotary Club of BuckheadPlatinum SponsorsRotary Club of The Classic City of Athens Rotary Club of DunwoodyRotary Club of Lake Spivey/Clayton CountyRotary Club of RoswellGold SponsorsRotary Club of BrookhavenRotary Club of Carrollton DawnbreakersRotary Club of Griffin Rotary Club of Gwinnett CountyRotary Club of LawrencevilleRotary Club of Midtown Atlanta Rotary Club of MoultrieRotary Club of Peachtree CityRotary Club of ThomasvilleRotary Club of TuckerRotary Club of WinderThe Hagan Family FoundationJennifer YanulavichSilver SponsorsRotary Club of Alpharetta Rotary Club of ColumbusRotary Club of Dawson CountyRotary Club of East CobbRotary Club of Greene and Putnam CountiesRotary Club of Griffin Daybreak Rotary Club of HartwellRotary Club of Jackson-Butts County Rotary Club of North Forsyth 400 Rotary Club of Sandy SpringsRotary Club of SugarloafRotary Club of Vinings CumberlandLata and Manjeet ChinnanGeorge GranadeLinda HattenJudy McMillanJohn MillsEd and Denise Outlaw Ankur and Neha SaijpaulBronze SponsorsRotary Club of AlbanyRotary Club of AmericusRotary Club of Bainbridge Rotary Club of BarnesvilleRotary Club of BraseltonRotary Club of Bremen Rotary Club of CantonRotary Club of ConyersRotary Club of Dahlonega SunriseRotary Club of Dougherty CountyRotary Club of Douglas CountyRotary Club of DublinRotary Club of DuluthRotary Club of Forsyth CountyRotary Club of Gilmer CountyRotary Club of JasperRotary Club of Johns CreekRotary Club of Lanier-Forsyth Rotary Club of Marietta MetroRotary Club of Martinez-Evans Rotary Club of Meriwether CountyRotary Club of Muscogee-ColumbusRotary Club of North Cobb Rotary Club of North Columbus Rotary Club of North Fulton Rotary Club of South DekalbRotary Club of South ForsythRotary Club of South HallRotary Club of Stone MountainRotary Club of ThomsonRotary Club of ToccoaDarlene DrewRay HuebschmannSusan and Gardiner MasonStephanie WindhamFriendsRotary Club of Big CanoeRotary Club of Carpe DiemRotary Club of CovingtonRotary Club of GainesvilleRotary Club of LaFayetteRotary Club of MilledgevilleRotary Club of North AtlantaRotary Club of Rome Seven HillsNorth Metro Rotary CouncilAnonymousPeter AndersonBalambicoBob BayrunsJanice BayrunsGlennie BenchRoger and Betsy Barge BirkholzMike Berg Heidi ChambersThe Cottage SchoolDebbie CwalinaJane EdgarDean FreeNancy GrimsleyAlan HarknessAisha HarrisBobby HildrethSteve and Anna IvoryPatricia KadkhodaianEllen KingElizabeth Kuka-Dos SantosNatalie MarshallBeth and Michael McIntyreAlicia MichaelAnu and Chaitanya NarulaJohn NeillDonna and Mike O'NealLinda OutlawEllen PetreeMatthew ReevesSusan RuckmanRobert and Susan SchwallGeorge and Amy StewartDavid StovallGerry TaylorLeigh Anne ThomasAshlee TorpySue TysonCarol and Alex WalkerCraig WhiteJT Wuhttps://georgialawsoflife.org/donate2022-2023Sponsors