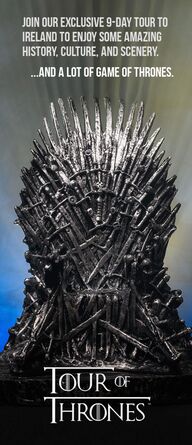 Return to flip book view
Game of Thrones Legacy Tour
Page 1
Join our exclusive 9-Day Tour to Ireland to enjoy some amazing History, Culture, and Scenery.
...and a lot of Game of Thrones.
Page 2
There's never been a better time to visit Game of Thrones sites in Northern Ireland! HBO has partnered with Linen Mill Studios to create the newest, most epic "legacy site" in Northern Ireland - the Game of Thrones® Studio Tour where lots of the filming took place (four different sets). Explore the Castle Black set up close and personal, and discover the amazing actual props used in the show! Take a look at all the included features on this amazing trip to all the filming sites throughout "Game of Thrones® Territory" and the Real Country of Westeros - Northern Ireland! This Tour is truly an exclusive opportunity - limited to only 40 Tour participants.
Experience the new Game of Thrones studio tour - open now!
You'll get to meet a VIP Special Guest Actor from Game of Thrones, and hang-out with local insiders who worked on the show! Learn how to shoot a bow at the real Winterfell Castle, Sail the Narrow Sea, discover the 10 famous Game of Thrones Doors, and visit the new Game of Thrones Studio Tour... There are so many Game of Thrones sites, sounds, scenes, and breathtaking scenery on this incredible, one-of-a-kind journey to Northern Ireland - Visit our website for the full description and detailed day-by-day itinerary for our Game of Thrones Legacy Tour, coming in 2023.
So, you're a Game of Thrones fan? Immerse yourself on Alpventures® in-depth and exciting Game of Thrones Legacy Tour to Northern Ireland; which includes three overnights in actual medieval Irish castles, a full day at Winterfell (learn to shoot a bow, explore the movie set, meet Actors and Insiders, and enjoy medieval feasts), and truly much more! This exclusive Game of Thrones Tour experience is strictly limited to just 40 people - so don't delay, book today! Booking your reservation is fast, easy and secure.
Stay in Irish castles, and visit Game of Thrones sites in Ireland
Meet Actors and Insiders from the hbo series, Game of Thrones
Page 3
USD $4,600.00 per person (in Single Room)
Alpventures® 9-Day Game of Thrones Legacy Tour to Northern Ireland. Tour rates are per person, based on double occupancy (two people in a room), and include all indicated features. Tour rates do not include roundtrip airfare.
USD $4,200.00 per person
Live the
Game of Thrones Legacy Tour
Lough Eske - One of our Castle Hotels
Sit on the Iron Throne with GOT Characters
TOUR HIGHLIGHTS:
★ 9 Days 8 Nights in 4-Star Hotels
★ Luxury Coach Transportation
★ Overnight in Irish Castle Hotels
★ 12 Meals with Medieval Feasts
★ Meet Game of Thrones Actors
★ Filming sites and much more!
Page 4
Legacy.
Call Us to Book: 1 (888) 991-6718
or click here to book online
- Northern Ireland 2023
April 9 - 18, 2023
July 2 - 11, 2023
October 15 - 24, 2023
Booking your reservations on our Game of Thrones Legacy Tour is fast, easy, and secure with our payment processor, PayPal. You can choose to book your spots by mail, by phone, or online at our website: tourofthrones.com. To book online, visit our website and choose your room and departure preferences, then click the "Add to Cart" button. Complete your personal information and the PayPal deposit payment details, and you're ready to join our Game of Thrones Legacy Tour to Westeros! (Upon successful completion of booking, you will receive a confirmation by email and a Tour Reservation Confirmation letter by mail).
Don't Miss the ultimate Game of Thrones Experience - BOok Now!
Wear actual props from Game of Thrones
Page 5
Bend the Knee: 1 (888) 991-6718
or click here to contact us by email
Game of Thrones Legacy Tour
Only three Tour Departures in 2023!
▫️ Exclusive, Fully-Guided, 9-day Game of Thrones Tour
▫️ 9 Days, 8 Nights in amazing Hotels / Irish Castles
▫️ 12 Meals: 3 Game of Thrones themed Dinners
▫️ 5 Dinners total, and Breakfast Buffet included daily
▫️ Hear Behind-the-Scenes stories from GOT Insiders
▫️ Spend day touring around the real Winterfell Castle
▫️ Enjoy History and Culture of North Coast of Ireland
▫️ Melisandre's Cave where shadow creature was born
▫️ Visit site of Robb Stark's Camp and Renly's Camp
▫️ Explore the famous Ballintoy Harbor (Iron Islands)
▫️ See the real home of the Iron Born (Dunluce Castle)
▫️ Walk in the footsteps of Arya on the King's Road
▫️ Guided Tour of authentic Irish Whisky Distillery
▫️ Benone strand, where Red Woman burned effigies
▫️ Belfast City Tour highlights with time for Titanic
▫️ Game of Thrones Cloaks and Swords for photos
▫️ Pre-Trip Travel Packets with lots of helpful materials
Enjoy the enchanting scenery of Ireland
Page 6
Game of Thrones Legacy Tour ITINERARY
BELFAST / BANBRIDGE
- Belfast City Tour (lunch at The Dark Horse Bar Belfast)
- Game of Thrones Door #10 (The Dark Horse Bar Belfast)
- Linen Mill Studios NEW Game of Thrones® Studio Tour
BELFAST / THE LANDS IN THE NORTH
- Visit NEW Game of Thrones Legacy Site (Cairncastle)
- Enjoy a special Game of Thrones Welcome Banquet
- See Game of Thrones Door #9 (Ballygally Castle)
STORMLANDS / IRON ISLANDS
- See the Game of Thrones Doors #8, #7, and #6
- Larrybane Quarry and Rope Bridge at Carrick-a-Rede
- Visit the set of the "Iron Islands" / See the Dark Hedges
KINGS ROAD / GIANT'S CAUSEWAY / PIKE
- Visit the majestic Giant's Causeway / Dunluce Castle
- See the Game of Thrones Door #5 (Ownes Bar - Limavady)
- Overnight at an Irish Castle - Lough Eske Castle / Donegal
LOUGH ESKE CASTLE / DONEGAL
- Optional scenic visit to Slieve League near Donegal
- Relaxing 2 night stay with free time at beautiful Lough Eske
- Overnight at an Irish Castle - Lough Eske Castle / Donegal
WOLFSWOOD / RIVERLANDS
- Visit the enchanting forests of Tollymore (countless scenes)
- See the Game of Thrones Doors #4, and #3 today
- Overnight in authentic converted 18th Century Irish Mill
WINTERFELL / RIVERLANDS / BELFAST
- See our last Game of Thrones Doors #2, and, finally #1
- Visit Inch Abbey / Winterfell Castle / Narrow Sea Cruise
- Farewell Game of Thrones Banquet at Winterfell Castle
DEPARTURE FROM BELFAST
- Depart Belfast Airport this morning for your flight home