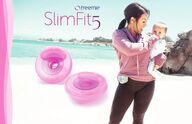 Return to flip book view
Freemie SlimFit5 Collection Cup User Manual
Page 1
Page 2
Congratulations on your purchase and thank you for choosing Freemie SlimFit5 Collection Cups!
Page 3
Your Freemie SlimFit5 Cups are designed to help make your pumping experience compatible with your life, allowing you greater flexibility to pump whenever and wherever necessary.
Page 4
PAGE 4ContentsUser Manual for Freemie SlimFit5 Collection CupsIntended Use 5Important Safety Instructions 6Freemie SlimFit5 Collection Cup Parts 7Pump Easily with Freemie 8Freemie Cup Features 9Preparing Cups for First Use 10Regular Cleaning After Each Use 11Assembling Freemie Cups 12Add SlimFit Fitmie Inserts 13Connecting to Your Compatible Freemie Pump 14Cup Test and Tubing Tips 15Finding Your Ideal Bra Fit 16Positioning Within Your Bra 17Finding Your Best Flange Fit 18Pumping Positions 19After Pumping 20Proper Storage of Breast Milk 21Troubleshooting Tips 22Warranty & Specifications 23
Page 5
PAGE 5Intended UseIntended Use Freemie SlimFit5 Collection Cups are designed to be used with portable Freemie Pumps by lactating women to express and collect milk from their breasts. All Freemie products are for a single user only and should never be shared.Contraindications For Use There are no known contraindications for use of this product.Product Description The Freemie SlimFit5 Collection Cups are capable of single and double pumping. The operating life of the Freemie Cups is defined as 60 days. Important Notice If you have any concerns about your health, or experience any pain while nursing or using any breast pump, stop pumping immediately and consult your health care or lactation professional immediately. DAO Health does not give medical advice or lactation advice, make diagnoses or recommend treatment.WARNING: Never use your Freemie SlimFit5 Collection Cups in any location, situation or circumstance that is unsafe for you, your infant or others.
Page 6
PAGE 6Important Safety InstructionsIMPORTANT — To reduce risk of damage, use error or injury:• Do not put any components in the dishwasher or a steam sterilizer. • Do not use solvents, abrasives or brushes on any components.• Never use a damaged device. Replace damaged or worn parts.• Never use if moisture or liquid is detected in Tubing. • Always inspect the flexible tongue-shaped Barriers for damage (cuts, tears, or holes) before and after each pump session. Use of a damaged Barrier will cause milk to flow into the Tubing and/or pump motor. This can compromise hygiene and damage the pump motor.• If pumping is uncomfortable or causing pain, turn the pump off and if necessary break the seal between the breast and Breast Flange immediately with your finger and remove the device from your breast.• Do not try to express with vacuum that is too high and uncomfortable (painful). If all breast pumps are painful for you, even on their lowest suction settings, consider consulting with your lactation or health care professional.• Always inspect Flanges, Cups, Valve Bases, Valves, Barriers, and Tubing prior to use for cleanliness.• Clean, sanitize and dry all parts that come into contact with your breast and breast milk prior to first use. • Disassemble, clean and dry all parts that come into contact with your breast and breast milk after every use.• Do not store wet or damp parts where mold may develop. • Freemie SlimFit5 Cups are compatible with wearable Freemie Pumps. Use with non-compatible products may cause injury to you or damage your pump or component parts. • As a general rule, use Freemie only as often and only as long as you normally breastfeed your baby. Consult a lactation professional if you have questions about your milk supply.• Consult your lactation professional if you have questions about whether Freemie is appropriate for you or to help determine the correct Flange size for you.• Freemie is not recommended if we do not have your Flange size.• Freemie is not recommended if you must watch your milk ejection reflex or aggressively massage your breasts while pumping to ensure that they are completely emptying.• Do not share. Freemie is a personal use item.• Do not use Freemie for simultaneous breastfeeding and pumping with compromised infants without first consulting your healthcare or lactation professional.• Do not continue to use Freemie if you experience pain or discomfort in the breast or nipple while pumping. Do not pump or pump and nurse in situations or places that may present any risk to you or your infant.• Keep out of reach of infants and children. Freemie has small parts that can be choking hazards.• If you are a mother who is infected with Hepatitis B, Hepatitis C or Human Immunodeficiency Virus (HIV), pumping breast milk will not reduce or remove the risk of transmitting the virus to your baby through your breast milk.READ ALL INSTRUCTIONS BEFORE USING THIS PRODUCT.This is a single user product. Use by more than one person may present a health risk and will void the warranty.
Page 7
PAGE 7Freemie SlimFit5 Collection Cup Parts2 Breast Flanges (Size 30mm)2 SlimFit Fitmie Inserts (Size 25mm)2 SlimFit Fitmie Inserts (Size 28mm)2 Cup Parts2 Barriers2 Valve Bases2 Valves2 Cup L-Connectors1 Y-Connector3 Trimmable Tubing PiecesContentsTHE FREEMIE SLIMFIT5 COLLECTION CUPS INCLUDES: (2) Barriers (FG102)(2) Valve Bases (FG101)(2) Valves (FG073)(2) Cups (FG099)(2) 30mm Breast Flanges(FG100) (FG084)(2) 25mm SlimFit Fitmie (FG093) (2) 28mm SlimFit Fitmie (FG107)COLLECTION COMPONENTSSIZE INSERTS CONNECTION COMPONENTS(2) Cup L-Connectors (FG124)(3) 12" Tubing (FG125)See also: (FG126)(1) Y-Connector (FG080)
Page 8
Pump and Feed | Pump and Relax | Pump and WorkMilk contacting components not made with BPA, BPS, DEHP or natural rubber latex.PAGE 8Pump Easily with Freemie
Page 9
Tubing Connection Port5 Ounce (148mL)Cup CapacityQuick Release TabsNatural Balance BaseEasy Pour Spout5 Oz.90ºBarrier Backflow Protection PAGE 9Freemie Cup Features
Page 10
PAGE 10Preparing Cups for First UseBOIL THESE PARTS DO NOT BOIL THESE PARTS ADDITIONAL INSTRUCTIONSA: Remove Cup from Flange B: Remove Valve Base from FlangeC: Remove Barrier from Valve BaseD: Remove Valve from Valve BaseDISASSEMBLEDisassemble and clean Freemie Cups prior to first use. Follow the instructions below to sanitize these parts.• DO NOT boil or steam these parts. Hand wash only.• Hand wash Valve, Barrier and Insert parts using plenty of hot water and liquid dishwashing soap, then rinse clean with hot water for 10 – 15 seconds. These parts do not come into contact with breast milk and need not be washed unless they become soiled. If soiled, take immediate care steps: • The Y-Connector can be washed in hot soapy water, and rinsed well. • The Tubing or L-Connector can be rinsed with hot water. Shake o excess water.• Let parts dry thoroughly before use.• Visually inspect parts to ensure they are clean and repeat steps or replace part if cleaning was not successful. Breast FlangeValve BaseValveCupL-ConnectorBarrierTubingY-Connector• Boil only these hard parts for 10 minutes in large uncovered pots while stirring constantly. (Covered pots or steam sanitizer systems can damage parts.)• Do not let parts sit on the bottom of the boiling pots.• Parts should have enough room to float freely.• Carefully remove parts from water with a non-metal spoon and let cool completely.• Wash parts after boiling and let dry completely before assembling.Insert
Page 11
PAGE 11Regular Cleaning After Each UseDo not steam or boil Tubing, Barriers or Valves, as it may cause damage. Do not put any Freemie components in dishwasher or steam sterilizer as it can cause parts to warp and leak. Before and after each use, visually inspect the individual components for cracks, chips, scratches, tears, discoloration or deterioration. In the event that damage is observed, discontinue use until the damaged part/s have been replaced. Damaged Barriers will cause malfunction and can damage your pump.1. Disassemble and wash all components that come into contact with breast milk (Cup, Breast Flange, Valve, Valve Base, Insert, Barrier).2. Hand wash parts using plenty of hot water and liquid dishwashing soap, then rinse clean with hot water for 10 to 15 seconds. Use a dedicated dish bin, and avoid washing parts with other dishes.3. Treat all parts with special care. Avoid scratching and excessive heat.4. Clean and dry parts as soon as possible after each use.5. When not in use, store parts disassembled and out of reach of infants and children.6. Do not store assembled Freemie Cups in refrigerator; parts may become loose, malfunction or leak.
Page 12
SnapTubing Port (round hole)Cup Tab... and press together firmly. Align Cup Tab with Flange Tubing Port and press together until you hear the Cup "snap" closed.PAGE 12Assembling Freemie CupsSTEP 1STEP 3 CONTINUED STEP 4STEP 2 STEP 3Place Valve onto Valve Base Insert Barrier into Valve Base. Press assembled Valve Base onto Flange... Always wash hands prior to assembling Freemie Cups. Assemble clean, dry parts just before use. Inspect Cup and Tubing parts before and after each use. Replace Valve parts every 2-3 months. After time and use, you may not always hear a crisp "snap" sound, and this is normal. Incorrect assembly may cause poor suction or malfunction.Note: Barrier flaps must overlap edges of Valve Base.
Page 13
PAGE 13Add SlimFit Fitmie InsertsINSERT SLIMFIT FITMIE INTO ASSEMBLED CUPSSlimFit5 Cups come with 2 sets of Inserts to add to the 30mm hard Breast Flange. Size down with the 25mm or 28mm purple SlimFit Fitmie Inserts. Review Flange Fit section to make sure you are using the correct size.SlimFit Fitmie work only with SlimFit Cups and come in sizes 15mm – 28mm.SlimFit Fitmie30mmBreast FlangePush Insert down until it is seatedflat against Flange.To remove Insert, gently liftedge and pull out.
Page 14
Cap one side closed.Y-Connector123Suction CycleLiberty®IIM1140:0040:0010 10 5595%95%123Suction CycleTurboIndependence®II123Suction Cycle03:5303:5355TURBO TURBO 95%95%123Suction CycleLiberty®IIM1140:0040:0010 10 5595%95%123Suction CycleTurboIndependence®II123SuctionCycle03:5303:5355TURBO TURBO 95%95%PAGE 14Connecting to Your Compatible Freemie PumpSINGLE PUMPING DOUBLE PUMPINGFor all tubing connections, press in firmly until you get a secure connection.NOTE: Do not attempt to connect the Y-Connector to the pump. SlimFit5 Cups work with Freemie Independence, Independence II, Liberty, Liberty II, and Rose Pumps.
Page 15
PAGE 15Cup Test and Tubing TipsTRIM TUBINGOnce you have tried on your Freemie SlimFit5 Cups, you may want to alter the Tubing length to fit your body. Before trimming, consider the ways or places you may use your Freemie. Then, measure twice and cut once using clean scissors.TEST BEFORE USEPrior to placing Cups in your bra:1. Turn on pump.2. Set pump to strongest setting.3. Barrier inside Cup collapses and releases when assembly is correct.TUBING NOTESTubing can be worn inside your clothing so that it does not show at all. Or, you may choose to wear it outside your clothing if that is more comfortable. Tubing can also be worn under the center front (cleavage) area of the bra, so long as it is not pinched, kinked, or being pulled o. The soft silicone Tubing can be used with or without the special L-Connector part. Tubing should always be used with the Y-Connector part whether single or double pumping. Do not attach the Y-Connector to the pump. Resting Barrier Collapsed Barrier
Page 16
PAGE 16Finding Your Ideal Bra FitCORRECT NIPPLE POSITION & FLANGE SIZINGEnsure nipple is centered in the Breast Flange and not bent or pinched o. If the tip of the nipple hurts while expressing, check that the nipple is in the center of the Flange.CORRECT POSITIONINCORRECT POSITIONFINDING THE IDEAL BRA FIT FOR YOUBra fit is critical to the proper use of this device because your bra must do the job that your hands would be required to do with a traditional pump.1. Before choosing a bra, pump by holding the SlimFit5 Cups in place with your hands. Consider how much pressure you normally apply against your breasts to pump and observe the optimal position and orientation of the Cups on each of your breasts. Most moms are not perfectly symmetrical, and improper positioning or pressure on one or both breasts may result in low output. It is important to practice and experiment with different bras to figure out how to make the Cups work well and effectively for you. The pressure needs to be consistent throughout your pump session such that no gaps occur. Be aware that the pressure needed may be different when your breasts are full versus when they are emptying. A sports bra works well for many women.2. Be sure your bra keeps the SlimFit5 Cups in an upright position and does not allow the devices to slip around, sag downward, or tilt off to the side during use as a loss of suction may occur.3. Make sure you achieve a good consistent seal between the Breast Flanges and your skin.4. Make sure the Breast Flange opening is centered over the nipple when placed inside your bra.
Page 17
INCORRECTPlacement at any other position can cause milk to flow out while you are pumping.CORRECTWhen filling with milk, keep in the upright position .Tubing in 12 o'clock position.Milk leaking from cups.Tubing and pour spout should be upright at the 12 o'clock position.Flange opening should be centered over the nipple.PAGE 17Positioning Within Your BraAs with any new pumping tool, expect a period of adjustment to As with any new pumping tool, expect a period of adjustment to the hands-free and fully concealed pumping experience. After the hands-free and fully concealed pumping experience. After a few days of use, review the instructions for bra and Breast a few days of use, review the instructions for bra and Breast Flange fit to evaluate any needed adjustments. Consider what Flange fit to evaluate any needed adjustments. Consider what items in your wardrobe work well and make you comfortable items in your wardrobe work well and make you comfortable while pumping. In preparation for more public use, practice while pumping. In preparation for more public use, practice placing and removing the SlimFit5 Cups at home with different placing and removing the SlimFit5 Cups at home with different clothing. Jackets, cardigans, scarves, and nipple pads can also clothing. Jackets, cardigans, scarves, and nipple pads can also help make Freemie even more discreet. help make Freemie even more discreet.
Page 18
30mmDime17.91 mmHalf Dollar30.61 mmQuarter24.26 mmNipple BaseNippleAreolaMeasurePAGE 18Finding Your Best Flange FitFinding Your Best Flange FitFinding the best Breast Flange fit cannot simply be done by measuring your nipples because some nipples stretch more than others under suction. You can estimate your size, but some trial and error may be needed for you to optimize your comfort and milk output. Experiment to find the right fit and keep in mind: • You may need a dierent size than the Flanges provided. • You may need a dierent size for each nipple because no one is perfectly symmetrical. • You may prefer higher suction, making Flange comfort crucial. • Your nipple may expand in diameter and length while pumping and may change over time, so keep all of your sizes.Flange is too small for the nipple to move freely in and out of Flange. May cause rubbing or chafing.Comfort is key! It may take a few tries to find what works. The Breast Flange size is measured across the opening that your nipple fits into.Flange is too big allowing too much breast and areola tissue to be drawn into Flange. May cause bruising.Flange is correct size when the nipple moves in and out of the Flange freely. Choosing Another Size Use a ruler or coin diameters to estimate your erect nipple base size. Choose the nearest size Flanges or Fitmie inserts that are slightly larger than your nipples.Internal Diameter is measured across the opening.SlimFit Fitmie soft inserts for pumping comfort are available in sizes 15mm – 28mm and sold separately at www.freemie.com.Need more milk capacity or a deeper Flange? Try SlimFit6 (6 oz.) or Standard (8 oz.) Freemie Cups.
Page 19
GOOD PUMPING POSITIONSPOOR PUMPING POSITIONSFreedom of movement with Freemie depends on:• How Cups are oriented on your breasts• Security of Cups in your bra• Amount of milk in Cups• How much Cups are jostledAdvanced Technique: Requires re-orientation of cups inside bra.PAGE 19Pumping PositionsA range of pumping positions are possible with Freemie.Mind the pour spout!
Page 20
20:0046Tips:• Tap Cup gently to dislodge any milk trapped in Valve.• Practice transfers with water first. FlangeBarrierValve BaseValve InsertCupPour SpoutPAGE 20After Pumping4. Cups may be set flat.1. Stop the pump.Pour milk quickly and confidently into a storage bag or bottle of your choice.Use Pour Spout to transfer milk to storage.NOTE: If you experience pain in your breast or nipple, even if you think the pump is not the source of the pain, consult your health care or lactation specialist.Fully disassemble and clean these parts immediately after use.2. Pull Tubing from the tops of the Cups to disconnect. 3. Carefully remove Cups from your bra. When you are done pumpingTransferring milk
Page 21
P226 (A)Please note that as of February 12, 2021, the US CDC has updated their recommendations for storage of Breast Milk. Please see below. Refer to the CDC website for current guidelines. https://www.cdc.gov/breastfeeding/recommendations/handling_breastmilk.htmPAGE 21Proper Storage of Breast MilkPlease note that as of February 12, 2021, the US CDC has updated their recommendations for storage of Breast Milk. Please see below. Refer to CDC website for current guidelines.How do I thaw and use stored breast milk?• Always make sure to check the date on the milk's container before using. Do not use undated milk, or milk that has been stored too long.• Thaw frozen milk in the refrigerator or under cool, running water.• Heat the milk under warm, running water and gently swirl the container to mix the milk.• If warm water is not available, heat a pan of water on the stove. Once the water is warm, not boiling, remove the pan from the stove and place the milk container in the pan. Never warm the milk container directly on the stove.• Never microwave breast milk because microwaves can cause dangerous hot spots that could burn you or a baby.• Always test the temperature of the milk on the inside of your wrist before feeding it to a baby. The milk should feel warm, not hot.• After thawing, milk should be stored in the refrigerator for no more than 24 hours.• Never refreeze thawed milk. Throw away previously frozen milk that is not used within 24 hours.
Page 22
PAGE 22Troubleshooting TipsLoss of Suction• Make sure pump is turned on, motor is running, and suction level is turned up to your regular setting.• Make sure that parts are correctly assembled and fit together snugly. Check that you have inserted the Barrier into the Valve Base. Do not vary assembly instructions. • If the fit between the Valve Base and Flange is loose, try replacing the Valve Base with a new Valve Base, and/or re-boil the hard cup parts.• If suction has diminished, try replacing the Valves with new Valves. This part should be replaced approximately every 2 – 3 months to maintain good suction.• Check that the Tubing, Y-Connector and L-Connector are securely attached and not obstructed. • Make sure Breast Flange is securely pressed against breast creating a seal around nipple and is properly seated in bra. Check that no bra material or Tubing is between the Cups and your skin. Nipple should not be bent or pinched inside the Breast Flange, and Cups should not be tilting upward, downward, or o to the side.Breasts Not Emptying• Always center Breast Flange over nipple. If the Breast Flange is o the center of the nipple you may impede milk release, experience loss of suction, or prevent the complete emptying of the breast.• Try adjusting the position of Freemie. Comfortably position your body to help create the best seal between Freemie and your skin. Experiment with your body position by sitting up straighter, leaning forward a little, or pulling your shoulders back.• The hard Breast Flanges come in size 30mm only. Add either the 25mm or 28mm soft purple SlimFit Fitmie inserts to size down the nipple opening on the Cups. Review size regularly. Purchase other sizes as needed. • Additional soft SlimFit Fitmie insert sizes 15mm – 28mm are available and sold separately. • If you require a Flange diameter or depth that we do not currently oer, then unfortunately we do not recommend the Freemie System as your full time pumping tool.• If problems emptying your breasts persist, consult your lactation or healthcare professional.• Try a tighter fitting bra to ensure that the bra can support and maintain both an adequate seal and hold Freemie in an upright position. Consider trying a sports bra.• If single pumping, be sure Y-Connector plug is securely closed on one side.Milk in Tubing• Check that the Cups have been correctly assembled by inserting the Barriers into the Valve Bases.• Check that the edges of the Barriers are overlapping the Valve Bases.• Thoroughly inspect the Barrier parts for any hole or tear. Under a bright light, uncurl Barrier edges, and gently squeeze part open to look for damage. Replace if damage is found. • Make sure you are using a wearable Freemie Pump. For more troubleshooting support, FAQs, articles, and how-to videos please visit our Knowledge Base.
Page 23
PAGE 23Warranty & SpecificationsWarnings The Freemie SlimFit5 Collection Cups are guaranteed against defects in materials and workmanship for a period of 60 days. Warranty can only be claimed in the country of purchase through authorized Freemie distributors. Warranty does not cover misuse, abuse or excessive wear and tear. Spare parts are available at www.freemie.com. Plastic parts do wear out with regular use, so plan ahead to avoid disruptions to your pumping routine. In the event of a verifiable defect that is not the result of misuse, abuse, excessive wear and tear or alteration, Dao Health will replace in whole or part at Dao Health's discretion. Returns will not be accepted without a return merchandise authorization, which must be obtained from Dao Health's Customer Service. All shipping costs are the responsibility of the returnee.The Freemie SlimFit5 Collection Cups are personal use items, and for hygienic reasons cannot be returned once opened.Important: Failure to use and maintain the Barrier in good condition may cause damage to your pump. If milk flows into the Tubing, turn off the pump immediately. Refer to the User Manual for instructions on cleaning or replacing Tubing. Failure to turn off the pump when milk gets in the Tubing will cause damage to your pump and void your pump warranty.AW206(A)
Page 24
Spare parts are available on our website at www.freemie.comFor Customer Support or to make a warranty claim please visit our website.