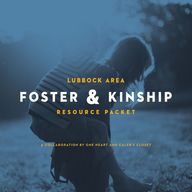 Return to flip book view
Foster & Kinship Resource Guide
Page 1
Page 2
Page 3
2Lubbock is a compassionate community with growing resources for restoring children and families. One Heart and Caleb's Closet have joined forces to publish and maintain a directory for kinship, foster, and adoptive families, as well as local child welfare workers. Please note, not every resource may be available to your situation. This guide is for informational purposes only. Consult your placing agency with questions.
Page 4
3ADVOCACYAmarillo Angels / www.amarilloangels.org / Gwen Hicks @ 806-570-2010CASA of the South Plains / www.casaofthesouthplains.orgLubbock County Child Welfare Board / email region1@tccwb.orgHeart Gallery of the South Plains / adoptinlubbock.org/heartgalleryLubbock Victim's Assistance / lubbockvictims.orgOne Heart / oneheartorphancare.org
Page 5
4AGING OUT / AFTER CAREBuckner Transition Center - Buckner's transition programs are provided for current and former youth in state foster care, ages 16-21. The goal of the program is to provide training, support and guidance to youth graduating from foster care that will enhance their ability to transition into independent living. The program helps clients nd jobs, nancial assistance, case management, counseling and mentor connections. If you'd like to know more information call 806-795-7151.Supervised Independent Living (SIL) - Children's Home of Lubbock provides (SIL) which is a voluntary Extended Foster Care placement where young adults live on their own, while still getting casework and support services to help them become independent and self-sufcient. They have shared housing and apartments for both males and females.Sondra's Song / Family Promise - Family Promise of Lubbock's mission is to provide homeless families with children the tools necessary to achieve long term nancial, parental and personal self-sufciency through a comprehensive program of temporary housing, case management and supportive services.Reclaimed43 - Reclaimed 43 connects the needs of those who have aged out of the foster care system with our community and helps set them up for success in life. The program connects mentors with aging out youth and supplies resources to keep.AIM Bank - Youth in care can receive a $50 deposit when they (age 16 or older) open up a PAL Checking Account at AIM Bank.
Page 6
CHILDCARE OPTIONSParents' Day Out/Part-Time Options:Sugar & Spice at Monterey Church of Christ http://montereychurch.com/sugar-n-spice/Southcrest Baptist Church KDO http://southcrestchurch.org/kdo/Bright Horizons at Green Lawn Church of Christ https://greenlawn.org/ministries/bright-horizons.htmlLittle Wings at Victory Life Church https://www.littlewingslubbock.org/about-us/Indiana Avenue Baptist Church PDO https://iabc.org/children/preschool-pdoSt. Luke's Lubbock PDOhttps://www.stlukeslubbock.org/parents-day-outHighland Baptist Church PDO http://highlandbaptist.org/parents-dayCalvary Baptist Church PDOhttp://www.calvarylubbock.org/weekday.htmlKids First at First United Methodist Church https://www.fumc.com/parents-day-outSonshine Preschool at Broadway Church of Christ http://sspslubbock.com/Just Kids Preschool at Sunset Church of Christ http://www.sunset.cc/just-kids5
Page 7
CCS Daycareshttps://workforcesouthplains.org/map-table/ (type your city name in the search box)6Foster Parent Nights Outhttps://oneheartorphancare.us18.list-manage.com/subscribe?u=10ccfb4c94bc36ca3da7d2496&id=e8123e4fe3One Heart babysitter trainingSubscribe to email list. http://oneheartorphancare.org/babysitting/ One Heart Sitter List(by request only, contact oneheart@oneheartorphancare.org)
Page 8
7CHURCHES (ONE HEART CHURCHES)Aldersgate ChurchHoly Spirit CatholicBroadway Church of ChristMonterey Church Of ChristFirst Baptist ChurchQuaker Ave. Church of ChristFirst Christian ChurchRedeemer ChurchGreenlawn Church of ChristRock City ChurchThe City ChurchHillside Christian ChurchSouthcrest Baptist ChurchThe Worship Center
Page 9
8CPR/FIRST AID CERTIFICATIONTRAINING RESOURCESLoneStar CPR4601 50th St Ste. 212, Lubbock, TX 79414806) 239-7616Lubbock Area Foster Parent Association - adoptinlubbock.org/agencies/lafpaLIAC Annual Conference - adoptinlubbock.orgEmpowered to Connect - https://empoweredtoconnect.org OneBigHappyHome.comKinship Support Groups - contact Nicole Banire, Nicole.Banire@dfps.state.tx.usChristian Alliance for Orphans - www.CAFO.org
Page 10
9DENTISTRYSTAR Health Provider Pediatric DentistsSTAR Health Provider Orthodontic DentistsParkview Pediatric:Dustin S. Janssen, DDS and Molly J. Lopez-Cepero, DDS, 7515 Quaker Avenue, Lubbock, TX 79424, (806) 796-2408Double-T-Smiles:Nadene J Tipton DDS, 6102 82nd Street, Lubbock, TX 79424, (806) 792-2288Double-T-Smiles:Roger D Tipton, DDS, 6102 82nd Street, Lubbock, TX 79424, (806) 792-2288Familia Dental Lubbock:Ligia E Padilla, DDS, 2402 19th Street, Lubbock, TX 79401, (888) 988-4066Lubbock KIDS Dental:Dietmar A Kennel, DDS, 1504 Buddy Holly Ave., Lubbock, TX 79401, (806) 749-5437Stephen J Montoya, DDS:1923 Marsha Sharp Fwy Suite 103, Lubbock, TX 79415, (806) 744-6581Bliss Dental Lubbock:Todd M Parco, DDS, 4819 Avenue Q, Lubbock, TX 79412, (806) 741-4101Abbeville Dentistry:TMyriam Glavash, DMD, Melissa A Balk-Elliott, DDS, Oluwakare Opaneye, DDS, Semantha N Charles, DDS, and John S Johnson, DDS, (2 locations) 3801 50th Street Suite 13A, Lubbock, TX 79413, (806) 300-8817, or Abbeville Dentistry - Lubbock Pueblo, 5102 Salem Avenue, Lubbock, TX 79414, (806) 687-8080
Page 11
10FUN STUFF! / NORMALCYLove Boxes (Amarillo Angels) - https://www.amarilloangels.orgBirthday Bash - leonor.espinoza@dfps.state.tx.usFoster*A*Life - https://fosteralife.orgLubbock Arts Alliance - https://lubbockarts.org/#programsLubbock Parks & Rec - https://ci.lubbock.tx.us/departments/parks-recreationCare2Rock - https://care2rock.comLubbock Public Library free events - https://ci.lubbock.tx.us/events/department/library
Page 12
HAIR CARE11BoysCNJ Barber Shop - 4210 50th St, Lubbock, TX 79413 | (806)792-0237Hub City Cuts - 6625 19th St, Lubbock, TX 79407GirlsEvelyn's Hands of Blessings - (806)466-8156 | ehandsofblessings@yahoo.comSew Wigged Out - www/facebook.com/sewwiggedoutJawanna Washington - (806)831-8375 | www.facebook.com/jawanna.washington.3Zyrina Rainwater - (806)218-2182 | zyrinaz15@gmail.comBeauty Extensions - 4909 34th St, Lubbock, TX 79410 | (806)407-3113
Page 13
MEDICAL / STAR HEALTH PROVIDERS12Superior HealthPlan Provider Directory - Includes a list of physicians, hospitals, drug stores, dentists and other healthcare providers that are available to you (Lubbock is in the North region): https://www.fostercaretx.com/for-members/nd-a-provider.html Call 806-795-7151 for more information.Health & Wellness - Find useful information on behavioral health, ECI, TX Health Steps, and more here: https://www.fostercaretx.com/for-members/stay-healthy.html.Transitioning Youth - https://www.fostercaretx.com/for-members/transitioning-youth.html Lubbock/Amarillo STAR Health Community Resource Guide: https://www.fostercaretx.com/content/dam/centene/fostercare/pdfs/2011_SHP_FC_Re-source%20Guide_Lubbock_Final.pdf
Page 14
MENTAL HEALTH / COUNSELINGPrivate Practice - Lubbock-based therapists with signicant experience working with children in foster care. While each of these will bring a trauma-informed approach to your child, all have various specialties. Explore their websites, or do a web search, to determine who might be the best t for your needs. To our knowledge, all accept Superior Medicaid.Nicole BlackAge: Preschool to Adolescentsthepracticecounseling.com 806-412-7043Emily FarmerAge: Specializes in Fetal Alcohol Syndrome903.393.1363Shalana JacobiAge: Infants to Adolescents806.786.0940sjacobi@texasboysranch.orgBeth RobinsonAge: Infant to Adolescentskidscallmedoc.com Beth.Robinson@LCU.EDUDeanna DawsonAge: Infant to Adolescentdawsonlpc.com 806-318-8448Shauna FrisbeeAge: Adolescentswww.drfrisbie.com 806-781-5143Kendra JonesAge: Infants to Adolescents806.470.1265Kjones@texasboysranch.orgKimberly Ruthardt Age: Preschool to Adolescentshttps://www.texastechphy-sicians.com/lubbock/cen-ter-for-superheroes/806-549-1593kimberly.ruthardt@ttuhsc.edu 13Krista L. TorresAge: Preschool to Adolescentsthepracticecounseling.com 806-412-7043
Page 15
The Center for Superheroes - Provides comprehensive pediatric and behavioral health services for children and adolescents in foster care. The clinic offers medical and forensic evaluations, psychosocial assessments, preventative education and participates in multidisciplinary reviews for victims of sexual abuse, physical abuse and neglect. 806-743-4270 / 6610 Quaker Ave, Lubbock, 79416The Playroom Lubbock - A facility designed with children and adolescents in mind, The Playroom is committed to working with caregivers and parents to provide a "circle of care" and treatment for each client / playroomlubbock.com / 6520 University Ave, Lubbock, TX 79413Certied Infant Massage - Infant Massage not only helps with each of the child's biolog-ical systems but (more importantly) supports attachment that aids in healing of trauma. Cathy Vick is and LPC-S who is also certied in infant massage. 806-549-5900 /cvickcounseling@gmail.com14Children's' Behavioral Health Clinic- Behavioral health professionals at Children's Hospital & Medical Center are experts at treating children of all ages with behavioral or mental health disorders. Our mental health practitioners, psychologists, psychiatrists, and nutrition therapists work closely with each patient's physician and school to provide individualized treatment, and improve their quality of life. UMC Medical Ofce Plaza I, 3502 9th St. / 806.742.3074https://www.umchealthsystem.com/medical-services/pediatrics/services-programs/the-chil-dren-s-behavioral-health-clinic/
Page 16
PERSONAL MATERIAL NEEDSPHOTOGRAPHERS & LIFEBOOKSCaleb's Closet - Free clothing and personal care products: calebscloset.org/ordersFoster Parents of Caleb's Closet - on Facebook - Request to join this private page for ac-tive foster and kinship families only. This is a FREE trading site. Families exchange items for free among themselves and Caleb's Closet posts all kinds of large donated items (e.g., furniture, beds, cribs, baby gear, toys, etc.) on this page!Courtney Hill Photography - Free senior pictureshttp://www.courtneyhillphotography.com/Rainbow Room for LIFE BOOKS - Paige.belew@dfps.state.tx.us15
Page 17
PREGNANCY / TEEN MOMSCounselingParkridge Medical Clinic, 5203 79th St A, Lubbock, TX 79424, (806-794-8555) - Free pregnancy testing, STD testing and treatment, counseling, ultrasounds, and client support.https://parkridge.orgHeartline Women's Clinic, 2309 Broadway, Lubbock, TX 79401, (806-788-0500) - Free condential pregnancy testing, ultrasounds, prenatal parenting and education. Photo ID. M-Th 9:30-4:00pm. http://www.heartlinelubbock.comCoaching ResourcesNew Directions - LISD (806-766-1299) - Free services for any pregnant girl under age 21 who has not completed High School.Parent Life of Lubbock, 2621 34th St, Lubbock, TX 79410, (806) 763-9794Family Guidance & Outreach Center of Lubbock, 5 Briercroft Ofce Park, Lubbock, TX 79412, (806-747-5577)The Parenting Cottage, 3818 50th St, Lubbock, TX 79413, (806-795-7552)Buckner Family Pathways, www.buckner.org/family-pathways/, (806-799-0990) - Provides mentors and housing for women age 17 and up while they attend vocational training or college.16
Page 18
SCHOOL RESOURCESTexas Education Agency - Foster Success TEA.texas.gov/FosterCareStudentSuccessTexas Education Agency - Mental Health Successhttps://tea.texas.gov/About_TEA/Other_Services/Mental_Health/Mental_Health_and_Behavioral_Health/ISD Foster Care Liaisons - Every Texas school district must designate a Foster Care Liaison from its staff. If a district has multiple campuses, this person should also assist in coordinating individual "campus champions" (see TEA's Foster Care School Success Re-source Guide). Reach out to learn more about what foster support is in place at your child's school:Rise Academy Richard Baumgartner (risedirector@riseacademy.us)South Plains Academy Martin Garcia (martin.garcia@sapicsc.org)Lubbock ISD Dana King (dana.king@lubbockisd.org) New Deal ISD Trisha Williams (trishaw@ndisd.net) Lubbock-Cooper IS Pam Brown (pbrown@lcisd.net) Frenship ISD Melissa Wade (mwade@frenship.us) Roosevelt ISD Linda Hernandez (lhernandez@lisdtx.us) Shallowater ISD Mary Hughes (mhughes@shallowaterisd.net) Idalou ISD Marie McClendon (mmclendon@idalouisd.net) 17
Page 19
SELF-CARESEX TRAFFICKINGAfrmations Board Games Calming Tools ColoringCooking Crafts Dancing DoodlingDriving/Exploring Exercise Fidget Toys GardeningJournaling Music Muscle Relaxation Outdoor ActivitiesPay it Forward Positive Self-Talk Reading Singing Time with Friends Thera-Putty Volunteering Writing Stories18Voice of Hope - https://www.voiceofhopelubbock.org(806) 763-7273 | (806) 763-3232We provide a 24 hour hotline for victims of sexaul assault and their family members. We provide free counseling. We assist with medical examinations, legal process and other needs victims may have.Open Door - https://www.opendoorlbk.org1918 13th St. Lubbock, TX 79401 | (806) 687-6876 Open Door is a place where every person is welcomed as they are. Through our Community Center, Church, Housing, and Clinic, Open Door creates a place where every person can live, thrive, and belong.
Page 20
CHILD PLACING AGENCIESArrow Child & FamilyChild placing agencies (CPAs) that license foster and kinship homes:Bair FoundationBuckner Children and Family ServicesChildren's Home of LubbockChildren's HopeSaint FrancisDePelchin Children's CenterLone StarTexas Boys RanchTexas Family InitiativeUpbring19