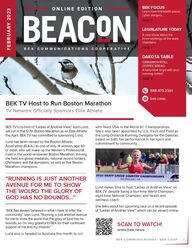 Return to flip book view
February Beacon
Page 1
BEK COMMUNICATIONS | BEK.COOP1BEK TV's co-host of "Ladies of Another View," April Lund, will run in the 127th Boston Marathon as an Elite Athlete this April. BEK TV has committed to sponsoring Lund.Lund has been named by the Boston Athletic Association (B.A.A.) as one of only 14 women, age 40 or older, who will make up the Women's Professional Field in the world-renowned Boston Marathon. Among the field are global medalists, national record holders, Olympians and Paralympians, as well as five Boston Marathon champions. "BEK has always believed in what I have to oer the community," says Lund. "Running is just another avenue for me to show the world that the glory of God has no bounds, so I'm very grateful to BEK for their continued support of me and my mission."Lund also is headed to Australia this month to run with Team USA in the World XC Championships. She's also been appointed by U.S. Track and Field as the Long-Distance Running Delegate for the Dakotas, based on both her performance in her sport and commitment to community.Lund makes time to host "Ladies of Another View" on BEK TV, despite being a four-time World Champion, eight-time National Champion, and health and wellness coach.She talks about her upcoming race on a recent episode of "Ladies of Another View", which can be viewed online.BEK TV Host to Run Boston MarathonTV Network Officially Sponsors Elite AthleteBEK COMMUNICATIONS COOPERATIVE FEBRUARY 2023ONLINE EDITIONBEK FOCUS Learn how telehealth poses cyber dangers.PAGE 2LEGISLATURE TODAYA new show about the inner workings of the state chambers.PAGE 3DAKOTA TABLECINNAMON ROLL COFFEE BREAD A tasty treat to go with your morning coee!PAGE 5888.475.2361bek.coop"RUNNING IS JUST ANOTHER AVENUE FOR ME TO SHOW THE WOLRD THE GLORY OF GOD HAS NO BOUNDS..."SCAN TO WATCH!www.bek.news
Page 2
BEK COMMUNICATIONS | BEK.COOP2JOHN NAGEL Chief Security Ocer BEK Focus: Cyber SecurityTelehealth Poses Cyber DangerTelehealth is a way for health providers to diagnose, treat, and communicate with patients remotely, by phone or video. Telehealth is a quick and easy alternative to your typical doctor's appointment, but it also could be a quick and easy way for cybercriminals to find targets.Here are some ways to safeguard your personal information while using telehealth services:Whether you connect to telehealth using a smartphone or a computer, make sure the device is up-to-date with the latest security patches. This includes updating all applications, not just the ones used for telehealth purposes. Each app is a potential point of entry for cybercriminals. If the bad guys gain access to your device in any way, then your sensitive medical information will be at risk.Telehealth services typically require users to create a username and password. If the service oers Multi-factor Authentication (MFA), use it! MFA requires you to enter your password and then enter another form of verification, such as a code sent via text message. If MFA isn't oered, we recommend using a password manager to generate and securely store complex passwords.Never use a public wifi connection for telehealth services. You never know who could be watching and tracking your activity. When connecting from home, be sure to set up a strong password for your router. Default router passwords are often public knowledge or easy to guess. For the most secure network, connect to a virtual private network (VPN), which encrypts web trac to protect your information.The BEK Beacon is a bimonthly newsletter published by BEK Communications, © 2023. It is distributed without charge to all customers.BEK COMMUNICATIONS COOPERATIVEwas founded in 1952 as a local telecommunications cooperative serving Burleigh, Emmons and Kidder Counties. Since then, we've invested in state-of-the-art infrastructure, developed new products and services, and expanded to also serve Morton, Oliver, McLean, Logan, McIntosh, Barnes, Griggs, Cass, and Steele counties. BEK has changed quite a bit in 70 years, but we're still a small-town cooperative at heart.BEK COMMUNICATIONS COOPERATIVE 888-475-2361P.O. Box 230 200 East BroadwaySteele, ND 58482220 4th Street NortheastValley City, ND 58072923 East Interstate AvenueBismarck, ND 58503BOARD OF DIRECTORSDISTRICT IShane MorrisReganSanford WilliamsWingDISTRICT IIBob SubartRobinsonPresident Brett StrohTappenDISTRICT IIISecretary/Treasurer Kevin BernhardtLintonHolly WillHazeltonDISTRICT IVVice President William (Bill) BeckerWishekGerald BurlackWishekFEBRUARY 2023123
Page 3
BEK COMMUNICATIONS | BEK.COOP3'Legislature Today' is a 30-minute program hosted by Gary Emineth, longtime North Dakota political figure. The program summarizes the daily activities taking place at the 68th ND Legislative Session, including session topics, bill drafts, voting results, and policies set into action. The program also introduces viewers to lawmakers and ND legislative experts and staers. BEK TV believes all North Dakotans should have the opportunity to know the inner workings of the state chambers to which they elect representatives. Emineth and his guests help viewers better understand how the legislative process works, from bill draft to signature, and the issues being discussed that have a direct impact on the citizens of North Dakota.Watch Legislature Today weekdays at 8:30 pm and Sundays at 9:00 pm live online at bek.news or later in the archives at bek.news/legislaturetoday. You can also watch on BEK TV statewide on satellite and cable.BEK TV Presents 'Legislature Today'Channel ChangesPlease be advised that the following changes have been made or will be made to the following channels:Eective January 1, 2023 – Newsy (CH. 31) in the West DMA was rebranded to Scripps News - KNDB and Newsy - KRDK (CH. 32) in the East DMA was rebranded to Scripps News - KRDK.Eective January 31, 2023 – Comet TV ceased broadcasting on KNDB, KNDM and KRDK and is no longer available in our channel lineups.SCAN TO WATCH!www.bek.newsLegislature Today host, Gary Emineth, talking with Sen. Michael Dwyer about challenges of water and oil fracking in North Dakota.
Page 4
BEK COMMUNICATIONS | BEK.COOP4BEK acknowledges that students are a big part of the communities we serve. That's why we've been providing scholarships for college-bound students for more than 25 years. If you are a BEK customer receiving BEK Fiber-based services or if you are a dependent of a BEK customer receiving BEK Fiber-based services, you may apply for one of the following scholarships:Foundation of Rural Service (FRS) | $1,500 - $7,000 Deadline: February 08, 2023 For rural students entering their first year of college or vocational-technical school.BEK Communications | (9) $500 scholarships awarded Deadline: March 10, 2023 For 2023 graduating seniors entering their first year of college or vocational-technical school.University of Mary | (2) $1,250 scholarships awarded Deadline: March 1, 2023 Current or new students pursuing a Mass Communications, Computer Information Systems or Cyber Security (or similar) degreeValley City State University | $1,250 - $2,500 awarded Deadline: February 14, 2023 Current or new student pursuing a Communications/Digital Media Management Concentration, Computer Information Systems, Cyber Security or Software Engineering, or Technology Education (or similar) degree.To learn more, or to apply, visit bek.coop/coop/resourcesScholarship Opportunities
Page 5
BEK COMMUNICATIONS | BEK.COOP5Cinnamon Roll Coee BreadSUBMITTED BY: MADELINE SPITZER FROM VALLEY CITYINGREDIENTS:Bread2 c. flour1 tbsp. baking powder½ tsp. salt1 c. white sugar1 egg (room temp)1 c. milk2 tsp. vanilla⅓ c. plain yogurt or sour cream4 tbsp. butter1 tbsp. cinnamonGlaze½ c. powdered sugar2-3 tsp. milkDIRECTIONS:1. Preheat oven to 350°. Whisk together flour, baking powder, salt and ½ c. sugar. Set aside.2. In a seperate bowl, whisk together your egg, milk, vanilla and choice of yogurt or sour cream. Slowly add the flour mixture into the egg mixture, but do not overmix. Pour into greased baking loaf pan.3. To create a cinnamon swirl, combine ½ c. of white sugar with cinnamon and butter. Drop this mixture on top of the dough in your pan and swirl it in with a table knife. Bake for 45-50 minutes at 350°. Test with a toothpick. If done, toothpick will be clean.4. Remove from oven and place on a cooling rack. While cooling, prepare the glaze with ½ c. of powdered sugar and 2-3 tsp. of milk. Drizzle over bread while still warm, but not too warm.Submit your favorite recipe to Dakota Table by mailing it to: PO Box 230, Steele, ND 58482 or email bekcomm@bektel.comRecipes will be randomly drawn for a chance to be published in the Beacon.Submit a recipe to Dakota Table. If we publish your recipe, we will mail you some kitchen goodies!
Page 6
BEK COMMUNICATIONS | BEK.COOP6Senator Cramer Discusses Pro-Life on BEK TVU.S. Senator Kevin Cramer, (R)-ND, made another appearance on Ladies of Another View, and his team issued a press release to promote the program statewide.One of the topics Cramer discussed was his pro-life bill, Unborn Child Support Act, which gives expectant mothers child support payments while they are pregnant. Cramer says the proposed legislation makes sense because life begins at conception.Another topic discussed during the program was Cramer's stand on the Chinese company, Fufeng Group, wanting to build a corn processing plant on farmland in Grand Forks. The episode can be viewed online any time at bek.news. Click on Ladies of Another View and select the episode dated January 20, 2023.SCAN TO WATCH!www.bek.newsThe digital BEK Beacon is a bimonthly publication distributed electronically and free of charge to all BEK customers. This digital publication is a suppliment to the bimonthly printed BEK Beacon that is distributed by mail. This publication is only available online. Published by BEK Communications Cooperative© 2023