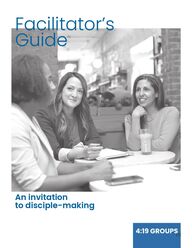 Return to flip book view
Facilitator's Guide
Page 1
| 1 |Facilitator's GuideAn invitation to disciple-making
Page 2
| 4 |Jesus'invitation to us is to follow Him and He promises to make us shers of men. Jesus set up this framework for gospel living. Our desire is to pattern our lives after Him by being disciples who make disciples. We realize this requires a new way of living, not simply implementing a program or an event. Our prayer is that, through 4:19 Groups, His redemptive life mission becomes ours.We are condent the Holy Spirit will gather and grow the Church, and we have been invited to be part of the greatest movement in the history of man. Only Jesus would see this accomplished through a pattern and progression as simple as: "Follow me, and I will make you shers of men."
Page 3
| 5 |"And he said to them, 'Follow me, and I will make you shers of men." Matthew 4:19FOLLOW MERelational obedience and surrender to Christ breathes a desire to know Him deeply as we are fully known by Him and follow His example.AND I WILL MAKE YOUJesus does the transformational work. We are His workmanship so that no one can boast. Our humility is displayed through the surrender of our whole being, starting with our heart.FISHERS OF MENJesus teaches and models how to gather others. As we faithfully cast, He faithfully gathers to Himself. Together, we actively carry the gospel into our spheres of inuence beginning with those closest to us and unto the ends of the earth.God made no mistakes when He placed you where you are, and He may call you to new places in the future to do kingdom work.
Page 4
| 6 |So what does a "sher of men" look like? It looks like caring for those around us the way Jesus has cared for us. We do what He does. We meet them where they are and invite them to get to know Jesus and what He teaches. We also walk with them as Jesus changes their heart and life. We are simply responding to the pattern Jesus set: FOLLOW MEEach group will simply read Scripture to see how Jesus and His disciples lived. AND I WILL MAKE YOUFollow a simple progression each meeting and pray for God to grow us and show us others we can disciple. FISHERS OF MENSimply respond to Scripture and practice ways to share Jesus with others, modeling Christ-likeness.One of the best ways we have found to live out Jesus' redemptive mission is through life-on-life discipleship. We invite you to be part of this process by beginning a 4:19 Group. These groups are relational, condential, and progress with the goal of multiplication in mind. Whether you seek to engage your children, roommates, neighbors or friends to join you on this journey, this simple, reproducible format is one of learning together and can be done with any book of the Bible, any age group and in any setting. You don't have to be a biblical scholar to lead a group, just a heart to follow Jesus. Isn't this great news?Our Response
Page 5
| 7 |Following Jesus' lead is surprisingly simple!As you prayerfully consider forming a 4:19 Group, here are a few things to consider:Group FormationWe have found groups of 3-6 individuals of the same gender facilitates the best atmosphere for personal and spiritual growth. Begin praying now for who the Lord will place in your group.Clarity and FlexibilityIn the pages to come you will see content suggestions for you to prayerfully consider. Knowing the content you desire to cover will help you set clear meeting duration expectations for your group. During your initial meeting, you can offer exibility in weekly schedule and meeting location based on what is best for the group. We recommend nding a quiet and reliable spot in which people feel comfortable to be open and share with the group.Mutual RespectThere should be a mutual expectation between the leader and group members to honor one another by being mindful of meeting times and one another's trust. Be punctual and honor the condentiality of the meetings.DurationThere is no set number of weeks or months your 4:19 Group will meet. Remember that it takes time to grow in Christ and to learn to appreciate the value of authentic community. Therefore, remember that the people in your group will need time as well. Ultimately, our hope is that while relationships will continue, your group will end for the sake of multiplying and making more disciples. Each group will know when it is time to multiply, and we can help!
Page 6
| 8 |We simply want to be in God's Word each week with each other. Focusing on only one chapter each week allows group members time to lean in, really process the story they are reading and then to read through it multiple times. Below you'll nd a sampling of Content Tracks to consider, each one facilitates this pattern of focusing on one chapter a week. Many of our 4:19 Groups use Crossway's Illuminated Scripture Journals so that group members can take notes as they study the Word.ContentThe Gospel of JohnFollowing JesusThe Gospel of John is great for new believers, seekers and mature believers alike. The stories of Jesus' interactions mixed with John's theological descriptions of God are an ideal starting point.These are great rst steps for discipling a new believer. It is good for our 4:19 Groups to study together in preparation for discipling others in a new relationship with Jesus.Week 1Week 2Week 3Week 4Week 5Week 6Week 77-12 Week 1Week 2Week 3Week 4Week 5Week 6Week 7Week 8Prologue: John 1 (Focus: vs. 1-14)Water into Wine: John 2 (Focus: vs. 1-12)Nicodemus: John 3 (Focus: vs. 1-16)Samaritan Village: John 4 (Focus: vs. 27-42)Healing at Pool: John 5 (Focus: vs. 1-18)Searching for Jesus: John 6 (Focus: vs. 22-40)Starting around week 7, consider asking if other group members would like to lead the discussion. You can share the meeting card or digital meeting template with them as a guide. The leader each week can pick 12-20 verses for the group to focus on until you nish John.Turn & Trust: Mark 1:15; Luke 19:1-10 (Zacchaeus) Love God: Matt 22:36-39; Luke 7:36-50 (Foot Washer) Obey God: 2 Tim 3:15-17; Matt 7:24-29 (House on a Rock) Pray: Matt 7:7; Matt 6:5-13 (The Lord's Prayer) Love Others: Matt 22:36-39; Luke 10:25-37 (Good Samaritan) Be Baptized: Romans 6:4; Acts 8:26-39 (Philip & the Eunuch) Be the Church: Hebrews 10:24-25; Acts 2:41-47 (The Early Church) Make Disciples: Matt 28:18-20; John 4:28-42 (Samaritan Evangelist)
Page 7
| 9 |The Acts of the ApostlesStories of HopeThe book of Acts gives a glimpse into the importance of the Great Commission (Matt 28: 16-20) and the challenges faced by the apostles when they took the Gospel to the ends of the earth.If you are sharing the Gospel with someone outside the church, and they are open to meeting to learn more, these stories can create great conversations using the same questions in the meeting template. Follow the general meeting template by asking them how their week/life has been since you last met (Look Back), then transition to the Bible story using the basic questions (Look Up), and nally asking them if God is speaking to them in any particular way and determine the best next steps for another discussion (Look Forward). You can use these stories in a different order if you feel one story ts better with their life circumstances. You can transition to reading John together at any point as well.Week 1Week 2Week 3Week 4Week 5Week 6Week 77-12 Week 1Week 2Week 3Week 4Week 5Week 6Week 7Witnesses: Acts 1 (Focus: vs. 1-10)The Holy Spirit: Acts 2 (Focus: vs. 1-13)Healed: Acts 3 (Focus: vs. 1-16)Prayers: Acts 4 (Focus: vs. 23-37)Opposition: Acts 5 (Focus: vs. 27-42)Servants: Acts 6 (Focus: vs. 1-7)Starting around week 7, consider asking if other group members would like to lead the discussion. You can share the meeting card or digital meeting template with them as a guide. The leader each week can pick 12-20 verses for the group to focus on until you nish Acts.Hope for the Rejected: Luke 7:36-50Hope for the Non-Religious: Luke 18:9-17Hope Changes Things: Luke 19:1-10 Hope Forgives: Matthew 18:21-35Hope Through Death: Luke 22:66-23:25 Hope Rose from the Dead: Luke 24:1-20 Hope is Waiting for You: Luke 15:11-32No matter which Content Track(s) you choose to walk through with your group, at some point you will realize that your group may be ready to multiply (pray for discernment here) or has need that another book of the Bible could address (use the same chapter method).
Page 8
| 10 |GroupTimeEach time you gather, your group time will be divided into three sections : Look Back, Look Up, & Look Forward. This is an intentional progression allowing time for your group to pray for each other, study Scripture together, and consider personal application. We have created a simple and replicable framework as seen in the following resource which you can use for personal reference.
Page 9
| 11 |A Special Note on Your First Few Meetings:Regardless of the Content Track you choose, remember that relationships are at the core of 4:19. Before you jump into the meeting template at your rst few meetings, spend time hearing one another's stories.Whether you hear one personal story at each gathering, or whether you spend one gathering sharing all the stories, getting to know each other is an important piece of being relational and seeing growth in each other.Don't let it stop there though! Be sure to set up a text or email group to stay connected throughout the week. Consider meeting for lunch periodically or going away for a weekend to build relationships! Knowing one another on a deeper level helps the group grow in vulnerability, maturity and trust.
Page 10
| 12 |Look BackThe Main Thing: To check in with one another concerning the action steps determined by each individual the previous week.• Spend time sharing blessings & burdens as well as reviewing take-aways from the previous week • This time is important in building relationships, but be sure to not let time get away from you. The majority of your time should be spent on the LOOK UP questions. In the beginning it may be hard but you are encouraged to be intentional in allocating about 1/3 of your gathering time to "looking back."• If your group is made of seekers, be sensitive to the disciple making and gospel sharing questions. If your group is made up of believers, always ask about weekly take-aways and gospel conversations. This will help you build a culture of growth for your group.A Few Helpful Notes on Each of the Three Sections:
Page 11
| 13 |A Few Helpful Notes on Each of the Three Sections: For additional resources visit johnsonferry.org/419Look UpThe Main Thing: To focus your gathering time on the Word of God and to allow it to be the driving factor in the spiritual growth of every member of your group.• Reading and retelling is an investment of time, but it helps the group to remember the things they learned this week. The different translations of Scripture can draw out interesting conversations as well.• The four questions are intended to help the group look intently at the passage without jumping right into application. Your group apply the text in Look Forward, but you need to facilitate the questions so that the group draws out the details of the story.• It's OK if group members look at outside resources during their personal study but we encourage you to focus the group discussion on what the Word plainly says.Look ForwardThe Main Thing: To develop a daily habit of thinking about how the Word compels us towards change and growth in Christ.• Give the group time to process with everything that was just uncovered and to write down the main way they are led to respond.• Write down what they say so that you can follow up the following week. • Reserve time to practice the Gospel Conversations tool. As you practice through each component, remind your group they can access training videos at johnsonferry.org/gospelconversations.• Spend time praying together and for one another. • Pray the B.O.B. prayer (Burden, Opportunity, and Boldness) with each other and pray for people by name if a group member has engaged someone with the Gospel. Be sure to save enough time so that this prayer time is not rushed.
Page 12
| 14 |Ultimately, our desire is to have our posture reect the posture of Jesus. This includes spending regular time with God, moving when He says move, speaking when He says speak, and following the pace set by the Holy Spirit. You are not ultimately responsible for someone's life change. Your role is to love your group well, pray for them consistently, and grow with them until they are ready to disciple others. Your Role
Page 13
| 15 |• Build trust—the group will be as open and honest as you.• Communicate condentiality - what is said in the group stays in the group.• Watch the clock, your group members time is valuable, aim to begin and end on time.• Coach your group to always go back to Scripture rather than offering advice.• Balance grace and accountability.• Have a teachable posture—the Lord will grow you in this process as well.• Listen often—speak when needed.• Ask open-ended questions and encourage conversation.• Invite all group members to have a voice and give everyone a chance to speak—often still waters run deep.• Set reminders in your calendar so you consistently pray for your group.• Consider deepening relationships through taking some meals together as a group or 1-on-1.Some PracticalDo's:Some PracticalDon'ts:• More than likely you will encounter some hard stories. Remember that you are not a professional counselor—there are resources available at JF if needed. Just be present and empathetic with those that are hurting or facing challenges.• You are not a lecturer/teacher—your role is to facilitate the conversation.• You are not responsible for lling silence—don't be afraid of a pause.• Your priority is caring for your group members, don't prioritize nishing the meeting steps over ministering to a group member who has shared something difcult or devastating in their life.
Page 14
| 16 |Keeping the End in SightIn Hebrews 12:2 it says, "...for the joy set before Him.." Jesus endured the cross and completed the work of redemption. Jesus' entire life was focused on living with the end in sight. As we follow His lead in being and becoming disciples who make disciples, we want to live and lead with the end in sight too.Multiply!• We are Disciple Makers. As the leader, set in your mind that you are responsible for helping them to grow as disciple makers.• 4:19 is not a program to nish, it is a group of people to help develop. Ownership of these relationships is critical. Continue to invest in your group as they grow! Pray for these relationships, that each person will lead their own group in the future as well. • The framework creates opportunities for them to grow in key areas, but as the leader, you model it and challenge them to grow with you.Repeat!It will be an exciting day when you launch disciple makers from your group to start their own! You probably won't launch everyone from your group, but when they are ready, encourage them to start the process. It may take a year or longer, but it is better to send them ready, than to send the many!Remind Them to PrayAsk them to ask the Lord to place 2-5 people on their heart to start a group. Have them start this process well before the end. Help Them Get EquippedContact 419@jfbc.org so that tools and training can be provided. Ofcially LaunchCommission them with encouragement and open support as they step into a new role. Continue to check in with your leaders who are replicating to help them as they grow as disciple makers.What is the ultimate goal of 4:19? To make disciples of Jesus Christ who follow Jesus, are changed by Jesus, and who are committed to the mission of Jesus.
Page 15
| 17 |Now, it'syour turn...PrayAsk the Lord to place 2-5 people on your heart to start a group. It can be someone from your church, neighborhood, work or any combination. Additionally start praying for a co-leader that can help facilitate gatherings and eventually be launched to start a new group.Gather Resources• Choose which Content Track you want to follow (see Pg 8-9).• Order Crossway's Illuminated Scripture Journals if you choose to use them. You can order them through the Bookmark (JF Campus Bookstore) or Amazon.• Print out bookmarks for each group member with Look Up questions on them.Invite• Begin inviting those 2-5 people to join with you.• Be sure to share the vision for the group, how often you will meet and what you will study.Who is God putting on your heart?01.02.03.04.05.
Page 16
| 18 |SimpleStoriesSo what does a "sher of men" look like? It looks like caring for those around us the way Jesus has cared for us. We do what He does. We meet them where they are and invite them to get to know Jesus, what He teaches and walk with them as Jesus changes their heart and lives. We are simply responding to the pattern Jesus set:Joe – 4:19 in our Workplaces:My experience with our initial 419 group was great as we had a group of strong Christian brothers who spent devoted time with each other. We were able to connect weekly with each other by praying for each other, encouraging one another, and challenging each other to pursue a deeper walk with Jesus to better understand how to apply His Word to our lives. After being part of my 419 group for a while, I spent some time praying and seeking the Lord on next steps for me to take on the responsibility of hosting my own discipleship group. I felt the calling to start my own group through my workplace. I have led various Bible studies and shared the gospel in my workplace before, but I have never engaged others with the relational discipleship method and gone quite as deep into studying God's Word. My workplace 419 group has been a very good experience so far. It certainly has not been without bumps in the road due to nding the right way to meet, time to meet, and growing in our ability to focus on the Lord. Even with the challenges, it has been rewarding, and my group is learning to open up and trust each other more. We are growing together and going deeper in our walk with God. The ultimate goal for my group will be not only our own spiritual growth and walk, but for each man to multiply and one day host their own 419 group where they follow Jesus' command to "Go and make disciples."
Page 17
| 19 |Jeremy – 4:19 in our Neighborhoods:Earlier this year, I was invited to join a men's Bible study with a group of guys from JFBC including one guy who is a neighbor down the street. We walked through the book of John, and toward the end of our study, I felt the Lord telling me that I should branch out from this group and host a similar study to the men in my small neighborhood of ten homes. I asked my neighbor if he would be willing to branch off with me, and he agreed. After prayer (and some procrastination), I sent an email to each of my neighbors that basically said… "hey, no pressure at all, but would you be interested in studying about the life of Jesus in the book of Mark on Wednesday mornings? I want to be a better husband, father, and neighbor, and I think Jesus is a great example and leader. Maybe we could get to know each other better, too. Let me know if you are interested…" We've lived on this street for over 15 years, but I was still very nervous about the possible reactions and rejections. A few guys said, thanks but work travel… A few didn't respond... But two guys said yes! One of those guys asked if he could invite one of his friends who lives in the area as well. The ve of us are now in week 8 of our study, and each week we are asking: Who is this Jesus? Why is He saying and doing these things? How are those around Him reacting? How could this impact my life? For most of the guys, this is their rst time studying the Bible, and it is so exciting to see God's Word actively working in each of our lives. I'm just sorry for the wasted years. I wish I had the courage and conviction to just send that email long ago. This has been one of the greatest highlights of my Christian walk.Dan – 4:19 in our Community:A couple from Johnson Ferry shared the gospel with grad student from Asia who lived in a local apartment complex. After showing interest in Jesus, a group of Johnson Ferry members began meeting with this man using the methods used for 419 groups. Some members of the group had not used these disciple making methods before so it was new to them as well. As we met with this new believer, we used these methods every time to walk through scripture, and the group held each other accountable to growing in our understanding and obedience to God's Word. We prayed together and grew together, and our new friend from Asia took his next steps as a believer by being baptized at Johnson Ferry. As time grew near for him to return to Asia, the group discussed how these disciple making methods could be used to share God's Word with others and what it means to be a church, even as a small gathering in a home like in Acts 2. Our new brother in Christ returned to Asia equipped with both a vision and a method to make disciples in a place where other missionaries are not welcome, and we are hopeful that the Holy Spirit will use him in incredible ways.
Page 18
| 20 |We Are With YouAs we journey together in following Christ's lead to be disciples who make disciples, we know it is essential we do so TOGETHER.So, we are here. If you have questions, need additional resources or just want to grab coffee, drop us a line.419@jfbc.org