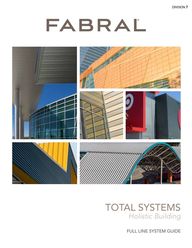 Return to flip book view
Fabral Metal Wall and Roof Systems
Page 1
DIVISION 7 TOTAL SYSTEMS Holistic Building FULL LINE SYSTEM GUIDE
Page 2
ACR offers a full range of products for Agricultural, Commercial and Residential projects. We supply durable and stylish material.
In addition to metal and stone coated metal we carry trusses, lumber, sliding door track & accessories, cupolas, weather vanes, snow guards & rails, underdeck system, and ventilation products such as Soffit and Fascia plus much more!
Family owned and operated since 1991.
Your local source for FABRAL products!
www.acrmetal.com
Page 3
DIVISION 7 TABLE OF CONTENTS FABRAL TOTAL SYSTEMS To us metal is more than a commodity Our products include a multitude of systems each delivering different aesthetics functions and benefits We offer versatility And we re also your one stop source for all accessories underlayment and panel system components Everything you need for the total system FabralCore 1 Energy Management Phase Change Material 39 Roof Wall Systems Standing Seam Panels 5 Green Building 40 Concealed Fastener Panels 11 Exposed Fastener Panels 15 Copper Fabrication Interior Wall Liner Panels 21 Chimney Pots 41 Custom Copper 42 General Information 22 Structural Members 43 System Components Underlayment 25 Warranty Information 44 Snow Retention Systems 26 Clips and Fasteners 27 Mitered Corners 28 Flashing 29 Edge Metals 30 Colors Finishes Standard 34 Specialty 35 Custom 36 All Fabral products are subject to availability For more information contact FabralCoreTM at 800 884 4484 or Fabral com
Page 4
Education We ve got the knowledge and know how to bring your vision to life Through hands on seminars and webbased classes we can help you achieve your vision for a building 1 FABRAL COM 800 884 4484 Project Consulting We re called the Masters of Metal for a reason We work with you to guide you through each phase of your project from design to spec and completion
Page 5
You challenge us And we like it Your vision for a building and what you want to achieve makes us think harder It d be easy to say That won t work Instead we go with Let s see what we can do As the leading provider of metal for building envelope solutions we push the envelope System Support Education Project Consulting Technical Support Customer Care We like it when you bring us a problem because we know we ll find the solution We have the products the manufacturing and the know how We offer everything you need for the total building envelope solution At our core we relish a challenge To learn more contact us at 800 884 4484 or Fabral com Technical Support Customer Care Your idea for a building and what you want to achieve challenges us Bring us your ideas and our engineers will find a way to make them work Have a question Need a quote Our Customer Care team is there when you need them expertly trained to answer your questions FABRALCORE 2
Page 6
ROOF WALL SYSTEMS Georgia Institute of Technology Atlanta GA USA featuring Stand N Seam and Select Series College Park Elementary School Virginia Beach VA USA featuring Silhouette HCF Series and 7 8 Corrugated 3 FABRAL COM 800 884 4484 LYNX Central Florida Regional Transportation Authority Orlando FL USA featuring Deep Rib IV
Page 7
DIVISION 7 Roof Wall Systems Coleman Park Community Center Nashville TN USA featuring Deep Rib II and V Beam Fabral roof and wall systems have been specified for projects in every commercial building segment around the world We ve provided solutions for the most demanding and creative installations We ve got the high performance solutions and versatile design options you need And our wide range of substrates and finishes means the possibilities are limitless Tell us what you need We re sure to have a system for your application Roof Wall Systems Standing Seam Panels Concealed Fastener Panels Exposed Fastener Panels Interior Wall Liner Panels ROOF WALL SYSTEMS 4
Page 8
STANDING SEAM PANELS Fabral high performance systems boast one of the highest wind uplift resistance panels in the market These workhorse panels are factory or field formed to yield continuous long length panels Georgia Institute of Technology Atlanta GA USA featuring Stand N Seam and Select Series 12 FABRAL Panel Specs STAND N SEAM Highest wind uplift resistance of any standing seam panel on the market Unrestricted Thermal Movement Double Lock seamed Side Joints Factory formed to 12 and 16 or Field formed to 16 Factory Applied Sealant Substrate Offering 032 and 040 Aluminum and 24 Gauge and 22 Gauge Steel and Copper Maximum Panel Length Factory Forming Option 47 2 1 2 Minimum Panel Length 6 Wind Uplift UL580 ASTM E330 ASTM E1592 Air Infiltration ASTM E283 ASTM E1680 Water Penetration ASTM E331 ASTM E1646 ASTM E2140 1 2 12 UL2218 Class 4 UL790 Class A 100 000 cycles FABRAL COM 800 884 4484 12 or 16 12 or 16 2 1 4 2 1 4 2 1 4 2 1 2 2 1 2 2 1 4 Class 90 275 275A 275B 319 Results Vary Depending on Gauge and Panel Thickness 0 006 cfm ft2 20 psf No air penetration 20 psf No Water 20 psf No Water 20 psf No leakage of standing water Miami Dade Noa steel aluminum 5 STAND N SEAM 2 1 2 Technical Data Min Roof Slope Hail Resistance Fire Resistance Thermal Cycling Test STAND N SEAM A high performance mechanically seamed roof system for the most demanding applications
Page 9
DIVISION 7 FABRAL POWERSEAM Panel Specs 90 and 180 Degree Seaming Available Curving and Tapering Options Available Striations and Shadow Lines Available varies by facility Factory or Field forming available in 12 16 and 18 Factory Applied Sealant Substrate Offering 032 and 040 Aluminum and 24 Gauge and 22 Gauge Steel Maximum Panel Length Factory Forming Option 47 Minimum Panel Length 6 12 16 or 18 2 PowerSeam with clip shoulder Technical Data Min Roof Slope Hail Resistance Fire Resistance 12 16 or 18 1 12 UL2218 Class 4 UL790 Class A 2 Wind Uplift UL580 Class 90 90 176 180 238 548 549 675 ASTM E1592 Results Vary Depending on Gauge and Panel Thickness Factory Mutual FM Class I 180 tested and approved Air Infiltration ASTM E283 ASTM E1680 0 01 cfm ft2 15 psf 0 01 cfm ft2 20 psf Water Penetration ASTM E331 ASTM E1646 ASTM E2140 No Water 6 24 psf No Water 20 psf No leakage of standing water 13 16 SEAM WITH CLIP BEFORE SEAMING 2 SINGLE LOCK DOUBLE LOCK MAES NIHT A mechanically seamed structural standing seam roof system with curving and tapering capabilities Texas Dept of Insurance Approved FABRAL THIN SEAM 4 3 1 THIN SEAM Panel Specs EGAREVOC 81 ro 61 21 1 3 4 Unlimited Thermal Movement Factory or Field forming Batten Seam Lines Available Striations and Shadow Lines Available Tapering Options Available Factory Applied Sealant Substrate Offering 032 and 040 Aluminum and 24 Gauge and 22 Gauge Steel and Copper Maximum Panel Length Factory Forming Option 47 Minimum Panel Length 6 2 2 12 16 or 18 COVERAGE Technical Data Min Roof Slope 1 12 Wind Uplift UL580 Class 90 303 359 359A 343 417 ASTM E1592 Results Vary Depending on Gauge and Panel Thickness Air Infiltration ASTM E283 0 009 cfm ft2 6 24 psf Water Penetration ASTM E331 No Water 15 psf Texas Dept of Insurance Approved A snap together panel for easy installation with no mechanical seaming tools required Ideal for installation over solid substrate and open framing ROOF WALL SYSTEMS 6
Page 10
STANDING SEAM PANELS FABRAL SLIM SEAM Panel Specs Unlimited Thermal Movement Shadow Lines Available Tapering Options Available Factory Applied Sealant Substrate Offering 032 and 040 Aluminum and 24 Gauge and 22 Gauge Steel and Copper Maximum Panel Length 47 Minimum Panel Length 6 slim seamslim seam 1 1 2 1 1 2 Technical Data Min Roof Slope Hail Resistance Fire Resistance Wind Uplift UL580 ASTM E1592 Air Infiltration ASTM E283 ASTM E1680 Water Penetration ASTM E331 ASTM E1646 12 or 16 COVERAGE 12 or 16 COVERAGE 1 12 UL2218 Class 4 UL790 Class A 1 1 2 1 1 2 Class 90 274 274A 369 24 ga Allowable Load of 48 48 psf 2 5 0 09 cfm ft2 1 57 psf No air penetration 20 psf No Water 25 psf No Water 12 psf An economical high performance standing seam peak system Ideal for installation over solid substrate and open framing Texas Dept of Insurance Approved FL approved FABRAL 2 SSR Panel Specs Tapering Options Available Factory Applied Sealant Unlimited Thermal Movement Substrate Offering 032 040 and 050 Aluminum and 24 22 20 and 18 Gauge Steel Maximum Panel Length 51 Minimum Panel Length 6 18 COVERAGE 18 COVERAGE Technical Data Min Roof Slope Hail Resistance Fire Resistance 6 4 15 16 1 2 12 UL2218 Class 4 UL790 Class A 4 15 16 6 4 15 16 4 15 16 Wind Uplift UL90 190 190B 7 Air Infiltration ASTM E283 ASTM E1680 No air penetration 20 psf 0 019 cfm ft2 20 psf Water Penetration ASTM E331 ASTM E1646 No Water 20 psf No Water 20 psf FABRAL COM 800 884 4484 2 7 16 2 7 16 21 2 SSR Clip 21 2 SSR Clip A classically styled panel designed for durability with batten seams and the heaviest gauges available
Page 11
DIVISION 7 FABRAL SNAP ON SEAM Panel Specs Solid Substrate Installation Only Shadow Lines Available Tapering Options Available Curving Options Available Unlimited Thermal Movement Substrate Offering 032 and 040 Aluminum and 24 Gauge and 22 Gauge Steel Maximum Panel Length 47 Minimum Panel Length 6 3 4 3 8 12 16 18 or 20 1 Technical Data PAN Min Roof Slope Hail Resistance Fire Resistance 3 12 UL2218 Class 4 UL790 Class A Wind Uplift UL580 ASTM E1592 Class 90 296 397 397A Results Vary Depending on Gauge and Panel Thickness R 1 16 An easy to install two component design ideal for SNAP ON SEAM roof applications requiring curved panels 7 8 CAP 3 8 3 8 1 3 4 1 1 SEAM WITH CAP AND CLIP FABRAL 1 3 4 SEAM WITH CAP AND CLIP SNAP ON SEAM HIGH PROFILE Panel Specs Solid Substrate Installation Only Unlimited Thermal Movement Shadow Lines Available Tapering Options Available Substrate Offering 032 and 040 Aluminum and 24 Gauge and 22 Gauge Steel Maximum Panel Length 47 Minimum Panel Length 6 3 8 1 1 2 12 16 18 or 20 Technical Data Min Roof Slope Hail Resistance Fire Resistance 1 3 4 3 12 UL2218 Class 4 UL790 Class A PAN R1 16 An easy to install snap on seam design allows for easy removal of individual panels when necessary SNAP ON SEAM 7 8 CAP 3 8 3 8 1 1 SEAM WITH CAP AND CLIP 1 3 4 1 3 4 SEAM WITH CAP AND CLIP ROOF WALL SYSTEMS 8
Page 12
STANDING SEAM PANELS FABRAL SNAP ON BATTEN Panel Specs Solid Substrate Installation Only Unlimited Thermal Movement Shadow Lines Available Tapering Options Available Substrate Offering 032 and 040 Aluminum and 24 Gauge and 22 Gauge Steel Maximum Panel Length 47 Minimum Panel Length 6 11 1 8 FOR 12 COVERAGE SIMILARLY FOR OTHER WIDTH PANELS 11 1 8 FOR 12 COVERAGE 16 18 FOR or 20 OTHER COVERAGE AVAILABLE SIMILARLY WIDTH PANELS Technical Data Min Roof Slope Hail Resistance Fire Resistance 1 1 2 PAN 1 1 2 3 12 UL2218 Class 4 UL790 Class A PAN 1 9 16 1 9 16 1 7 8 1 7 8 CAP1 9 16 SEAM WITH CAP AND CLIP 1 9 16 SNAP ON BATTEN A snap on seam wide batten design for bolder 1 7 8 1 7 8 design effect SEAM WITH CAP AND CLIP CAP SNAP ON BATTEN FABRAL IP SEAM 3 Panel Specs Mechanically Seamed Panel Factory Applied Sealant Substrate Offering 24 Gauge and 22 Gauge Steel Maximum Panel Length 47 Minimum Panel Length 6 SEAM RIB 3 Technical Data 1 2 12 UL2218 Class 4 UL790 Class A Wind Uplift UL90 93 210A ASTM E1592 Results Vary Depending on Gauge and Panel Thickness Factory Mutual FM Class I 120 Tested and Approved 9 FABRAL COM 800 884 4484 24 3 1 64 Min Roof Slope Hail Resistance Fire Resistance A mechanically seamed trapezoidal panel design for low slope industrial applications and highperformance pre engineered metal buildings
Page 13
DIVISION 7 FABRAL IP SNAP 3 Panel Specs Snap Fit Panel Factory Applied Sealant Substrate Offering 24 Gauge and 22 Gauge Steel Maximum Panel Length 47 Minimum Panel Length 6 SNAP RIB 3 Technical Data 1 2 12 UL2218 Class 4 UL790 Class A Wind Uplift UL90 93 210A ASTM E1592 Results Vary Depending on Gauge and Panel Thickness Factory Mutual FM Class I 90 Tested and Approved 24 3 1 64 Min Roof Slope Hail Resistance Fire Resistance A snap fit trapezoidal panel design for low slope industrial applications and high performance pre engineered metal buildings A SNAP RIB 3 B SEALANT FACTORY APPLIED C ATTACHMENT SCREW TO SUBSTRATE 1 INTO STEEL 12X1 SELF DRILLER 2 INTO WOOD 9X1 TYPE A D PANEL CLIP OPTIONAL TO EXCLUDE Holy Family Catholic Church Woodruff WI USA featuring Thin Seam ROOF WALL SYSTEMS 10
Page 14
CONCEALED FASTENER PANELS Fabral concealed fastener systems combine dynamic design with functional excellence These systems include a wide range of profile options and configurations for vertical and horizontal orientations Lady Bird Johnson Middle School Irving TX USA featuring V Beam Select Series 12 and Thin Seam FABRAL SILHOUETTE HCF SERIES Panel Specs Panel Options Include Multiple Profiles Factory Applied Sealant Substrate Offering 032 050 Aluminum and 24 Gauge 18 Gauge Steel Maximum Panel Length 30 Minimum Panel Length 2 Mitered Corners Available Technical Data Hail Resistance Fire Resistance Class 4 Class A Air Infiltration ASTM E283 0 01 cfm ft2 20 psf Water Penetration ASTM E331 No Water 20 psf Structural Performance ASTM E330 11 FABRAL COM 800 884 4484 A horizontal concealed fastener system that provides a range of profiles and configurations for architectural commercial and industrial applications
Page 15
DIVISION 7 12 1 12 1C 12 2C 16 16 16 16 16 12 3 12 3C 16 1 12 inch series 16 1C 16 2 16 2C 16 4 0 875 0 875 0 875 0 875 0 875 0 875 0 875 0 875 4 4 4 4 0 875 0 875 12 2 12 12 12 4 12 0 875 0 875 4 12 12 16 Hand and Microsurgery Associates Columbus OH USA featuring Silhouette HCF Series and Deep Rib IV 16 4C 16 inch series Silhouette HCF Series Panel Options Options of one to four ribs and multiple profiles offer ultimate design versatility in a strong durable wall panel An interlocking side lap feature hides fasteners and is installed with or without clips ROOF WALL SYSTEMS 12
Page 16
CONCEALED FASTENER PANELS FABRAL SELECT SERIES 12 Panel Specs Panel Options Available 12 R2 Recommended 12 R0 12 W For Vertical Use Only Perforation Available Substrate Offering 032 and 040 Aluminum and 24 22 20 and 18 Gauge Steel Maximum Panel Length 45 Minimum Panel Length 4 Factory Swedging Available for Endlapping SELECT SERIES 12 R2 12 UL2218 Class 4 UL790 Class A Air Infiltration ASTM E283 ASTM E1680 0 10 cfm ft2 1 57 psf 0 25 cfm ft2 6 24 psf Water Penetration ASTM E331 No Water 12 psf 1 1 2 12 R2 Hail Resistance Fire Resistance 12 12 W SELECT SERIES 12 12 1 1 2 Technical Data SELECT SERIES 12W A SELECT SERIES 12 R2 B SEALANT FACTORY APPLIED C ATTACHMENT SCREW TO SUBSTRATE 1 INTO STEEL 12X1 SELF DRILLER 2 INTO WOOD 9X1 TYPE A 12 R0 1 1 2 OPTIONAL TO EXCLUDE A SELECT SERIES 12W B SEALANT FACTORY APPLIED C ATTACHMENT SCREW TO SUBSTRATE 1 INTO STEEL 12X1 SELF DRILLER 2 INTO WOOD 9X1 TYPE A OPTIONAL TO EXCLUDE A concealed fastener flush panel design that is suited for monolithic walls equipment screens fascia and soffit applications A SELECT SERIES 12 B SEALANT FACTORY APPLIED C ATTACHMENT SCREW TO SUBSTRATE 1 INTO STEEL 12X1 SELF DRILLER 2 INTO WOOD 9X1 TYPE A OPTIONAL TO EXCLUDE FABRAL SELECT SERIES 612 Panel Specs Panel Options Available 612 R1 Recommended 612 For Vertical Use Only Perforation Available Substrate Offering 032 and 040 Aluminum and 24 22 20 and 18 Gauge Steel Maximum Panel Length 45 Minimum Panel Length 4 SELECT SERIES 612 R1 Technical Data 12 0 10 cfm ft2 1 57 psf 0 25 cfm ft2 6 24 psf Water Penetration ASTM E331 No Water 12 psf 612 R1 6 1 1 2 Air Infiltration ASTM E283 ASTM E1680 6 3 4 REF SELECT SERIES 612 612 12 6 3 4 REF 6 A SELECT SERIES 612 R1 B SEALANT FACTORY APPLIED C ATTACHMENT SCREW TO SUBSTRATE 1 INTO STEEL 12X1 SELF DRILLER 2 INTO WOOD 9X1 TYPE A 1 1 2 UL2218 Class 4 UL790 Class A 1 15 64 Hail Resistance Fire Resistance OPTIONAL TO EXCLUDE A six up six down wall panel that requires no panel clips Ideal for monolithic walls A SELECT SERIES 612 B SEALANT FACTORY APPLIED C ATTACHMENT SCREW TO SUBSTRATE 1 INTO STEEL 12X1 SELF DRILLER 2 INTO WOOD 9X1 TYPE A OPTIONAL TO EXCLUDE 13 FABRAL COM 800 884 4484
Page 17
DIVISION 7 FABRAL D COR FLUSH Panel Specs For Soffit and Fascia Applications Use Only Perforation Available Substrate Offering 032 Aluminum and 24 Gauge Steel Maximum Panel Length 12 Minimum Panel Length 6 Technical Data Hail Resistance Fire Resistance UL2218 Class 4 UL790 Class A Air Infiltration ASTM E283 ASTM E283 ASTM E283
Page 18
EXPOSED FASTENER PANELS Fabral exposed fastener metal wall and roof systems will exceed your expectations The wide range of panels can be curved and installed vertically or horizontally to create endless design possibilities Harvey B Gantt Center for African American Arts and Culture Charlotte NC USA featuring Hefti Rib FABRAL HEFTI RIB HEFTI Panel Specs Vertical and Horizontal Applications Mitered Corners Available Curving Options Available Substrate Offering 032 040 and 050 Aluminum and 26 24 22 20 and 18 Gauge Steel Maximum Panel Length 45 Minimum Panel Length 6 Panel Variations HR 288 and Reverse Run Hefti Rib I are Available Formed Width Varies 36 36 Coverage 7 2 1 1 2 PAINTED SIDE Technical Data Min Roof Slope Hail Resistance Fire Resistance 2 12 UL2218 Class 4 UL790 Class A Wind Uplift UL580 Class 90 244 Air Infiltration ASTM E283 No air penetration 20 psf Water Penetration ASTM E331 No Water 20 psf Texas Dept of Insurance Approved 15 FABRAL COM 800 884 4484 CL CL Formed Width includes 39 625 for 26GA and 38 875 for all other steel and aluminum options A HEFTI PANEL B STITCH SCREW 14X7 8 LAP SCREW C SEALANT FIELD APPLIED D ATTACHMENT SCREW TO SUBSTRATE 1 INTO STEEL 12X1 SELF DRILLER 2 INTO WOOD 9X1 TYPE A A panel with superior strength to weight ratio and spanning capabilities OPTIONAL
Page 19
DIVISION 7 FABRAL V BEAM Panel Specs Vertical and Horizontal Applications Mitered Corners Available Field Curving Options Available Substrate Offering 032 040 and 050 Aluminum and 24 22 20 and 18 Gauge Steel Maximum Panel Length 45 Minimum Panel Length 6 35 Width 35 Formed Formed Width 32 Coverage Coverage 32 Technical Data Min Roof Slope Hail Resistance Fire Resistance 5 1 3 2 12 UL2218 Class 4 UL790 Class A 1 3 4 Aluminum availability includes 44 875 Formed Width with 42 667 Coverage 38 125 Formed Width with 32 Coverage For dramatic wall and roof applications this striking panel design boasts excellent strength and spanning capabilities FABRAL 4 RIB 4 RIB Panel Specs Vertical and Horizontal Applications Mitered Corners Available Substrate Offering 032 040 and 050 Aluminum and 24 22 20 and 18 Gauge Steel Maximum Panel Length 45 Minimum Panel Length 6 Panel Variation 8 Rib is Available 35 9 16 Formed Width 35 9 16 Technical Data Min Roof Slope Hail Resistance Fire Resistance 32 32 Coverage 2 1 2 12 UL2218 Class 4 UL790 Class A 1 38 1 2 Formed Width with 32 Coverage also available 45 625 Formed Width with 44 Coverage in unpainted Aluminum only An industry standard these heavy duty panels are primed for heavy industrial and architectural applications ROOF WALL SYSTEMS 16
Page 20
EXPOSED FASTENER PANELS FABRAL DEEP RIB II ALUMINUM DEEP RIB II Panel Specs Vertical and Horizontal Applications Mitered Corners Available Substrate Offering 032 040 and 050 Aluminum and 22 20 and 18 Gauge Steel Maximum Panel Length 45 Minimum Panel Length 6 44 1 2 40 2 OVERLAP CORRUGATION 3 4 OVERALL 33 33 7 8 Formed Width 30 Coverage COVERAGE 30 DEEP RIB II ALUMINUM Technical Data Min Roof Slope Hail Resistance Fire Resistance 1 12 UL2218 Class 4 UL790 Class A 2 Standard offering OVERLAP CORRUGATION 44 1 2 40 ALL DIMENSIONS ARE CENTERLINE DIMENSIONS 2 DEEP RIB II STEEL Subject to inquiries OVERLAP CORRUGATION 33 3 4 OVERALL 30 COVERAGE A 2 panel design with a flat top rib for bold design applications 2 OVERLAP CORRUGATION ALL DIMENSIONS ARE CENTERLINE DIMENSIONS DEEP RIB II STEEL FABRAL DEEP RIB IV 25 1 4 OVERALL 24 COVERAGE Panel Specs 12 Vertical and Horizontal Applications Mitered Corners Available Curving Options Available Inverted Panel Option Available Substrate Offering 032 040 and 050 Aluminum and 22 20 and 18 Gauge Steel Maximum Panel Length 45 Minimum Panel Length 6 Technical Data Min Roof Slope Hail Resistance Fire Resistance 4 1 4 Formed OVERALL 25251 4 Width 24 COVERAGE Coverage 12 4 1 12 UL2218 Class 4 UL790 Class A DEEP RIB 4 design appeal A bold 4 rib panel for dynamic Siding Roofing 17 FABRAL COM 800 884 4484
Page 21
DIVISION 7 FABRAL Panel Specs 1 2 CORRUGATED 1 2 CORRUGATED Vertical and Horizontal Applications Mitered Corners Available Curving Options Available Substrate Offering 032 040 and 050 Aluminum and 26 24 22 20 and 18 Gauge Steel Maximum Panel Length 45 Minimum Panel Length 6 COVERAGE VARIES Coverage Varies 2 667 Technical Data Min Roof Slope Hail Resistance Fire Resistance Formed Width Varies OVERALL VARIES 1 2 2 1 2 12 UL2218 Class 4 UL790 Class A Panel Width Steel Options include 42 25 Formed Width with 37 1 3 Roof Coverage 40 Wall Coverage for 26GA only 44 50 Formed Width with 40 Roof Coverage Wall 42 2 3 Coverage for 24GA only 41 25 Formed Width with 37 1 3 Roof Coverage 37 1 3 Wall Coverage for 24GA 18GA Panel Width Aluminum Options include 53 125 Formed Width with 48 Roof Coverage 50 67 Wall Coverage for 032 050 unpainted only 44 50 Formed Width with 40 Roof Coverage 42 2 3 Wall Coverage for 032 050 painted or unpainted An economical and versatile wall or roof panel FABRAL 7 8 CORRUGATED Panel Specs 2 1 2 12 UL2218 Class 4 UL790 Class A 2 667 7 8 PAINTED SIDE Panel Width Steel Options include 37 50 Formed Width with Roof and Wall 34 2 3 Coverage for 26GA only 39 75 Formed Width with Roof and Wall 37 1 3 Coverage for 24GA only 36 25 Formed Width with 32 Wall Coverage 34 2 3 Roof Coverage for 24GA 18GA Panel Width Aluminum Options include 47 Formed Width with 42 2 3 Roof and 45 1 3 Wall Coverage for 032 050 unpainted only 39 75 Formed Width with Roof and Wall 37 1 3 Coverage for 032 050 painted and unpainted 791 791 271 271 1 054 1 054 R 375 Min Roof Slope Hail Resistance Fire Resistance Formed Width 32 Varies Coverage Varies 697 Technical Data 7 8 CORRUGATED 105 Vertical and Horizontal Applications Mitered Corners Available Curving Options Available Substrate Offering 032 040 and 050 Aluminum and 26 24 22 20 and 18 Gauge Steel Maximum Panel Length 45 Minimum Panel Length 6 A 7 8 CORRUGATED B STITCH SCREW 14X7 8 LAP SCREW C SEALANT FIELD APPLIED D ATTACHMENT SCREW TO SUBSTRATE 1 INTO STEEL 12X1 SELF DRILLER 2 INTO WOOD 9X1 TYPE A OPTIONAL An economical and versatile wall or roof panel with bold design appeal ROOF WALL SYSTEMS 18
Page 22
EXPOSED FASTENER PANELS FABRAL MIGHTI RIB Panel Specs MIGHTI RIB PANEL 12 39 Formed 36 Width 36 Coverage 12 12 1 1 4 Vertical and Horizontal Applications Mitered Corners Available Substrate Offering 032 040 and 050 Aluminum and 26 and 24 Gauge Steel Heavier Gauges Available Upon Request Maximum Panel Length 45 Minimum Panel Length 6 Panel Variations R Panel and W Panel Are Available PAINTED SIDE Technical Data Min Roof Slope Hail Resistance Fire Resistance 1 12 UL2218 Class 4 UL790 Class A Wind Uplift UL580 Class 90 169 Factory Mutual FM Class I 150 A traditional R Panel design for commercial and industrial roof wall or fascia A MIGHTI RIB PANEL B STITCH SCREW 14X7 8 LAP SCREW C SEALANT FIELD APPLIED D ATTACHMENT SCREW TO SUBSTRATE 1 INTO STEEL 12X1 SELF DRILLER 2 INTO WOOD 9X1 TYPE A OPTIONAL Texas Dept of Insurance Approved FABRAL ULTRA RIB Panel Specs Vertical and Horizontal Applications Mitered Corners Available Substrate Offering 032 Aluminum and 26 24 and 22 Gauge Steel Maximum Panel Length 40 Minimum Panel Length 6 ultra rib 38 Width 38 Formed OVERALL 36 Coverage 36 COVERAGE Technical Data 12 Min Roof Slope Hail Resistance Fire Resistance 1 12 UL2218 Class 4 UL790 Class A Wind Uplift UL580 Class 90 168 1 1 2 38 5 8 Formed Width with 36 Coverage for 26GA and Aluminum also available An extremely durable 1 high panel suited for commercial and industrial applications 19 FABRAL COM 800 884 4484
Page 23
DIVISION 7 FABRAL U PANEL Panel Specs U PANEL 37 1 2 Formed Width 36 36 Coverage 13 16 Vertical and Horizontal Applications Mitered Corners Available 6 On Center Rib Spacing Substrate Offering 26 Gauge Steel Maximum Panel Length 45 Minimum Panel Length 4 Panel Variation PBU Panel with Purlin Bearing Leg is Available PAINTED SIDE Technical Data Min Roof Slope Hail Resistance Fire Resistance 2 1 2 12 UL2218 Class 4 UL790 Class A Wind Uplift UL580 Class 90 39 79 An economical commercial and industrial roof and wall panel ideal for light commercial structures and modular buildings A U PANEL B STITCH SCREW 14X7 8 LAP SCREW C SEALANT FIELD APPLIED D ATTACHMENT SCREW TO SUBSTRATE 1 INTO STEEL 12X1 SELF DRILLER 2 INTO WOOD 9X1 TYPE A OPTIONAL 4 0 Wine Cellar Fredericksburg TX USA featuring Thin Seam and Hefti Rib ROOF WALL SYSTEMS 20
Page 24
INTERIOR WALL LINER PANELS Easy to use wall and roof panels ideal for field assembled projects requiring insulation Hickam Air Force Base Oahu HI USA featuring Mighti Rib and V Beam FABRAL LP 15 LINER PANEL Panel Specs Perforation Available Factory Applied Sealant Substrate Offering Consult Fabral for Availability Maximum Panel Length 45 Minimum Panel Length 6 Panel Variation LP 25 and LP 12 2 1 2 deep liner panel is available 12 1 1 2 1 7 16 3 8 LP 12 LP 12 Technical Data Hail Resistance Fire Resistance 3 SUBGIRT 24 Class 4 Class A 1 7 16 LP 15 LP 15 24 Thermal and Acoustical Testing Results Available 2 7 16 LP 25 LP 25 Easy to use wall and roof panels great for field assembled projects requiring insulation 21 FABRAL COM 800 884 4484
Page 25
DIVISION 7 GENERAL INFORMATION TESTING SUBSTRATES AND FIELD ASSEMBLED WALL DETAILS Test Reports Include ASTM E1592 UPLIFT ASTM E330 STRUCTURAL FACTORY MUTUAL MIAMI DADE APPROVAL UL90 UPLIFT RATING AIR INFILTRATION WATER PENETRATION FIREWALL PANELS HAIL RESISTANCE FIRE RESISTANCE CORRUGATED LINER INSULATION HEFTI RIB OR ANY PROFILE ZBAR OR HAT BAR To learn about these tests visit Fabral com Consult Fabral for test results and other test data availability Substrates GALVALUME Grade 50 AZ50 or AZ55 AluminumZinc alloy coating conforming to ASTM A792 24 22 and 18 gauge standard for all profiles 20 gauge available for most profiles Acrylic coating standard for unpainted applications Aluminum 032 Aluminum Alloy 3105 H14 standard for standing seam panels 040 Aluminum available for select standing seam profiles 032 and 040 Aluminum Alloy 3105 or 3004 H36 or equal standard for exposed concealed fastener panels 050 available for select profiles Alclad Alloy 3004 with 7072 cladding Aluminum available for select profiles Galvanized Steel G 90 or Grade 50 conforming to ASTM A653 24 22 and 18 gauge are standard for most profiles for 20 gauge please inquire Stainless Steel Copper Zinc please inquire for availability Field Assembled System Corrugated Liner LP 15 SELECT SERIES 612 OR ANY PROFILE INSULATION SUBGIRT Field Assembled System Flat Liner ROOF WALL SYSTEMS 22
Page 26
SYSTEM COMPONENTS Georgia Institute of Technology Atlanta GA USA featuring Stand N Seam and Select Series 12 Hand and Microsurgery Associates Columbus OH USA featuring Silhouette HCF Series and Deep Rib IV 23 FABRAL COM 800 884 4484
Page 27
DIVISION 7 System Components Total system means total system No element is left out Fabral provides all the components needed to complete an installation including clips fasteners bearing plates and snow retention products Holy Family Catholic Church Woodruff WI USA featuring Thin Seam System Components Underlayment Snow Retention System Clips and Fasteners Mitered Corners Flashing Trim and Edge Metals SYSTEM COMPONENTS 24
Page 28
UNDERLAYMENT Fabral underlayment provides protection to building envelopes keeping moisture and mold growth at bay Roanoke Market Roanoke VA USA featuring Aluminum Coil Dependable Protection Fabral offers two unique varieties of underlayment specifically designed to work with metal roof and wall systems Underlayment provides protection to the building envelope The application works to keep moister and mold growth at bay 25 30 Year Peel Stick 50 Year Synthetic Product Specs Product Specs Watertight Asphalt to Asphalt Lap System Roll Size 3 W x 72 L Minimum Thickness 1 1mm Square Ft Per Roll 200 Installation Requires Cap Nails Roll Size 4 W x 250 L Minimum Thickness 75mm Square Ft Per Roll 1 000 FABRAL COM 800 884 4484
Page 29
DIVISION 7 SNOW RETENTION SYSTEMS Ensuring safety in your building is our priority Fabral offers a wide range of snow guards and snow retention systems to fit nearly any roof Our systems work hard to protect your building and the people who use it University of Wisconsin Kress Center Green Bay WI USA featuring Stand N Seam Snow Retention Systems The right snow guard patterns are key to your building s safety Fabral can provide custom snow guard spacing and pattern recommendations Your installation demands dependability you can count on Fabral recommends using Surebond Everseal when using adhesive to install snow guards These clamp on snow guards provide options for Standing Seam roof systems The AP series is ideal for Fabral Stand N Seam Powerseam Thin Seam and Slim Seam panels AP SL 1 RT Functional for Exposed Fastener roof systems these surface mount snow guards are the right choice when you want to keep the cost down and design simple RTMINI RTCLSM RTCLSR With many different snow guards and retention systems to choose from Fabral can help you find the best match for your application SG SSS 640 SM Snow Rail snow retention systems offer additional nonpenetrating options for Standing Seam roof systems F RAIL S RAIL E RAIL SYSTEM COMPONENTS 26
Page 30
CLIPS FASTENERS Fabral offers a variety of clips and fasteners appropriate for any roof and wall panel installation Holy Family Catholic Church Woodruff WI USA featuring Thin Seam Structural Integrity You Can Rely On Fabral offers a complete line of clips and fasteners appropriate for any roof or wall panel installation Each component is constructed of superior quality materials to ensure your design is structurally sound College Park Elementary School Virginia Beach VA USA featuring Silhouette HCF Series and 7 8 Corrugated 27 FABRAL COM 800 884 4484
Page 31
MITERED CORNERS Fabral mitered corners achieve dynamic designs Horizontal metal wall panels are specifically engineered to create seamless continuity Coleman Park Community Center Nashville TN USA featuring Deep Rib II and V Beam Dynamic Design Continuity Fabral mitered corners are mechanically folded to any angle you specify Structural bonding with a two part adhesive eliminates transition lines and weld burn damage for a smooth continuous panelline appearance Target Location featuring Deep Rib IV and Hefti Rib SYSTEM COMPONENTS 28
Page 32
FLASHING TRIM Fabral provides the products you need to give your design the finished look you intended Flashing metals are available in a variety of substrates profiles and finishes to match or complement your panel system Kennesaw State University Kennesaw GA USA featuring Thin Seam and 4 Rib Design Distinction Fabral flashing trim and edge metals help you achieve the crisp finished look you intended These easy to install finishing touches help maintain interior temperatures and provide design distinction Fabral flashing trim and edge metals are available in a variety of substrates profiles and finishes to complement any roof and wall system And if you can t find the look you need we ll work with you to design something that fits Lady Bird Johnson Middle School Irving TX USA featuring V Beam Select Series 12 and Thin Seam 29 FABRAL COM 800 884 4484
Page 33
DIVISION 7 EDGE METALS Fabral edge metals are ANSI SPRI ES 1 approved and allows for a total system solution from one leading supplier Fabral s offering includes gravel stop edge metals and copings in 24 Gauge and 22 Gauge Steel and 040 and 050 Aluminum Both systems feature retainer cleats allowing for concealed fasteners and a secure system Edge Metal Offering Coping Offering 4 inch 16 inch 1 2 15 8 1 4 2 3 8 4 5 3 1 2 6 inch 6 16 ACTUAL WALL SIZE 3 8 15 8 20 inch 1 2 1 6 4 3 8 4 5 3 1 2 8 inch 6 20 ACTUAL WALL SIZE 3 8 15 8 24 inch 1 2 8 1 6 3 8 4 5 3 1 2 6 24 ACTUAL WALL SIZE Single 2X parapet cap is also tested and available 3 8 West Michigan Aviation Academy Grand Rapids MI USA featuring Silhouette HCF Series SYSTEM COMPONENTS 30
Page 34
COLORS FINISHES Ferrari World Yas Islands Abu Dhabi UAE Kennesaw State University Kennesaw GA USA featuring Thin Seam and 4 Rib 31 FABRAL COM 800 884 4484 Coleman Park Community Center Nashville TN USA featuring Deep Rib II and V Beam
Page 35
DIVISION 7 Colors Finishes Tandartsenpraktijk Hazerswoude Rijndijk Netherlands Unique design options are limitless with Fabral color offerings The most requested colors are stocked and ready to go with our standard options Our specialty selections provide hard to find colors and finishes And our custom color program means we can deliver any color you specify Colors Finishes Standard Stocked Specialty Custom COLORS FINISHES 32
Page 36
COLORS FINISHES Your vision for a building is limitless We like to keep it that way by offering you unmatched color capabilities as unique as your designs Coleman Park Community Center Nashville TN USA featuring Deep Rib II and V Beam Multi Layer Protection Fabral incorporates a multi layer protection process to ensure color coatings withstand the highest demands A poly wash backcoat corrosion resistant primer and 70 PVDF Kynar Hylar resin top coat promotes long term color retention film integrity and performance Specialty colors require special protection Durable resin exterior coatings protect bright colors and withstand UV radiation Premium fluoropolymer coatings containing 70 PVDF resins prolong metallic effects The process ensures maximum color integrity for years to come 33 FABRAL COM 800 884 4484 STANDARD Protective Film Backer Substrate Primer Top Coat SPECIALTY 4 Layer Example Protective Film Color Coat Primer Clear Coat Substrate Base Coat Backer
Page 37
DIVISION 7 FABRAL STANDARD STOCKED Covering the Bases Fabral stocks the most requested colors so they are ready to go when you need them The wide range of colors includes a collection of pearlescent finishes Most standard stocked colors are LEED compliant and ENERGY STAR approved Core Colors Lady Bird Johnson Middle School Irving TX USA Colonial Red SR 34 IE 86 SRI 35 Brandywine SR 26 IE 85 SRI 24 Patina Green SR 29 IE 87 SRI 29 Classic Green SR 26 IE 84 SRI 24 Hartford Green SR 10 IE 82 SRI 2 Regal Blue SR 28 IE 86 SRI 27 Slate Blue SR 26 IE 85 SRI 24 Stone Gray SR 36 IE 84 SRI 37 Slate Gray SR 37 IE 86 SRI 39 Charcoal SR 32 IE 85 SRI 32 Matte Black SR 27 IE 86 SRI 26 Dark Bronze SR 26 IE 84 SRI 24 Mansard Brown SR 29 IE 86 SRI 29 Medium Bronze SR 30 IE 87 SRI 31 Sierra Tan SR 38 IE 86 SRI 41 Surrey Beige SR 40 IE 86 SRI 43 Sandstone SR 54 IE 86 SRI 63 Almond SR 63 IE 86 SRI 75 Bone White SR 72 IE 84 SRI 87 Regal White SR 68 IE 86 SRI 82 Mica Colors Pewter SR 36 IE 85 SRI 38 SR Solar Reflectivity Bright Silver SR 60 IE 77 SRI 68 All Standard Stocked colors are ENERGY STAR approved except Hartford Green LEED compliant for low slope and steep slope LEED compliant for steep slope only Silversmith SR 53 IE 80 SRI 59 IE Initial Emissivity Champagne SR 37 IE 83 SRI 38 SRI Solar Reflective Index Bright Copper SR 49 IE 85 SRI 55 Featuring a pearlescent mica finish subject to premium pricing Colors shown are as close to actual colors as allowed by the printing process Actual metal samples are available Colors may appear different when viewed at different angles and under different lighting conditions Due to product improvements changes and other factors we reserve the right to change or delete information herein without prior notice COLORS FINISHES 34
Page 38
COLORS FINISHES FABRAL SPECIALTY Exploring the Spectrum Fabral specialty colors provide unlimited options for unique design The range includes high performance coatings in a host of colors A diverse collection of treatments span from self weathering zinc to brushed and anodized aluminum Tandartsenpraktijk Hazerswoude Rijndijk Netherlands ANOMAX Anodized Gray Black Dark Bronze Middle Bronze Light Bronze Silver Bronze Silver Bright Brushed Orange Gold Brushed Anodized Brushed Titanium Brushed Champagne Brushed Pyrite Gold Silver Amethyst Purple Gray Brilliant Gold Metallic Pyrite Copper Orange Gold Pyrite Red Green ALUNATUR Bright TL MICA Onyx White Blue ZINC ANOMAX a new and anodized finish ALUNATUR natural looking finishes MICA colors that change with lighting ZINC a self weathering paint finish Self Weathering Zinc 35 FABRAL COM 800 884 4484
Page 39
DIVISION 7 FABRAL CUSTOM Limitless Possibilities Some designs call for spot on color Fabral is ready to tackle the most challenging custom color orders expertly matching your samples Beyond color Fabral can closely replicate natural materials such as wood and stone on light formable maintenance free aluminum Custom Kennesaw State University Gold Custom Ferrari Red Kennesaw State University Kennesaw GA USA Ferrari World Yas Island Abu Dhabi UAE The university s personality is highlighted boldly across the stadium s exterior using custommatched team mascot colors The result is unique and memorable Extreme UV exposure was a challenge for maintaining custom color Ferrari Red Fabral combined four layers of topcoat protection and high performance pigments to ensure the finish will withstand extreme local weather conditions Finishes Fabral finishes achieve the design details you want Closely replicate wood or stone or stylized appearances on light formable maintenance free aluminum Corten Steel Achieve the worn distressed coloration of corten steel often sought for contemporary design Patina Copper The dynamic patina of aged copper can be achieved on easy to install aluminum Wood Gain the versatility of wood in a variety of looks walnut oak beech cherry and more COLORS FINISHES 36
Page 40
ENERGY MANAGEMENT College Park Elementary School Virginia Beach USA Featuring Silhouette HCF Series and 7 8 Corrugated Lady Bird Johnson Middle School Irving TX USA featuring V Beam Select Series 12 and Thin Seam 37 FABRAL COM 800 884 4484 Electronic Theatre Controls Middleton WI USA featuring Select Series 12 and 7 8 Corrugated
Page 41
DIVISION 7 Energy Management Holy Family Catholic Church Woodruff WI USA featuring Thin Seam Sustainability is a part of your design And your designs require cutting edge products that enhance building performance Metal is inherently green It s durable and easy to recycle And we re working with metal in a whole new way using special components like Phase Change Material Many Fabral metal panels are ENERGY STAR approved and can help earn U S Green Building Council s Leadership in Energy and Environmental Design LEED points Energy Management Phase Change Material ENERGY MANAGEMENT 38
Page 42
PHASE CHANGE A new level in green building High performing energy efficient products designed to easily integrate into Fabral metal roof and wall panel systems FABRAL PHASE CHANGE MATERIAL Product Benefits Metal panels bring unmatched durability Insulation can build R value into the system Fabral technology has gone beyond insulation developing a system integrated with Phase Change Material for maximum energy efficiency and a reduction in energy consumption A natural component that easily integrates with Fabral roof and wall systems Phase Change Material increases the thermal mass of a building This significantly regulates the building s interior temperature reducing the need for heating and cooling by absorbing heat during the day and releasing it at night creating a more efficient energy cycle The result is a more energy efficient structure Product Attributes Compounds Liquefy and Solidify at Pre Set Temperature range 100 Recyclable and Biodegradable Reduces Overall Energy Use Can be Retrofitted Non toxic Available for LEED Qualifications 39 FABRAL COM 800 884 4484 Phase Change Material can be optimized when installed in sheets integrated with metal panels and insulation in a complete metal roofing system
Page 43
DIVISION 7 GREEN BUILDING Lady Bird Johnson Middle School Irving TX USA featuring V Beam Select Series 12 and Thin Seam Leadership in Energy and Environmental Design Your vision for a building is about more than aesthetics We get that Fabral provides a full range of systems and components that can help earn LEED points Our metal roof and wall panels offer superior durability for a more sustainable life cycle Most substrates are recycled and easily recyclable High Definition Coating systems allow many of our colors to reflect a significant amounts of heat away from the structure Many Fabral panels have earned ENERGY STAR approval for energy efficiency Recyclable Cool Colors Most substrates are made from recycled metal HD Coatings reflect significant amounts of UV rays Metal panels are easy to recycle Many panels are ENERGY STAR approved Recycling 1 ton of steel saves 2500 lbs of iron ore 1400 lbs of coal and 120 lbs of limestone ENERGY MANAGEMENT 40
Page 44
COPPER FABRICATION The CopperCraft line of architectural sheet metal products include chimney pots cupolas dormers louvers spires finials and is available nationwide H 52 1 8 H 38 5 8 H 38 5 8 H 43 3 4 BISHOP BISHOP II ROUND KNIGHT H 38 3 8 H 44 3 4 H 35 1 2 H 25 3 4 KNIGHT II SQUARE OCTAGON PAWN H 47 3 4 H 41 1 8 KING QUEEN An Impressive Statement Chimney pots give your design the edge you crave while protecting the interior from pests and water With a variety of styles sizes and finishes Fabral makes an impressive statement 41 FABRAL COM 800 884 4484
Page 45
DIVISION 7 Architecturally Designed Fabral CopperCraft is a high quality architectural sheet metal product offering CopperCraft combines old world craftsmanship with modern day technology and equipment adding distinct design appeal to any application CUSTOM FABRICATION 42
Page 46
STRUCTURAL MEMBERS Structural Secondary Framing Fabral manufactures a full line of light gauge cold formed steel sections for use in secondary framing applications Steel sections provide economic secondary structural framing for pre engineered metal buildings carports canopies walkway covers parking covers and eyebrow canopies They are also used as the primary structural framing of single story mini storage structures Fabral s manufacturing capabilities produce Zee purlins to symmetrical or asymmetrical designs Eave Struts can be produced for high and low eaves and are available in single and double slope configuration Standard purlin punching patterns include A B C G and H web punching which allows for simple span short lap and long lap conditions Custom punch patterns and custom shapes are available please consult your Fabral representative for details Structural Member Benefits Made to order ASTM A570 and ASTM A653 qualified Full range of sizes and shapes Wide varity of punch patterns and hole sizes available Complete inventory of accessory parts Angles Eave Strut Cee To learn more about the Structural Members offering visit Fabral com Channel Zee 43 FABRAL COM 800 884 4484
Page 47
DIVISION 7 WARRANTY INFORMATION Product Performance You Can Rely On You design buildings to stand the test of time We understand this means you need products you can rely on We know how our products work and how you use them And we know what you need to make them last That s why we ve customized our warranty offerings to fit the needs of each product Extensive Product Testing for Performance Insurance 30 year Paint Finish Warranty Wide Selection of Weathertightness Warranties 20 year Corrosion Warranties Available for Galvalume and Aluminum Substrates 30 Year Paint Finish Warranty Fabral provides a twenty 30 year warranty on the paint finish covering chalking cracking checking chipping blistering peeling flaking and fading Weathertight Warranty Fabral also offers a weathertight warranty ensuring total peace of mind Once a project is approved for a weathertight warranty the project specifications if applicable must include the following items and must be purchased from Fabral Peel and stick underlayment Synthetic underlayment and its associated fastener Panel associated trim pieces Snow retention systems e g snow guards or snow rails and their associated fasteners Panel clips and attachment fasteners The following products qualify for the Weathertight Warranty Stand N Seam PowerSeam Slim Seam Thin Seam 2 1 2 SSR IP Seam GREEN BUILDING WARRANTY INFORMATION 44
Page 48
Fabral com 800 884 4484 98 32 402 4 15
ACR METAL ROOFING & SIDING DISTRIBUTORS
info@acrmetal.com
(717) 933-7044
4976 PA-419, Womelsdorf, PA 19567