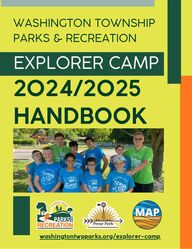 Return to flip book view
Explorer Camp Parent Handbook
Page 1
EXPLORER CAMPHANDBOOKWASHINGTON TOWNSHIPPARKS & RECREATIONwashingtontwpparks.org/explorer-camp
Page 2
TABLE OFCONTENTSAbout Us & Our MissionCore ValuesOur CampsSchedule & DetailsDrop-Off & Pick-UpCommunicationMedical PolicyInclement WeatherBehavior ManagementCancellation PolicyOur CounselorsContact Us
Page 3
ABOUT USIn 2011 Avon Kids Camp was established as a nonprofit day camp for kids inWashington Township and the surrounding community for age's preschool to middleschool. We believe that the camp experience is essential to every child's growth withthe positive impact of unstructured play, being physically active and in nature. Weprovide an inclusive space where campers can find their place in nature, explore, takerisks, embrace their unique selves, grow relationships with peers and staff, learn newskills, build resilience and be inspired at camp. In 2021 we changed our name toExplorer Camp.The purpose of Washington Township Parks Department is to serve our communitywhile contributing to the physical, mental and emotional well-being of all of ourvisitors. Washington Township Parks currently manages and maintains approximately275 acres of property with a vast array of recreation opportunities. Our facilities,programming, preserved wooded areas, trails, and open green space provideopportunities for both structured and spontaneous play. The park system has threedeveloped parks: Washington Township Park, Pecar Park (including Pock Woods), andMurphy Park. Within these parks, you'll find covered picnic facilities, playgrounds, anature center with an array of animals, sand volleyball, basketball, pickleball, threestocked fishing ponds, an outdoor amphitheater, a splash pad, a three-sectioned dogpark, miles of trails, the historic 1876 Whipple Iron Truss Bridge, and our newestaddition, an outdoor aquatic facility.Washington Township Parks Department provides year-round programming for allages. These programs bring the community together through shared interests. Inaddition to programs, we also offer summer, fall break, spring break, and winter breakcamps. These camps provide educational opportunities through hands-on explorationof our treasured natural resources. Our camp offers flexible options for enrollment,affordable childcare, and an extensive array of activities each day. Weatherpermitting, summer camp operates 100% outdoors.OUR MISSION
Page 4
Washington Township Parks Department believes personal and professional valuesplay a fundamental role in a department's culture. The characteristics of asuccessfully driven organization are shared mission and vision, strong inherent corevalues and culture, ethical practices, and ethical leadership. To move forwardsuccessfully, and to do so in the best interest of the community we serve, we ensureall employees are aware of, accept, and integrate the department's values into alldecisions and behaviors. The core values identified and defined below are intended toclarify how the parks department will conduct its activities to achieve thedepartment's mission and vision.The inclusion of and respect for avariety of cultures, lifestyles andindividuals with varying abilities.Diversity CreativityBeing imaginative and innovativeso as to possess the ability tocreate rather than imitate.Being with family to enjoy bothquality and quantity of time.Family EfficiencyProducing results in a timelymanner with minimal waste,expense or unnecessary effortA willingness to help others;improving societyHelpfulness AdventureNew and challenging experiences;participation in excitingundertakings or enterprises.OUR CORE VALUES
Page 5
OUR CAMPSFor over a decade, we have grown our camp services with a focus on camps at anaffordable rate to families. We take pride in our program and believe that the campexperience is essential to every child's growth. We provide an inclusive space wherecampers can find their place in nature, explore, take risks, embrace their uniqueselves, grow relationships with peers, learn new skills, build resilience, and be inspiredby positive role models. As parents ourselves, we understand how hard it can be tofind a program for your kids that is trustworthy, affordable, and a place your kids willlove to go. Washington Township accomplishes all three with our camp programs.The Washington Township Parks Department offers several different campsthroughout the year. Below are our current camp options:Summer CampsLittle Explorers'Preschool Camp Jr. NaturalistCamp Murphy AquaticSwim CampExplorerSummer CampLittle Explorers' Preschool CampJune 6-July 27Ages: 3-5Where: Lower Park of Washington Townshipat the BlueJay Shelter near the splash pad.When: 9:00 - 12:00 |Tues. & Thurs.Weekly Rate: $40Activities: organized games, story time, art,and nature explorationJr. Naturalist CampJune 12 - July 14 (3 weekly themes)Ages: 7-12Where: Pecar Nature CenterWhen: 10:00am-2:00pm | Mon-Fri.Weekly Rate: $125Activities: hands-on science discovery,journaling, and art. Explorer Summer CampMay 30-August 4Ages: 5-8 and 9-12Where: Washington Township ParkWhen: 7:00am-6:00pm | Mon-FriDaily Rate: $35 | Weekly Rate: $175Activities: Ten themed weeks with activitiessuch as sports, health and wellness, crafts,nature, science and large group.Explorer Swim CampJune 6-July 27Ages: 7-12Where: Murphy Aquatic ParkWhen: 10:30am-2:30pm | Mon.-Thurs.Daily Rate: - $25Activities: Explore our new water park.Children will be supervised by ourcounselors while having fun in the sun!
Page 6
2 Week Break CampsSpring Break CampAges: 5-11Where: Pavilion CenterWhen: 7:00am-6:00pm | Mon-FriDaily Rate: $35 | Weekly Rate: $175Activities: outdoor fun, hiking, playgroundtime, outdoor obstacle course, crafts, boardgames, large group games, scienceexperiments, cookingFall Break CampAges: 5-11Where: Pavilion CenterWhen: 7:00am-6:00pm | Mon-FriDaily Rate: $35 | Weekly Rate: $175Activities: outdoor fun, hiking, playgroundtime, obstacle course, gaga ball, largegroup games, cooking, crafts, and sportsWinter Break CampAges: 5-11Where: Pavilion CenterWhen: 7:00am-6:00pm | Mon-FriDaily Rate: $35 | Weekly Rate: $175Activities: playing in the snow, sledding,hiking, playing classic board games, largegroup games, crafts and scienceexperiments
Page 7
Gym shoes are recommendedNo open toed shoes T-shirt and shorts (camp shirt summer only)Jacket or sweatshirt (depending on weather)Daily Activities:A weekly theme will be determined, and time blocks are prepared prior to camp outlininggames, crafts and activities that will take place daily. Every forty-five minutes to an hour ofthe day is identified with a specific activity geared to providing a positive camp experience.To ensure proper supervision and age-appropriate activities, campers will be divided intogroups by age.Special Events & Guests:Each week we will try to have special guests and events going on during the camp. Specialactivities will be identified in the newsletter. Some speakers or events may not be announceduntil the week prior. What to BringCampers should wear clothing that is durable and comfortable and appropriate for theweather.Campers who are enrolled for the full day should bring lunch in a marked bag or container.If items need to remain cold, place icepacks within the lunch. An afternoon snack will beprovided. Children with special diets can bring special foods as needed. If there is a foodallergy, please tell a counselor at check in each day.Campers should bring a refillable water bottle. Water refills will be provided throughout theday. We have (2) water stations as well as the drinking fountains near the playground. Wedo not supply cups. If a camper comes to camp without a refillable water bottle, we willsupply them with one. The parent's account will be charged $2.00.Please label all items with your child's name. In case an item gets lost we will be able toreturn it to the owner if a name is on the item.swimsuit & towelwater shoesplastic bag for wet clotheshat (highly recommended)For Summer ONLY:
Page 8
Cell phonesElectronics or video gamesToys including trading cardsCampers get dirty and wet. Please send extra clothing/shoes and a plastic bag in caseyour child needs to change.If you have a special event taking place directly after camp that day, we recommendthat you send clothing for your camper to change into at the end of the day. Items to Leave at HomeLost and Found:All lost and found items that are not labeled with a camper's name will be placed on the lostand found table, At the end of each day campers will check the table. Items will be held for2 weeks and then donated to a local charitable organization or thrown out. Pictures of lostand found items will be posted weekly on the camp FB page. For Summer Only:Campers should wear their camp shirt each day. This helps us keep track of our campersfrom the general public. Each NEW camper receives (1) free shirt with registration. Lastyear's camp shirt will also be accepted or any bright blue shirt. Extra T-shirts are availablefor an additional charge of $10.
Page 9
Parents/Guardians or Authorized Persons are required to check their camper out withthe lead counselor at the end of camp each day. Please pull up to the pick up areaand show your camper's pick up pass. All individuals without a pick up pass must beprepared to show identification during pick-up. You may request multiple passes forparents/guardians.If you are running late or need to talk to the lead counselor for any other reasonplease use the Remind App. (Directions given at registration.)Please note, every effort will be made to have your child ready for pick up at thedesignated time, but please allow for extra time. Activities are spread out all over thepark and may take some time to get campers back to the drop off/pick up location.Early Dismissal will not be available on all field trip days. Please discuss the desiredpick up time with the counselor at drop off the morning that you wish to arrange forearly pickup. If possible, notify of early pickup intentions as soon as you can.Drop off and Pick up:Pull up to the specified drop off/pick up location for each camp and check in with acounselor before leaving your child.Early Dismissal - (Download Form Here)DROP OFFPICK UPPOLICY
Page 10
Click to join our FacebookGroup for daily updatesCOMMUNICATIONIn the summer, a weekly newsletter will be posted on Friday in our Camp Facebookgroup. This newsletter will have details about the upcoming camp week, including anyspecial items campers should bring on certain days. Every effort will be made to adhereto the activities listed; however, occasional changes may be made to improve the qualityof the camp experience. All other camp program information will be posted in the camp FB group and via email.Equal Access:No eligible participant shall, on basis of race, sex, creed, sexual orientation, nationalorigin or disability be denied equal access to programs, activities, services or benefits orbe limited in the exercise of any right, privilege, advantage or opportunity. Uponregistration or entry into the program, the parent/guardian will be solicited forinformation regarding special accommodation needed. Illness/Injury:Camp staff will care for minor bumps and bruises and notify parent/guardianimmediately through our online Injury Report sent by email.Parent/Guardian will be notified immediately if a camper becomes ill or sustains aninjury of a serious nature. Please do not bring your child to camp if they feel ill, or havehad a fever, constant cough, vomiting or diarrhea in the last 24 hours. Please do notbring children who have lice or are injured to the extent to where they cannot participatein activities without the possibility of further injury. Children with a fever or constantcough will be sent home immediately. Parents will be given 45 mins to pick their sickcamper up from camp.Administration of Medication - ( Download Form Here )If possible, avoid bringing medications to camp by arranging the time of dosage so thecamper receives medication at home. If campers do need to take medication, please givethe medication to a counselor at drop off and make sure medication has the campersname and instructions and in its original packaging, attached with the MedicationConsent Form. This form can be found on the park website under Explorer Camp.MEDICAL POLICY
Page 11
INCLEMENTWEATHERHeat Advisory: In the event of a heat advisory, the campers will be in or around anair-conditioned building. This provides campers with the opportunity to have cool airwhen it gets hot. Frequent breaks will be taken to avoid any heat-related illnessesand water will be available to campers throughout the day. End of the day pick-uplocation will be sent through the Remind app.Thunderstorms: In the event of a thunder or electrical storm, the campers will be in abuilding. Let it be noted that children may be allowed to play in the rain whenthunder and lightning are not present. End of the day pick-up location will be sentthrough the Remind app.BEHAVIORMANAGEMENTarrive and remain at camp with a positive attitude, open to meeting new peopleand trying new activities.work with their counselors and fellow campers towards creating an environmentthat is safe and welcoming for each of us.understand that doing intentional harm or bullying another camper, eitherphysically or emotionally is grounds for dismissal.understand that although they may be able to solve some conflicts on my own, thecounselors are always ready to listen and assist if there is a problem. I understandthat my counselors and all of the camp staff need and want to help but can only doso if I am willing to share any concerns that I have with them. remain with their counselor and partake in the activities of my session as required.use appropriate language and understand that the use of excessive, deliberate,profane language will not be accepted.·eave their cell phone and other electronic devices at home and understand that ifthere is an emergency the camp staff will be happy to allow me to use the phoneand will pass on any urgent messages from home.be respectful of the property and personal space of other campers and camp staff.not possess smoking materials, lighters, matches, illegal drugs, alcohol or weaponsof any kind on Park property. Campers must agree to:
Page 12
Washington Township Parks and Recreation Department 4 Strike Policy:1st = verbal warning2nd = suspension from participating in the current activity3rd = conference between the camper(s), Assistant Camp Director and Camp Director (ifneeded). A behavior report filled out and emailed to campers parent/guardian4th = parents called and the camper will be removed from camp for a determined time.Refunds will NOT be given for any camper who is sent home/removed from the programfor disciplinary reasons or being unable to follow our camper rules. Our counselors areoften teenagers and do not have the training in handling campers with specific behaviorissues. Please keep this in mind when registering your child. Our counselors need to beable to have their full attention on 10 campers in their group at all times. Camper safety isour top priority. A zero-tolerance policy is enforced in regard to Physical aggression. Any camper whocommits an act of physical aggression against another camper, staff member, or anyoneelse will be removed from camp. As a parent, you will be responsible for picking up yourcamper within an hour of the decision to dismiss your child from camp. Depending on theact of aggression, your child may not be able to return to camp for the remainder of theprogram. The Camp Director reserves the right to remove any child from camp if he/she feels thatthey are a direct threat to any staff member or participant in the program. Any verbal or physical abuse of any staff member or camper by a camper orparent/guardian will result in immediate dismissal.
Page 13
CANCELLATIONPOLICYPlease notify the Assistant Camp Director for any cancellations. Jessica Miller - jmiller@wtparks.orgFull Refund - parents MUST notify the Assistant Camp Director via email atleast 10 business days ahead of time if your camper can not attend theday(s)/week(s) for which they are currently enrolled.Household Credit – (credit to your account to use towards future camp days)parents must notify the Assistant Camp Director via email on Friday by4:00pm for any days the following week that your camper will not beattending camp. This allows us time to fill the spot from the wait list.Late Pick-Up Fee - If it becomes apparent that tardiness is a reoccurring issueduring pickup, the Director will notify the parent to discuss late feeassessments. Parents will be charged $1/minute should late pickups continue.In the event of (5) or more late pickups, the Camp Director can requestremoval from camp.
Page 14
OUR COUNSELORSRedwood Group's online counselor training videos in association with the AmericanCamp AssociationBehavior ManagementPlayground Safety and Programming at CampBullying PreventionPeer to Peer Sexual Abuse PreventionCPR/First Aid certified through Washington Township Fire Department Positive Behavior Supports: Setting Kids up for Success Training by April Barnes -Director of Special Education for KIPP IndyIndiana Department of Child Services- Report Child Abuse and Neglect online trainingContinued education trainings are provided during employment each school yearthrough Indiana Youth Convention and American Camp Association Conferences.Staff TrainingStaff Safety RequirementsEach staff member is required to pass a background check through E-Verify and acheck through the National Sex Offender registry. Each employee must pass a drugtest through Hendricks Regional Health. Staff RatiosCampers will be supervised by a counselor, student ratio of 1:10.
Page 15
5203 EAST CR 150 N.AVON, IN 46123Nature center, campgrounds,and Pock Woods-753 SOUTH CR 625 E.AVON, IN 46123Outdoor aquatic facility andinclusive focused playground-115 SOUTH CR 575 EASTAVON, IN 46123Trails, play features, splashpad, and event venues-Click to join our FacebookGroup for daily updatesCONTACT USCamp Director: Melissa Thompsonmtthompson@wtparks.org317-745-0785 ext. 424Asst. Camp Director: Jessica Millerjmiller@wtparks.orgwww.washingtontwpparks.org/explorer-campClick to subscribe to ourmonthly Park eNewsletterRegister for anupcoming camp