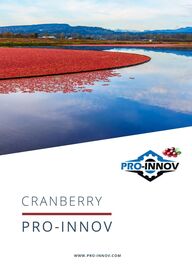 Return to flip book view
ENG Catalogue CRANBERRY 2021
Page 1
PRODUCTSCRANBERRIESPRO-INNOV WWW.PRO-INNOV.COM
Page 2
|PRO-INNOVPAGE | 02CRANBERRYPRODUCTSInformationsFrom the production of new fields, to frostmonitoring, to harvesting, to fruit cleaning,to processing, they have developedsignificant expertise in all facets of thefield. Being inventors and visionaries by nature,they decided to develop innovativeequipment to help producers gain inefficiency and productivity. More than 1000 projects have beendesigned and manufactured specificallyfor the cranberry industry.Already well established in Canada, Pro-Innov is now aiming to break into the UnitedStates market. Wisconsin, a state known for the largest production and harvest ofcranberries in the world. The cranberry industry was the reason forthe creation of Pro-Innov in 2015.Working for many years in cranberries,Normand introduced his son Jean-Christophe at a very young age to theparticularities of this crop.
Page 3
- Fruits conveyors- Roller conveyors - Turntable- Transfer conveyors- Pallet unstacker equipment - Box assembly station Unique designadapted to thespecific needs ofthe plant|PRO-INNOVPAGE | 03CUSTOM-MADE PROJECTSCRANBERRY PROCESSINGEQUIPEMENTExisting plant upgradeUnique design for factory efficiencyimprovement. Reduced manpower due to automationsystem.C o m p l e t e t u r n k e y c l e a n i n g p l a n ti n c l u d i n g : Accessibility to equipment (KEY technology)- Accumulation bin - Bagging station- Waste processing equipment
Page 4
|PRO-INNOVPAGE | 04Loading conveyor with variablespeed and inclinationUnique cleaning tank with waterrecoveryPulled by a tractor or mounted on a truck Stable and safeComplies with CNESST standardsSPECIFICATIONSHarvest productsBERRY PUMPD e s i g n e d t o p u m p f r o m1 0 0 , 0 0 0 t o 1 5 0 , 0 0 0 p o u n d s / h r Dry waste treatment (reject)Possibility of harvesting on bothsides of the pump 6" Cornell pump (8'' in suction anddischarge)3" water pump screw conveyor systemAVAILABLE OPTIONSFruit basket : Vortex SystemClosed circuit hydraulics withPTO or diesel engineFruit quality Losses under 1%of the fruit Start-up service and training
Page 5
Made of aluminum and stainless steel "Vortex" systemBasket height 6 inRequires a minimum of 12" of waterVORTEXTECHNOLOGY|PRO-INNOVPAGE | 05Harvest productsFRUIT BASK ET Our basket offers you a better performancethan the "standard" fruit basket as well as abetter quality of the harvested fruits. Cranberry barrier roller system (each side)Stainless steel trap door SPECIFICATIONSPURCHASE INCLUDES
Page 6
SPECIFICATIONS48", 60", 72" roll diameterEasily adjustable rotation speedCan be moved by any motorized vehicle|PRO-INNOVPAGE | 06Harvest productsCRANB ERRY BARRI ERROLLE RHonda 6.5 HP engine withelectric starterControl lever with or withoutwiresGuide for barrier (optional)180° rotation of the rollerCompletely adaptable to yourneedsTractor ( 3 points) On trailerFacilities availableCRANBERRYBARRIER
Page 7
OPTIONSHarvest productsHARVE STERHARRO WM a k e y o u r w o r k e a s i e rP i c k y o u r f r u i t b e t t e r SPECIFICATIONS|PRO-INNOVPAGE | 07Retractable for use on publicroadsFront/rear harvester harrowunit with 3 spring sectionsHinged optionFront/rear harvester harrowwith 2 spring sectionsAttachment of the harvesterharrow adapted to thetractor (3-point or shovel)Fixed optionStall minimizing fruitdamageCO MPL ETEHY DRA ULI CSY STE MDifferent widths availableAttachment adaptedto your tractor
Page 8
|PRO-INNOVPAGE | 08BERRY BLOW ERAdjustable fan speed PTO or hydraulic operationUsed to clear fruit from the edge of the fieldand pull cranberry barrier at the same timeMaximizes the recovery of all fruit Installed on tractor forks or3 pointSimple installation Harvest products
Page 9
AutomatisationAUTOM ATISA TIONCONTROL REMOTELY+ FROST MONITORING|PRO-INNOVPAGE | 09A l l o w s y o u t o c o n t r o la n d m o n i t o r y o u r f i e l d sf r o m t h e c o m f o r t o f y o u rh o m eIrrigation systemMotorsWater controlPlantTeam of technicians for training and start-up
Page 10
|PRO-INNOVPAGE | 10Seasonal equipmentsVINE PLANT ING MACHI NEAdjustable speed conveyorsAdjustable roller heightDouble rollers and doubleplanting discs SPECIFICATIONSAD J US T AB L EWO R KT A BL E Roof Night lightingSpeakerOPTIONS
Page 11
Custom-made |PRO-INNOVPAGE | 11Seasonal equipmentsWATER CONT ROLAVAILABLE FORFieldsCanalLake
Page 12
Height on request (up to 22 feet)GPM calculation according topower3 or 4 blade propellers Gearbox 1:1 ( 200 hp)|PRO-INNOVPAGE | 12Harvest productsHIGH- FLOWTRANS FERPUMPAVAILABLE FORTractor Diesel engine
Page 13
|PRO-INNOVPAGE | 13Harvest productsWATER GATE Rubber seal at the bottom ofthe gateHandle to raise and lower thedoorAluminum door and structureLeak prevention sealing systemUHMW slideStructure and doorHatch for water levelcontrolRail for wooden floor Hydraulic or mechanicalopening (water level)F i e l d w a t e r g a t eL a k e w a t e r g a t eOPTIONS AVAILABLE
Page 14
Easy opening systemUses biodegradable oilSystem outside the controlSeasonal equipmentsHYD RA ULICOPE NI NG SY ST EMSPECIFICATIONSLifting structureBox and high dischargebattery12V, 120V or 240Vhydraulic unitCylinder with 24", 36" or48" strokeSolar panel 12VCylinder Cover for a retention basin|PRO-INNOVPAGE | 14INCLUDEDOPTIONS AVAILABLEPossibility to open control remotely
Page 15
SANDFILTE RAl l o ws s and i n g o v er a wi d t h o f 10 f tSi m p le i nst a l la t i on, l ik e a s t a nd a r d p a n elMo r e e f f ici e n t s p rea d i ng o f s a n d t h ank s to t he " s un " s ys t e m w i t h i t s o w ncl e a ni n g sy s t emSi f f te r to b r ea k up t h e s a ndSPECIFICATIONS OPTIONS|PRO-INNOVPAGE | 15SAND SPREA DER P ANELHarvest productsHarvest productsFi ts on a t ra il er or a 1 0 w he el t ru c kSy st em on w he el s Hy dr au l ic m ot or fo r su nmo to ri z at io nWe ba st o f or s ol ar he at in g ( d ri ve n by th e tr uc k w he el s) Wi dt h b et we en r odsde te rm i ne d ac co rdi ng t oyo ur ne ed sDi me ns i on a cc or din g to y ourtr uc k o r tr ai le rS u i t a b l e f o r t h e t r a i l e ro r 1 0 - w h e e l t r u c k
Page 16
4X adjustable wheels withrulers (height measurement)16' cutting widthSeasonal equipmentsPRUNE RSPECIFICATIONSCustomized attachment for the tractorKnives and rods|PRO-INNOVPAGE | 16PURCHASE INCLUDESOPTIONS DISPONIBLESPumpCoolerBio oil reservePTO Hydraulic Pump Assembly
Page 17
|PRO-INNOVPAGE | 17CUSTO M-MAD EPROJE CTSPR O - IN N O V H A S A C O MP L E TE E N G I N E E R I N G D E P A R T M E N T T OAL L O W U S TO D EV E L O P C O MP L E T EL Y UN I Q U E P R OJ E C T S, A CC O R D IN GTO Y OU R NEE D S .CO M P OS E D OF V IS I O N AR I E S, I N VE N T OR S , EN G I NE E R S , D E SI G N E RS ,DR A F TS M E N, S P EC I A L IS T S I N M EC H A NI C A L A N D H Y D R AU L I CAS S E MB L Y , T H I S T E A M R E PR E S E NT S OV E R 25 Y EA R S OF E XP E R T IS E .DEVELOPMENT
Page 18
|PRO-INNOVPAGE | 18QUEBEC, NEW BRUNSWICK, ONTARIO AND BRITISH COLUMBIA ARE PROVINCES WHERE PRO-INNOV IS ALREADY WELL ESTABLISHED. SEVERAL PROJECTS ARE BEING DEVELOPED TO SERVE THE STATES OF WISCONSIN AND MASSACHUSETTS IN THE UNITED STATESDEVELOPMENTEXPOR TATIO N Some Quebec and Canadian producershave already purchased our equipmentfor the cranberry industry.
Page 19
PRODUITS PRO-INNOVPAGE | 19FORES T R YHY DRA UL IC CE NT E RLOG LOADER- 11' ATV- 13' LOADER HD- 15' LOADER HDFOREST SCRAPERMOBILE SAWMILLHA R V E S TI N G E Q U IP M EN T- B E R R Y P U MP - C R A N BE R R Y B A RR I ER R OL L E R- C R A N BE R R Y B A RR I ER- H A R V ES T HA R R OW - F R U I T B A SK E T - B E R R Y B L OW E R- D R Y FR U I T H A RV E ST E R SE A S O N AL E QU I P ME N T- W A T E R C O NT R O L- A T V MO W E R - L O W LI F T - W A T E R G A TE S- S A N D S P R EA D E R P AN E L- P R U N ER- H Y D R AU L I C O P EN I NG S YS T E MAU T O M A TI S A TI O NFR E E Z E M O N IT O R IN G S Y S TE M AU T O M A TI O N O F PU M PI N G S T A TI O NS BE R R Y WA S H IN G AN D P R O CE S S IN G P L A NT A ND E QU I PM E N TP A RT S. G A TE S HO SE S, AD AP TE RS AN D SE AL SP U MP S, H YD RA U LI C AN D E LE CT RI C MO T OR SI N DU ST RI AL P A RT S, H YD R AU LI C OI LS RE PAI R A ND M AI N TEN ANC E.CY LIN DER S, P UM P S, MOT ORS & MAC H IN I NGHE AVY MA CHI N ER Y , F ORK LIF TSCO MPL ETE DE C ON T AMI NAT ION &CO NVE RSI ON O F E QUI PME NT TO BIORE PAI R O F B O OM TRU CK HIA BSE RVI CES .MO BIL E U NIT CO MPL ETE DI A GN O STI CSAS SEM BLY OF HY D RAU LIC CI RCU ITSMA NUF ACT URI N G O F C UST OM- MAD E C Y LI N DER SCRANB E R R I E S BERRI E S HARVESTING EQUIPMENT- PRO-BERRY SP ECI A LLY DE VEL OP F OR: HA SKA P CH ERR I ES, AR ONI A, B LAC KCU RRA NTS , B L UEB ERR IES- THREAD UNWINDER AND REWINDER S ING L E A ND DOU BLE- ROLLERS AND SUPPORT
Page 20
81 9 36 2-6 04 8INFORMATIONS |PAGE | 20WE LOOK FORWARD TO MEET YOU!FOR MORE INFORMATION VISIT OUR WEBSITE www.pro-innov.com info@pro-innov.com2600 rue de la CoopérativePlessisville, Québec G6L 3E6