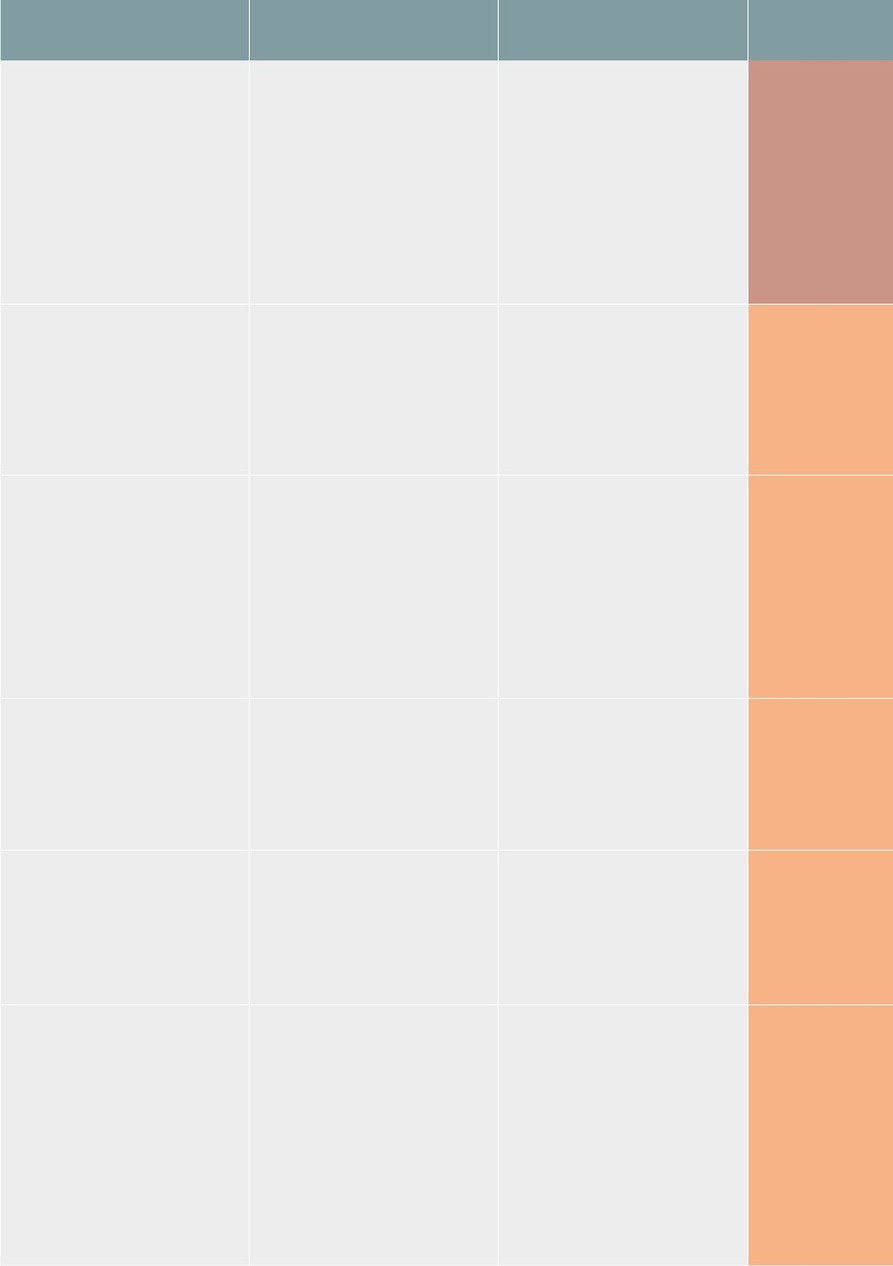 GET FiT Uganda
68
Description of Risk
Mitigation Actions
Progress
Risk
Assessment
Deemed commissioning of
GET FiT projects due to poor
planning at key institutions, as
well as lack of funds, to ensure
timely infrastructure for grid
connection.
Operational GET FiT plants
generating power at reduced
capacity due to continued,
unresolved constraints of the
national grid (HV/MV).
Additional funding provided
by GET FiT donors to support
selected, critical grid infrastruc-
ture investments required for
connection of GET FiT projects.
Comprehensive eorts by GET
FiT to fast-track implementation
of grid infrastructure projects
managed by GoU agencies,
which are relevant to the GET T
portfolio.
Unsatisfactory progress on GET
FiT funded grid infrastructure
projects due to various imple-
mentation challenges, including
major E&S issues related to
compensation. High risk of
continued increase in deemed
energy generation from the GET
FiT portfolio.
high
Corruption, misuse of funds
and bribes paid by developers
or contractors.
Subsidies are performance-ba-
sed and disbursed for energy
delivered.
Zero tolerance in developer's
contracts, and termination of
contracts, as well as repayment
of fees in case of paid bribes.
General risk remains until the
commissioning of all projects.
medium
Compliance with Environmen-
tal and Social standards of
developers.
Workshops on E&S standards
were provided to developers.
Penalties for non-compliance are
incorporated in subsidy agree-
ment (DFA). Additional super
-
vision visits are carried out for
critical projects.
Some projects still perform unsa
-
tisfactorily. GET FiT has carried
out multiple additional supervisi-
on visits, and imposed penalties
on some developers.
Compliance is continuously follo-
wed-up, including post commis-
sioning. The risk of non-compli-
ance and associated reputational
risks remain.
medium
Lower generation than estima-
ted due to insucient hydro
-
logical data and/or climate
change.
Risks were included and dili-
gently assessed in hydrological
estimates and sensitivity testing
at project evaluation stage.
Generation data for all projects
is continuously followed up by
GET FiT. The realisation of hydro-
logical risks can only truly be
assessed in the fullness of time,
following a sustained period of
generation (multiple years).
medium
Insucient Programme funds
due to foreign exchange rate
developments.
Continuous budget monitoring
allows for pro-active nancial
management and early iden-
tication of risks and Steering
Committee action if needed.
Low risk level on original
Programme budget (premium
payments) due to most funds
already disbursed there. Medium
risk level remaining on grid
connection component, where a
funding shortfall is likely.
medium
Insucient understanding
of ground conditions results
in substantial changes in the
design and layout of projects
and/or adverse environmental
and social impacts as a result
of landslides or similar during
construction.
Developers required to provide
updates on geotechnical con-
ditions in the location of key
project structures and in high
risk areas during the implemen-
tation phase based on further
investigations and assessments
by geotechnical engineering
specialists. Developers reques
-
ted to address key geotechnical
risks through changes in project
designs and construction metho-
dologies.
Several projects implemented
changes in designs and cons-
truction methodologies in 2018-
19 to improve the robustness of
project designs and to reduce
the likelihood of landslides. Fur-
ther changes may be necessary
for remaining projects during
2020 to manage residual risks.
medium