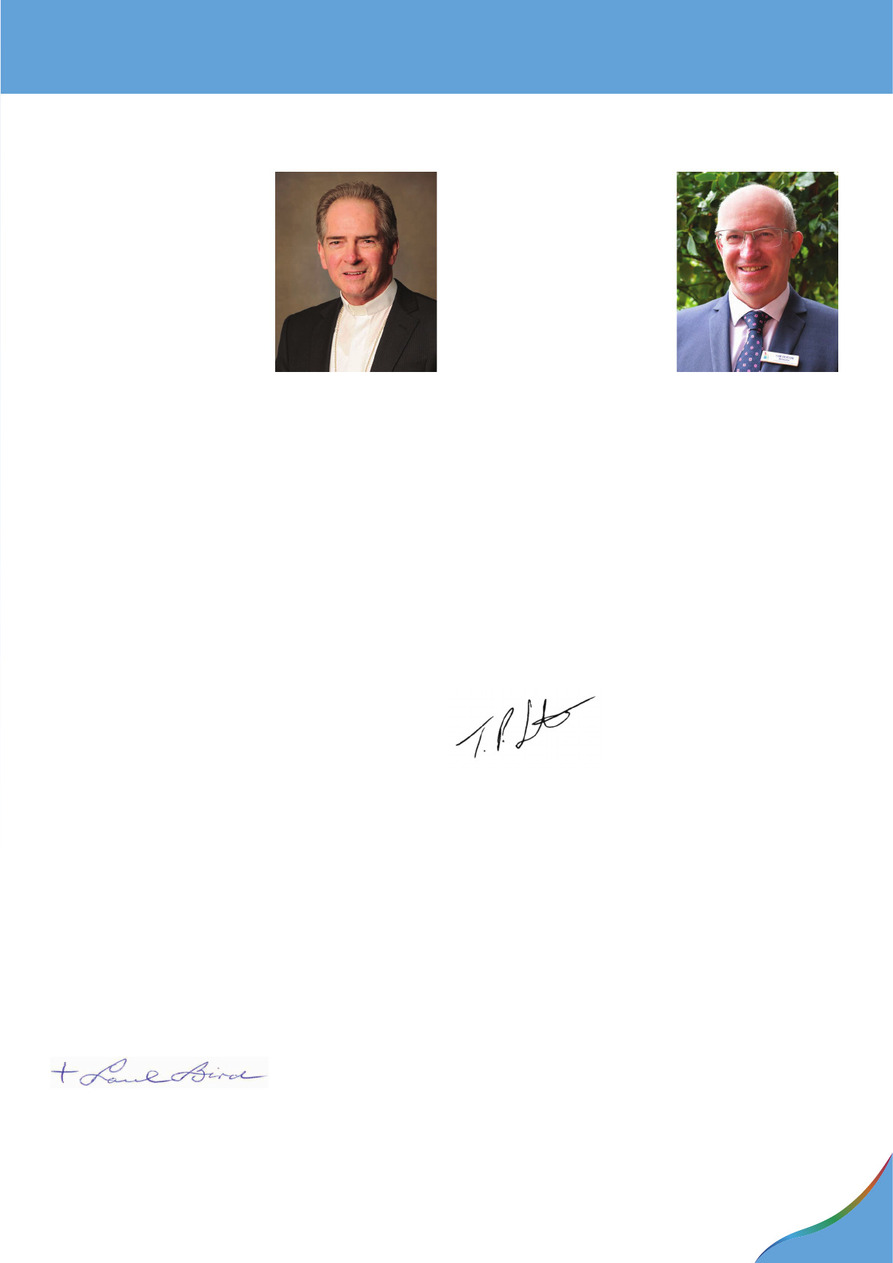 Message from the Bishop
In my student days, we had a
philosophy teacher who used to
quote Lan proverbs. One of his
favourite sayings was "
Parvus
error in principio magnus est in
ne
". This might be translated
as "A small error in the
beginning becomes a large error
in the end". We might think of
someone shoong an arrow at
a target. As they take aim, they
need to point the arrow in exactly the right direcon if
they are going to hit the mark. If they point the arrow just
one cenmetre o line, the arrow could be a long way o
target when it lands. We can apply this to many areas of
life. If we are aiming to achieve some goal, it is important
to line up the target carefully to start with. Otherwise we
might miss the target altogether.
In formulang strategic direcons for Catholic educaon
in our diocese, we are seeking to express our goals as
clearly as possible and point our services in the right
direcon to achieve those goals.
The central aim is summed up in the statement of our
diocesan educaon vision: "As partners in Catholic
educaon and open to God's presence, we pursue
fullness of life for all". This echoes the words of Jesus,
"I have come that they may have life and have it to the
full." (John 10:10) The strategies include enhancing
the partnerships between students, teachers, parents,
priests and parishioners in our local faith communies;
arming eecve methods of teaching and learning
and also promong fresh methods that respond to new
needs and opportunies; and encouraging everyone
involved with our schools to be connual learners.
I thank all those who have contributed to the consultaons
about this document. May this text provide a reference
point for each of our schools as they formulate their own
detailed goals and strategies for the years ahead. May
these Strategic Direcons help us all stay on target in our
eorts to share Christ's fullness of life with everyone in our
community.
Bishop of Ballarat
Message from the Director
Many voices have been heard
in the consultaon meengs
leading up to the development
of these Strategic Direcons,
Partnering: A Step Forward
.
We are grateful to those who
provided feedback, which
included both armaon and
advice. The Planning Group
has listened carefully to all
those who contributed. The
ve key Strategic Priories have resulted from processes
of both speaking out and aenve listening. This focus
will form the basis of our systemic strategic direcon
over the next four years.
It is a tribute to all responsible for Catholic schooling
that so many posive and encouraging words have
been spoken. Alongside this, the construcve, well-
considered advice that has been received is an indicaon
of a healthy commitment to the future of our Catholic
schools, which are recognised as more signicant
now than ever in this changing, contemporary world.
Parcipants in the process, including parents, sta and
pastors, have expressed great faith and hope in Catholic
educaon across the Diocese.
Tom Sexton
Diocese of Ballarat Catholic Educaon Limited
FOREWORD
3