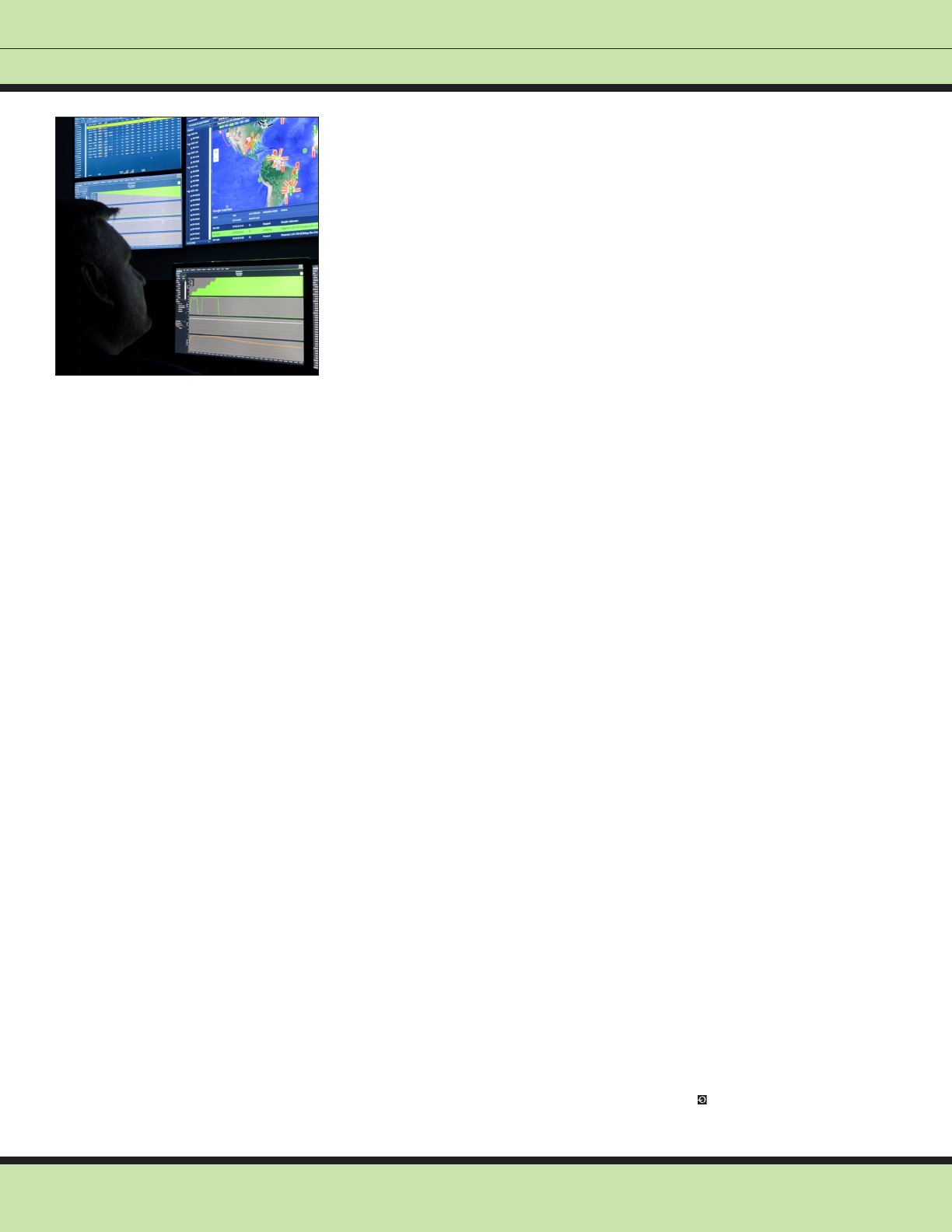 Oilman Magazine / July-August 2019 / OilmanMagazine.com
25
FEATURE
It delivers easy-to-use, end-to-end, secure
communications straight to your desktop
while working hand-in-hand with FUELTRAX
technology installed on board. With browser
access to the web portal, FUELNET provides
customized reports and email alerts, enabling you
to respond to data quickly, share detailed reports
across teams, and manage costs and performance.
The data transmission is GPS stamped,
encrypted, and fully SSL secured, bypassing the
vessel's communication system.
The three-dimensional reporting of
fuel
consumption provides insights by usage, asset,
or a customized operational 'mode' prole.
FUELTRAX is the rst and market-leading
company to provide such analysis, based on your
eet's directly recorded operating parameters.
Since most eets are transporting fuel worldwide,
compliance with international regulations is
imperative. All fuel consumption data points
required for the European Union's MRV
emissions validation regulations, and the IMO's
forthcoming DCS, are already measured,
monitored, and reported by FUELTRAX as
standard.
Since its launch 15 years ago, FUELTRAX and
FUELNET have evolved to become mission-
critical operating tools for maintaining accurate
fuel accountability across hundreds of
vessels
worldwide. Through modernizing marine fuel
management, clients can now make fact-based
decisions based on a trusted, automated data
source.
Going Mobile
FUELTRAX has also gone mobile with an
integrated Coriolis mass owmeter in a self-
contained unit, designed to monitor and report
custody transfers that are performed anywhere
in the world. The FUELTRAX MOBILE unit,
built as a standalone alone skid, is light enough
to be pushed around a dock by 1-2 workers
or loaded onto a truck for easy transport. All
owmeter data is securely sent to FUELNET via
an encrypted Iridium signal. By replicating the
benets of
the onboard FUELTRAX systems,
it stands up to the challenges of
providing fuel
accountability and data transparency in any
location. It is portable and specically designed
to be taken into the eld and placed in line with
existing fuel systems.
FUELTRAX MOBILE provides precise,
direct measurement by custody-grade Coriolis
mass owmeter technology with +/-.05
accuracy, which brings signicant efciency
to fuel reporting. The unit is GPS-tracked and
automatically and digitally records all custody
transfers with access to review all reports
remotely. Each unit offers a touchscreen
display to monitor fuel ow rate and total
fuel transferred in real-time, sight glass for
visual verication of ow, density alarm and
immediately printed receipts, with a signature
line direct from unit. It is capable of
continuous
operations on battery power for up to 12 hours,
and recharging is simple, as it is compatible with
standard global power sources.
Fuel and Fleet Security
FUELTRAX also launched an IP-video
surveillance system, FUELTRAX VISION, which
gives customers a 360-degree view of
vessel
operations, adding yet another layer of
security to
the smart monitoring and reporting technology
already delivered.
With strategically placed cameras constantly
working, they provide insights into vessel
activity from anywhere in the world. All video
surveillance collected is coupled with the existing
fuel monitoring data and tracking information,
providing greater transparency of
vessel
operations.
Up to 8 marine environment cameras provide
360-degree coverage of
the vessel perimeter,
retaining up to 10 weeks of high-quality date/
time/location-stamped footage, with minute-by-
minute snapshots sent to FUELNET. Video is
in full 720p color and accessible by authorized
personnel on board. The remote view of
camera
feed helps management verify the weather, HSE,
or other exception claims with a visual reference.
In addition, it provides power-interruption
alerts and built-in backup power supply, with
all components housed securely and monitored
remotely.
In the News
Most recently, FUELTRAX has partnered with
Dataran Elektra, Malaysian trade, and services
provider. Dataran Elektra has been appointed
as the rst PETRONAS-licensed agent for
FUELTRAX in Malaysia. As fuel consumption,
transparent reporting and compliance remain un-
der the spotlight for those operating in Malaysia,
more eets are turning to FUELTRAX for smart,
self-contained fuel monitoring solutions.
This developing partnership continues to
grow from high standards of
success for
both companies. "Early on in our pivot to the
Malaysian market, we recognized the need
to partner with a team that was supremely
competent and shared our 'failure is not an
option' approach to client support," says
Global Operations Director, John Donovan,
FUELTRAX. "Dataran Elektra is all of that
and more, with a stellar record in oil & gas
and exceedingly professional customer service.
We look forward to jointly exploring the many
opportunities that Malaysia offers for the
FUELTRAX product line."
As the requirement for EFMS continues to
expand with increasing charter mandates in Asia,
West Africa, and South America, FUELTRAX
remains the globally accepted standard. "The
transparency of
the fuel data allows charterers
and OSV owners to make real, cost-saving
changes to their operations based on accurate
and timely data. It enhances their control over
decisions that affect their compliance and
performance goals," says CEO and Founder,
Anthony George, FUELTRAX.
Looking to the Future
Today FUELTRAX currently serves over 150
vessels working for oil company charters and has
been deployed on approximately 500 workboats
and commercial vessels worldwide since its
inception in 2004.
They have the most extensive digital eet in
the world, with 15 years of
operations covering
384,000 km of
the globe and are consistently
looking for cutting-edge ways to use this data,
through advanced benchmarking, predictive
analysis, and expert-built quality data sets. George
says, "We look forward to building partnerships
with industry-leading clients and using our
data to drive insights across their global eets
which enables our clients to make the most
informed decisions and provides a clear return on
investment through increasing fuel controls and
transparency."
A company's eet is their most prized possession.
It's not like a regular business where owners
can walk around and monitor employees and
equipment. The equipment could be in any of
the seven seas at any given time. A company
has to make sure that they are covered, all the
way around – guratively and literally. The
transportation of
fuel is vital to this industry, and
the fuel contained inside these vessels is precious.
The fuel and vessel itself
must be protected
and monitored, what's inside must be measured
with accuracy and validated. All of which
FUELTRAX offers – ultimately providing ease
for their customers. When you are tasked with
transporting one of
the world's most valuable
resources, ease sounds like a pretty incredible
proposition.
Product Support Director, Ruben DeLeon,
standing in front of
4 views