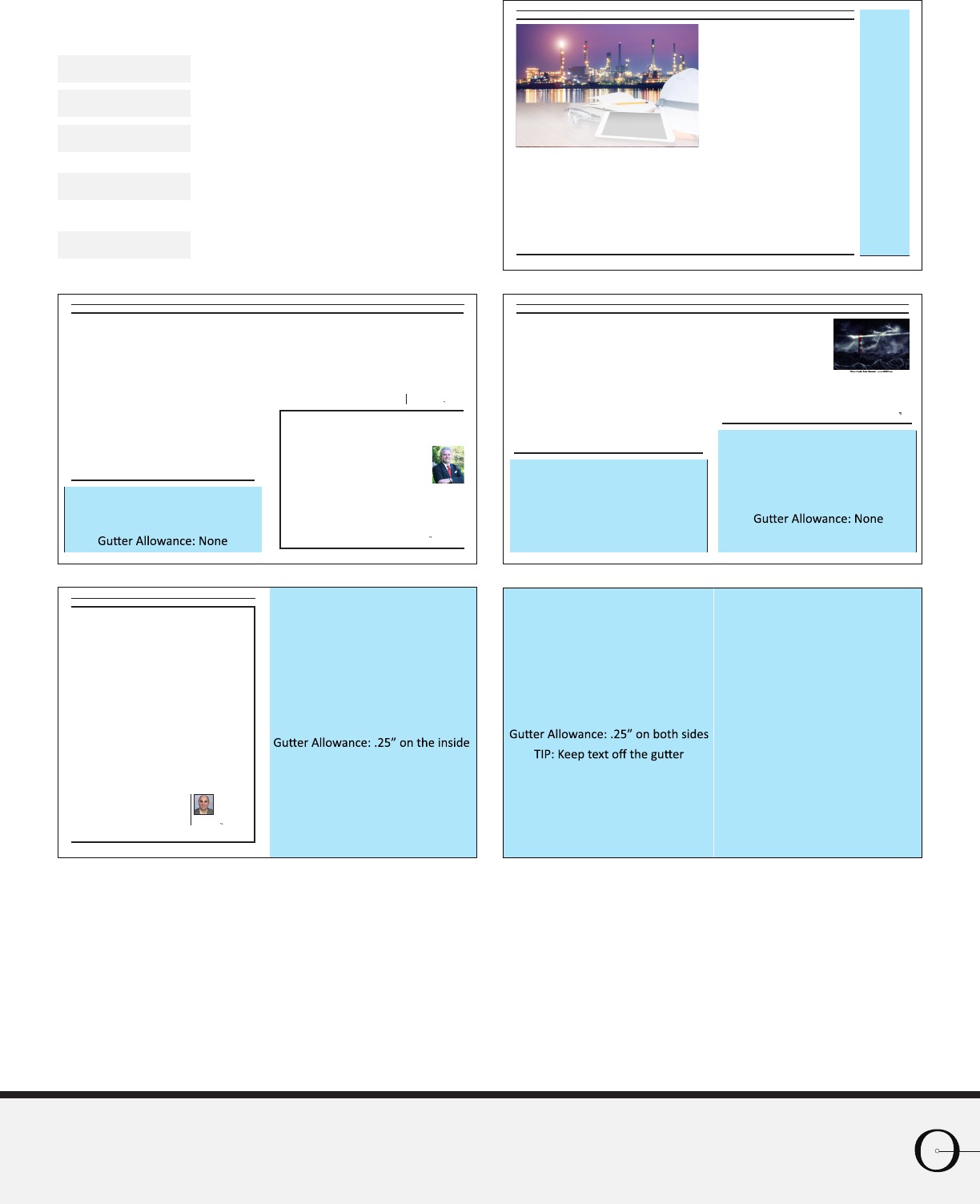 2019 Media Kit • (800) 562-2340 ext. 1 • advertising@oilmanmagazine.com
WWW.OILMANMAGAZINE.COM
2019 Media Kit • (800) 562-2340 ext. 1 • advertising@oilmanmagazine.com
WWW.OILMANMAGAZINE.COM
5
Magazine Ad Space
1/4
Page
1/3
Page
1/2
Page
Full
Page
Full
Spread
1x
$900
$1,300
$1,700
$2,200
$2,700
2x
$800
$1,200
$1,600
$2,100
$2,500
3x
$700
$1,100
$1,400
$1,900
$2,300
4x
$600
$1,000
$1,200
$1,700
$2,100
5x
$500
$900
$1,000
$1,600
$1,900
6x
$400
$800
$900
$1,400
$1,700
File Format:
PDF, JPG
Printing:
Web press, CMYK/Process colors
Resolution:
300 dpi
Paper:
80lb. gloss inside, 80lb. gloss cover
Print Ad Specs:
FULL SPREAD
Live Area: 17" x 11"
Bleed Size: .125" on all sides
allowance...
Oilman Magazine / September-October 2018 / OilmanMagazine.com
16
Are Fleet Accident Costs Hiding
in Your Blind Spot?
By Rich Radi
On average, approximately 20 percent of a
company's eet will be involved in an accident
this year - each incident bringing a signicant
cost to your company. These expenses include
direct costs such as medical bills and vehicle
repairs as well as potentially signicant indirect
costs that may be hidden in your business'
blind spot.
The nancial impact is striking. OSHA
(Occupational Safety and Health Administration)
reported that motor vehicle crashes are costing
employers $60 billion annually in medical
care, legal expenses, property damage and lost
production, alone. The average crash costs
employers about $16,500 and jumps to more
than $74,000 for a crash with injuries and even
$500,000 or more if there is a fatality.
That means a company with a eet of 1,000
vehicles should set aside at least $3.3 million
annually to manage the nancial impact of
accidents.
Calculating the True Cost of a Crash
The true cost of accidents goes far beyond just
repair costs and insurance deductibles. While
most direct costs are typically covered by insur
-
ance, these expenses represent only a portion of
the overall cost to your business. According to
conservative insurance agency estimates, $1 of
direct accident cost translates to approximately
$3 of indirect costs. These indirect costs are
often a challenge to identify and even more dif
-
cult to measure, but still affect your organiza
-
tion's day-to-day operations and bottom line.
These "hidden" costs can take many forms,
depending on the severity of the accident. A
few of the more common ways accidents can
affect a company include:
•
Increased insurance premiums
•
Signicant exposure to legal liabilities
•
Potentially permanent damage to your
corporate image
•
Diminished vehicle value
•
Increased administrative burden
•
Workers compensation claims
Do you know how much eet accidents are
really costing your business? Every time a
driver gets behind the wheel, your company is
vulnerable to repercussions that go far beyond
just repairing a vehicle if you're not proactively
addressing safety and driver behavior. To
mitigate your corporate risk and control accident
costs, you must establish a corporate safety
culture that protects both your employees and
your business.
Capitalize on Proactive Driver Optics
Most traditional driver safety programs are
reactive in nature instead of proactive: an
accident or driving infraction occurs, then
corrective training is prescribed. Motor vehicle
reports (MVRs) are pulled annually for each
driver, but if an incident occurs in February and
MVRs are run annually in January, another 11
months will pass without management visibility.
Both practices are too little, too late and still
leave your company at risk.
A truly effective driver program is built on a
foundation of monitoring driving habits in
real-time. Rapidly evolving technologies such as
telematics and advanced data analytics allow you
to quickly identify and address high-risk behavior
to improve performance, minimize risk and
reduce accident costs.
Understanding what behaviors your drivers are
exhibiting on the road at any given moment
empowers your company to quickly pinpoint
who needs immediate training to help prevent
accidents from happening in the rst place.
For example, if a driver exceeds the speed
limit on a frequent basis, safety training can
be assigned with the goal of reducing his or
her speeding habit.
Data integration is giving companies real-time
optics into areas they couldn't track even just
a few years ago. Now, it's possible to combine
a driver's motor vehicle report, your corporate
eet policies, telematics data, driver risk scoring
and accident data into a consolidated view of
what's actually happening behind the wheel.
This seamless integration of data points delivers
enhanced visibility so that you can improve eet
safety and reduce the impact of accidents on
their bottom line.
Drawing a Roadmap to Driver Safety
Success
To effectively remove blind spots from your
corporate safety culture, a successful driver
safety program is both proactive and reactive.
As you're building your program, include the
following elements:
1.
Monitoring MVRs on a consistent, on-going
basis rather than just annually
2.
Moving the eet safety policy online and
combining it with a program of online
training modules to promote comprehension
3.
Establishing a personalized onboarding
program for new drivers that includes a
driver skills assessment program to identify
poor driving habits and assigns corrective
training before an incident occurs
4.
Monitoring drivers through telematics and
advanced analytics to identify high-risk
behavior in real time
5.
Prescribing online training modules to
match specic driver weaknesses to improve
behavior
6.
Incorporating a scorecard once your
program is well-established to encourage
friendly competition among drivers and
reward your safest drivers
Discover the savings of a crash that never
happens. By injecting technology into your
driver safety program, you're now less
vulnerable to crashes you previously couldn't see
coming. Your company's investment in safety
for the long haul will open drivers' eyes to their
impact of their behavior, empowering you to
improve their performance, minimize risk and
reduce accident costs.
Rich Radi is Director of
Driver Excellence for
ARI, one of the world's
largest eet management
companies, with
approximately 1.5 million
vehicles under management in a wide variety
of industries in North America, the United
Kingdom and Europe.
OILMAN COLUMN
FULL PAGE
Live Area: 8.5" x 11"
Bleed Size: .125" on all sides
Oilman Magazine / September-October 2018 / OilmanMagazine.com
Oilman Magazine / September-October 2018 / OilmanMagazine.com
Natural Disasters Strike, but the Oil and Gas
Community is Ready to Repair and Pull Through
By Eric R. Eissler
OILMAN COLUMN
OILMAN COLUMN
Natural disasters have always been something
everyone must think about from time to time. While
it might not ever happen to you or your company, it
still happens, and it is happening more and more as
the Earth's weather patterns change. In the oil and gas
industry, managers must think about the possibility of
natural disasters striking more often. This is imperative
due to the location of oil and g as wells in extreme
locations such as in the sea, on the coast, in the
desert, etc. All of these locations have unique weather
patterns. Additionally, there are also earthquakes,
tornadoes, hurricanes, and massive tidal waves that
need to be considered, too. All of these threats will
lead to signicant damage if the right precautions are
not in place. Finally, do not forget about getting the
proper insurance.
To get a better idea of what some companies are
doing to mitigate the damage that could occur from a
natural disaster, we reached out to a company to learn
more about their processes.
Logistics industry faces changing weather
Dominic Dupre of Dupre Logistics provided some
insight into how some companies are gearing up for
more and more natural disasters that are occurring
in the U.S.
Unfortunately, our emergency response
surrounding natural disasters is put to work
once every 2-3 years as we operate along the
Gulf Coast, from Florida to South Texas, so we
have been able to adjust and learn from each
experience. In the crude hauling division, we
operate a central dispatch model with remote
login capabilities that ensure continuity of the
business even when the ofce is closed down.
Additionally, our eld execution is segmented
by area with multiple maintenance facilities that
ensure the business continues to run in the
event that operations are shut down in certain
geographical areas.
Besides natural disasters, there are also disasters that
come from within oil and gas equipment and can
trigger a massive disaster that can give way to other
environmentally damaging effects. For example, the
most recent The Deepwater Horizon oil spill began
on April 20, 2010, in the Gulf of Mexico on the
BP-operated Macondo Prospect. At approximately
9:45 pm, methane gas from the well expanded into
the drilling riser and rose into the drilling rig, where it
ignited and exploded, engulng the platform. There
were 126 crew members who were on board at the
time: seven BP employees, 79 from Transocean and
employees from other companies. The Deepwater
Horizon sank on the morning of April 22, 2010. It
was considered to be the largest accidental marine
oil spill in the history of the petroleum industry. The
U.S. Government estimated the total discharge at 4.9
million barrels of oil into the ocean.
Government and regulatory bodies are here to help
The National Petroleum Council prepared a paper
entitled, "Enhancing Emergency Preparedness
for Natural Disasters: Government and Oil and
Natural Gas Industry Actions to Prepare, Respond,
and Recover." The paper, published in 2014, found
the following challenges in addressing emergency
situations:
•
It is critically important for government emergency
response organizations to have a baseline under
-
standing of the dynamic nature of the oil and gas
supply chains.
•
Improved situational awareness about the status
of oil and g as infrastructure and service disruptions
from industry would enable DOE and other gov
-
ernment agencies to more effectively respond.
•
A major challenge during emergency response is
effective communication between and within federal
and state agencies and with industry.
•
The maintenance of a trained, knowledgeable
response organization within government agencies
should be a priority along with processes to sustain it.
•
Within industry and across all levels of government,
leadership commitment and funding are required
to continuously improve and ensure a state of
readiness to respond to supply chain disruptions.
Be prepared, not scared
At a recent API (American Petroleum Institute)
meeting this past May 2018, a subject of debate was
that of being pre pared in the oil and gas industry.
This is imperative as the southern United States
is well into Hurricane season, which runs from
May 15 (previously June 1 and now has grown by
15 days. However, this is still up for debate.) to
November 30. Hurricanes are one of the big gest
natural disasters for the U.S. and the
rening industry, due to rening units'
proximity to water.
Jeff Gunnulfsen, Director of
Security and Risk Management at the
American Fuel and Petrochemical
Manufacturers, said the following
on his commitment to safety in
the eld at the API Meeting: "The
rening and petrochemical industries
practice emergency response, every
day, 365 days a year. No two storms
or emergencies are alike, and our
industries prepare vigorously and
consistently for all types of disr uptions. Preparation
is the rst step in managing major events, and by
working diligently with industry partners, we're able
to minimize the impacts of unpredictable events."
More information on the steps oil and gas industry
professionals are taking in the midst of Hur ricane
season can be found here: https://www.api.org/
news-policy-and-issues/hurricane-information.
Eye of the storm
While the weather is changing, the oil and gas
industry is adapting and developing new technologies
and procedures to weather the storm. New protocols
are being established and more time is being dedicated
to safety training for handling natural disasters. While
natural disasters cannot be prevented, tactics can be
employed to help mitigate the damage caused by a
storm or worse. While mother nature has the upper
hand in this battle, humans are resourceful and full
of ing enuity in coming up with innovative ways to
prevent damage or to make repairs on the y.
HALF PAGE
Live Area: 8" x 5"
Bleed Size: None
Oilman Magazine / September-October 2018 / OilmanMagazine.com
Oilman Magazine / September-October 2018 / OilmanMagazine.com
American Natural Gas and NATO
By Mark A. Stansberry
In the fall of 1997, I was approached by a
friend of mine, Vladimir, who asked if I could
assist his native country the Czech Republic in
getting into NATO. At the time, he told me the
Czech Republic's leaders needed to meet with
key U.S. Senate leaders. The U.S. Senate would
have to ratify the Czech Republic going in to
NATO by two-thirds of the Senate votes in
order to be considered.
Vladimir, a prominent Czech artist, and
his family escaped from Czechoslovakia in
October, 1981. The escape occurred three
days before hearing a verdict from the Czech
Communist regime.
The Russians invaded Czechoslovakia in 1968.
Vladimir and his artists' group painted posters
about the invasion. He spent several months
in jail along with probation. Vladimir was told
that he could never practice art again. Part of
the punishment for not joining the Communist
party was that he could not get a job. However,
about a year later he was able to get a job as a
laborer.
Years later in 1981, the case was reopened.
He was going to have to go to court and
prove his innocence. There was no proof
of guilt. The decision to escape was evident.
In 1982, Vladimir and his family arrived
in Oklahoma with only two suitcases and
speaking no English. Vladimir and his family
were welcomed to Oklahoma and to the U.S.
with open arms. Families of Czech descent in
Tulsa, Oklahoma City and other communities
welcomed them. He began painting again.
Vladimir and I met for the rst time in early
1997. I was so fond of his ar t that I bought
a painting. He had talked to me several times
about the Russian invasion, about his love for
the U.S., and his love for the Czech Republic
and its people.
Though I lived in Oklahoma, I had a small
business location in Washington, D.C. in
1997. I reached out to several of my friends
and contacts. I was able to arrange a meeting
between the Majority Leader of the U.S. Senate
and the Prime Minister of the Czech Republic
in November 1997.
In November 1997, there were only about 40
U.S. Senators in favor of the Czech Republic
entering NATO meaning at least 27 Senators
were needed for
ratication. By
spring of 1998, the
necessary two-third
votes were in place.
By March 1999,
the Czech Republic
entered NATO.
I only played
a small part, a
meeting between
two world leaders.
Vladimir played a crucial part. He knew what
the price of freedom was. He fought for it.
Vladimir was concerned about how Russia
controlled Eastern Europe especially with the
supply of natural g as. He hoped to see the day
where that control would end, at least curtailed.
The U.S. Administration recently stated that
"Europe will be a 'massive' buyer of LNG to
diversify its energy supply. And we have plenty
of it." Natural gas will be a key player in the
future of economic development in Europe
and of its freedom.
Mark A. Stansberry
Four Reasons Oil and Gas Pipelines Fail
By Corrosionpedia
OILMAN COLUMN
OILMAN COLUMN
Since their rst introduction in the late 19th
century, oil and gas pipelines have gone on to
become the primary transportation system for
extraordinary quantities of energy products
to various consumers in numerous industries.
The United States alone consists of 2.6 million
miles of oil and g as pipelines - all tasked with
supplying approximately 65 percent of the total
energy consumed. According to data from the
U.S. Energy Information Administration, of this,
oil accounts for 40 percent of consumed energ y,
while natural gas provides the other 25 percent.
Although pipelines are generally considered
to be the safest way to transport fuel (over
70 times safer than tanker trucks and freight
trains), like any other engineering structure,
they are susceptible to several types of failure.
And when they do fail, the outcome is often
catastrophic. Fires, explosions and spills caused
by pipeline failures can lead to human casualties,
environmental pollution, and signicant
economic losses. According to statistics from
the Pipeline & Hazardous Materials Safety
Administration (PHMSA), between 1998 and
2017, there have been a total of over 11,700
oil and gas pipeline failure incidents resulting
in 1,293 injuries and 331 fatalities at an overall
cost of approximately $US 7.3 billion. These
incidents have brought pipeline safety to the
forefront of inter national attention and highlight
the importance of pipeline failure prevention
and mitigation measures.
The causes of pipeline failures are varied and
are dependent not only on their design and
operation but also their maintenance and
management. Statistical data compiled from
almost 700 oil and gas pipelines from 2004 to
2015 attribute the most common causes of
failure to corrosion, excavation damage, pipe/
weld material failure and equipment failure.
Pipeline Corrosion
Corrosion is, by far, the leading cause of pipeline
leaks and ruptures in the oil and gas industry
– accounting for 25 percent of failures in oil
pipelines and 18 percent of failures in natural
gas pipelines. According to studies conducted
by NACE (National Association of Corrosion
Engineers), the cost of cor rosion damage
can range anywhere between $US 471 to $US
875 million per year. This gure is expected
to increase as pipelines continue to age. It is
estimated that over 60 percent of oil and gas
pipelines in the U.S. are over 40 years old.
Internal pipeline corrosion is typically caused
by the presence of carbon dioxide (CO2),
hydrogen sulde (H2S) and free water in oil and
gas products, whereas external corrosion occurs
due to the reaction between the surrounding
environment (soil, air or water) and the metal
pipe. These substances react with the pipe
material, causing the metal to deteriorate and
gradually reduce in thickness. The subsequent
weakening of the pipe's walls can result in leaks
or ruptures due to the internal pressures and
stresses acting on the pipeline.
Corrosion is commonly characterized by pitting,
uniform corrosion or stress corrosion cracking
on the surface of the pipe.
Excavation Damage
Excavation damage presents one of the most
signicant challenges to pipeline safety. This type
of damage is usually accidental and is caused by
the impact of constr uction equipment on the
pipeline under consideration. Excavation may
be in the form of digging, trenching, grading
or boring during highway maintenance, home
or building construction, or farming activities.
According to PHMSA statistics, excavation
damage accounts for 15 percent of failures in oil
pipelines and 22 percent in natural gas pipelines.
Accidental damage due to excavation may be
observed as dents, scrapes, punctures, cuts or
protective coating removal. While direct contact
between the excavation equipment and the
pipeline can cause sudden and catastrophic
failure, scratches and dents can remove
protective coatings and eventually lead to failure
in the short to medium term. Coating damage
can promote accelerated corrosion, which in
combination with physical damage can increase
the potential for leaks.
Pipe or Weld Material Failures
Pipe welds and other types of joints are
usually weaker relative to the rest of the pipe
structure. Moreover, earlier methods of welded
longitudinal seams on some pipes are known
to have been inferior in quality and more
susceptible to failure. Although modern welding
techniques have dramatically improved, weld
failure continues to be a cause for concern.
Additionally, some of the older pipes - joined
with substandard welding - are still in use today.
Weld failures usually manifest as cracks at the
welded joint and can be caused by:
•
Improper welding techniques
•
Improper welding inspection
•
Presence of impurities in the welded steel
•
Welding of contaminated surfaces
•
Adverse reaction between the weld puddle
and the surrounding environment.
Failure may also originate from defects in the
piping material itself. Impurities can become
trapped in the molten steel during the manu
-
facturing process, resulting in weaknesses in the
metal's crystalline structure. Although unwanted
impurities during steel production were more
prevalent in earlier manufacturing processes,
defects in modern steel materials still account
for a small percentage of pipeline failures. Mate
-
rial failure may come in the form of laminations
and inclusions, or blisters and scabs.
Based on the statistical sample data, material/
weld failure is responsible for 22 percent of oil
pipeline failures and 24 percent of g as pipeline
failures.
Equipment Failure
Equipment failure is used to refer to any failure
caused by a pipeline component or device
other than the pipe itself. These include pumps,
compressors, valves, meters, tanks or any other
component essential for safe operation of the
oil and gas transportation system. Equipment
failure typically results in the release of
hazardous uids into the environment, usually
in small quantities. Since oil and gas equipment
is generally located on company property and
subject to limited access, these releases seldom
result in injury to the general public.
Equipment failure can be caused by improper
usage, lack of maintenance or improper
component selection for the given application.
Seventeen percent of oil and 11 percent of
natural gas pipeline failures are brought on by
faulty equipment.
Conclusion
Overall, these four types of failures account for
over 75 percent of pipeline leaks and ruptures
in the oil and gas industry. Incorrect operating
procedures, natural forces and other external
forces acting on the pipeline account for the
other 25 percent.
The devastation caused by oil and gas pipeline
failure underscores the importance of safety
and reliability in these systems. The data from
failure events collected by PHMSA and other
departments worldwide are, however, useful
in understanding the weaknesses that occur in
pipeline management, and are necessary for
continued risk identication, mitigation and
prevention.
Corrosionpedia aims to provide the rst steps
in the research journey for asset integrity
professionals the world over.
QUARTER PG HORIZONTAL
Live Area: 8" x 2.5"
Bleed Size: None
Oilman Magazine / September-October 2018 / OilmanMagazine.com
Oilman Magazine / September-October 2018 / OilmanMagazine.com
As the oil and gas industry grows, the IoT
(Internet of Things) gets more advanced and in
turn, grows along with it. This growth is crucial
and as advances are made to deliver important
data to oil and gas companies, they are presented
with a plethora of software companies from
which to choose. Oil and gas software is so
versatile now that the clientele it benets is spread
across all sectors and ranges anywhere from
small, private engineering rms to large, publicly
owned corporations. The software market is
extremely competitive, with more developers
emerging by the minute. When presented with so
many options, companies have quite the challenge
of nding the perfect software that meets their
needs in a sea of options.
Death of Paper and Value of Time
Since the invention of the printing press, the
world has survived on paper. At the time of its
inception, it was a revolutionary invention. The
subject has long been debated whether or not
it was, in fact, the greatest invention of all time.
Companies across the globe have utilized paper
for decades, centuries even. The oil industry was
no exception. On the ofce side, drafting was
done on large tables or oors, depending on the
size of paper, with protractors and pencils. In
the oil eld, pressure and production readings
on wells were hand written on paper and faxed
into to the corporate ofce each day. The paper
was then led and kept for years until eventually
they were moved off-site where they continued to
be stored for years. Paper meant time and it also
meant manpower – two extremely crucial factors
when it comes to a company's prot margin.
Time is a huge factor here and it can be a benet
or burden, depending on how it's managed.
The concept of advanced technologies allowing
companies to manage, report and analyze data in
real-time, is an incredible asset. It's a tool, that to
be able to have a competitive advantage in an ever
evolving oil market, a company or individual must
possess in order to keep up with the times.
Industry Software Leaders
Drillinginfo, based out of Austin, Texas is the
leading SaaS (Software as a Service) and data
analytics company for energy exploration and
production decision support. Their technologies
– intelligence, analytics, tools and services
combined into one, can benet anyone from
royalty owners and small independents, to
large corporations. Allen Gilmer, founder of
Drillinginfo, was an independent oilman for
seven years, co-founding three protable E&P
(Exploration and Production) companies prior
to founding Drillinginfo in 1999. Together
with some other independent operators with
seismic and land backgrounds, "We thought,
'what can we do to make this process better and
more efcient? What tool can we invent that no
one has ever seen before to improve on this?'
We were the very rst in our eld to go out
to market selling to the small guys rst," says
Gilmer. Drillinginfo is now one of the most
popular and widely used oil and gas software
with approximately 50,000 users. Time is essential
to their mission, as they provide instantaneous
access to everything a company could possibly
desire in their eld. Because of the advantage
they offer, time is saved and excessive manpower
that would normally be needed to complete these
tasks, is no longer required.
Oildex is another company making remarkable
strides in the O&G software industry. They are
the leader in nancial automation solutions for
the industry. They allow their users to seamlessly
and securely collaborate with their business
partners, automate critical business processes
and eliminate the high cost and errors associated
with the handling of paper. In May of this year,
Oildex announced its
OpenTicket
, which is the
next generation of the company's digital eld
ticket solution.
OpenTicket
is the industry's only
comprehensive, end-to-end cloud-based platform
that provides operators and service providers with
all the software they need to generate, review and
approve digital eld tickets. "Highly inefcient paper
eld tickets are the last obstacle to overcome when
it comes to automating and digitizing the oileld,"
said Craig Charlton, CEO of Oildex. "
OpenTicket
solves this problem and allows service providers to
quickly and easily submit eld tickets while allowing
operators to quickly and easily approve those eld
tickets. Coupled with our Openinvoice platform and
recently announced Supply Chain Finance program,
we are creating the most efcient source-to-settle
ecosystem in the oil and gas industry."
OpenTicket
is a complete solution for both operators and service
providers, it provides ofine mobile support for
service providers, support for D&C (Drilling and
Completions) "Virtual Company Man" capability
and optimized processing which expedites approval.
Before
OpenTicket
became available, it would
typically take 4 to 8 weeks to accept a eld ticket and
approve the invoice. Now the process can be done
in around an hour.
On August 13, 2018 it was announced that Thoma
Bravo, LLC, a leading private equity investment
rm has agreed to acquire Quorum Software. The
transaction is expected to close in the third quarter
of this year. Quorum is another cutting-edge
software industry leader. They focus on helping oil
and gas companies meet their long-term goals using
familiar Microsoft technologies, enabling enterprise
integration, driving faster deployment and providing
access to clean, consistent and consumable data.
The focus of Quorum is the user experience
and cloud-based software, which allows any and
every important piece of data to be accessed
from anywhere. "The North American oil and
gas industry continues to grow, with a heightened
focus on operational efciencies and maximized
capital productivity. Quorum's comprehensive
capabilities across the value chain with advanced
technical innovation and deep domain expertise,
coupled with our strong brand, positions us well for
continued growth. We look forward to beneting
from Thoma Bravo's expertise in helping companies
grow through their prudent investment strategies.
We are also thrilled to partner with their software
industry experts to harness exciting new growth
opportunities," says Perry Turbes, Chief Executive
Ofcer of Quor um Software.
The Challenge of Transitioning
Although it would be ideal, companies cannot
purchase software, sign a check and expect to have
their whole organization transformed overnight.
Reasonably speaking, the transition and training
that goes into converting, plays a large role. It is an
immense commitment for all personnel involved
from interns to the CEO.
Drillinginfo offers a Customer Resource Center,
which is a central location for customers to
nd links to instruction materials, product
documentation, submit a support ticket, ask
questions, submit ideas, nd out about Drillinginfo
events or even sign up for training. They also offer
live webinars, many of which are free for subscribers
and potential customers that are curious about
what they offer. In-person training or "transform
courses" are paid in-depth training courses designed
to assist the new or experienced user to accomplish
key workows with hands-on, instructor-led
exercises. Courses are half or full day and cover
topics from data loading and visualization through
interpretation, velocity modeling and multivariate
statistics. Each face-to-face course includes access
to a training computer with appropriate datasets
and a hard copy training manual which can be used
as a desktop reference after the training course.
When asked how long it generally takes to "go
live" with one of the Drillinginfo products, Gilmer
said, "Since most of what we do is app-based, the
access and information is instantaneous. The larger
and more specic packages may require additional
training."
In regard to setup and transition, Quorum has very
specic timelines set forth on their website. It is in
place to develop a plan that minimizes disruption,
enhances business processes and speeds time to
value. With a team of deployment experts, there are
three options of integ ration:
•
Rapid – Using out-of-the-box standard
conguration, the Rapid Deployment Package
gets clients fully operational with myQuorum
applications in three to four weeks.
•
Rapid+ – Using a variety of conguration
options, the Rapid+ package delivers an entire
suite of fully integ rated myQuorum applications
in ten to twelve weeks.
•
Tailored – Beginning with a comprehensive
needs assessment, the Tailored Package features
a custom engagement and fully deploys in as
little as three months.
Companies can choose to send their employees to
Quorum's education center or host the training at
their facility. Either way, the education and training
services help get the most from the myQuorum
investment.
Oildex has a dedicated team of implementation
specialists that assist operators with deploying
OpenTicket
. The team uses a proven methodology
that focuses on the adoption of the software by
both operators and their service providers, not
just setting up the software and training users. The
methodology builds on Oildex's 15 years' experience
deploying its OpenInvoice product to oil & gas
operators and to oileld service providers. The
The Evolution of Efficiency
in Oil and Gas Software
By Sarah Skinner
Photo Credit: Chutima Sonma
– www.123RF.com
1/4 PAGE
2" x 10" (vertical);

8" x 2.5"

(horizontal)
1/3 PAGE
8" x 3.75"

(horizontal)
1/2 PAGE
8" x 5"

(horizontal)
FULL PAGE
8.5" x 11"
(.125" bleed on all sides,
FULL SPREAD
17" x 11"
(.125" bleed on all sides;
.5" total gutter allowance)
Ad Sizes
THIRD PG HORIZONTAL
Live Area: 8" x 3.75"
Bleed Size: None
Gutter Allowance: None
QUARTER
PG
VERTICAL
Live Area:
2" x 10"
Bleed Size:
None
Gutter
Allowance:
None