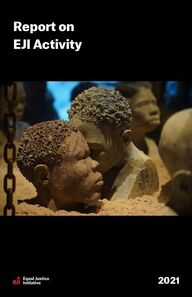 Return to flip book view
EJI 2021 Activity Report
Page 1
Report onEJI Activity2021
Page 2
Page 3
The Equal Justice Initiative is grateful to all our donors and supporters for a very active and eventful 2021. We have had an incredible year providing critical services to people wrongly imprisoned, condemned and sentenced in our legal system, and advancing critically important work on racial justice in America. None of this would be possible without your support, so thank you!We are proud to have devoted 98% of our revenue to support program and core activities in 2021. EJI continues to receive a perfect score of 100 and a four out of four-star rating from Charity Navigator. In addition, EJI earned a score of 99 out of 100 on WalletHub's Best Charities for 2022 list. We are the highest ranking organization in the Social Advocacy Category and the second highest rated charity overall. We remain deeply committed to eliminating racial inequality and seeking justice for people who are poor, disadvantaged, condemned, or incarcerated. The needs of marginalized communities in this country are great, but we are determined to bring about much-needed change. As we share some of our work from the past year with you, we stand ready to meet the challenges ahead and appreciate your support. Bryan Stevenson Executive DirectorThank you
Page 4
On October 1, EJI oicially opened the new, expanded Legacy Museum, now located on 400 N. Court Street in Montgomery. We are extremely proud of the new museum, which is four times the size of the original museum with hundreds of new exhibits, content, and media, at this critical moment in American history. Over 1,000 people attended the opening day, and we look forward to welcoming hundreds of thousands of people in the years to come. Situated on a site where enslaved Black people were forced to labor in bondage, the new museum presents new content on the Transatlantic Slave Trade and the Museum and Memorialera of Reconstruction. The Transatlantic Slave Trade wing includes more than 200 sculptures and original animated short films narrated by award-winning artists Lupita Nyong'o, Don Cheadle, and Wendell Pierce. An expansive exhibit on Reconstruction documents the important 12-year period in American history following the Civil War with a new detailed timeline, short films, and first-person narrative accounts. Each era and wing of the museum oers an immersive experience with cutting-edge technology, world-class art, and vitally important scholarship about American history.
Page 5
The new Legacy Museum also includes an art gallery, with major works from some of the most celebrated Black artists in the world, including Glenn Ligon, Elizabeth Catlett, Simone Leigh, Gordon Parks, Jacob Lawrence, Faith Ringgold, and the extraordinary vernacular artist Winfred Rembert. In documenting the challenges our nation's history of racial injustice has created, EJI is also proud to honor those who withstood those challenges to advance the cause of justice. After the opening, EJI was thrilled to host Henrietta Hunt and her family at the Legacy Museum in honor of her contribution to civil rights in Alabama. Ms. Hunt, whose story is featured in the museum, was the first African American to successfully register to vote in Elmore County, Alabama, in the 1950s. After she memorized the Elmore County poll test's impossibly diicult questions posed to Black people trying to register to vote, she stunned local election oicials when she returned and successfully answered all the questions. EJI represented Ms. Hunt in the 1990's when, after being a registered voter in the County for nearly 40 years, she had never been called for jury service. EJI challenged the underrepresentation of Black people in
Page 6
the jury rolls until new steps were taken to create more diverse and inclusive juries.This year EJI also began its first high school internship program associated with the Legacy Museum. High school juniors and seniors are paid to work at the museum on weekends, gaining exposure to the substantial content in the space. Nearly two dozen students joined the program and interned over the opening weekend of the museum and we look forward to welcoming more students into the program and expanding the role of young people in this important work.Collaboratively supporting local Black-owned businesses and vendors is also an important aspect of our work. EJI has been pleased to partner with several local businesses to supply merchandise and materials for our bookstore and support their work during the challenges of this past year. One example is our recent partnership with Eleven86 Real Artesian Water, a Black-owned company in Autaugaville, Alabama, which prioritizes the use of BPA-free bottles and supports communities that have been historically disfavored. Eleven86 Real Artesian Water has enthusiastically supported EJI's work, sites, and mission, and we are grateful to feature their high-quality products in our bookstores and sites.Henrietta Hunt
Page 7
In July of this year, EJI brought back its nighttime experiences at the acclaimed National Memorial for Peace and Justice with free admission. This experience oers guests a stunning and sobering view of the monuments and sculptures in the Memorial illuminated in the evening. Plans are also currently underway for a new major exhibit at the National Memorial for Peace and Justice that will feature historical markers representing lynching victims from across the nation. Made from the same corten steel as the Memorial monuments, these new historical markers will acknowledge the dozens of markers that have been erected at lynching sites throughout the United States as a result of the collaborative eorts of EJI and local partners.
Page 8
Page 9
Death PenaltyEJI's work on behalf of condemned men and women in Alabama continues undeterred despite the unprecedented number of federal executions between July 2020 and January 2021 and the increasing reluctance of courts to intervene and enforce the rights of people facing execution. We continue to provide direct legal assistance to people on death row and help hundreds of other condemned prisoners across the country. In 2021, we won new trials or reduced sentences for several people facing execution in Alabama. Lionel Francis and Brett Yeiter are the most recent condemned people for whom we have won relief, and we have been in court on behalf of dozens of other clients. We have now won relief for over 150 people wrongfully sentenced to death. EJI is a leading voice in the call for abolition of the death penalty. Throughout the past year, we educated decisionmakers, legislators, advocates, and policymakers across the country about America's flawed, unreliable, and arbitrary system of capital punishment. Anthony Ray Hinton, EJI's community educator who spent nearly 30 years on death row for a crime he did not commit, spoke to dozens of companies, schools, universities, and organizations, giving a powerful, first hand account of the need to end capital punishment. In March, Virginia—the former capital of the Confederacy—became the first Southern state to abolish the death penalty and the 23rd state nationwide to end capital punishment. Sponsors and other proponents of the bill in the Virginia state legislature cited capital punishment's link to lynching and the racial disparities that persist in its application when explaining their support for the bill.EJI's lawyers have also initiated several new innocence investigations as we continue to advocate on behalf of people of color and people with mental health issues or intellectual disabilities, all of whom are more likely to be wrongfully convicted.Lionel Francis
Page 10
Children in Adult PrisonsSince EJI's victory in the landmark Supreme Court case of Miller v. Alabama, over 730 people who were initially sentenced to die in prison for crimes committed as children have been released, including EJI's former client Dante Evans, who was released from a Mississippi prison in October. Over 1,000 more people sentenced to life imprisonment without parole now have reduced sentences and great hope to be released in the coming years. Since EJI's work on behalf of children sentenced to die in prison, 25 states have banned such sentences for juveniles. Maryland did so in April of this year. EJI continues to make progress advocating on behalf of children in adult prisons, and we are seeing extraordinary results from our eorts. Our work does not end when our clients are released. Through EJI's unique Post Release Education and Preparation Program (PREP), we provide a broad range of individualized support services to meet the critical needs of people incarcerated for decades. EJI has helped scores of formerly incarcerated people by providing job training, education, housing, and assistance with other support
Page 11
services. This past year we have provided PREP services and support to dozens of clients. We also won a pardon for our long-time client David Garlock. Mr. Garlock's pardon means he will no longer have travel restrictions; he will be free from control and supervision by the legal system; and he will be able to vote.Ian Manuel, another long-standing client, released a new book, My Time Will Come, this year, documenting his journey from Tampa's violent housing projects to being sentenced to life without parole for a crime committed at age 13. EJI represented Mr. Manuel for many years, won his release in 2016, and continues to provide him re-entry support. He has become a powerful advocate and appeared on national TV and radio advocating for other condemned children over the last year.
Page 12
EJI's Community Remembrance Project (CRP) is part of our campaign to recognize the victims of lynching by collecting soil from lynching sites, erecting historical markers, and creating a national memorial that acknowledges the horrors of racial injustice. This year has been an extremely active one for our CRP work. We have worked with thousands of community members confronting their history of racial violence in 25 states throughout the country. The first historical marker of the year was dedicated in January 2021 in Forsyth County, Georgia, and since then about 25 new historical markers have been erected and dedicated in more than 20 dierent communities. In Lafayette County, Mississippi, we worked with community The Community Remembrance Project
Page 13
members to erect a marker on the courthouse lawn, which is the first marker documenting racial terror violence against Black people to be erected at a courthouse in Mississippi. This summer, U.S. Senator Tammy Baldwin made a statement on the Senate floor recognizing our CRP work with the Newton County, Mississippi Community Coalition. Many historical marker dedications took place from Oregon to Florida in coordination with the Juneteenth holiday, which became federally recognized this year. EJI has continued to support communities with soil collection experiences and high school essay contests. This year, we have added hundreds of jars of soil to the collection and have provided over $100,000 in scholarship awards through our Racial Justice Essay Contest. EJI also released the new Community Remembrance Project Catalog this year to feature and detail CRP eorts across the nation and to help provide guidance to communities interested in advancing this work in their area. We are encouraged by the increased interest in CRP work and look forward to continuing to support these eorts to foster dialogue in more communities in the coming year.
Page 14
EJI also has continued to challenge unconstitutional conditions of confinement in Alabama jails and prisons. After nearly two years of mediation and settlement discussions, we resumed active litigation against the state of Alabama for prison conditions at St. Clair Correctional Facility. The state has been non-compliant on a host of issues and has not worked towards advancing full implementation of the parties' previous settlement agreement. Almost 60 people have been murdered in Alabama prisons since the U.S. Justice Department announced its investigation into Alabama's prisons in October 2016. Using research from EJI, the DOJ recently concluded Prisonsthat Alabama "routinely violates the constitutional rights of prisoners" by failing to protect them from rampant violence and sexual abuse, and it found "a high level of violence that is too common, cruel, of an unusual nature, and pervasive." EJI has also continued to investigate and document the increasingly alarming levels of violence and abuse in Alabama's prisons.EJI also has maintained its advocacy eorts to support our incarcerated clients who remain vulnerable due to the COVID-19 pandemic. In addition to facing increasing levels of violence and abuse and the devasting eects of COVID-19, people
Page 15
incarcerated in Alabama's jails and prisons are also struggling to overcome high rates of drug abuse and suicide, and growing isolation and despair after having been denied full access to critical legal services and family visits for almost two years now. This past year, EJI received a great number of requests from incarcerated people and their families seeking guidance and assistance, and we remain committed to providing support where possible.
Page 16
Public Education:Criminal JusticeEJI's public education eorts are helping to advance important reform initiatives taking place in various states and communities across the nation. Bestselling books, Just Mercy, by EJI Director Bryan Stevenson, and The Sun Does Shine, by EJI Community Educator Anthony Ray Hinton continue to be used by hundreds of college and university professors and students engaging in conversations regarding reform of the criminal legal system. Both men were featured in the compelling Soul of a Nation episode, Do We Deserve to Kill? Re-Examining the Death Penalty, which also aired nationally on ABC News. EJI sta have also presented our work to hundreds of community members, students, educators, policymakers, board members, and other groups, both nationally and internationally.Last summer, we released a compelling new report on racial bias in jury selection,
Page 17
Race and the Jury: Illegal Discrimination in Jury Selection. The report, which is available online and in print, underscores the importance of the jury and helps people understand the ways discrimination and racial bias undermine the reliability and fairness of our criminal legal system. Race and the Jury also highlights the ways in which illegal racial discrimination in jury selection marginalizes community members and excludes entire communities of color from participating in one of the cornerstones of American democracy. We believe that the report will advance reform conversations that are taking place in various states and communities.
Page 18
Public Education:Racial JusticeEducating people about the nation's history of racial injustice remains an urgent priority for us, and we advanced a wide variety of public education eorts in 2021. We produced new reports, several new engaging videos, and other resources that more accurately detail our nation's history of racial injustice and its legacy. In October we released the 11th edition of our award-winning calendar. The 2022 A History of Racial Injustice calendar documents significant, but often overlooked, historical events related to the history of racial injustice and its legacy. Over 200,000 people engaged with and shared the important history in our 2021 calendar and we have already distributed over 30,000 of the 2022 calendars. An article published in Forbes magazine also highlighted the value of EJI's online calendar resources, stating,
Page 19
"Bryan Stevenson's Equal Justice Initiative is a wonderful trusted source for information on a range of topics including the legacy of slavery, racial terror lynching, racial segregation and mass incarceration."contains a new chapter authored by Mr. Stevenson. In July, Mr. Stevenson received the C.T. Vivian Leadership Institute's inaugural Humanitarian Award. Mr. Vivian, who passed away in 2020, was a pivotal civil rights campaign organizer and champion of nonviolent resistance.Hundreds of college athletes and sports teams from around the country have started EJI also supported several book projects that made meaningful contributions to the discussion on racial justice this year. EJI's Director, Bryan Stevenson, contributed the forward to Winfred Rembert's memoir, Chasing Me to My Grave: An Artist's Memoir of the Jim Crow South, which documents the late artist's remarkable survival of a near-lynching in 1967, and how the history of lynching and racial injustice remains salient today. Several of Mr. Rembert's powerful pieces are on display at EJI's Legacy Gallery. The new book The 1619 Project, based on The New York Times Magazine's award-winning series examining the American experience of slavery as central to the story of America's origins and national narrative, C.T. Vivian
Page 20
EJI has hosted several other college athletes throughout the year and looks forward to hosting more college teams and schools in the coming year.Our public education eorts have continued to include harnessing the power of art. We collaborated with jazz-giant Wynton Marsalis on two compelling projects. The first, a video titled The Value of Art, is based on a conversation between Mr. Marsalis and EJI Director Bryan Stevenson. During the talk, Mr. Stevenson underscored the visiting our sites. This year, the University of Missouri's college basketball team and the University of Alabama's men's basketball team visited EJI's Legacy Museum and the National Memorial for Peace and Justice to proactively engage with the racial history of our nation and its implications for today. The University of Missouri's team reported on ESPN after their visit how impactful their time at the sites was. The University of Alabama's head coach, Nate Oats, reported of their visit:powerful way in which art has been and continues to be utilized to communicate the complex struggles of Black Americans, thereby helping to change the narrative about race in this country. The video also includes music from the legendary gospel great Mahalia Jackson and can be viewed both online and at EJI's new Legacy Gallery. Mr. Stevenson joined Mr. Marsalis and the Jazz at Lincoln Center Orchestra to present parts of EJI's racial justice work to a new audience through a special performance titled Freedom, Justice, and Hope."It was a very educating and moving experience both for the players and the sta. . . This will be a day that our program will never forget."
Page 21
Page 22
As part of EJI's Truth and Justice Initiative, EJI has engaged with several institutions seeking to honestly confront their past, reflect upon, and respond to America's long history of racial inequality and racial injustice. We strongly believe that remedying injustice must begin with a comprehensive understanding of the ways in which the many racial disparities witnessed today are rooted in a narrative of racial dierence that survived the enslavement of Black people. This narrative also was enforced through racial terror lynching, Jim Crow and violent resistance to integration, and mass incarceration and excessive punishment. Our work is more critical than ever, and we Truth and Justice
Page 23
remain committed to undoing the harm in the criminal legal system and other sectors created by centuries of racial bigotry, violence, and discrimination.EJI collaborated with Global Strategy Group on a newly released report on the role of racial bias in the media as it pertains to coverage of people prosecuted in the criminal court system. Racially biased media coverage has been a substantial factor contributing to unreliable and unjust outcomes in the criminal legal system. News media have often reinforced a presumption of guilt and dangerousness assigned to Black people when reporting on crime, devaluing the lives of Black people, and minimizing the harm Black people suer when victimized. The report, Innocent Until Proven Guilty? A look at media coverage of criminal defendants in the U.S., uses data from 10 criminal cases to analyze diering portrayals of Black defendants and white defendants, resulting in unreliable court outcomes. The data points to racial bias in over 20 dierent topics surrounding media coverage, including the use of imagery, language choices, the framing of the accused and the victim, and reporter background. American media can and should do better in eliminating racially biased coverage.
Page 24
Building an Infrastructure that Supports Justice WorkEJI is expanding its infrastructure with several projects intended to facilitate deeper engagement at our powerful sites. We are developing a large plaza across from the Legacy Museum. The Legacy Plaza will feature additional art, food, and spaces for conversation and reflection. We are creating more meeting spaces, convening areas, and building capacity for visitors to discuss their experience and reflect on the work that remains. We will also soon open a new section within the National Memorial's six-acre site. This addition will honor memorialization eorts around the country. In late January, EJI will host the first in a four-part film series at the Peace and Justice Memorial Center. The first screening will feature the Alabama debut of 100 Years from Mississippi, directed by Tarabu Betserai Kirkland. This film documents the life of the extraordinary Mamie Kirkland who survived a lynching involving a mob of 10,000 people in Mississippi when she was a child. EJI was honored to celebrate Ms. Kirkland at the 2018 opening of the National Memorial for Peace and Justice. The film has already won multiple awards, including being named Best Documentary at the Nashville Film Festival.Mamie Kirkland
Page 25
We are grateful to each of you for supporting our work in 2021. With your help, we are committed to continuing the fight for justice, ending abusive punishment, and eliminating racial bias in the year to come.
Page 26
Equal Justice Initiative122 Commerce St.Montgomery, AL, 36104www.eji.orgDonate to EJI