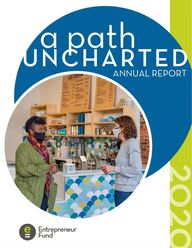 Return to flip book view
EF 2020 Annual Report
Page 1
2020a pathUNCHARTEDANNUAL REPORT
Page 2
The best way to experience the report iselectronically where you can interact with data,watch videos and access links. If you prefer toprint it out and hold it in your hands, you candownload it by clicking the arrow on thehomepage.WelcomeWherever you see the button, there isa video for you toenjoy.
Page 3
TABLE OFCONTENTSMESSAGE FROM SHAWN WELLNITZ, CEO 03ABOUT THE ENTREPRENEUR FUND 05CELEBRATING LOCAL SMALL BUSINESS CHAMPIONS07COVID-19: COMMITTED TO COMMUNITY 11SMALL BUSINESS FINANCE 15BUSINESS ADVISING 19WOMEN'S BUSINESS ALLIANCE 21ENVEST CAPITAL CAMPAIGN 25FUNDING & PARTNERS 27
Page 4
The path we charted at the beginning of 2020 looked very differentthan how it ended. The day we closed our physical offices markedthe day that we set out on a new journey. A journey similar to onethat sparked our original creation 32 years ago, when the potentialfor small business to support communities through economichardships was realized.R E G A R D S ,A MESSAGE FROMShawn WellnitzOU R C E OWe still have a way to go to getthrough this pandemic, but thespirit of our communities andentrepreneurs showed, onceagain, that our own innovationand perseverance are ourregion's greatest asset.2020 was a testing year for smallbusinesses and ourcommunities and we allanswered the call. Stepping upto survive, innovate, and adaptto this new landscape tookeveryone to come together andpave new pathways forward.03TO OUR TEAMThroughout the entire year, the Entrepreneur Fund boardof directors and staff stepped up and went above andbeyond to ensure our region's business owners hadaccess the support, financing and information theyneeded. Without their diligence and hard work we wouldnot have been able to serve many of the small businessesthat benefited from our services.Thank you.

Page 5
04business ownersattended an EFhosted training1,016Average loan sizeof the 523 loansclosed$38.4Kin flexible loansand financing toregional businessowners$20.1MIndividualentrepreneurs served1,8172020 BY THE NUMBERS
Page 6
County2020North St. LouisSouthern St. LouisItascaLakeDouglasCrow WingCarltonAitkinPineOtherKoochichingMorrisonKanabecCookStearnsBentonCassMille Lacs$6,672, 395$4,679,472$2,499,850$1,770,739$1,403,253$1,246,653$748,109$632,275$582,400$548,600$448,900$361,400$204,000$171,622$76,920$52,500$47,400$45,600SMALL BUSINESS RELIEFof clients lived in communitiesCLIENTS SERVED1817 Individual Clients ServedIMPACT891 Small Businesses Served2ND ANNUAL= 200 people523 Loans Closed to Start, Stabilize orGrow Small Businesses70%of clients were of clients served are minorities9%57%59%of businesses are of businesses served are23%womengrowth-orientedstart-upsSBA MINORITY BUSINESS CHAMPION CHAQUANA MCENTYREFamily Rise TogetherSBA MINORITYBUSINESS OWNER DR. CHIAMAKA ENEMUOHLifestone Healthcare ruralSMALL BUSINESS FINANCINGMILLION County2020 LoanAmount$20.1in loans and financing toregional business ownersto Start, Stabilize orGrow Small Businesses523LOANS CLOSEDAVERAGE LOAN SIZE$38,400Paid through SBA on behalf of businessesMILLION MILLION $32.4in loans deferredrepresenting overBUSINESSES670$2.3 MILLION $3.7in forgiveable loansin business debt payment relief MILLION $9.3in patient capital05SNAPSHOT
Page 7
$8218.5Kjobs createdor sustained 10KMILLIONSince 1989, EFhas providedentrepreneurs$82 million incapital06overSINCE 1989...entrepreneurssupported
Page 8
Each year, the SBA MinnesotaDistrict Office acceptsnominations for local andnational awards. In 2020, twooutstanding women in businesswho are clients and friends of theEntrepreneur Fund wererecognized as phenomenal,innovative small businesses andsupportive champions inMinnesota communities. 07CELEBRATINGLOCAL SMALLBUSINESSCHAMPIONSChaQuana McEntyreDr. Chiamaka Enemuoh
Page 9
08The Minority Business Champion award recognizes anindividual who has fulfilled a commitment to supportthe advancement of small business opportunities forminority business owners. SBA MINORITYBUSINESS CHAMPION SBA MINORITYBUSINESS OWNEROF THE YEARThe Minority Owned Business of the Year awardrecognizes an individual or organization dedicated tothe support of the small business community
Page 10
ChaQuana McEntyre tirelessly works to support theadvancement of business opportunities for minority businessowners in the Duluth area, as an entrepreneur, nonprofitfounder and president, and social worker. She creates andfacilitates business planning workshops and trainings toadvance low to moderate income and minority entrepreneurswho want to start a business, supported by her work in socialservices and insights from her own small business experience.ChaQuana is a partner of the Entrepreneur Fund and mostrecently supported her development of a culturally specificcurriculum for minority business owners. ChaQuana McEntyreFamily Rise Together09SBAMINORITYBUSINESS CHAMPION of the year
Page 11
Dr. Chiamaka EnemuohMedical practitioner and entrepreneur, Dr. Chiamaka Enemuohis the owner and president of Lifestone Health Care Inc.Lifestone began in 2014, in a 2,200-square-foot house with fiveclients and five employees. Increased demand and strongleadership helped grow the organization quickly. Dr. Enemuohbegan working with the Entrepreneur Fund, forgingconnections and building a strong network of support that ledto a loan enabling her to purchase and renovate a new location,doubling her capacity and increasing staff to 12. Dr. Enemuohencourages young African American women to come work forher, and she enjoys serving as a mentor for them and otheryoung professionals in achieving their goals.10Lifestone HealthSBAMINORITYOWNEDBUSINESSof the year
Page 12
COVID-19On March 16, 2020, the Minnesota and Wisconsin Governors issuedexecutive orders directing the closure of bars, restaurants, and otherplaces of public accommodation in an effort to decrease the spread ofCOVID-19. In many ways, it's the day that our lives turned upside down. In the days,weeks and months that followed we witnessed small business ownersdemonstrate incredible resilience and adaptability in the face of manyunknowns, as well as a network of partners from across our region worktogether to best serve our communities. COMMITTED TO COMMUNITYCOVID-19 AND SMALL BUSINESSES11
Page 13
121,150BUSINESSESEF staffpartnered withbusinesses across17 counties toprovide COVID-19relief efforts Payment paid through SBAon behalf of businessesMILLION MILLION $20.1in loans and financingto regional businessowners MILLION $32.4in loans deferred BUSINESSES670$2.3in business debtpayment reliefMILLION $9.3in patient capitalrepresenting over$3.7in forgiveable loansMILLIONCOVID-19 IMPACTACCESSING CRITICAL RELIEF
Page 14
Page 15
THROUGHOUT THE PANDEMIC ITHAS BEEN INVALUABLE KNOWINGTHERE ARE PEOPLE I CAN CALLWHO I TRUST. THEY HELPED MEUNDERSTAND AND ACCESS RELIEFAVAILABLE AND CONTINUE TOADVISE ME AS THINGS CHANGE.14BOOMTOWN WOODFIREGRILL & BREWERY | HIBBINGJessica Lietz, Co-Owner of BoomTown
Page 16
2016 2017 2018 2019 2020$25,000,000 $20,000,000 $15,000,000 $10,000,000 $5,000,000 $0 2020financing resiliency15984PORTFOLIO AT A GLANCE$44.5M512CURRENTLOANSACTIVEBORROWERSEvery small business experienced2020 differently. While most ofour lending focused on relief, wealso worked with businesses thatexperienced an increaseddemand for their products andservices. We diligently workedalongside these business ownersto support their growth. Most of our lending in 2020 wasdedicated to COVID-19 reliefefforts, which included forgivableloan programs such as thePaycheck Protection Program(PPP), local funds from Iron RangeResources & Rehabilitation (IRRR),Itasca County, Duluth EconomicDevelopment Association (DEDA),and the City of Cloquet. LOANPORTFOLIO(owned & undermanagement)AS OF 12/31/2020SMALL BUSINESS FINANCELENDING SINCE 2016129LOANS133LOANS210LOANS263LOANS523LOANS$20.1M$13.7M$12.6M$7.9M$5.5M
Page 17
162020 LENDING # OF LOANS BY ZIP CODEDULUTH/SUPERIORIn 2020, our lending efforts far surpassed our projections or pastoutcomes, but the path to reach that was not as we expected. Thetrue significance of these outcomes is the numbers they represent:jobs saved, businesses stabilized, families supported, sole proprietorsbuoyed and resilient communities.523$20.1MNUMBER OFLOANSTOTALLENDING2020 LENDING TOTALSClick themap toexplorethe datamore
Page 18
partnered with Pine County Bank, MinnesotaBusiness Finance Corporation, Morrison CountyCommunity Development, the City of Little Fallsand Region Five to secure a financing package that worked for them. Their new business continues to grow and thrive today. THEY CARE ANDTHEY WANT YOUTO SUCCEED. IFYOU WANT TO PUTTHE WORK INTO IT,THEY WILL HELPYOU DO IT. THEY'LLPUT JUST AS MUCHWORK INTOFINDING THESOLUTION FORYOU TO SUCCEED. CREATIVE PARTNERSHIPS Dr. Amanda and Randy Craft had aninterest in purchasing a local veterinaryclinic but didn't know where to start andhad concerns about putting their home upfor collateral to access needed financing.The Entrepreneur Fund provided themwith advise and guidance and ultimately 17ANIMAL HAVENLITTLE FALLSRandy Craft, Co-Owner of Animal Haven
Page 19
SUPPORTING GROWTHDURING A PANDEMIC"Big dreamers" is how Anna and NathanaelBailey describe themselves. The Baileys arereclaimed wood artists and co-owners ofBailey Builds. In the early days of thepandemic, traditional financing fell throughto expand their business. In a "What are wegoing to do?" moment, they reached out tothe Entrepreneur Fund and were able tokeep their big dreams alive. BAILEY BUILDS | DULUTH18THEY REALLY BENTOVER BACKWARDSFOR US. I HONESTLYDIDN'T REALIZETHERE WAS A GROUPOF PEOPLE WILLINGAND OUT THERE ANDACCESSIBLE TOCOME ALONG SIDEOF US IN OURJOURNEY.Anna Bailey, Co-Owner of Bailey Builds
Page 20
ACHIEVING GOALS TOGETHER2020BUSINESS ADVISING19While many small business owners have similar needs, the individualjourney of each entrepreneur is unique. Our team of trusted businessadvisors are dedicated to supporting that unique journey by bringingexpertise, compassion, and practical tools to support each individual client. In 2020, this team served a criticalrole in supporting entrepreneursnavigate a quickly changinglandscape. Advisors workeddiligently to understand the dailychanges and updates inregulations, rules and relief efforts,then intentionally reached out toclients and connected them withmuch needed resources.Advisors provided critical supportto businesses to adapt theirbusiness models, navigate thenew landscape, innovate andgrow. They also continued tosupport businesses focused ongrowth with facilitation of highquality courses such as BeStrategic, while adapting to thevirtual landscape. THE ENTREPRENEUR FUNDWORKS WITH ME TO SET GOALS,AND THEN THEY WORK WITH METHE WHOLE TIME TO MEET THATGOAL. WHEN FINANCING ISNEEDED TO HELP YOU GROW,THEY CAN CONNECT YOU ANDMAKE THE WHOLE PROCESSRELATIVELY EASY.BROKING'S TRANSPORTGRAND RAPIDS, MNBob Broking, Owner of Broking's Transport
Page 21
DULUTH/SUPERIOR2020 SERVICE TOTALS202020 SERVICES # OFCLIENTS BY ZIP CODEof clients servedwere minorities9%of clients lived inrural communities57% of clients weregrowth-orientated59% of clients identfied as women70% clients served1,817Click themap toexplorethe datamore DULUTH/SUPERIOR2020 SERVICE TOTALS202020 SERVICES # OFCLIENTS BY ZIP CODEof clients servedwere minorities9%of clients lived inrural communities57% of clients weregrowth-orientated59% of clients identfied as women70% clients served1,817Click themap toexplorethe datamore
Page 22
2020The Women's Business Alliance provides women business owners withservices to grow, finance or start a business. We have two offices: one inNortheast Minnesota and one in Central Minnesota.WBA provided resources specific to women including advising andnetworking opportunities that support strategies for professional andbusiness growth. The WBA offices are a regional resource for women inbusiness to expand leadership talents and capabilities.21IGNITE WEBINAR SERIESCOVID-19 Recovery & RebuildingIn the spring of 2020, the Women's Business Alliance Central and North quicklyjoined forces to host a series of webinars designed to help entrepreneurs thinkthrough business practices, processes and procedures to address the concernsaround COVID-19. Additionally, these webinars provided strategies to help smallbusinesses access up-to-date reliable information and prepare for a year thatlooked significantly different. Virtual Training Participants17900+ PARTICIPANTSSTATESClick themap toexplorethe datamore
Page 23
indicated event washelpful navigating theimpacts of thepandemic. 90%22"This conference and allthe women involved hashelped me gain a betterperspective andempowered me to justkeep pushing forwardand to keep believing inmy mission." - SOAR Conference ParticipantIn its second year, the SOAR Conferencetransitioned to a fully online experience toreimagine how we do business as businesseswork to adapt, recover, and rebuild from theimpacts of COVID-19.The event was delivered over three days inmanageable 2.5 hour time commitments. Itincluded keynotes from expert speakers,engaging panels with local business owners, peer networking opportunities, and resources.Each day focused around a topic relevant towomen business owners: finance, family andhealth. Speakers and panelists were chosenbased on their ability to share their experienceand stories to provide conference participantswith authentic, actionable advice and inspirationto seize opportunities and rise, to SOAR.of evaluationsrated event verygood or excellent96%The conference was hosted by the Women'sBusiness Alliance Central and North, and fundedin part by the CARES Act through the U.S. SBA. peopleregistered488
Page 24
BentonCrow WingKanabecMille LacsMorrisonStearnsToddCounties: AitkinCarltonCassCookDouglas, WIItascaKoochichingLakePineSt. LouisCounties:WITHOUT HAVING THESUPPORT OF THEENTREPRENEUR FUND, WEWOULD HAVE HAD TO SCALEBACK OUR BUSINESS INSTEADOF CONTINUE OUR GROWTH.AND THERE'S NO DOUBT INMY MIND ABOUT THAT. 23SCALING UP INSTEAD OF DOWNAdelle Starin, Owner of Baby's on BroadwayThe Central and North Women's Business Alliance, are certifiedWomen's Business Centers with the Small Business Administration(SBA) and hosted by the Entrepreneur Fund. WBA programs aresupported by the SBA, and in 2020, the CARES Act, as well as by theEntrepreneur Fund. We thank the SBA for their partnership insupporting women entrepreneurs across our region.
Page 25
I HAD NEVER HAD TO BORROWANY MONEY BEFORE. THEENTREPRENEUR FUND HELPEDME FIGURE OUT MY FINANCESAND WHAT I NEEDED. THEY HELPED ME COMMUNICATEWITH THE BANK AND THEN PUTMY PACKAGE TOGETHER, ANDMADE IT JUST A DOABLE ANDNON-INTIMIDATING THING.Little Falls, a small rural town in Central Minnesota located along theMississippi River may not seem the like most obvious place for "Minnesota'sone-stop baby shop," but that's exactly how Adelle Starin describes herbusiness, Baby's on Broadway, which has recently hit $1 million in sales.Baby's on Broadway encompasses everything a new mom will need on herjourney to motherhood.01Adelle has worked with the Women's Business Alliance since 2016. In early2020, she reached out about financing her business expansion to acquirenecessary licenses to bill insurance for medical breast pump equipment andconsulting. Those licenses have enabled Baby's on Broadway to become adurable medical equipment provider on a national scale. BABY'S ON BROADWAY | LITTLE FALLS Karin Kraemer, Owner of Duluth PotteryACCESSIBLE HELP WITH FINANCING24
Page 26
In late 2018, EF kicked off the Envest CapitalCampaign, with a goal to raise $2.5 million inequity to support $25 million in lending tomeet the increasing demand for businessfinancing across our region.By March of 2020, we had raised nearly 75% ofour goal and were planning a public launchevent to celebrate and invite new donors tohelp close out the campaign. COVID-19 had adifferent plan. Without the pomp andcircumstance, funders and supporters steppedup to the plate and helped close out thecampaign at a pivotal time.When we set out to raise $2.5 million, the intent was to leverage funds to extendand grow our lending over multiple years. Little did we know the funds raisedduring the Envest campaign would be essential to our COVID-19 relief response,allowing us to leverage additional sources of funds, mostly forgivable andnonrecourse loans, through partnerships with cities and communities across ourregion to provide critical support to businesses to weather the storm of thepandemic. In 2020, we closed over 500 loans totaling $20.1 million. This surpassedlending in 2019 by over 200 loans and $5 million. Without the generous support ofour donors, this necessary increase would not have been possible. We look forward to the day when we can all come together to celebrate the spirit ofsmall business across our region. Now with greater appreciation and awe for thededication of the entrepreneurial spirit that has carried many through these hardtimes. $2.5MILLIONRAISED
Page 27
$100,000 TO $249,000 $50,000 TO $99,000$10,000 TO $49,000$25MILLION$1,000-$4,999UP TO $999FOR SMALL BUSINESS$5,000-$9,999$250,000 TO $500,000 Thank you to our community of Envest donors.Blandin FoundationDuluth Economic Development Association (DEDA)Iron Range Resources & Rehabilitation (IRRR)Otto Bremer TrustNational Bank of CommerceSt. Louis CountyWisconsin Business Development Corp.Bush FoundationUS Department of Agriculture (USDA)Members Cooperative Credit UnionAnne PossisNorth Shore Bank of CommerceSecurity State Bank HibbingJohn & Julie FoucaultPascha & Abbot ApterTimberlake LodgeDiane & Terry WeberGreat River EnergyJMR Financial Rural Living EnvironmentsJack RyanNewmark EnterprisesScott HarrisonNelson Wood ShimsMike CarlsonKatrina Lynn ConsultingMary MathewsChris & Johnnie FultonChris SwansonTerry LundbergStan Tull & Pat Campanaro IMO Nancy TullJanie MooreShawn WellnitzMichael LatterySteve & Kate SurbaughAnonymous (6)Mike HoldenAaron HaugenMaggie Becker IMO Terrence BeckerStephen C. & Alberta J. PetersonJulie GeorgeSandra VoigtJohn AchesonAndrew FincoSandi LarsonScott BradtBelvel "Jim" BoydNancy DoughertyBe.Media HouseDawn Hagen
Page 28
Earned Income43.8%Donations23.4%Federal Govt15.6%Foundations & Corporate12.5%State & Local 4.7%2020 FUNDING SOURCES8%Corporate &Foundations2727%Earned Revenue3%State & Local48%Federal14%EquityDonationsINVESTING IN RURAL COMMUNITIESART UNLIMITED | ANGORAWE WANT TO MAKE SURE THERE IS A QUALITY JOB FOREVERY GIFT AND TALENT OF OUR WONDERFULLY TALENTEDINDIVIDUALS THAT LIVE IN OUR AREA.Elizabeth Chapman, Co-Owner of Art Unlimited
Page 29
EF 2020 SUPPORTERS28U.S. Small Business AdministrationMN IRRR (Iron Range Resources & Rehabilitation)MN DEED (Department of Employment and Economic Development)Opportunity Finance NetworkDakota ResourcesCDFI FundU.S. Department of AgricultureWells FargoMidwest MN CDCDEDACity of Duluth Otto Bremer TrustBank of AmericaGreat River EnergyU.S. BankBlandin FoundationBush FoundationCommonSpirit HealthNorthland FoundationSt. Louis CountyNational Bank of CommerceThe Episcopal ChurchWisconsin Business Development CorporationNorth Shore Bank of CommerceWomen's Foundation of MinnesotaMembers Cooperative Credit UnionLloyd K. Johnson FoundationMN Dept. of AgricultureTCF BankLISC DuluthDuluth Superior Area Community FoundationFederal Home Loan BankInitiative FoundationAssociated BankCOGGS (Cyclists of the Gitchee Gumee Shores)A sincere thank you for making our work possible in 2020.
Page 30
2020Duluth, MN | Eveleth, MN | Grand Rapids, MN | Hibbing, MN | Little Falls, MNEntrepreneur Fund Offices Contact(218) 623-5747WebsiteEntrepreneurFund.org