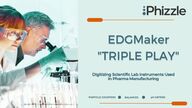 Return to flip book view
EDGMaker "Triple Play"
Page 1
Digitizing Scientific Lab Instruments UsedDigitizing Scientific Lab Instruments Usedin Pharma Manufacturingin Pharma Manufacturing
Page 2
Particle Counter Balance pH MeterThe EDGMaker platform now offers the ability to operateParticle Counters, pH Meters, and Balances at the sametime from one UI via the cloud.
Page 3
Climet CI- 1070 Particle CounterCISCO 829 RouterPARTICLEPARTICLECOUNTERCOUNTERRunning SampleReading Sample From Particle CounterReading Sample From UI
Page 4
BALANCEBALANCEMettler Toledo XRP4002SBalance UI Home Screen Balance Operation Reading Results on UIReading Results on Balance
Page 5
pH METERpH METERMettler Toledo pH Meter
Page 6
877-744-9953www.Phizzle.comCLICK CLICK HEREHERE FOR A FOR A "TRIPLE PLAY" DEMO."TRIPLE PLAY" DEMO.