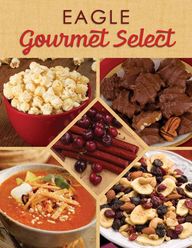 Return to flip book view
Eagle Gourmet Selects
Page 1
Page 2
Enjoy Life & Ea Chocolae Chocolaes Have no PHO.Deluxe Pecan ClusersChocolaes con nuecesLarge roasted pecans are covered in caramel then covered with creamy milk chocolate. 8 oz. box. U110 • $14 Peanu Buer BearsO de chocolae con relleno de crema de cacahuaeAdorable milk chocolate bears are bursting with smooth peanut butter cream. 6 oz. box. U113 • $122Large Pecans Make This Deluxe Cluser!
Page 3
ChocolaeBringHappinessDark Chocolae Sea Salt CaramelsChocolaes sal de mar caramelA flavor sensation with chewy caramel surrounded by rich, dark chocolate and sprinkled lightly with sea salt. U 6 oz. box.112 • $12Chocolaes Have no PHO.Enlish Buer ToeeChocolae cremo con crema de almendrasCrunchy toffee handcrafted in small batches, drenched in milk chocolate and dusted with almond slivers. UU 6 oz. box.111 • $143Handcrafed ToeeSea Salt Caramel I A Tasy Trend
Page 4
4Cranberry Nu mixL arándan mezclaron con varias tuercasCranberries, raisins, peanuts, cashew halves, banana chips, almonds and walnuts. 7 oz. pull top can.114 • $11Chocolae Cvered PeanusCacahuees cubiert en chocolaeFreshly roasted and lightly salted peanuts double dipped in milk chocolate. 9 oz. pull top can. U117 • $12 Pack A Snack To Go!A Yummy Favie!
Page 5
5ConvenienresealableCansHo Caun CrunchCombinación cauna, Picane y caliene de CruidoHot cajun corn sticks, cajun peanuts, pretzels and sesame sticks. 7 oz. pull top can.115 • $11Honey Roased PeanusCubrió cacahuaes en la mielHoney and sugar sweeten these freshly roasted peanuts. 9 oz. pull top can. U116 • $11Ho & Spicy Snack Mix!
Page 6
Whie Cheddar PopcnCheddar blanco palomiasTender popcorn with white cheddar cheese. 10 oz. bag.119 • $15 6Crunchy Gourme PopcnGourme Caramel Cn with NusCaramelo con nueces de ourme revistió esquies Popcorn, almonds and pecans generously coated in buttery caramel. 1 Lb. extra value bag. U118 • $16Large 1 PoundExra Value Bag!Top Seller!
Page 7
Cheddar Ranch PopcnPalomias de maiz de queso y ranchoCrunchy cheddar popcorn with ranch seasoning make a real zippy snack. 10 oz. bag.120 • $15 Bualo Cheddar PopcnQueso y caliene de cruido palomiasHot buffalo spice combined with zesty cheddar cheese. 10 oz. bag.121 • $157New Flavs to SavKick Up The Hea With Ho & Zesy Bualo CheddarYou'll Lve This Zippy Ranch Flav!
Page 8
8VenisonBeefElkGaWild Game SnacksHicky Beef SausageOur famous hard wood, hickory smoked sausage is a favorite! Special cuts of beef and pork. 9 oz.1671 • $16Caun BBQ Ga SticksGator and pork done up in a special Louisiana-style seasoning. 7 oz.1652 • $16Jalapeño Cheddar Venison Sausage Venison with pork, jalapeños and cheddar cheese make an outrageously delicious snack! 9 oz. 1664 • $16Cherry Maple Elk Sticks Lean cuts of elk and a special selection of pork, maple and cherry flavor! 7 oz.1655 • $16
Page 9
9Louisiana Gumbo Soup MixMezcla de Gumbo al estilo LouisianaDOUBLE–PACK BOX! You can make your own New Orleans flavors at home with this Creole favorite! Add your own chicken, smoked sausage and/or shrimp for a delightfully hearty meal. Also makes a unique and delicious marinade - give it a try! Each packet serves 12.4007 • $16 Fiesa Soup Mix Trio Mix para sopa, conuno de 3All of our flavorful fiesta soups in our signature box! Includes one single recipe size packet of each: Taco Soup Mix, Chicken Enchilada Soup Mix & Tortilla Soup Mix. Each pack serves 6-8.4002 • $17Chicken Enchilada TortillaHeary Soup MixesThree Mixes In One Bx!Taco
Page 10
10Bon's Best Coee SamplerSiee sabes café que es la tierraSeven coffee varieties each make a 12 cup auto drip pot of flavorful coffee, one for each day of the week...Jamaican Me Crazy, Cinnamon, French Vanilla, Breakfast Blend, French Roast, Donut Shop Blend, Hazelnut Creme. A great gift! 2300 • $16 Coee & Swee CakesCinnamon Monkey Bread Mix Cinnamon bread will become your favorite treat with your morning coffee. Serves 15. 4005 • $12Funnel Cake Mix Mezcla de paseles de embudoDelicious memories of warm, sweet cakes eaten between roller coaster rides. 16 oz dry mix. 4006 • $1210Seven Varieies of Delicious Coee
Page 11
Cheese Ball Mix Trio Trio de bolas de queso Just add cream cheese and one packet for each of the following: Gusto Garlic Pesto (mucho gusto flavor with hints of garlic), Taste of Tuscany (robust with hints of garlic and onion), and Jalapeño Garlic (jalapeño pepper flavor with garlic, onion and other spices). Each packets serves 8-16.4004 • $17It's The Real DillJalapeño GarlicJalapeño Bacon CheddarGusto Garlic PestoBLTTaste of TuscanyDip Mix Trio Appeizer surtidoHomemade Gourmet's best selling dips packaged in one box. Includes a single recipe size packet of: BLT Dip Mix, It's the Real Dill Dip Mix, and Jalapeño Bacon Cheddar Dip Mix. Each packet serves 16.4003 • $17 Tasy Tri Of Mixes11
Page 12
TOTALSEagle Fund Raising#052020NAME OF SELLER (LAST):NAME OF SELLER (FIRST):SCHOOLGROUP/CLASS/PERIODDATE $ DUE11223344556789101112131415161718PLEASE MAKE CHECKS PAYABLE TO YOUR ORGANIZATION • THANK YOU FOR SUPPORTING OUR FUNDRAISER!PleaseRememberSafety When Selling.110110111111112112113113114114115115116116117117118118119119120 121120 1211652165216551655166416641671167123002300400240024003400340044004400640064007400740054005CUSTOMER NAME, ADDRESS & PHONEJane Jones, 123 Second Street (123) 456-7890example example example11 13$46.00# OF ITEMS# OF ITEMSDeluxe Pecan Clusters $14English Butter Toffee $14Dk. Choc. Sea Salt Caramels $12Peanut Butter Bears $12Cranberry Nut Mix $11Hot Cajun Crunch Mix $11Honey Roasted Peanuts $11Chocolate Covered Peanuts $12Caramel Corn With Nuts $16White Cheddar Popcorn $15Cheddar Ranch Popcorn $15Buffalo Cheddar Popcorn $15Cajun BBQ Gator Sticks $16Cherry Maple Elk Sticks $16Jalapeño Ched. Venison Sausage $16Hickory Beef Sausage $16Coffee Sampler Collection $16Fiesta Soup Mix Trio $17Dip Mix Trio $17Cheeseball Mix Trio $17Funnel Cake Mix $12Louisiana Gumbo Mix $16Cinnamon Monkey Bread Mix $12$ AMOUNTDUE$ AMOUNTDUE