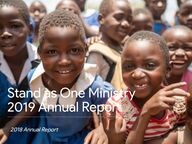 Return to flip book view
Annual Report 2019
Page 1
Stand as One Ministry
2019 Annual Report
2018 Annual Report
Page 2
Page 3
our vision
lives free from poverty
our mission
empower communities
Page 4
Page 5
Page 6
Kalulu Village
Kalulu Village was one of the least developed villages in central Malawi. Stand as One Ministry staff have been actively working in community development programs for the past five years. We have witnessed a slow progressive transformation of people's hearts and lives.
Page 7
Opportunities come, doors open, and God leads. In 2019 we added Mitongwe Woodland Reserve to our areas of focus in Malawi. This 350ha property is in the southeast corner of the country, giving us 150ha of agricultural land and 200ha of mature natural forest. We are partnering with Charity Hands, a Dutch organization, to continue programs affecting poverty. Our mission is to run the Chisomo Training Center, which is on-site, working to train Foundation for Farming techniques and education, create a worship center with youth clubs, sports camps, and vacation Bible Schools, and offer animal husbandry.
Mitongwe Woodland Reserve
Page 8
Page 9
Dear children, let us not love with words or tongue but with actions and in truth. I John 3:18
love conquers all
Page 10
Page 11
healthcare
In October we held a "Days for girls" workshop in our new Chisomo Training Center and in Kalulu Village. We provided education and then handed out 40 reusable cloth menstrual kits at each session. The girls listened so attentively to the teachings and were beyond excited to receive these practical kits. At both sessions, they thanked and blessed us by singing for us - so amazing! The kits were sewn by a fabulous group of ladies in Smithers. Stand as One is impacting these girls through education, as they will now be able to stay in school during their cycles, and through understanding personal hygiene and health.
Page 12
Page 13
nutrition
Every week we serve hundreds of cups of soymilk and soy patties to the children in Kalulu Village. The soy has improved the health of the children, they are more attentive, sick less often, and growing. The youth club makes the soymilk and along with Royson and Isaac, serve the children during their Kids Program. Stand As One is impacting health, growth and development.
Page 14
Page 15
education
A government school for the area is leasing land on our Mitongwe property. There are up to 900 children in attendance, depending on the season. We have improved the school by painting the building and fixing the roof. We have now begun teaching the training in Foundations for Farming, and a school feeding program has begun in 2020, as well as other improvements. Stand As One is impacting by keeping children in school with improved programs and facilities, and by providing meals which has increased attendance by 25%.
Page 16
Page 17
Kalulu families make a living working as farmers on their own land and they farm their land to sustain their families. But what we saw early on was that many of these families were using a lot of energy and expense to do the work of farming, with very limited results at the end of the growing season. They did not have enough food in their homes, nor were they making any profit to provide in other ways. So we began a training program using the Foundations for Farming methods. And we have seen the effects of this training on many levels: families, communities, children, spiritual lives, and even the soil have been impacted! Lives are being changed, through farming paired with discipleship.
training
Page 18
Page 19
Stand As One knows we need to 'equip with knowledge' to impact poverty. Training in animal husbandry, compost making, improved seed quality, and goat raising has made a huge impact already in Kalulu and now our prepared team at the farm will impact thousands more.
knowledge
Page 20
Page 21
While visiting Malawi in October 2019 with our team, we met with the chiefs, teachers, and community leaders from the area surrounding the Mitongwe Woodland Reserve. We shared our vision and how we can work together to build healthy communities. We prayed with the villagers and after the meeting shared a meal together. They left excited and since then Deon reported a real change in the community spirit. They understand that things will change if they take ownership of the programs and that we walk alongside them to build their communities.
community building
Page 22
Page 23
Gogo Grandparents in Malawi. "Gogo" is the word for grandmother/grandfather. Many gogos are burdened with raising a whole new generation of orphaned grandchildren due to the devastation of HIV/AIDS. They have lost their adult children who traditionally were their "social security", caring for them in their old age. Now they have orphaned grandchildren to love, feed, raise and educate. Most gogos live in mud-brick and thatched-roof huts--sleeping on grass mats on a dirt floor. They have very little land on which to grow maize, the food source that needs to last all year. We are helping them by providing food to get them through to their next harvest. senior care
Page 24
Page 25
Village life in Malawi is filled with many challenges affecting community well-being. Royson and Isaac have weekly sessions teaching Biblical truths about love, respect, or kindness, which is now impacting the way that people are treating each other. The children sing and play together and join in with community work. The adults also attend sessions under the mango tree where they learn that it's better to work together than to be jealous of each other. They have started their own cooperative to benefit each other - impacting their community.
bring hope
Page 26
Family Sponsorship. An experience of a lifetime for Joel, a sponsor, was meeting his family, Chipangano and Mary Wilson, in person. Hearing about their lives and the impact of increased food security, home improvements, and a better life, was profoundly moving. Your impact has 54 families sponsored. Some fun was had when they shared a first time experience for the family; a "selfie"!
Page 27
Page 28
Our Infant Rescue Program continues to serve more than 85 babies each day with baby formula, developed specifically for malnourished children. Nicole is alerted when a baby is in distress, she visits the village to talk with the family and make a plan. Stand As One provides the formula for the baby for up to two years, keeping them healthy and out of the hospital.
Page 29
Page 30
Page 31
Ebenezer Christian School in Nkhoma, Malawi continues to excel. Our donors sponsor 15 children, providing funds for fees, uniforms, supplies, and exceptional opportunities.
equip future leaders
Page 32
Meet the Team
Deon and Sarah (top left) manage our new Mitongwe Woodland Reserve. Deon manages up to 50 staff (pictured on the next page); operating the farm, teaching Foundations for Farming, animal husbandry, and much more! Jeremiah and Hildah (top right) also work on the farm and they are the spiritual leaders, hosting youth programs, worship services, and liason with village leaders. We are the biggest employer in our Kasinji area!
Isaac and Royson train Foundations for Farming in Kalulu village, lead the youth program, adult and kids Sunday School, and develop our land. Karin (bottom right) takes care of all the administrative work for Stand as One Malawi, supervises our Kalulu team, and so much more!
Page 33
The staff at Mitongwe Woodland Reserve and Chisomo Training Center
employment
Page 34
Page 35
bring volunteers & partners
We now have a completed guesthouse to comfortably accommodate our volunteers and partners, so even more, can be involved and impacted.
Page 36
Page 37
Once again we thank Alpha Foundation for funding the food programs in Myanmar. In 2019 we provided over 3 million meals to Children's Homes, IDP camps and emergency situations, of which there is no shortage.
nutrition
Page 38
Page 39
Acha runs a weekly afterschool program for Street Kids in the slums of Yangon. We have donors funding the daily program and the 4 weekly camps that she hosts 4 times per year. The camps have around 200 kids attending. Because of her programs, the kids have a meal, some Acha love, truth from the Bible and hope!
kids club
Page 40
Page 41
children's homes
This work is funded by Alpha Foundation. There are over 700 children whose lives are improved through our involvement in their children's homes. We provide nutrition, plus funds for tutoring, health check-ups, school uniforms, and supplies.
Page 42
Page 43
Page 44
Page 45
We Raised $42,541!
Saturday, Oct 5th saw 79 participants cycling and walking in our major fundraiser of the year. We had teams in Victoria, Smithers and Fraser Valley. There may have been the wind, but there were also smiles and laughter and the thrill of a job well done.
Join us October 3, 2020 for the next Ride for Refuge.
Page 46
Thanks to the hard work and generosity of so many, 2019 was our most impactful year yet. We were able to raise more money, send more money to the field, and change more lives than ever before.
Our operational costs are funded by private donors and foundations making it possible for us to use 100% of all your donations for our projects.
Page 47
We hope you've enjoyed learning about what God has done in and through Stand as One Ministry in 2019. We look ahead to 2020 and know that whatever we accomplish will be by the grace of God and His provision through the generosity of YOU our partners.
We' love to hear from you! Do you have any questions about our projects? Do you have any comments or ideas you would like to share with us? Please feel free to send us a message and we will connect with you!
Dan and Irene Schat
www.standasoneministry.com Thank you for your 2019 Impact!