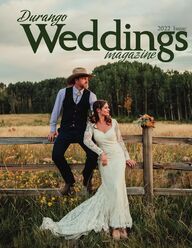 Return to flip book view
Durango Weddings Magazine - 2022 Issue
Page 1
Durango Weddings Magazine 1
Page 2
2 durangoweddingsmagazine.comFrom the bride...THE VENUEWe chose to have our wedding at Double R Ranch up in the La Plata Mountains. We wanted to share with our family and friends the things that make Mancos, Colorado so special and the reason we chose to live here: the rural tight-knit community, the incredible access to the mountains, and the old growth aspens in the fall. e Double R Ranch is located at 10,000 feet on 200 forested acres; it was perfect with lodges, yurts, and facilities to accommodate our entire immediate family and guests. Plus, their check in and out process was easy. It also has a huge permanent tent structure, electricity, parking, and bathrooms for the reception which was amazing. e ranch provided us a place to gather with family and friends. It was cost-eective compared to all the potential options in southwest Colorado and the manager and owner were easy to work with and very accommodating in making sure we were taken care of.KELSY & Kyle THE COVER COUPLE
Page 3
Durango Weddings Magazine 3I wanted our wedding to capture the essence of Mancos; our town has dirt roads, no streetlights (which allows you to see the milky way from anywhere in town), and is a town largely built of agriculture and cattle. We locally sourced all our vendors, foods, and beverages. All the details were curated to proudly display our beautiful local community and landscape that we love so dearly.
Page 4
4 durangoweddingsmagazine.comTHE CEREMONYWe had our ceremony in the aspen grove without an arch. We wanted it to be organic and natural, not staged. Our 200 guests easily t inside the aspen grove. e highlight was walking down the aisle to see my husband holding our baby daughter surrounded by friends and family.
Page 5
Durango Weddings Magazine 5LOOKING BACK Double R Ranch was the perfect stage - with changing aspens, late fall wildowers resulting from a long monsoon season, and for the grand nale, the most vibrant sunset I could ask for. It was the experience of a lifetime for those who had never been in mountains like this, and it was one of the best southwest Colorado days a girl could ask for.Seeing all my favorite people gathered in the mountains made the entire reception special.Featured Vendors » VENUE: Double R Ranch / RENTALS: Durango Party Rental / PHOTOGRAPHER: Kelsey Elizabeth Photography / CATERER: Durangourmet COORDINATOR: Emily's Etiquette and Events / DESSERT: Eat Me Cakery / LIQUOR: Fenceline Cider & Mancos Brewing / FLOWERS: Flower Sippery Farm / BAND: Banshee Tree THE DECORI wanted it to be cost-eective and naturalistic. My husband took some logs from our yard and cut centerpieces. My mom painted and sanded a bunch of Mason jars for the owers. Our neighbor provided us deer antler sheds to accompany the other items. It was absolutely perfect and simple; it went very well with the ranch and our country chic vibe.KELSY & Kyle
Page 6
6 durangoweddingsmagazine.comCassidee & wyattFrom the bride…We live in Texas but chose to get married at Purgatory Resort since it was our rst Spring Break ski trip together as a couple. e resort oers gorgeous mountain views, delicious food, and amazing bartenders. We are so happy we got married at Purg. My owers were AMAZING! April's Garden created a modern, western, boho oral vibe with earth tones and gold metal; it was exactly what I wanted!THE CEREMONYe ceremony was my most favorite part of our wedding day. e site overlooked the mountains, it was perfectly decorated with pampas grass and owers that stood on a cowhide. Having that amazing mountain view while getting married makes you feel like you're the only ones there.
Page 7
Durango Weddings Magazine 7
Page 8
8 durangoweddingsmagazine.comOur guest book was an old guitar of Wyatt's, it was a big hit with the guests.Featured Vendors » VENUE: Purgatory Resort FLORAL DESIGNER: April's Garden PHOTOGRAPHER: Emily Francis Photography HAIR & MAKEUP: Summer Blonde Co.DJ: Aiko AIko Sound
Page 9
Durango Weddings Magazine 9Looking back on the day, it was perfect. To have your family and closest friends celebrate you with so much love and emotion was an incredibly sweet feeling.ADVICE: Do exactly what you want! No matter who is telling you otherwise, besides a vendor's advice. Be organized. Speak up when something isn't correct. Enjoy the day and don't get wrapped up in controlling it. You're marrying your best friend and you need to take it all in.Cassidee & wyatt
Page 10
10 durangoweddingsmagazine.comFrom the bride…We wanted a simple, yet elegant wedding with a focus on the beautiful mountain views and nature surrounding our venue at Ridgewood Event Center. Two hawks ew over and screeched at dierent points in the ceremony.THE CEREMONYe ceremony took place outside with the La Plata Mountains in the background. We had an aspen arch decorated with owers and bouquets in the aisle at the end of each row of chairs. e family of the bride sat on the groom's side and the family of the groom sat on the bride's side. So the families could see their respective family member's face and have the groom's family sit in support of the bride and the bride's family sit in support of the groom.Marin & DANIEL
Page 11
Durango Weddings Magazine 11My favorite detail was all the owers designed by Joan Alford. ey were gorgeous!
Page 12
12 durangoweddingsmagazine.comTHE RECEPTION: Dining was family style. Tables were decorated with greenery and bouquets of owers. Place settings were white and gold with blush velvet napkins and matching table runners, glassware was vintage style crystal. Each setting had mini jars of local honey from Honeyville.Featured Vendors » VENUE: Ridgewood Event Center / PLANNER, STYLIST, & FLORAL DESIGN: Ridgewood Rentals PHOTOGRAPHER: Ginger Moose Photography / CATERER: Et Voila Catering / CAKE: Eat Me Cakery / DJ: GB Entertainment
Page 13
Durango Weddings Magazine 13ADVICE: Start planning early and do things slowly, one at a time. It can get stressful if you wait until closer to the wedding to do too many of them!Looking back, a lot of people have at least one thing that they would change about their wedding, but we think ours was pretty perfect!Marin & DANIEL
Page 14
14 durangoweddingsmagazine.comBROOKE & WYATTFrom the bride…We knew we wanted an outside summer wedding where guests could experience the natural beauty of Durango. We also wanted an event where everyone felt like staying until the end.THE PLANNINGI attended the Durango Wedding Expo a couple months before our wedding with my mom. It was a highlight of the wedding planning process for me and more helpful than I can put to words. It was so nice to see examples and have an opportunity to meet who we would be working with. ere were so many things I had not even considered, and I wouldn't have been able to include them in our wedding if I hadn't gone to the Expo.THE VENUEWe had attended several events at River Bend Ranch and knew it was the perfect choice for our day. It was so much the perfect choice, we didn't even look or consider anywhere else. Being a ranch, it has a rustic and casual feel with willow trees, ponds, and red rock clis in the background.
Page 15
Durango Weddings Magazine 15THE CEREMONYWe got married under the grand willow tree with the pond as our backdrop. When I reached the end of the aisle, our dog Oscar started howling; it was one of our favorite memories from the day.
Page 16
16 durangoweddingsmagazine.comWyatt and I have been going to concerts with our friends since we started dating and it was important for us to have some music related details. We used vinyl records for our guestbook and our favors were music themed cookies.Every moment felt so memorable. Everyone was partying, dancing, and the joy was overowing.Looking back, we both wished we were able to say thank you to each of our guests who attended our reception, but we kept getting interrupted during our rounds with everything going on. I also completely forgot to take individual photos with each of my bridesmaids because we were too busy having fun!ADVICEEven though wedding planning can be stressful, remember to enjoy the process and have more fun than worrying about everything being "perfect"! In the end, it all will work out and you get to marry your best friend.Featured Vendors » VENUE: River Bend Ranch / EVENT PLANNER: Brittney Ahrens / FLORAL DESIGNER: Adela Flora / PHOTOGRAPHER: Allison Ragsdale Photography DRESS: Katerina's Darling Bridal / COOKIES: Spring Creek Bakery / CAKE: Skillfully Decadent / PHOTO BOOTH: Snap Shack / RENTALS: Any Event Rental HAIR & MAKEUP: Hair Fusion / SIGNS: Blue Leaf Design Co. / DECOR: Belle and the Bear / DJ: Stephen Sellers / LIQUOR: Star Liquors BROOKE & WYATT
Page 17
Durango Weddings Magazine 17Tanaya & AlejandroFrom the bride…We chose a small wedding to make it easier to connect with everyone who attended. We wanted to create an atmosphere that allowed everyone to make precious memories. I wanted the style to really stem from my traditional regalia and beadwork. My heritage is a big part of who I am and how I walk in this world; I wanted to incorporate it into this important life event.As soon as I saw LePlatt's Pond I knew that's where I wanted to have my wedding.HANDMADE DETAILSMy beadwork, beaded collar and wrist cus, were gis from my mother. My moccasins were made and beaded from an elder from our tribal community. My mom made each of the groomsmen and the groom ribbon shirts, the ribbons matched the colors of my beadwork.
Page 18
18 durangoweddingsmagazine.comTHE CEREMONYMy mom walked me down the aisle. My mom has always been a erce, loving, and encouraging force in my life. I'm her baby and I wanted her to be the one to give me away. As soon as she took her arm in mine, I started tearing up. I was so overcome with happiness it was hard to hold back the tears.In our tradition, when the couple is married you wrap them in a blanket. With everything going on, the one detail we forgot was the blanket, we le it at my mom's. e ociant called my mom to come up to the front and be the blanket. It got a good heartfelt chuckle from everyone and it was so moving. For me, it symbolized our family is what helps hold us together. e ceremony was beautiful. My ociant has known me since I was a little girl and he's always called me an eaglet waiting to grow into an eagle. Now, I can y. He incorporated humor and wisdom in his ceremony. It was everything I dreamed of.
Page 19
Durango Weddings Magazine 19For me, one of the highlights was our rst dance. We danced to Anne Murray's, "Could I have this dance?" I chose it because I grew up listening to country with my grandparents, I was so close to my maternal grandparents. We lost my grandpa when I was in high school, and we recently lost my grandma. We were all so sad to lose her. I know even though she couldn't be there physically, she was there in spirit. I know she was smiling as we danced to Anne Murray.Featured Vendors » VENUE: LePlatt's Pond / RENTALS: Durango Party Rental / FLORALS: Linnaea Design / DJ: Oscar Cosio PHOTOGRAPHER: Kara Cavalca Photo + Video / CAKE: Sweet & Sassy Treats / CATERER: Durangourmet Tanaya & Alejandro
Page 20
20 durangoweddingsmagazine.comNicole & NATEFrom the bride...is was a destination wedding for us. Durango was the rst trip Nate and I took as a couple, we fell in love with the area and the breathtaking mountains. We have explored almost all of Colorado on our adventures and southwest Colorado is, hands down, the most beautiful. We wanted our guests to experience southwest Colorado like we know it -- to us that meant a mountaintop setting, wildowers, pine trees, and dirt roads.THE VENUEWe chose Dante's ceremony site at Purgatory Resort. e views are stunning and we liked that our guests could stay at the resort. ere are tons of activities at Purgatory so most of our guests made a vacation out of it and spent time exploring the area.
Page 21
Durango Weddings Magazine 21We worked with April's Garden for our bouquets and large ower pieces at the altar -- they knocked it out of the park and their arrangements were amazing.Our German Shepherd, Dakota, was our ring bearer. One of our favorite moments was watching her come down the aisle.
Page 22
22 durangoweddingsmagazine.comLooking back, I would hire a day-of wedding coordinator. It was dicult to coordinate things while also being the bride and a lot of work fell to friends and family. I think it would have helped to have a go-to person for the wedding day.ADVICETrack your budget.Keep a binder with contracts and contact info.For Dante's, it is important to know that no personal vehicles are allowed, guests cannot drive up to the venue. Everyone has to travel in shuttles, so plan accordingly for pick up and return down the mountain at the end of the night. Purgatory was very accommodating, but you must communicate shuttle times with your guests.Featured Vendors » VENUE: Purgatory Resort / FLORAL DESIGNER: April's Garden / PHOTOGRAPHER: Ginger Moose Photography / HAIR & MAKEUP: Deloro Salon Nicole & NATE
Page 23
Durango Weddings Magazine 23Featured Vendors » VENUE: Double R Ranch / FLORALS: Lady Southwest PHOTOGRAPHER: Shutterfreek / HAIR: Jamie Does Hair / MAKEUP: Blush AestheticASHLEE & NICHOLASFrom the bride...I wanted a beautiful, fall wedding. I love the striking colors the aspen leaves and oak brush bring out and wanted to mix in jewel tones to accentuate these colors.THE VENUEWhen we visited Double R Ranch, we were blown away. e ranch is truly breathtaking, and the accommodations are amazing. We ended up renting out the whole ranch and are so happy we did; we were able to accommodate our bridal party and our families.e most memorable moment was the beautiful sunset we were blessed with that evening.THE CEREMONYIt was a beautiful fall day. e moment I walked down the aisle and locked eyes with Nicholas was the moment I dreamed of. We exchanged our personal vows; his vows were beautiful, and I will never forget how special this day was.
Page 24
24 durangoweddingsmagazine.comsierra & kevinFrom the bride...We wanted to celebrate our day with a small group of our closest friends and family in a place that is dear to us. We wanted it to be a weekend event with camping, quality hangout time, and mountain wildower frolicking!THE VENUEKendall Mountain Community Center in Silverton was the perfect location for our weekend. It had great facilities, camping, and a ceremony eld with mountains all around. It was perfect for us.THE FLORALSWildowers were our inspiration. We got boxes of owers and went wild making all of the owers for the weekend. It was great hangout time and a fun way to kick o the weekend!THE RECEPTIONe reception was held on the deck and main room. ere was plenty of space, huge windows oering mountain views, and an open oor for dancing.
Page 25
Durango Weddings Magazine 25Featured Vendors » VENUE: Kendall Mountain Community Center, Town of Silverton / RENTALS: Durango Party Rental PHOTOGRAPHER: Ginger Moose Photography / CATERER: Durangourmet / DJ: Codestar Entertainment
Page 26
26 durangoweddingsmagazine.com
Page 27
Durango Weddings Magazine 27From the bride…We both live in Denver with family in Phoenix, and the Durango area was a perfect "in the middle" place for our guests. We couldn't have picked a better area to get married in, and the scenery around us made it even better.THE FLOWERSWe wanted a bohemian vibe with a lot of greenery and orals. Joan Alford designed everything and she did an amazing job! She incorporated all our colors (terracotta red, peach, grey, pinks, tans, and white/cream) and created the most beautiful bouquets.THE CEREMONYWe held our ceremony outside, with the mountain scenery behind us. It was a gorgeous day; we were blessed with amazing weather. Walking down the aisle and seeing Zach for the rst time was so special. I am so glad we didn't do a rst look and were able to have a special moment of seeing each other for the rst time, right before we were married.AMBRIA & ZACH
Page 28
28 durangoweddingsmagazine.comTHE RECEPTIONe dinner part of our reception was outside under the tent. Aer dinner the barn reception area opened for dessert and dancing. It was so fun. is setup allowed people to get inside for a little bit but those who wanted to stay outside could. We also set up re pits outside for s'mores and tables where people could gather and talk.e reception decor was beautiful and exactly what we envisioned.
Page 29
Durango Weddings Magazine 29Featured Vendors » VENUE: Ridgewood Event Center PLANNER, STYLIST, RENTALS, FLORAL DESIGN: Joan Alford, Ridgewood RentalsPHOTOGRAPHER: Wild Dawn PhotographyHAIR: Jamie Does HairADVICEHaving a wedding coordinator or planner was so helpful to us. It really allowed us to enjoy the wedding and the day while also relieving most of our stress beforehand. It was also valuable to have someone who knew what they were doing and who we could go to with any questions or concerns about our day. e day of the wedding our family and friends were able to celebrate together without worrying about any of the extra details which was so special!AMBRIA & ZACH
Page 30
30 durangoweddingsmagazine.comFrom the bride...We are both from dierent states, Louisiana and Georgia, and we decided a destination wedding in Durango would be the perfect place to share a good Colorado experience with family and friends.THE CEREMONY We had a traditional Catholic ceremony at St. Columba Church. Looking back, I will never forget the feeling of reciting our vows to one another, it was so meaningful.ASHLEY & TYLER
Page 31
Durango Weddings Magazine 31Featured Vendors » VENUE: River Bend Ranch / PHOTOGRAPHER: Kara Cavalca Photo & Video / EVENT PLANNER: Emily's Etiquette and Events / FLORALS: Adela FloraWe did a photo challenge where we had to take a picture with each of our guests during a three-minute song. is was a great way to greet all our guests and make sure we had a picture together before the night was over. I highly recommend doing this!THE RECEPTIONRiver Bend Ranch was our top choice when looking at venues. e red rock mountains that tower over the ranch made for gorgeous pictures at every angle. We wanted to be outside for most of the reception; River Bend Ranch gave us an opportunity to keep the large expandable doors open and have guests seated inside and outside of the barn. e owner, Dan, was kind and very reliable.Our favorite part of the day was dancing and singing with our friends.Our favorite part of the day was dancing and singing with our friends.Our favorite part of the day was dancing and singing with our friends.
Page 32
32 durangoweddingsmagazine.comChristi & GaneshFrom the bride…We had a colorful Indian/American fusion wedding. We made elephant keepsake ornaments for every guest out of clay, decorated with fun elephant sculptures, and created a colorful oral backdrop for pictures with handmade chalkboard signs.THE VENUELePlatt's Pond is beautiful and relaxing, the location was perfect for us. e pond made everything even more beautiful. e tent was classy and decorated with gorgeous chandeliers. We loved our venue so much.THE ATTIREI wore a high collared, lace ball gown and the bridesmaids wore dierent jewel tone-colored dresses with Indian scarves and bangles. e groomsmen wore blue suits with colored ties that matched the bridesmaids' dresses.THE CEREMONYOur ceremony was simple and representative of our faith, values, and culture. Exchanging Indian garlands as a unique unity ceremony and singing a favorite Christian song together were memorable moments.Looking back, I would have planned less downtime between the ceremony and the dinner.ADVICEPlan a wedding that ts your personality, represents your values and cultures, and everyone will enjoy it.
Page 33
Durango Weddings Magazine 33Featured Vendors » VENUE: LePlatt's Pond / HAIR: Hair Fusion / PHOTOGRAPHER: Ginger Moose Photography / FLORALS: Bride's Mother
Page 34
34 durangoweddingsmagazine.comNikki & JakeFrom the bride...Jake and I got engaged at Andrew's Lake in October of 2020. We had no doubt in our minds that we wanted to get married at Pur-gatory Resort.THE CEREMONYOur ceremony site at Engineer Meadow was surrounded by golden aspen trees. It gives me goose bumps thinking how beautiful and perfect it was!When I began walking down the aisle, Jake's best man touched him, which was his cue to turn around. When he did, he was already crying, it is something I won't ever forget. Jake later told me he heard everyone gasp and say "wow!" when I came out of the shuttle, and he couldn't help but start crying.Looking back, on our wedding day, it was perfect with so much love and laughter. ese are moments I will never forget.
Page 35
Durango Weddings Magazine 35Featured Vendors » VENUE: Purgatory Resort / EVENT PLANNER: Christy Foreman / FLORAL DESIGNER: Adela Flora / PHOTOGRAPHER: Allison Ragsdale Photography
Page 36
36 durangoweddingsmagazine.comFrom the bride…I took our personalities and threw them into the wedding. We are both from Texas and don't like to make too much of a fuss over things. e rustic style t us both well and the outdoor in October part was all my husband's doing.THE FLOWERSApril's Garden did an amazing job on our bouquets and boutonnieres. I told them what the color scheme was, sent a couple inspiration pictures and they were exactly what we envisioned.THE CEREMONYe weather was perfect. Looking at the alter alone was breathtaking with the view of the autumn-colored mountains. e most memorable moment for me was walking down the aisle for the very rst time as husband and wife. Seeing how happy everyone's faces were and having the owers oating all around us will forever be in our memories.Reagan & Ricky
Page 37
Durango Weddings Magazine 37Looking back, I would have communicated with everyone better. I thought my family and the wedding party knew what their responsibilities were and who needed to be doing what. When the day came some things were being dropped or picked up by someone else, it got a little hectic. I would denitely recommend a day-of wedding coordinator!My favorite reception memory was when my dad joined me on the dance oor aer he had a couple drinks. I have never seen him dance more than a two-step, but he dropped it low on that dance oor.ADVICE: It is so easy to get lost in the planning, inviting, and stress of a wedding when you're trying to make everyone else happy. I think it's important to plan your wedding the way you envision it. If y'all decide you want someone's help, set boundaries on where their help is wanted and not wanted.Featured Vendors » FLORAL DESIGNER: April's Garden / PHOTOGRAPHER: Kara Cavalca Photo + Video / VENUE: Paradise Ranch
Page 38
38 durangoweddingsmagazine.comFrom the bride...We held our wedding outside in a family member's pasture between Bayeld and Durango. We always wanted a simple backyard wedding. It was special to us to say our vows at the forever home of a family member. We wanted to be able to return to our spot over and over again. ere were perfect views of the mountains in the background and the most gorgeous sunset I've ever seen. THE FIRST LOOKWe debated not doing it at all and I am incredibly grateful that we did. Ty and I were very emotional the whole day and we wanted the rst time we saw each other to just be for us. I had the butteries so strongly as I walked down the road to the barn where Ty was waiting for me. Aer he turned around, we were both giddy. We immediately started crying, and laughing, and crying. He twirled me around and held me close; my goodness I had never felt more strongly that I was exactly where I was supposed to be, in the arms I was meant to be in. Sounds cheesy, I know, but I will never ever forget those moments. It also took the emotional edge o a little bit so during our ceremony we weren't sobbing the entire time.shannon & ty
Page 39
Durango Weddings Magazine 39THE CEREMONYOur ceremony took place beside a sweet little duck pond, beneath the arch Ty built and burned by hand. It was ociated by Ty's grandfather; he is such an important person in our lives, it was so signicant to us that he be the one to ociate our ceremony. e funniest bump in our ceremony was when we completely forgot about our wedding rings! We were so wrapped up in each other, the moment, our vows, that we were pronounced husband and wife and were about to head back down the aisle when someone in the front row yelled, "Wait, what about the rings!" We all took a few moments to laugh and then we redid our pronouncement and rst kiss aer exchanging rings. It never even crossed our minds!LOOKING BACKe only thing I would have done dierently was not stress so much about the little details leading up to the day. On the day of, I didn't care about any of them. ings I swore I would notice or check on, I didn't. e day was about having fun and none of the little stu even crossed my mind. I could have saved myself a lot of angst during the planning process.ADVICEAsk for help from your people when you need it! I know it's hard to ask but people want to help. Our family went above and beyond, they worked so hard, and we couldn't have pulled the day o without them. Don't put too much pressure on the little stu, none of them mattered in the end anyway. I was worried about the placement of the centerpieces, where things were going to be located, and every other little detail but the day itself was not about any of those things and in the end, I didn't care about it. DO FIRST LOOK PHOTOS! I can't say how grateful we are for those private moments.PHOTOGRAPHY by Kara Cavalca Photo & Video
Page 40
40 durangoweddingsmagazine.comFrom the bride…We wanted a boho wedding in the snow with a little winter sparkle.FIRST LOOKWe met on the dock, overlooking the snow dusted mountains. It was a very special moment and nice to have a few private minutes to breath and take in our special day together. en we exchanged our vows privately to each other.THE CEREMONYOur ceremony was in the snow overlooking the Animas Valley and the mountains. e sun peaked out just in time and it was breathtaking. It was a very memorable and special ceremony for us all.TAYLOR & GERALD
Page 41
Durango Weddings Magazine 41Featured Vendors » VENUE: River Bend Ranch / PHOTOGRAPHER: Ginger Moose Photography DJ: Durango DJ & Audio / BARTENDERS: Thirsty Rooster Trailer BarOur ring bearer was brought down the aisle in an old antique wooden sleigh pulled by one of our ower girls. e groom was surprised by one of his best friends who came down the aisle as a "Flower Guy." He had a basket of owers and skipped down to "Counting Flowers on the Wall" by the Statler Bros. e groom was completely surprised, and everyone got a good laugh.We enjoyed mingling with our guests and dancing the night away.Our rst dance to "In Spite of Ourselves" by John Prine, we sang to each other, and everyone got a kick out of it.ADVICEMake sure to have a private moment together to take it all in and breath. It can all be a little overwhelming and you need to pause to take it all in.
Page 42
42 durangoweddingsmagazine.comJESSICA & CARLOS
Page 43
Durango Weddings Magazine 43From the bride…is was a destination wedding for us, we live in Oklahoma, and Durango is our favorite vacation spot. We visit a few times a year and adore the mountains in the fall. e natural beauty in Durango is unmatched. We really wanted the fall colors to be our wedding backdrop, and the wedding photos still take my breath away.THE PLANNINGI spent a lot of time looking at the photos and researching the venues featured in Durango Weddings Magazine. We chose our vendors based on weddings we saw in the magazine.THE FLORALSWe hired April's Garden and I can't say enough about them. e arrangements and bouquets were perfect. Colleen really knows her owers; we ended up taking all her recommendations and I couldn't be happier with the results.THE CEREMONYOur ceremony was small and mostly family. My favorite memory from the ceremony is when we exchanged vows. Promising to love and honor Carlos for the rest of my life, in front of our family and friends, was a special moment I'll never forget.THE RECEPTIONOur reception was held at Cascade Village, it was perfect for what we had in mind. e views from the second oor are spectacular, the building has a rustic feel with lots of windows and mountain views. ey have a beautiful meadow nearby that was perfect for our pictures.THE FIRST DANCEWe took lessons for months before the wedding, we both have two le feet, and our rst dance was arguably the most nervous part of our day. We even snuck away aer pictures to walk through the dance a couple times to make sure we remembered all of the steps. It was amazing once the music started everything and everyone except for Carlos and I melted away; it was just the two of us enjoying a dance together, to a song that has a lot of meaning for us as a couple. I still tear up when I think about it.ADVICEWeddings are expensive, but don't skip the videographer. ere were many details and moments I missed because of all that was going on. e day went by so quickly and our attention was pulled in a million dierent directions. Our video caught so much I didn't get to see and I'm really grateful for that. Memory insurance is a real thing, get the video if you can.Featured Vendors » RECEPTION: Cascade Village / FLORAL DESIGNER: April's Garden-PHOTOGRAPHER + VIDEO: Kara Cavalca Photo + Video / HAIR: Jamie Does Hair
Page 44
44 durangoweddingsmagazine.comFrom the bride…I always wanted to be married by a pond in a natural setting in Colorado. We both agreed nding a destination venue that could accommodate all our close family and friends, as well as honored guests, was a high priority. We knew we wanted the full shebang, rehearsal dinner and reception included with a fun, lighthearted, celebratory feel that was also very elegant. LePlatt's Pond provided all the above and more.Getting married at LePlatt's Pond was a match made in heaven.We wanted to be married at LePlatt's Pond as soon as we saw it. e venue features a 10-acre pond as the backdrop to an outdoor ceremony area that seats 200 guests. e reception tent is a stone's throw away and has plenty of room for dinner and dancing. e tent itself is large with a vaulted ceiling. e re pit is a great option we requested as well. ese features, combined with the natural beauty of the setting and the helpfulness of the sta is why we chose to be married at LePlatt's Pond.THE CEREMONYe ceremony area was near the pond with the altar under a big arbor in front of several rows of benches. We decorated the benches with signs that had the biblical attributes of love written on them and the arbor itself was decorated with owers.My favorite memory was looking around and seeing all the people we know and love, all around us having a great time.ADVICEOn your special day, sit back, relax, and enjoy. It will be perfect and will turn out just the way it is meant to.BRIANA & ALDEN
Page 45
Durango Weddings Magazine 45Featured Vendors » VENUE: LePlatt's Pond / EVENT PLANNER: Lacy Graff / FLORAL DESIGNER: Adela Flora / CAKE: Afternoon Delight Bakery CARRIAGE: Spring Creek Carriage Service / PHOTOGRAPHER: Jose Alfredo Photography We found southwest Colorado to be a beautiful, picturesque, and accessible destination wedding location for our family and guests.
Page 46
46 durangoweddingsmagazine.comJulianne & Carl From the bride... It was the perfect day. Vallecito was the perfect backyard for a beautiful, scenic outdoor Colorado wedding, and was a wonderful vacation destination for our guests.THE FLORALSApril's Garden went above and beyond with our owers! We had a unique, bold, and exquisite oral arrangement complete with 4 wooden slat vases at the reception, Mason jar oral arrangements on the tables, beautiful bridal and bridal party bouquets. We also had arrangements on the venue gate, on a wine barrel for photos, and on the welcome sign. e cake had owers as well.Looking back , the night ew by so fast, and I wished I tried to take it all in a little more!ADVICE If you don't hire a wedding planner or day-of coordinator, take the time up front to pre-plan every second of the day, and to make sure each person knows their roles - so the week/day of the wedding all goes smoothly.
Page 47
Durango Weddings Magazine 47Featured Vendors » RECEPTION: Trappers Lakeside Meadows / FLORAL DESIGNER: April's Garden / FAVORS: Honeyville / RENTALS: Durango Party Rental PHOTOGRAPHER: Ginger Moose Photography / HAIR: Hair Fusion / DJ: Aiko Aiko SoundWe didn't do a rst look but when we rst locked eyes on each other, as my dad was walking me down the aisle, we were both tearing up and excited
Page 48
48 durangoweddingsmagazine.comFrom the bride...We live in Fort Collins and chose Durango for our wedding for the mountain views and all the activities in the surrounding area. Corey and I actually married ourselves ve years ago. We have tried to plan our wedding ever since and it seems that something would always come up that year and we'd have to push it out.Our inspiration was the view of the mountains at Purgatory Resort and wanting to capture the beauty around us with a simple romantic boho vibe. THE CEREMONYe ceremony was outside at Dante's and the weather was gorgeous. Corey built our arch and backdrop. My favorite memory was watching my daughter walk down the aisle as our ower girl.VANESSA & COREY
Page 49
Durango Weddings Magazine 49Featured Vendors » VENUE: Purgatory Resort / FLORAL DESIGNER: Adela Flora / PHOTOGRAPHER: Ginger Moose Photography
Page 50
50 durangoweddingsmagazine.com
Page 51
Durango Weddings Magazine 51VICTORIA & EVANFrom the bride…We wanted a low-key vibe for our wedding with nothing too structured. We really wanted our guests to enjoy socializing and for our local friends get to know our family from out of town. We went for a chic southwestern style with a splash of timeless Hollywood elegance.THE ATTIREEvan wore my grandfather's turquoise bolo tie, and I wore my great grandmother's turquoise bracelet. e bridesmaids wore these fun mustard-colored dresses that had fringe on the bottom, it was both a western and apper girl look. I wore snakeskin boots with a little bling on the toes. I've always had a love for hats, so I wore an extremely large white hat that really brought it all together.THE VENUEWe had our wedding at our home. We wanted to save on the venue cost and gured our backyard would do the trick for our celebration. My stepdad made the dance oor, my mom and I did the garden, and Evan redid our deck.THE CEREMONYIt was set in our Ponderosa Pine forest with lots of twinkle lights overhead and potted plants everywhere. I walked down the aisle with my dad and kept my face slightly hidden under my big hat until I got to the end of the aisle. As I looked up at Evan, he was smiling at me and looking hand-some, at that exact moment a big bolt of lightning and a crash of thunder happened. It was unbelievable how perfectly timed it was! e crowd was cheering and whistling, for the rest of the evening people kept calling me the 'Goddess of under'.It started to rain during our ceremony; it was unplanned, but the rain made it that much more special.e reception was a banger of a party! Everyone laughed, took tequila shots, and danced all night, it really was super fun.ADVICERent a tent. Even if we live in the dry southwest and are in a drought, it can still rain!Featured Vendors » RENTALS: Durango Party Rental / CATERER: Zia Taqueria PHOTOGRAPHER: Allison Ragsdale Photography / FLORALS: Bride's Mom
Page 52
52 durangoweddingsmagazine.comRebecca & Brandon From the bride…We really wanted our wedding to feel ethereal and natural. We were married on Brandon's family's ranch and wanted to highlight the natural beauty that surrounded us.Looking back on our day, our favorite memories are of everyone just connecting and celebrating. ere was so much laughter and ease! We also loved our rst dance together and taking photos with all our friends and family.Featured Vendors » PHOTOGRAPHER: Kara Cavalca Photo + VideoDRESS: Bri's Bridal / RENTALS: Durango Party Rental / FLORALS: Adela Flora DJ: Aiko Aiko Sound / HAIR & MAKEUP: Hair Fusion
Page 53
Durango Weddings Magazine 53From the bride…Our wedding style was a combination of boho-chic, western, and traditional Judaic, all mixed with a little bit of us. We had the wedding at my family home, which gave us beautiful scenery without the extra cost. It also allowed us to take photos with our horses without having to trailer them.THE DRESSPicking out my wedding dress was a wonderful time lled with fun, laughter, tears, and champagne. Bri from Bri's Bridal was an absolute joy to work with. She allowed me to have free reign over the store, looking at and trying on dresses, and she helped me to narrow down choices eciently and not get too overwhelmed.THE CEREMONYChris handmade the Chuppah we were married under. It symbolizes God's covering for the newly formed marriage. e Chuppah was decorated with a wedding tallit, greenery, and an elk antler rack, from Chris' father, giving it even more of a personal touch.Featured Vendors » PHOTOGRAPHER: Ginger Moose PhotographyDRESS: Bri's Bridal / RENTALS: Durango Party Rental / FLORALS: Adela Flora EVENT PLANNER: Mountainesque Weddings / HAIR: ReyLynn'sBARTENDERS: Thirsty Rooster Trailer BarERIN & CHRIS
Page 54
54 durangoweddingsmagazine.comKARLI & ERIKFrom the bride...We wanted a fun, joyful day, surrounded by our favorite family and friends, that was a reection our personalities and honored our family traditions. We are both very outdoorsy, active people and wanted a venue in the mountains.THE VENUEWe wanted a venue close to Durango that encompassed the beautiful landscape I loved growing up in. River Bend Ranch had the perfect mix, an outdoor space in front of a beautiful pond and a rustic, charming open aired barn.THE FLOWERSApril's Garden brought our vision to life with bouquets that complemented our boho mountain theme and oasis blue color. We went with light, airy, and lots of greens with an organic feel. All the centerpieces and decorations perfectly tied the venue together and enhanced our theme. From the centerpieces to the cake table, the owers brought the mountain vibe inside! I wood burned personalized spoons for every guest to direct them to their seat. e spoons were placed on a large handmade sign grouped together by their table assignments.
Page 55
Durango Weddings Magazine 55THE RECEPTIONe reception was a blast! Everyone was able to gather outside, use the paddleboats, sh in the pond, and enjoy the beautiful red clis of the Animas valley.We surprised all our wedding guests aer they le the church by riding through the crowd in a decorated tandem bike; our rst ride as a married couple!ADVICE: If you are staying the night in a hotel, don't forget to bring an overnight bag or you will have to walk to the gas station at 2am to get toothbrushes.Featured Vendors » VENUE: River Bend Ranch / FLORAL DESIGNER: April's Garden / RENTALS: Durango Party Rental / PHOTOGRAPHER: Ginger Moose Photography
Page 56
56 durangoweddingsmagazine.comFrom the bride…We rented the cabin by the lake at Blue Lake Ranch. We wanted an intimate sunset wedding set against the pond and the La Plata Mountains. I love owers and was so happy we were surrounded by gorgeous wildowers everywhere you looked. Our owers and bridesmaid dresses all worked together to give the wild scenery a perfect pop of color.THE FLORALS We got buckets of owers from Mountain Belle Flower Farm and my bridesmaids built their own bouquets. My neighbor made me the most beautiful bouquet from her garden.URSULA & MATT
Page 57
Durango Weddings Magazine 57THE FIRST LOOKI was really on the fence about doing the rst look. In the end, we decided to do it so we could keep one moment to ourselves and experience it between the two of us. Our rst look was so emotional, when we saw each other all the nerves disappeared.THE CEREMONYWalking down the aisle with my dad, I had a "wow, this is really it!" moment. My dad cried handing me away, which almost made me cry. Twenty people stood along the pond while we got married on the dock. Matt & I were both nervous, but we stayed connected to each other during the ceremony. Ironi-cally, even though we were surrounded by people, it was the most intimate moment of my life.ADVICELooking back, I would have started planning earlier. It can be so easy to get swept up in the details to make everything perfect but in the moment, it's simply about getting married to the love of your life.Featured Vendors » CEREMONY: Blue Lake Ranch / PHOTOGRAPHER: Kara Cavalca Photo & Video / FLOWERS: Mountain Belle Flower Farm OFFICIANT: Reverend River Stone / DRESS: Katrina's Darling Bridal / CATERER: Serious Texas Bar-B-Q