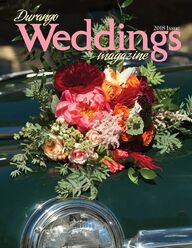 Return to flip book view
Durango Weddings Magazine - 2018 Issue
Page 1
Durango Weddings Magazine 1
Page 2
2 DurangoWeddingsMagazine.comNell & Nick in Durango 6Robyn & Jerai at Purgatory Resort 12Genevieve & Brian at Silverpick Lodge 16 Brittany & Aaron at Ridgewood 21Samantha & Samuel at Cascade Village 24Lanee & Brian in Durango 30Katie & Brian at Purgatory Resort 34Kacy & Spencer at River Bend Ranch 36Morgan & Gary at Ridgewood 42Amanda & Dan at Cascade Village 46Joanna & Max in Mancos 50Meredith & Fred at Glacier 55Kolby & Travis in Durango 60Annie & Nick at Ridgewood 64Trish & Stefan at e Strater Hotel 68 Elizabeth & Travis at Silverpick Lodge 72Jamie & Eric at Purgatory Resort 74Ellie & Andy at River Bend Ranch 78Julie & Clark at Ridgewood 82Hannah & JD in Durango 86Kathryn & Brad at e Strater Hotel 89 On the Front Cover: Image by illuminarts (illuminarts.us)Bouquet by April's Garden (aprilsgardenweddings.com) Read the couple's story on page 6IN THIS ISSUEfeatured storiesVenue Directory 90Services Directory 93501612
Page 3
Durango Weddings Magazine 3I'm still in love with my dress! Trying to think of somewhere else I could wear it.Nick and I really wanted to connect and celebrate with all of our guests. We walked up and down the train to personally pass out our cupcakes and chocolates, giving us a moment to visit with our family and friends. It is one of my favorite memories from the day!
Page 4
4 DurangoWeddingsMagazine.comNe & Nick05.13.17Photography by illuminartsFrom the bride: THE INSPIRATIONOur inspiration was our shared love of adventure. We wanted our wedding day to t us and to take everyone on an adventure to celebrate our marriage. Nick and I started dating in the mountains, we fell in love in the mountains, and it felt right that we got married in the mountains. THE CEREMONYOur ceremony started at 9 AM at e Durango Depot. ere was coee and donuts and guests chatted while my friend played guitar. I walked down the aisle to Somewhere Only We Know and cried even though I promised myself I wouldn't. My Aunt Carla was a judge for many years, she has married most of my cousins, I love that she married us too! REAL WEDDINGDurango, Colorado
Page 5
Durango Weddings Magazine 5
Page 6
6 DurangoWeddingsMagazine.comRECOMMENDED VENDORSPhotographer: Illuminarts. Drew is an artist. So happy we chose him. He captured the happiness and lightheartedness of the wedding. I cannot tell you how many compliments I have gotten on our wedding photography! Floral Designer: April's Garden. Colleen is amazing. I asked her for things like "symmetrical but not too symmetrical" and "big but not too big", she gave me exactly what I wanted. Everyone commented on how beautiful my owers were! Caterer & Cake: e Yellow Carrot. Everything was delicious, our boxed lunches were the cutest!
Page 7
Durango Weddings Magazine 7I loved everything about the day. It was my favorite wedding I have ever been to! ADVICEToo many options caused us stress, in the beginning, choose a concept and run with it. Also, you will not make everyone happy, do your best to make the two of you happy.
Page 8
8 DurangoWeddingsMagazine.comRobyn & Jerai 10.01.17Photography by Allison Ragsdale PhotographyFrom the bride: THE LOCATION We chose a site that no one had used before at Purgatory, the meadow at the top of Li One, where Paradise, 7th Heaven, and Upper Hades runs intersect. e clearing was still speckled with mountain daisies in October, and the views of Spud and Engineer Mountains were incredible. Riding the li to and especially from the ceremony was such a treat. e views were absolutely breathtaking and the fall colors were popping! THE CEREMONY October 1st was a cloudy day, with snow fall in the days leading up to it, and the tops of the mountains were covered in snow while the aspens were a stunning array of gold. We kept it small and chose to invite our family members and a few close friends. We felt very supported by the love surrounding us! REAL WEDDINGPurgatory Resort
Page 9
Durango Weddings Magazine 9Having our dog, Loki, as the ring bearer and present at our ceremony was so special to us. It would not have been complete without him.
Page 10
10 DurangoWeddingsMagazine.comMy favorite memory was riding the li back down with my husband aer it all was said and done, taking in the moment and being in the middle of the mountains on the most beautiful fall day.Looking back, it really was the wedding of our dreams and it was more amazing than we could have ever anticipated. I have never had a happier day!RECOMMENDED VENDORSCeremony Site: Purgatory Resort. Carly, the wedding coordinator for the mountain, was an amazing person to work with!Floral Designer: April's Garden. Colleen has such an eye for and knowledge of owers! She takes all factors into account to ensure beautiful and individually craed bouquets and adornments.Hair & Makeup: Hair Fusion. Great to work with many talented stylists.continued on page 88
Page 11
Durango Weddings Magazine 11
Page 12
12 DurangoWeddingsMagazine.comGenevieve & Brian 05.20.17Photography by illuminartsREAL WEDDINGSilverpick LodgeFrom the bride:WHY DURANGOWe come to Durango several times a year to ski, hike, and spend time with family. We both love the mountains and knew we wanted to get married in a mountain town. We picked Durango because it is beautiful. THE WEATHERIt snowed six inches in the two days before the wedding. It was 20 degrees when we arrived at Silverpick Lodge on ursday night. We began to worry we wouldn't be able to have the ceremony outside because the forecast called for more storms. On Friday morning, the sky was completely clear and the sun was so bright that the snow sparkled. By 3 pm on Saturday, the snow melted, the ground was completely dry, and the weather warmed up, so we kept the original outside location at the meadow. ere was still snow on the mountains in the distance, the storm ultimately made for beautiful pictures.
Page 13
Durango Weddings Magazine 13THE CEREMONYWe stood in between aspen stumps, they acted as a make-shi altar with a view of the mountains behind us. e cellist played Morning Has Broken by Cat Stevens as I walked down the aisle. It's the same song I sang when my cousin walked down the aisle 15 years ago. It was a very moving moment. We wrote our own vows and made each other laugh, especially aer both mentioning that Brian now eats more vegetables.
Page 14
14 DurangoWeddingsMagazine.comTHE RECEPTIONWe held our reception at the Silverpick Lodge. It included a cocktail hour, followed by dinner, speeches, pie-cutting, and dancing. Aer the reception, we went downstairs for the aer- party with a re pit, s'mores, and hot chocolate. Our table numbers, escort cards, save-the-dates, invitations, and programs, all followed the same color scheme and theme. ey perfectly matched our ceremony location; snowy moun-tains with yellow aspens, and forest greens, blues, and browns.We chose to have pies instead of cake because we really like pie and it felt much more welcoming. We didn't want to limit ourselves and our guests to just one kind of pie, so we served ten dierent avors. Genevieve & Brian
Page 15
Durango Weddings Magazine 15ADVICE It is perfectly okay to ask your friends and family for a reasonable amount of help. People really want to be a part of your wedding, take them up on it. We sent out a very detailed spreadsheet assigning the roles and responsibilities to those who expressed interest in helping. On our wedding day, the only thing we had to worry about was getting ready and setting up chairs. By the time the reception slowed down, we smelled pizza in the oven and saw the re pit was lit for the aer-party. ese and many other small tasks were all taken care of for us by our friends and family.We highly recommend getting a video and audio recording of your ceremony. It is an important moment that goes by quickly, and you won't remember everything you said. We are really happy we have a video that we can show our kids in the future. RECOMMENDED VENDORSVenue: Silverpick Lodge. e views are magnicent and the aspens are beautiful. Almost everyone stayed at the Silverpick Lodge and had time to get to know each other before the wedding actually happened. Everyone loved the lodge, it is such a cool building, and there was so much for guests to do. e restaurant space is beautiful, and the food was amazing. All the guests were raving about the food. Photographer & Video: Illuminarts. Drew and Laura were very professional and extremely helpful prior to the wedding and during the event. We talked and met with Drew several times before the wedding, he helped us to think through our day-of timeline and priorities. Our wedding images are stunning and really captured the beauty of the day. Illuminarts also lmed our ceremony aer deciding at the last minute that we wanted a ceremony video.Pies: e Yellow Carrot. e pies were delicious. My friends tried every avor, and said the pies were the best wedding dessert they have ever had.Hair & Makeup: Hair Fusion. Alyssa and Tegan did a great job. ey made everyone look fantastic and they were very professional and punctual. It was great to sit back, relax, and get gorgeous without feeling rushed or worrying about the day-of timeline.
Page 16
16 DurangoWeddingsMagazine.com
Page 17
Durango Weddings Magazine 17Briany & Aaron 07.14.17Photography by ShutterfreekFrom the bride:THE PROPOSALAer 7 years together, Aaron proposed at Bridal Veil falls in Telluride. We had made a day trip up there with our dog and I almost didn't hike up to the falls because it was so icy and cold. Aer much persuasion from Aaron, I did and about lost it when he got down on one knee to propose. THE STYLEWe wanted something timeless and romantic. I was subtly inspired by the Lord of the Rings and the parties held in the Shire. THE CEREMONYOur ceremony was held at St. Columba Catholic Church, the same church where Aaron was baptized. It is a very special place for the two of us. It was beautiful seeing all of our family and friends come together to celebrate our marriage. e highlights for me, were walking down the aisle with my dad and our vows, promising ourselves to one another.REAL WEDDINGRidgewood Event Center
Page 18
18 DurangoWeddingsMagazine.com
Page 19
Durango Weddings Magazine 19THE RECEPTIONOur reception was held at the Ridgewood Event Center. We made the reception fun and lighthearted to reect our relationship. We had his and her cocktails (Moscow mules and whiskey sours), a photo booth, and a folk band. Getting to eat, drink, dance and be merry with all of our favorite people was pretty magical!e highlight of the day was the rain, go gure! It made everything even more beautiful and added to our "romantic Tolkien party" feel. THE DECOR We focused mostly on our orals, lots and lots of owers, and foliage, adding brass candelabras and plenty of candles to go along with our style.ADVICEMy biggest advice; don't stress too much and just enjoy one of the best days of your life. Find a great venue, and vendors who will help the day go smoothly, and everything will fall into place. RECOMMENDED VENDORS Photographer & Photo Booth: Shutterfreek. e pictures are amazing! Floral Designer: April's Garden. ey were incredibly helpful in setting up our decor at the ceremony and reception sites.Venue: Ridgewood Event Center. e scenery is breathtaking.continued on page 88
Page 20
20 DurangoWeddingsMagazine.comSamantha & Samuel10.07.17Photography by ShutterfreekFrom the bride: WHY DURANGOI grew up in Farmington, New Mexico with many of my fondest memories in Durango and southern Colorado. Samuel and I knew we wanted a smaller wedding we decided to bring it "home". Durango is a magical place we wanted to share with Samuel's family and our friends from Texas, especially during the fall. We chose a morning ceremony to give guests the opportunity for adventure and explore once the reception ended.at morning, Samuel and I exchanged our personal vows written in small books. We wanted this moment to be intimate and set the tone for the day. I thought of his sweet words all morning. REAL WEDDINGCascade Village
Page 21
Durango Weddings Magazine 21
Page 22
22 DurangoWeddingsMagazine.comMy favorite memory was seeing Sam's face for the rst time, as I walked down the aisle. He was turned away so he couldn't see me walking down the hill, as soon as I was close enough he turned around and was crying. I could not wait to kiss him!
Page 23
Durango Weddings Magazine 23THE CEREMONYOur 10:30 am ceremony was held in the meadow at Cascade Village, the vibrant fall colors were so gorgeous. It was a perfect, cool morning with the sun shining. Guests were greeted by a coee and tea bar with all of the xings. From each chair hung a cone full of dried owers with instructions "toss me for good luck". My father built a custom arbor that was draped with oral and greenery. Antique rugs lined the aisle and laid beneath the arbor.
Page 24
24 DurangoWeddingsMagazine.comFollowing the ceremony, during cocktail hour guests played lawn games, drank Mimosas and Bloody Marys and sampled delicious violet vanilla yogurt as a pre-brunch appetizer. Once we nished the post-ceremony photos, guests followed us upstairs to a brunch spread of chicken and waes, quiche, and donuts.ADVICEWhile you want to provide the best day ever to all of your friends and family, the most important thing to remember is that your wedding day is 100% about you and your future spouse. Do exactly what you want to do, however you want to do it!RECOMMENDED VENDORSPhotographer & Video: Shutterfreek. How loudly can I sing praises for Paul and Katie of Shutterfreek! eir creativity, genuine care, thought-ful attention to detail, excitement, and talent is unmatched. ey dedicated all of their time to making sure every little detail was captured.RECOMMENDED VENDORSVenue: Cascade Village. e meadow was the perfect backdrop for an outdoor ceremony, complete with a backdrop of the mountains. e large event space was easily divided for cocktail hour downstairs and brunch upstairs.Caterer, Cake, Flowers & Linens: e Yellow Carrot. THE BEST. e food, drinks, cake, and donut bar were so amazing. We shared our dream of the ultimate brunch and Sari created it for us. We had the biggest, uest, Belgian waes, parmesan crusted fried chicken, cute mini syrups, gravy, plantain chips, cheese crisps on a stick, and two types of quiche. I could eat that meal every day for the rest of my life. ey also created the coolest bar setup with all the Mimosa and Bloody Mary xings, their signature basil ginger limeade, fresh fruit, bacon, pickles, jalapeno poppers, the works. And their violet vanilla yogurt with fruit and granola is mind blowing. I have never had a more moist, avorful cake in my life. We lucked out too, because of our amazing donut bar not many guests ate cake, which means we got to take it back to Dallas with us.Chairs: Durango Party Rental. DPR was professional and willing to drop my requested chairs all the way out in the meadow.continued on page 88I loved our rst dance!
Page 25
Durango Weddings Magazine 25
Page 26
26 DurangoWeddingsMagazine.comLan & Brian 07.15.17Photography by illuminartsFrom the bride:THE STYLE Our wedding style was fun and whimsical with bright vibrant colors, balloons and pom-poms. e rainbow was our color palette from hot pink to lime green to purple to electric blue. We love to dance, so we got married under a disco ball. We also love to dress up and go to costume parties. We asked our guests to join in the fun and wear bright colors and fancy hats. We LOVED getting married under a disco ball! THE CEREMONYWe got married at my grandmother's house, where I spent part of my childhood. We craed the ceremony ourselves. We asked only the kids in our family to be part of our ceremony. I walked down the aisle to the Sesame Street theme song, it was my favorite show as a little one. We wrote our own vows together and delivered them via alternating lines. We also did a handfasting, in which our parents laid the ropes over our hands. REAL WEDDINGDurango, Colorado
Page 27
Durango Weddings Magazine 27
Page 28
28 DurangoWeddingsMagazine.com
Page 29
Durango Weddings Magazine 29THE RECEPTIONWe had incredibly good food, served on farmhouse tables under a beautiful white tent, a last minute addition because of the threat of rain. e décor was simple with Peruvian striped colorful runners and tons of copper vases with wildowers. Our table vases were all upcycled glass bottles we spray painted copper. e dessert table was decorated with our mascot: a rainbow colored unicorn piñata. We had an adorable and incredibly fun custom painted canvas as the backdrop for our photobooth. We also had square dancing, with a live band and caller, our guests loved it.ADVICEFocus on what IS going right and not what isn't. ere will be SO much beauty, love, and fun to put your attention on. RECOMMENDED VENDORSPhotographer: IlluminartsCaterer & Flowers: e Yellow Carrot Guest Lodging & Transportation: Sky Ute Casino
Page 30
30 DurangoWeddingsMagazine.comKatie & Brian07.15.17Photography by Ginger Moose PhotographyFrom the bride:WHY DURANGO Brian and I have spent many family trips in Colorado, and now vacation there every year together. e views are breathtaking. We are most in our element while in Colorado. As we started to discuss the location of our wedding, an outside ceremony on top of a mountain in Durango seemed perfect for us. We invited only close friends and family to our ceremony, it made the evening so special to us. .REAL WEDDINGDante's at Purgatory Resort
Page 31
Durango Weddings Magazine 31ADVICETake time to think about your vision for the wedding, and once you have an idea, execute it. Don't spend too much time mulling over dierent options, you'll never make a decision if you think too long over all the possibilities.My favorite detail was the giant oral bouquets that stood on pedestals. LOOKING BACKI would have planned a farewell brunch with our guests the day aer. We both wanted to spend more time with our friends and family before we le for the honeymoon. RECOMMENDED VENDORSVenue & Food: Dante's at Purgatory Resort. Beautiful location, can't beat the views and the food was amazing! Hair & Makeup: Hair Fusion. ey were so great, did a wonderful job, and were so fun and relaxed. It made the day of really easy and stress free. continued on page 88
Page 32
32 DurangoWeddingsMagazine.comKacy & Spencer 06.17.17Photography by illuminartsFrom the bride:WHY DURANGODurango holds a special place in both of our hearts. We met by a simple compliment on a Duranglers hat Spencer was wearing. It sparked a conversation about how we had both grown up vacationing with our families in Durango. We got engaged on top of Engineer Pass and knew Durango was the place we had to get married. I had to bring a little bit of Texas to Colorado. THE STYLE Our wedding style was simple and rustic, it was a true reection of who we are. We knew a traditional or contemporary wedding wasn't for us. We wanted a laid back celebration where guests walked away saying "that was so them".REAL WEDDINGRiver Bend Ranch
Page 33
Durango Weddings Magazine 33
Page 34
34 DurangoWeddingsMagazine.comTHE CEREMONYOur ceremony was held at River Bend Ranch under a willow tree with our guests seated on hay bales. My favorite ceremony memory was my dad walking me down the aisle and giving me away. In 2002, he was diagnosed with a lung condition and told he only had a short time to live. I will never forget him saying to me, at the time, how much he wanted to walk me down the aisle on my wedding day. Here we are 15 years later and he is stronger than ever. He walked me down the aisle, and he gave me away to a man my family absolutely loves and adores. It doesn't get better than that!I couldn't wait for that moment to walk down the aisle and marry my best friend. Kacy & Spencer
Page 35
Durango Weddings Magazine 35
Page 36
36 DurangoWeddingsMagazine.comTHE RECEPTIONMy one request was to have the dance oor outside underneath the lights and stars. e weather was absolutely perfect for the reception. From the very rst song played to the last, I believe everyone was on the dance oor. e night ended with our guests joined together in a giant circle, arms around each other for the last song. It was a surreal moment to share looking around at everyone that means the most to you. We didn't want the night to end!Aer giving our everything to make our dream wedding, we nally got to let loose and enjoy the party. We loved every minute and laughed the entire night! I want to go back and do it a thousand times over! LOOKING BACKI would have tried to not to get wrapped up in the little things during the planning. Even though it is hard for me to give up control sometimes, I would have delegated more to take some of the pressure o of me. In the end, the wedding day was more than I could have ever imagined. It was all worth it! ADVICEEnjoy this time and your engagement! Try not to let the planning process get the best of you. It's easy for "wedding talk" to consume your time with your ancé, spend nights together where you put that aside. In the end, it's about the two of you and not whether the décor is perfect. Don't forget to take a step back at some point in the night and soak it all in. Kacy & Spencer
Page 37
Durango Weddings Magazine 37RECOMMENDED VENDORSPhotographer: Illuminarts. Drew is extremely talented. He was very helpful with any questions we had during the planning process. We even met a few days before to go over exactly what would take place the day of. Both our engagement and wedding photos will be cherish forever. Venue: River Bend Ranch. It's a beautiful venue to say "I Do". As the sun starts to set, the mountains glow red and it is absolutely gorgeous. Dave, the ranch hand, did anything and everything to make our wedding perfect. He is a true cowboy and gentleman. Floral Designer: April's Garden. Hands down the best ower shop and people to work with. ey sat down with me in the beginning, and listened to my vision and turned it into more than I could have ever wanted. My owers were beautiful and absolutely perfect! I can't say enough about the sta. Such a cute shop and such great people. Tent & Rentals: Durango Party Rental. I can't say enough about DPR! Jill was my saving grace through the entire wedding planning process. She listened to my ideas and turned them into my dream wedding. DPR provided rentals for our wedding and welcome party. Everything was delivered and set up on time. Jill put up with my almost daily e-mails and calmed me when I was losing my mind. Your wedding will be taken care of and beautiful with DPR!Caterer: Norton's Catering. Chuck, Adam and the sta are awesome! e food was amazing and we had many compliments from guests. From the moment we sat down with at our rst visit, we knew they would be catering our wedding. ey were so fun, so helpful, and quick to respond to any questions I had during the planning. Favors: Honeyville Honey. Delicious!Makeup: Hair Fusion. I can't say enough about Mary Beth and Harley, they did such a beautiful job on my bridesmaids and I. Being a destination wedding, it's always a little scary taking a chance on a stylist that you don't know, but I am glad I did. ey were on time and professional the entire way through. Entertainment: e Glacier Club. ey put on a golf tournament for all the men that were in town, going above and beyond to make sure the guys had a memorable time on the golf course. continued on page 88
Page 38
38 DurangoWeddingsMagazine.comMorgan & Gary06.16.17Photography by ShutterfreekFrom the bride:THE STYLEWe wanted a fun and laid back wedding, which we knew we would get in Durango. We threw out the rule book on things you can and cannot do for weddings and did it our own way. We decided what we both wanted and gured out ways to make it happen. We love traditional Irish music so we made sure to get an Irish band to play our music and we picked a venue that resonated with both of us. THE DRESSI loved my Rue De Seine Poppy gown! I found it within my rst week looking. e second I tried it on, I knew it was the one. THE CEREMONY I walked down the aisle to an Irish tin whistle. I loved laughing during our vows, our sense of humour brought us together in the rst place. e unconditional love and support surrounding us was extraordinary.REAL WEDDINGRidgewood Event Center
Page 39
Durango Weddings Magazine 39During the ceremony there was cotton falling from the trees.Could it get anymore classic & romantic than pretending to snow?It was the most perfect, magical day!
Page 40
40 DurangoWeddingsMagazine.com
Page 41
Durango Weddings Magazine 41THE RECEPTIONe reception was fantastic! e food, speeches, and rst dance happened outside under a tent nestled between all the cotton-wood trees. We felt SO much love! LOOKING BACKWe loved watching new friendships form between all of the people we have met in all parts of the world. It was so cool to see everyone having a great time. We wanted our wedding to be FUN and it couldn't have been any better, simply amazing. ADVICEe day goes so quickly, take a step back together during your wedding to observe everything you have accomplished. Enjoy the planning process together, it is a fun and exciting time. Do not overthink the small stu, it always turns out perfectly!RECOMMENDED VENDORSPhotographer, Video, Photo Booth: Shutterfreek. It was one of the best investments we made for our wedding! We wanted to have unique photos and gorgeous video to look back on. REALLY fun people to work with as you can see their passion for what they do. Paul and Katie were so personable and friendly, and constantly making us laugh. e photo booth was a hilarious way for guests to mingle and meet.Venue & Flowers: Ridgewood Event Center. e venue is naturally stunning and t both of our personalities perfectly. We never gave it a second thought. As we were going for a rustic look it was quite eortless in terms of decoration. Joan Alford had a great vision of what we wanted from the beginning. She listened and understood what we were looking for, making it much easier for us planning an overseas wedding. We felt at ease letting Joan handle it. Caterer: Durangourmet. Jimmy is such an accommodating and friendly guy. e food was outstanding and won compliments from all of our guests. He was happy to meet any dietary needs. Our waiters were very professional and polite and always checking in on us to see if we needed food or drinks during the night.
Page 42
42 DurangoWeddingsMagazine.comAmanda & Dan07.15.17Photography by Jenne AnneFrom the bride: Our wedding was eclectic. We brought dierent aspects of our lives and personalities to the ceremony and reception. Our travels inspired many parts of the wedding; lanterns and table covers from Egypt, wildowers from Durango, the wedding cake had plaques of each place we traveled to together. I worked with a tailor in Egypt to design my dress. Having my dad walk me down the aisle was really special!THE CEREMONYWe were married in the eld by Cascade Village with Spud Mountain and Engineer Peak in the background. Nothing beats a Durango mountain view! In the weeks leading up it had been raining a lot, so the grass was green and the daisies were in full bloom, and there was also a lot of mud. When it was time for me to walk down the aisle, I had to hike up my skirt and go! It's a good metaphor for life. REAL WEDDINGCascade Village
Page 43
Durango Weddings Magazine 43
Page 44
44 DurangoWeddingsMagazine.comTHE RECEPTIONOur reception was held at the main lodge at Cascade Village. We had a buet dinner of Mediterranean foods inspired by our travels together. Instead of favors; we opted for donations to local charities, Manna Soup Kitchen and Adaptive Sports Durango.I enjoyed watching everyone having such a good time. ADVICEBook your vendors early. Wedding planning is a lot of work.I think it might test the relationship more than actual marriage. RECOMMENDED VENDORS Venue & Lodging: Cascade Village. It was beautiful and Shelaine, the events manager, was a joy to work with. She and her sta did a great job throughout the entire planning and event. Lots of our friends rented out condos and walked home aer the reception. is made sure everyone could safely have a good time! Rentals: Durango Party Rentals. ey had everything we needed.continued on page 88
Page 45
Durango Weddings Magazine 45
Page 46
46 DurangoWeddingsMagazine.comJoanna & Max10.14.17Photography by illuminartsFrom the bride: My inspiration was outdoor elegance with light toned autumnal colors and dark accents. My family owns the property we were married on so much of the design and inspiration was related to the aesthetic of the land. e bridesmaids wore a range of champagne and blush dresses and the groomsmen wore matching grey suits. THE FLOWERSWe picked and made the bridal bouquets from a combination of foraged plants, lavender we grew specically for the bouquets, and a few select owers from April's Garden. THE CEREMONYOur ceremony was located in a eld that guests had to cross a bridge to get to. e altar was made from aspen trees and decorated in a beautiful garland made by April's Garden. e ceremony was ociated by a dear friend. Our dog, Akela was our ring bearer. We had a Persian rug for Max and I to stand on. We craed our own vows, it was an absolute highlight of the ceremony.REAL WEDDINGMancos, Colorado
Page 47
Durango Weddings Magazine 47
Page 48
48 DurangoWeddingsMagazine.comTHE RECEPTIONe reception was located in a tent in the adjacent eld. We ate an incredible meal by Durangourmet of elk tenderloin and salmon. Our band, e Diamond Empire Band, put on a classic, creative, and upbeat show! THE DÉCORBarn wood tables, eclectic oral patterned plates, a range of silk napkins that were my grandmothers, numerous candles of various sizes and centerpieces with fall foliage adorned every table.
Page 49
Durango Weddings Magazine 49THE FAVORSOur favors were bundles of garlic grown in our garden and handcraed olive oil from friends in Tuscany. THE WEATHERe reception was insanely cold, some-where around 23 degrees that night. I would say the ONLY regret I have is not making the tent warm enough. Aer dinner everyone put on square beanies from the 80s and danced like crazy to keep warm. It was pretty hilarious.
Page 50
50 DurangoWeddingsMagazine.comADVICEWedding planning is stressful and is all too easy to lose sight of how important and celebratory this transformational ritual is. Don't wish the engagement period away or become xated on little details. Be present in the process so when the best day of your life comes, you will be better prepared to stay present in the moment. e best part of the reception is looking out and seeing a collection of the people you love most in the world. It is very powerful. RECOMMENDED VENDORSPhotographer & Video: Illuminarts. Drew went above and beyond to help me create the day. In many ways he was our wedding planner as well.Flowers: April's Garden . ey really pay attention to your creative vision.Caterer: Durangourmet. Jimmy is hands down amazing. Everyone devoured the delicious late night barbeque ribs. Rehearsal Dinner: Ridgewood Event Center. I highly recommend for its rustic elegance and outstanding fall views. Tent & Rentals: Durango Party RentalGuest Lodging: Blue Lake Ranch
Page 51
Durango Weddings Magazine 51Meredith & Fred 09.30.17Photography by Stacey Conant Photography From the bride: WHY DURANGOMy brothers and I grew up going to Colvig Silver Camps just outside Durango. Over the years my family fell in love with Durango and we spent our summers and winters there ever since. Durango is a second home to me, getting married there was a dream come true! THE STYLEColorado was our inspiration. I wanted a rustic meets modern meets woodland fairy wedding. ACTIVITIESMy aunt led a yoga session the day before the wedding and my dad led a hike the morning of.REAL WEDDINGGlacier Durango
Page 52
52 DurangoWeddingsMagazine.come ceremony took place on the Glacier Club's ceremonial tee box overlooking the Animas Valley. We had a large wedding but the ceremony felt very intimate. Our guests stood along the balcony and our wedding party was down on the tee box.
Page 53
Durango Weddings Magazine 53My favorite moment was the kiss!
Page 54
54 DurangoWeddingsMagazine.com
Page 55
Durango Weddings Magazine 55Meredith & FredTHE RECEPTIONe reception was at the Glacier Club lodge. It was nice to have the reception in the same place as the ceremony so that people could just relax and enjoy. We even had a s'mores station on the back patio. THE DECORe décor was rustic modern with lots of natural beauty – wood, owers, greenery, lights. Every table had a unique arrange-ment for the centerpiece that made it feel like a beautiful forest. ADVICEEnjoy planning your wedding. On the big day, take the time to appreciate everything you planned and the people who came to celebrate. e whole day goes by so quickly! We ran through our sparkler send o twice because we weren't ready to stop the party!RECOMMENDED VENDORSVenue: e Glacier Club. Not only is it a beautiful venue but the sta at the Glacier Club takes care of you. Carmen and her team were by our side helping throughout the planning process. On our wedding weekend, they made it a priority to have things ready early and paid attention to all the timing of events so I didn't have to. e food was delicious. Floral Designer: April's Garden. Colleen was amazing. She had so many ideas and recommendations, and was really fun to work with. I loved the owers!
Page 56
56 DurangoWeddingsMagazine.comKolby & Travis 06.24.17Photography by illuminartsWHY DURANGOI am from Durango and it has always been a dream to get married here. Our reception was actually held at a home my family built. When selling the home, my mom mentioned to the buyers my dream of being married there and they said call us when you need it. Sure enough we did.Durango is a special community that oers something for everyone. We have so many friends who had never been to Durango before and all of them have talked about returning to spend more time. It was also nice to get out of the Texas heat. REAL WEDDING Durango, Colorado
Page 57
Durango Weddings Magazine 57THE STYLEWe really wanted a rustic, chic, farm-to-table wedding that was simple, elegant and not too casual. THE CEREMONYWe held the ceremony at St. Marks Church because as it was really important to us to have an extremely traditional ceremony. I LOVED our ceremony, it was very meaningful, very spiritual, I think the guests appreciated how traditional it was.
Page 58
58 DurangoWeddingsMagazine.comKolby & TravisTHE AFTER-PARTYWe wanted to spend as much time with our guests as possible. So many people traveled hundreds of miles: California, Arizona, the East Coast, even Canada. Aer the reception we decided to take the party back to town. Travis and I le earlier to check into e Strater Hotel. Aer dropping our bags, we went downstairs and walked into a huge group of our friends and family at e Oce. e bar sta was incredible and the other customers were friendly and seemed happy to be a part our celebration. It was a great way to end the weekend!We had a pallet wall backdrop in the tent, which made the tent feel warm and inviting.ADVICESlow down. e wedding is exciting and you will anxiously want it to GET HERE. Once it does, all you will want is to slow down time. On the big day, really be present. Stop and look around, take moments to breath and really enjoy the people around you. It could be the only day that this specic group of people is together, so really appreciate it! RECOMMENDED VENDORSPhotographer & Video: IlluminartsTent & Linens: Durango Party RentalCaterer: DurangourmetHair & Makeup: Hair Fusion continued on page 88
Page 59
Durango Weddings Magazine 59
Page 60
60 DurangoWeddingsMagazine.comAnnie & Nick 09.02.17Photography by Elizabeth WellsFrom the bride:WHY DURANGONick and I love Durango, it is our go-to vacation spot because it's so laid back and beautiful! We love the scenery, the people, the activities, the breweries, and of course, the food! If we didn't pick a September date, I would have gone for a winter wonderland wedding! Durango anytime of the year is amazing!!THE STYLEWhimsical - elegant – creative – romantic. Nick and I are very social people, we love to entertain and be around friends and family. We wanted our wedding to be fun and involved but have a romantic feel, impressive yet intimate. is was my time to let my creative energies ow! REAL WEDDINGRidgewood Event Center
Page 61
Durango Weddings Magazine 61THE CEREMONYWe held the ceremony facing the eld with the mountains as our backdrop. Picture perfect! Our oral arch was draped in oversized garden roses, peonies, lilies and eucalyptus garland - it was everything I dreamed of. We had Nick's Grandmas, both over 80 years old, walked down as our ower girls. ey were so honored to be asked and loved being a part of the ceremony. I loved the vows we wrote to one another. ey were so heartfelt. For me, the most memorable moments were walking down the aisle with my parents by my side, seeing Nick for the rst time, and see-ing all of our friends and family there to support our love. I will cherish those memories forever.
Page 62
62 DurangoWeddingsMagazine.com
Page 63
Durango Weddings Magazine 63THE RECEPTIONe reception was lled with eating, drinking, dancing, and laughing. Dinner was held outside under a massive tent. e dessert tables and band were located a few feet away in the event center. I loved how everyone enjoyed the entire venue and garden. THE DÉCORWe had fresh owers in gold vases and garland hung every-where. Our place settings were small geometric gold terrariums with a potted succulent, each has the guest's name calligraphed on a palm sized blue agate slice that hung from the terrarium. ey were beautiful decoration pieces that also served as our gis, everyone loved them.FOR THE KIDSWe had over 20 kids at the wedding so there were 2 "kids only" tables lled with candy, games, and dget spinners. e place settings were also customized 'Annie & Nick's Wedding' coloring books.LOOKING BACKe day ew by, I wish I had taken time to stop by each table and say hi to everyone. I know there were guests who attended the wedding that I didn't get to thank personally for coming. I also wish we had video of the entire wedding. No one recorded the entire ceremony or the speeches and it makes me sad that we'll never get to watch it again. ADVICEEnjoy the engagement time, it goes by so quickly. You only have a few months for all the excitement and attention to be on your blossoming relationship. I hired a caricaturist to have guests sit for a portrait. It was a big hit! RECOMMENDED VENDORSVenue, Planning, Flowers: Ridgewood Event Center. It was important to us to have the ceremony and reception at the same venue. Ridgewood is perfect for this because it has so much space. You can truly separate both the ceremony and reception. e gardens are extremely well maintained. e sta is very nice. You can rent a lot of décor and linens directly from them, this was a huge advantage for a destination wedding. Joan was our event planner and she is a doll. She listened to all my wild and extravagant ideas and did everything in her power to try and pull it o. I ended up using her as our orist and she did a great job. Lodging: Blue Lake Ranch Bed & Breakfast. We rented out the entire bed and breakfast for our family and wedding party. It houses 70 guests and each room is dierent and eclectic. It is so magical, like little fairies should live there. It is located right across the highway from the venue, ideal for running back and forth. Caterer: Durangourmet. e food and signature cocktails were amazing!
Page 64
64 DurangoWeddingsMagazine.comTrish & Stefan08.05.17Photography by Kelly Miranda PhotographyFrom the bride: We'd had dinner at e Strater Hotel once and I was amazed by the elegant antique detail it held along with the history. Once I picked my dress and theme I knew this was the place. I've always loved the vintage feel and look! Having our wedding on a mountaintop with a reception at the Historic Strater Hotel was perfect.THE CEREMONYWe held the ceremony at the Lions Den on a stormy aernoon. An acoustic guitarist played Your Song by Elton John as I walked down the aisle, side by side, with my 8 & 10 year olds. My oldest and I cried the whole way down. I could also hear the crowd crying; happy tears, of course. REAL WEDDINGe Strater Hotel
Page 65
Durango Weddings Magazine 65
Page 66
66 DurangoWeddingsMagazine.comTHE RECEPTIONe reception was held in the Mirror room at e Strater Hotel. e storm from that aernoon knocked out power throughout Durango and luckily the Mirrored room had a backup generator. It gave the room a Squeakeasy feel with low light from the vintage chandeliers and candles, it was stunning. Our DJ couldn't play any music during dinner, but no one cared. During the speeches, power kicked on and the entire room cheered and clapped with joy. It sounded like we were at a sporting event. It set the night to party mode!
Page 67
Durango Weddings Magazine 67ADVICEDon't be Bridezilla. Take it one day at a time and follow your heart when deciding on what colors, venue, dress, etc. Most importantly, roll with the punches. e power going out could have ruined our wedding, but we made the best of it and now we have a badass story. LOOKING BACK I realized we had a successful destination wedding, and all our guests got a vacation. Our wedding party was a mix of ages, and everyone enjoyed themselves. Our younger crowd club hopped while the older crowd explored historic down-town Durango, restaurants, and the many sightseeing options around town. It was the best of both worlds. continued on page 88
Page 68
68 DurangoWeddingsMagazine.comElizabeth & Travis08.19.17Photography by Allison Ragsdale PhotographyFrom the bride: We really wanted to get married somewhere in the mountains that would accommodate a small outdoor wedding. When we found the Silverpick Lodge, we fell in love! We loved the verdant backdrop of aspens and pines, and having all of our friends and family with us in one place for the whole weekend. THE CEREMONYIt rained for 10 minutes right before the ceremony. en exactly when we were supposed to start, the clouds, wind, and rain completely went away. It was sunny and gorgeous! I loved walking down the aisle with my dad, it was a special moment for me. Travis was trying so hard not to cry. He stared at my forehead and wouldn't look me in the eyes, every time he did he would start tearing up.My parents ociated the ceremony. It was absolutely wonderful to share this with them. My dad highly recommends it to anyone with a daughter who is getting married. It added a personal and very special touch.REAL WEDDINGSilverpick Lodge
Page 69
Durango Weddings Magazine 69We had so much fun! Having our closest family and friends with us for the entire weekend, all in one place, made for some great memories.
Page 70
70 DurangoWeddingsMagazine.comJamie & Eric08.12.17Photography by J. La Plante From the bride:WHY DURANGODurango and the southwest corner of the state is our favorite area to go camping, hiking, and raing. We live just outside of Denver, but try to travel to Durango as much as we can. THE STYLEWe wanted a summer wedding in the mountains with vibrant colors, owers, and a meteor shower. Reading our vows to one another was a truly breathtaking experience.THE CEREMONYe ceremony was held on the edge of Dante's Peak amidst a beautiful mountain backdrop. e weather couldn't have been better. My longtime childhood friend was our ociant and we wrote the ceremony together to ensure what we felt was said. It highlighted nature, love, and our human connection with the earth. Also included were a few Native American blessings and the Apache Wedding Blessing. REAL WEDDINGPurgatory Resort
Page 71
Durango Weddings Magazine 71
Page 72
72 DurangoWeddingsMagazine.comOur rst dance was the Dirty Dancing song, 'Time of My Life". We totally nailed it considering we had not practiced and our dancing consisted of random twirling, dipping, and liing.
Page 73
Durango Weddings Magazine 73MEMORABLE MOMENTAt 10 pm hiking half-way down the mountain in my wedding dress to get our picture taken under the Milky Way with the meteor shower.ADVICETake your time, enjoy your engagement and the com-mitment you just decided to make to one another. Make sure to plan everything just the way you want it. If ev-erything resembles you, as a couple, it will be that much more meaningful.
Page 74
74 DurangoWeddingsMagazine.comEie & Andy07.03.17Photography by Allison Ragsdale PhotographyFrom the bride:WHY DURANGOI have always dreamed of an outdoor wedding with the San Juan Mountains as a back-drop. Durango have some of the most breathtaking views in the world! Your guests have the opportunity to make a real vacation with their trip and enjoy all the activities that the Durango area has to oer. Our guests raed the Animas River, rode the Alpine Slide at Purgatory, visited Mesa Verde National Park, went on hikes in the mountains and enjoyed the shops and restaurants on historic Main Street. THE PLANNINGe Durango Weddings Magazine was one of the rst things my mother and I looked at when we began planning. It was a great tool to help us get over the initial overwhelming hurdle of planning a wedding. It listed many venues that we looked into, as well as the one we nally settled on. It gave great resources for food, music, owers, and everything else you need. My mother attended the Durango Wedding Expo twice, our 18 month engagement allowing for plenty of planning. REAL WEDDINGRiver Bend Ranch
Page 75
Durango Weddings Magazine 75THE CEREMONY Most of the ceremony Andy and I were just giddy and ready to be married already, we actually started 7 minutes early because I was tired of waiting. At one point, Andy eagerly interrupted my dad before he nished reciting vows for him to repeat. e crowd had a good laugh and it was nice to know that he was just as excited and impatient as I was. My dad reminded him to slow down and that we had our whole lives ahead of us to be together. LOOKING BACKI was so adamant that I didn't want to see Andy until I was walking down the aisle. In hindsight, I wish we had done a pri-vate rst look, it would have been nice to have some quiet time with Andy before the festivities. Also, I would have taken the wedding party photos before the ceremony. It took a lot of time away from our time with our guests during the reception.
Page 76
76 DurangoWeddingsMagazine.comTHE DECOR My mother and I cut and sewed the 300 feet of bunting ags that hung throughout the venue. e back wall of the barn was covered in twinkle lights. ey made a beautiful backdrop for great photos and the ags added dimension, color, and a sense of joy to the space.MEMORABLE MOMENT Andy and I had a private dinner on the deck away from the reception area. It was one of my favorite parts of the whole day; with all of the craziness of the wedding, it was refreshing to slow down, gaze into each other's eyes, and enjoy the moment.THE DANCING We started o the dancing with "Hava Nagila". e groomsmen and my brothers hoisted Andy and I up in chairs while our guests sang and danced around us. e rest of the evening was a blur of loved ones, dancing, and ended with a sparkler send o. ADVICEWhen it comes to the big day, give yourself lots of extra time. Take the time to relax and talk to your guests. Most of all, plan to do a private dinner! Having even a few quiet moments with your new husband is so very special.
Page 77
Durango Weddings Magazine 77RECOMMENDED VENDORSVenue: River Bend Ranch. Not only does the venue oer beautiful views, Dave, the host and caretaker, was our hero. He allowed us to visit the venue for planning and brainstorming numerous times and was ready and willing to do anything to assist us! Favors: We ordered honey sticks from Honeyville to share some local sweetness with our guests. e ordering process was simple and easy. e favors inspired some guests to visit Honeyville and enjoy all the other products they have to oer!Napkins: Durango Party Rental made renting easy.continued on page 88Walking through a tunnel of lights and smiling faces was a wonderful way to make our exit. e greatest joy was driving away with my new husband holding my hand.
Page 78
78 DurangoWeddingsMagazine.comJulie & Clark 05.12.17Photography by ShutterfreekFrom the bride: We met December 9th, 2014 at Home Slice Pizza in Durango. I was look-ing for a room to rent for a few months while passing through town, Clark had a room to rent, and the rest is history. While on a boat trip to the Dominican Republic, Clark popped the question on the bow and I said yes! Enjoy every moment, even the crazy ones because it goes by in a blink of an eye.THE DESIGNI gave Colleen of April's Garden my color palette: champagne, burgundy, and navy blue, and let her design everything. is took so much of the planning stress o of me. I knew she would do an outstanding job. When I arrived at the ceremony, the owers were a complete surprise and I could not have been happier! REAL WEDDINGRidgewood Event Center
Page 79
Durango Weddings Magazine 79
Page 80
80 DurangoWeddingsMagazine.comRECOMMENDED VENDORSPhotographer: Shutterfreek. e photographer was important to us, the day goes by so fast and it's nice to see everything you missed. Shutterfreek was highly recommended and did a fabulous job. Floral Designer: April's Garden. e owers were amazing! Caterer: Durangourmet. We knew we did not want to have a buet. Instead we chose Durangourmet to feed our 150 guests a family style dinner, it turned out perfect. e food was delicious! Jimmy and sta were amazing.Venue: Ridgewood Event Center.Julie & Clark
Page 81
Durango Weddings Magazine 81Kathryn & Brad09.30.17Photography by Zak FlemingFrom the bride:WHY DURANGOWe met while attending Fort Lewis College back in 2002. We met, fell in love, and shared many wonderful memories in Durango; any other destination was out of the question. As a former Diamond Belle girl, our reception had to be at e Strater Hotel. THE CEREMONYWe held the ceremony at Lions Den. ough it rained earlier in the day, it turned out to be the most beautiful day. THE RECEPTION All our guests kept complimenting us on the ambiance, the outstanding food, and service provided by e Strater Hotel. Emily Spencer did a fantastic job planning and coordinating our event. e entire day was seamless because of her dedication. REAL WEDDINGe Strater Hotel
Page 82
82 DurangoWeddingsMagazine.comHannah & JD 08.19.17Photography by illuminartsFrom the bride: My family and I have vacationed in Durango for over 20 years. It is a very special place to us and it felt right to have our wedding on my parent's lawn in Her-mosa.THE STYLESimple, elegant, and rustic with ivory and natural wood colors.THE CEREMONYWe held the ceremony at sunset on the west lawn of my parent's home. My favorite memory was having my godfather marry us in front of our loved ones.REAL WEDDINGDurango, Colorado
Page 83
Durango Weddings Magazine 83My favorite part of the night was all the dancing! ADVICE Take your time planning and enjoy it! Looking back, I wanted more time for pictures and dancing.THE RECEPTIONe backyard was set with wooden tables, white linens and lots of owers and lights. Having the wedding at my parent's home felt very personal and intimate. It was so nice to have our favorite people in our favorite place.RECOMMENDED VENDORSPhotographer: Illuminarts Cake & Caterer: e Yellow Carrot
Page 84
84 DurangoWeddingsMagazine.com