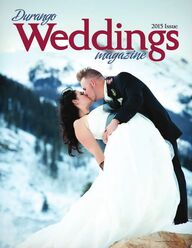 Return to flip book view
Durango Weddings Magazine - 2015 issue
Page 1
Durango Weddings Magazine 1
Page 2
2 DurangoWeddingsMagazine.comFrom the bride: My wedding at Durango Mountain Resort was an absolute dream, truly. We chose Valentine's Day for several reasons: it's my husband's birthday, it's the day we got engaged, and it's been my favorite day of the year since I was two. We met at Durango Mountain Resort and fell in love at rst sight. When we decided to get married, we knew we wanted to get married at the exact spot where we met. I was nishing nursing school, so we decided to have a very tiny and special ceremony. LOOKING BACK, my itty-bitty wedding was everything I hoped it would be. Durango is a magical place and I will treasure my romantic Valentine's Day wedding memories for life. RECOMMENDED VendorsVENUE & LODGING Durango Mountain Resort (page inside cover). We stayed right at the base in a beautiful condo where we held our wedding. The staff was amazing. PHOTOGRAPHER IlluminArts Photography (page 19) did a phenomenal job and I would highly recommend them. Drew & Amy were so incredibly helpful.Full vendor list on page 88.Real Wedding
Page 3
Durango Weddings Magazine 3
Page 4
4 DurangoWeddingsMagazine.comFrom the bride: For our wedding day, I envisioned a very glamorous wedding with lots of lush owers, rich colors and great texture in all of the fabric and details. I didn't want to do anything that I had seen before. I knew that I wanted black and white striped tablecloths, gold atware, and lots of shades of pinks and blues. I also wanted to pull in the natural and the rustic of Colorado to give a complete contrast to the wedding decor and our attire. WHY PAGOSA SPRINGSI have been visiting Pagosa since I was a little girl! It's a second home to me. We wanted to have a destination wedding and a fun place for our guests to get away - somewhere that related to us! Keyah Grande (page 75) was the perfect t!THE EVENT PLANNER Our planner, Krii Black went above and beyond. If I got married all over again in another state, I would y her to me! Her hand was on nearly all areas of the wedding. She didn't let anything slip past or fall short. She made our day perfect! Even with a beautiful blizzard, she made it all happen and didn't bat an eye.ADVICE Do EXACTLY what you want. You only get one short period of time to celebrate this amazing event…go big or go home!Vendor list on page 88.Real Wedding
Page 5
Durango Weddings Magazine 5
Page 6
6 DurangoWeddingsMagazine.comReal Wedding
Page 7
Durango Weddings Magazine 7From the bride: Our wedding was luxurious with a hint of vintage and a lot of romance. We rented the entire town of Dunton hot springs for the weekend. Our wedding day was a black tie affair, so everyone came in tuxes, suits, and gowns.
Page 8
8 DurangoWeddingsMagazine.comTHE ATTIRE I didn't want the bridesmaids to all have the same matching color as the rest of the décor so, their dresses were pewter while most of the owers and décor were whites, pinks, and blushes.
Page 9
Durango Weddings Magazine 9THE CEREMONY was held at the outdoor chapel in Dunton Hot Springs. The location was magical. Everything was covered in snow and the sun was peaking through the trees giving the most beautiful lighting to the ceremony.
Page 10
10 DurangoWeddingsMagazine.comTHE RECEPTION Our décor was very elegant, dripping in romance and shimmer. We ate, drank, and danced. It was so amazing! ADVICE This is your big day, this is what your grandchildren will be talking about in years to come. Do it exactly how you please, if you don't, then you will regret it. Be respectful to others feelings, but never forget what you want.See vendor list on page 88.Our first dance as husband and wife was like a fairy tale, guests said they cried because they could feel the intimate moment and love between us.
Page 11
Durango Weddings Magazine 11
Page 12
12 DurangoWeddingsMagazine.comFrom the bride: Our wedding style was vintage romantic with a rustic air. I used books as centerpieces, so it had a bit of a literary theme as well (I'm a teacher). The ceremony was simple. We had Tim's cousin ofciate the wedding, we wrote our own vows from the heart and kept the whole thing pretty straightforward. My favorite memory was Tim crying.
Page 13
Durango Weddings Magazine 13Kelly & Tim...HANDMADE TOUCHESI wrapped my own personal books with brown butcher paper and different patterned scratchbook paper and wrote our favorite love and literary quotes. We also used the lanterns that Tim had at our proposal as centerpieces. GUESTBOOKWe made a Giant Jenga set to use as a guestbook. We will use it as a lawn game in our back yard. LOOKING BACK I would have delegated more to others to give myself more free time. ADVICEPick a few things and do them well! You can't do everything perfectly. Remember that the day is about you and your new spouse. I think people will remember the great time they had rather than the fanciness of the wedding. FAVE VENDORI would totally recommend Canyon Crest Lodge (page 23) to anyone wanting to get married in a beautiful spot in a small town!
Page 14
14 DurangoWeddingsMagazine.comFrom the bride: We had a strict budget for a large wedding. We had over 200 guests so, we handmade pretty much everything! Between the planning, decorating, and fulllment, I incorporated my entire family into the wedding. My aunt and grandpa made the arbor, centerpieces, popcorn stand, and signage. Another aunt did all of the stitching on the banners and cloth pieces, my father made the cake stands, and my sister brought it all together.THE STYLEDustin and I love spending time in the woods so, we incorporated that into our wedding. He loves to hunt so, we used the sheds the elk and deer for décor.THE CEREMONYWe included our son Dayton in the nuptials and all three of us exchanged home-made rings made of deer antlers. FAVORITE DETAIL The popcorn stand made from old barn wood from my uncle's house. The wheels belonged to my grandpa when he was growing up.MOST MEMORIAL MOMENT Our rst dance.Vendor list on page 88.Real Wedding
Page 15
Durango Weddings Magazine 15
Page 16
16 DurangoWeddingsMagazine.comReal Wedding
Page 17
Durango Weddings Magazine 17From the bride: Brian and I are both engineers who love the outdoors. Any engine with moving parts will spark hour-long dinner conversations, while we jump at any opportunity to go exploring nature, and play in the wilderness. Our biggest goal was to incorporate those two aspects of our relationship while maintaining the reason for having a wedding. Brian and I worked together in the production industry and approached planning our wedding the same way that we approached planning a theatrical show. We set the stage with the train museum then made props and decorations representing all aspects of our relationship. We tried to incorporate aspects of our engineer-y selves, as well as our love for nature, my background with ranches and farms and his background with motors and vehicles.
Page 18
18 DurangoWeddingsMagazine.comWe built our wedding from scratch, incorporating a few traditional aspects, while creating our own meanings and goals representing our partnership.RECOMMENDED VendorsPHOTOGRAPHER IlluminArts Photography (page 19). The photographers at IlluminArts are talented artists. They captured critical moments, were very easy to work with and exible when we needed to change our plan during the wedding.CATERER Norton's Catering (page 93). The food was delicious and they were well organized and helped with our planning process. Chuck also has a great sense of humor.See full vendor list on page 88.
Page 19
Durango Weddings Magazine 19HANDMADE TOUCHES I made my bouquet with springs and gears recovered from an abandoned printer and childhood remote control cars. Brian made boutonnieres for the groomsmen out of gears, springs, spark plugs and leaves. Our programs had instructions for folding them into paper airplanes and we made table centerpieces from old oil lanterns. ADVICE Have fun. This is about celebrating your relationship and commitment to each other. If you're not having fun, or enjoying it, then you are setting yourself up to have a rough wedding day.
Page 20
20 DurangoWeddingsMagazine.comFrom the bride: The outdoors was our inspiration. We wanted our own style to match the beauty of Durango. Our anniversary was 11/11, John got 11 diamonds on my engagement/wedding ring, and we got married on our 11th year of dating. Needless to say, 11 is my favorite number!THE CEREMONY site was in a foot of fresh snow, but it was fun standing in the snow waiting to walk down the aisle. Our friend was the minister and made everyone laugh the entire ceremony with personalized stories about the both of us. Writing our own vows was really special and made a few people cry. It was also amazing to have everyone hanging out in the snow for our ceremony. The walk to the site was slippery and snowy, but people marched out there and stood in the snow. It was truly touching to see their smiling faces amongst the cold and snow. THE RECEPTIONThe food was delicious. It seemed everyone overate because it was so good. Several members from Ohio brought homemade cookies with them, which made our sweets table that much better. It also started snowing later that evening and it looked soooo pretty! Real Wedding
Page 21
Durango Weddings Magazine 21
Page 22
22 DurangoWeddingsMagazine.comRECOMMENDED VendorsCEREMONY The meadow at Silverpick Lodge (page 37). The setting was beautiful and memorable. The staff at the Silverpick Lodge is very easy to work with. Chris is the best!RECEPTION The Sow's Ear at Silverpick Lodge (page 37). The food was amazing and very reasonably priced. The head chef helped us put together the menu for the evening. I don't think there's a more laid back person to work with. The huge windows show off the beautiful scenery. The dance oor is the perfect size and there's a balcony right outside the dining area which was perfect for celebratory cigars. George is the best!PHOTOGRAPHER IlluminArts Photography (page 19). We knew right away during our initial meeting that we would choose them. The pictures speak for themselves. They were very organized from day one to the actual wedding day. They took so many pictures and we barely even noticed they were there, true photography ninjas, if you will. HAIR & MAKEUP Hair Fusion (page 92). OMG, they were amazing! They brought three people and made everyone look beautiful, especially me, the bride! My makeup and hair were awless. I wish they could be at my house every morning to make me look that good every day. They worked fast and if anybody wanted something more or xed or changed, they listened with no problems and helped. They came really prepared. I loved the Hair Fusion team!
Page 23
Durango Weddings Magazine 23
Page 24
24 DurangoWeddingsMagazine.comFAVORITE DETAILMy grandpa, who wasn't able to make it to the wedding due to his age, cut a cake stand from a pecan tree he cut down from his land. It meant a lot to me to have that there. LOOKING BACK, it makes me smile how many people from all different walks of our lives came to our celebration. I loved my aunts and I hanging out at the house the night before steaming my dress. I loved having both of our families work together and seeing how happy my husband was when he saw me the rst time. I also loved going to the hot springs the day after the wedding with every-one before going off on our honeymoon. ADVICEDon't stress, stay on budget and do what would make you and your spouse happy. Vendor list on page 88.
Page 25
Durango Weddings Magazine 25From the bride: We literally had the perfect day. We were married in my father-in-law's pasture overlooking the San Juan Mountains, the place where we spent a lot of time skiing and hiking and eventually fell in love. I wanted a woodsy outdoor wedding with an explosion of color.
Page 26
26 DurangoWeddingsMagazine.comReal Wedding
Page 27
Durango Weddings Magazine 27From the bride: Our meeting was love at rst sight 6 years ago, in the very spot we got married! We wanted to do things ourselves and keep the wedding in tune with who we are. Simple elegance became our catch-phrase when deciding things. We grew all the owers ourselves and served local food. We wrote our own vows on yellow lined paper up in the mountains, and as we read them to each other, our dog came up to the altar and lay down beside us!
Page 28
28 DurangoWeddingsMagazine.comRECOMMENDED VendorsPHOTOGRAPHER IlluminArts Photography (page 19). Drew is an incredible photographer, and a seasoned warrior with wedding photography. We appreciated his experience and calm commanding presence within the buzz of our wedding day. He was patient and professional with our changing schedule and ideas. And he took beautiful photos on our wedding day. All our guests have continued to rave about how awesome Drew was, and what pictures he took! I highly recommend IlluminArts.CATERER Durangourmet (page 80). AMAZING. We all loved working with Jimmy. He took our whole experience above and beyond what we expected. From our rst meeting, to sampling the meal and appetizers, to negotiations for local food, to the nal weekend meal presentation, Durangourmet was fabulous to work with. I would highly recommend Durangourmet to all, for any occasion. TENT & RENTALS Durango Party Rental (page 5). They have an extensive supply of everything celebration! We appreciated the choices and options available to customize our wedding. Full vendor list on page 88.
Page 29
Durango Weddings Magazine 29It rained during the reception, which was beautiful, especially since we were safe in the tent.
Page 30
30 DurangoWeddingsMagazine.comReal Wedding
Page 31
Durango Weddings Magazine 31From the bride, I envisioned a sort of "old-fashioned" wedding with snow falling outside that evoked feelings of nostalgia and love. THE CEREMONY We held the ceremony on the patio of the Powerhouse Science Museum. We had a wooden box that we nailed shut during the ceremony that will be opened on our ten year anniversary. In the box, we each put a letter that we wrote to each other, and have not read. We also put in our vows and a bottle of wine. During the ceremony, a guest snapped a Polaroid that we did not see, but also put into the box. We then nailed it shut. LOOKING BACKMy best friend passed away the day before our wedding, on Valentine's Day. She died moments before my rehearsal dinner. Although this wasn't unexpected, it was an immense loss and pivotal moment in the weekend. She lost her battle to cancer. I had been in Denver with her the week prior to my wedding and many perspectives in my life changed over the nal weeks of her life. I, personally, knew what was important, and what was not in a wedding. Once the ceremony started, I knew that whatever was going to happen was going to happen and I was determined to enjoy every moment of my wedding and not let it slip away too quickly.RECOMMENDED VendorsVENUE Powerhouse Science Center (page 80). VIDEOGRAPHER IlluminArts (page 19). CABARET TABLES Durango Party Rental (page 5). Full vendor list on page 88.
Page 32
32 DurangoWeddingsMagazine.comFrom the bride: My husband and I have been together for over 7 years, we're high school sweethearts and it seems the whole world has been waiting for us to nally be married. The famous reaction to our engagement was "It's about time!"THE PLANNINGThe Durango Weddings Magazine was extremely helpful! My wedding would not have been what it was without the help of the Magazine. I found most of my vendors and loved reading about all the local weddings and the vendors they used. I wanted to get my hands on every issue!THE STYLEI knew I wanted lace and soft neutral colors, but I didn't want our wedding to be too feminine so I added burlap and twine, and had the guys wear gray suits to give our day a more rustic feel.THE FIRST LOOKIt almost didn't happen, but I'm sure glad it did, that moment we shared seeing each other, getting all our nerves out and remembering what this day was all about was so precious and much needed. I remember the look on his face and sharing the emotions of joy, love and excitement together before we said "I do". This was my favorite memory from that day.Real Wedding
Page 33
Durango Weddings Magazine 33I loved our outdoor ceremony under the huge wooden gazebo!
Page 34
34 DurangoWeddingsMagazine.comRECOMMENDED VendorsVENUE Echo Basin Ranch (page 53). Beautiful location and Kathi was great to work with and very accommodating.HAIR & MAKEUP Hair Fusion (page 92).PHOTOGRAPHY Illuminated MomentsI'm a very detailed oriented person, so I stressed about all the details and things falling into place. When it comes down to it, things are going to happen regardless of how much you plan and stress and in the end everything all worked out. Those little details will be forgotten but the memories of the love shared between my husband and I will always be remembered.RECEPTION DECOR Our decor was sweet and simple. We had lace and burlap table runners with burlap sashes on the chairs with decorated glass jars lled with baby's breath and various owers. I loved our first dance. Dancing and singing to each other as husband and wife to our song, was a great moment.
Page 35
Durango Weddings Magazine 35From the bride: Silverton is a beautiful town that we visit often. We travel there to watch the reworks every July 4th and spend lots of time off-roading in the moun-tains. After Casey proposed, we just knew Silverton was the place to get married. THE STYLE Our inspiration came from the movie Snow White & The Huntsman. We wanted a dark snowy fairytale in the mountains theme. We personalized the day by including little details of everything we love from music and movies to video games. THE CEREMONY was held on the deck of the Kendall Mountain Lodge (page 84). Our family and closest friends encircled us creating an intimate setting. We mar-ried ourselves, preformed a hand fasting ceremony we wrote, and Jess's grandmother read a Celtic love blessing.
Page 36
36 DurangoWeddingsMagazine.comTHE DÉCOR was very organic with antlers, bottles, sticks, pinecones, moss and apples. Almost everything was handmade or collected. We painted signs, included antiqued potion bottles inspired by the Skyrim video game and found decrepit bird cages. COLORADO BAREverything at the bar was made, brewed, or distilled in Colorado.Our SEATING CHART was inspired by our favorite TV/book series, The Game of Thrones. Most of our dinner music was instrumental covers of video game themes and songs from our favorite movies. ADVICEGive yourself enough time. When wedding planning starts consuming your life, take a vacation, even if it's just a drive.RECOMMENDED VendorsVENUE Kendall Mountain Lodge (page 84). Spacious with beautiful mountain views!PHOTOGRAPHER IlluminArts Photography (page 19). Drew took so much time with us to get to know our story. TRANSPORTATION: Mountain Side Concierge (page 84). Karen was amazing, she had so much patiencePA SYSTEM: Durango Party Rental (page 5). Full vendor list on page 88.
Page 37
Durango Weddings Magazine 37
Page 38
38 DurangoWeddingsMagazine.comFrom the bride: I had trouble choosing a few colors so I ended up incorporated all the colors of the rainbow. We did all tropical owers that just popped against all the green of the mountains. THE VENUEWe chose Durango Mountain Resort (see inside cover) because we've always loved the mountains and we wanted to get married outdoors. Durango Mountain Resort has multiple ceremony sites and I'd recommend all of them! THE CEREMONYUnfortunately, rain drove us inside, but the magic still happened and it was still a dream. Nothing else matters when you see the love of your life at the end of the aisle. THE RECEPTION We had the reception on top of the mountain at Dante's. We chose Dante's because it was just out of the way enough that it felt like we were getting away fromeverything to have our big day. I loved that we had the beautiful view to soak in all night through the big glass windows as we danced the night away. Vendor list on page 88.Real Wedding
Page 39
Durango Weddings Magazine 39
Page 40
40 DurangoWeddingsMagazine.comReal Wedding
Page 41
Durango Weddings Magazine 41Getting to see each other all dressed up before we were about to take our vows was a moment I will always cherish. From the bride: Our wedding style priority was to reect us as a couple. We wanted to go for an inviting home-style organic atmosphere with everything that we love about Colorado. And we wanted to throw a great party to celebration our union.
Page 42
42 DurangoWeddingsMagazine.comTHE CEREMONY was held at the river location at Ridgewood. The river was owing and all the aspen tree leaves were changing color. We had a beautiful branch arbor and log benches. During the processional, each bridesmaid walked into the ceremony carrying a one-word post it note in her hand, shown on the notes was a full message for Kyle. It was a surprise to him and no one in the audience could see the message, his expression was priceless and it had everyone asking what the message was. We all had a lot of fun with it. The whole ceremony was full of love, humor, and support from family and friends.UNPLUGGED We loved having an unplugged (no camera, no phone) ceremony so all our guests were attentive during our vow exchange.THE COCKTAIL HOURWe had a full blown bacon bar during cocktail hour, everything was bacon for my husband, who is a fanatic. THE RECEPTION DECOR We wanted an earthy, organic, inviting atmosphere. Each table had burlap runners, tree rounds, candles, growlers, moss, and succulents in glass terrariums with owers. We also had big hanging installations with greenery and candles dangling from the ceiling. Growlers from breweries we had visited all over Alaska and Colorado were showcased as centerpieces. ADVICE Don't sweat the small stuff no one will notice and remember it's about the two of you.
Page 43
Durango Weddings Magazine 43LOOKING BACK, we had a great time and wouldn't have changed a thing. But, if we had to do it all over again, we might have eloped. RECOMMENDED VendorsVENUE Ridgewood Event Center (page 3). The river site is absolutely beautiful. You have the sound of the river and all the green and yellow trees as a backdrop along with rustic wooden benches, what more could a couple want at a ceremony site. PHOTOGRAPHER IlluminArts Photography (page 19). They gave us every shot that we had requested. We had them running to the Rochester for our rst look, back to the Strater for group shots, stopping trafc for photos walking across the street, bus shots, group shots at the reception site, sparkler shots, and everything in between. They were very easy to work with and did a great job! DJ Ken Brott, Durango DJ & Audio (page 84). Ken was amazing. He met with us on several occasions to make sure he gave us the most memorable music experience possible. I would recommend Durango DJ! TABLE RENTALS Durango Party Rental (page 5).Full vendor list on page 88.
Page 44
44 DurangoWeddingsMagazine.comFrom the bride: Our style was modern with some vintage touches and a Jewish twist. I like unique decorations so most of the style was inspired off of mercury glass. We didn't feel the need to stay traditional because someone decided one day that's what you should do at a wedding.THE VENUEWe chose LePlatt's Pond (page 9) because the site is gorgeous and the big trees makes you feel secluded. Plus, Krii will help you make all your dreams come true. THE CEREMONYMax's dad married us, the song I walked into was On Top of the World by Imagine Dragons – I wanted something fun not slow, boring and sad. We wrote our own marriage contract that was a mixture of our vows and what we desire for our marriage. We signed it during the ceremony and now it hangs on our living room wall as a reminder of what we promised to each other.MEMORABLE MOMENTReading our vows to each other, I was so nervous my hands were shaking and I couldn't read what I wrote so, Max held my hands still so I could read. Real Wedding
Page 45
Durango Weddings Magazine 45
Page 46
46 DurangoWeddingsMagazine.comTHE FIRST DANCEWe started our reception with our rst dance with the purpose of setting the mood of the night, which was to have fun and live it up. We started with a slow dance to a traditional Jewish song then halfway through the song we jumped on chairs as the groomsmen tossed us up and down. I was holding on so tight so I wouldn't fall off. Max was being tossed so high he was catching air. All of us were laughing so hard. And so started the celebration!RECEPTION FUNInstead of the bouquet and garter toss, we did musical chairs. Everyone was ghting, falling, laughing, tripping, and all the guests surrounded the dance oor so enthralled with what was happening. Guests were cheering, laughing, and screaming. It was hilarious!ADVICEPlan well, consult with people in the industry, they know about the things you don't think of that will make your whole day perfect.Vendor list on page 88.
Page 47
Durango Weddings Magazine 47From the bride: We planned a Steampunk wedding mixed with Irish details and metal tones. THE VENUEWe chose the Powerhouse Science Center (page 80) because the industrial feel was perfect. The boiler room was just the right setting. And from our rst contact, the staff was wonderful.THE CEREMONYInstead of owers, my daughter carried a hot air balloon. My husband wrote the entire ceremony with my younger brother ofciating. Before Kevin started the ceremony, he had the crowd stand to indicate how long they had been married. It was a very heartfelt moment as everyone applauded each couple. THE RECEPTION It was a very relaxed family reception (no seating arrangements). We incorporated an Irish well wishes pebble toss where guests toss a pebble into the water and makes wishes for the couples happiness and future. It was originally done seaside, but since we were right there on the river, we thought it would be fun. All our guests lined up on the bridge outside of the museum and tossed a pebble into the Animas River. Full vendor list on page 88.
Page 48
48 DurangoWeddingsMagazine.comTwo days after we got engaged, I found my dress, pretty much the first one I saw on Pinterest.
Page 49
Durango Weddings Magazine 49Kevin built the airship for our cake table.
Page 50
50 DurangoWeddingsMagazine.comFrom the bride: We fell in love with Blue Lake Ranch. When we walked in, the décor and the smells that were coming from the kitchen reminded us of home in New Mexico where we both grew up. We pretty much knew right then that we found the right place for our wedding.THE STYLEWe are very laid back and didn't want to stress about every detail. I like peach roses so those were used in my bouquet and on the cake. Aaron wore a navy suit, which complimented the peach nicely. FAVORITE DETAILS I wore a pearl necklace that my great-grandmother wore at her wedding, a pearl bracelet that belonged to my grandmother and a pair of earrings from my mom.THE FIRST LOOKMy most memorable moment was seeing Aaron for the rst time when we did our rst look. It was really nice to have that time all to ourselves before the start of the festivities.Real Wedding
Page 51
Durango Weddings Magazine 51
Page 52
52 DurangoWeddingsMagazine.comTHE CEREMONY Colorado is one of the few states where the couple can perform the ceremony themselves so, we found vows online that were written by a relationship psychologist and based on what research says makes for a healthy and satisfying relationship. Aaron said a short introduction then we said our vows. It was very emotional, I cried the whole time! We passed out champagne utes before the start of the ceremony and said a toast to everyone at the end. THE RECEPTIONThe entire reception was so much fun. We rented a popcorn and a cotton candy machine and had a lot of lawn games (giant jenga, giant dominos, ladder ball) to keep the guests entertained throughout the evening. I think all of the games made for a relaxed atmosphere and really reected our personalities. ADVICE Don't let the idea of tradition get in the way of having the wedding you want, and don't be afraid to ask for help when you need it, plenty of people will offer so, take them up on it if you are feeling overwhelmed.
Page 53
Durango Weddings Magazine 53RECOMMENDED VendorsVENUE Ridgewood Event Center (page 3). With the mountains, owers, and lawn, this venue is absolutely gorgeous. They made our wedding day so perfect and took care of setting up all the tables, linens, place settings and chairs. Housekeeping, groundskeepers, and the entire staff is to be commended! It is obvious they have hosted many weddings because everything ran so smoothly! PHOTOGRAPHER Illuminarts Photography (page 19). Drew and Erin did a fantastic job of capturing our wedding day! They are true professionals and we couldn't be happier with the results! It is obvious IlluminArts is passionate about what they do. CATERER Durangourmet (page 80). From the appetizers to the dinner, everything was delicious! RENTALS (popcorn machine, cotton candy machine, arbor) Durango Party Rental (page 5). They were great and very nice to deal with.Full vendor list on page 88.
Page 54
54 DurangoWeddingsMagazine.comReal Wedding
Page 55
Durango Weddings Magazine 55From the bride: Ever since I knew a wedding was in my future, I have been collecting the Durango Weddings Magazine! The Magazine was so helpful. I got numerous ideas from all the beautiful weddings featured in the Magazine. I pretty much had everything set in my head the day after we got engaged, all I had to do was coordinate dates! THE CEREMONY The whole ceremony is some-thing that I will never forget. I was standing there with Dan holding hands as we looked at one another feeling a happy that cannot be described. TABLE DECOR I made a unique centerpiece for each table using recycled glass bottles decorated with jute, lace, pearl beads, and ribbon. LOOKING BACK, we had a ball the entire night! There was nothing that I would have changed. Everyone was having a good time and that was exactly what we wanted! ADVICEDO NOT stress over anything! Planning a wedding is the most fun thing you will ever do and it is all about love so why should it be stressful?RECOMMENDED Vendors VENUE, EVENT DESIGN & PLANNING LePlatt's Pond (page 9). This place is so beautiful and can accommodate a large crowd. I was so pleased with my decision to have Krii be the mastermind behind our wedding. She is truly amazing at what she does and everything went off without a hitch because of her! TENT & LINENS Durango Party Rental (page 5)Full vendor list on page 88.
Page 56
56 DurangoWeddingsMagazine.comFrom the bride: Colin proposed at the annual Balloon Fiesta in Albuquerque. After quickly and enthusiastically saying yes, he picked me up and placed me into a beautiful hummingbird balloon from Brazil at which time, I realized we were surrounded by 300+ people who had stopped to watch the proposal. As the balloon started to ascend, the crowd began clapping and cheering. It was such an exhilarating way to start our journey towards forever together.MEMORABLE MOMENTRight before the ceremony started, we took a moment to take a picture together, holding hands, without seeing each other.THE CEREMONYThe ceremony was one of the most romantic times of our lives. The connection we felt with each other was indescribable. We couldn't keep our eyes off each other and couldn't stop gently caressing each others hands. The electrifying feeling we shared throughout the entire 45 minutes reached its peak with the most romantic, sweep you off your feet kisses that left everyone giggling.Real Wedding
Page 57
Durango Weddings Magazine 57
Page 58
58 DurangoWeddingsMagazine.comRECOMMENDED VendorsVENUE Fox Fire Farms (page 33). Brent and Bron-wen were so easy to work with. They made the entire process very stress-free and smooth. It was a pleasure working with them and I would highly recommend this venue.See full vendor list on page 88.THE RECEPTION DECORThe tables were decorated with white linens and ivory lace overlays. Our centerpieces were bunches of hydrangeas in large mason jars displayed on top of small wooden pallets. Surrounding the centerpieces were several other small jars lled with soft pink bunches of carnations, baby food jars with votive candles and a chalkboard table number in a cork stand. Each place setting had a white linen napkin with a champagne menu tied to it using a piece of jute. LOOKING BACK We could have danced all night with our family and friends. The energy that evening was so upbeat and exciting. It was the best party/celebra-tion of our lives. The only thing we hated was how quickly it all went by. Before we knew it, the most exciting day of our lives was over, but that only meant the beginning of forever with each other, so it was ok.ADVICE Try to make time for each other before everything gets crazy. Go on a date the week before the wedding and DON'T talk about the wedding. Focus on your love and commitment for each other and don't let the little stresses of planning get in-between you.The touches of lace, flowers and wood represented the perfect union we were making as man and wife, delicate and soft yet strong and indestructible.
Page 59
Durango Weddings Magazine 59Flower FarmPhotography by Photo DivineOn a crisp fall afternoon, Kyla Jenkinson and Wesley Sebern of Photo Divine photographed this oral inspired styled shoot at the Linnaea Flower Farm in Durango. As their sweet couple strolled through meadows of owers, they posed with loosely owing bouquets, baskets lled with blooms and colorful pomanders hanging from trees. The adorable ower girl wore a freshly picked oral crown that probably smelled heavenly as she tossed ower petals in the air. We love the idea of incorporating locally grown organic owers into your wedding day. Purchase armfuls of owers from the Farmers' Market then get the girls together for an afternoon of laughter as you make your own oral crowns/bouquets/center-pieces - a wonderful way to create personalized orals with a memorable story. Love Blooms on aStyled Shoot
Page 60
60 DurangoWeddingsMagazine.comBouquet with dahlia, trachelium, stock, sage, and scabiosa. Woodland bouquet with dahlia, scabiosa, eryngium, willow, succulents, lisianthus, bupleurum, stock, ammi and pyracanthas. A basket lled with ammi, dahlia and trachelium.Photography by Photo Divine at Linnaea Flower Farm, Durango CO
Page 61
Durango Weddings Magazine 61Bouquet with dahlia and bupleurum.Bouquet with lisianthus, dianthus, ammi, mountain mint, fern, and polygonum. An adorable oral crown with dahlia, eryngium, pyracanthus, mountain mint, willow, gaillardia, bupleurum and lisianthus.Pomanders with zinnia, dahlia and ammi.
Page 62
62 DurangoWeddingsMagazine.comSEE MORE online DurangoWeddingsMagazine.comImage by IlluminArts