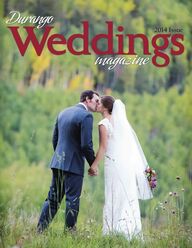 Return to flip book view
Durango Weddings Magazine - 2014 Issue
Page 1
Page 2
2From the brideOUR CEREMONY took place among the aspens with Engineer Mountain as a backdrop. It was the perfect day, despite having snowed the night before, which was a treat in itself for many of our out-of-town guests. The ceremony kicked off with the song "You and Me" by Dave Matthews, and it was sung by my cousin who was accompanied by a family friend on the guitar. Jesse and I are both big fans of the Dave Matthews band, and the songs made the ceremony that much more special as we also got engaged at a Dave Matthews concert. We wrote our own vows and barely kept it together while we were reading them.Casual at Durango Mountain ResortImages by IlluminArts Photography
Page 3
3HANDMADE TOUCH Jesse's dad made the cake/cupcake stand for us, but it wasn't ordinary wood – he used wood taken from Jesse's great-grandparents' homestead in South Dakota that has been in the family for more than 100 years. OUR GUEST SIGN-IN was a painting of a grove of aspen trees and we asked guests to stamp their thumbprint and sign their names on the painting. While I've seen the idea at many weddings, the fact that my best friend painted it for us made it very special and will be something we can hang in our house forever.
Page 4
4Amanda & Jesse's RECOMMENDED Vendors VENUE, CATERER & LODGING: Durango Mountain Resort. The food and service was great and our wedding was truly everything we hoped it would be and the staff at DMR had a large role in that. PHOTOGRAPHER: IlluminArts Photography. I loved working with Illumin-Arts. They were very detail-oriented, made sure that I got all the images I wanted and were very thorough. They were completely unobtrusive during the ceremony and reception and we got along with them great! CAKE: Skillfully Decadent Desserts. We did cupcakes and then a cutting cake. Jocelyn worked with me to match my wedding décor and decorated each cupcake avor separately. They were so delicious, everyone was raving about them. See resources for additional vendors.OUR FIRST DANCE was very special. We danced to "Into the Mystic" by Van Morrison. My younger brother and Jesse's oldest brother – both of which sing and play guitar – learned the song and performed it. It made our rst dance a very special and symbolic moment for both of our families.
Page 5
5Sarah & Kevin's RECOMMENDED Vendors PHOTOGRAPHER: Photo Divine. Kyla and Wesley have such a calming presence about them that they made the day very enjoyable. We love our photos!VENUE, CATERER & LODGING: Durango Mountain Resort. Gorgeous views! The food was great (we had many compliments) and I couldn't believe how amazing the staff was. They were always willing to help, always had a smile on their face and made themselves available at all times. Most of our guests, even the locals, stayed at Durango Mountain Resort because they made it so easy and accommodating. See resources for additional vendors.Bliss at Durango Mountain ResortImages by Photo DivineFrom the brideOUR CEREMONY was held at Durango Mountain Resort with the Twilight Peaks in the background. The aisle was lined in handmade purple pomander balls, and purple and fuchsia rose petals. Even though it rained all day, I was set on being married outside at this beautiful site, but it seemed like the weather had a different idea for us. Fortunately, the rain stopped just in time for the ceremony to start!
Page 6
6From the brideWHY PAGOSA SPRINGS At our yearly New Year's ski trip to Wolf Creek, Paul got down on one knee and surprised me in front of all our friends on top of the mountain! One year later, we tied the knot in the same place. Colorado will always have our hearts.OUR INSPIRATION We wanted an intimate, classic, chic, winter wedding in the snow. As luck would have it, it started snowing the morning of our wedding and didn't stop the whole weekend.Winter Bliss in PagosaImages by IlluminArts Photography
Page 7
7Ashlea & Paul's RECOMMENDED Vendors VENUE & LODGING: Keyah Grande.PHOTOGRAPHER: IlluminArts Photography. Drew & Amy's assistance before the wedding and their eye for detail are unequaled. EVENT PLANNER: Durango Party Rental. Krii came in the afternoon of the wedding, took a look around, met everyone and went to work. She took so much stress off the wedding party, she completed some of the ideas we hadn't gotten to, she took over handling the vendors so we could focus on each other, and she was the most gracious hostess you could ask for.CATERER: The Yellow Carrot. They created a beautiful buffet and amazing hors d'oeuvres for our guests and the wedding cake and desserts tasted even better than they looked.OUR CEREMONY vows were created especially for us and everyone present could relate to them, I will treasure them always.HOMEMADE TOUCH My grandmother made fabric yo-yo's from my deceased grandfather's favorite shirt and incorporated them into the boutonnieres.
Page 8
8From the brideWHY DURANGO We wanted to have a small wedding in a place we love. We are both passionate about mountain areas and there was not a second thought that Durango would be the place for our wedding and a perfect destination to share with our friends and family.OUR STYLE We denitely sought to have a casual and fun wedding with attention to the small details. It was personal and unpretentious - like a party in the backyard with our closest friends. We really strived to be ourselves. We wanted to be able to look back at our day and our pictures and know that we were true to our personalities. Having fun outdoors and a great party enjoying the company of our friends and family was our main focus. Whimsical Fun in DurangoImages by IlluminArts Photography
Page 9
9HANDMADE TOUCHES We hung banners that I designed on all the light posts along the driveway leading up to the wedding site. We also had a corn hole (bean bag toss) game designed to match our theme for our guests to play after the wedding ceremony. THE FAVORSBlackberry jam and salsa canned with fresh produce from our garden were displayed in a wagon and given to our guests as gifts. THE CAKE TOPPER was made by one of our favorite artists, Karen Woodward. It is a tradition that I give Matt one of Karen's pieces for Valentine's Day every year and it seemed perfect to have her make our wedding cake topper. We told her we wanted a chicken and bike theme. We have pet chickens on our mini-farm in Missouri. It was whimsical and fun, exactly what we imagined. CEREMONY HIGHLIGHT When we both spoke our vows - which were more or less a story to each other – we both knew this was meant to be. We weren't nervous (and we are shy people that don't like to be in the spotlight)!
Page 10
10OUR ADVICEPlan early. It's easy to say "I have time" but eventually one day you realize that it's no longer true. Granted, we had a simpler wedding with the reception on site and less vendors, BUT we worked on it a piece at a time and we could relax going into the last month of planning. Communication is critical when planning a destination wedding. We went to Durango six months prior to the wedding to meet and choose vendors. That was a major key to our successful destination wedding – meeting vendors face-to-face, touring the venues, and getting a feel for the region. Finally, determine a budget then assume it will grow over time. Be conservative because before you know it – know matter how hard you try – there will be unforeseen aspects of the wedding you forget to budget.Lisa & Matt's RECOMMENDED Vendors PHOTOGRAPHER: IlluminArts Photography. Enough cannot be said about how terric it was to work with Drew and Amy. They are one of the reasons our destination wedding was successful. Their photography is beau-tiful and they kept on task throughout the day.CATERER & CAKE: The Yellow Carrot. Their food is elegant and amaz-ing and the presentation is phenomenal. OFFICIANT: Reverend Chessa Gill. Chessa guided us in the right direc-tion, listened intently and calmed our wedding day "nerves". She under-stood what we were looking for and delivered a beautiful ceremony.TENT & RENTALS: Durango Party Rental. See resources for additional vendors.
Page 11
11IDEAS | remembering loved onesImage credits: Top row from le to right: Josh Luna Fine Art Photography, Shutterchic Photography, Photography by Julie. Bottom row from le to right: Frances Photography, IlluminArts Photography, Brinton Studios. I made the headband I wore with one of my great grandma's bracelets. It was so unique and special. ~ErinOur rings were tied on top of my great grandmother's bible and carried down the aisle by our ring bearer. The bible had many birth announcements, pictures, special notes, and funeral programs that my grandmother had tucked into its pages. It was like having a special piece of my family's history by including her bible into our wedding.My bouquet was made with family brooches and a charm of my late grandmother. My grandmother had always been an important part of my life, and having her in my bouquet made me feel like she was there with me. ~MeganMy father passed away from cancer so it was important for me to include him in our special day. Our orist wrapped my bouquet with one of his dress shirts that had his initials on the cuff. As I walked down the aisle with my bouquet, it was like he was there holding my hand. ~Tracy
Page 12
12From the brideOUR CEREMONY was sweet and romantic with lots of happy tears! HOMEMADE TOUCHES We made signs and personalized boxes for our owers from old barn wood. My aunt made her famous biscochitos.OUR ADVICE Hire a wedding planner. Our planner, Mandy, took care of everything and made our day totally stress free.Romance on the RanchImages by Shutterfreek
Page 13
13Taryn & Russell's RECOMMENDED Vendors VENUE: Fox Fire Farms. The property is beautiful. The patio is very intimate and just what we dreamed of.EVENT PLANNER: Celebrations. Mandy is a rockstar. She kept the planning on track. She was there for us with any questions we had and made the day of our wedding awless.PHOTOGRAPHER: Shutterfreek. They are so talented! Such wonderful people to work with! DESSERT: The Yellow Carrot. The cake and cupcakes were wonderful!TENT & RENTALS: Durango Party Rental. LODGING: Sky Ute Casino.See resources for additional vendors.
Page 14
14From the brideWHY DURANGO We got engaged on a weekend trip to Durango and loved the aspens in the fall, the mountain weather, and all of the activities available. THE WEDDING WEEKEND We wanted a fun, relaxing atmosphere where our guests could enjoy the best that Durango had to offer. We started with a BBQ on Thursday night that blended the Cuban and American cuisines of our families. We hosted breakfast for our guests each morning, then everyone would go hiking, mountain biking, horseback riding, y shing, hang out in town, or just drive through the scenic mountains, then we would all get together again for dinner.Destination DurangoImages by SAB Photography
Page 15
15OUR ADVICEEnjoy your time as an engaged couple and don't negotiate on what you want to please others. We planned the perfect wedding for us and have no regrets although there were some tough conversations with others who had different expectations.OUR CEREMONY was held in a meadow with a beautiful mountain backdrop surrounded by aspens. The ceremony was very sweet and I couldn't help but tear up during our vows, which caused several bridesmaids and guests to cry as well. I carried a handkerchief that my great grandmother held on her wedding day, as did my grandmother, and mother. All of which have had loving and lasting marriages. Courtney & Carlos' RECOMMENDED Vendors VENUE, CATERER & LODGING: Sow's Ear & Silverpick Lodge. George and Chris were both extremely nice, helpful and very responsive via email, which was important since we were planning a destination wedding.EVENT PLANNER: Celebrations. Mandy is great to work with and made our wedding vision come to life. She stepped in when needed to keep the wedding day moving along through weather conditions and lively guests.OFFICIANT: Reverend Chessa Gill. Chessa conducted a wonderful and touching ceremony that was customized to us.REHEARSAL DINNER: Cascade Village.See resources for additional vendors.
Page 16
16From the brideWHY SILVERTON Dave and I love Silverton and have spent a great deal of time up in the mountains in and around the town. OUR CEREMONY was held at the Silverton park gazebo. There's a creek right behind the gazebo with a great view of the mountains. We had our friend Danny marry us. We thought it was important to have someone who really knows us be the one to marry us. Dave and I wrote the ceremony together. We wanted something that was a reection of our life together. During the reading of our vows the tears owed! CEREMONY HIGHLIGHT My little nephew brought our rings to us tied to an old climbing hex.Love in SilvertonImages by IlluminArts Photography
Page 17
17THE RECEPTION was held in two places. We rst walked everyone over to the Silverton museum. This place is amazing and so much fun to walk around and see all the history Silverton has. The Yellow Carrot set up a mac and cheese bar that was to die for! People are still raving about the food! Everyone mingled around with food and drink and were able to see the whole museum. After the museum, we all stopped on the steps of the court house for a group photo then we headed to Montanya's rum bar for the evening. We had a toasting hour where friends and family toasted (well, sometimes more like roasting) us, which was one of the most fun parts of the day! Walking down e aisle wi Dave after e ceremony was e most incredible fling.
Page 18
18Caitland & Dave's RECOMMENDED Vendors VENUE: Town of Silverton. They are very accommodating. PHOTOGRAPHER: IlluminArts Photography. These guys work hard! I was amazed at how they were able to work a huge crowd, keep everyone smiling, and the pictures are wonderful! They also were extremely helpful in the planning of the actual day. CATERER & FLOWERS: The Yellow Carrot. The food was outstanding. Truly above and beyond anything we had thought it could be. Our guests still talk about the food. The team there is so professional and helpful. This goes for the food, cake and owers. They even provided us with rental chairs, tables, linens. They made planning a wedding almost easy! LOOKING BACK I wish I would have eaten more food! Things can be busy and I realized I didn't get to try all the toppings for the mac and cheese bar!ADVICE Just remember this is a celebration for you and your partner. Do what makes you two happy. That's all your family and friends truly want to see!
Page 19
19IDEAS | ceremonyI wrote personal notes to my husband-to-be on slips of paper cut from a Chipotle bag. As each of my eight bridesmaids met him at the altar, they handed him a note. On one I wrote, "I'll always let you order Chipotle!" Quoting Shakespeare, another said, "When I saw you, I fell in love, and you smiled because you knew." I watched from the back of the church as he laughed and wiped tears from his eyes as he read each note. My husband-to-be made us a wine box. We did our rst toast as a couple and stored a second unopened bottle of wine along with a ower from my bridal bouquet and the outlined speech he had written, but never used when he asked me to marry him. The box itself and the items inside hold special memories for us to keep, and revisit in the years to come. ~KristinFor our fall wedding in the mountains, we draped pashimas in our wedding colors over chairs for our guests. ~AmandaFor our unity ceremony, we planted a strawberry plant together in a box we built and decorated together.Ryan took one of his love poems to me from our dating and had my cousin write music to it. My cousin performed the song while we had our rst communion together. We had all of our guests participate in the ceremony by bringing forward buttons to represent their hopes and wishes for our marriage by placing them in a "Hope Jar."Four our unity ceremony, we had our parents bring water from our home towns to "unite" with our Colorado water. ~PetrikaImage credits: Top row, Van Buren Photography. Middle row left, Trystan Photograhy. Middle row right, IlluminArts Photography. Bottom row left, In Photography. Bottom row right, Polis Photography.
Page 20
20Casual & Fun in DurangoImages by IlluminArts PhotographyFrom the brideWHY DURANGOWe met and fell in love in Durango and wanted all of our guests to experience some of the things we love about the area: beautiful scenery, bluegrass music, cowboy boots, and casual attire. THE PLANNINGIt was helpful to look through the Durango Weddings Magazine to get ideas for our wedding and information on vendors. We didn't look at many mainstream magazines because we wanted something more "Durango" for our wedding. OUR CEREMONY was heartfelt with vows that we winged (that's the kind of people we are). Our dog ran out in the middle of the ceremony, totally unplanned, but it was perfect timing! We couldn't have imagined our day without him.
Page 21
21Megan & Victor's RECOMMENDED Vendors PHOTOGRAPHER: IlluminArts PhotographyEVENT PLANNER: CelebrationsCATERER, CAKE & FLORIST: The Yellow CarrotRENTALS: Durango Party Rental VENUE: Ridgewood Event CenterADVICETry not to let the planning stress you out. It's inevitable something will not go as planned, but no one will know that except you! Enjoy the process and enjoy the family time – and of course, don't forget to enjoy the day! When the day comes, just go with what you got – it'll be perfect!
Page 22
22From the brideWHY TELLURIDE Brian's mom and step dad had visited Telluride for their anniversary a year prior to when we started planning our wedding and the pictures they brought back were stunning. We thought Telluride was the perfect mix of a gorgeous dramatic landscape matched with a down-to-earth small town vibe and that was exactly what we wanted. OUR STYLE We're both painters and have odd interests, so we really wanted our wedding to reect our unique and sometimes off-the-wall personalities. We really paid attention to personalizing the details. It was our day, and even if no one else caught it, we did. And I love that. Artsy Boho in Telluride Images by Nathan Russell Photography
Page 23
23Anna & Brian's RECOMMENDED Vendors RECEPTION: The Sheridan Opera House (page 48). A venue with such character, why would you ever choose anywhere else.Event Planner: Realize Planning Photographer: Nathan Russell Photography Caterer: Aemono Cake: The Butcher & Baker Cafe Florist: New Leaf Design Bride's Gown: BhldnOUR CEREMONY had an at-home kind of feel with our closest friends and family, but with an unrivaled background. It rained and hailed briey right before we started then, right at sunset, we had a double rainbow shoot across the backdrop right behind the altar. It was perfect. Brian got sick with an upper respiratory infection the day before our wedding. He was such a trooper, but barely had a voice and when he repeated "in sickness and in health" in our vows, his voice cracked and he sounded so sick. It made us both, and everyone at the ceremony crack up. It was so sweet and funny. After the ceremony, we walked with our guests to Sheridan Opera House for the reception.FAVORITE DETAIL the cake toppers we found from an artist on Etsy. They were the perfect way to tie in our eccentric artsy personalities.
Page 24
24Woodsy Elegance in PagosaImages by IlluminArts PhotographyFrom the brideOUR CEREMONY was a traditional South African Jewish religious ceremony. The chuppah was made of the tallit, the prayer shawl, of my late brother. We had a pair of Shabbat candlesticks that belonged to Josh's late mother. My uncle played the grand piano for the processional, which was a traditional South African song and we had a South African three-man choir made up of wedding guests, which was a complete surprise to us! FAVORITE DETAIL I wore my mom's wedding dress.
Page 25
25LOOKING BACK It was one of the best weeks of our lives. ADVICE Let somebody else plan your wedding! Our parents planned ours so we got to enjoy every moment!MEMORABLE MOMENTS, the WHOLE week. Pagosa Springs was the perfect setting. Thursday night, Josh met all of my family who were in town for the occasion from South Africa and Australia. Friday night, we had a catered Shabbat dinner at the Keyah Grande for both families. Saturday night, Josh's parents threw a fantastic party and we danced the night away. Sunday night was the wedding and Monday morning we had a catered brunch to send off all our guests.
Page 26
26Jodi & Josh's RECOMMENDED Vendors VENUE: Keyah Grande was perfect for us. Not only was it a gorgeous place to get married, but we stayed there with thirty of our closest friends. The ranch has all the ameni-ties... what else could you want! And, they were fabulous to work with.PHOTOGRAPHER: IlluminArts Photography. Drew Semel was FANTASTIC. His photographs are all over our new home, and he was lovely to have around on the day of.RENTALS: Durango Party Rental. Krii Black organized everything that needed to be organized down to the generators we needed. Durango Party Rental was wonderful to work with, responsive, had great suggestions and just made everything happen.
Page 27
27Vows with a ViewImages by ShutterfreekFrom the bride OUR CEREMONY was held outside in a beautiful meadow facing Engineer Mountain at Durango Mountain Resort. Fortunately, the rain cleared and the sun came out just in time for the ceremony. Ben's father became ordained to ofciate our wedding. We asked him to do this for us and he made it so meaningful. It is something we will never forget and is the best decision we made. We had a sand ceremony with my sand coming from a beach in Santa Cruz, California where I grew up and Ben's coming from a wash in New Mexico where he grew up. While we poured our sand together, we had Ben's Brother and our two best friends sing/play "Lucky" by Jason Mraz and Colbie Cailliet, a song that we both love and that describes our relationship.
Page 28
28From the brideOUR THEME was casual elegance with a southwest air. We used lots of succulents, terra cotta and turquoise. HOMEMADE TOUCHES Family friends did my owers and most of the decorations. We made a candy bar to match our color scheme. We had "John and Kara" trivia on each table. We made personalized welcome bags for out of town guests, I made all my bridesmaid's jewelry and we made napkin rings with burlap fabric and a succulent. We also painted an antique table for the guest sign-in book.LOOKING BACK, our photographers, Kyla and Wesley of Photo Divine did not miss a thing. ey took such care in making sure they captured every detail, every moment, and every loved one. Southwest Flair Images by Photo Divine
Page 29
29Our wedding day was warm, casual and fun!
Page 30
30From the brideOUR CEREMONY was held at my parents' home on the Florida River in Durango. The scenery was absolutely breathtaking and the weather couldn't have been more perfect. We were married under an aspen trellis my dad and brother made from fallen trees found on their ranch. We chose to exchange love letters, and also were given letters of encouragement and advice from each of our parents. We locked all of the letters into a box along with a bottle of wine. We plan to open the box on our one-year anniversary and read the letters while we sip the wine.Western Chic in DurangoImages by Allison Ragsdale Photography
Page 31
31THE RECEPTION was held in the party barn on the ranch. My parents built the barn with the wedding in mind, and it couldn't have been a more perfect structure for the event. HOMEMADE TOUCH My dad cut and sanded individual pieces of wood from the ranch to use as the table names while my step-mom wood-burned each unique table name into the wood pieces. We named each table after a place in Durango that was special to us. OOPS, the music for our rst dance cut off towards the beginning of the song (technical glitch) and all of the guests started singing "Danny's Song" without the music. It ended up being one of our favorite moments and we absolutely loved every minute of being serenaded by family and friends. OUR ADVICE Go with the ow! Remember, this is just one day out of an entire lifetime full of days. Kristi & James' RECOMMENDED Vendors RENTALS: Durango Party Rentals. Jon & Krii are the ultimate professionals!HAIR & MAKEUP: Signature Spa. Katrina Farris was AMAZING! My hair looked fabulous… she listened to everything I asked for and did so much more. REHEARSAL DINNER: Strater Hotel.See resources for additional vendors.
Page 32
32From the brideOUR INSPIRATION we really gravitated towards a southwestern wedding style and anything that was vintage and rustic. We also wanted the wedding to reect our personality. OUR CEREMONY was very personal. We wanted to keep it simple and really focus on us. My aunt did a reading with an excerpt taken from Jake's parents' vows when they were married. LOOKING BACK, we were on such a high we wouldn't have even noticed if something didn't go according to plan. We spent a lot of time planning for the day and it honestly wouldn't have mattered if anything went wrong.Southern Style in DurangoImages by Eppich Photography
Page 33
33Julie & Jacob's RECOMMENDED Vendors VENUE: Ridgewood Event Center. I walked down the aisle with mountains in the background. We had dinner in an outside tent with heaters and moved inside for dancing. The space was perfect. EVENT PLANNER: Celebrations. Mandy is amazing and we seriously couldn't have done the wedding without her. Because she is so experienced, she was able to help us with so many details that we wouldn't have thought of on our own. CAKE: Flour Sack. Their cakes are beyond stunning and delicious and we cannot rave enough about them. TENT & RENTALS: Durango Party Rental.See resources for additional vendors.THE RECEPTION was a blast, but it was over too soon! We had a cigar and bourbon bar, which was a big hit! For the tables, we collected driftwood at Vallecito Lake and used it to hold the owers. The food was very important to us and we tried to keep it local so our friends at Homegrown Biodynamics supplied all the veggies for the event. Instead of seating cards on a table, we used two barn wood frames, strung twine and used mini clothes pins to hang the place cards. We had ve outstanding cakes for dessert. We did the Hora, which is a traditional dance of celebration where the couple is raised up on chairs and everyone dances around them.
Page 34
34Elevated Elopement in TellurideImages by Barton Glasser PhotographyFrom the brideTHE CEREMONY Our intimate ceremony was held on Bridal Veil Falls. I had my best friend sing a "Katie & Matt" personalized version of Adam Sandler's 'Want to Grow Old with You.' We wrote our vows on papyrus scrolls, which are proudly displayed in our home.PERSONAL TOUCHESI got some foxtails to add a little bit of home to my bouquet. Also, we had a crest made to commemorate our personalities and our big day. We applied this detail to our champagne labels and announcement stationery.
Page 35
35Katie & Matt's RECOMMENDED Vendors Photographer: Barton Glasser PhotographyCake & Caterer: Butcher & the Baker Café Flowers: New Leaf DesignLodging: Camel's GardenHair & Makeup: The Peaks Salon & Spa MEMORABLE MOMENTSThe moments between the elements. The wind would howl, the snow fell silently, and the rain clouds would let the sun through with impeccable timing. It felt like the heavens were on board with our marriage. ADVICE Think about how you want to remember the day, and make it happen. Whether you want to be surrounded by family and friends, or you just want a quiet affair, do what will make THE TWO OF YOU happiest!
Page 36
36From the brideFOR OUR CEREMONY, we composed the script ourselves, with the wording inspired by Ancient Greek ritual, Vulcan marriage rite and a few key points from our shared knowledge of fundamental physics. The idea was to keep the ceremony focused toward our exchanging vows and completing the unity ritual, which was mixing wine (actually single malt scotch and a unique type of strong rice wine from China). We linked arms to drink, which is a tradition from Chinese wedding rituals. We were pronounced husband and wife with a nal physics inspired blessing: "May the Dimensions be with you... Always."SciFi Fest in MancosImages by IlluminArts Photography
Page 37
37Ou & Lances' RECOMMENDED Vendors PHOTOGRAPHER: IlluminArts Photography.EVENT PLANNER: Celebrations.TENT & RENTALS: Durango Party Rental.Venue: Willowtail Springs HANDMADE TOUCH I wrote quotes from the 'Hitchhiker's Guide to the Galaxy' on all our cocktail napkins.
Page 38
38Under the Rainbow Images by IlluminArts PhotographyFrom the brideMY INSPIRATION I wanted an artistic celebration and since I love the look of all the colors together in a rainbow, I decided on a rainbow palette of red, orange, yellow, green, blue and purple.MY FAVORITE DETAIL was the color beading I had added to my dress.OUR CEREMONY was humorous, tailored to our quirky love and humor. My brother ofciated and Guy's father did a prayer in Navajo. LOOKING BACK, I would allow for more time to get ready. I felt rushed and stressed toward the end.ADVICE Do EXACTLY what you want and have fun with it!Shaula & Guy's RECOMMENDED Vendors PHOTOGRAPHER & VIDEOGRAPHER: IlluminArts Photography. Creative, detail-oriented, calm and friendly.VENUE: Ridgewood Event Center.See resources for additional vendors .
Page 39
Page 40
40From the brideWHY TELLURIDE We met and fell in love in Telluride and we couldn't have imagined our wedding day taking place at any other destination on earth. Telluride will always be a special place to us and now more than ever, it holds a signicant place in our hearts.OUR CEREMONY was rich with Serbian Orthodox traditions such as chanting, tying our hands together to represent that we are one unit, taking our rst steps as husband and wife, and being crowned as King and Queen of our marriage. Destination TellurideImages by IlluminArts Photography
Page 41
41Nina & Michael's RECOMMENDED Vendors PHOTOGRAPHER: IlluminArts Photography. They were so prepared and I didn't notice them the entire day. Drew and crew did a wonderful job of capturing every single moment. I will always cherish our photos. See resources for additional vendors.HOMEMADE TOUCHES Michael's mom is a fantastic baker and she made homemade cookies for our wedding. We had chocolate chip, oatmeal raisin, root beer, and sugar cookies. They were beautiful and delicious! We also made our own ski signs for directions to the ceremony and reception because skiing is our favorite thing to do. Naturally, the party was a "double black diamond" because the dance oor was for experts only.MOST MEMORABLE MOMENT was our rst dance as husband and wife. We had so much fun laughing, dancing and singing together. I know that we will get through life exactly like that.
Page 42
42From the brideWHY MONTROSE I have wanted a Colorado wedding since I was a little girl, so we were married on Matthew's Aunt and Uncle's ranch in a eld with a wonderful view of the Grand Mesa. THE MOST MEMORABLE MOMENT was our rst look. Everything led up to that moment where it became real. I will never forget the look on Matthew's face.OUR CEREMONY A storm blew in at exactly 6:00 PM when the wedding was to start. We delayed the ceremony by fteen minutes. It blew over and was followed by perfect weather for the rest of the evening. On the Ranch in MontroseImages by Shelley Paulson Photography
Page 43
43HOMEMADE TOUCHES We combined the skills of different family members, which made everything more special. Matthew's cousin did all the owers, my mother made the cakes, and his mother planned the food. We are blessed with a very large and wonderful family, and this made everything that much more personal.ADVICE Schedule "debrief time" the last few days leading up to the wedding. Time to be together and just remember why this wedding is happening in the rst place.
Page 44
44From the brideWHY TELLURIDEWe've always known that we wanted to get married on top of a mountain in the fall, when the temperature is crisp, and the smell of turning leaves lls the air. On a previous trip to the San Juan Mountains, we were both drawn to the history and the mystique of the Telluride box canyon. We took a jeep tour up and over Bridal Veil Falls and it took our breath away. Telluride stole our hearts! THE CEREMONY We wrote our entire ceremony with verses, sayings, and readings that truly described us. We did the "Blessings of the Hands" with each of our mothers reading alternating lines of the poem. It was really touching, and felt like our mothers were sending us off into the rest of our lives with happiness and good will. Autumn in TellurideImages by IlluminArts Photography
Page 45
45Morgan & Nate's RECOMMENDED Vendors Photographer: Illuminarts Photography. Event Planner: Celebrations. DJ: Ken Brott, Durango DJ.Venue: Telluride Ski ResortTHE RECEPTION Floral arrangements highlighted with warm candles set the perfect romantic and cozy mood for the evening. Wine cork place-card holders added a fun element of something we enjoy. At the end of the night, we sent everyone home with a cute gourmet to-go grilled cheese and French fries for a late night snack. ADVICE Take a breath. It really does come together and will be amazing. It might not seem like it at the time you are planning it, but look at it in small projects versus the major to-do list. Focus on one project at a time. Most important, remember to have fun. Everyone told us that the day would y by, and it does. Sit back, relax, and enjoy a day to celebrate your love.