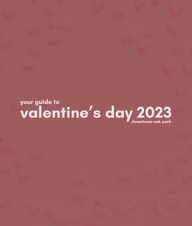 Return to flip book view
DTOP Valentine's Day Guide 2023
Page 1
Page 2
R DA EVEN AL T C EN Your Valentine s Checklist pick up a treat from Sugar Fixe surprise your Valentine with a Wise Cup Red Velvet latte make reservations find a unique card from Fitzgerald s grab your gals for Galentine s with Einnim JAYNE
Page 3
White Mark Willah Pajama Set, $78 You Are The X To My O: A Book For My Other Half, $12 Archie Hoops, $38 ASTR Gracie Dress, $110
Page 4
Page 5
Page 6
Page 7
Page 8
Hand Cream Trio, $35 Various Valentine's Day Cards, $4 - 13 Instant Champagne Cocktail Kit, $30
Page 9
Victorian sentimental locket with a lily of the valley flower and bird design accented by enamel, $150.
Victorian gold-filled chain with detail, $145 Rare Georgian glass locket, holding a meticulous weave of red-blonde hair with a crown of glistening almandine garnets and a single diamond, circa 1800, $1395 Art Deco filigree necklace in 10k white gold with yellow and white gold floral details and oval pink stone, $325.
Platinum and pearl necklace, 16 3/4" $695.
14K white gold chain with elongated oval links, $225.
Page 10
Page 11
Page 12
Raspberry Heart Cream Tart for Two, $14 Heart Cake, $49 Raspberry Meringue Gift Box, $6 Valentine's Cookie Decorating Kit, $55
Page 13
Page 14
Jewelry from local artisan, Rachel Renee Jewelry and handmade Wise Cup mugs On the menu for a limited time only!
Rose Gold Latte & Red Velvet Latte
Stop in the week of Valentine's Day to try these specials.
Page 15