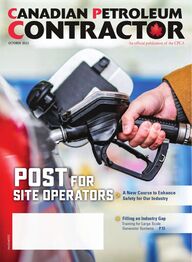 Return to flip book view
CPC-OCT22
Page 1
PM42940023OctOber 2022Filling an Industry GapTraining for Large Scale Generator Systems P.13Site Operators>POST forA New Course to Enhance Safety for Our Industry+
Page 2
providing all of your fuel equipment needsNEE is your one stop shop for all your requirements:Expansion tanks, Hot Water Tanks, Waste and Fire Water storage tanks, pumps, piping, inventory control and aftermarket serviceCOMPLETE FUEL OIL DELIVERY AND MANAGEMENT SYSTEMULC listed and fully integrated fuel oil delivery and management system for emergency diesel generator facilities. Compliant with all National/Provincial Fire codes, TSSA and all the Authorities having jurisdiction. Fuel oil storage system includes the following:• Certified Fuel storage tanks and accessories (ULC)• Certified Fuel distribution valves and fittings (cUL, ULC, FM, CRN)• Certified Fuel Pump & Strainer Sets (cUL & CSA) – available in Simplex, Duplex, and Triplex Configurations• Certified Fuel transfer and controls (ULC & CSA) – Auxiliary Tanks• Certified Fuel Management Control Panels (cUL, ULC, & CSA)• Certified Tank level and leak monitoring system (cUL, ULC, & CSA)• Certified Tank fill & containment (cUL, ULC, & CSA)Toll Free National Directory 1.866.574.5100 I www.nee.ca Head Office: 1850 Derry Road East, Mississauga, ON L5S 1Y6 I Tel.: 905.564.2422
Page 3
OCTOBER 2022 • CANADIAN PETROLEUM CONTRACTOR • 3 CPCACPCACPCACPCACPCACPCACPCACONTRACTORCANADIAN PETROLEUMAn official publication of the CPCACONTRACTORCANADIAN PETROLEUMAn official publication of the CPCA 4 News from APSSCA 5 News from OPCA 7 POST for Site Operators A New Course to Enhance Safety for Our Industry 13 Filling an Industry Gap Training for Large Scale Generator SystemsadvertisersBGIS.......................................................................... 12Capital Petroleum Service Ltd.................................... 9Clarkway Construction Ltd ......................................... 8Convenience U CARWACS Show ............................ 15Fiber Glass Systems ................................................. 12Icon Containment Solutions, LLC ............................... 5Industries Desjardins ............................................... 16Leak Technologies Solutions Ltd ................................ 8Meridian Manufacturing, Inc ..................................... 6National Energy Equipment Inc.................................. 2Ontario Petroleum Contractors Assiciation ............... 3Phoenix Petroleum Ltd ............................................. 11Pumps & Pressure Inc. ............................................. 10R. A. Pilkey Service Station Maintenance ............... 10Steelcraft Inc. ............................................................. 9Advertising Sales and Editorial Ofces: Ensemble IQ, 20 Eglinton Avenue West, Suite 1800, Toronto, ON M4R 1K8Telephone: 416.256.9908 Toll-free: 1.877.687.7321 Fax: 888.889.9522Contact: Elijah Hoffman Ext:1009 : ehoffman@ensembleiq.comPM42940023in this issueproviding all of your fuel equipment needsNEE is your one stop shop for all your requirements:Expansion tanks, Hot Water Tanks, Waste and Fire Water storage tanks, pumps, piping, inventory control and aftermarket serviceCOMPLETE FUEL OIL DELIVERY AND MANAGEMENT SYSTEMULC listed and fully integrated fuel oil delivery and management system for emergency diesel generator facilities. Compliant with all National/Provincial Fire codes, TSSA and all the Authorities having jurisdiction. Fuel oil storage system includes the following:• Certified Fuel storage tanks and accessories (ULC)• Certified Fuel distribution valves and fittings (cUL, ULC, FM, CRN)• Certified Fuel Pump & Strainer Sets (cUL & CSA) – available in Simplex, Duplex, and Triplex Configurations• Certified Fuel transfer and controls (ULC & CSA) – Auxiliary Tanks• Certified Fuel Management Control Panels (cUL, ULC, & CSA)• Certified Tank level and leak monitoring system (cUL, ULC, & CSA)• Certified Tank fill & containment (cUL, ULC, & CSA)Toll Free National Directory 1.866.574.5100 I www.nee.ca Head Office: 1850 Derry Road East, Mississauga, ON L5S 1Y6 I Tel.: 905.564.2422
Page 4
4 • CANADIAN PETROLEUM CONTRACTOR • OCTOBER 2022BOARD OF DIRECTORSCPCA MEMBER ASSOCIATIONSAlberta Petroleum StorageSystems Contractors AssociationAssociation des Entrepreneurs Pétroliers du Québec Inc.British Columbia Petroleum Contractors AssociationManitoba Petroleum Contractors AssociationOntario Petroleum Contractors AssociationSaskatchewan Retail PetroleumConstruction AssociationALBERTAMarcus CormierCantest SolutionsTel: 403.912.9129 Ext. 12 mcormier@cantest.net Kim HansenMI PetroTel: 866.563.7868 khansen@mipetro.comMANITOBAChad KenwoodCentury Ptetroleum ConstructionTel: 204.694.2230 centpet@mts.net ONTARIOGord ThompsonComco Canada Inc.Tel: 705.728.0905 gord.thompson@comcocanada.comKen JamiesonKenstruct Ltd.Tel: 855.912.8453 ken@kenstruct.ca QUEBECDany PedneaultÉquipements Claude Pedneault Inc.Tel: 418.693.8906 dany.pedneault@epcp.caNicolas TrepanierÉquipement National ÉnergieTel: 438.289.1961 ntrepanier@nee.caSASKATCHEWANArlene WrightCapital Petroleum Services Ltd.Tel: 306.757.3533 arlene_cps@sasktel.net Mike SeibelNational Energy Equipment Inc.Tel: 306.665.0223 mseibel@nee.ca BRITISH COLUMBIAMargo MiddletonMiddleton PetroleumTel: 250.372.7742 midpet@shaw.caCPCA OFFICEMichelle Rae, AdministratorMailing Address: 387 Mapleview Dr. W. Barrie, ON L4N 9G4Toll Free – 1.866.360.6722 Tel: 705.735.9437 Fax: 705.735.9418info@cpcaonline.com Web: www.cpcaonline.comOFFICERS Marcus Cormier, President; Nicolas Trepanier, Vice President;Kim Hansen, Secretary; Margo Middleton, Treasurer NEWS FROM APSSCAby Don Edgecombe, Executive DirectorAfter a two-year hiatus for Covid, Alberta Association mem-bers got together in the month of June. A general meeting was held where two Directors, Lee Krause and Norm De-kens were elected to the Board. OPCA President Ken Jamie-son and Executive Director Michelle Rae gave Alberta con-tractors an overview of their CSA B-139 training program. Alberta does not currently have regulation that specifically requires cer-tification for individuals to install standby generator systems. It is hoped that our province could adopt Ontario's training to give contractors a better understanding of oil-burning systems when they do inspections or peri-odic maintenance. It is also hoped that the training would be available to municipal fire officials who conduct inspections of buildings that house generators and fire pumps. CPCA staff took advantage of the Calgary trip to proctor exams for pe-troleum mechanics. Exams were offered to 27 PMH, 9 PM1, 13 PM2 and 17 PM3's. It wasn't all work in June. Our members gathered for a great day of golf at Sirocco, just south of Calgary. There was lots of chipping, tons of catching-up and a great deal of money raised for Kids Cancer Care on a beautiful day. Special thanks to Howard Heal for his hard work putting on a successful event. With Covid on manageable terms, APSSCA looks forward to more fre-quent gatherings. We are working with manufacturers to offer more tech-nical training seminars for our members. Supply chain issues continue to be the main concern for Alberta contractors and distributors but there's a sense of optimism throughout the industry. The Association will do its best to match a hectic business pace by promoting safety and technical training at convenient times for our members.Travis Matheson, Riley Parkson, Howard Heal, Roy Hood at the APSSCA golf tournamentAmanda, a teen leader with Kids Cancer Foundation, spoketoguestsof the APSSCA golf tournament
Page 5
4 • CANADIAN PETROLEUM CONTRACTOR • OCTOBER 2022 OCTOBER 2022 • CANADIAN PETROLEUM CONTRACTOR • 5 NEWS FROM OPCAby Michelle Rae, OPCA Executive Director OPCA President Ken Jamieson and I attended a meeting hosted by the Environment Canada and Climate Change storage tank work-ing group in Ottawa on September 15th to discuss the Petroleum Mechanic training and certification program and best practices on the installation of aboveground and underground tanks. ZCL's Richard Whitford was also on hand to discuss installation proce-dures for underground tanks. Environment and Climate Change Canada (ECCC) is undertak-ing a review of the Storage Tank Systems for Petroleum Products and Allied Petroleum Product Regulations as part of the depart-mental Regulatory stock review plan. The objectives of the review of the Regulations are to ensure that regulatory objectives are be-ing achieved in an effective manner, unintended impacts, such as barriers to trade or innovation are mitigated and references to technical standards are accurate and, where appropriate, incor-porate the latest version. Visit the OPCA website's ECCC page for more information. The OPCA recently held their 9th annual golf tournament at the Innisbrook Golf Course in Barrie on September 23rd. We had a great turnout as well with sixty OPCA members, colleagues and friends joining us for a beautiful day on the course. We want to thank everyone for joining us to support our charity of choice Threads of Life. This important organization helps families that have been affected by a workplace tragedy and we are thrilled to have raised $10,000 this year. We would also like to thank all our sponsors for their additional support. The OPCA is gearing up for our 2023 Annual Conference in conjunction with the Convenience U/Carwacs Show March 7 & 8. We are looking forward to finally meeting again in person! The OPCA portion of the conference will kick off on March 6th with manufacturer training sessions at the Delta Toronto Airport and Conference Centre. These sessions are free of charge for OPCA members and their employees. The OPCA will host a POST safety forum on March 7th discussing various safety topics presented by the POST advisory committee including the benefits of Planned Job Observations. The OPCA Annual General Meeting will be held on March 8th and discussions include the alternative fuel indus-try. Registration for the conference is open November 1st and there is also a special room rate for OPCA members at the Delta Toronto Airport, visit our website for info and link.Team Waleco at the OPCA golf tournament
Page 6
6 • CANADIAN PETROLEUM CONTRACTOR • OCTOBER 2022 ®Take advantage of low fuel costs by buying in bulk with a Meridian Fuel Tank. Meridian's NEW 15,000L, 25,000L & 35,000L skidded Econo Tanks are the ideal storage for those who are looking to increase their on-site fuel storage. Meridian Econo tanks feature double wall construction and our signature powder coated finish for reliable, long lasting fuel storage at an exceptional value.Ask us about our Standard Series Tanks up to 90,000L and our Recycled Oil Tanks!INCREASE YOUR BOTTOM LINE WITHMERIDIAN FUEL TANKSDOUBLE WALL | CAN- ULC-S601-14 APPROVED | POWDER COATED | 2,300-90,000Lmeridianmfg.com | fueltanks@meridianmfg.com | (800) 661-143670/30, 60/40, 50/50 Split Tank Options Used Oil Tanks Pump Package Options AvailableFind your local dealer at meridianmfg.comNEW ECONO TANKS15,000-35,000L | 3,278-7,710 Imp. Gal.© 2021 Meridian Manufacturing, Inc. Registered Trademarks Used Under License. (11/2021)
Page 7
6 • CANADIAN PETROLEUM CONTRACTOR • OCTOBER 2022 OCTOBER 2022 • CANADIAN PETROLEUM CONTRACTOR • 7 POST is excited to announce a new course we believe will benet both the contractors and retailers. POST for Site Operators is specially geared to anyone on the retail side: Gas Station Attendants, Dealers, Wholesalers, retailers etc. One of the rst things we know and want to convey is that companies and their employees prefer to follow a consistent safety program like POST regardless of their client or customer. Workers are required to follow safe work procedures by law and the POST program was designed to enhance Occupational Health and Safety Laws already in place – so it's already a no-brainer. As you know, we have the two levels for POST – Level 1 for new workers and Level 2 for supervisors but we also encourage any-one that has taken Level 1 in the past take Level 2 going forward as it provides more of an in-depth knowledge of POST require-ments based on a supervisor and leadership perspective, providing the tools to enhance leadership qualities with respect to enforc-ing site rules and POST requirements, im-proved hazard identification and mitigation skills when completing JSAs and critical thinking when performing Planned Job Ob-servations & Hazard Identification. For many years now, oil companies have also encouraged their retailers and site operators to take POST, so they un-derstand the requirements that contractors follow. The POST advisory committee has had many discussions about having a separate POST course for companies that are not involved in petroleum work per se but take POST because they are still coming onto the site. However, for those Site Operators or retailers taking POST, did they really understand their role and responsibil-ity and was this really conveyed in the course? Not really, as POST is designed for the contractor's perspective and doesn't speak to the Site Operator. So, when it came to retailers and site opera-tors taking POST, we realized there was ®Take advantage of low fuel costs by buying in bulk with a Meridian Fuel Tank. Meridian's NEW 15,000L, 25,000L & 35,000L skidded Econo Tanks are the ideal storage for those who are looking to increase their on-site fuel storage. Meridian Econo tanks feature double wall construction and our signature powder coated finish for reliable, long lasting fuel storage at an exceptional value.Ask us about our Standard Series Tanks up to 90,000L and our Recycled Oil Tanks!INCREASE YOUR BOTTOM LINE WITHMERIDIAN FUEL TANKSDOUBLE WALL | CAN- ULC-S601-14 APPROVED | POWDER COATED | 2,300-90,000Lmeridianmfg.com | fueltanks@meridianmfg.com | (800) 661-143670/30, 60/40, 50/50 Split Tank Options Used Oil Tanks Pump Package Options AvailableFind your local dealer at meridianmfg.comNEW ECONO TANKS15,000-35,000L | 3,278-7,710 Imp. Gal.© 2021 Meridian Manufacturing, Inc. Registered Trademarks Used Under License. (11/2021)A New Course to Enhance Safety for Our IndustryBy Michelle Rae - POSTAnn-Marie BarkerService contractors must mitigate hazards in and outside of the forecourt, utilize proper PPE, barricade their worksite and have emergency procedures in placeSite OperatorsPOST for
Page 8
8 • CANADIAN PETROLEUM CONTRACTOR • OCTOBER 2022"Precision Testing And Inspection Specialists."Toll Free: 1-866-565-2611www.leaktechsol.caWe're expanding! Looking for experienced service technicians. Training provided. Contact us at info@leaktechsol.caCertified company for all your aboveground and underground requirements.Very little disruption to your day to day operation.CPCA certified technicians.Competitive rates.Helium Pinpoint leak locating service.3rd party inspection of underground and aboveground storage tank system, installation by a certified technician.No job is too small or too big. Clarkway is the onlyway!Brampton, Ontario Oce11411 Clarkway Drive E.Brampton, Ontario, L6P 0W1Phone: (905) 794-016824-hour Emergency Contact: (416) 677-1375www.ClarkwayConstruction.caan opportunity to convey not only all the safety requirements contractors must follow, but what the Site Operator's respon-sibilities are when a contractor is doing work on their site. This is where we agreed a new course specifically geared to-wards Site Operators made sense. While a Site Operator is doing their job to minimize hazards inside and outside of the service station, there are several ways a service contractor will mitigate the haz-ards on the forecourt when they're on a call, these include communication with the Site Operator, using the appropri-ate forms to document their tasks, using the appropriate personal protective equipment, using proper barricading around their worksite, and having appropriate emergency procedures in place. There were also additional opportunities to include things a Site Operator should know such as recordkeeping, forecourt hazards and emergency response but most impor-tantly that communication with the contractor on site. Jim Hunter of Shell Canada agrees. "We want our Site Operators and contractors to have open communication, to relay per-tinent information that could affect either site operations or contractor safety. For instance, if a contractor is on site for a service call and the site is expecting a fuel delivery this requires extra coordination and proper scheduling." Time will be spent in the course going over the POST documentation. As part of the Site Operators responsibili-ties with respect to POST requirements is understanding the contractor's responsibility to complete the necessary documentation before starting any work. Along with the rules and regulations workers must follow to be compliant with safety laws POST has developed the required safety paperwork to streamline this process. POST documentation clearly outlines the procedures for work done in the petroleum industry. Many retailers may have seen POST documentation already or have seen their service technicians filling out a maintenance safe work per-mit which they are required to complete before starting any work at a retail service station. Contractors use POST forms to mitigate the hazards when documenting their tasks
Page 9
8 • CANADIAN PETROLEUM CONTRACTOR • OCTOBER 2022 OCTOBER 2022 • CANADIAN PETROLEUM CONTRACTOR • 9 Since 1923, Steelcraft has collaborated with consulting engineers, end-users, general contractors, and petroleum contractors to develop cost-effective, reliable, and safe storage solutions for flammable fuels and liquids. We offer a variety of storage solutions across two orientations (horizontal and vertical), four containment styles (single-wall, double-wall vacuum-monitored, double-wall integral contained, static head), and a wide range of capacities from 5000 L to 150,000 L. In addition to our expertise with aboveground storage solutions, we offer integrated design, engineering, and custom metal fabrication solutions for a variety of other product categories, including API-650 tanks, pressure vessels, and more.*Please note that Steelcraft's ULC-listed aboveground storage tanks are not currently available for sale to Western Canada.For industry-leading aboveground storage solutions, contact us today!Steelcraft - A Century of Partnering for SuccessVisit us online to learn more! www.steelcraftinc.comor call us at:1-800-265-8840No matter what the job or task is, there are many hazards technicians are faced with on a call; it could be as common as pedestrian traffic if they do not barricade their work-space properly to electrical hazards if they do not lock out the equipment properly."There is also an element of 'intervention'", says Jim. "While POST contractors do an amazing job of keeping themselves, customers, and site staff safe, there are times where corners may be cut (e.g. PPE, proper barricading) and intervention may be required by SO's to ensure the con-tractor as well as the public's safety".We've often heard from contractors where the retailer is wondering why the technician is sitting in their vehicle or spending so much time on paperwork. We want to ensure it is understood the contractor is taking their time filling out their JSA to ensure they are mitigating all the risks includ-ing any critical procedures before starting their work. Digital paperwork has also become the norm. Many con-tractors and retailers have implemented a paperless system using digital versions of work orders, Maintenance Safe Work Permits and invoices. POST even has a mobile form feature with cloud based digital forms making POST docu-mentation much easier for contractors to fill out, organize and share with both their customers and their office. Recordkeeping goes hand in hand with documentation, so in conjunction with the documentation is also a reminder to site operators they should ensure they retain all service documents, warranty records, fuel reconciliation and leak detection test records. Site Operators should work with their contractor to maintain these records and have them readily available when requested by their local inspector, emergency service personnel or Fire Marshal in case of an emergency or incident.Warranty and service records are important to maintain so contractors understand the equipment that is installed on the site. They also provide a history of previous issues with equipment that will help the service technician trou-bleshoot new issues more effectively. We are also addressing in the course the many forecourt hazards site operators should be cognizant of. While fuel related incidents at the pumps have been greatly reduced due to state-of-the-art equipment, everyone including site operators and contractors working on the site need to be aware of the hazards and risks on the forecourt. While the public poses probably the biggest risk on a forecourt or even inside the c-store for a technician, we also remind the site operators to maintain good housekeeping and prop-erly store hazardous materials and keeping them in their original containers as car wash and commercial cleaning products can be harmful if anyone is exposed though spill-age or leaking containers. These can lead to respiratory problems, serious skin irritations or chemical burns. They should obtain and keep on hand Safety Data Sheet infor-mation on all substances stored and used on the premises and ensure staff have WHMIS training and provide appro-priate protective clothing.
Page 10
10 • CANADIAN PETROLEUM CONTRACTOR • OCTOBER 2022• Pressure Washers Hot & Cold• Complete Air CompressorSystems• Wash Bay Equipment• Commercial Vehicle WashSystems• Waste Water RecyclingEquipment• Bulk Fluid Handling Equipment• CAT Pumps & ReplacementParts• Design & Consulting• We install and service everything we sellHEAD OFFICE: 7018 Johnstone Drive | Red Deer, AB | T4P 3Y6TF: 1-888-430-9359 | P: 403-347-9770 | F: 403-343-7922www.pumpsandpressure.comEdmonton780-430-9359Calgary403-263-7202Grande Prairie780-539-9939Brandon204-728-9303Saskatoon306-242-6622Lethbridge 403-328-0504Visit us at rapilkey.com424975 Substation Rd, Burgessville, ON, N0J 1C0 EMAIL: rapilkey@execulink.comOFFICE: 519-424-9121 CELL: 519-533-2763Our company has over 40 years of industry knowledge and technical expertise. With a staff of PM licensed mechanics, we are able to handle your needs from simple service work to full installation and removal of tanks and service stations.LOCATED IN THE HEART OF SOUTHERN ONTARIO WITH 24 HOUR ON CALL SERVICE.R.A. Pilkey is proud members of OPCA, CPCA and registered with TSSA.RAPilkey_CPCA_June16.indd 1 2016-05-25 11:23 AMWe also discuss emergency response plans and that the site operator should be prepared to assist if there is an emergency involving the contractor so it's important the contractor discuss the work being done with the site operator and the procedures in place in case of an emergency. The con-tractor may need the site operator's as-sistance evacuating the site or forecourt, calling 911, and monitoring traffic in and out of the site or forecourt. "This is a cru-cial point" says Jim "The staff at a service station may not be aware of the important role they may need to play during an emer-gency". Covering this in the course will also save the contractor time if the SO is aware of these responsibilities. And lastly, it's important for retailers to know that safety does not cost them more. It is a misconception that working safely costs more money, in fact the op-posite is true!Retailers need to know that having a contractor that follows such a stringent safety program shows the caliber and qual-ity of the company they are using to main-tain their service station. WORKERSActively participate in BBS activities and follow site rules and procedures designed to keep all people on and around the site safeSITE OPERATORSSupport Worker's safety behaviour and procedures designed to keep all people on and around the site safe and know how to recognize an unsafe condition with respect to forecourt hazardsPOST Philosophy
Page 11
10 • CANADIAN PETROLEUM CONTRACTOR • OCTOBER 2022 OCTOBER 2022 • CANADIAN PETROLEUM CONTRACTOR • 11 HEAD OFFICE400 Thompson Dr. Fredericton, NB E3A 9X21-866-272-6260DARTMOUTH BRANCH42 Fielding Ave. Dartmouth, NS B3B 1E4902-481-0620LONDON BRANCH331 Neptune Cres. London, ON N6M 1A9519-681-0161EDMONTON BRANCH 11634 257 St. Acheson, AB T7X 6C3780-485-1001For all of your petroleum construction and service needs, let us nd you the best solutioninfo@phoenixpetro.ca | www.phoenixpetro.caDesign | Build | MaintainSafety does not cost extra; it saves both the retailer and contractor money.There are a multitude of reasons why this is true: POST for Site Operators will be launch in the coming weeks. Visit POSTtraining.ca for info. Workers are more knowledgeable of their tasks and more efficient, therefore less time is spent on the callImproved productivity on the worksite when all workers are more comfortable in safe execution of their taskProper planning will reduce potential for downtimeEnsures workers are using the proper procedures and tools to ensure work is done safelyOur message is that both site operators and contractors must work together to keep everyone safe on the site.
Page 12
12 • CANADIAN PETROLEUM CONTRACTOR • OCTOBER 2022To learn more about our line of composite solutions, please visit nov.com/fuel-handling-systemsA proven leader in corrosion-free underground fuel handling systems© 2022 NOV Inc. All rights reservedFiber Glass Systems has proudly served and contributed to the evolving fuel handling market for more than 55 years. Our comprehensive underground corrosion-free solutions safely store and transfer petroleum products while protecting the environment.From storage tanks and sumps to piping and risers, our proven and reliable UL-listed fiberglass-reinforced plastic products feature the most extensive 30-year warranty.
Page 13
OCTOBER 2022 • CANADIAN PETROLEUM CONTRACTOR • 13 12 • CANADIAN PETROLEUM CONTRACTOR • OCTOBER 2022 OCTOBER 2022 • CANADIAN PETROLEUM CONTRACTOR • 13 With the advent of technology and emergency power requirements in the last decade thedemand for large scale generator systems has expanded rapidly. It is much more complex than any of the other fuel related codes as we are dealing with life safety systems, fire pump sys-tems and large quantities of fuel stored or transferred directly inside or in proximity to residential units, commercial, industrial, and institutional buildings. The OPCA and CPCA views the current issue as two-fold; there is a recognized shortage of qualified people to do this work and there is little to no training available. In Ontario for example, Petroleum Mechan-ics can do everything but the final connec-tions to the engine which currently requires OBT1 certification. But there are concerns OBTs make this critical connection and take responsibility for the system when they are not familiar with it nor even installed it. Regulators placed this work into the B139 code without realizing the scale of the systems would grow; the intent was the work covered an oil tank feeding a furnace but now it can cover a 100,000-litre diesel tank. Consequently, these large-scale sys-tems do not fit within these regulations. The B139 advisory group has addressed dividing the code into the appropriate sec-tions and future discussions are tabled to create a separate code for generators.In the meantime, delays in hiring inspec-tors in the current pool of available quali-fied individuals results in delays in the proj-ect for both the contractors and clients. An initiative by the OPCA to address this issue and develop a training program began as the demand for backup generator systems and qualified people have evolved but the number and availability of quali-fied people have not kept up with the de-mand. The need for qualified individuals will continue to increase as the need to install and inspect these systems grow. Not only are qualified people needed to perform final inspections for new instal-lations, but current installed systems are also required to be updated, maintained, and inspected on a regular basis. The lack of proper training and inspec-tion processes has led to inconsistencies in inspection results and can ultimately lead to public safety concerns. Anecdotal infor-mation from the contractor community sug-gests that while inspecting many of these systems, there are aspects that are not up Generator systems are much more complex than any of the other fuel related codesTraining for Large Scale Generator SystemsBy Ken Jamieson, OPCA President & CPCA DirectorIndustry GapFilling an
Page 14
14 • CANADIAN PETROLEUM CONTRACTOR • OCTOBER 2022SAVE THE DATE!MARCH 7 & 8, 2023TORONTO CONGRESS CENTRELIVE AND IN-PERSONConvenienceU.caCanada's LARGEST convenience, gas and car wash industry eventCNUE23_DesignCollection.indd 6 10/13/22 4:49 PMto code. For instance, improper venting of a generator is a serious safety concern causing toxic fumes, overheating, and the risk of fire.Virtually every commercial, multi-resi-dential and institutional building in Canada utilize a backup generator system. Gen-erator systems are also a reliable back up power source for data center facilities and financial institutions, and it is essential to have skilled people install, inspect, and maintain these systems. There are tens of thousands or more generator systems in Canada. While the list is exhaustive, these are some examples of the generator market:Data Centres and Mission Critical Systems such as banks, disaster recovery (DRBC), internet exchanges and colocation facilities (the City of Toronto has the second highest data centre leasing activity in North America). Commercial & Institutional Buildings (Hospitals, Schools, Long-term Care Homes, Residential Buildings, Commercial Buildings)Hospitality/Tourism – Hotels, Resorts, Amusement Parks, Zoos, Skiarea,CasinosRetail – department stores, car dealerships, gas stationsFood Industry/Distribution centresGovernment Services – garbage/recycling, water treatment, schools/universities, embassies, police station &re hallsTelecommunications - Cell Phone Towers, Swithing FacilitiesEntertainment – Film Crews, Concerts,EventsPower Plants and Energy - Power Generating Facility, Nuclear Power Plants, Wind Farms, Solar Power Plants, Renewable Energy Facilities &Microgrids The OPCA & CPCA has developed a pro-gram to be used nationally where provinc-es can use the curriculum to fill identified gaps in their own industry and regulatory requirements and incorporate these addi-tional qualifications within the Petroleum Mechanic certification license scope.When developing the curriculum, we worked with industry experts and deter-mined the various scenarios for a typical generator system. Based on this, we devel-oped nine modules covering all aspects of generator installations and inspections cov-ering regulatory requirements, inspection details, engineered drawings and compre-hensive inspection checklists. This training will provide students with the knowledge to inspect an existing fuel oil operated standby generator fuel storage and handling system, air supply system, and exhaust system. Upon completion of this course, license holders will be able to confirm that the system is built according to the existing Regulations and Codes. Once the system is confirmed to comply, the license holder can complete comprehensive inspection reports on the fuel and generator systems and if applicable in their jurisdiction, is-sue a Fill Certificate. This license and subsequent practical experience will also qualify individuals on the installation and connections to a diesel-powered engine on a generator or fire pump.The training program will open the door for individuals to gain the required knowledge and experience thus increas-ing the workforce and pool of qualified in-dividuals within the industry. We believe training and subsequent licensing of in-dividuals to perform this work will create a level playing field for contractors, miti-gate safety concerns by reducing current inconsistencies in the inspection process and create better consistency for regula-tors across Canada. Virtually every commercial, multi-residential and institutional building in Canada utilize a backup generator systemExample of a storage tank supplying fuel to a generator system
Page 15
OCTOBER 2022 • CANADIAN PETROLEUM CONTRACTOR • 15 14 • CANADIAN PETROLEUM CONTRACTOR • OCTOBER 2022SAVE THE DATE!MARCH 7 & 8, 2023TORONTO CONGRESS CENTRELIVE AND IN-PERSONConvenienceU.caCanada's LARGEST convenience, gas and car wash industry eventCNUE23_DesignCollection.indd 6 10/13/22 4:49 PM
Page 16
Répond à toutes les exigences Canadiennes pour une alimentation de génératrice au diesel, pour une alimentation d'appareil de chauffage au mazout ou tout simplement pour entreposer des huiles lubrifiantes.Réservoirs hors-sol en acierCertiés CAN/ULC -S602Meets all Canadian regulations for fuel generator supply, for an oil furnace supply or simply for lubricating oils storage.Aboveground steel tankCAN/ULC-S602 listedSince 1865Depuis 1865www.industriesdesjardins.com