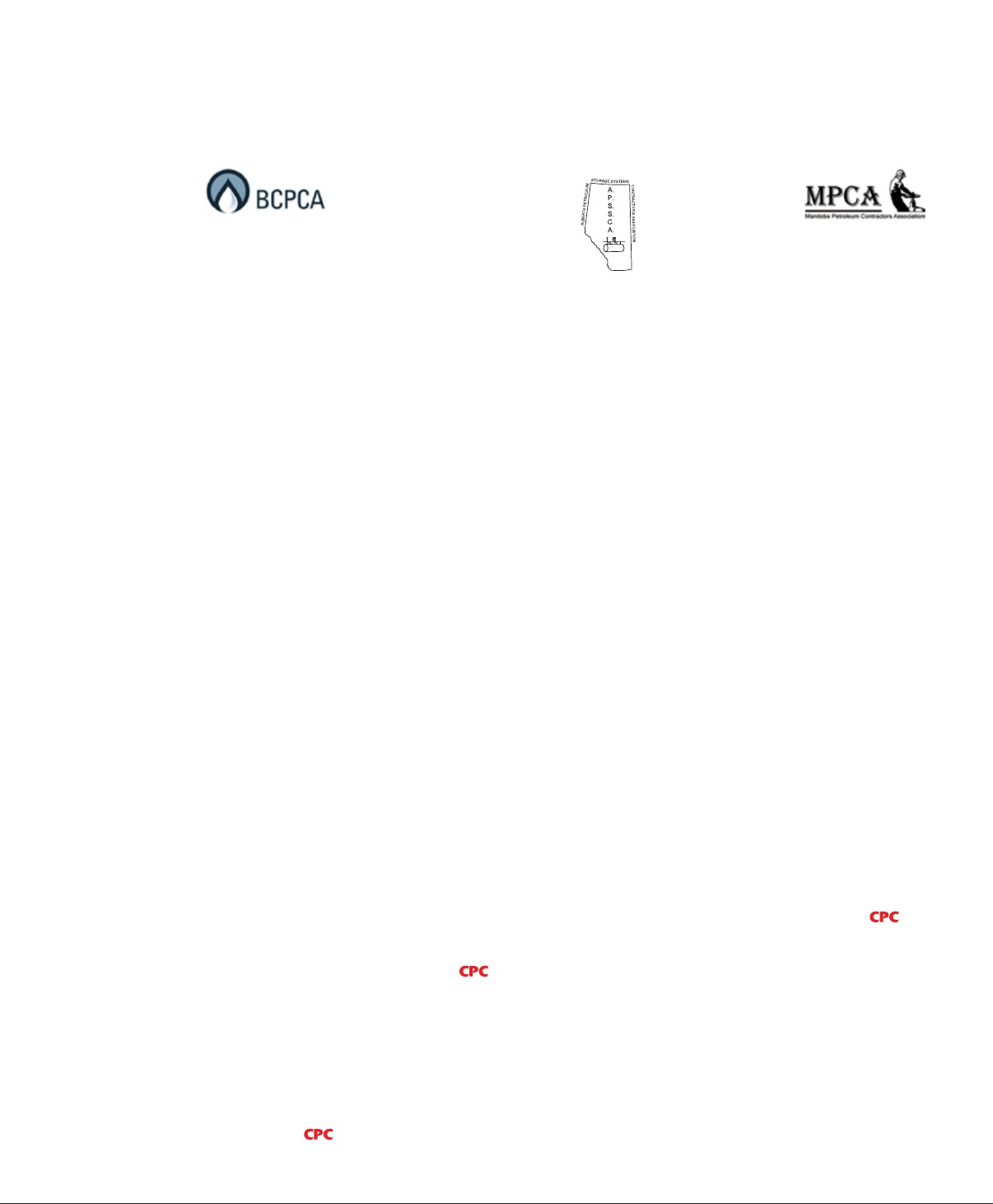 JUNE 2016
•

CANADIAN PETROLEUM CONTRACTOR

•

5
regional news
BCPCA
Regional Message
By Rob Bateman
All is quiet on the Western Front for the
BCPCA at the moment. It seems that all our
members are busy with projects or expanding
service workloads.
We can report though that at our last AGM,
we elected a new President of the BCPCA and
assigned new positions for some of the direc
-
tors. Margot Middleton is the new President,
and many of you had the opportunity to meet
her at the recent CPCA – AGM in Quebec City.
Margot has been in the business for a long
time; Middleton Petroleum passed the 25-year
mark at least five years ago. She was involved
in the re-start of the BCPCA and active with the
Steering Committee in the initiative to develop
a training program and trade status for BC tech
-
nicians. She has been an energetic and strong
contributor to the board of directors making her
election as President an excellent choice.
We would like to take this opportunity to
thank our outgoing President, Mike Christie
for his contribution over the last year.
Our main activity over the next few
months will be working with ITA to update
our certification exams and our training mate
-
rial. We have a meeting scheduled with ITA
staff in early June. We are also discussing the
ways in which we can work with CPCA to con
-
solidate our training process and materials.
This is a challenge because of the involvement
of the ITA in the examination process and the
trade status of the industry in BC, but we have
had some good ideas and will proceed to work
on these with everyone involved.
In BC there is really no inspection re
-
quirement for fuel-related installations and
of course this has led to incompetent contrac
-
tors performing this work. We are working on
ways to communicate with government agen
-
cies to explain the necessity of establishing
standards.
Many of us are experiencing the effects
of the low oil prices on the retail fuel service
clients. The pressure to reduce our labour
rates and parts margins has been very strong
despite the increasing costs we have in these
areas. My advice is: do your homework.
APSSCA
Regional Message
By Marcus Cormier
As summer finally approaches, the Alberta
Board has been working on preparations for
our Annual General Meeting being held at the
Deerfoot Inn and Casino in Calgary on June
8 at 10am, as well as our 18th Annual Golf
Tournament being held on June 9 at the Si
-
rocco Golf and Country Club in Calgary. I want
to thank all the board members, volunteers,
and sponsors that help make this a first-class
event year after year.
In a recent annual newsletter to members,
we talked about the board having sent a let
-
ter to AB Municipal Affairs recommending the
formal adoption of CSA B139 Code for oil burn
-
ing equipment. The letter was well received
and the board will be involved in follow-up
discussions throughout the upcoming year.
We hope that you are able to attend the AGM
as we will be hearing a presentation from our
guest speaker Bruce Taylor (with the technical
services division of the City of Edmonton) on
some of the problems he and his department
have been observing in the field with respect
to these types of installations. We will try to
obtain a copy of his presentation and post it
on the APSSCA website for any members that
want to review it.
This year, we have two long-standing dir
-
ectors that will be retiring from our board of
directors: Pat White (Leak Technologies Solu
-
tions Ltd.) and Mike Brochu (All Peace Petrol
-
eum. Mike is also one of our Past Presidents
and will be helping us occasionally with spe
-
cial projects. It has been a pleasure serving
with both of them and on behalf of the entire
board; I want to thank them for their many
years of service, energy, and contributions to
our association.
MPCA
Regional Message
By Chad Kenwood
The MPCA has been weathering a number of
changes over the last year specifically within
the Board structure. Due to these changes,
our association has not been as active as we
like. However, we have a number of possible
candidates for MPCA membership. We have
reached out to these companies and have re
-
ceived good response to date. We anticipate
holding a general meeting this coming fall in
-
cluding inviting speakers to discuss bacteria
corrosion of inner tanks and address installa
-
tion concerns.
With respect to regulation and compli
-
ance, LPT Inspection of all fuel sites in Mani
-
toba was to be finished by June 2016. Final
upgrades to bring old sites to within compli
-
ance is still on going, but work on major oil
fuel sites have been completed.
We have been working with Manitoba
Conservation with respect to regulation issues
including the ongoing development of the Act
and any improvements that may need to be
addressed. We are also lobbying regulators
to mandate the CPCA PMH or site operator
course for service station operators to perform
minor maintenance and to operate their sites.
Manitoba Conservations is also working on
departmental updates including website docu
-
mentation. We have invited them to provide
an update of this as well as their expectations
for facility operators and Licensed Petroleum
Technicians moving forward into 2017 in a fu
-
ture issue. We look forward to this and contin
-
ued evolvement of our association.