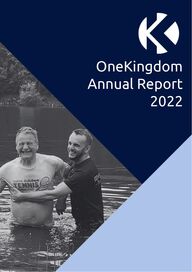 Return to flip book view
2022 OneKingdom Annual Report
Page 1
OneKingdomAnnual Report2022
Page 2
Page 3
02070305Table ofContentsMeet The TeamLaunched TeamsAnnual ReportStory From The Field08Collective Impact Highlights1004Our Vision06The EuroHubCollective Impact Summary09Ukraine Launch
Page 4
OUR VISIONOneKingdom's vision is to see the great commission fulfilled in Europe, together. Thus our rally cry (and how we think we'll accomplish this) is to equip a Core Team in every country in Europe with a Media to Movements (MTM) strategy for identifying spiritual seekers online and connecting them todisciple makers face to face in the cities where they live. OURPARTNERSWe have a heart for expat and national believers committed to making disciples who will make disciples. To date, we've helped launch teams in Bosnia, Croatia, Czech Republic, Germany, Greece, Hungary, North Macedonia, Poland, Serbia, and Slovenia and we're partnering in other ways with additional teams throughout Europe. OURTEAMAs highlighted on Page 3, theOneKingdom Team grew in 2022! We'reso thankful for God's provision throughour financial partners and for theunique gift sets that our newteammates bring to the table. We'veformed a Marketing Team, aredeveloping a Content Creation Team,and we now have more tech support toserve MTM initiatives. Praise God!pg 2
Page 5
M e e t t h e t e a mChris CaseyM2M CatalystCoachAllyson BaldwinSupport StaffJustin AicheleM2M CatalystCoachJohn CooperM2M CatalystEuroHub DirectorChris VillwockTeam LeaderPrimary M2M Coachpg 3Wesley DeanContent CreatorZlatko CelikSocial Media MarketerKeely GabehartMarketing InternPetr VrubelTechnologist/MarketerT h e o n e k i n g d o m t e a m g r e w i n 2 0 2 2 !Click the iconto learn moreabout our team!
Page 6
2022 ANNUAL REPORT2022 was an exciting year! We saw our number of launched and partneredteams grow to fourteen! Each of these teams is making progress in terms offully implementing their Media to Movements strategy (online engagementto offline meetings). We'll continue to support them in their journey byproviding resources/events such as the upcoming Media Summit / ContentCreate-a-thon that we will host in March 2023. Additionally, we'll offerongoing coaching and networking opportunities. We are praying that Godwill continue to open doors in each of these nations and use the believerswho live in these places to reach a generation for Christ. Our hope and trustare in the Lord of the Harvest, who said that the fields are white, but thelaborers are few. Join us in praying for more laborers and moreopportunities to share Jesus in 2023. You will find more information, including a summary of the collective impact ofthe OneKingdom Team, on the pages that follow.NEXT STEPSWe have a big vision in front of us. We can't do that in our own power and wewouldn't want to. We know that God is glorified in our partnership. In thecoming months we'll be connecting with believers in the remaining countriesin Europe to offer end to end coaching for Core Teams interested in reachingtheir nation for Christ. We'll also continue to walk alongside the teams we'vealready helped to launch. We're building out and growing the OneKingdom (OK) Media Team which consists of our already launched OK Marketing Teamand a soon-to-launch Content Creation Team, not to mention we'll be raisingfunds in support of these goals. Please pray for our team as we take thesenext steps. pg 4
Page 7
Bosnia2020 (2)CroatiaSerbiaCzechRepublicNorthMacedoniaPolandGreeceUkraineUKLAUNCHED & PARTNERED ONE KINGDOM CORE TEAMSpg 52018 (first)MayMarchApril2021 (5)JanuarySwitzerlandMayJune2022 (6)JanuaryHungaryMarchAprilNovemberDecemberGermanySpainSlovenia
Page 8
THE EUROHUBpg 6In September 2022, OneKingdom officially launched the EuroHub, acommunity of practice for Media to Movements (MTM) initiatives throughoutEurope! We have loved playing our role in what the Lord is doing in this partof the world by coaching, launching, and partnering with teams committedto using a digital strategy to engage seekers online and then connect themto believers where they live. It is our heart not only to launch these teams,but to see them THRIVE! We believe the EuroHub will help us accomplish this goal as we continue towalk with MTM initiatives to provide networking opportunities, the latestresources, ongoing coaching, and special events like the Media Summit!Pray for OneKingdom as we continue to build out the EuroHub, which willserve as a model for other regional MTM Hubs around the world. Participants at the 2022 Media Summit share the Gospel and pray with a Ukrainian family of 7 that stayed with one of our teammates for 2.5 months. During the Media Summit, 10 teams from 10 countries gathered to celebrate together and encourage one another with stories of how the Lord is working across Europe.
Page 9
STORY FROM THE FIELD On April 5, 2020, 'Snejžana' reached out to us and said, "I have a prayer need." and "I want to meet some of youpersonally and talk about God, Jesus, the Bible." On April 18, 2022, she was baptized! After being discipled by two sisters for two years,'Snejžana' professed Jesus as Lord. pg 7Bosniapraise Jesus praise
Page 10
Campaign Subscribers168 Hours Prayed228pg 8COLLECTIVE IMPACTHIGHLIGHTSBOSNIA 30-DAY PRAYER CAMPAIGNBecause we have a Technologist on ourteam with the ability to build websites, theBosnia MTM team was equipped to lead a30-day prayer campaign during Ramadan!One participant in the campaign wrote,"The focused time of prayer each night wasa blessing in that it stoked the fires of myheart for the Bosniaks and raised my senseof expectation for what the Lord may doamong them. Thank you for organizingthis."MORE THAN 3,100 NEW FOLLOWERSThanks to the efforts of our newMarketing Team, Croatia's Facebookpage gained 3,100 new followers inAugust. The total number of followersis now 11K+.TEAMS BEGAN TO USE ECHO GLOBALDue to generous funds we receivedin 2022, Bosnia, Croatia, andSlovenia MTM teams began usingEcho in 2022. Echo is a global inboxtool that assists their digitalresponders with additional security,resources, and data points. The Impact?: we took one morestep in helping teams be moreeffective in their MTM initiative.
Page 11
pg 9Amount Of Ads Seen 18.219MReactions (Like, Love, Comment, Share) 379,643People Who Messaged 155,705Clicks For Ukrainian Bible 500+OneKingdom was asked to participate in a multi-organizational effort toinitiate a digital engagement strategy to connect with Ukrainians at theoutset of the war, when many were fleeing the country to escape the horrorsthey were facing. Our team was honored to help create prayer videos, anevangelistic website, and a prayer website that are still being used today toshare the message of hope in Christ with millions of people in Ukraine.2022 STATISTICS30 DAY PRAYER CAMPAIGN AND SITE Campaign Subscribers257 Hours Prayed465In 2022 OneKingdomcreated and launched aprayer site for Ukraine.This site lead a 30 dayprayer campaign with24/7 prayer for the full 30days. praise Jesus praise JeUKRAINE LAUNCH
Page 12
Hungary team launched MTM initiativeOK team hosted 3 vision cast callsEvaluative coaching with Moldova teamLead responder/dispatcher trainings 50 Participants joined together for Media SummitHelped launch digital strategy for Ukraine with IMB and other global partnersTwo members of the One Kingdom team vision casted M2M at the European Movement Leader Gathering257 people prayed over Ukraine for a total of 1,197 hours over a one month spanGermany team launched MTM initiative into 8 citiesFirst baptism in Bosnia via MTMBosnia team led a 30 day prayer campaignSpain re-launched MTM initiative into 2 citiesBosnia added an Instagram accountAdded 2 team members to the OK teamJanuary - June ONEKINGDOM 2022 COLLECTIVE IMPACT SUMMARYpg 10Two members of the OK team shared at a Global Partners conferenceLaunched the OneKingdom Marketing TeamLaunched the OneKingdom EurohubMore than 3100 new followers started following the Facebook page for CroatiaSpain joined the EurohubBosnia and Croatia started using Echo to better assist their digital respondersCoached & Launched Slovenia core team (first in-person coaching!)Five teams joined in the first accelerate call for the EuroHubSlovenia MTM team was launched#GivingTuesday campaignAdded 2 team members to the OK teamJuly - December
Page 13
The OneKingdom Team is beyond grateful for the many partners who have faithfully prayed for, sacrificially given to, and otherwise supported us and the teams we're privileged to serve! We praise God for you and the impact that we're seeing as a result of our shared ministry. Additionally, we want to express our gratitude to our sending org, Team Expansion, for the tremendous love and support they provide and for their commitment to reaching the unreached with the Good News! We would also like to say thanks to each of our partnering MTM teams, especially those who have joined the EuroHub, for the trust they have placed in our team allowing us to coach, serve, learn from, and continue to walk with them. When we talk about our vision, we always emphasize the last word because we long to see the Great Commission fulfilled in Europe together! Let's keep co-laboring in the field, trusting God to bring about the harvest that He's already won through His Son, Jesus!Special thanks to Keely Gabehart for her hard work in preparing this report.Thank You.You make an Impact.
Page 14
ONE KINGDOMonekingdom.teamPRAISE TO THE LORDCLICK FLAGS TO PRAY