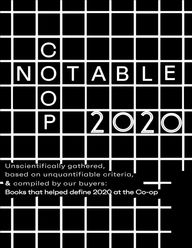 Return to flip book view
Co-op Notables 2020
Page 1
Page 2
Page 3
Page 4
Page 5
Page 6
Page 7
Page 8
Notable Top 12
1
Kara Walker: A Black Hole is Everything a Star Longs to Be
(Jrp Ringier)
Kara Walker
This gorgeous 600-page volume provides an exciting opportunity to delve into the creative process of Kara Walker, one of the most celebrated artists working in the United States today. Primarily recognized for her monumental installations, Walker also works with ink, graphite and collage to create pieces that demonstrate her continued engagement with her own identity as an artist, an African American, a woman and a mother.
More than 700 works on paper created between 1992 and 2020--which are reproduced in print for the first time from the artist's own strictly guarded private archive--are collected in this volume, thus capturing Walker's career with an unprecedented level of intimacy. Since the early 1990s, the foundation of her artistic production has been drawing and working on paper in various ways.
Walker's completed large-format pieces are presented among typewritten notes on index cards and dream journal entries; sketches and studies for pieces appear alongside collages. The result is a volume that allows readers to become eyewitnesses to the genesis of Walker's art and the transformative power of the figures and narratives she has created over the course of her career.
The publication of this title has been delayed until February and will ship then.
semcoop.com
Afropessimism (Liveright Publishing Coporation)
Frank Wilderson
Combining precise philosophy with a torrent of memories, Wilderson presents the tenets of an increasingly prominent intellectual movement that sees Blackness through the lens of perpetual slavery. Drawing on works of philosophy, literature, film, and critical theory, he shows that the social construct of slavery, as seen through pervasive anti-Black subjugation and violence, is hardly a relic of the past but the very engine that powers our civilization, and that without this master-slave dynamic, the calculus bolstering world civilization would collapse. Unlike any other disenfranchised group, Wilderson argues, Blacks alone will remain essentially slaves in the larger Human world, where they can never be truly regarded as Human beings, where, "at every scale of abstraction, violence saturates Black life."
And while Afropessimism delivers a formidable philosophical account of being Black, it is also interwoven with dramatic set pieces, autobiographical stories that juxtapose Wilderson's seemingly idyllic upbringing in mid-century Minneapolis with the abject racism he later encounters--whether in late 1960s Berkeley or in apartheid South Africa, where he joins forces with the African National Congress. Afropessimism provides no restorative solution to the hatred that abounds; rather, Wilderson believes that acknowledging these historical and social conditions will result in personal enlightenment about the reality of our inherently racialized existence.
Pre-order it now!
Page 9
Caste: The Origins of Our Discontents (Random House)
Isabel Wilkerson
In this brilliant book, Isabel Wilkerson gives us a masterful portrait of an unseen phenomenon in America as she explores, through an immersive, deeply researched narrative and stories about real people, how America today and throughout its history has been shaped by a hidden caste system, a rigid hierarchy of human rankings.
Beyond race, class, or other factors, there is a powerful caste system that influences people's lives and behavior and the nation's fate. Linking the caste systems of America, India, and Nazi Germany, Wilkerson explores eight pillars that underlie caste systems across civilizations, including divine will, bloodlines, stigma, and more. Using riveting stories about people--including Martin Luther King, Jr., baseball's Satchel Paige, a single father and his toddler son, Wilkerson herself, and many others--she shows the ways that the insidious undertow of caste is experienced every day. She documents how the Nazis studied the racial systems in America to plan their out-cast of the Jews; she discusses why the cruel logic of caste requires that there be a bottom rung for those in the middle to measure themselves against; she writes about the surprising health costs of caste, in depression and life expectancy, and the effects of this hierarchy on our culture and politics. Finally, she points forward to ways America can move beyond the artificial and destructive separations of human divisions, toward hope in our common humanity.
Critique and Praxis (Columbia University Press)
Bernard E Harcourt
Critical philosophy has always challenged the division between theory and practice. At its best, it aims to turn contemplation into emancipation, seeking to transform society in pursuit of equality, autonomy, and human flourishing. Yet today's critical theory often seems to engage only in critique. These times of crisis demand more.
Bernard E. Harcourt challenges us to move beyond decades of philosophical detours and to harness critical thought to the need for action. In a time of increasing awareness of economic and social inequality, Harcourt calls on us to make society more equal and just. Only critical theory can guide us toward a more self-reflexive pursuit of justice. Charting a vision for political action and social transformation, Harcourt argues that instead of posing the question, "What is to be done?" we must now turn it back onto ourselves and ask, and answer, "What more am I to do?"
Critique and Praxis advocates for a new path forward that constantly challenges each and every one of us to ask what more we can do to realize a society based on equality and justice. Joining his decades of activism, social-justice litigation, and political engagement with his years of critical theory and philosophical work, Harcourt has written a magnum opus.
semcoop.com
Notable Top 12
2
Page 10
Notable Top 12
From Here to Equality: Reparations for Black Americans in the Twenty-Frist Century
(University of North Carolina Press)
William A Darity Jr, A Kristen Mullen
Racism and discrimination have choked economic opportunity for African Americans at nearly every turn. At several historic moments, the trajectory of racial inequality could have been altered dramatically. Perhaps no moment was more opportune than the early days of Reconstruction, when the U.S. government temporarily implemented a major redistribution of land from former slaveholders to the newly emancipated enslaved. But neither Reconstruction nor the New Deal nor the civil rights struggle led to an economically just and fair nation. Today, systematic inequality persists in the form of housing discrimination, unequal education, police brutality, mass incarceration, employment discrimination, and massive wealth and opportunity gaps. Economic data indicates that for every dollar the average white household holds in wealth the average black household possesses a mere ten cents.

In From Here to Equality, William Darity Jr. and A. Kirsten Mullen confront these injustices head-on and make the most comprehensive case to date for economic reparations for U.S. descendants of slavery. Taken individually, any one of the three eras of injustice outlined by Darity and Mullen--slavery, Jim Crow, and modern-day discrimination--makes a powerful case for black reparations. Taken collectively, they are impossible to ignore.
3 semcoop.com
Founding God's Nation: Reading Exodus (Yale University Press)
Leon R. Kass
In this long-awaited follow-up to his 2003 book on Genesis, humanist scholar Leon Kass explores how Exodus raises and then answers the central political questions of what defines a nation and how a nation should govern itself.
Considered by some the most important book in the Hebrew Bible, Exodus tells the story of the Jewish people from their enslavement in Egypt through their liberation under Moses's leadership to their covenantal founding at Sinai and the building of the Tabernacle. In Kass's analysis, these events begin the slow process of learning how to stop thinking like slaves and become an independent people. The Israelites ultimately found their nation on three elements: a shared narrative that instills empathy for the poor and the suffering, the uplifting rule of a moral law, and devotion to a higher common purpose. These elements, Kass argues, remain the essential principles for any freedom-loving nation today.
Page 11
Lost in Thought: The Hidden Pleasures of an Intellectual Life
(Princeton University Press)
Zena Hitz
In an overloaded, superficial, technological world, in which almost everything and everybody is judged by its usefulness, where can we turn for escape, lasting pleasure, contemplation, or connection to others? While many forms of leisure meet these needs, Zena Hitz writes, few experiences are so fulfilling as the inner life, whether that of a bookworm, an amateur astronomer, a birdwatcher, or someone who takes a deep interest in one of countless other subjects. Drawing on inspiring examples, from Socrates and Augustine to Malcolm X and Elena Ferrante, and from films to Hitz's own experiences as someone who walked away from elite university life in search of greater fulfillment, Lost in Thought is a passionate and timely reminder that a rich life is a life rich in thought.
Reminding us of who we once were and who we might become, Lost in Thought is a moving account of why renewing our inner lives is fundamental to preserving our humanity.
Making Time: Art in the Age of Mass Incarceration
(Harvard University Press)
Nicole R. Fleetwood
More than two million people are currently behind bars in the United States. Incarceration not only separates the imprisoned from their families and communities; it also exposes them to shocking levels of deprivation and abuse and subjects them to the arbitrary cruelties of the criminal justice system. Yet, as Nicole Fleetwood reveals, America's prisons are filled with art. Despite the isolation and degradation they experience, the incarcerated are driven to assert their humanity in the face of a system that dehumanizes them.
Based on interviews with currently and formerly incarcerated artists, prison visits, and the author's own family experiences with the penal system, Marking Time shows how the imprisoned turn ordinary objects into elaborate works of art. Working with meager supplies and in the harshest conditions--including solitary confinement--these artists find ways to resist the brutality and depravity that prisons engender. The impact of their art, Fleetwood observes, can be felt far beyond prison walls. Their bold works, many of which are being published for the first time in this volume, have opened new possibilities in American art.
semcoop.com
Notable Top 12
4
Page 12
Notable Top 12
5 Occupied Territory: Policing Black Chicago from Red Summer to Black Power
(University of North Carolina Press)
Simon Balto
In July 1919, an explosive race riot forever changed Chicago. For years, black southerners had been leaving the South as part of the Great Migration. Their arrival in Chicago drew the ire and scorn of many local whites, including members of the city's political leadership and police department, who generally sympathized with white Chicagoans and viewed black migrants as a problem population. During Chicago's Red Summer riot, patterns of extraordinary brutality, negligence, and discriminatory policing emerged to shocking effect. Those patterns shifted in subsequent decades, but the overall realities of a racially discriminatory police system persisted.

In this history of Chicago from 1919 to the rise and fall of Black Power in the 1960s and 1970s, Simon Balto narrates the evolution of racially repressive policing in black neighborhoods as well as how black citizen-activists challenged that repression. Balto demonstrates that punitive practices by and inadequate protection from the police were central to black Chicagoans' lives long before the late-century wars on crime and drugs. By exploring the deeper origins of this toxic system, Balto reveals how modern mass incarceration, built upon racialized police practices, emerged as a fully formed machine of profoundly antiblack subjugation.
semcoop.com
Max Jacob: A Life in Art and Letters (W.W. Norton & Company)
Rosanna Warren
Though less of a household name than his contemporaries in early-twentieth century Paris, Jewish homosexual poet Max Jacob was Pablo Picasso's initiator into French culture, Guillaume Apollinaire's guide out of the haze of symbolism, and Jean Cocteau's loyal friend. As Picasso reinvented painting, Jacob helped to reinvent poetry with compressed, hard-edged prose poems and synapse-skipping verse lyrics. In February 1944, he was arrested by the Gestapo and sent to Drancy, where he would die later that year.
In Max Jacob, the poet's complex relationships with art, faith, and sexuality play out against the lively backdrop of bohemian Paris from the turn of the twentieth century through the divisions of World War II. A nuanced, deeply researched biography more than thirty years in the making, Max Jacob offers a compelling, tragic portrait of Jacob as a man and as an artist alongside a rich study of his groundbreaking poetry, making for a brilliant contribution to modernist scholarship.
Page 13
Spinoza's Ethics (Princeton University Press)
Benedict De Spinoza
In 1856, Marian Evans completed her translation of Benedict de Spinoza's Ethics while living in Berlin with the philosopher and critic George Henry Lewes. This would have become the first edition of Spinoza's controversial masterpiece in English, but the translation remained unpublished because of a disagreement between Lewes and the publisher. Later that year, Evans turned to fiction writing, and by 1859 she had published her first novel under the pseudonym George Eliot. This splendid edition makes Eliot's translation of the Ethics available to today's readers while also tracing Eliot's deep engagement with Spinoza both before and after she wrote the novels that established her as one of English literature's greatest writers.
This authoritative edition demonstrates why George Eliot's translation remains one of the most compelling and philosophically astute renderings of Spinoza's Latin text. It includes notes that indicate Eliot's amendments to her manuscript and that discuss her translation decisions alongside more recent English editions.
Wisdom as a Way of Life: Theravāda Buddhism Reimagined
(Columbia University Press)
Steven Collins
This wide-ranging and powerful book argues that Theravāda Buddhism provides ways of thinking about the self that can reinvigorate the humanities and offer broader insights into how to learn and how to act. Steven Collins argues that Buddhist philosophy should be approached in the spirit of its historical teachers and visionaries, who saw themselves not as preservers of an archaic body of rules but as part of a timeless effort to understand what it means to lead a worthy life. He contends that Buddhism should be studied philosophically, literarily, and ethically using its own vocabulary and rhetorical tools. Approached in this manner, Buddhist notions of the self help us rethink contemporary ideas of self-care and the promotion of human flourishing.
semcoop.com
Notable Top 12
6
Page 14
Pre-order it now!
Notable Faculty
Apsáalooke Women and Warriors (Neubauer Collegium)
Nina Sanders
The Apsáalooke people, often referred to as the Crow, are known for their bravery and artistry, and their rich culture has developed over centuries in the Northern Plains. The Apsáalooke Women and Warriors project is a multi-format undertaking that presents a rich narrative of the Apsáalooke cultural past, figures the present-day Apsáalooke identity, and presents a vision for the future. Through writing, images, and sound, contemporary Apsáalooke artists and intellectuals convey the worldview of the Apsáalooke people, with each contributor offering a unique perspective to create a text that stands as a significant exploration of the iconography, lifeways, and cosmologies of the Apsáalooke people. All proceeds from this book will benefit Little Big Horn College in Crow Agency, Montana.
7 semcoop.com
The Aeneid (Random House)
Vergil (Trans. Shadi Bartsch)
For two thousand years, the epic tale of Aeneas's dramatic flight from Troy and the bloody story behind the establishment of Rome have electrified audiences around the world. In Vergil's telling, Aeneas's heroic journey not only gave Romans and Italians a thrilling origin story, it established many of the fundamental themes of Western life and literature. Shadi Bartsch, Guggenheim Laureate, award-winning translator, and chaired professor at the University of Chicago, confronts the contradictions inherent in the text itself, illuminating the epic's subversive approach to storytelling. Even as Vergil writes the foundation myth for Rome, he seems to comment on this tendency to mythologize our heroes and societies, and to gesture to the stories that get lost in the mythmaking. Bartsch's groundbreaking translation, brilliantly maintaining the brisk pace of Vergil's Latin even as it offers readers a metrical line-by-line translation, provides a literary and historical context to make the Aeneid resonant for a new generation of readers.
The publication of this title has been delayed until February and will ship then.
Page 15
Austen Years: A Memoir in 5 Novels (Farrar, Straus and Giroux)
Rachel Cohen
In the turbulent period around the birth of her first child and the death of her father, Rachel Cohen turned to Jane Austen to make sense of her new reality. Austen Years is a deeply felt and sensitive examination of a writer's relationship to reading, and to her own family, winding together memoir, criticism, and biographical and historical material about Austen herself. And like the sequence of Austen's novels, the scope of Austen Years widens successively, with each chapter following one of Austen's novels. We begin with Cohen in Cambridge, Massachusetts, where she contemplates her father's last letter, a moment paired with the grief of Sense and Sensibility. Later, moving with her family to Chicago, Cohen grapples with her growing children and her father's legacy, refracted through the more complex Mansfield Park and Emma. Rachel Cohen's Austen Years is a rare memoir of mourning and transcendence, a love letter to a literary master, and a powerful consideration of the odd process that merges our interior experiences with the world at large.
Experimental Games: Critique, Play, and Design in the Age of Gamification
(University of Chicago Press)
Patrick Jagoda
In our unprecedentedly networked world, games have come to occupy an important space in many of our everyday lives. Digital games alone engage an estimated 2.5 billion people worldwide as of 2020, and other forms of gaming, such as board games, role playing, escape rooms, and puzzles, command an ever-expanding audience. At the same time, "gamification"--the application of game mechanics to traditionally nongame spheres, such as personal health and fitness, shopping, habit tracking, and more--has imposed unprecedented levels of competition, repetition, and quantification on daily life.
Drawing from his own experience as a game designer, Patrick Jagoda argues that games need not be synonymous with gamification. He studies experimental games that intervene in the neoliberal project from the inside out, examining a broad variety of mainstream and independent games, including StarCraft, Candy Crush Saga, Stardew Valley, Dys4ia, Braid, and Undertale. Beyond a diagnosis of gamification, Jagoda imagines ways that games can be experimental--not only in the sense of problem solving, but also the more nuanced notion of problem making that embraces the complexities of our digital present. The result is a game-changing book on the sociopolitical potential of this form of mass entertainment.
semcoop.com
Notable Faculty
8
Page 16
Notable Faculty
9 semcoop.com
The Privatized State (Princeton University Press)
Chiara Cordelli
Many governmental functions today--from the management of prisons and welfare offices to warfare and financial regulation--are outsourced to private entities. Education and health care are funded in part through private philanthropy rather than taxation. Can a privatized government rule legitimately? The Privatized State argues that it cannot.
In this boldly provocative book, Chiara Cordelli argues that privatization constitutes a regression to a precivil condition--what philosophers centuries ago called a state of nature. Developing a compelling case for the democratic state and its administrative apparatus, she shows how privatization reproduces the very same defects that Enlightenment thinkers attributed to the precivil condition, and which only properly constituted political institutions can overcome--defects such as provisional justice, undue dependence, and unfreedom. Cordelli advocates for constitutional limits on privatization and a more democratic system of public administration, and lays out the central responsibilities of private actors in contexts where governance is already extensively privatized.
American democracy's long, ambitious run come to an end? Possibly yes. As William G. Howell and Terry M. Moe argue in this trenchant new analysis of modern politics, the United States faces a historic crisis that threatens our system of self-government--and if democracy is to be saved, the causes of the crisis must be understood and defused.
What can be done to safeguard American democracy? The disruptive forces of modernity cannot be stopped. The solution lies, instead, in having a government that can deal with them--which calls for aggressive new policies, but also for institutional reforms that enhance its capacity for effective action.
The path to progress is filled with political obstacles, including an increasingly populist, anti-government Republican Party. It is hard to be optimistic. But if the challenge is to be met, we need reforms of the presidency itself--reforms that harness the promise of presidential power for effective government, but firmly protect against the fear that it may be put to anti-democratic ends.
Presidents, Populism, and the Crisis of Democracy
(University of Chicago Press)
William G. Howell, Terry M. Moe
Old Thiess, a Livonian Werewolf: A Classic Case in Comparative Perspective
(University of Chicago Press)
Carlo Ginzburg, Bruce Lincoln
In 1691, a Livonian peasant known as Old Thiess boldly announced before a district court that he was a werewolf. Yet far from being a diabolical monster, he insisted, he was one of the "hounds of God," fierce guardians who battled sorcerers, witches, and even Satan to protect the fields, flocks, and humanity--a baffling claim that attracted the notice of the judges then and still commands attention from historians today.
In this book, eminent scholars Carlo Ginzburg and Bruce Lincoln offer a uniquely comparative look at the trial and startling testimony of Old Thiess.
Page 17
The Process Genre: Cinema and the Aesthetic of Labor
(Duke University Press)
Salome Aguilera Skvirsky
From IKEA assembly guides and "hands and pans" cooking videos on social media to Mister Rogers's classic factory tours, representations of the step-by-step fabrication of objects and food are ubiquitous in popular media. In The Process Genre Salomé Aguilera Skvirsky introduces and theorizes the process genre--a heretofore unacknowledged and untheorized transmedial genre characterized by its representation of chronologically ordered steps in which some form of labor results in a finished product. By visualizing technique and absorbing viewers into the actions of social actors and machines, industrial, educational, ethnographic, and other process films stake out diverse ideological positions on the meaning of labor and on a society's level of technological development. In systematically theorizing a genre familiar to anyone with access to a screen, Skvirsky opens up new possibilities for film theory.
Some Assembly Required: Decoding Four Billion Years of Life, from Ancient Fossils to DNA
(Pantheon Books)
Neil Shubin
We have now arrived at a remarkable moment--prehistoric fossils coupled with new DNA technology have given us the tools to answer some of the basic questions of our existence: How do big changes in evolution happen? Is our presence on Earth the product of mere chance? This new science reveals a multibillion-year evolutionary history filled with twists and turns, trial and error, accident and invention.
In Some Assembly Required, Neil Shubin takes readers on a journey of discovery spanning centuries, as explorers and scientists seek to understand the origins of life's immense diversity.
semcoop.com
Notable Faculty
10
Page 18
Notable Faculty
11 semcoop.com
Sun Ra's Chicago: Afrofuturism and the City
(University of Chicago Press)
William Sites
Sun Ra (1914-93) was one of the most wildly prolific and unfailingly eccentric figures in the history of music. Renowned for extravagant performances in which his Arkestra appeared in neo-Egyptian garb, the keyboardist and bandleader also espoused an interstellar cosmology that claimed the planet Saturn as his true home. In Sun Ra's Chicago, William Sites brings this visionary musician back to earth--specifically to the city's South Side, where from 1946 to 1961 he lived and relaunched his career.
Sun Ra's Chicago shows that late twentieth-century Afrofuturism emerged from a deep, utopian engagement with the city--and that by excavating the postwar black experience of Sun Ra's South Side milieu, we can come to see the possibilities of urban life in new ways.
Stalin: Passage to Revolution (Princeton University Press)
Ronald Grigor Suny
This is the definitive biography of Joseph Stalin from his birth to the October Revolution of 1917, a panoramic and often chilling account of how an impoverished, idealistic youth from the provinces of tsarist Russia was transformed into a cunning and fearsome outlaw who would one day become one of the twentieth century's most ruthless dictators.
In this monumental book, Ronald Grigor Suny sheds light on the least understood years of Stalin's career, bringing to life the turbulent world in which he lived and the extraordinary historical events that shaped him. Suny draws on a wealth of new archival evidence from Stalin's early years in the Caucasus to chart the psychological metamorphosis of the young Stalin, taking readers from his boyhood as a Georgian nationalist and romantic poet, through his harsh years of schooling, to his commitment to violent engagement in the underground movement to topple the tsarist autocracy. Stalin emerges as an ambitious climber within the Bolshevik ranks, a resourceful leader of a small terrorist band, and a writer and thinker who was deeply engaged with some of the most incendiary debates of his time.
A landmark achievement, Stalin paints an unforgettable portrait of a driven young man who abandoned his religious faith to become a skilled political operative and a single-minded and ruthless rebel.
Page 19
Faculty notables
Thinking Nature and the Nature of Thinking: From Eriugena to Emerson
(Stanford University Press)
Willemien Otten
A fresh and more capacious reading of the Western religious tradition on nature and creation, Thinking Nature and the Nature of Thinking puts medieval Irish theologian John Scottus Eriugena (810-877) into conversation with American philosopher Ralph Waldo Emerson (1803-1882). Challenging the biblical stewardship model of nature and histories of nature and religion that pit orthodoxy against the heresy of pantheism, Willemien Otten reveals a line of thought that has long made room for nature's agency as the coworker of God. Embracing in this more elusive idea of nature in a world beset by environmental crisis, she suggests, will allow us to see nature not as a victim but as an ally in a common quest for re-attunement to the divine. Putting its protagonists into further dialogue with such classic authors as Augustine, Maximus the Confessor, Friedrich Schleiermacher, and William James, her study deconstructs the idea of pantheism and paves the way for a new natural theology.
Theory of the Gimmick: Aesthetic Judgment and Capitalist Form
(Belknap Press)
Sianne Ngai
Repulsive and yet strangely attractive, the gimmick is a form that can be found virtually everywhere in capitalism. It comes in many guises: a musical hook, a financial strategy, a striptease, a novel of ideas. Above all, acclaimed theorist Sianne Ngai argues, the gimmick strikes us both as working too little (a labor-saving trick) and as working too hard (a strained effort to get our attention).
Focusing on this connection to work, Ngai draws a line from gimmicks to political economy. When we call something a gimmick, we are registering uncertainties about value bound to labor and time--misgivings that indicate broader anxieties about the measurement of wealth in capitalism. With wit and critical precision, Ngai explores the extravagantly impoverished gimmick across a range of examples. Despite its status as cheap and compromised, the gimmick emerges as a surprisingly powerful tool in this formidable contribution to aesthetic theory.
semcoop.com
Notable Faculty
12
Page 20
Notable Faculty
13
Faculty notables
semcoop.com
A Way of Life: Things, Thought, and Action in Chinese Medicine
(Yale University Press)
Judith Farquhar
Traditional Chinese medicine is often viewed as mystical or superstitious, with outcomes requiring naïve faith. Judith Farquhar offers a concise and nuanced treatment that addresses enduring and troublesome ontological, epistemological, and ethical questions. In this work, which is based on her 2017 Terry Lectures, "Reality, Reason, and Action In and Beyond Chinese Medicine," she considers how the modern, rationalized, and scientific field of traditional Chinese medicine constructs its very real objects (bodies, symptoms, drugs), how experts think through and sort out pathology and health (yinyang, right qi / wrong qi, stasis, flow), and how contemporary doctors act responsibly to "seek out the root" of bodily disorder. Through this refined investigation, East-West contrasts collapse, and systematic Chinese medicine, no longer a mystery or a pseudo-science, can become a philosophical ally and a rich resource for a more capacious science.
White Fright: The Sexual Panic at the Heart of America's Racist History
(Basic Books)
Jane Dailey
In White Fright, Jane Dailey upends our understanding of the long struggle for African American rights. Those fighting against equality were not motivated only by a sense of innate superiority, as is often supposed, but also by an intense fear of black sexuality. Dailey examines how white anxiety about interracial sex and marriage found expression in some of the most contentious episodes of American history since Reconstruction. The question was finally settled -- as a legal matter -- with the Court's definitive 1967 decision in Loving v. Virginia, which declared interracial marriage a "fundamental freedom." Placing sex at the center of our civil rights history, White Fright offers a bold new take on one of the most confounding threads running through American history.
William Greaves: Filmmaking as Mission (Stanford University Press)
Edited by Scott MacDonald, Jacqueline Stewart
William Greaves is one of the most significant and compelling American filmmakers of the past century. Best known for his experimental film about its own making, Symbiopsychotaxiplasm: Take One, Greaves was an influential independent documentary filmmaker who produced, directed, shot, and edited more than a hundred films on a variety of social issues and on key African American figures ranging from Muhammad Ali to Ralph Bunche to Ida B. Wells. A multitalented artist, his career also included stints as a songwriter, a member of the Actors Studio, and, during the late 1960s, a producer and cohost of Black Journal, the first national television show focused on African American culture and politics.
This volume provides the first comprehensive overview of Greaves's remarkable career. It brings together a wide range of material, including a mix of incisive essays from critics and scholars, Greaves's own writings, an extensive meta-interview with Greaves, conversations with his wife and collaborator Louise Archambault Greaves and his son David, and a critical dossier on Symbiopsychotaxiplasm.
Page 21
The Book of Charlatans (New York University Press)
Jamāl Al-Din 'Abd Al-Rahm Al-Jawbari
The Book of Charlatans is a comprehensive guide to trickery and scams as practiced in the thirteenth century in the cities of the Middle East, especially in Syria and Egypt. The author, al-Jawbarī, was well versed in the practices he describes and may well have been a reformed charlatan himself. Divided into thirty chapters, his book reveals the secrets of everyone from "Those Who Claim to be Prophets" to "Those Who Claim to Have Leprosy" and "Those Who Dye Horses."
The material is informed in part by the author's own experience with alchemy, astrology, and geomancy, and in part by his extensive research. The work is unique in its systematic, detailed, and inclusive approach to a subject that is by nature arcane and that has relevance not only for social history but also for the history of science. Covering everything from invisible writing to doctoring gemstones and quack medicine, The Book of Charlatans opens a fascinating window into a subculture of beggars' guilds and professional con artists in the medieval Arab world.
Crusade for Justice: The Autobiography of Ida B. Wells
(University of Chicago)
Ida B Wells
Ida B. Wells is an American icon of truth telling. Born to slaves, she was a pioneer of investigative journalism, a crusader against lynching, and a tireless advocate for suffrage, both for women and for African Americans. She co-founded the NAACP, started the Alpha Suffrage Club in Chicago, and was a leader in the early civil rights movement, working alongside W. E. B. Du Bois, Madam C. J. Walker, Mary Church Terrell, Frederick Douglass, and Susan B. Anthony.
This engaging memoir, originally published 1970, relates Wells's private life as a mother as well as her public activities as a teacher, lecturer, and journalist in her fight for equality and justice. This updated edition includes a new foreword by Eve L. Ewing, new images, and a new afterword by Ida B. Wells's great-granddaughter, Michelle Duster.
semcoop.com
Notable Reissue
14
Page 22
Notable Reissue
15
The Life of Christina Hane (Yale University Press)
Christina of Hane
The thirteenth-century mystic Christina of Hane led an extraordinary life, but her recently unearthed case remains to be discovered in the English-speaking world. Her disturbing account of vaginal mutilation, her competition with the Virgin Mary, and her potentially heretical statements about the union with Christ are but a few peculiarities worth highlighting. This remarkable work sheds new light on convent life, spiritual practices, and physical and mental suffering in the life of medieval women and the communities they inhabited.
semcoop.com Re-issue
Heart of Reality: Essays On Beauty, Love, and Ethics
(University of Notre Dame Press)
Vladimir Sergeyevich Soloviev
Vladimir S. Soloviev (1853-1900), moral philosopher, social and literary critic, theologian, and poet, is considered one of Russia's greatest philosophers. But Soloviev is relatively unknown in the West, despite his close association with Fyodor Dostoevsky, who modeled one of his most famous literary characters, Alyosha Karamazov, on Soloviev. In The Heart of Reality, Vladimir Wozniuk offers lucid translations, a substantive introduction, and careful annotations that make many of Soloviev's writings accessible for the first time to an English-speaking audience. Soloviev worked tirelessly in the name of the mystical body of the Universal Church. The vast bulk of his writings can be construed as promoting, in one way or another, the cause of ecumenism. His essays also display the influence of Platonic and German Idealism and strands of Thomistic thinking. Wozniuk demonstrates the consistency of Soloviev's biblically based thought on the subjects of aesthetics, love, and ethics, while at the same time clarifying Soloviev's concept of vseedinstvo (the unity of spiritual and material), especially as applied to literature. Containing many previously untranslated essays, The Heart of Reality situates Soloviev more clearly in the mainstream of Western religious philosophy and Christian thought.
Page 23
The Madwoman in the Attic: The Woman Writer and the Nineteenth-Century Literary Imagination
(Yale University Press)
Sandra M. Gilbert, Susan Gubar
Called "a feminist classic" by Judith Shulevitz in the New York Times Book Review, this pathbreaking book of literary criticism is now reissued with a new introduction by Lisa Appignanesi that speaks to how The Madwoman in the Attic set the groundwork for subsequent generations of scholars writing about women writers, and why the book still feels fresh some four decades later.
The New Science (Yale University Press)
Giambattista Vico
The New Science is the major work of Italian philosopher Giambattista Vico. First published in 1725 and revised in 1730 and 1744, it calls for a reinterpretation of human civilization by tracing the stages of historical development shared by all societies. Almost unknown during his lifetime, the work had a profound influence on later thinkers, from Montesquieu and Marx to Joyce and Gadamer. This edition offers a fresh translation and detailed annotations which enable the reader to track Vico's multiple allusions to other texts. The introduction situates the work firmly within a contemporary context and newly establishes Vico as a thinker of modernity.
semcoop.com
Notable Reissue
16
Page 24
Notable Reissue
17 semcoop.com
That One Should Disdain Hardships: The Teachings of a Roman Stoic
(Yale University Press)
Musonius Rufus
The Stoic philosopher Musonius Rufus was one of the most influential teachers of his era, imperial Rome, and his message still resonates with startling clarity today. Alongside Stoics like Seneca, Epictetus, and Marcus Aurelius, he emphasized ethics in action, displayed in all aspects of life. Merely learning philosophical doctrine and listening to lectures, they believed, will not do one any good unless one manages to interiorize the teachings and apply them to daily life.
In Musonius Rufus's words, "Philosophy is nothing else than to search out by reason what is right and proper and by deeds to put it into practice." At a time of renewed interest in Stoicism, this collection of Musonius Rufus's lectures and sayings, beautifully translated by Cora E. Lutz with an introduction by Gretchen Reydams-Schils, offers readers access to the thought of one of history's most influential and remarkable Stoic thinkers.
Re-issue
Chadrabati's Ramayan (Zubaan Books)
Nabaneeta Dev Sen
Chandrabati, the first woman poet in Bangla, lived in the sixteenth century in Mymensingh district in present day Bangladesh. She was also the first poet in the Bangla language to present a retelling of the Ram story from the point of view of Sita. Idolized as a model of marital obedience and chastity in Valmiki's Ramayan, Chandrabati's lyrical retelling of Sita's story offers us a fresh perspective. Written in order to be sung before a non-courtly audience, mainly of womenfolk of rural Bengal, Chandrabati's Ramayan adds new characters and situations to the story to provide new interpretations of already known events drawing richly on elements of existing genres. Its location in the tales of everyday life has ensured that Chandrabati's Ramayan lives on in the hearts of village women of modern-day India. Translated into English for the first time by renowned and recently deceased writer Nabaneeta Dev Sen, this edition brings a beloved religious tale to a new audience in the twenty-first century.
Page 25
Afrotopia (University Of Minnesota Press)
Felwine Sarr
In the recent aftermath of colonialism, civil wars, and the AIDS crisis, a new day finally seems to be shining on the African continent. Philosopher Felwine Sarr urges the continent to set out on its own renewal and self-discovery—an active utopia that requires a deep historical reflection on the continent's vast mythological universe and ancient traditions, nourishes a cultural reinvention, and embraces green technologies for tackling climate change and demographic challenges. Through a reflection on contemporary African writers, artists, intellectuals, and musicians, Sarr elaborates Africa's unique philosophies and notions of communal value and economy deeply rooted in its ancient traditions and landscape—concepts such as ubuntu, the life force in Dogon culture; the Rwandan imihigo; and the Senegalese teranga. Sarr takes the reader on a philosophical journey that is as much inward as outward, demanding an elevation of the collective consciousness. Along the way, one sees the contours of an africanity, a contemporary Africa united as a continent through the creolization of its cultural traditions. This is Felwine Sarr's Afrotopia.
Against Abstraction: Notes From an Ex-Latin Americanist
(University of Texas Press)
Alberto Moreiras
In 2015, members of the philosophy department at the University of Madrid conducted an interview with Alberto Moreiras for the university's digital archive. In these landmark conversations, Moreiras describes how, though he was initially committed to Latin American literary studies, he eventually transitioned to become an eminent scholar of critical theory, existential philosophy, and ultimately infrapolitics and posthegemony. Blending intellectual autobiography with a survey of Hispanism as practiced in universities in the United States (including the schisms in Latin American subaltern studies that eventually led to Moreiras's departure from Duke University), these narratives read like a picaresque and a polemic on the symbolic power of scholars.
AFRICOBRA (Duke University Press)
Wadsworth A. Jarrell
Formed on the South Side of Chicago in 1968 at the height of the civil rights, Black power, and Black arts movements, the AFRICOBRA collective created a new artistic visual language rooted in the culture of Chicago's Black neighborhoods. The collective's aesthetics, especially the use of vibrant color, capture the rhythmic dynamism of Black culture and social life. In AFRICOBRA, painter, photographer, and collective cofounder Wadsworth A. Jarrell tells the definitive story of the group's creation, history, and artistic and political principles. From accounts of the painting of the groundbreaking Wall of Respect mural and conversations among group members to documentation of AFRICOBRA's exhibits in Chicago, New York, and Boston, Jarrell outlines how the collective challenged white conceptions of art by developing an artistic philosophy and approach wholly divested of Western practices.
semcoop.com
Notable Gen. Ed.
18
Page 26
Notable Gen. Ed.
19 semcoop.com
Allah: God in the Qur'an (Yale University Press)
Gabriel Said Reynolds
The central figure of the Qur'an is not Muhammad but Allah. The Qur'an, Islam's sacred scripture, is marked above all by its call to worship Allah, and Allah alone. Yet who is the God of the Qur'an? What distinguishes the qur'anic presentation of God from that of the Bible? In this illuminating study, Gabriel Said Reynolds depicts a god of both mercy and vengeance, one who transcends simple classification. He is personal and mysterious; no limits can be placed on his mercy. Remarkably, the Qur'an is open to God's salvation of both sinners and unbelievers. At the same time, Allah can lead humans astray, so all are called to a disposition of piety and fear. Allah, in other words, is a dynamic and personal God. This eye-opening book provides a unique portrait of the God of the Qur'an.
Alaric the Goth: An Outsider's History of the Fall of Rome
( W. W. Norton Company)
Douglas Boin

Stigmatized and relegated to the margins of Roman society, the Goths were violent "barbarians" who destroyed "civilization," at least in the conventional story of Rome's collapse. But a slight shift of perspective brings their history shockingly alive. Alaric grew up near the river border that separated Gothic territory from Roman. He survived a border policy that separated migrant children from their parents, and he was denied benefits he likely expected from military service. Romans were deeply conflicted over who should enjoy the privileges of citizenship. They depended on foreign goods, but denied foreigners their own voices and humanity. In stark contrast to the rising bigotry among Romans during Alaric's lifetime, the Goths, as practicing Christians, valued religious pluralism and tolerance. The three nights of riots Alaric and the Goths brought to the capital struck fear into the hearts of the powerful, but the riots were not without cause. Combining vivid storytelling and historical analysis, Douglas Boin reveals the Goths' complex and fascinating legacy in shaping our world.


Andrea Dworkin: The Feminist As Revolutionary
(The New Press)
Martin Duberman
Fifteen years after her death, Andrea Dworkin remains one of the most important and challenging figures in second-wave feminism. Although frequently relegated to its more radical fringes, Dworkin was without doubt a formidable and influential writer, a philosopher, and an activist—a brilliant figure who inspired and infuriated in equal measure. Her many detractors were eager to reduce her to the caricature of the angry, man-hating feminist who believed that all sex was rape, and as a result, her work has long been misunderstood. It is in recent years, especially with the rise of the #MeToo movement, that there has been a resurgence of interest in her ideas. Given exclusive access to never-before-published photographs and archives, including her letters to many of the major figures of second-wave feminism, award-winning biographer Martin Duberman traces Dworkin's life, from her abusive first marriage through her central role in the sex and pornography wars of the following decades. This is a vital, complex, and long overdue reassessment of the life and work of one of the towering figures of second-wave feminism.
Page 27
The Anatomy of Grief (Yale University Press)
Dorothy P. Holinger
Grief happens to everyone. Universal and enveloping, grief cannot be denied. This original new book by psychologist Dorothy P. Holinger uses humanistic and physiological approaches to describe grief's impact on the bereaved, showing the bereaved how to move through the grieving process and how to live life again with joy.
Ballad of the Bullet: Gangs, Drill Music, and the Power of Online Infamy
(Princeton University Press)
Forrest Stuart
Amid increasing hardship and limited employment options, poor urban youth are using such social media platforms as YouTube, Twitter, and Instagram to capitalize on the public's fascination with the ghetto and gang violence. But with what consequences? Ballad of the Bullet follows the Corner Boys, a group of thirty or so young men on Chicago's South Side who have hitched their dreams of success to the creation of "drill music." Drillers disseminate this competitive genre of hyperviolent, hyperlocal, DIY-style gangsta rap digitally, hoping to amass millions of clicks, views, and followers—and a ticket out of poverty. Drawing on extensive fieldwork and countless interviews with the Corner Boys, Forrest Stuart looks at the lives and motivations of these young men. While these virtual displays of ghetto authenticity can lead to online notoriety, material resources and, for a select few, upward mobility, drillers frequently end up behind bars, seriously injured, or dead. Raising questions about online celebrity, public voyeurism, and the commodification of the ghetto, Ballad of the Bullet offers a singular look at what happens when the digital economy and urban poverty collide.
Anger: The Conflicted History of an Emotion
(Yale University Press)
Barbara H. Rosenwein
All of us think we know when we are angry, and we are sure we can recognize anger in others as well. But this is only superficially true. We see anger through lenses colored by what we know, experience, and learn. Barbara H. Rosenwein traces our many conflicting ideas about and expressions of anger, taking the story from the Buddha to our own time, from anger's complete rejection to its warm reception. Rosenwein explores how anger has been characterized by gender and race, why it has been tied to violence and how that is often a false connection, how it has figured among the seven deadly sins and yet is considered a virtue, and how its interpretation, once largely the preserve of philosophers and theologians, has been gradually handed over to scientists—with very mixed results. Rosenwein shows that the history of anger can help us grapple with it today.
semcoop.com
Notable Gen. Ed.
20
Page 28
Notable Gen. Ed.
21
Begin Again: James Baldwin's America and Its Urgent Lessons For Our Own
(Crown Publishing Group)
Eddie S. Glaude Jr.
We live, according to Eddie S. Glaude Jr., in a moment when the struggles of Black Lives Matter and the attempt to achieve a new America have been challenged by the election of Donald Trump, a president whose victory represents yet another failure of America to face the lies it tells itself about race. From Charlottesville to the policies of child separation at the border, his administration turned its back on the promise of Obama's presidency and refused to embrace a vision of the country shorn of the insidious belief that white people matter more than others.
In the story of Baldwin's crucible, Glaude suggests, we can find hope and guidance through our own after times, this Trumpian era of shattered promises and white retrenchment. Mixing biography--drawn partially from newly uncovered interviews--with history, memoir, and trenchant analysis of our current moment, Begin Again is Glaude's endeavor, following Baldwin, to bear witness to the difficult truth of race in America today. It is at once a searing exploration that lays bare the tangled web of race, trauma, and memory, and a powerful interrogation of what we all must ask of ourselves in order to call forth a new America.
semcoop.com
The Benjamin Files (Verso)
Fredric Jameson
The Benjamin Files offers a comprehensive new reading of all of Benjamin's major works and a great number of his shorter book reviews, notes and letters. Its premise is that Benjamin was an anti-philosophical, anti-systematic thinker whose conceptual interests also felt the gravitational pull of his vocation as a writer. What resulted was a coexistence or variety of language fields and thematic codes which overlapped and often seemed to contradict each other: a view which will allow us to clarify the much-debated tension in his works between the mystical or theological side of Benjamin and his political or historical inclination.
Becoming Human: Matter and Meaning in an Antiblack World
(New York University Press)
Zakiyyah Iman Jackson
Rewriting the pernicious, enduring relationship between blackness and animality in the history of Western science and philosophy, Becoming Human breaks open the rancorous debate between black critical theory and posthumanism. Through the cultural terrain of literature by Toni Morrison, Nalo Hopkinson, Audre Lorde, and Octavia Butler, the art of Wangechi Mutu and Ezrom Legae, and the oratory of Frederick Douglass, Zakiyyah Iman Jackson both critiques and displaces the racial logic that has dominated scientific thought since the Enlightenment. In so doing, Becoming Human demonstrates that the history of racialized gender and maternity, specifically antiblackness, is indispensable to future thought on matter, materiality, animality, and posthumanism. Jackson argues that African diasporic cultural production alters the meaning of being human and engages in imaginative practices of world-building against a history of the bestialization and thingification of blackness.
Page 29
Beyond the Usual Beating: The Jon Burge Police Torture Scandal and Social Movements for Police Accountability in Chicago
(University of Chicago Press)
Andrew S. Baer
The malign and long-lasting influence of Chicago police commander Jon Burge cannot be overestimated, particularly as fresh examples of local and national criminal-justice abuse continue to surface with dismaying frequency. Burge's decades-long tenure on the Chicago police force was marked by racist and barbaric interrogation methods, including psychological torture, burnings, and mock executions--techniques that went far "beyond the usual beating." After being exposed in 1989, he became a symbol of police brutality and the unequal treatment of nonwhite people, and the persistent outcry against him led to reforms such as the abolition of the death penalty in Illinois.
A Black Women's History of the United States
(Beacon Press)
Daina Ramey Berry, Kali Nicole Gross
In centering Black women's stories, two award-winning historians seek both to empower African American women and to show their allies that Black women's unique ability to make their own communities while combatting centuries of oppression is an essential component in our continued resistance to systemic racism and sexism. Daina Ramey Berry and Kali Nicole Gross offer an examination and celebration of Black womanhood, beginning with the first African women who arrived in what became the United States to African American women of today.
Black Queer Freedom: Spaces of Injury and Paths of Desire
(University of Illinois Press)
Gershun Avilez
Whether engaged in same-sex desire or gender nonconformity, black queer individuals live with being perceived as a threat while simultaneously being subjected to the threat of physical, psychological, and socioeconomical injury. Attending to and challenging threats has become a defining element in queer black artists' work throughout the black diaspora. GerShun Avilez analyzes the work of diasporic artists who, denied government protections, have used art to create spaces for justice. He first focuses on how the state seeks to inhibit the movement of black queer bodies through public spaces, whether on the street or across borders. From there, he pivots to institutional spaces--specifically prisons and hospitals--and the ways such places seek to expose queer bodies in order to control them. Throughout, he reveals how desire and art open routes to black queer freedom when policy, the law, racism, and homophobia threaten physical safety, civil rights, and social mobility.
semcoop.com
Notable Gen. Ed.
22
Page 30
Notable Gen. Ed.
23
The Book of Unconformities: Speculations on Lost Time
(Pantheon Books)
Hugh Raffles
When Hugh Raffles's two sisters died suddenly within a few weeks of each other, he reached for rocks, stones, and other seemingly solid objects as anchors in a world unmoored, as ways to make sense of these events through stories far larger than his own.
A moving, profound, and affirming meditation, The Book of Unconformities is grounded in stories of stones: Neolithic stone circles, Icelandic lava, mica from a Nazi concentration camp, petrified whale blubber in Svalbard, the marble prized by Manhattan's Lenape, and a huge Greenlandic meteorite that arrived with six Inuit adventurers in the exuberant but fractious New York City of 1897.
As Raffles follows these fundamental objects, unearthing the events they've engendered, he finds them losing their solidity and becoming as capricious, indifferent, and willful as time itself.
semcoop.com
The Book of Sleep (Seagull Books)
Haytham El Wardany
What is sleep? How can this most unproductive of human states--metaphorically called death's shadow or considered the very pinnacle of indolence--be envisioned as action and agency? And what do we become in sleep? What happens to the waking selves we understand ourselves to be?
Written in the spring of 2013, as the Egyptian government of President Mohammed Morsi was unravelling in the face of widespread protests, The Book of Sleep is a landmark in contemporary Arabic literature. Drawing on the devices and forms of poetry, philosophical reflection, political analysis, and storytelling, this genre-defying work presents us with an assemblage of fragments which combine and recombine, circling around their central theme but refusing to fall into its gravity.
The Challenge of Nietzsche: How to Approach His Thought
(University of Chicago Press)
Jeremy Fortier
Friedrich Nietzsche is one of the most widely read authors in the world, from the time of his death to the present--as well as one of the most controversial. He has been celebrated as a theorist of individual creativity and self-care but also condemned as an advocate of antimodern politics and hierarchical communalism. Rather than treating these approaches as mutually exclusive, Jeremy Fortier contends that we ought instead to understand Nietzsche's complex legacy as the consequence of a self-conscious and artful tension woven into the fabric of his books.
The Challenge of Nietzsche uses Nietzsche as a guide to Nietzsche, highlighting the fact that Nietzsche equipped his writings with retrospective self-commentaries and an autobiographical apparatus that clarify how he understood his development as an author, thinker, and human being.
Page 31
Chantal Akerman: Passages
(Nai010 Publishers)
Chantal Akerman
One of the foremost avant-garde filmmakers of the 1970s, Chantal Akerman (1950-2015) moved toward the visual arts as a secondary career with the 1995 screening of her film D'est. Originally a documentary shot on 16mm film, D'est was transformed by Akerman into a large spatial installation played across 24 monitors. From that point on, Akerman continued to experiment with the possibilities of exhibition spaces, persisting in her lifelong project to document the political dimensions of daily life.
This publication highlights the French filmmaker's installations, with full-color photographs and several essays exploring the central themes of Akerman's oeuvre such as gender roles, migration and the passage of time.
Conditional Citizens (Pantheon Books)
Laila Lalami
What does it mean to be American? In this starkly illuminating and impassioned book, Pulitzer Prize---finalist Laila Lalami recounts her unlikely journey from Moroccan immigrant to U.S. citizen, using it as a starting point for her exploration of the rights, liberties, and protections that are traditionally associated with American citizenship. Tapping into history, politics, and literature, she elucidates how accidents of birth--such as national origin, race, and gender--that once determined the boundaries of Americanness still their shadows today.
Lalami poignantly illustrates how white supremacy survives through adaptation and legislation, with the result that a caste system is maintained that keeps the modern equivalent of white male landowners at the top of the social hierarchy. Conditional citizens, she argues, are all the people with whom America embraces with one arm and pushes away with the other.
semcoop.com
Notable Gen. Ed.
24
Page 32
Notable Gen. Ed.
25 semcoop.com
Dawning of the Apocalypse: The Roots of Slavery, White Supremacy, Settler Colonialism, and Capitalism in the Long Sixteenth Century
(Monthly Review Press)
Gerald Horne
August 2019 saw numerous commemorations of the year 1619, when what was said to be the first arrival of enslaved Africans occurred in North America. Yet in the 1520s, the Spanish, from their imperial perch in Santo Domingo, had already brought enslaved Africans to what was to become South Carolina. The enslaved people here quickly defected to local Indigenous populations, and compelled their captors to flee. Deploying such illuminating research, The Dawning of the Apocalypse is a riveting revision of the "creation myth" of settler colonialism and how the United States was formed. Here, Gerald Horne argues forcefully that, in order to understand the arrival of colonists from the British Isles in the early seventeenth century, one must first understand the "long sixteenth century"- from 1492 until the arrival of settlers in Virginia in 1607.
Digging Up Armageddon: The Search For the Lost City of Solomon
(Princeton University Press)
Eric H. Cline
In 1925, James Henry Breasted, famed Egyptologist and director of the Oriental Institute at the University of Chicago, sent a team of archaeologists to the Holy Land to excavate the ancient site of Megiddo--Armageddon in the New Testament--which the Bible says was fortified by King Solomon. Their excavations made headlines around the world and shed light on one of the most legendary cities of biblical times, yet little has been written about what happened behind the scenes. Digging Up Armageddon brings to life one of the most important archaeological expeditions ever undertaken, describing the site and what was found there, including discoveries of gold and ivory, and providing an up-close look at the internal workings of a dig in the early years of biblical archaeology.
Cross of Snow: A Life of Henry Wadsworth Longfellow
(Knopf Publishing Group)
Nicholas A. Basbanes
In Cross of Snow, the result of more than twelve years of research, including access to never-before-examined letters, diaries, journals, notes, Nicholas Basbanes reveals the life, the times, the work--the soul--of the man who shaped the literature of a new nation with his countless poems, sonnets, stories, essays, translations, and whose renown was so wide-reaching that his deep friendships included Charles Dickens, Nathaniel Hawthorne, Ralph Waldo Emerson, Julia Ward Howe, and Oscar Wilde.
Page 33
Don Isaac Abravanel: An Intellectual Biography (Brandeis University Press)
Cedric Cohen-Skalli
Don Isaac Abravanel (1437-1508) was one of the great inventors of Jewish modernity. A merchant, banker, and court financier, a scholar versed in both Jewish and Christian writings, a preacher and exegete, a prominent political actor in royal entourages and Jewish communities, Abravanel was one of the greatest leaders and thinkers of Iberian Jewry in the aftermath of the expulsion of 1492. This book, the first new intellectual biography of Abravanel in twenty years, depicts his life in three cultural milieus--Portugal, Castile, and post-expulsion Italy--and analyzes his major literary accomplishments in each period. Abravanel was a traditionalist with innovative ideas, a man with one foot in the Middle Ages and the other in the Renaissance. An erudite scholar, author of a monumental exegetical opus that is still studied today, and an avid book collector, he was a transitional figure, defined by an age of contradictions. Yet, it is these very contradictions that make him such an important personality for understanding the dawn of Jewish modernity.
Doing (Seagull Books)
Jean-luc Nancy
In Doing, Jean-Luc Nancy, one of the most prominent and lucid articulators of contemporary French theory and philosophy, examines the precarious but urgent relationship between being and doing. His book is not so much a call to action as a summons to more vigorous thinking, the examination and reflection that must precede any effective action. The first section of the book considers this matter tersely: Jean-Luc Nancy's quickness of language and grace of humor lead the reader carefully past the dangers of oversimplification, toward a general awareness of meaningful being. In the last section, Nancy examines the realities of terrorist actions--specifically those that shocked Paris a few years ago, and more generally the frightening world of politics without conscience, where conscience is the root of all thinking.
A Dominant Character: The Radical Science and Restless Politics of J.B.S. Haldane
(W.W. Norton & Company)
Samanth Subramanian
J. B. S. Haldane's life was rich and strange, never short on genius or drama--from his boyhood apprenticeship to his scientist father, who first instilled in him a devotion to the scientific method; to his time in the trenches during the First World War, where he wrote his first scientific paper; to his numerous experiments on himself, including inhaling dangerous levels of carbon dioxide and drinking hydrochloric acid; to his clandestine research for the British Admiralty during the Second World War. He is best remembered as a geneticist who revolutionized our understanding of evolution, but his peers hailed him as a polymath. One student called him "the last man who might know all there was to be known."
semcoop.com
Notable Gen. Ed.
26
Page 34
Notable Gen. Ed.
27
Driving While Black: African American Travel and the Road to Civil Rights
(Liveright Publishing Corporation)
Gretchen Sorin
In Driving While Black, Gretchen Sorin reveals how the car has always held particular importance for African Americans, allowing black families to evade the many dangers presented by an entrenched racist society and to enjoy, in some measure, the freedom of the open road. She recounts the creation of a parallel, unseen world of black motorists, who relied on travel guides, black only businesses, and informal communications networks to keep them safe. At the heart of Sorin's story is Victor and Alma Green's famous Green Book, a travel guide begun in 1936, which helped grant black Americans that most basic American rite, the family vacation.
semcoop.com
Dostoyevsky Reads Hegel In Siberia and Bursts Into Tears
(Yale University Press)
László Földényi
László Földényi's work, in the long tradition of public intellectual and cultural criticism, resonates with the writings of Montaigne, Walter Benjamin, and Thomas Mann. In this new essay collection, Földényi considers the continuing fallout from the collapse of religion, exploring how Enlightenment traditions have not replaced basic elements of previously held religious mythologies--neither their metaphysical completeness nor their comforting purpose. Realizing beautiful writing through empathy, imagination, fascination, and a fierce sense of justice, Földényi covers a wide range of topics including a meditation on the metaphysical unity of a sculpture group and an analysis of fear as a window into our relationship with time.
Earth Keeper: Reflections on the American Land (Harper)
N. Scott Momaday
One of the most distinguished voices in American letters, N. Scott Momaday has devoted much of his life to celebrating and preserving Native American culture, especially its oral tradition. A member of the Kiowa tribe who was born and grew up on Indian reservations throughout the Southwest, Momaday has an intimate connection to the land he knows well and loves deeply. In Earth Keeper: Reflections on the American Land, he reflects on his native ground and its influence on his people. "When I think about my life and the lives of my ancestors, I am inevitably led to the conviction that I, and they, belong to the American land. This is a declaration of belonging. And it is an offering to the earth." he writes.
Page 35
Entitled: How Male Privilege Hurts Women (Crown Publishing Group)
Kate Manne
In this bold and stylish critique, Cornell philosopher Kate Manne offers a radical new framework for understanding misogyny. Ranging widely across the culture, from Harvey Weinstein and the Brett Kavanaugh hearings to "Cat Person" and the political misfortunes of Elizabeth Warren, Manne's book shows how privileged men's sense of entitlement--to sex, yes, but more insidiously to admiration, care, bodily autonomy, knowledge, and power--is a pervasive social problem with often devastating consequences.
Essays on Jane Jacobs (Bokforlaget Stolpe AB)
Edited by Tigran Hass, Jesper Meijling
Author of the hugely influential Death and Life of Great American Cities, the urbanist writer and activist Jane Jacobs (1916-2006) never received a college degree nor any formal training in urban planning, but her eight books and her fierce grassroots campaigns against exploitative real estate development have earned her a permanent place in the history of urban studies.
In this anthology, 13 writers reflect on Jacobs' pioneering research, reassessing it in the context of contemporary urban and political realities. Following an appraisal of her life, the book includes essays addressing such topics as her emphasis on cities of relationships rather than cities of things; diversity, market value and gentrification; Jacobs as a political thinker; concepts of urban change; economic unpredictability and the wealth of cities; the importance of small movements; urbanism and digital technology; what Jacobs can tell us about the future of cities; and much more.
Epistenology: Wine As Experience (Columbia University Press)
Nicola Perullo
We think we know how to appreciate wine--trained connoisseurs take dainty sips in sterile rooms and provide ratings based on objective knowledge and technical expertise. In Epistenology, Nicola Perullo vigorously challenges this approach, arguing that it is the enjoyment of drinking wine as an active and participatory experience that matters.
Perullo argues that wine comes to life not in the abstract space of the professional tasting but in the real world of shared experiences; wines can change in these encounters, and drinkers along with them. Just as a winemaker is not simply a producer but a nurturer, a wine is fully known only through an encounter among a group of drinkers in a specific place and time. Wine is not an object to analyze but an experience to make, creatively opening up new perceptual possibilities for settings, cuisines, and companions.
semcoop.com
Notable Gen. Ed.
28
Page 36
Notable Gen. Ed.
29 semcoop.com
Fathoms: The World in the Whale (Simon & Schuster)
Rebecca Giggs
When writer Rebecca Giggs encountered a humpback whale stranded on her local beachfront in Australia, she began to wonder how the lives of whales reflect the condition of our oceans. Fathoms: The World in the Whale blends natural history, philosophy, and science to explore: How do whales experience ecological change? How has whale culture been both understood and changed by human technology? What can observing whales teach us about the complexity, splendour, and fragility of life? In Fathoms, we learn about whales so rare they have never been named, whale songs that sweep across hemispheres in annual waves of popularity, and whales that have modified the chemical composition of our planet's atmosphere. We travel to Japan to board the ships that hunt whales and delve into the deepest seas to discover how plastic pollution pervades our earth's undersea environment.
Female Husbands: A Trans History (Cambridge University Press)
Jen Manion
Long before people identified as transgender or lesbian, there were female husbands and the women who loved them. Female husbands - people assigned female who transed gender, lived as men, and married women - were true queer pioneers. Moving deftly from the colonial era to just before the First World War, Jen Manion uncovers the riveting and very personal stories of ordinary people who lived as men despite tremendous risk, danger, violence, and threat of punishment. Female Husbands weaves the story of their lives in relation to broader social, economic, and political developments in the United States and the United Kingdom, while also exploring how attitudes towards female husbands shifted in relation to transformations in gender politics and women's rights, ultimately leading to the demise of the category of 'female husband' in the early twentieth century. Groundbreaking and influential, Female Husbands offers a dynamic, varied, and complex history of the LGBTQ past.
Exile and the Nation: The Parsi Community of India & the Making of Modern Iran
(University of Texas Press)
Afshin Marashi
n the aftermath of the seventh-century Islamic conquest of Iran, Zoroastrians departed for India. Known as the Parsis, they slowly lost contact with their ancestral land until the nineteenth century, when steam-powered sea travel, the increased circulation of Zoroastrian-themed books, and the philanthropic efforts of Parsi benefactors sparked a new era of interaction between the two groups.
Tracing the cultural and intellectual exchange between Iranian nationalists and the Parsi community during the late nineteenth and early twentieth centuries, Exile and the Nation shows how this interchange led to the collective reimagining of Parsi and Iranian national identity--and the influence of antiquity on modern Iranian nationalism, which previously rested solely on European forms of thought.
Page 37
The Feminist War on Crime: The Unexpected Role of Women's Liberation in Mass Incarceration
(University of California Press)
Aya Gruber
Deploying vivid cases and unflinching analysis, The Feminist War on Crime documents the failure of the state to combat sexual and domestic violence through law and punishment. Zero-tolerance anti-violence law and policy tend to make women less safe and more fragile. Mandatory arrests, no-drop prosecutions, forced separation, and incarceration embroil poor women of color in a criminal justice system that is historically hostile to them. This carceral approach exacerbates social inequalities by diverting more power and resources toward a fundamentally flawed criminal justice system, further harming victims, perpetrators, and communities alike.
In order to reverse this troubling course, Gruber contends that we must abandon the conventional feminist wisdom, fight violence against women without reinforcing the American prison state, and use criminalization as a technique of last--not first--resort.
Franchise: The Golden Arches in Black America
(Liveright Publishing Corporation)
Marcia Chatelain
An estimated one-third of all American adults eats something from at a fast-food restaurant every day. Millions start their mornings with paper-wrapped English muffin breakfast sandwiches, order burritos hastily secured in foil for lunch, and end their evenings with extravalue dinners consumed in cars. But while people of all ages and backgrounds enjoy and depend on fast food, it does not mean the same thing to each of us. For African Americans, as acclaimed historian Marcia Chatelain reveals in Franchise, fast food is a source of both despair and power--and a battlefield on which the fight for racial justice has been waged since the 1960s.
Taking us from the first McDonald's drive-in in San Bernardino in the 1940s to civil rights protests at franchises in the American South in the 1960s and the McDonald's on Florissant Avenue in Ferguson in the summer 2014, Chatelain charts how the fight for racial justice is intertwined with the fate of black businesses. Deeply researched and brilliantly told, Franchise is an essential story of race and capitalism in America.
The Force of Nonviolence (Verson)
Judith Butler
Judith Butler's new book shows how an ethic of nonviolence must be connected to a broader political struggle for social equality. Further, it argues that nonviolence is often misunderstood as a passive practice that emanates from a calm region of the soul, or as an individualist ethical relation to existing forms of power. But, in fact, nonviolence is an ethical position found in the midst of the political field. An aggressive form of nonviolence accepts that hostility is part of our psychic constitution, but values ambivalence as a way of checking the conversion of aggression into violence. One contemporary challenge to a politics of nonviolence points out that there is a difference of opinion on what counts as violence and nonviolence. The distinction between them can be mobilized in the service of ratifying the state's monopoly on violence.
semcoop.com
Notable Gen. Ed.
30
Page 38
Notable Gen. Ed.
31
Having and Being Had (Riverhead Books)
Eula Biss
A timely and arresting new look at affluence by a consistently surprising writer.
"My adult life can be divided into two distinct parts," Eula Biss writes, "the time before I owned a washing machine and the time after." Having just purchased her first home, she now embarks on a roguish and risky self-audit of the value system she has bought into. The result is a radical interrogation of work, leisure, and capitalism. Described by The New York Times as a writer who "advances from all sides, like a chess player," Biss brings her approach to the lived experience of capitalism. Playfully ranging from IKEA to Beyoncé to Pokemon, across bars and laundromats and universities, she asks, of both herself and her class, "In what have we invested?"
semcoop.com
From Darwin to Derrida: Selfish Games, Social Selves, and the Meanings of Life
(MIT Press)
David Haig

In From Darwin to Derrida, evolutionary biologist David Haig explains how a physical world of matter in motion gave rise to a living world of purpose and meaning. Natural selection, a process without purpose, gives rise to purposeful beings who find meaning in the world. The key to this, Haig proposes, is the origin of mutable "texts"--genes--that preserve a record of what has worked in the world. These texts become the specifications for the intricate mechanisms of living beings.
Haig draws on a wide range of sources--from Laurence Sterne's Tristram Shandy to Immanuel Kant's Critique of the Power of Judgment to the work of Jacques Derrida to the latest findings on gene transmission, duplication, and expression--to make his argument.
Hindutva as Political Monotheism (Duke University Press)
Anustup Basu
In Hindutva as Political Monotheism, Anustup Basu offers a genealogical study of Hindutva--Hindu right-wing nationalism--to illustrate the significance of Western anthropology and political theory to the idea of India as a Hindu nation. Connecting Nazi jurist Carl Schmitt's notion of political theology to traditional theorems of Hindu sovereignty and nationhood, Basu demonstrates how Western and Indian theorists subsumed a vast array of polytheistic, pantheistic, and henotheistic cults featuring millions of gods into a singular edifice of faith. Arguing that Hindutva aligns with Enlightenment notions of nationalism, Basu foregrounds its significance not just to Narendra Modi's right-wing, anti-Muslim government but also to mainstream Indian nationalism and its credo of secularism and tolerance.
Page 39
Illuminating History: A Retrospective of Seven Decades
(W.W. Norton & Company)
Bernard Bailyn

Over a remarkable career Bernard Bailyn has reshaped our understanding of the early American past. Inscribing his superb scholarship with passion and imagination honed by a commitment to rigor, Bailyn captures the particularity of the past and its broad significance in precise, elegant prose. His transformative work has ranged from a new reckoning with the ideology that powered the opposition to British authority in the American Revolution to a sweeping account of the peopling of America and the critical nurturing of a new field, the history of the Atlantic world.
Illuminating History is the most personal of Bailyn's works. It is in part an intellectual memoir of the significant turns in an immensely productive and influential scholarly career. It is also alive with people whose actions touched the long arc of history.
Hood Feminism: Notes From the Women that a Movement Forgot (Viking)
Mikki Kendall
Today's feminist movement has a glaring blind spot, and paradoxically, it is women. Mainstream feminists rarely talk about meeting basic needs as a feminist issue, argues Mikki Kendall, but food insecurity, access to quality education, safe neighborhoods, a living wage, and medical care are all feminist issues. All too often, however, the focus is not on basic survival for the many, but on increasing privilege for the few. That feminists refuse to prioritize these issues has only exacerbated the age-old problem of both internecine discord, and women who rebuff at carrying the title. Moreover, prominent white feminists broadly suffer from their own myopia with regard to how things like race, class, sexual orientation, and ability intersect with gender. How can we stand in solidarity as a movement, Kendall asks, when there is the distinct likelihood that some women are oppressing others?
Howard Thurman and the Disinherited: A Religious Biography
(William B. Eerdmans Publishing Company)
Paul Harvey
Teacher. Minister. Theologian. Writer. Mystic. Activist. No single label can capture the multiplicity of Howard Thurman's life, but his influence is written all over the most significant aspects of the Civil Rights movement. In 1936, he visited Mahatma Gandhi in India and subsequently brought Gandhi's concept of nonviolent resistance across the globe to the United States. Later, through his book Jesus and the Disinherited, he foresaw a theology of American liberation based on the life of Jesus as a dispossessed Jew under Roman rule.
Paul Harvey's biography of Thurman speaks to the manifold ways this mystic theologian and social activist sought to transform the world to better reflect "that which is God in us," despite growing up in the South during the ugliest years of Jim Crow.
semcoop.com
Notable Gen. Ed.
32
Page 40
Notable Gen. Ed.
33
Kant's Little Prussian Head and Other Reasons Why I Write: An Autobiography in Essays
(W. W. Norton & Company)
Claire Messud
In her fiction, Claire Messud "has specialized in creating unusual female characters with ferocious, imaginative inner lives" (Ruth Franklin, New York Times Magazine). Kant's Little Prussian Head and Other Reasons Why I Write opens a window on Messud's own life: a peripatetic upbringing; a warm, complicated family; and, throughout it all, her devotion to art and literature.
In twenty-nine intimate, brilliant, funny, and sharp essays, Messud reflects on a childhood move from her Connecticut home to Australia; the complex relationship between her modern Canadian mother and a fiercely single French Catholic aunt; and a trip to Beirut, where her pied-noir father had once lived, while he was dying. She meditates on Albert Camus, Teju Cole, and Valeria Luiselli, and tours her favorite paintings at Boston's Museum of Fine Arts. Crafting a vivid portrait of a life in celebration of the power of literature, Messud proves once again "an absolute master storyteller" (Rebecca Carroll, Los Angeles Times).
semcoop.com
Katrina: A History, 1915-2015 (Harvard University Press)
Andy Horowitz
Hurricane Katrina made landfall in New Orleans on August 29, 2005, but the decisions that caused the disaster extend across the twentieth century. After the city weathered a major hurricane in 1915, its Sewerage and Water Board believed that developers could safely build housing away from the high ground near the Mississippi. And so New Orleans grew in lowlands that relied on significant government subsidies to stay dry. When the flawed levee system surrounding the city and its suburbs failed, these were the neighborhoods that were devastated. The homes that flooded belonged to Louisianans black and white, rich and poor. Katrina's flood washed over the twentieth-century city.
Just Us: An American Conversation (Graywolf Press)
Claudia Rankine
As everyday white supremacy becomes increasingly vocalized with no clear answers at hand, how best might we approach one another? Claudia Rankine, without telling us what to do, urges us to begin the discussions that might open pathways through this divisive and stuck moment in American history.
Just Us is an invitation to discover what it takes to stay in the room together, even and especially in breaching the silence, guilt, and violence that follow direct addresses of whiteness. Rankine's questions disrupt the false comfort of our culture's liminal and private spaces--the airport, the theater, the dinner party, the voting booth--where neutrality and politeness live on the surface of differing commitments, beliefs, and prejudices as our public and private lives intersect.
Page 41
Letters From Tove (University of Minnesota Press)
Tove Jansson
Tove Jansson's works, even her famed Moomin books, fairly teem with letters of one kind or another, from messages bobbing in bottles to whole epistolary novels. Fortunately for her countless readers, her life was no different, unfolding as it did in the letters to family, friends, and lovers that make up this volume, a veritable autobiography over the course of six decades--and the only one Jansson ever wrote. And just as letters carry a weight of significance in Jansson's writing, those she wrote throughout her life reflect the gravity of her circumstances, the depth of her thoughts and feelings, and the critical moments of humor, sadness, and grace that mark an artist's days.
Making Peace with the Universe: Personal Crisis and Spiritual Healing
(Columbia University Press)
Michael Scott Alexander
The world's great religious and philosophical traditions often include poignant testimonies of spiritual turmoil and healing. Following episodes of harrowing personal crisis, including addictions, periods of anxiety and panic, and reminders of mortality, these accounts then also describe pathways to consolation and resolution.
In Making Peace with the Universe, Michael Scott Alexander reads diverse classic religious accounts as masterpieces of therapeutic insight.He recasts spiritual confessions as case histories of therapy, showing how they remain radical and deeply meaningful even in an age of scientific psychology. They record the therapeutic affect of spiritual experience, testifying to the achievement of psychological well-being through the cultivation of an edifying spiritual mood.
Madam C. J. Walker's Gospel Of Giving: Black Women's Philanthropy During Jim Crow
(University of Illinois Press)
Tyrone McKinley Freeman

Founder of a beauty empire, Madam C. J. Walker was celebrated as America's first self-made female millionaire in the early 1900s. Known as a leading African American entrepreneur, Walker was also devoted to an activist philanthropy aimed at empowering African Americans and challenging the injustices inflicted by Jim Crow.
Tyrone McKinley Freeman's biography highlights how giving shaped Walker's life before and after she became wealthy. Poor and widowed when she arrived in St. Louis in her twenties, Walker found mentorship among black churchgoers and working black women. Illuminating and dramatic, Madam C. J. Walker's Gospel of Giving broadens our understanding of black women's charitable giving and establishes Walker as a foremother of African American philanthropy.
semcoop.com
Notable Gen. Ed.
34
Page 42
Notable Gen. Ed.
35
Metazoa: Animal Life and the Birth of the Mind (Farrar Straus and Giroux)
Peter Godfrey-Smith
Dip below the ocean's surface and you are soon confronted by forms of life that could not seem more foreign to our own: sea sponges, soft corals, and serpulid worms, whose rooted bodies, intricate geometry, and flower-like appendages are more reminiscent of plant life or even architecture than anything recognizably animal. Yet these creatures are our cousins. As fellow members of the animal kingdom--the Metazoa--they can teach us much about the evolutionary origins of not only our bodies, but also our minds.
Combining vivid animal encounters with philosophical reflections and the latest news from biology, Metazoa reveals that even in our high-tech, AI-driven times, there is no understanding our minds without understanding nerves, muscles, and active bodies. The story that results is as rich and vibrant as life itself.
semcoop.com
Nahmanides: Law & Mysticism
(Yale University Press)
Moshe Halbertal
Rabbi Moses b. Nahman (1194–1270), known in English as Nahmanides, was the greatest Talmudic scholar of the thirteenth century and one of the deepest and most original biblical interpreters. Beyond his monumental scholastic achievements, Nahmanides was a distinguished kabbalist and mystic, and in his commentary on the Torah he dispensed esoteric kabbalistic teachings that he termed "By Way of Truth."

This broad, systematic account of Nahmanides's thought explores his conception of halakhah and his approach to the central concerns of medieval Jewish thought, including notions of God, history, revelation, and the reasons for the commandments. The relationship between Nahmanides's kabbalah and mysticism and the existential religious drive that nourishes them, as well as the legal and exoteric aspects of his thinking, are at the center of Moshe Halbertal's portrayal of Nahmanides as a complex and transformative thinker.
Memorial Drive: A Daughter's Memoir (Ecco Press)
Natasha Trethewey

At age nineteen, Natasha Trethewey had her world turned upside down when her former stepfather shot and killed her mother. Grieving and still new to adulthood, she confronted the twin pulls of life and death in the aftermath of unimaginable trauma and now explores the way this experience lastingly shaped the artist she became.
With penetrating insight and a searing voice that moves from the wrenching to the elegiac, Pulitzer Prize-winning poet Natasha Trethewey explores this profound experience of pain, loss, and grief as an entry point into understanding the tragic course of her mother's life and the way her own life has been shaped by a legacy of fierce love and resilience. Moving through her mother's history in the deeply segregated South and through her own girlhood as a "child of miscegenation" in Mississippi, Trethewey plumbs her sense of dislocation and displacement in the lead-up to the harrowing crime that took place on Memorial Drive in Atlanta in 1985.
Page 43
Not a Novel: A Memoir in pieces (New Directions Publishing Corporation)
Jenny Erpenbeck
On the heels of this literary breakthrough comes, a book of personal, profound, often humorous meditations and reflections. Erpenbeck writes, "With this collection of texts, I am looking back for the first time at many years of my life, at the thoughts that filled my life from day to day."
Starting with her childhood days in East Berlin ("I start with my life as a schoolgirl ... my own conscious life begins at the same time as the socialist life of Leipziger Strasse"), Not a Novel provides a glimpse of growing up in the GDR and of what it was like to be twenty-two when the wall collapsed; it takes us through Erpenbeck's early adult years, working in a bakery after immersing herself in the worlds of music, theater, and opera, and ultimately discovering her path as a writer.
With deep insight and warm intelligence, Jenny Erpenbeck provides us with a collection of unforgettable essays that take us into the heart and mind of "one of the finest and most exciting writers alive" (Michel Faber).
On Not Being Someone Else: Tales of Our United Lives
(Harvard University Press)
Andrew H. Miller
We each live one life, formed by paths taken and untaken. Choosing a job, getting married, deciding on a place to live or whether to have children--every decision precludes another. But what if you'd gone the other way? It can be a seductive thought, even a haunting one.
Andrew H. Miller illuminates this theme of modern culture: the allure of the alternate self. From Robert Frost to Sharon Olds, Virginia Woolf to Ian McEwan, Jane Hirshfield to Carl Dennis, storytellers of every stripe write of the lives we didn't have. What forces encourage us to think this way about ourselves, and to identify with fictional and poetic voices speaking from the shadows of what might have been? Not only poets and novelists, but psychologists and philosophers have much to say on this question. Miller finds wisdom in all these sources, revealing the beauty, the power, and the struggle of our united lives.
semcoop.com
Notable Gen. Ed.
36
Page 44
Notable Gen. Ed.
37
A Place for Everything: The Curious History of Alphabetical Order
(Basic Books)
Judith Flanders
A Place for Everything is the first-ever history of alphabetization, from the Library of Alexandria to Wikipedia. The story of alphabetical order has been shaped by some of history's most compelling characters, such as industrious and enthusiastic early adopter Samuel Pepys and dedicated alphabet champion Denis Diderot. But though even George Washington was a proponent, many others stuck to older forms of classification -- Yale listed its students by their family's social status until 1886. And yet, while the order of the alphabet now rules -- libraries, phone books, reference books, even the order of entry for the teams at the Olympic Games -- it has remained curiously invisible.
With abundant inquisitiveness and wry humor, historian Judith Flanders traces the triumph of alphabetical order and offers a compendium of Western knowledge, from A to Z.
semcoop.com
On Shirley Hazzard (Catapult)
Michelle de Krester
On Shirley Hazzard reveals Michelle de Kretser's lively intelligence at work and her distinctive wit. This testament to her sustained engagement with Hazzard's work is, at its core, an appreciation of the significance and joy of good fiction. Receptiveness when reading is a prerequisite for perceptive analysis, according to both de Kretser and Hazzard. And for prose, the "simple and precise," the "transient and insignificant" are key qualities: "Not moonlight but the glitter of broken glass," for de Kretser as for Chekhov. Selective biographical details about Hazzard are relayed, too--her leaving Australia and formal education at the age of sixteen, her working, unhappily, at the United Nations in Manhattan, her long friendship with Graham Greene. Hazzard's morality is also invoked--"solidarity with the vulnerable" and pacifism being of prime importance.
The Polymath: A Cultural History from Leonardo de Vinci to Susan Sontag
(Yale University Press)
Peter Burke
From Leonardo Da Vinci to John Dee and Comenius, from George Eliot to Oliver Sacks and Susan Sontag, polymaths have moved the frontiers of knowledge in countless ways. But history can be unkind to scholars with such encyclopaedic interests. All too often these individuals are remembered for just one part of their valuable achievements.
In this engaging, erudite account, renowned cultural historian Peter Burke argues for a more rounded view. Identifying 500 western polymaths, Burke explores their wide-ranging successes and shows how their rise matched a rapid growth of knowledge in the age of the invention of printing, the discovery of the New World and the Scientific Revolution. It is only more recently that the further acceleration of knowledge has led to increased specialisation and to an environment that is less supportive of wide-ranging scholars and scientists.
Page 45
The Price of Peace: Money, Democracy, and the Life of John Maynard Keynes
(Random House)
Zachary D. Carter
At the dawn of World War I, a young academic named John Maynard Keynes hastily folded his long legs into the sidecar of his brother-in-law's motorcycle for an odd, frantic journey that would change the course of history. Swept away from his placid home at Cambridge University by the currents of the conflict, Keynes found himself thrust into the halls of European treasuries to arrange emergency loans and packed off to America to negotiate the terms of economic combat. The terror and anxiety unleashed by the war would transform him from a comfortable obscurity into the most influential and controversial intellectual of his day--a man whose ideas still retain the power to shock in our own time.
Keynes was not only an economist but the preeminent anti-authoritarian thinker of the twentieth century, one who devoted his life to the belief that art and ideas could conquer war and deprivation.
The Sense of Brown (Duke University Press)
José Esteban Muñoz
The Sense of Brown is José Esteban Muñoz's treatise on brownness and being as well as his most direct address to queer Latinx studies. In this book, which he was completing at the time of his death, Muñoz examines the work of playwrights Ricardo Bracho and Nilo Cruz, artists Nao Bustamante, Isaac Julien, and Tania Bruguera, and singer José Feliciano, among others, arguing for a sense of brownness that is not fixed within the racial and national contours of Latinidad. This sense of brown is not about the individualized brown subject; rather, it demonstrates that for brown peoples, being exists within what Muñoz calls the brown commons-a lifeworld, queer ecology, and form of collectivity. In analyzing minoritarian affect, ethnicity as a structure of feeling, and brown feelings as they emerge in, through, and beside art and performance, Muñoz illustrates how the sense of brown serves as the basis for other ways of knowing and being in the world.
Seeing Silence (University of Chicago Press)
Mark C. Taylor
"To hear silence is to find stillness in the midst of the restlessness that makes creative life possible and the inescapability of death acceptable." So writes Mark C. Taylor in his latest book, a philosophy of silence for our nervous, chattering age. How do we find silence--and more importantly, how do we understand it--amid the incessant buzz of the networks that enmesh us? Have we forgotten how to listen to each other, to recognize the virtues of modesty and reticence, and to appreciate the resonance of silence? Are we less prepared than ever for the ultimate silence that awaits us all?
Taylor wants us to pause long enough to hear what is not said and to attend to what remains unsayable. In his account, our way to hearing silence is, paradoxically, to see it. Developing the insights of philosophers, theologians, writers, and composers, Taylor weaves a rich narrative modeled on the Stations of the Cross.
semcoop.com
Notable Gen. Ed.
38
Page 46
Notable Gen. Ed.
39 semcoop.com
She Come By It Natural: Dolly Parton and the Women Who Lived Her Songs
(Scribner Book Company)
Sarah Smarsh
Growing up amid Kansas wheat fields and airplane factories, Sarah Smarsh witnessed firsthand the particular vulnerabilities--and strengths--of women in working poverty. Meanwhile, country songs by female artists played in the background, telling powerful stories about life, men, hard times, and surviving. In her family, she writes, "country music was foremost a language among women. It's how we talked to each other in a place where feelings aren't discussed." And no one provided that language better than Dolly Parton.
Smarsh challenged a typically male vision of the rural working class with her first book, Heartland, starring the bold, hard-luck women who raised her. Now, in She Come By It Natural, originally published in a four-part series for The Journal of Roots Music, No Depression, Smarsh explores the overlooked contributions to social progress by such women--including those averse to the term "feminism"--as exemplified by Dolly Parton's life and art.
Shakespeare in a Divided America: What His Plays Tell Us About Our Past and Future
(Penguin Press)
James Shapiro
The plays of William Shakespeare are rare common ground in the United States. They are read at school by almost every student, staged in theaters across the land, and long valued by conservatives and liberals alike. For well over two centuries, Americans of all stripes--presidents and activists, writers and soldiers--have turned to Shakespeare's works to explore the nation's fault lines, including such issues as manifest destiny, race, gender, immigration, and free speech. In a narrative arching across the centuries, from Revolutionary times to the present day, leading scholar James Shapiro traces the unparalleled role of Shakespeare's four-hundred-year-old tragedies and comedies in illuminating the many concerns on which American identity has turned.
Spinoza, the Transinidividual (Edinburgh University Press)
Etienne Balibar
Étienne Balibar, one of the foremost living French philosophers, builds on his landmark work 'Spinoza and Politics' with this exploration of Spinoza's ontology. Balibar situates Spinoza in relation to the major figures of Marx and Freud as a precursor to the more recent French thinker Gilbert Simondon's concept of the transindividual. Presenting a crucial development in his thought, Balibar takes the concept of transindividuality beyond Spinoza to show it at work at both the individual and the collective level.
Page 47
The Story of Yoga: From Ancient India to the Modern West
(Hurst & Company)
Alistair Shearer
How did an ancient Indian spiritual discipline turn into a $20+ billion-a-year mainstay of the global wellness industry? What happened along yoga's winding path from the caves and forests of the sages to the gyms, hospitals and village halls of the modern West?
This comprehensive history sets yoga in its global cultural context for the first time. It leads us on a fascinating journey across the world, from arcane religious rituals and medieval body-magic, through muscular Christianity and the British Raj, to the Indian nationalist movement and the arrival of yoga in the twentieth-century West. We discover how the practice reached its present-day ubiquity and how it became embedded in powerful social currents shaping the world's future, such as feminism, digital media, celebrity culture, the stress pandemic and the quest for an authentic identity in the face of unprecedented change.
Thin Places: Essays From In Between (Farrar, Straus and Giroux)
Jordan Kisner
When Jordan Kisner was a child, she was saved by Jesus Christ at summer camp, much to the confusion of her nonreligious family. She was, she writes, "just naturally reverent," a fact that didn't change when she—much to her own confusion—lost her faith as a teenager. Not sure why her religious conviction had come or where it had gone, she did what anyone would do: "You go about the great American work of assigning yourself to other gods: yoga, talk radio, neoatheism, CrossFit, cleanses, football, the academy, the American Dream, Beyoncé."

A curiosity about the subtle systems guiding contemporary life pervades Kisner's work. Her celebrated essay "Thin Places" (Best American Essays 2016), about an experimental neurosurgery developed to treat severe obsessive-compulsive disorder, asks how putting the neural touchpoint of the soul on a pacemaker may collide science and psychology with philosophical questions about illness, the limits of the self, and spiritual transformation. How should she understand the appearance of her own obsessive compulsive disorder at the very age she lost her faith?
These Fevered Days: Ten Pivotal Moments in the Making of Emily Dickinson
(W.W. Norton & Company)
Martha Ackmann
In These Fevered Days, Martha Ackmann unravels the mysteries of Dickinson's life through ten decisive episodes that distill her evolution as a poet. Ackmann follows Dickinson through her religious crisis while a student at Mount Holyoke, which prefigured her lifelong ambivalence toward organized religion and her deep, private spirituality. We see the poet through her exhilarating frenzy of composition, through which we come to understand her fiercely self-critical eye and her relationship with sister-in-law and first reader, Susan Dickinson. Contrary to her reputation as a recluse, Dickinson makes the startling decision to ask a famous editor for advice, writes anguished letters to an unidentified "Master," and keeps up a lifelong friendship with writer Helen Hunt Jackson. At the peak of her literary productivity, she is seized with despair in confronting possible blindness.
semcoop.com
Notable Gen. Ed.
40
Page 48
Notable Gen. Ed.
41 semcoop.com
Three Brothers: Memories of My Family
(Grove Press)
Yan Lianke
In this heartfelt, intimate memoir, Yan Lianke brings the reader into his childhood home in Song County in Henan Province, painting a vivid portrait of rural China in the 1960s and '70s and chronicling the extraordinary lives of Yan Lianke's father and uncles, as well as his own. Yan's parents are so poor that they can only afford to use wheat flour on New Year and festival days, and as a child he dreams of fried scallion buns, and once steals from his father to buy a sesame seed cake. Yan yearns to leave the village, however he can, and soon novels become an escape. He resolves to become a writer himself after reading on the back of a novel that its author was given leave to remain in the city of Harbin after publishing her book. In the evenings, after finishing back-breaking shifts hauling stones at a cement factory, sometimes sixteen hours long, he sets to work writing. A powerful portrait of the trials of daily life, as well as a philosophical meditation on grief, death, home, and fate, and gleaming throughout with Yan's quick wit and gift for imagery, Three Brothers is a personal portrait of a politically devastating period, and a celebration of the power of the family to hold together even in the harshest circumstances.
Three Rings: A Tale of Exile, Narrative, and Fate
(University of Virginia Press)
Daniel Mendelsohn
Combining memoir, biography, history, and literary criticism, Three Rings weaves together the stories of three exiled writers who turned to the classics of the past to create masterpieces of their own--works that pondered the nature of narrative itself. Erich Auerbach, the Jewish philologist who fled Hitler's Germany and wrote his classic study of Western literature, Mimesis, in Istanbul... François Fénelon, the seventeenth-century French archbishop whose ingenious sequel to the Odyssey, The Adventures of Telemachus--a veiled critique of the Sun King and the best-selling book in Europe for one hundred years--resulted in his banishment... and the German novelist W. G. Sebald, self-exiled to England, whose distinctively meandering narratives explore Odyssean themes of displacement, nostalgia, and separation from home.
Think Least of Death: Spinoza on How to Live and How to Die
(Princeton University Press)
Steven Nadler
In 1656, after being excommunicated from Amsterdam's Portuguese-Jewish community for "abominable heresies" and "monstrous deeds," the young Baruch Spinoza abandoned his family's import business to dedicate his life to philosophy. He quickly became notorious across Europe for his views on God, the Bible, and miracles, as well as for his uncompromising defense of free thought. Yet the radicalism of Spinoza's views has long obscured that his primary reason for turning to philosophy was to answer one of humanity's most urgent questions: How can we lead a good life and enjoy happiness in a world without a providential God? In Think Least of Death, Pulitzer Prize-finalist Steven Nadler connects Spinoza's ideas with his life and times to offer a compelling account of how the philosopher can provide a guide to living one's best life.
Page 49
Unworthy Republic: The Dispossession of Native Americans and the Road to Indian Territory
(W. W. Norton & Company)
Claudio Saunt
In May 1830, the United States formally launched a policy to expel Native Americans from the East to territories west of the Mississippi River. Justified as a humanitarian enterprise, the undertaking was to be systematic and rational, overseen by Washington's small but growing bureaucracy. But as the policy unfolded over the next decade, thousands of Native Americans died under the federal government's auspices, and thousands of others lost their possessions and homelands in an orgy of fraud, intimidation, and violence. Unworthy Republic reveals how expulsion became national policy and describes the chaotic and deadly results of the operation to deport 80,000 men, women, and children.
In telling this gripping story, Saunt shows how the politics and economics of white supremacy lay at the heart of the expulsion of Native Americans; how corruption, greed, and administrative indifference and incompetence contributed to the debacle of its implementation; and how the consequences still resonate today.
Time of the Magicians: Wittgenstein, Benjamin, Cassirer, Heidegger, and the Decade that Reinvinted Philosophy
(Penguin Press)
Wolfram Eilenberger
The year is 1919. The horror of the First World War is still fresh for the protagonists of Time of the Magicians, each of whom finds himself at a crucial juncture. Walter Benjamin, having survived the flu during the 1918 pandemic, is trying to flee his overbearing father and floundering in his academic career. Ludwig Wittgenstein, by contrast, has dramatically decided to divest himself of the monumental fortune he stands to inherit as a scion of one of the wealthiest industrial families in Europe, in search of absolute spiritual clarity. Meanwhile, Martin Heidegger, having managed to avoid combat in war by serving instead as a meteorologist, is carefully cultivating his career. Finally, Ernst Cassirer is working furiously in academia, applying himself intensely to his writing and the possibility of a career at Hamburg University. The stage is set for a great intellectual drama, which will unfold across the next decade. The lives and ideas of this extraordinary philosophical quartet will converge as they become world historical figures. But with the Second World War looming on the horizon, their fates will be very different.
The Trouble with Literature (USA Oxford University Press)
Victoria Kahn
This book, based on the Clarendon Lectures in English for 2017, argues that the literature of the English Reformation marks a turning point in Western thinking about literature and literariness. But instead of arguing that the Reformation fostered English literature, as scholars have often done, Victoria Kahn claims that literature helped undo the Reformation, with implications for both poetry and belief.
.
semcoop.com
Notable Gen. Ed.
42
Page 50
Notable Gen. Ed.
43 semcoop.com
Views From the Streets: The Transformations of Gangs and Violence on Chicago's South Side
(Columbia University Press)
Roberto Aspholm
Chicago has long served as a symbol of urban pathology in the public imagination. The city's staggering levels of violence and entrenched gang culture occupy a central place in the national discourse, yet remain poorly understood and are often stereotyped. Views from the Streets explains the dramatic transformation of black street gangs on Chicago's South Side during the early twenty-first century, shedding new light on why gang violence persists and what might be done to address it.
Drawing on years of community work and in-depth interviews with gang members, Roberto R. Aspholm describes in vivid detail the internal rebellions that shattered the city's infamous corporate-style African American street gangs.
We Will Not Cancel Us: And Other Dreams of Transformative Justice
(Ak Press)
Adrienne Maree Brown
"Cancel" or "call-out" culture is a source of much tension and debate in American society. The infamous "Harper's Letter," signed by public intellectuals of both the left and right, sought to settle the matter and only caused greater division. Originating as a way for marginalized and disempowered people to take down more powerful abusers, often with the help of social media, cancel culture is seen by some as having gone "too far." Adrienne maree brown, a respected cultural voice and a professional mediator, reframes the discussion for us, in a way that points to possible ways beyond the impasse. Most critiques of cancel culture come from outside the milieus that produce it, sometimes from even from its targets. Brown explores the question from a Black, queer, and feminist viewpoint that gently asks, how well does this practice serve us? Does it prefigure the sort of world we want to live in? And, if it doesn't, how do we seek accountability and redress for harm in a way that reflects our values?
Veblen: The Making of an Economist Who Unmade Economics
(Harvard University Press)
Charles Camic
Thorstein Veblen was one of America's most penetrating analysts of modern capitalist society. But he was not, as is widely assumed, an outsider to the social world he acidly described. Veblen overturns the long-accepted view that Veblen's ideas, including his insights about conspicuous consumption and the leisure class, derived from his position as a social outsider. Veblen demonstrates how Veblen's education and subsequent involvement in those debates gave rise to his original ideas about the social institutions that enable wealthy Americans--a swarm of economically unproductive "parasites"--to amass vast fortunes on the backs of productive men and women. Today, when great wealth inequalities again command national attention, Camic helps us understand the historical roots and continuing reach of Veblen's searing analysis of this "sclerosis of the American soul."
Page 51
Wendy Carlos: A Biography (USA Oxford University Press)
Amanda Sewell
With her debut album Switched-On Bach, composer and electronic musician Wendy Carlos (b. 1939) brought the sound of the Moog synthesizer to a generation of listeners, helping to effect arguably one of the most substantial changes in popular music's sound since musicians began using amplifiers. Her story is not only one of a person who blazed new trails in electronic music for decades but is also the story of a person who intersected in many ways with American popular culture, medicine, and social trends during the second half of the 20th century and well into the 21st. There is much to tell about her life and about the ways in which her life reflects many dimensions of American culture.
Carlos's identity as a transgender woman has shaped many aspects of her life, her career, how she relates to the public, and how the public has received her and her music. Cultural factors surrounding the treatment of transgender people affected many of the decisions that Carlos has made over the decades. Additionally, cultural reception and perception of transgender people has colored how journalists, scholars, and fans have written about Carlos and her music for decades.
When Novels Were Books (Harvard University Press)
Jordan Alexander Stein
A literary scholar explains how eighteenth-century novels were manufactured, sold, bought, owned, collected, and read alongside Protestant religious texts. As the novel developed into a mature genre, it had to distinguish itself from these similar-looking books and become what we now call "literature."
The novel did not emerge all at once: it had to differentiate itself from the goods with which it was in competition. Though it was written for sequential reading, the early novel's main technology for dissemination was the codex, a platform designed for random access. This peculiar circumstance led to the genre's insistence on continuous, cover-to-cover reading even as the "media platform" it used encouraged readers to dip in and out at will and read discontinuously. Jordan Alexander Stein traces this tangled history, showing how the physical format of the book shaped the stories that were fit to print.
semcoop.com
Notable Gen. Ed.
44
Page 52