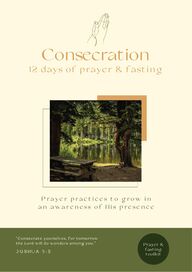 Return to flip book view
Consecration Prayer and Fasting Toolbox
Page 1
1 0 D A Y S O FP R A Y E R A N D F A S T I N GDAY TEN REJOICE IN THE LORDP S E R I N P L A N N E RConsecration
Page 2
ConsecrationScripture for the day: Rejoice in the Lord always; again I will say, rejoice. Letyour reasonableness be known to everyone. The Lord isat hand; do not be anxious about anything, but ineverything by prayer and supplication with thanksgivinglet your requests be made known to God. And the peaceof God, which surpasses all understanding, will guard yourhearts and your minds in Christ Jesus.PHILIPPIANS 4: 4-7 Day 10! We are almost at the end! The scripture I have onmy heart for us is Philippians 4: 4-7. As we end our fast, itcan be tempting to judge or compare our experience.I'd love to encourage us instead, to allow it to be what it isand offer it to God in love, as worship. He is not looking fora "perfect fast", He is looking for the devotion of our hearts.Toward the end of a season of prayer and fasting, we canoften find that lots of thoughts and emotions can come up,especially if we haven't experienced Jesus as we'rebelieving to experience Him.
Page 3
I often find that Jesus turns up in my life in ways I don'texpect. Just like when he came to earth, the people of Godwere looking for a Messiah who would come in militarypower to end the Roman oppression, instead, He came asa baby in a manger!So at the end of a fast, I love to sit with Jesus and ask Him toshow me where He has been present, or where He hasbeen working, that perhaps I haven't been aware of.A couple of years ago I was believing for a breakthroughin a chronic health condition during our corporate fast. Iknew God wanted to heal me! But He hadn't.I asked Jesus to show me where He had been moving that Iwasn't aware of. To my surprise He showed me thatthrough this unanswered prayer He had given mesomething so precious - He had grown my love for Him toa point that went beyond anything that He could ever dofor me, or anything He could ever give me.My heart had been tested and grown to a place where Ijust loved Him for Him. Something that was in a way, moreprecious to me than that single breakthrough. He is alwaysmoving! And that means there is always something wecan thank Him for.Consecration
Page 4
My favourite way to end a fast is with thanksgivingpractices! Thanksgiving leads us to live from a place of child-likeawe and wonder, and helps us cultivate hope and joy inour hearts.Perhaps as a family or as a life group, you can break thefast together with a special dinner – for me it's homemadelasagna! - and have each person share what they arethanking God for.On a personal level at the end of a fast, I always love tojournal all the new ways – little and big - that I haveexperienced Jesus, and give Him thanks. The Examenprayer is a great way to do this.And while we are on thanksgiving, we want to thank YOUfor joining us in these last 10 Days. As we pray and fasttogether, we are fulfilling the heart of God that we wouldbe a united community, a family of God, seeking after Hisheart together! We cannot wait to hear YOUR testimony and all that Godhas done through Prayer and Fasting. God bless, have a fantastic day!Ps Erin PlannerConsecrationclick to watch today's devotion
Page 5
1 0 D A Y S O FP R A Y E R A N D F A S T I N GDAY NINE ONE THINGP S S T E V E C A W T H O R NConsecration
Page 6
Scripture for the day: One thing I have desired of the Lord, that will I seek: that Imay dwell in the house of the Lord all the days of my life, tobehold the beauty of the Lord, and to inquire in His temple."PSALM 27:4Consecration Today I want to speak to you about being a person of ONETHING! Consecration for me is much more than just aseason or a 10-day period, but a realignment of my life - it'smore about what God is doing in you that will continue.God is always after our transformation, our spiritualgrowth and maturity as a people, and so this Consecrationseason is about preparation, positioning and posture! Preparation because He is inviting you to lay thefoundation of prayer and fasting to see not only personalbreakthrough but kingdom breakthrough.
Page 7
Consecration for me is about positioning myself in theplace of prayer to see revival and kingdom expansion -because prayer fuels power. And finally, consecration is about a lifelong posture ofworship before the lord! Our verse for today was prayed by King David and it wasechoed by Jesus when he was at Mary and Martha'shouse. I'm sure David was a busy man - a king ruling overthe nation of Israel, but he was a man of ONE THING! He was a worshipper first and foremost!David loved the Lord from a young age. His intimacy withthe Lord was his life of devotion. Even as a shepherd boyhe was a worshipper! The Bible says that he was a man after God's own heart!He loved the presence of God and he was the one who setup 24/7 worship in the temple with 4000 full-time singersand musicians! David was a man of one thing - He lived a life ofconsecration. Consecration
Page 8
Here are 3 simple keys from today's scripture to help bea person of one thing: DWELL IN THE HOUSE - Be planted in the house - don'tdo life alone - This is not about being lazy and not servingor working BUT rather it is doing those things from aposture of ONE THING. Keep being busy with the Father'sbusiness BUT don't get distracted by those other things!Keeping the main thing, the main thing! BEHOLD THE BEAUTY - A consecrated life of worship -be fascinated with Jesus and his beauty! Worship iscentral to our life of faith because when our gaze is onHim, everything else seems to be not as important. INQUIRE IN YOUR TEMPLE - This speaks to me of aconsecrated life of prayer. Prayer fuels power – theinvitation is to stay in the place of prayer and intimacy -don't just have devotions, but live a life of devotion - everyaspect of your life devoted to him! My question for you is what does living a ONE THING lifelook like for you? What can you do in this season ofconsecration to consecrate your life to be a person ofONE THING? God bless, have a fantastic day!Ps Steve CawthornConsecrationclick to watch today's devotion
Page 9
1 0 D A Y S O FP R A Y E R A N D F A S T I N GDAY EIGHT FASCINATION INVITESCONSECRATIOND R A L L Y C A W T H O R NConsecration
Page 10
ConsecrationScripture for the day: "Now when Jesus was at Bethany in the house of Simonthe leper, a woman came up to him with an alabasterflask of very expensive ointment, and she poured it on hishead as he reclined at the table. And when the disciplessaw it, they were indignant saying 'Why this waste? Forthis could have been sold for a large sum and given to thepoor". But Jesus aware of this, said to them, "Why do youtrouble the woman? For she has done a beautiful thing tome. In pouring this ointment on my body, she has don't it toprepare me for burial. Truly, I say to you, wherever thisgospel is proclaimed in the whole world, what she hasdone will also be told in memory of her."MATTHEW 26:6-13 To be fascinated is a core longing of the human heart.Another way of saying that, is that we have been createdto wonder.
Page 11
The truth is, whatever we are fascinated by, wonderabout, or give our attention to – will influence our heart, outof which 'life' in all its form flows. Therefore, that whichfascinates our heart will influence our thoughts, emotions,confession, and actions. It will be reflected in how we liveand in how – or who - we worship.As Christians, we have been invited to live fascinated byJesus and the reality of the Kingdom; and to explore thesupernatural realm in partnership with the Holy Spirit withthe view of seeing heaven manifest on earth. Thisfascination naturally evokes feelings of awe and wonderwhich causes the soul to respond with the desire for moreof that which it cannot describe, but experiences in fullness.In short, living fascinated by Jesus and His Kingdom invitesour consecration – our decision to be set apart to positionourselves for the more we have tasted.In Matthew, we read a story of one who is so fascinatedwith Jesus that she chooses to consecrate herself entirelyto Him. Jesus makes a stunning statement here to support Mary'sactions. He is saying that throughout the entire world,through every generation and across every cultural andgeographical territory where the gospel is preached, weare to tell of Mary's radical expression of worship at thesame time.Consecration
Page 12
Did you get that? Every time the gospel is preached, weare to remember this extravagant act. Clearly, there wassomething about her worship, her act of extravagancewhich flowed from a heart completely fascinated,captivated by, and consecrated to the Lord, that Jesusthought it important enough to tell her story alongside themessage of salvation.I believe it's because the truth about Jesus Christ shouldfascinate and captivate our hearts so much so, that itmight provoke a radical, wholehearted consecration thatis demonstrated in our lives of worship. It should evoke aresponse like that of Mary of Bethany whose act washeld up by Jesus himself as something beautiful and as areminder to us that we are designed to be fascinated andconsecrated to Him.During this season of consecration, let us remain in thatplace of being completely and utterly fascinated by Jesus -because fascination invites consecration; andconsecration positions you for the more you've alreadytasted!How is Jesus inviting you to live fascinated? What aboutJesus and His Kingdom evokes a sense of awe andwonder in your soul? God bless, have a fantastic day Dr Ally CawthornConsecrationclick to watch today's devotion
Page 13
1 0 D A Y S O FP R A Y E R A N D F A S T I N GDAY SEVEN WHAT WOULD JESUS DO?P S J A I H I L L I A RConsecration
Page 14
ConsecrationScripture for the day: And for their sake I consecrate myself, that they also maybe sanctified in truth.JOHN 17:19 Welcome to day seven of our consecration season. Stayfocused and stay strong, as we are only three days fromthe end. Today I'm going to bring a very simple, but realigning sortof devotional idea to you. ln today's scripture, we read thatJesus uses the word consecrate. The word consecration isan action word. In a biblical sense, we talk aboutconsecration in the context of dedicating ourselves to theLord. As you intentionally take a mindset of devotingyourself to the Lord, prayer and fasting become ournatural response, to connect with God more, and to putaside our natural needs, and hunger pains, to focusattention on devoting to the Lord. As disciples of Jesus, consecration should actually be ourconstant state. We should operate in a consecratedmindset and framework all the time. So even though theseason is in the life of the church, I'd encourage you to keepgoing with it; you might pause the fasting but continue todevote yourself to the Lord.
Page 15
Jesus consecrated himself, and in the very next chapter,we see Him go to the cross. He consecrated himself to theLord's will and the Lord's purpose. And that's essentiallywhat we're doing in this season.In my life, the experience I've had of consecration hassimply been becoming more aware at a higher level ofthings in our life that don't align with the Kingdom orintention of God. There's more revelation that comes fromheaven. However, what can happen if devotion or consecrationstarts to get focused on anything other than God? Well, thatbecomes idolatry. If our prayers start to become self-focused, they start tobecome about what I can get, not what the Kingdom isasking me to do. This is where we're consecrating toourselves; our own selfish desires, our own selfish needs.Fasting can become a weight loss mechanism. Oh, great.We're doing a ten day fast. I'll lose at least five kilos in thatspace. Right? That's consecrating yourself to your ownbeing, right? That's not the purpose of fasting. Consecration
Page 16
The question to ask on this day seven is, is the purity ofmy motivated action in consecration aligned with theKingdom?Am I trying just to get through the season rather thansee it as a platform to take us into a constant lifestyleof consecration? I want to leave you with one thing. There is a well know slogan WWJD- What would Jesusdo? We've all heard it before, as it came out many yearsago when I was much younger, but I'd like to encourageyou to think a bit deeper about that and take on a conceptof WWJMB- What would Jesus' motivation be? Whilst itdoesn't really work as a catchy acronym, the question isstill important. So just as Paul talked about imitating him,as he imitated Christ, as we consecrate ourselves, weimitate Christ better. We represent the kingdom moreaccurately on earth and our very actions and our focusbecome more and more like Jesus. God bless, have a fantastic day Ps Jai HilliarConsecrationclick to watch today's devotion
Page 17
1 0 D A Y S O FP R A Y E R A N D F A S T I N GDAY SIX REMAIN STEADFASTP S S H A R E E R I C EConsecration
Page 18
ConsecrationScripture for the day: Count it all joy, my brothers, when you meet trials ofvarious kinds, for you know that the testing of your faithproduces steadfastness. And let steadfastness have its fulleffect, that you may be perfect and complete, lacking innothing.JAMES 1:1-4 Blessed is the man who remains steadfast under trial, forwhen he has stood the test he will receive the crown oflife, which God has promised to those who love him.JAMES 1:12 You made it, you're over the halfway mark, by now youhave a rhythm going, a little bit of relief knowing it's downthe mountain from here. By this time the things we are seeking the Lord about inand for our lives can tend to be the centre of our attentionand the enemy can use this to drive us towards outcomesor attention to there the lack of. This is where the testing ofour faith and endurance kicks in. The trials of fasting cancome in hard and fast.
Page 19
Consecration I remember one year, I was seeking God for a miracle inprayer and fasting, I wanted Jesus and His direction and amiracle to come through. It was in the middle of that fastthat the testing of my faith was unfolding; all the questionsloomed, all the pressure of deadlines, and the enemy wasbringing it all to forefront, pressing on some areasrevealing doubts. Right here is where I had to find my way back to faith, andre centre my attention on the one I was in pursuit of,and not the outcomes. God was doing a major work inme, and in fact, He was far more interested in what washappening in me, and this is where my trust anddependency on him were being formed.I pressed on and stayed with the prayer and fasting,keeping my eyes on Jesus. Letting worship songs be like ananthem of conviction over who God is despite the lack ofanswers. Songs of faith were pouring out of my heart, Isensed the Lord so close, and it felt like heaven opened.By the end of the fast, the Lord had come through in such apowerful and magnificent way that it left me speechless.Breakthrough is always on the other side of our devotionand dedication to him, laying down the desire for food todraw closer, to hear him and see him.
Page 20
I encourage you to stay strong and steadfast in yourpursuit of him through fasting. Whilst your body is dealingwith the lack of food for the more of Him, your spirit mangets stronger, and your soul is ministered to, and the endresult is you are closer to Jesus with increased faith.What is the one word from God you have hold oftoday?What areas are you growing in greater faith anddependency on God?What can you do to remain steadfast?'Pursue Jesus with all you have today.Ps Sharee RiceConsecrationclick to watch today's devotion
Page 21
1 0 D A Y S O FP R A Y E R A N D F A S T I N GDAY FIVE LORD OF ALL OR NOT LORD AT ALLP S J O S E P H S A M U E LConsecration
Page 22
ConsecrationScripture for the day: Then Jesus told his disciples, "If anyone would come afterme, let him deny himself and take up his cross and followme. For whoever would save his life will lose it, butwhoever loses his life for my sake will find it. For whatwill it profit a man if he gains the whole world and forfeitshis soul? Or what shall a man give in return for his soul?MATTHEW 16:24-26 Welcome to Day 5 of Consecration. Today, you're at thehalfway point. You have overcome the food cravings, themind fog, and the irritations of the first few days withoutbecoming an irritant to your fellow human beings. Whenever we talk about consecration, we think of the OldTestament era where the nation of Israel or selectindividuals called by God were repeatedly told toconsecrate themselves for certain festivals, occasions, oras part of their preparation for war. In today's scripture, Jesus issues the ultimate clarion call forconsecration to anyone who wants to follow him. Beforewe can follow him, we must deny ourselves.
Page 23
Consecration This is an absolute pre-requisite. Deny our ambitions, ourideologies, and our pursuit of carving our own kingdoms.While this might seem unprovoked from Jesus, let meprovide you some context. Two verses prior to the portionwe just read captures a conversation Jesus has with a guywho was part of his A-Team, his inner circle, one of hisbesties – Peter. When Jesus articulated that his mission and purpose onearth was to be obedient to the Father's will, to reconcilehumanity which meant physical humiliation and annihilationon the cross, Peter takes him aside and gives him a dressdown. In response, Jesus addresses him with the famouswords "Get behind me Satan" You see, Satan wasattempting to hinder Jesus' mission through Peter. Satanhas always been enamored with building his own kingdomand he loves selling this infatuation to humanity – pursueyour own kingdom, build your own empire, and be yourown god.Reflecting on this exchange, I began to wonder about theareas of my life where I fiercely guard my own kingdom,preventing God from having access. Are there aspectswhere I resist God's lordship? As we say in church,either Jesus is Lord of all or not Lord at all. Reading thispassage reminded me that consecration is not a one-timeevent but a daily commitment for every disciple of Jesus.
Page 24
Today, I encourage you to read the exchange betweenJesus and Peter. It highlights how even those withprofound revelations can quickly deviate from God's plan.One minute he has a revelation of Jesus, but the nextminute he has an idea that is so contrary to what Jesushad in mind. And that's why Jesus had to correct him. If you find yourself struggling on day five of consecration, remember that God doesn't shame or berate us intoobedience. It's His kindness that leads us to repentance.And so today my prayer is that you would surrender andask the Holy Spirit:What are the areas of my life that I need to surrender? What are the areas of my life that I need to lay down?what are the areas where I need to be fully devoted infollowing you?So may God bless you. Have a great day. We'll see you soon.Ps Joseph SamuelConsecrationclick to watch today's devotion
Page 25
1 0 D A Y S O FP R A Y E R A N D F A S T I N GDAY FOUR SPIRITUALTRANSFORMATIONP S S T A C E Y H I L L I A RConsecration
Page 26
ConsecrationScripture for the day: I appeal to you therefore, brothers & sisters by themercies of God, to present your bodies as a livingsacrifice, holy and acceptable consecrated to God, whichis your spiritual worship. Do not be conformed to thisworld, but be transformed by the renewal of your mind,that by testing you may discern what is the will of God,what is good and acceptable and perfect.ROMANS 12:1-2 Well, here we are, day four of our Consecration season.You are past the hardest part. Day three is notorious forbeing brutal. But now we're cruisin' through the next fewdays as we make more space to hear from God. I've really been thinking about the fact that a season likeconsecration is actually a time of spiritual transformation. I love the progression that Joshua 3:5 gives us. It got methinking, would God have done wonders amongst thepeople if they had not obeyed his commandment toconsecrate themselves? It's worth thinking about, right?Because there's a biblical pattern being presented to ushere that the priority or the posture of inward spiritualtransformation precedes the external manifestations.
Page 27
Consecration In today's scripture Romans 12:1-2, Paul speaks aboutspiritual transformation in the lives of individuals who livein a community. One of the things we need to understand about spiritualtransformation is that it is full of mystery. We can be opento it, but we can't accomplish it for ourselves. Paul alludesto this in his writings by using two metaphors: the processof childbirth and the process of metamorphosis.Both metaphors place the process of spiritualtransformation squarely in the category called mystery:something outside the range of normal human activity andunderstanding that can be understood only through divinerevelation & brought about by divine activity.Seasons of prayer & fasting are times when we giveourselves fully to the experience of spiritualtransformation which leaves us peering into the unknown& embracing mystery. It's one thing to be able to tweakexternal behaviours; it's another thing entirely toexperience the kind of seismic shifts that change the waywe exist in the world. That kind of change is somethingonly God can do. Whilst I cannot transform myself, what I can do is createthe conditions in which spiritual transformation can takeplace & this is exactly what we are doing duringConsecration.
Page 28
simply take 5 minutes (set a timer) to be silent & still inHis presenceSimply pray an internal prayer like - speak Lord, yourservant is listening; or my soul longs for you; I love you;you love meI want to suggest one way we can create an atmospherefor spiritual transformation that might be a littleuncomfortable at first. This is something you canincorporate into your normal word, worship & prayerlife.Practicing SilenceThis is time set aside to give God our full & undividedattention, We stop the flow of our own words & ideaslong enough for God to get a word in. This is a concreteway of letting go of control.Before you open the Scriptures, To finish today's devotion, read 2 Corinthians 3:17-19.Now go about your day, knowing you are makingyourself available, maybe even intentionally restrictingyourself in some ways in that cocoon to emerge assomebody completely different. And you don't have tomake this happen. This is a work of the Holy Spirit.Have a great day four.-Ps Stacey HilliarConsecrationclick to watch today's devotion
Page 29
1 0 D A Y S O FP R A Y E R A N D F A S T I N GDAY THREE THE OLD RECIPE FORNEW GROUNDP S R A E F S O L I M A NConsecration
Page 30
ConsecrationScripture for the dayThen Joshua rose early in the morning and they set outfrom Shittim. And they came to the Jordan, he and all thepeople of Israel, and lodged there before they passedover. At the end of three days the officers went throughthe camp and commanded the people, "As soon as yousee the ark of the covenant of the Lord your God beingcarried by the Levitical priests, then you shall set out fromyour place and follow it. Yet there shall be a distancebetween you and it, about 2,000 cubits in length. Do notcome near it, in order that you may know the way youshall go, for you have not passed this way before." ThenJoshua said to the people, "Consecrate yourselves, fortomorrow the Lord will do wonders among you."JOSHUA 3:1-5 ESV
Page 31
Consecration We read in Joshua 3:1-5 that God's people were right on theedge of the land and ready to grasp the promise of manyyears. The Lord was about to fulfil the wonder of allwonders and make His people who were formerly slavesthe owners of a land flowing with milk and honey. He onlyrequired one thing in order for this great inheritance totake place: their consecration.It's both ironic and instructive that Joshua did not requirethe people to sharpen their swords or check their shieldsbut pointed them to consecration. The condition of our heart is much more important toGod than the skill of our hand and our ability to usecertain tools. Before we have any outward victory, whetherindividually or corporately, God orders attention to theheart. All of God's grand plans throughout history requirehuman participation, and it's always the same requirement:"Prepare your hearts today, so I can do My wonderstomorrow". This is the old recipe for taking new ground.
Page 32
To be consecrated is to simply be set aside or separatedfor a particular person or purpose. Much like how couples who are expecting to have theirfirst baby begin to transform their 'junk room' into anursery in order to make it ready for somebody special.The once unattended mess becomes a precious space; sowe also recalibrate our goals, motives, attitudes, andways and set them apart for 'somebody special': Jesus! This was the entire ministry of John the Baptist to"Prepare the way of the Lord" - Mark 1:3.Let's take time during this season to revise and reshapeour lives and commit ourselves afresh to aligning withheaven's priorities. More importantly, let's utilise the focusof this season to ensure that Jesus is our number one andultimate love. I encourage each of us to make time during this season tobe filled with His Presence and to ask the Holy Spirit totouch us afresh. The anointing oil has always been the instrument ofconsecration (Exo 30), and whatever the Holy Spirittouches becomes set apart. May you be blessed in this journey- Ps Raef SolimanConsecrationclick to watch today's devotion
Page 33
1 0 D A Y S O FP R A Y E R A N D F A S T I N GDAY TWO BEING REAL ANDHONEST WITH GODP S S I M O N E T U R N E RConsecration
Page 34
Scripture for the dayLet me hear joy and gladness; let the bones that you have broken rejoice. Hide yourface from my sins, and blot out all my iniquities. Create in me a clean heart, O God, and renew a rightspirit within me. Cast me not away from yourpresence, and take not your Holy Spirit from me. Restore to me the joy of your salvation, and upholdme with a willing spirit. Then I will teach transgressorsyour ways, and sinners will return to you. Deliver mefrom bloodguiltiness, O God, O God of my salvation, andmy tongue will sing aloud of your righteousness. O Lord,open my lips, and my mouth will declare your praise.For you will not delight in sacrifice, or I would give it; youwill not be pleased with a burnt offering. The sacrificesof God are a broken spirit; a broken and contrite heart,O God, you will not despise. PSALM 51: 8 - 17 ESVConsecration
Page 35
Consecration I wanted to share with you from Psalm 51, and it's a prettycool psalm because it is an honest reflection from Davidabout where he's at and a mistake he's made in his life. Hehas penned this really raw and honest confession, but alsojust poured out his heart before the Lord. Sometimes when we are in fasting, we feel broken in ourbodies, but it can also affect us in our spirits. We can feelweak and vulnerable. Let Psalm 51 be an encouragementto us today. David candidly confesses his mistakes andseeks forgiveness and renewal from God. The act of consecration involves confessing and repenting,surrendering to God, and seeking alignment with His will.In this lifestyle of consecration, we can come and just havea real and honest conversation with God about wherewe're at, and about what's going on in our lives.David is trusting that God will understand and will be withhim. He comes and he postures himself in a way wherehe's fully surrendered. I love that we can do that with God.And then David says, I don't want you just to create aclean heart in me, I want you to renew a right spirit withinme.Welcome to day two of our Consecration devotionals.Hopefully you're doing okay; it can be a little bit hairyand scary, but hang in there because it does get easier.
Page 36
Consecration And so as we come to God and say what we're reallyfeeling and what we're really honestly thinking, (don'tworry God is okay with honesty), we can ask: Would younow align my heart and my mind with what you say andhow you think for this situation that I'm facing? As we do that, He renews our minds, our thinking, and ourheart; our feelings become submitted and surrenderedunto God. Take a moment to have an honest conversation withGod like he's a trusted friend. Let go. Whatever He reveals, whatever is maybeblocking your own relationship with Him, I dare you tojust risk letting it go into His hands and His care. Ask God, to renew a right spirit within you. I want tothink your thoughts, to know your heart. I want to bealigned with who you are and who you've called me tobe.As you go about your day today, I want you to do threethings:1.2.3.We just thank you, God, that your word is true, that youare real, that your presence is with us, You are ready and willing to meet with us.And God bless you guys. We love you.-Ps Simone Turner click to watch today's devotion
Page 37
1 0 D A Y S O FP R A Y E R A N D F A S T I N GDAY ONE "LORD, TEACH US HOWTO PRAY"P S C O R E Y T U R N E RConsecration
Page 38
ConsecrationSCRIPTURE FOR THE DAY Then Joshua said to the people,"Consecrate yourselves, for tomorrowthe Lord will do wonders among you." JOSHUA 3:5 ESV Today we embark on the journey of consecration,focusing on Joshua 3:5 as our key theme verse.Consecration entails being set apart and embracingholiness, a concept prevalent in both the Old and NewTestaments.In the Old Testament, God called Israel to consecratethemselves to communicate His sacredness andotherness. The laws and rituals established were meant toreveal God's nature. However, they were temporaryshadows of the perfection found in Jesus. In the New Testament, Jesus, God's Son, sacrificed Himself,conquered sin, Satan, and death, and bestowed the HolySpirit upon believers. Thus, our bodies became sacredspaces, temples of the Holy Spirit.
Page 39
Consecration The primary thing that the disciples asked Jesus to teachthem to do was to pray. They said, Lord, teach us to pray."And so Jesus actually began to outline to them, both in hisexample and in the Lord's Prayer, what a life of prayeractually looks like.The first thing I would encourage you to do over thesenext ten days is to identify a place of prayer.Where is your sacred place of prayer? For me, it's a prayer chair. In the mornings I go to my prayer chair in our living area,and I begin to become aware of the presence of God.It could be on your commute to work. It could be going fora walk and finding a park bench. It could be a lounge chairat home.While Jesus accomplished everything necessary for us tobe sacred, we still engage in prayer and fasting asexternal representations of internal transformation. Consecration is not mere adherence to rules, but a visibletestimony of God's work in our hearts, expressed throughloving obedience.Prayer, as exemplified by Jesus and taught to His disciples,holds a central place in our consecrated lives.
Page 40
Consecration To practically engage in prayer, we can follow theacronym P.R.A.Y.First, we PAUSE, being still and recognizing God'spresence.Then we REJOICE, giving thanks, worshiping, andacknowledging God's goodness.Next, we ASK God for help, presenting our petitions andseeking His will.Lastly, we YIELD to God's will, asking for forgiveness, anddesiring to follow the leading of the Holy Spirit.And then finish that prayer time again with thanksgivingas we focus on living a lifestyle of consecration. As we consecrate ourselves, preparing our hearts, weacknowledge that God demonstrates His wondersthrough us. The ten-day season of prayer and fastingallows us to focus on prayer's role in our lives andunderstand practical fasting as part of our consecration.I challenge you to embrace this season of consecration,as God will speak to you through these practices. Connectdaily to the devotional, allowing God to guide you. May you be blessed in this journey- Ps Corey Turnerclick to watch today's devotion
Page 41
C O N S E C R A T I O N P R A Y E R A N D F A S T I N GT O O L B O XW E L C O M E T O T H EC O N S E C R A T I O N 1 0 D A Y S O FP R A Y E R A N D F A S T I N G T O O L B O X .A s w e s e e k t h e L o r d ' s p r e s e n c ea n d g u i d a n c e i n t h i s t i m e o fc o n s e c r a t i o n w e p r a y t h a t t h i st o o l b o x w i l l p r o v i d e y o u w i t hr e s o u r c e s a n d t o o l s t o h e l p y o ud e e p e n y o u r p r a y e r a n d f a s t i n ge x p e r i e n c e .W e e n c o u r a g e y o u t o u s e t h e s er e s o u r c e s t o g u i d e y o u r d a i l yp r a y e r a n d f a s t i n g r o u t i n e , a sw e l l a s e x p l o r e n e w r e s o u r c e s t og r o w y o u r u n d e r s t a n d i n g o f w h yw e p r a y , a n d w h y w e f a s t . M a yt h e L o r d b l e s s y o u a b u n d a n t l y a sy o u s e e k H i m w i t h a l l y o u r h e a r t .1I F Y O U S E E T H I S I C O N C L I C KT H R O U G H F O R M O R E R E S O U R C E S
Page 42
7H O U R1P E R S O N A LP R A Y E R T I M EP R A Y E R T O O L B O X1 0 D A Y S O F P R A Y E R & F A S T I N GA 4 W E E K J O U R N E YI N T O A D E E P E R L I F EW I T H G O D .J O H N M A R K C O M E R7 E A S Y T I P S F O RP E R S O N A L P R A Y E RF R . R O N A L D R O L H E I S E RF A S T I N G G U I D EB Y J O H N M A R K C O M E RH O W T O P R A Y F O R A NH O U R A T H O M ED E V O T I O N A L S , G U I D E S A N DT I P S F R O M S O M E O F O U RF A V E S T O E Q U I P Y O U F O RF A S T I N G A N D F O R Y O U RI N D I V I D U A L P R A Y E R T I M E .2Read more on page 6
Page 43
P R A Y E R T O O L B O X1 0 D A Y S O F P R A Y E R & F A S T I N GF O R F A M I L I E S5 K E Y S T O P R A Y I N GA S A F A M I L YT I P S F O R C R E A T I N G AS P E C I A L P R A Y E R S P A C EA T H O M E F O R Y O U RC H I L D R E NP R A Y E R A C T I V I T I E ST O D O W I T H Y O U R 7 -1 1 Y E A R O L D SD A I L Y F A M I L YD E V O T I O N A L S W I T HL E C T I O F A M I L YA F R E E A P P F O R F A M I L I E S T O D OT O G E T H E R . I T F E A T U R E S D A I L Y B I B L ER E A D I N G S , A W E E K L Y M E M O R Y V E R S E ,E N G A G I N G Q U E S T I O N S T O P A U S E A N D T A L KA B O U T , A N D P R O M P T S P R A Y E R .P R A Y E R & F A S T I N G I S F O R T H E W H O L E F A M I L Y ! H E R E A R E S O M E O F O U RF A V O U R I T E R E S O U R C E S S OT H A T Y O U C A N D O I T A L LT O G E T H E R !3Read more on page 7
Page 44
B O O K SW E L O V E T H E F O L L O W I N G B O O K SO N P R A Y E R A N D F A S T I N GP R A Y E R T O O L B O X1 0 D A Y S O F P R A Y E R & F A S T I N GC H E C K O U T O U R R E S O U R C E C E N T R EF O R A V A I L A B L E R E S O U R C E S4
Page 45
C O N S E C R A T I O N2 0 2 3 P L A Y L I S TS P O T I F Y P L A Y L I S T S A N DP O D C A S T S T O S U P P O R T Y O U RP R A Y E R L I F ES T I L L N E S S N E U M A W O R S H I PP R A Y E R T O O L B O X1 0 D A Y S O F P R A Y E R & F A S T I N GC O N S E C R A T I O N 2 0 2 3P L A Y L I S T5W E H A V E C U R A T E D A S E L E C T I O N O F 1 0 E P I S O D E SF R O M O U R 2 0 1 9 C L O S E R S E A S O N O F P R A Y E R A N DF A S T I N G . S P O T I F Y A P P L E P O D C A S T S
Page 46
FIRST 5 MINUTES: WAITNEXT 10 MINUTES: WORSHIPNEXT 15 MINUTES: THE WORDNEXT 15 MINUTES: SWAP LIES FOR TRUTH NEXT 15 MINUTES: LIFT UP REQUESTSCLOSEH O W T O P R A Y F O R 1 H O U RSet your alarm for 5 minutes and sit in stillness and silence. As we still our mind and tune out fromdistractions we focus on God's presence.As we spend time in silence, we becomemore attuned to the subtle movements of theSpirit.Spend the next 10 minutes praising andworshipping God, thanking God for who He is andall He has done for you. You can play worship music or sing praises to Godon your own. Take time to focus your mind on Him and expressyour love and adoration to Him. You get thismoment to move the heart of God.Read a passage of scripture, if you don't knowwhere to start, pick a Psalm. What is the context of thisscripture.Journal and meditate on it for a few minutes. Ask the Holy Spirit to speak to you through the scripture, ask Him to reveal Jesus to you through the scripture, something in His character or His ways that you have not seen before.Journal what the Holy Spirit shares with you.Close your eyes and behold Jesus.Ask Holy Spirit to reveal any lies that you arebelieving about Jesus, God or Holy Spirit himself. Ask Holy Spirit to reveal any lies that you arebelieving about yourself and your are created tobe.Ask the Holy Spirit to show you the truth of those,then simply come out of agreement with the lie andinto agreement with the truth. You can do this bysimply saying out loud "Jesus, I come out ofagreement with the lie that ........ and I come into agreement with the truth that ....."Intercession and Petition Take time to prayfor others, including family, friends, currentworld issues. Ask the Holy Spirit to guideyou in your prayers and to reveal specificneeds and requests. Journal these prayers so you can look backin weeks to come and see how God has answered your prayers!You might want to close by taking communion and committing the day to the Lord.This is just a framework, and you can adapt it to fityour personal needs and preferences. The mostimportant thing is to spend time in prayer, in Hispresence and deepening your relationship withGod.6
Page 47
1. Choose a locationSelect a quiet and comfortable location in your home where your children can praywithout distractions. It could be a corner in their bedroom, a space in the living room,or any other location that works for your family.2. Decorate the spaceMake the prayer space visually appealing and engaging for children. You can decorateit with religious artwork, icons, posters, or a prayer rug. Consider adding soft lightingor candles to create a calming atmosphere.3. Include prayer resourcesFill the prayer space with resources that will help your children connect with God,such as a Bible, prayer books, or devotional materials. Encourage your children tobring their own prayer requests or items to add to the space.Make it interactive: Create opportunities for your children to interact with the prayerspace, such as adding a prayer box or a gratitude jar where they can write down theirprayer requests or things they are grateful for.4. Personalise the spaceEncourage your children to add their own personal touches to the prayer space, suchas photos of loved ones they are praying for or prophetic artwork they have created.5. Make it a routine.Establish a regular time for your children to use the prayer space daily, or at certaintimes throughout the day. This will help them develop a routine and daily appointmentwith God.H O W T O C R E A T E A P R A Y E RS P A C E F O R C H I L D R E NCreating a special prayer space at home for children canbe a wonderful way to help them develop their faith anddeepen their relationship with God. Here are some tips to help you create a prayer space that isinviting and meaningful for your childrenCreating a prayer space for your children is a wonderful way to help themconnect with God and develop their spiritual lives. Be creative, have fun, andencourage your children to make the space their own.7
Page 48
During the 10 days of consecration, we have recordeddaily devotional conversations for you to listen to andengage with throughout your day. You can watch highlights on our Neuma ChurchInstagram, or the full devotion on our Neuma ChurchYoutube Channel.S O C I A L M E D I A A N D D A I L YD E V O T I O N SNeuma Church youtube.com/NeumaChurch8