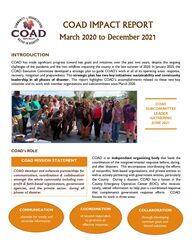 Return to flip book view
COAD Impact Report - 2020/2021
Page 1
INTRODUCTION COAD has made significant progress toward key goals and initiatives over the past two years, despite the ongoing challenges of the pandemic and the two wildfires impacting the county in the late summer of 2020. In January 2020, the COAD Executive Committee developed a strategic plan to guide COAD's work in all of its operating areas: response, recovery, mitigation and preparedness. This strategic plan has two key initiatives: sustainability and community leadership in all phases of disaster. This report highlights COAD's accomplishments related to these two key initiatives and its work with member organizations and subcommittees since March 2020. COAD's ROLE COAD is an independent organizing body that leads the coordination of the nongovernmental response before, during, and after disasters. This encompasses coordinating the efforts of nonprofits, faith-based organizations, and private entities as well as actively partnering with government entities, particularly the County. During a disaster, COAD has a liaison in the County Emergency Operation Center (EOC), who receives timely, vetted information to help plan a coordinated response that complements government response efforts. COAD focuses its work in three areas: COAD IMPACT REPORT March 2020 to December 2021 COAD SUBCOMMITTEE LEADER GATHERING JUNE 2021 COAD MISSION STATEMENT COAD develops and enhances partnerships for communication, coordination & collaboration amongst the whole community including non-profit & faith-based organizations, government agencies, and the private sector, during all phases of disaster. COMMUNICATION channels for timely and accurate information COORDINATION of second responders to promote an effective response. COLLABORATION through developing common goals and shared solutions.
Page 2
COAD IMPACT REPORT FOR 2020-2021 2 STRATEGIC INITIATIVE – SUSTAINABILITY MEMBERSHIP SERVICES Members are core to COAD's sustainability and COAD is committed to providing a wide range of capacity-building resources for member organizations. A survey conducted in December 2020 identified key areas of interest and value to members. FUNDING SUSTAINABILITY COAD works to diversify its funding sources and develop sustainable support for ongoing operations, as well as key initiatives. Primary expenses continue to be COAD staff (1.7 full-time equivalents) and consultants. COAD's current operating budget is $300,000. COAD is thankful for the ongoing support of the Napa Valley Community Foundation, which provided seed funding and supports ongoing operations. Additional thanks to Providence St. Joseph's Community Partnership Fund, United Way Bay Area, and the County of Napa for being key funders. Thanks to community donations COAD has been able to fund ongoing preparedness efforts. For more information on COAD's donors, visit napavalleycoad.org/our-donors. 33%45%7%15%COAD INCOME SOURCESFoundationsProject GrantsGov/Napa CountyPrivate/individualdonors36%22%12%10%5%15%COAD EXPENSE BUDGETPersonnelConsultantsPreparedness &TrainingOperatingexpensesOrg. StipendsFiscal sponsor feesMEMBERSHIP GROWTH In the last two years, COAD has grown from 60 member organizations to over 100. Around 70 are actively engaged in COAD subcommittee work, especially during disaster response and recovery. Member RelationsCOAD members most value: regular, timely and vetted communications; being part of a well coordinated, impactful collaborative team response; and access to shared resources.New membership chartercreated to better clarify the mutual nature of COAD membership and respective roles and responsibilitiesDeveloped a new COAD orientation video available on COAD's website: https://napavalleycoad.org/about-us.General Meetings•Eleven capacity building meetings were conducted in 2021. •Topics were based on survey results and emerging needs: COAD member survey results and subcommittee impact reports, County EOC and Shelter Operations, Long Term Recovery, Preparedness Resources, Neighborhood Resilience Initiatives, Housing and Emergency Rental Assistance, Vaccine Outreach Collaborative, plus training in Incident Command Systems and Continuity of Operations.Member Training•Trauma Informed Care -Conducted eight workshops since fall of 2020 in partnership with Aldea, including one in Spanish and two in person workshops. To date, 200 case workers have attended.• Incident Command Systems training offered in July 2021.• Continuity of Operations training in three parts: overview, forum discussion, and a technical assistance workshop.
Page 3
COAD IMPACT REPORT FOR 2020-2021 3 STRATEGIC INITIATIVE - LEADER IN ALL PHASES OF DISASTER COAD OPERATES DURING ALL PHASES OF DISASTER COAD is most connected with the County during disaster response when it staffs the liaison role in the County's Emergency Operation Center (EOC). This provides an important opportunity for two-way communication: timely, vetted information from the County EOC and real-time feedback from responding agencies through COAD. During response periods, COAD works to amplify County messages and respond to EOC requests. COAD's coordinated response is structured to complement the government's and focuses on those services outside the scope of the County's response. MITIGATION AND PREPAREDNESS – BUILDING RESILIENCE MEET YOUR NEIGHBOR (MYN) INITIATIVE COAD launched its neighborhood resilience initiative, MEET YOUR NEIGHBOR, formerly known as Map Your Neighborhood, in May 2021. This program aims to facilitate building neighborhood connections and preparedness at a grass roots level. COAD continues to recruit community leaders to expand the initiative and is developing a new MYN booklet that is more representative of Napa County. Since the launch: Led 6 introductory classes, including three to the general community and an additional three for specific audiences: Angwin Firesafe Council, Vineyard Valley, and the Parent University (in Spanish). Led 5 monthly Leader Council sessions to support neighborhood organizing efforts. ~175 people from 45+ neighborhoods have participated through December 2021. COAD provides ongoing coordination of activated subcommittees to minimize duplication of services and maximize use of available resources. During recovery, COAD supports long term recovery efforts for those survivors who do not have the resources to fully recover on their own. COAD develops preparedness action plans and programs to better meet the needs before, during, and after the next incident. COAD conducts after-action analyses to assess gaps and risks and develops plans to mitigate their impact in future events. RESPONSERECOVERYMITIGATIONPREPAREDNESS
Page 4
COAD IMPACT REPORT FOR 2020-2021 4 PREPAREDNESS OUTREACH - A KEY PRIORITY FOR COAD COAD preparedness initiatives focus on personal and household resources and information for both urban and rural environments. Where possible, COAD partners with local firesafe councils to support broader preparedness efforts.  Created a preparedness calendar highlighting the hazards faced in Napa County and providing month-by- month resources to prepare for them. Developed over a dozen resource fliers on key topics and themes in English and Spanish. https://napavalleycoad/preparedness-calendar/  Participated in 5 community events to share preparedness materials and engage the community throughout the County (Calistoga, Fuller Park, Flea Market, St Helena Harvest Festival and Vineyard Valley), connecting directly with about 300 community members.  Conducted 5 general preparedness classes, including one in Spanish, reaching 96 community members.  Recruited and vetted 8 shelter operation volunteers, providing them Trauma Informed Care, as well as shelter operations training. Participated in the County training and activation exercise. LANGUAGE ACCESS INITIATIVE Partnering with the County Office of Emergency Services, COAD is working to better understand and improve how information is disseminated, received and used before, during and after disasters. A joint COAD-County steering committee leads the work which is focused on a data driven approach. The project has involved engaging key stakeholders throughout the county in interviews and surveys. Final reports and actions items for COAD will be shared later in 2022. WEBSITE AND SOCIAL MEDIA Over the last 18 months, COAD has worked to provide most of its on-line content in English and Spanish. COAD's website aims to provide member agencies the resources they need to support their clients before, during and after disasters. Key preparedness initiatives can be found on the website: Preparedness Calendar and Meet Your Neighbor, as well as disaster operations response and recovery updates. Find more information at: napavalleycoad.org DISASTER OPERATIONS UPDATES – Conducting after-action analyses and updating activation guides is an important part of mitigation and ensuring ongoing operational effectiveness.  Conducted a retrospective after-action retreat with COAD subcommittee leaders to identify how to better organize and support subcommittees before, during and after disasters.  Published an After-Action Report for the 2020 Wildfires – bit.ly/2020FireAAR  Published an interim After-Action Report for the COVID-19 Response – bit.ly/COVID-AAR  Overhauled the COAD Disaster Activation Guide based on lessons learned 2019 to 2021. bit.ly/COAD-DAG  Developed a COAD Shelter Support activation guide to codify protocols for supporting vulnerable populations at County shelters.  As a leader, COAD has provided support and consultation to other developing COADs in Northern California and Oregon including: Humboldt, Tehama/Shasta, Mid-Oregon Counties; and LTRGs - El Dorado and Dixie. Participated in the UASI panel discussion on long term recovery best practices through Urban Areas Security Initiative (UASI) and CVNL in December 2021.
Page 5
COAD IMPACT REPORT FOR 2020-2021 5 RESPONSE AND RECOVERY – CONTINUOUS IMPROVEMENT SUBCOMMITTEE IMPACT RESPONSE WORK – COVID-19 AND 2020 WILDFIRES COAD oversees the work of nine response subcommittees that made highly impactful contributions to 2020's greatest challenges. Subcommittee highlights between March and December 2020 are shared below.  8200+ hours/month of staff time were devoted to COAD's coordinated COVID response efforts.  Plus, 6781 hours to the 2020 wildfire response August – October 2020, including 240+ hours at the Local Assistance Center.  TOTAL - 72,000+ hours donated over eight months. Valued at approximately $2.9M. Access & Functional Needs/Older Adults - Focused on supporting and preparing vulnerable households with an outreach campaign with a reach of 12K individuals each month. Provided resources and information, as well as advocacy around Public Safety Power Shutoffs and other power outages. Childcare – Delivered support and supplies to 86 childcare providers to keep them in business, connected 100+ essential and first line workers to childcare, and provided grants to 50+ families seeking care. Emergency Financial Assistance – Coordinated the distribution of almost $5M in rental and other assistance to ~3300 Covid-19 impacted households, maximizing resources from multiple funders. Distributed over $300K in gift cards and about $500K in disaster relief to fire survivors. Assisted households with government benefit applications. Food Access– Tracked food distributions, identifying trends, emerging needs and gaps. Maximized coordination of food distributions to limit duplication. In May 2020 (peak), over 17,000 Napa County households accessed grocery programs. Animal Welfare – Partnered with Community Animal Rescue Team (CART) on animal welfare. Mental & Spiritual Health – Promoted mental health resources and wellness campaigns including public service announcements. Developed and offered a trauma informed care workshop with over 200 case workers attending to date. Public Information & Outreach - Partnered with the County to develop impactful communication campaigns, Conducted Facebook Live educational sessions and spearheaded website content translations. Provided resource fliers for COVID-19, as well as for the 2020 wildfires. Provides the ongoing leadership for the joint language access project with the County. Resources – Worked with other subcommittees to deliver critical resources during the pandemic, from toilet paper to pet food, and the delivery of groceries to 50 vulnerable households each week for close to 12 months. Volunteers on Call – Developed a streamlined system for volunteers with a database of 380 deployable volunteers. From April to December 2020, 30 volunteers were sent each week to the COVID-19 testing site and 10 volunteers supported food distributions. 5500+ volunteer hours in total over 8 months.
Page 6
COAD IMPACT REPORT FOR 2020-2021 6 Long Term Recovery work for the 2020 Wildfires officially began in early 2021. Official Disaster Case Management (DCM) began during the summer of 2021 through UpValley Family Centers. COAD worked to recruit and orient a Long-Term Recovery Group (LTRG) steering committee during the first months of 2021. While the LTRG is a separate entity with its own bylaws and activation protocols, COAD continues to lead and coordinate the steering committee to support capacity for LTRG subcommittee work. LONG TERM RECOVERY – 2020 WILDFIRES The LTRG has several key committees to meet the needs of fire survivor households whose vulnerabilities make it difficult for them to recover without assistance:  Disaster Case Management – 320+ households may be eligible for DCM services.  Construction/Rebuilding – Hope City Network and Our Town St Helena are supporting potential rebuilding.  Unmet Needs – The Napa Valley Community Foundation is the lead funder for unmet needs and has committed $2M in recovery funding.  In Kind Support – Adventist Health has provided in-kind support to 87 survivor households with goods valued over $650K. Rutherford Grange, a COAD project, has supported hundreds of survivor households with clothing and other household needs.  Housing – Fair Housing Napa Valley continues to advocate for and support housing needs of survivors.  Mental & Spiritual Health – Mentis and the Adventist Churches of Angwin and Calistoga are providing support to meet these needs. COAD's Leadership Team: Director | Celeste Giunta (celeste@napavalleycoad.org) Executive Committee Chair – Wendi Piscia (Napa Humane) Vice Chair – Pete Shaw (CrossWalk Church) Treasurer – Danielle Barreca (private industry) Secretary – Marlena Garcia (ParentsCAN) Members: - Michele Grupe (Cope Family Center, previous Chair) - Nathan Gilfenbaum (Catholic Charities) - Indira Lopez (UpValley Family Centers) - Lisa Fletcher (Napa County representative)