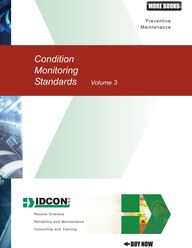 Return to flip book view
Condition Monitoring Standards 3
Page 1
Page 2
Please take a moment to provide us with some information about you. Welcome Torbjorn Idhammar
President
Thank you for taking the time to view Condition Monitoring Standards Volume 3.
IDCON INC is a management consulting company specializing in reliabilty and maintenance for the manufacturing and processing industries. We help our clients maximize profits through the improvement of reliability and maintenance practices.
Click here for more information about our company, read reliability and maintenance articles and tips, or to join our newsletter group.
IDCON's Condition Monitoring Standards (CMS) books have been developed with the assistance of crafts-people, operators, supervisors and engineers in many plants and mines around the world. These standards have been used in the design, training and implementation of PM programs. The CMS describes How and Why condition monitoring tasks are done for common components found in all industry. The books are frequently used by operators and craftspeople.
If you have questions about implementing a Preventive Maintenance and/or an operator essential care program using condition based monitoring or about any of the standards found in this volume, you can contact us using the form below, email or call us.
Page 3
Page 4
Page 5
Page 6
Page 7
Page 8
Page 9
Page 10
Page 11
Page 12
Page 13
Page 14
Page 15
Page 16
Page 17
Page 18
Page 19
Thank you for taking the time to review Condition Monitoring Standards Volume 3. If you would like to purchase the Volume please click on the shopping cart at the bottom of the page. For more information about IDCON INC, you can view our 3 minute video, visit our website, call us, or email us.
Christer Idhammar
Founder & Executive Vice President
919-723-2682
Christer is the founder of IDCON INC, the inventor of our Results Oriented Reliability and Maintenance management (RORM) philosophy, world renowned speaker and reliability guru.
He started his career as a mechanic on board ships in the Swedish merchant marines. The foundation he built in 1972 in Sweden later became IDCON INC in the USA in 1985. Christer possesses a BS in Mechanical Engineering.
Christer is IDCON INC's Executive Vice President in charge of Sales and Marketing.
Tor Idhammar
President
919-723-2680
Tor has worked with IDCON INC since 1997 and became IDCON's president in 2009. Tor oversees the day to day operations of IDCON.
He has reliability and maintenance experience from many different industry segments world-wide. He is author of several books, whitepapers and articles.
Tor possesses a BS in Industrial Engineering from NC State University and a MS in Mechanical Engineering from Lund University in Sweden.