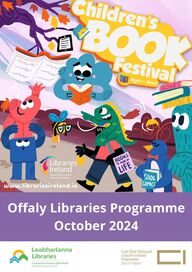 Return to flip book view
Children's Book Festival 2021 Programme of Events
Page 1
Offaly Libraries ProgrammeOctober 2021
Page 2
Welcome to Offaly Libraries' Children's Book Festival 2021encourage children to enjoy the experience of reading and support their readingdevelopmentprovide activities and events in collaboration with writers/illustrators/storytellerspromote children's books and storiesincrease engagement with families and schools and to attract new audiencesChildren's Book Festival (CBF) 2021 will run nationally for the month of October and is a greatopportunity for young people, parents, teachers and libraries to celebrate books andreading! As usual, Offaly Libraries is marking this very special time of year with an array of eventsand activities. Many of our traditional events will be online again this year but there will stillbe plenty of reasons to visit one of the libraries in our branch network! The promotion and support of the Children's Book Festival is a central tenet of the nationalRight to Read initiative. Through Children's Book Festival, Offaly Libraries aims to There is a world of reading waiting for children and their families in their local library andyour free library membership gives you access to literally millions of items in the nationalpublic library network. Why not contact your local branch for further information or to find out about arranging avisit to the library?Children's Book Festival is a great time to reconnect with books and with your local library.We're looking forward to seeing you!
Page 3
From Friday, 1st October (while stocks last)Offaly Libraries, Children's Book Festival - Fun PacksTo celebrate the start of Children's Book Festival (CBF) 2021, Offaly Librarieswill be giving out special CBF Fun Packs containing a toy and other items.These will be available for free in all our branches while stocks last. Just aska member of library staff!Friday, 1st October at 11.30amThe World Of Skulduggery PleasantJoin children's fiction superstar Derek Landy inconversation with David O'Callaghan for a brand-newvirtual event especially for schools. Plunge into the magically macabre world of SkulduggeryPleasant, where you will meet an unforgettable cast ofcharacters, discover the books, movies, and comics that haveinspired Derek since childhood, and have the chance to bafflethe author with questions about his own story (which happensto Derek with alarming regularity). Now nearing its series end, Skulduggery Pleasant first burst ontothe publishing scene in 2007 like a skeletal fist punchingthrough a wall of books (or something). With sales in excess of6.5 million copies and translated into 36 languages worldwide,this series has led to the author's mother saying "We're all veryproud of him." Indeed, Barbara. Indeed. Suitable for children 9+ to teens.Derek and David's conversation will be recorded and madeavailable online.To find out more about author Derek Landy and his books, visithis website at www.skulduggerypleasant.co.uk openITEM
Page 4
Monday, 4th October at 11.30am Tuesday, 5th October at 10.00am & 11.30amA Trip Back in Time with Judi CurtinShe'll talk about her inspiration, herresearch and why she likes to write. There will also be a short reading and aQ&A. Suitable for 3rd - 6th ClassTo find out more about Judi Curtin andher books, visit her website atwww.judicurtin.com Saturday, 2nd October at 2.00pm Wordsmiths - an online family writing workshopwith Dave RuddenJoin award-winning author Dave Rudden (Knights of the BorrowedDark, Doctor Who) for an online family writing workshop whereparents and kids team up to create their own stories. Learn how to foster creativity in young writers, how to createepic heroes and terrifying villains, and how anybody at all can bea writer, if they just put words on the page. Suitable for ages 8 - 108, just bring a pen and paper!All children must be accompanied by an adult.To find out more about Dave Rudden and his books, visit hiswebsite at https://daverudden.com/ openJudi will chat about her latest series of books, the Lissadell series. Book here via Ticket Tailor
Page 5
Wednesday, 6th October at 10.00amTuesday, 12th October at 10.00am & 11.30amA Short Hopeful Talk About Climate Change with Oisín McGannIn this lively and light-hearted session, Oisín talks abouthow he got into writing and illustrating, and goes on tolook at some of the fascinating facts around climatechange, how so many different parts of our world areconnected with each other. For the first time, we are starting to act as a species forthe good of our planet, and he wants to show whatclimate change is teaching us about the environmentthat makes our world so beautiful and unique.Suitable for 5th Class+To find out more about author and illustrator OisínMcGann, visit his website at www.oisinmcgann.com Wednesday, 6th October at 11.00amWednesday, 13th October at 11.00amWednesday, 20th October at 11.00amWednesday WobblersStory-time for 2-4 year oldsZoom events hosted by Tullamore LibraryChildren must be supervised by an adult during this event.openBook here via Ticket Tailor
Page 6
Friday, 8th October at 10.00am & 11.15amMonday, 11th October at 11.00amRead and Write! - talk and tips for buddingreaders and writers with Jackie BurkeIn her Zoom workshops, author, Jackie Burke will talk abouthow she became an author, the inspiration for hercharacters, plots and locations. She'll give some writing tipsfor budding authors and lots, lots more! After reading a few passages from her books, Jackie will thentake questions from the class - always great fun! Bookmarks will be given to all the children attending, and aclass set of posters will be sent to each class too.Suitable for 3rd - 6th ClassTo find out more about Jackie Burke, visit her website atwww.grindlewood.com Thursday, 7th October at 7.00pmThursday, 14th October at 7.00pmThursday, 21st October at 7.00pmOffaly Libraries Children's Book FestivalFamily Fun QuizzesThe quizzes will be hosted on www.myquiz.orgopenBook here via Ticket Tailor
Page 7
Children's Books Ireland's annual reading guide is an invaluable resource. This year the themeis Free To Be Me. Offaly Libraries will be stocking free copies of the reading guide and you canpick one up in our branches while stocks last. Through the Free To Be Me Reading Guide, CBIwill recommend the best books for children and young people aged 0-18 celebratingdiversity, representation, and inclusion in books for children and young people, to ensureequity and visibility in both school and public libraries, bookshops and shelves in the home.The aim of this collection of truly excellent books is to help facilitate conversations anddevelop young people's values, attitudes, and knowledge – better equipping them to fullyparticipate in and help to further mould and build a more equitable society – ensuring that allchildren and their families feel welcomed, valued, celebrated and respected. By supportingour youngest citizens in this mission, the hope is to enable tangible long-term benefits forsociety that can help guarantee everyone a more equitable future. Every child has the right to be free to be themselves.Have you ever wondered what makes stories come alive?Explore the magical world of storytelling with award-winningauthor, E.R. Murray. Investigate where ideas come from, howto create believable characters and memorable settings anddiscover how these elements enrich the stories we have totell. An interactive event, E.R. Murray will also read from TheBook of Learning, and answer your questions about what it'slike to be a writer.Suitable for 8 - 12 year oldsTo find out more about E.R. Murray, visit her website atwww.ermurray.com Available while stocks last!Children's Books Ireland Reading GuideWednesday, 13th October at 9.45am & 11.15amThursday, 14th October at 9.45amMagical World of Storytelling with E.R. MurrayopenITEM
Page 8
Friday, 15th October at 11.00am & 2.00pmGordon's Game: Lions Roar with Gordon D'arcy & Paul HowardSaturday, 16th October at 3.00pmGordon's Game: Lions Roar with Gordon D'arcy & Paul Howard Join Gordon D'Arcy and Paul Howard for an interactive digital event for sports-mad kids! This event is based around the third children's book from a magic writing combination:former rugby international Gordon D'Arcy and No. 1 bestselling author of the Ross O'Carroll-Kelly series, Paul Howard. This series of illustrated stories is inspired by Gordon's real-life rugby-playing years. In this book, young Gordon has a brand-new opportunity - the chance to play for the famousBritish and Irish Lions as they tour South Africa. Jam-packed with hilarious live readings, jokes and a Q&A with Gordon and Paul, girls and boysfrom 8+ are sure to enjoy this event. Children must be supervised by an adult during this event.openBook here via Ticket Tailor
Page 9
Stories are magical. We read them, watch them, live and dream them. In this seriously funworkshop children's author Debbie Thomas will lead you down the garden path and over therainbow into the wonderful world of stories. Suitable for 4th - 6th Class Monday, 18th October at 11.00amTuesday, 19th October at 11.00amWednesday, 20th October at 11.00amOnce Upon a Wonder: Writing Workshops with Debbie ThomasTo find out more about Debbie Thomas, visit her website at https://debbie-thomas.com Wednesday, 20th October at 11.00amMy Favourite Books and Where to Find Them with Banagher LibraryA Zoom to the classroom chat with your local librarian about how to find books you love inyour local library. The librarian will begin by discussing some of the newly released booksfeatured in the 2021 Children's Books Ireland Reading Guide. Following on from this there willbe an open discussion / Q&A session about the pupils' favourite books, why they like themand what they plan to read next. The Zoom session will finish with a fun quiz about authors.Suitable for 4th - 6th Class
Page 10
Thursday, 21st October at 10.00amFriday, 22nd October at 10.00am & 11.30amComic Character Design Workshops with Marta BoniakowskaJoin Marta on an adventure to learn how to create amazing characters by using basicshapes!Marta is a recent graduate from Limerick School of Art and Design where she studiedAnimation and Motion Design for four years. In her college years, she discovered herpassion for character design, creating something out of nothing is what she fell in lovewith.In this workshop you will learn how basic shapes, circle, triangle and square are usedwhen creating a character and look at some examples of famous characters from moviesand games and see what shape is applied to them. Marta will also talk about the reasoningbehind the shape theory. Why is circle used on this character? What does the triangleshape suggest? Don't worry, all of these questions and more will be answered! During thisworkshop you will also get a chance to see how Marta tackles character design, she will doa small demonstration on her tablet and draw a character using a shape you suggest, sothen you can do the same at home! This interactive workshop will be a great opportunity to learn some drawing and characterdesign tips that will help children express themselves though art!Suitable for 3rd - 6th ClassThursday, 28th October at 7.00pmOffaly Libraries Teen Book Club - October MeetingWe're inviting teens aged 13+ to join in on our online book club- a great opportunity to meet new people, share ideas andboost self confidence!Contact your local Offaly Libraries branch for details.Read Books!Have Fun!Make Friends!open
Page 11
Raised in the west of Ireland, Niall has performed on six continents in countries as diverse asRomania, Iran and South Africa. Using his voice with a craftsman's skill, Niall shares great taleswith tremendous energy, judgement and superb timing. To quote the Vienna Review of Books:"His ability to evoke a wide range of emotions from his rapt audiences enables him to bewitchpeople with his stories and make listening to him as well as watching him an unforgettableexperience" . Not to be missed! Niall's motto is: "Níor bhris focal maith fiacal riamh.... A good word never broke a tooth!" This is a family event for age 6 and upwards.Children must be supervised by an adult during this event.During October (up to 30th October)Shocktober Colouring Competition Collect your special Halloween Colouring Competition sheet from yourlocal Offaly Library from 1st October. There will be three differentcreepy book-themed sheets to choose from depending on your age. Make sure to return your sheet to your library before Halloween for achance to win a fantastic prize …. only if you dare!#Shocktober #OffalyLibrariesHalloween #RightToRead Wednesday, 27th October at 6.30pmNiall de Búrca's World TalesopenGrab your seat and hang on tight, Niall de Búrca will beperforming with Offaly Libraries for CBF 2021!More dangerous than The Pied Piper, Niall's tales will take you ona rollercoaster ride of the imagination. Join him for an incrediblerange of stories from all over the world.COMPETITIONopenBook here via Ticket Tailor
Page 12
Each virtual story-time will run for 15-20 minutesAll the class needs is to be able to connect to Zoom via a whiteboard, smart TV etc.(with sound). For further information, schools should contact their local Offaly library or e-mailaskthelibrarian@offalycoco.ie Schools and crèches are invited to book in class groups for an e-visit via Zoom from oneof our participating branch libraries for book-related fun! Week 1 (4th October): Paper Caterpillar Week 2 (11th October): Loopy BirdWeek 3 (18th October): Worry DollWeek 4 (25th October): Black Cat Lanternsome everyday items e.g. scissors, gluean adult to helpyour imaginationAll the basic materials to make a craft project.Just pick up the take-away bag (while stocks last).There will be 4 projects over 4 different weeks during CBF:Just add: Throughout OctoberZOOM to the Library! Live Story-times for SchoolsWeekly during OctoberCrafty Takeaway: a craft project in a bagopenITEM
Page 13
PRE - RECORDEDOur library team has been busy recording special storybook, poetry and story readings for CBF. They will appear on Facebook during October. Why not log on and check them out?Keep a lookout also for some spooky tales this Shocktober as we look forward to Halloween! Offaly Libraries' Facebook page is at www.facebook.com/offalylibraries Throughout October on our Facebook pageOnline Story-times Create your own costume - dress up as your favourite book or storycharacter. Send us a photograph of yourself as that character. Prizes for the best, cleverest, most original costumes! Best photographs will appear on Offaly Libraries social media andNewsletter. To enter: e-mail your entry to askthelibrarian@offalycoco.ie along with your signed entry form which can be printed from www.offaly.ie/libraries Closing date: Saturday, 30th OctoberDuring October (up to 30th October)The Offaly Libraries - Children's Book Festival Costume Competition openopenCOMPETITION
Page 14
DEREK LANDYFriday, 1st OctoberDAVE RUDDENJUDI CURTINMonday, 4th OctoberTuesday, 5th OctoberSaturday, 2nd OctoberOISÍN MCGANNWednesday, 6th OctoberTuesday, 12th OctoberWEDNESDAYWOBBLERSWednesdays, 6th, 13th, 20th & 27th OctoberFAMILYFUN QUIZZESThursdays,7th, 14th & 21st OctoberJACKIE BURKEFriday, 8th OctoberMonday, 11th OctoberE.R. MURRAYWednesday, 13th OctoberThursday, 14th OctoberPAUL HOWARD &GORDON D'ARCYFriday, 15th OctoberPAUL HOWARD &GORDON D'ARCYSaturday, 16th OctoberDEBBIE THOMASMonday, 18th OctoberTuesday, 19th OctoberWednesday, 20th OctoberMY FAVOURITE BOOKSAND WHERE TO FIND THEMWednesday, 20th OctoberMARTABONIAKOWSKAThursday, 21st OctoberFriday, 22nd OctoberTEEN BOOK CLUBThursday, 28th OctoberThroughout OctoberWeekly while stocks lastCRAFTY TAKEAWAYClosing date: Saturday, 30th OctoberCOSTUME COMPETITIONNIALL DE BÚRCAWednesday, 27th OctoberZOOM TO THE LIBRARY - LIVE STORYTIMES FOR SCHOOLSWhile stocks lastCHILDREN'S BOOKS IRELAND READING GUIDESWhile stocks lastFUN PACKSClass event: to be booked through schoolPublic event: to be booked as indicatedOngoing activity: may be subject to availabilityAT AGLANCESHOCKTOBER COLOURINGCOMPETITIONClosing date: Saturday, 30th October
Page 15
Winnie the Witch Puppet Show with ClareThe Gruffalo Puppet Show with ClareHarry Potter Drama Workshop with Sonia CuddyThe Gruffalo Drama Workshop with Sonia CuddyMr. Men Drawing Workshop with Claire GuinanThe Secret Lives of Books – Creative writing workshop with Maeve DevoyDreaming Time – Draw your own stories with Duffy Mooney SheppardI Want to be a Wolf: a mask making workshop with Duffy Mooney SheppardWednesday, 27th October to Saturday, 30th OctoberHullabaloo! Children's Books EventsA selection of wonderful children's book themed events are taking place through OffalyLibraries as part of this year's Hullabaloo! Children's Arts Festival. All of these events are live onZoom and can be booked through www.hullabaloofestival.ie Wednesday 27th August at 11am - for ages 3 to 8. Thursday 28th August at 3pm - for ages 3 to 8. Wednesday 27th October at 11am – for ages 8+ Wednesday 27th October at 3pm – for ages 3 to 8 Thursday 28th October at 11am – for ages 6 to 8 Thursday 28th October at 10am – for ages 8 to 12 Friday 29th October at 11am – for ages 5 to 12 Friday 29th October at 3pm – for ages 5 to 12Look out for more great art workshops at Hullabaloo! Offaly's Children's Arts Festival at www.hullabaloofestival.ieHullabaloo! is co-produced by Birr Theatre and Arts Centre in partnership with Offaly County Council Arts Office.
Page 16
GET EVEN MORE FROM YOUR LIBRARY! Visit our website at www.offaly.ie/libraries and use your library cardto access all of these great resourcesVisit us on social media to keep up with the latest news and events Take part in our other annual Right to Read programmes Visit Libraries Ireland: www.librariesireland.iewww.facebook.com/offalylibraries @offalylibraries @offaly_libraries