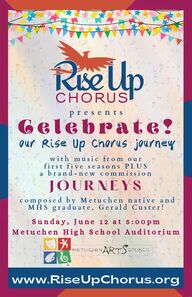 Return to flip book view
Celebrate! Concert Program
Page 1
www.RiseUpChorus.orgp r e s e n t sC e l e b r a t e !our Rise Up Chorus journeyw i t h m u s i c f r o m o u rf i r s t f i v e s e a s o n s P L U Sa b r a n d - n e w c o m m i s s i o n J O U R N E Y S c o m p o s e d b y M e t u c h e n n a t i v e a n dM H S g r a d u a t e , G e r a l d C u s t e r !S u n d a y , J u n e 1 2 a t 5 : 0 0 p m M e t u c h e n H i g h S c h o o l A u d i t o r i u m
Page 2
This program is being sponsored by the Metuchen Arts Council.For more information, visit www.metuchenartscouncil.com.For an interactive program experience,including repertoire, artistic teambios, and scalable fonts, visitwww.RiseUpChorus.org/programor scan the QR code to the left.Interactive Concert Program
Page 3
Have you ever had one of those moments where everything seems to be going well,but you can't shake the feeling that something is missing or that something iswrong? I had that feeling in the winter of 2016 and, as they say, the rest is history.My frustration came from what felt like a broken system, a system of "product". Asa professional musician, I was expected to produce rather than to create. The end-goal was more important than the experiences of the people with whom I wasworking. I couldn't help but blame myself for this product-driven life, but the moreI reflected on my situation, the more I realized that I was just feeling a symptom ofa problem much larger than just myself.I started to pay closer attention to the people in the world around me. I saw asociety where people were too concerned with themselves to consider others. I sawa world where things were valued more than people. I saw a "community" ofindividuals; a world with many "communities of one".One evening after a particularly frustrating experience, I called my very dear friendand collaborative partner, Thomas DeLessio, while driving home and explained howI was feeling. Thom listened intently, as Thom always did, and he respondedsimply: "What are you going to do about it?" From that question, Rise Up Choruswas born.What is music? What is music's purpose in our lives? These are the questions that Istruggled with. I thought I had the answers, but the more I considered the questionsthe more my perception changed.Music is so much more than just something that we "do". Music is a deep part ofwho we are. Music is personal, yet it is communal. It brings people together in away that nothing else on earth can. Yet, so many musical experiences fall short ofthis communal experience. So often, music is done in a way where there is not aplace for everyone. Often, all are not welcome.Rise Up Chorus was created to fix this problem and fill this void. Rise Up Choruswas developed to serve a purpose. Rise Up Chorus was constructed with love toserve others. The name "Rise Up Chorus" came from the idea of a phoenix "risingfrom the ashes". We reimagined the traditional community chorus experience ofrehearse and perform, rehearse and perform, etc. and have developed a musicalexperience where our focus is on our musical Community.From our Artistic Director
Page 4
You may notice that when writing about our Rise Up Chorus Community, Icapitalize the "C". We capitalize the word Community because we're talkingabout something that is so central to humanity as well as our vision and mission.We believe that our word Community is a proper noun, deserving of such careand consideration. Our Community is at the very core of what we do in Rise UpChorus, and by your attendance in this performance, you are part of ourCommunity.In June of 2017, we started our operations with a one-day event that we called aCommunity Sing. People from around the region gathered together to just sing.Every detail was agonized over for months because we knew we had one chanceto get this right, but we had no idea what to expect. Would anyone show up?Was there truly a need for what we were offering? On that day, we found outthat there was. In fact, it was a wild success! That following September, weofficially began our very first season.Since 2017, the Rise Up Chorus Community has grown and developedtremendously. We have several members now who have been with us from ourvery first Community Sing, while others have joined somewhere along the way.Some members have moved (many during the pandemic), and others havepassed away. Like all communities, our Community has experienced joy, and wehave experienced sorrow. Yet, we experience these ups and downs together,never wavering from each other. Whenever a decision needs to be made by ourBoard of Directors, we always root our decision-making in the question, "Is thiswhat is best for our Community? Does this decision best serve our mission?"The purpose of Rise Up Chorus is to enrich lives through musical experiences. Weare an inclusive Community that nurtures meaningful connections and humaninteraction.By attending this concert, you are now a member of the Rise Up ChorusCommunity, and you are helping us to fulfill our mission of inspiring good,changing lives, and making music. If this is your first Rise Up Chorus experience, Ithink you'll see and feel how we do things a little differently. Thank you forbeing part of our Community.Best regards,Matthew J. LaPine
Page 5
In Memoriam: Dr. Shirley SmoyakShirley was a beloved teacher and mentor in her career as a psychiatricnurse and healthcare sociologist. But for us here at Rise Up Chorus, shewas a devoted friend, dedicated musician, and stalwart volunteer,serving as Secretary of the Rise Up Chorus Board of Directors. We are grateful for her service - to her community, to her students, toher church, but mostly to us, her Rise Up Chorus family.
Page 6
COME AND SING WITH US!Rise Up Chorus' next session begins on September 9, 2022.All are welcome, no auditions necessary!Registration will open in August online at:w w w . R i s e U p C h o r u s . o r g
Page 7
Page 8
Page 9
Page 10
From our President of the Board of DirectorsOn behalf of the Rise Up Chorus Board of Directors, Good Afternoon and Welcome to ourfifth anniversary celebration!The first five years of the Chorus' journey have been truly musical. During this time,we've produced a diverse series of programs, from truly comedic to sacred, andeverything in between. In spite of Covid-19 and the pause it put on our journey over thepast 2 years, our members banded together, often for virtual rehearsals, to keep ourmusical journey alive! We continued to rehearse and to build our community, knowingthat someday we'd be back performing for our audiences. Generous donations by you and our benefactors, have afforded us the opportunity andextreme pleasure of working not only with RUC's own professional musicians, soloists,and directors, but also with guest Conductor, Donald Dumpson, and now Composer,Gerald "Jerry" Custer, a son of Metuchen. RUC commissioned Jerry to write Journeys, thework that we are so privileged to premiere for you today. The lyrics for Journeys arebased on the words of chorus members. They are words that tell what music means tous, that we are the music, and that it is within us all. The Board extends its thanks to Fr. Zelley and to the staff of St. Luke's Episcopal Churchfor providing our much-appreciated rehearsal space. Thanks go out to our ArtisticDirector & Founder, Matthew LaPine, to our Youth Chorus Director, Helen Kernizan, andto our collaborative musicians James Lubrano and Florence Simons; their selflesscontributions of artistic and technical talents are the beat to which we sing. Also, weexpress our heartfelt gratitude to the Rise Up Chorus members for their talent, time,and effort, as they are the reason for our existence.Special thanks to the Metuchen Arts Council for sponsoring "Celebrate!", and to ourDonors for the generous financial support over the past five years. Without thissponsorship, we would be unable to continue our mission, and would not be able tokeep participation in our choruses tuition-free. You are essential to our ability to bringour organization forward. Rise Up Chorus would simply not exist without thecontributions, dedication and efforts of all those mentioned. May we continue our mission of: Inspiring good. Changing lives. Making music.Thank you for joining us today! May Journeys fill you with joy and harmony. And, ifyou love to sing, join us…we'd love to have you!Terry KohlPresidentRise Up Chorusw w w . R i s e U p C h o r u s . o r g
Page 11
About Dr. Gerald CusterDr. Jerry Custer is a choral conductor, composer, clinician, author, and teacher. Anative of Metuchen, he attended Westminster Choir College (B.Mus., choral musiceducation), The George Washington University (M.Mus., orchestral conducting andhistorical musicology) and earned the DMA in choral conducting from Michigan StateUniversity. He is a Grammy-nominated, award-winning composer and arranger withmore than 150 works in print, and made his Carnegie Hall debut in 2010 withEverything Indicates, a symphony for orchestra and choir on the poetry of WaltWhitman. In 2018, his work I Will Be the Light was premiered by the combined youthchoirs of RTE Ireland and the Irish National Symphony in Dublin.Dr. Custer's teachers include Bruce Campbell, Dennis Shrock, Robert Carwithen, andJoseph Flummerfelt. He has sung for Leonard Bernstein, Pierre Boulez, WilliamSteinberg, and Antal Dorati, and pursued private study with Wilhelm Ehmann andRobert Shaw. He composition teacher was the late Malcolm Williamson, Master ofthe Queen's Music for HRH Elizabeth II. With his colleague Blake Henson, he is the co-author of The Composer's Craft: A Practical Guide for Students and Teachers, FromWords to Music: A User's Guide to Text for Choral Musicians, and Arranging: ABeginner's Guide and has served as the Choral Methods Masterclass columnist for theGIA Quarterly for the past 15 years.Dr. Custer has led choral programs at Schoolcraft College and Oakland CommunityCollege in Michigan, and been visiting faculty or guest teaching artist at theUniversity of Missouri-Columbia, Westminster Choir College, the University of SouthCarolina, and Montclair State University. Dr. Custer teaches music theory, musiccomposition, conducting, and choral literature at Wayne State University in Detroit.He has served churches in New Jersey, Maryland, and Michigan, and recentlycelebrated 50 years as a church musician by joining the staff of the First PresbyterianChurch in Northville, Michigan. He lives most happily in Allen Park, Michigan withhis fiancée Sharon York.
Page 12
Rise Up Chorus Youth ChorusDies IraeWill You Teach Me?Joshua Fit the Battle of JerichoBhombelaI Sing Because I'm HappyRuth Morris GrayVictor C. Johnsonarr. B. E. Boykinarr. Will SkaffRollo DilworthRise Up Chorus Combined ChorusesRollo DilworthJusticeRise Up Chorus Adult ChorusI Got RhythmI Dream A WorldHomelandWe Honor YouLittle Shop of HorrorsDravidian DithyrambGeorge Gershwin, arr. Mark HayesAndre J. ThomasZ. Randall StroopeRoger EmersonAlan Menken, arr. Jay AlthouseVictor ParanjotiVideo: "Views from the Parking Deck"Rise Up Chorus Combined ChorusesI Will SingRosephanye PowellINTERMISSIONCelebrate!Our Rise Up Chorus JourneyMovement I:Movement II:Movement IIA:Movement III:Movement IV:Movement IVA:Movement V:Movement 6:Harold Arlen, arr. Israel Kamakawiwo'ole,adapted by Andy BeckWorld premiereGerald CusterVideo: "Wanting Memories..."I Believe In the SunOf SingingInterludeThe Promise of Being FoundListen LouderInterludeRise Up!A BlessingOver The RainbowJourneys
Page 13
Program Notes about "Journeys" You can't go home again. (Thomas Wolfe)In my end is my beginning. (T. S. Eliot) It turns out that Tom Wolfe was wrong, and Tom Eliot was right.I must admit that I didn't always think so. When I graduated from Metuchen HighSchool in 1971, I left with rockets strapped to the soles of my sneakers. Coming backwas the last thing on my mind. My family had left 30 McCoy Avenue a year earlierand moved to the Maryland suburbs of Washington, DC. I stayed behind for threereasons: to play trumpet for Ed Logue, sing tenor for Bruce Campbell, and write forMarcia Holtzman (I had no idea just how incredibly lucky I was to do those things, bythe way).When I learned years later that my hometown had a new community chorus, I wasmildly interested. After all, that's what I did: I conducted choirs for a living. When Idiscovered that it was being directed by a graduate of Westminster Choir College Ibecame intrigued, because that's where I had gone to school, just like my mentorsDennis Shrock and Bruce Campbell before me.And when Matthew LaPine, the group's director, invited me to write a major work tocelebrate their fifth anniversary, how could I possibly turn him down? I realized inthat moment that I was being invited on a journey I had never in my wildest dreamsexpected to take—a journey home, a journey back to Metuchen.So I started to compose. Eagerly. Without waiting for a text or a set of directions.That's why what I thought would be the last movement of the work was actuallywritten first. "Rise Up" is more than just the choir's name. It's an exhortation. Aninvitation. It's a high-energy piece intended to involve every part of the Chorusfamily—the youth, the adults, and the audience—in proclaiming a message of hope.Be not afraid! Walk in the light, and all the promise it brings! Lift up your hearts andjoin in the song!And then the pandemic hit, and the world stopped.
Page 14
My world stopped, too. All of a sudden, "teaching" became "online asynchronousmeans of instruction," and classrooms that had been full of students werereplaced by computer screens full of disembodied faces. Try as we might topreserve it, a large part of our sense of community and being connected to oneanother seemed to disappear. Where we had been active participants in life, we became passive spectators atbest. If we sang at all, it was mostly just to ourselves, not to each other, for eachother, or with each other. It was like we had all stepped off the elevator to theThird Circle of Hell.None of this is news to you, I know. You all lived through it here just as I did inMichigan. But composing? To be honest, I couldn't produce anything I liked, oreven thought was any good at all. I cranked out my annual Christmas carol(something I've done every year since 1972), but other than that, not a note. Itwas like trying to swim across the Sahara Desert alone while holding my breath. And then two things happened. I remembered a line that had been found scrawledon one of the bunker walls at the Terezin concentration camp in 1945:I believe in the sun, even when it is not shining.I believe in love, even when there's no one there.I believe in God, even when He is silent. And then the poetry came. The members of the choir you see in front of you todaypoured their hearts out about what it had been like to not see each other, nothear each other, not make music together—and then they sent all of it to me. Ihave not been so moved by text in a long time when I heard the honesty, and thelonging, and the pain in their lyrics.I say lyrics, because much of what you'll hear today will be their words, set to themusic they unlocked inside me. More than anything, it was their words (alongwith a poem shared with me by my fiancée) that set me free from composer'sblock. I shudder to think where I'd be if this hadn't happened. It is this amazingcollaboration that truly makes Journeys every bit as much their work as mine.Only now do I really comprehend what happened. Metuchen reached out to meand gave me back the song that was missing from my heart. And I realized at theend of my journey that I had never truly left home, because it had been thereinside me, all along.Jerry Custer
Page 15
Isabel Badillo, Librarian & Membership ChairJeannine Burton, SecretaryJames DeGeorge, Director of Major Gifts & GrantsAngela Dohl, Events ManagerSarah Geiger, Director of CommunicationsKaren Keithler, TreasurerSusan Kingsley, Director of OutreachTerry Kohl, PresidentMatthew J. LaPine, Founder & Artistic DirectorKaren Leon, Youth Chorus LiaisonMaryann McGuire, Director of Fundraising & DevelopmentRise Up Chorus Board of DirectorsRise Up Chorus Artistic TeamMatthew J. LaPine, Adult Chorus DirectorHelen Vassallo Kernizan, Youth Chorus DirectorJames Lubrano, Adult Chorus Collaborative MusicianFlorence Simons, Youth Chorus Collaborative MusicianMaddie Meier, Adult Chorus InternMoriah Kam, Youth Chorus InternMasaaki Saito, upright bassLeslie Godfrey, oboeRise Up Chorus Adult Chorus Members Theresa PetnerJoAnn PollGregory PuchalskiBarbara RiveraJessica Rowe Eric SchwarzKaren Siegel Kathy StaegerElizabeth TeutschTom ThomasDonna TiuRomeo TiuDoris YounkenAnton YudinBrenda Yuro Kasia ZubielShauna EvansSarah GeigerPatricia Glave Carol Hodapp-PuchalskiJennifer JenkinsKaren KeithlerSusan KingsleyTerry KohlLinda LaPineChristina LeslieJoseph MasonetMaryann McGuireMaddie MeierBeth MoroneyKathy MuranoIsabel BadilloMaria BalboaCarol BaldiTrish BenningNancy BernheimerChris BishopJeannine BurtonSue ButterworthSue CeaConnie ChuangNancy ConroyChris DamociJim DeGeorgeKenny DengLynne DengAngela DohlRise Up Chorus Youth Chorus MembersLia OgotiMichelle PalankerinaJack RettagliataAdriana RiveraKanisha ShivDaniel LaPineAnna LeonNikul MalooLuluah MerchantKrish OgotiDillan AlenAnoushka BhallaAnvesha BhallaSimran BhasinSophia Dimayuga
Page 16
Rise Up Chorus is a tuition-free organization. Our programming is made possible bythe generosity of the following donors:Lynne & Kenneth DengKaren & John KeithlerTerry KohlMaryann & Tom McGuireBarbara & Robert SandermanIrma AbramsClaudia AsmuthCarol BaldiAkanksha & Akesh BhallaMachiko & Stephen CaputoSuzanne CeaAnita DaughertyPaula DevanskyHelene DiazJoe DiSalvo Jo Ann & William PollTara PostigoEric SchwarzMichelina SeppiLuann Reed SiegelMary TarrantPhilip VassalloMaxine VuAnnelene & John WrightDoris YounkenUp to $100Up to $250Joanne BackhusIsabel BadilloJeannine BurtonSarah GeigerKatie MoochaCarol & Gregory PuchalskiMargie & Thomas ThomasOver $1,000 Up to $1,000Up to $500Dillan AlenMaria BalboaPatricia BenningNathan BishopDennis BlackDorothy & Jim DeGeorge Michelle MurphyMartha ParkesGrace RichKaren & Donald SiegelShirley SmoyakKathy & Rob StaegerDonations to Rise Up Chorus can be madethrough our website www.riseupchorus.org or by mail to: Rise Up ChorusPO Box 4335Metuchen, NJ 08840 Rise Up Chorus is a registered 501(c)(3) non-profit organization w w w . R i s e U p C h o r u s . o r gJill EisnerJennifer JenkinsSusan & Jonathan KingsleyKaren & Benito LeonNancy BernheimerSuzanne & Chris BishopNancy & Michael ConroyGina DeAngelis Rettagliata Christine & Thomas DeLessioNancy & Tony EggertSusan JankiewiczJessica & Matthew LaPineLinda LaPine Angela DohlElly FadenPatricia GlaveDeborah & Wolfgang HeimerlMarkos KantikilierakisSonia KoenigJoan MastLouAnn McGuireLinda NicoArleen Callahan OrlandoTheresa Petner
Page 17
Page 18
Page 19
Page 20
Page 21
Page 22
Page 23
Page 24