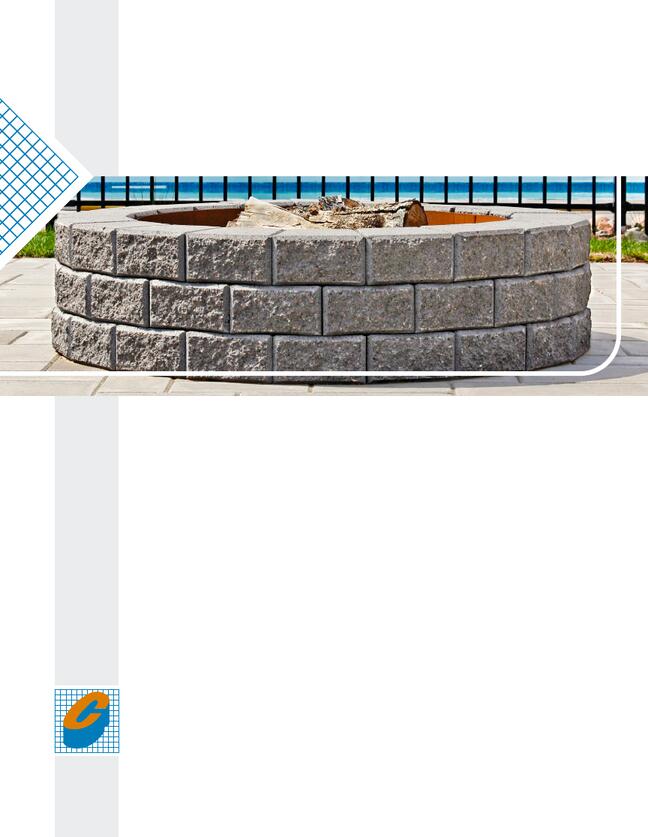 HARDSCAPE PRODUCT DISCLAIMER
COLOUR
Concrete products are composed of
natural raw materials and therefore slight
colour variances should be expected.
For our products that are coloured with
pigment during production, the recipes
are designed with natural raw materials
such as the sand and stone, allowing
the products to vary slightly in colour
tone, veining and texture from one unit
to the next. Therefore, colour samples
are approximate representations of our
standard colours and actual product
colours may vary. Final colour selection
should be made at your local dealer from
stocked product.
Casey Concrete recommends immediate
verification of product condition and
colour upon receipt. If there are any
discrepancies, contact your dealer before
continuing with the project. Installation
of the product constitutes acceptance of
the product.
COLOUR DISTRIBUTION AND
LAYING METHOD
Proper installation enhances the overall
colour of a project. Where possible,
product should be randomly selected
from at least two pallets when installing.
This creates an attractive and subtle
blending of colour.
EFFLORESCENCE
Elorescence is a naturally occurring
process in all concrete products and may
appear on the product surface as a white
powdery substance. Elorescence is
more noticeable on darker products due
to the contrast with white. Elorescence
does not, in any way, compromise the
functionality, structural integrity or
long-term durability of the product. We
take every measure in our production
process to reduce elorescence but
eliminating all elorescence from ever
occurring is not possible. However, it
will wear or wash o over time or can be
removed with an elorescence removal
product. Casey Concrete Ltd. accepts no
responsibility or liability for this naturally
occurring condition to which all concrete
products are susceptible.
PLEASE NOTE
Concrete and concrete products are
manufactured from raw materials and
therefore variation in colour and texture
can occur.
PRODUCT DIMENSONS
Metric dimensions indicated are accurate
to the nearest 1 mm. Imperial units are
rounded to the measurements they are
most often known as.
26