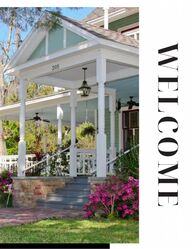 Return to flip book view
CAMELLIA ROSE INN WELCOME BOOKLET
Page 1
Page 2
WELCOME2 0 5 S E 7 T H S T R E E T , G A I N E S V I L L E , F LT H E C A M E L L I A R O S E I N N
Page 3
THANK YOU FOR BOOKINGC O N T A C T I N F O R M A T I O N :Phone: 352-519-3994Email: gainesvilleshortterm@gmail.comE M E R G E N C Y I N F O R M A T I O N :Hospital: Call 911Police: Call 911Welcome to the Camellia Rose Inn!I'm Susannah, and I want to welcome you to the Inn. Having lived inGainesville for 20 years, I love to share its highlights. Please reach outanytime if you have questions or need recommendations.We are so grateful that you chose the Inn for your Gainesville stay! Pleaseenjoy all the spaces in the Inn- the beautiful wrap-around porch, the upstairsporch, the living room, the dining room, the business center, the swingingbench, and more! Enjoy free snacks, coffee, tea and refreshments all day.We offer a variety of options so that you can enjoy the Inn on your terms(breakfast or no breakfast/ personal check-in or self check-in, and more). Wewant you to enjoy your stay however that may be. Susannah Peddie
Page 4
ABOUTTHEINNThe Camellia Rose is a beautiful 1903 Queen Anne home, originally known as SwearingenHouse, as built for Thomas J. Swearingen. Swearingen, who owned one of the firstautomobile dealerships in Gainesville, lived in the original house (which featured a one-story kitchen in a detached building behind the main house) for fifteen years.In 1918, Gainesville Grocer George A. Dell purchased the house, and three years later it wassold to Hal C. Batey, a wholesale grocer who would later become mayor of Gainesville.The house was next bought in 1957 by Dr. Oliver Austin, former Curator of Birds at theFlorida State Museum. During this time many changes were made to the house, and in1978 new owners Mark and Mary Barrow restored the old Swearingen House.The house was purchased by Pat and Tom McCants in 2006 and renamed the Camellia RoseInn. After living and working in South Florida for many years, they decided they wanted towork for themselves, doing something they loved. The Camellia Rose Inn was a labor oflove, a beautiful home they shared with many visitors to Gainesville.So, whether you're coming down to see the Gators play, to watch your child graduate fromthe University of Florida, or to enjoy a relaxing weekend in beautiful historic Gainesville, letThe Camellia Rose Inn be your home away from home.When the McCants decided to enjoy their Golden Years and sell their Inn, a group of UFgraduates and a Gainesville resident decided that the Camellia Rose would be a wonderfuladdition to their short-term properties in Gainesville. One owner has managed short-termrental properties for 11+ years and loves sharing her love of Gainesville with travelers. Welook forward to welcoming all guests in this new phase of the Camellia Rose.
Page 5
CAMELLIA ROSE ROOMThe Briar Rose room features andfireplace, king bed, and sitting area.BRIAR ROSE ROOMOur largest room. First floor roomwith a king bed and sitting area.SOUTHERN CHARM ROOMThe Southern Charm Room features acomfortable king bed, soaking tub,shower, and plenty of sunlight.STARDUSTThe Stardust Room has a porchaccessible from the room. It alsofeatures a king sleigh bed.OUR ROOMS
Page 6
ANTICIPATION ROOMThe Anticipation Room has abeautiful king bed, a fire place, anda whirlpool tub (and rain shower).INSPIRATIONThe Inspiration Room has a king bed,fireplace, and plenty of sunlight.LADY CLARE ROOMOUR ROOMSThe Lady Clare Room has a beautifulking bed, a fire place, handicapaccessible bathroom.
Page 7
HODGES PENTHOUSELarge King Bedroom, living room,pull-out sofa, and kitchen.HODGES SUITEGorgeous, newly renovated 1bedroom/ 1 bathroom apartment.Full kitchen and living room andsmall office.HODGES APARTMENTBright and cheerful apartment withturret dining room, kitchen, large livingroom, and large bedroom. HODGES TURRETFull apartment with queen bed,living room, kitchen and dining area.OUR APARTMENTS
Page 8
SPAT'S HIDEAWAYOur pet-friendly, studio apartmentwith a private screened-in porch, awhirltub, shower, and kitchenette.INN, HODGES HOUSE, & SPAT'SHIDEAWAYOUR APARTMENTSHODGES HOUSEThe Hodges House Birds-Eye-View of the Property
Page 9
Our front porch is Heaven on earth.We have comfortable seating,rocking chairs, and a resident kittycat (Bryceson).WRAPAROUND PORCH OUTDOOR DINING Order take-out in the evening andenjoy eating al fresco. Take yourmorning coffee/ tea and Continentalbreakfast outside as well.OUR SPACESENJOY OUR OUTDOOR GAMES Jenga, Corn Hole, Large Connect Four, Bocce Ball and More!Many are located in the outdoor box on the porch.
Page 10
UPSTAIRS PORCHWe have plenty of seating for all inour beautiful living room. Sit downand relax.LIVING ROOMRock away on the upstairs porch.DINING ROOMUse our dining room for breakfast, take-out lunch or dinner. It's a welcomingspace.BUSINESS CENTERWe have a wireless printer (and acord to plug in), a desk, and portabledesks to use anywhere in the Inn.OUR SPACES
Page 11
CHECK OUTCHECK IN Check-out is anytime before 11:00 AM onyour departure day.Please leave the room key in the door orin the key box in the foyer.Don't forget to book your next stay withus and please spread the word about theInn.Check In Time: 4:00 PM The door code will be send with yourcheck-in information. Please arrive at your convenienceanytime after 4:00. We have in-personcheck ins from 4:00 to 6:00 PM. We haveself check-in after 6:00 PM for yourconvenience.Check Out Time: 11:00 AM
Page 12
WIFINETWORKCamellia Rose Inn B&B (not the guest network)PASSWORDbbb78807a
Page 13
ENJOY YOURSELFEnjoy the downtown location (walk to downtownrestaurants, bars, the Hippodrome, and more). RELAXGrab coffee, tea and snacks from the dining room and relaxon the front porch, the living room, or any of the Inn spaces. SLEEP WELLGet a good night's rest and if you need anything, pleasedon't hesitate to let us know.COME BACK SOON! Please book your next stay soon! We would love towelcome you again.213INN RULES4The beautiful historic ThomasCenter in downtown Gainesville.
Page 14
AMENITIESWe provide a variety of household amenities items for you to use duringyour stay. Please let us know if you need additional items or assistancelocating these items. Business CenterPrinterPortable desksHigh Speed wifiRefreshmentsSoft drinksCoffeeTeaSnacksContinental breakfastPersonal Care Hair dryerBath towelsShampoo & conditionerBody washLarge towelsLake Alice at sunset.
Page 15
TRANSPORTATIONUBER / LYFT / TAXIGainesville has Uber and Lyft. It also has taxi companies, butUber and Lyft are more user-friendly.BUSBus transportation is available: https://go-rts.com/CARA car is recommended for your stay at the house.Morningside Nature Center:It features a living history farm meant tosimulate a North Florida family homesteadfrom the mid to late 1800s.WALKThe Inn is just 5 blocks from downtown restaurants. Stroll on over.
Page 16
PAYNES PRAIRIEVisit Paynes Prairie from multipledifferent park entrances. La Chua Trailis one options. Paynes Prairie StatePark in Micanopy is another entrypoint. It's beautiful!SWEETWATER WETLANDS PARKKANAPAHA BOTANICAL GARDENSDEPOT PARKA bird-lovers' paradise! 3 miles oftrails with year-round birds as well asmigratory birds. You'll also mostlikely see many of the Alma-Mater-Gators!Kanapaha Botanical Gardens(Gainesville, Florida) is a 68 acre nonprofit facility comprised of 24 majorcollections visually accessible from a 1½ mile paved walkway.This enviable city green space now boastsfields of indigenous and wild flowers andseveral recreational facilities for families toenjoy. Children can spend many summerhours enjoying the children's play areawhich encompasses the Blue Grotto splashpad and fun waterfalls. OUTDOOR ATTRACTIONS
Page 17
INDOOR ATTRACTIONSTHE HARN MUSEUM OF ARTThe Harn Museum of Art's mission isto inspire, educate and enrichpeople's lives through art.MUSEUM OF NATURAL HISTORYThe Florida Museum of NaturalHistory strives to fulfill its mission ofunderstanding, preserving andinterpreting Florida's biologicaldiversity and cultural heritage. Wedepend on people like you to helpus realize this mission.THE CADE MUSEUMThe Cade Museum for Creativity andInvention is a museum inGainesville, Florida that has amission "to transform communitiesby inspiring and equipping futureinventors, entrepreneurs, andvisionaries."UF PERFORMING ARTSThe Phillips Center is a versatilevenue that does it all. On any givennight you can see a Broadway show,music ensembles, or a public figuretelling their life's story.
Page 18
PARAMOUNT GRILLMark's Prime Steakhouse serves thefinest beef, the freshest seafood,premium wines and naturally freshvegetables.MARK'S PRIMEHigh-end chophouse serves surf 'n'turf & a broad wine list with a fullbar & outdoor seating.DRAGONFLY SUSHIA sophisticated twist on Japanese tapas-style dining; Izakaya. Serving sushi,sashimi & robatayaki, with a full sakébar & relaxed lounge atmosphere.AMELIA'S ITALIAN RESTAURANTCasual, enduring bistro with old-world flair offering homemadepasta & other classic Italian dishes.BEST RESTAURANTS(DOWNTOWN)
Page 19
O.A.K. This buzzy French bistro with hipdecor & a patio serves seasonalplates with imported beer & wine.ALPIN BISTRONew Southern fare, craft cocktails &self-pour beer & whiskey served in abrick- & wood-lined space.V PIZZANeapolitan pizza, or pizza Napoletana, isa type of pizza that originated in Naples,Italy made from simple, all-naturalingredients. THE TOPHip, casual spot serving burgers,beer & modern American fare, withvegan & vegetarian options.CASUAL RESTAURANTS(DOWNTOWN)
Page 20
MADRINA'SMadrina's in Gainesville is the mostpopular bar with its Cuban-Americanflare. It serves unique cocktails inspiredby the Cantinero tradition of Cuba.THE BULLThe Bull is an excellent spot to unwindand relax after a long day at work or astressful week because of its mellow,peaceful, and relaxing ambiance. It's theTRUE Florida Hipster spot!SUPERETTE WINE + PROVISIONSSuperette is a market, deli, and winebottle shop dedicated to bringingelevated hospitality and imported goodsto Gainesville, FL.BEST BARS(DOWNTOWN)If you're searching for specially craftedcocktails, delicious food, and live music,Sidecar Gainesville is the place to go.SIDECAR
Page 21
FUN ADVENTURESICHETUCKNEE SPRINGSSTATE PARKTraveling the pristine waters of theIchetucknee River is the perfect outing,whether you're looking for a vigorousadventure or a relaxing day on thewater.SANTA FE RIVERBring your own kayak, SUP, inner tubeor canoe to the High Springs Boat Rampwhere you can drop in and float downthe Santa Fe River. Or rent fromAdventure Outpost.GAINESVILLE-HAWTHORNESTATE TRAILSAN FELASCO STATE PARKOutstanding birding opportunities, thearea's best off-road biking, stunningscenery and a rich historic past are onlya few of the preserve's highlights. Gainesville-Hawthorne State Trailstretches 16 miles from the city ofGainesville's Boulware Springs Parkthrough the Paynes Prairie PreserveState Park and other local and stateconservation lands.
Page 22
FUN ACTIVITIESCARSON SPRINGS WILDLIFECONSERVATIONSANTA FE COLLEGE ZOOUNIVERSITY OF FLORIDABAT HOUSESPINSPIRATIONCrafting Studio - Projects, family fun,parties, paint and sip, corporateevents and more. Visit our SplatterRoom and create a messymasterpiece.Book a tour to visit with and learnabout the 25 species of exoticanimals that live at this conservationfacility.The zoo showcases a diversecollection that contains both nativeand exotic species for everyone toenjoy. See the world's largest occupied bathouses right on the University ofFlorida campus, across from LakeAlice. Watch them emerge on warmevenings, just after sunset. GO TO OUR WEBSITE CLICK THE ICON TO SHARE THIS WELCOME BOOK CALL US
Page 23
We had a great stay at this lovely inn. The room was beautiful! It was clear that it had beenvery recently renovated, but still kept it's Victorian charm. The staff was friendly warm andwelcoming. The bed was huge, beautiful and comfortable and the bathroom was spaciousand spotless. The lobby/common area was lovely and stocked with coffee, drinks andsnacks 24/7. There was a nice continental breakfast in the morning. Highly recommendedfor a stay in Gainesville and a better value than many hotels in town.Susan (booked through Hotels.com)"CHARMING AND BEAUTIFUL INN IN GAINESVILLE"When I arrived on Friday night, Susannah, the owner went already home. There wasa very friendly note left for me on the door. I went inside. The cottage is built inVictorial style, very clean and well-designed inside. A lot of sitting area and plantycoffee, tea, drinks, snacks were offered. My room was very clean, beautifullydesigned and incredibly comfortable. Susannah was very friendly, accomodating,and responed right away to my messages. I was in Gainsville for NanoFloridaconference, which occurs every year. When I come to that conference next year, Iwill definitely stay at Camellia Rose Inn. Thank you for my amazing stay, dearSusannah!Olya (booked through Expedia.com)"INCREDIBLY COMFORTABLE"
Page 24
Ed Rodriguez, Gregg Gelber, and Susannah Peddiepurchaed the beautiful Inn property in August of 2021. Ed and Gregg are both UF Gator grads and have a greataffinity for Gainesville. Gregg, his wife and two sons livein Miami, FL. Ed and his wife live in Fort Lauderdale.Susannah has lived in Gainesville for 20 years and lives inthe historic Duckpond neighborhood, around thecorner, with her husband and son. Susannah has been ashort-term rental host for 12+ year and loves it!Together, Ed, Gregg and Susannah have a vacation rentalproperty management company, Southern ComfortProperties, and they each own several short-term rentalproperties in Gainesville. They believe in investing in thecity of Gainesville and love that it's thriving withtravelers.They purchased the Camellia Rose Inn property as a wayof offering shorter stay options for their guests. Theymanage 1 bedroom houses and condos as well as largerhouses with as many as 6 bedrooms.They all have a passion for keeping the historic Innthriving so that people will keep coming back toGainesville and have a home away from home. Ourguests (you) are our focus. Thank you!ABOUT THEOWNERS
Page 25
ENJOYYOURSTAYT H E C AM EL LI AR O S E IN N2 0 5 SE 7 TH S T REE T G A I NES V I LLE , FL
Page 26
THANK YOU!P L E A S E C O M E B A C K S O O N
Page 27
INSTAGRAM WITH US@ C A M E L L I A _ R O S E _ I N N# S T A Y G A I N E S V I L L E@ S O U T H E R N C O M F O R T P R O P E R T I E S