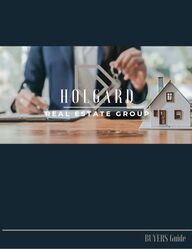 Return to flip book view
Buyers Guide
Page 1
R E A L E S T A T E G R O U P
Page 2
R E A L E S T A T E G R O U P
Page 3
OUR CORE VALUESP U T P E O P L E F I R S TPut the relationship side of business first. It's the most important part of what we do.Be respectful. Listen intently. Anticipate issues. And strive to make meaningfulconnections. We believe when we put relationships above all else, in every instance,everyone wins.I N N O V A T I V E S E R V I C EWhat can you do today that has never been done before? To change the way theindustry works, we have to change how we work. So question everything. Find newways to do old things. Surpass your client's expectations in even the smallest ofways.C R E A T E A C O M M U N I T YThough we have seven CORE VALUES, this one stands just a tiny bit above the rest.We're all in this together. We're creating a community of agents in a purpose-builtenvironment that feels like home. But community is really in the hands of itsmembers. We can create the environment, but it's up to you to support, celebrateand encourage one another. And to live our values. Oakwyn should feel like a happyextended family.R E A L E S T A T E N E R D SLove what you do. A lot. And find new ways to love it each and every day. There's somuch to learn, so many new trends to stay on top of in our industry. Relationships tobuild. Goals to meet. Be a student of our craft and share what you learn with yourpeers. Your passion is infectious.L E A D B Y E X A M P L EBe the change you wish to see in the world. That's Gandhi. And it's good advice.Model the behavior you'd like to see in the office, out in the field, and at industryevents. What are Oakwyn-like characteristics? Energy. Transparency. Humility. Wit.Passion. Trust. Intelligence. Be those things and you'll be part of the change.P U R S U E G R O W T H & L E A R N I N GHave a hungry mind. Feed it. The only way to improve personally and professionallyis to seek out and incorporate new learning and understanding into your practice.Read. Keep an open mind. Listen to each other. Listen to podcasts. Share whatyou've learned. We can all grow together.E M B R A C E & D R I V E C H A N G EWe work in a dynamic, always-changing business, and we want to be the onesleading that change, rather than reacting to it. So be bold. Be a leader. We're alsoopen to change on the inside. If there's something that could be improvedinternally, be bold and bring it up. If we can't embrace change on the inside, wecan't drive it on the outside.
Page 4
Page 5
BUYER AGENCYDOCUMENTS,How much can you afford:Down Payment Legal FeesInspection FeesTaxesMortgageUtilitiesMaintenanceInsuranceProperty TaxesCondo/Strata Fees
Page 6
Needs and Wants - one stopshoppingCostsTransaction CoordinatorAfter Sale Service1.23.4.Do background research.Prepare to offer.Explain all the details. Present and Negotiate the offerDuring the Offer Process we will:
Page 7
Financing: Home Inspection:Professional Advice: The seller can reject your offerIt is uncommon for an offer to be completely rejected. Ifthis happens we will follow up to see if there is anythingmore we can do.2The seller can "sign back" or counter your offerThis is common. The seller may want to alter some partof your offer, most likely the price.3.The seller can accept your offerPerfect, Congratulations!1.Go With a Licensed Home InspectorJoin the inspection You'll get it in writing No such thing as "perfect"
Page 8
Page 9
Completion Day: Possession Day:welcome you to your new home. Movers:Mailing Address:Utilities: MortgagePre-ApprovalFind the PerfectHomeDue Diligence toRemove Subjectsto OfferTimelinesPossession1-2 weeks 1-3 weeks 1-2 weeks +/- 30-90 daysfrom offer date
Page 10
Home Inspection Fees ($500 - $900)Lawyers or Notary fee ($600 - $900)Condo Move-in Fee ($50 - $200)Moving FeesGSTProperty Transfer TaxQualifying first-time home buyersQualifying buyers ofnew homes
Page 11
Home InsuranceLocksStrata Maintenance FeeUtility Hook-upsCommission FeesAdjustmentsProperty TaxesUtility Bills
Page 12
If salary or hourly: If self-employed: If incorporated:Proof of down payment Other documentationAppraisal Fee (approx. $300-450)It never hurts to ask if they will cover the cost!Application FeeTitle InsuranceMortgage Insurance (.60-3.85% of mortgage amt)
Page 13
Page 14
Page 15
C O N T A C TU SEric Nygard & Cam Holland604.715.2900HolgardGroup@gmail.comwww.HolgardGroup.com H O L G A R D G R O U P I S AD E D I C A T E D & P A S S I O N A T E R E A L E S T A T E T E A MR E A L E S T A T E G R O U P