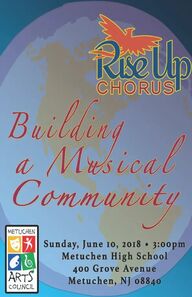 Return to flip book view
Building a Musical Community
Page 1
Page 2
w w w . r i s e u p c h o r u s . o r gFrom the Artistic DirectorAfter completing a project, I always take a step back reflect on the work done. Was the project completed to my satisfaction? Were our goals met? How could we have done more?As Rise Up Chorus concludes its inaugural season, my outlook as Artistic Director and founder of the organization is one of both happiness about how far we have come and hopefulness about the journey ahead. Let me explain why and how you can help us fulfill our mission.Without a doubt I am proud of what Rise Up Chorus has become and is continuing to develop into. We started with a simple idea: build a community of people who come together to make music and stay together because they actually like each other; do the right thing, no matter how difficult it may be; treat each other with respect and compassion and connect with those around us. From there, we build a Board of Directors, planned the season, grew our membership, built relationships with other organizations and venues around Central New Jersey, held three successful performances, and grew deep roots in our community. I am very satisfied with the results, and this project was completed to my satisfaction.Our community was built on guiding principles, and I believe that our community functions on those principles every time we meet. We are inspiring those around us, and we're growing our community every single day. Yes, our outcomes are consistent with our intentions, and they have exceeded my expectations.So much has gone well this season. We have engaged more adults in our community than I could have ever imagined. Our social outings have been highlights of my year, and I wouldn't trade them in for anything. I'm pretty sure that our adult members feel the same way. The program took on a life of its own, and it continues to do so even now that we are at the end of our season.
Page 3
w w w . r i s e u p c h o r u s . o r gHowever, we need to work harder to engage the youth of our community. The singers in our Youth Chorus are an incredible group of young people. They are destined to be leaders in our community, and they are already doing so much good in the world. I know there are other like-minded youth in our community who need to be part of something as special as Rise Up Chorus, and we need to do a better job reaching them.Going forward, I will continue to remind people just how special this community is. I know how special it is, and going forward, I will continue to spread the word about Rise Up Chorus because I know there are many more people out there who need to be part our community; they need Rise Up Chorus in their lives.This concert is entitled, "Building a Musical Community," and that's exactly what we're doing. The Rise Up Chorus community is a diverse community of people from all walks of life, from all cultural backgrounds, whose interests are as far reaching as the human imagination. However, we all come together as a single community: we are one. The music may bring us together, but the friendships we have forged and the community we have built has bound us together. By attending this concert, you have become part of the Rise Up Chorus community, and we welcome you with open arms. Hopefully, you'll choose to sing with us next season. Hopefully, you'll continue to attend our performances. Hopefully, you'll tell a friend or two about us. No matter the path you choose, you'll remember this experience. You'll remember what it feels like to be part of the Rise Up Chorus community.This may be our final concert of the season, but this is just the closing of the first chapter in our adventure. Thank you for helping to write the story of Rise Up Chorus!Matthew J. LaPineFounder and Artistic Director
Page 4
w w w . r i s e u p c h o r u s . o r gTo Metuchen Arts Council and the staff of Metuchen High School for workingwith us to provide the venue for concert to which allows our community tocelebrate many varied communities from around the world through theirmusic. To Father Zelley and the staff of St. Luke's Episcopal Church in Metuchenfor allowing us access to sorely needed and much appreciated rehearsal space.Their belief in our mission and trust in us has laid the groundwork for abrilliant and hopefully lasting collaboration. To our Chorus Members for their time in practicing and presenting themusic we will share today. Whether with Rise Up Chorus since the beginningor newly joining this session, their efforts are acknowledged and very muchappreciated.  To our Donors for their generous financial support towards this inauguralyear for Rise Up Chorus. It is difficult to adequately express how much weappreciate their creative approaches and personal sacrifices towards fundingall that we do. These contributions, and those that we hope will comefollowing your example, are essential to the communities we serve.To my fellow Board Members for the support they volunteered for Rise UpChorus from their time and talents for these many prior months of planning,refining and fund-raising for the organization. Without all these talentedindivduals, we would have been unable to bring this organization forward forthe benefit of its members, the community, and those we will serve over thecoming years.Much effort by many people has been required to get us to this day, and there are so many to thank for bringing this event to fruition. On the occasion of this concert, only our third since our formation, we extend our heartfelt gratitude…
Page 5
w w w . r i s e u p c h o r u s . o r gRise Up Chorus is made possiblein part by the generosity of the following donors:Diane MansmannKaren Meyer MarkleyMaryann McGuireAlexis MonacoThe Morace Family FoundationWeng PinedaBob PublikAlan RogersBarbara & Robert SandermanKaren SigelTrish & Bryon SmithKathleen & Michael SpadafinoMargie & Thomas ThomasThrivent FinancialMelissa TiceRebecca WeisbergBeth WilsonAnne & John WrightAnonymousIsabel BadilloNancy BelfordJane & Robert BerrySuzanne & Chris BishopLaura BogertCarol & Glenn BrinksB.J. CamireStephen CaputoO'Neil CassellsJack ClaypotchMike ConroyTina CorserTina Kush CrepezziKathy & Chris DaltonJoann DanielsDottie DargisChristine & Thomas DeLessioNancy DuddyGJ FlanneryDonald GibsonSusan HamiltonDeborah Herman & Jeffrey SteinhornSusana HernandezCheryl HicksKristina HornSusan JankiewiczStanislav JaraczAndy Kennedy-SiebertSusan KingsleyDavid KirpanTed & Norma KleinJessica & Matthew LaPineLinda LaPineChris LeslieDiana LuntAmy MalzoneTo our Founders and Music Professionals for their vision, and selfless contributions of artistic and technical talentRise Up Chorus would simply not exist without the contributions, dedication and trust of all those mentioned. We are so very grateful that we are on this journey together with you!With sincere appreciation to all,Chris M. BishopPresident, Board of Trustees
Page 6
Page 7
Page 8
Page 9
Page 10
Page 11
Page 12
MUSIC FROM AROUND THE WORLDB U I L D I N G A M U S I C A L C O M M U N I T YMatthewJ. LaPine, directorThomas DeLessio,accompanistRaymond Zipf, percussionWe Are...Fre OAh! Si Mon Moine Voulait DanserKorobushka (The Peddler)Mo Li Hua (The Jasmine Flower)Muie RenderaMa Bella BimbaIli-Ili Tulog Anay (Hush, Sleep for Now)ObaSeJeNgam Sang Duan (Shining Moon)Numi, Numi (A Hebrew Lullaby)Thula KlizeoIt Takes a VillageSisi Ni MojaDravidian Dithyrambarr. Jill Galinaarr. Donald Patriquinarr. Emily Crockerarr. Sten KallmanYsaye M Barnwellarr. C. A. Pinto Fonsecaarr. Donald Moorearr. Jude B. Roldanarr. Christopher Aspaasarr. Audrey Snyderarr. Jill GallinaJoseph Shabalala, arr.Leanne MacDonnellJoan SzymkoJacob NarverudVictor ParanjotiMary McGuire, soloist
Page 13
program notesWe Are … draws, in song, the eternal connection from generation to generation. The men provide percussive accompaniment while the women sing the primary lyric line: "For each child that's born, a morning star rises and sings to the universe who we are," The lyrics and music are by African-American composer Ysaÿe Maria Barnwell. Barnwell sang with the womens a cappella group "Sweet Honey in the Rock," from 1979 to 2013, introducing sign language interpretation to the ensemble. She appears as a vocalist and/or instrumentalist on more than 30 recordings with "Sweet Honey in the Rock" as well as with other artists. Barnwell also works as an actress whose credits include voice-over narration for film, video and radio productions, and writes books for children. Frè O ("O Brother") is a traditional Haitian song that tells the story of a man with an uncurable illness. In the song, the sick man's relatives note that they are both singing and drumming, while preparing for life after the man is gone. The bass (lower men's) voices sing a low dirge throughout this arrangement by the Swedish composer Sten Källman. "Frè O," sung in French Creole, evokes the Voodoo spirits Dambala, the serpent, and Ayida, the rainbow. Voodoo, which synthesizes Christianity and West African beliefs, "has been vastly misunderstood by most Western nations," Källman notes. His all-Swedish Voodoo band "Simbi" has toured extensively in Europe, Africa and North America, and was the only non-Haitian band invited to play at the 200th anniversary celebration of Haiti's independence in 2004. Dravidian Dithyramb embodies traces of music from South India. It also bears a resemblance to a form of Hindustani classical music which uses Persian and Arabic letter sounds as nonsense syllables. This song's composer, Victor Paranjoti (1906-1967), was an "eminent conductor and composer of Western music and a pioneer in synthesizing Western and Eastern musical forms," according to the Oxford Encyclopedia of the Music of India. "Dravidian" refers to the language and races of South India, and "Dithyramb" is a Greek term for a wild, passionate hymn. Ah! Si Mon Moine Voulait Danser, sung in French, is a folk song from Quebec, Canada, arranged by Donald Patriquin. Its translated title is "Oh! If only my monk would dance with me." In the lyric, a young lady dreams of the inducements she might offer her monk (her confessor) in order to get him to dance. The text takes on a double meaning as "moine" means both a spinning top and a monk. Patriquin, born in 1938 in Quebec, has been composing since he was 11. As a professor at McGill University for many years, he taught theory, musicianship and arranging, and directed a variety of ensembles. Korobushka ("The Peddler") is based on an 1861 poem by Nikolay Nekrasov about a Russian peddler and a girl named Katya who bargain over the price of his goods. The song, with its increasing tempo and the dance style associated with it, soon became a popular Russian folk song. Its arranger, Emily Holt Crocker, founded the Milwaukee Children's Choir and is recognized nationally as an expert in children's choirs.
Page 14
program notesMò Li Hua ("The Jasmine Flower") is a popular Chinese folk song dating back to the 18th century. In time, many regional variations were created, and the song gained popularity both in China and abroad. The song has become a cultural touchstone in China, played at the handover of Hong Kong to Chinese rule from the British in 1997, and as the theme score for the Olympic medal ceremonies at the Beijing Summer Games in 2008. Today's arrangement, by Jill Gallina, is sung in Chinese and English. Gallina is a full-time composer and a former elementary school teacher. She and her husband, Michael Gallina, both studied music at The College of New Jersey, which awarded them the Stanley Austin Alumni Award for their accomplishments in music composition.Ili-Ili Tulog Anay ("Hush, Sleep for Now") is a lullaby from the Panay Island in the Philippines. It is traditionally sung by an elder sister (or another female relative) to put a child to sleep when the mother is at work, or in the lyric, at the store buying bread. This arrangement, by Jude Bautista Roldan, is sung in its native Hiligaynon (Ilonggo). Roldan is the director of "Hail Mary the Children's Choir" in the Philippines. He gives composition, arranging and choral workshops in the Philippines and the United States.Ma Bella Bimba is an Italian folk song with a lilting waltz tempo and dance-like voicing that is well suited to its "beautiful ballerina" theme. Donald Moore arranged this version and provided the English lyrics. Moore is a composer, arranger and lyricist, as well as an organist and choirmaster for a church in Ohio. He also maintains a competitive midget car race team.Muié Rendêra combines two popular folk songs from Northeast Brazil, in an arrangement by the conductor Carlos Alberto Pinto Fonseco (1933-2006). The first of those folk songs is "Olê, Muié Rendêra." Its lyrics, in translation from Portuguese to English, are: "Hey, lacemaker woman, if you teach me how to weave, I'll teach you how to court." The second folk song is called "É Lampa, É Lampa, É Lampião." Its lyric, translated: "Virgulino is Lampeão. He is Lampa, Lampa, Lampa, he is Lampeão. His name is Virgulino, his nickname is Lampeão." For more than 40 years Pinto Fonseco was the main conductor of Coral Ars Nova, a choir affiliated with the Federal University of MinasGerais in Brazil.Oba Se Je is a Nigerian folk song whose title translates as "Here comes the King." The song, arranged by Christopher Aspaas, has driving rhythms, a call-and-response inner section and an exciting ending. Aspaas serves as Director of Choral Activities and Associate Professor of Music at Texas Christian University.Ngam Sang Duan ("Shining Moon") is a popular folk song from Northern Thailand thatThai children learn and then sing all their lives. It is a favorite song to accompany one of the most common Thai dances, the romvong, or lahm wong. In this arrangement by American choral composer Audrey Snyder, the English text is a loose translation meant to evoke the mood of the original, namely, dancing on a lovely summer's evening. Snyder's original choral compositions and arrangements span the spectrum of choral music from Top 40 pop to the classics and from elementary through high school levels. She is also a lecturer and clinician at choral workshops throughout the United States and Canada.
Page 15
program notesProgram notes by Eric SchwarzNumi, Numi is a traditional Hebrew lullaby which uses English for the main tune and Hebrew for the counterline. The song was written in Palestine in the 1920s by composer Yoel Engel, with Hebrew lyrics by Yekhil Halperin. Jill Gallina (see biography above) arranged the version we perform today.Thula Klizeo, sung as a chant, was composed (words and music) by Joseph Shabalala in the late 1980s while riding in a taxi in New York City. At that moment, he was homesick for his native South Africa, still under apartheid rule separating its black and white citizens. Shabalala missed his children and didn't know if he would be allowed to return. Translation of the Zulu lyric: Thula (be still), klizeo (my heart), Na la pa sey kiya (even here I am at home). Shabalala is best known for his work with Ladysmith Black Mambazo and Paul Simon."It takes a village to raise a child" is a West African proverb, adapted by American choral composer Joan Szymko (words and music). In her lyric, Szymko notes that the whole village shares in both the burden and joy of raising a child. The four vocal rhythms in It Takes a Village create a joyful spirit. On her website, Szymko writes that she is "drawn to texts that invoke divine grace, speak to the universal yearning for good and that nurture a compassionate heart."The adult and youth choruses come together to sing Sisi Ni Moja. The American composer Jacob Narverud wrote this song (words and music) in 2015. Narverud tells the story of the song: "I wanted to create an uplifting, hopeful song that had a modern, popular-style vibe and dealt with the choir's theme of unity and one-ness. Since the piece was intended to represent all people and all cultures, I sought to write a text that would reflect just that. I was teaching high school at the time, and a student in one of my choirs was from Kenya. I asked her to assist me with a Swahili phrase that I could combine with a new original text, which would translate specifically to 'We are One.' Though not a common Swahili phrase, we came up with 'Sisi ni moja,' pronounced 'moh-jah' with a hard 'J.' 'Heja' (pronounced 'hey-yah') is a non-word with no literal meaning, and does not represent any specific culture. It is given a more instrumental treatment in the chorus, acting as a joyful, declamatory backdrop to the song's message of unity. This 'celebratory chant' mirrors the piano and djembe's heavy rhythmic influence, energizing and driving the song forward."
Page 16
Rise Up Chorus Board MembersChris M. Bishop -Board PresidentThomas DeLessio - Board AdministratorAngela Dohl - Events ManagerJessica LaPine - Director of Social ProgramsMatthewJ. LaPine - Founder & Artistic DirectorChristina Leslie - Communications Director Kathleen Spadafino - Director of Education& OutreachThomas Thomas - Board TreasurerGustavo AmaralClaudia AsmuthNoble AvellinoIsabel BadilloMaria BalboaCarol BaldiNancy BelfordNancy BernheimerTom BishYolande CallenderMachiko CaputoStephen CaputoSue CeaMary Jane ConnollyNancy ConroySherri DamociAnita DaughertyDuffy DillingerAngela DohlShari GarretsonJulie Ann Glaz-BoppGregory HeimerlJack HicksSusan KingsleyDavid KirpanTerry KohlValerie KostycLogan LaudenslagerChristina LeslieMary McGuireMaryann McGuireJean MeyersWendy MilazzoDanielle MiyagishimaMary Jo PaulmennJoAnn PollEmily PresutoLuisa SchoepfEric SchwarzMickey SeppiKaren SiegelShirley SmoyakKathy SpadafinoKathy StaegerRichard TabedzkiTom ThomasDonna TiuAnton YudinJack HicksJakub JaraczMartina JaraczovaJakob KrombholzLuke KrombholzAnna LeonLuisa SchoepfKanisha ShivGustavo AmaralNoble AvellinoMadison BelfordGregory HeimerlYouth Chorus MembersAdult Chorus Membersw w w . r i s e u p c h o r u s . o r g
Page 17
COME AND SING WITH US!Our next season will begin in September.All are welcome, no auditions necessary!For information and to sign up email or call: mlapine@riseupchorus.org  732-662-4469
Page 18
Page 19
Page 20
Page 21
Page 22
Page 23
w w w . r i s e u p c h o r u s . o r g
Page 24