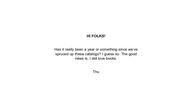 Return to flip book view
Bookseller's Choice - Thu
Page 1
Hello, I am Thu. I have read a thousand books, but I still love books.
Page 2
Estranged sisters Jayne and June suddenly become the only ones each can rely on. Choi deftly shows vulnerability, what it takes to accept someone into an area of trust, and the responsibility of sharing emotional weight.A companion piece to Strange Weather in Tokyo where one recalls a story from their childhood on a rainy day. It's perfect.What makes!Sanpaku!so special is the main character, Marcine's, connection to her late lola and the lengths she takes to compensate for it after her death. Realizing the space your loved ones and their memories occupy in your heart. A gorgeous and quirky coming-of-age graphic novel that tackles love, family, and self-realization.!Adorned in embroidered dragons and phoenixes and draped with gold tassels, the Duck House is all the stuff of our Chinese takeout fantasies! More than that, it is the Han family's legacy—a place where veteran waiters Nan and Ah-Jack have built their lives, and where the next generation, Annie and Pat, work out their post-pubescent awkwardness. In the midst of disaster, this colorful cast of characters illustrate a rich and heartfelt story about culture and how family can be defined outside of bloodlines.This!is not quite your typical love story. A treat for fans of Haruki Murakami's love stories like Norwegian Wood,!SWT!thoughtfully renders humanism where Murakami's other-worldly characters miss. In addition, read it for the vivid Tokyo cityscape and drool-worthy Japanese meals.Kwon achieves the impossible by bridging the spectrum faith and belief in this alluring novel about three!strangers from troubled pasts who become tangled with a religious cult with secret ties to North Korea.!
Page 3
An energetic and wholesome Young Adult novel about a teen that dreams of becoming a successful body positive Korean pop star against all odds.What do we know about the unnamed narrator in Weike Wang's!Chemistry? She has roughly a year to finishing her Ph.D. in chemistry (and fulfilling her parents dreams), her boyfriend Eric proposed (twice), but all she can think is how she's not up to the task. Hilarious, smart, penetrating, and poignant, Wang's narrator is brilliant albeit lacking in social skills whose relentless and polarizing sensibilities makes her the greatest unsung hero.For 18 years, fluorescent lighting, beeps and chimes, ebb and flow, and even the food of the convenience store courses through Keiko's veins. The convenience store provides for her and it's the life she knows. But when this life clashes with her family's wishes for her to meet society's standards, she is resigned to conform. An entertaining and refreshing critique on the pressures of society.Memorial!is!about a gay couple, Benson, a day care worker!and Mike, a chef, whose relationship has reached a place!between comfort and complacency. This is a reassuring debut with rhythmic prose and an air of unresolved positivity that percolates hope throughout the story.The main character thinks she's an alien, but that's not the only twist. Not even close. This sensuous and weird little book sees our world through iridescent, fish-eyed goggles, and our social constructs as inscrutable ciphers. Absorbing and other worldly.A beautiful story about two neighbored widows in a small, rural town who develop a friendship in spite of their loneliness and an opportunity to seize happiness.
Page 4
Part Japanese ghost story and a young boy's reconciliation and catharsis from unspeakable brutality. 10 year old Takeru casts a pure lens to heartless and dark places from his memories. In this eerie and breathtaking novel, the reader's path teeters on the verge of peace and anguish.How often do we get to grow along with and spend the greater part of our lives with another person? Would creating and nurturing something together help us anticipate and strengthen our bonds? Can loss and change define relationships? The Ensemble!affords us a rare opportunity to witness bonds that surpass time and what defines and strengthens them through the lives of the Van Ness String Quartet.What I love about this enigmatic story collection is how each ending leaves your consciousness teetering between hope and ambivalence without forcing your hand. Each story is a delicate and precious gem.Morayo Da Silva is an elderly woman living in San Francisco who is making the rounds to celebrate her birthday. She falls down, and while nothing serious happens, her rehabilitation becomes a reflection of a brilliant and imperfectly radiant life.A retelling of Liberia's past that combines history, magic, and myth from the perspectives of the invincible June Dey, the stealthy Norman Aragon, and the indestructible Gbessa. Gifty is a young, Black scientist who studies the brain to understand her brother Nana, a gifted athlete lost to addiction. An intimate story that draws on the relationship between immigrant children and parents, mental health, and grief. Gyasi's writing is a wealth that enriches my soul with every word.
Page 5
Picture books aren't just for kids. I'm not a minimalist by any means, but I think less is more when it comes to words and expressions. These books will resonate to anyone with a heart. In other words, they are magical.A grumpy old man and a boy with his frog jacket cross paths on a rainy day. A silly reminder to lighten up and splash in all the puddles.A grandson and grandfather find a way to bond in a world with no words. The messaging and illustrations in this book are equally gorgeous!A mother and daughter's beloved ritual is almost ruined until they realize that the best part of every Saturday is being together.My boyfriend is the space freak and I asked him why he loves space. He said, "because it makes you wonder." We both love Curiosity because it gives this symbolic machine a soul.This tiny book is poetry about the colorful world around us and how that vibrancy feeds our energy.
Page 6
I love cooking. I love the toil of challenging recipes, the lush history behind a beloved dish, experimenting with new ingredients, and single use appliances. For the most part, the cookbooks you'll see at our store steer towards the accessible and delicious. Here are a few of my favorites which are balanced in practicality and adventure: