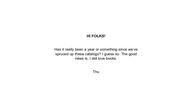 Return to flip book view
Bookseller's Choice - Thu
Page 1
HI FOLKS!Has it really been a year or something since we've spruced up these catalogs? I guess so. The good news is, I still love books.Thu
Page 2
CONTENTSPage 1:● Love in the Big City By Park Sang Young (Fiction, Romance)● When Death Takes Something From You Give It Back By Naja Marie Aidt (Memoir, Grief)● Land of Big Numbers By Te-Ping Chen (Short Stories)● Emergency Contact By Mary H.K. Choi (Fiction, Young Adult Romance)Page 2:● Yolk By Mary H.K. Choi (Fiction, Romance)● The Office of Historical Corrections By Danielle Evans (Short Stories)● Lesser Known Monsters of the 21st Century By Kim Fu (Short Stories)● Little Labors (Essays, Parenthood)Page 3:● Sanpaku By Kate Gavino (Graphic Novel)● Transcendent Kingdom By Yaa Gyasi (Fiction)● Saint Sebastian's Abyss By Mark Haber (Fiction)● Reinhardt's Garden By Mark Haber (Fiction)Page 4:● Signs Preceding the End of the World By Yuri Herrera (Fiction)● Fiona and Jane By Jean Chen Ho (Fiction)● The Kiss Quotient By Helen Hoang (Fiction, Romance)● Forbidden City By Vanessa Hua (Historical Fiction)Page 5:● Eleutheria By Allegra Hyde (Fiction)● The Woman in the Purple Skirt By Natsuko Imamura (Fiction)● Goodbye, Vitamin By Rachel Khong (Fiction)● On the Origin of Species and Other Stories By Kim Bo-Young (Short Stories, Science Fiction)Page 6:● Strange Weather in Tokyo By Hiromi Kawakami (Fiction)● Parade: A Folktale By Hiromi Kawakami (Fiction)● People in My Neighborhood By Hiromi Kawakami (Short Stories)● The Magical Language of Others By E.J. Koh (Memoir)Page 7:● The Incendiaries By R.O. Kwon (Fiction)● Heavy: An American Memoir By Kiese Laymon (Memoir)● I'll Be the One By Lyla Lee (Fiction, Young Adult)● Portrait of a Thief By Grace D. Li (Fiction)Page 8:● Number One Chinese Restaurant By Lillian Li (Fiction)● The Hidden Girl and Other Stories By Ken Liu (Short Stories, Science Fiction)● Last of Her Name By Mimi Lok (Short Stories)● Like a Mule Bringing Ice Cream to the Sun By Sara Ladipo Manyika (Fiction)
Page 3
Page 9:● She Would Be King By Wayétu Moore (Fiction)● Convenience Store Woman By Sayaka Murata (Fiction)● Earthlings By Sayaka Murata (Fiction)● Life Ceremony By Sayaka Murata (Fiction)Page 10:● Bezoar: And Other Unsettling Stories By Guadalupe Nettel (Short Stories)● Things We Lost to the Water By Eric Nguyen (Fiction)● Lion Cross Point By Masatsugu Ono (Fiction)● The Book of Form and Emptiness By Ruth Ozeki (Fiction)Page 11:● The Astonishing Color of After By Emily X.R. Pan (Fiction, Young Adult)● The Art of Gathering By Priya Parker (Psychology)● The Secret Lives of Church Ladies By Deesha Philyaw (Short Stories)● Bright By Duanwad Pimwana (Fiction)Page 12:● Ma and Me By Putsata Reang (Memoir)● Afterparties By Anthony Veasna So (Short Stories)● Chemistry By Weike Wang (Fiction)● Joan is Okay By Weike Wang (Fiction)Page 13:● The Collected Schizophrenias By Esmé Weijun Wang (Memoir, Essays)● You've Changed By Pyae Moe Thet War (Memoir, Essays)● Lot By Bryan Washington (Short Stories)● Memorial By Bryan Washington (Fiction)Page 14:● Seven Days in June By Tia Williams (Fiction, Romance)● What Did You Eat Yesterday By Fumi Yoshinaga (Manga)● Iron Widow By Xiran Jay Zhao (Science Fiction)Page 15: Picture books I lovePage 16: Picture books I love cont'dPage 17: What I'm cookingPage 18: What I'm cooking cont'd
Page 4
LOVE IN THE BIG CITY: A NOVELBy Park Sang YoungThis is truly a book I cannot stop thinking about. This hilarious and wondrous novel is about a young gay man discovering joy in love and solitude with loneliness in the sparking city of Seoul, South Korea. Each moment made me wonder whether blips such as laughter between best friends, holding a loved one tightly, saying goodbye–could contain multitudes.WHEN DEATH TAKES SOMETHING FROM YOU GIVE IT BACK: Carl's BookBy Naja Marie AidtThe author reflects on the sudden and unexpected passing of her 25-year-old son. I've never read anything quite like it. Part discovery, part grieving–overall a beautiful elegy.LAND OF BIG NUMBERS: STORIESBy Te-Ping ChenThis collection of stories centers Chinese diasporic voices and feels like being on the edge of a cliff where exhilaration and subtlety is founded in the fear of the the unknown. What drives these characters from bleary life situations and impossible odds to dream? I think the answers are all buried deep within all of us, but have yet to be disturbed. EMERGENCY CONTACTBy Mary H.K. ChoiA cool page turner about someone you can share anything and whatever to. Sometimes this person makes your stomach flutter. But most importantly, they reassures you that no matter what awful and terrible human thing you're going through–they'll be in your corner.
Page 5
YOLKBy Mary H.K. ChoiSet in New York City, estranged sisters Jayne and June suddenly become the only ones the other can rely on. Choi's superb novel shows us a side of vulnerability, what it takes to accept someone into an area of trust, and the responsibility of sharing someone's emotional weight. THE OFFICE OF HISTORICAL CORRECTIONS: A NOVELLA AND STORIESBy Danielle EvansThese contemporary short stories share a concise and piercing voice and explore human complexities. Quietly grating against the grain, this collection makes no excuses for our own bad behavior. LESSER KNOWN MONSTERS OF THE 21ST CENTURYBy Kim FuDo you ever have the feeling that you'll accidentally stumble upon a vampire coven or unveil a super power leading to a life on the run from secret entities? Or just fancy a short story? Fu's stories evoke that feeling of something dark that coexists among us. Whether fear is a product of the mind, man made, or supernatural -- this collection is the perfect dose of adrenaline.LITTLE LABORSBy Rivka GalchenPart essay and summoned fiction, Little Labors is 130 pages about motherhood that centers children as magical mythical beings, subjects in literature, and their profound existence. Whatever I say about this weird little book should not at all be definitive. I would gladly throw hands and open it up for interpretation.
Page 6
SANPAKUBy Kate GavinoAfter the passing of her lola, Marcine goes to great lengths to compensate for the empty space in her heart. A gorgeous and quirky coming-of-age graphic novel that tackles family, love, and self-realization.TRANSCENDENT KINGDOM: A NOVELBy Yaa GyasiGifty is a young Black scientist who studies the brain to understand her brother Nana, a gifted athlete lost to addiction. An intimate story that draws on the relationship between immigrant children and parents, mental health, and grief. Gyasi's writing is a wealth that will enrich your soul with every word.SAINT SEBASTIAN'S ABYSSBy Mark HaberWhen an art critic/scholar is called to the deathbed of his now estranged best friend–also an art critic/scholar–he reminisces on the painting that brought them together. Saint Sebastian's Abyss is a feverish story that will pitch you into the world of art, ego, and obsession.REINHARDT'S GARDENBy Mark HaberAn unassuming gem of a book about a fanatical and obsessive philosopher, his dutiful servant, and a deliriously wild journey through the jungles of South America.
Page 7
SIGNS PRECEDING THE END OF THE WORLDBy Yuri HerreraI stayed up past my bedtime to finish this one. Luckily, at only 107 pages, it wasn't too long after but it was worth every sleepless minute! The young woman narrator goes across the border to retrieve her brother. On a journey so perilous, you can hardly sense a trace of fear. She is a badass.FIONA AND JANEBy Jean Chen HoFiona and Jane are best friends. Time passes and their friendship wavers through tumultuous experiences and personal growths. As these two women evolve and learn to accept themselves, their friendship also strengthens.THE KISS QUOTIENTBy Helen HoangA steamy and playful read about two flawed, but down-to-the-core good people who enter an unusual arrangement. Never a great idea, of course, but makes for a fun book! Don't drag this "beach read" until you've tried it. It's the right amount of sweetness that you didn't know you deserved.FORBIDDEN CITY: A NOVELBy Vanessa HuaSet in the 1960s during China's Cultural Revolution, 16-year-old Mei wields her wits and strength to seize an opportunity to escape her village and rise through the ranks to become Mao Zedong's protege and lover and overcome dangerous missions. FORBIDDEN CITY is an astonishing propulsion through a time, a place, and a movement that is largely misunderstood, but still considered one of the most turbulent periods in China's history. Told from a unique perspective, but with a narrative that is entirely of its own.
Page 8
ELEUTHERIABy Allegra HydeWilla Marks is an unforgettable heroine who has above all chosen hope over some of the uglier realities of life. After being betrayed and finding resonance in Living the Solution, a guide to fighting climate change, she travels to the island of Eleutheria to join the author and his group of eco-warriors. When the leader goes missing, Willa will stop at nothing to realize the camp's mission. But at what cost?THE WOMAN IN THE PURPLE SKIRTBy Natsuko ImamuraDisturbing. Incredibly unsettling. I loved it!GOODBYE, VITAMINBy Rachel KhongAn inventory of touching sentiments that reads like a whimsy melancholic indie film. Freshly broken off from an engagement, Ruth breaks away from her standing obligations to be with her father, who is slowly losing his facilities to dementia.ON THE ORIGIN OF SPECIES AND OTHER STORIESBy Kim Bo-YoungExcellent and absorbing futuristic stories varying in subject and theme. Kim's stories made me wonder–what is our reality? How do we define existence? When we think about existence and reality, are we bound by a rigid mindset and how could we make it more fluid?
Page 9
STRANGE WEATHER IN TOKYOBy Hiromi KawakamiThis is not quite your typical love story, but a real treat for fans of Haruki Murakami's books about relationships like Norwegian Wood. However, Kawakami thoughtfully renders humans where Murakami's other-worldly characters miss. In addition, don't miss out on these vivid Tokyo cityscapes and drool-worthy Japanese meals.PARADE: A FOLKTALEBy Hiromi KawakamiA companion to Strange Weather in Tokyo about a man and a woman laying on a leisurely day. The woman, Tsukiko, recollects a story from her childhood. This little book is perfection. In a way that's sweet, breathtaking, and reminiscent of that peaceful feeling when you're sleeping to the sound of rain droplets puckering against the rooftop. PEOPLE FROM MY NEIGHBORHOODBy Hiromi KawakamiEveryday magic and peaceful wonderment is a matter-of-fact in this yearbook of micro-fiction profiling each resident from this peculiar neighborhood.THE MAGICAL LANGUAGE OF OTHERS: A MEMOIRBy E.J. KohKoh is a poet and translator and the letters in this book are from her mother (living in South Korea) written to her (living in the United States) during the author's teenage years. Each letter demonstrates the tenderness and care adults use to shield children from the complexity of emotion and life.
Page 10
THE INCENDIARIES: A NOVELBy R.O. KwonKwon achieves the impossible by bridging the spectrum of faith and belief in this alluring novel about three strangers from troubled pasts who become tangled with a religious cult with secret ties of North Korea.HEAVY: AN AMERICAN MEMOIRBy Kiese LaymonDoes vice have a face, a body, or is vice a manifestation of how you love? Kiese Laymon's life growing up in Mississippi and his complicated relationship with body, family, gambling, sex, and writing is incredibly tender and lyrical.PORTRAIT OF A THIEF: A NOVELBy Grace D. LiFive Asian American college students plan multiple heists to reclaim looted art in this sleek and elaborate novel that examines identity and the impact of colonialism. I'LL BE THE ONEBy Lyla LeeAn energetic and sweet story about a plus-size teen that dreams of becoming a successful body positive K-pop star against all odds.
Page 11
NUMBER ONE CHINESE RESTAURANTBy Lillian LiAdorned with embroidered dragons and phoenixes and draped in gold tassels, the Duck House is all the stuff of Chinese takeout fantasies. More than that, it is the Han family's legacy–a place where veteran waiters Nan and Ah-Jack have built their lives, and where the next generation, Annie and Pat, work out their post-pubescent awkwardness. In the midst of disaster, this colorful cast illustrates a rich and heartfelt story about culture and how family can be defined outside of bloodlines. THE HIDDEN GIRL AND OTHER STORIESBy Ken LiuLiu is a master of speculative fiction and this book is a house of smoke and mirrors daring readers into a vast space both futile and necessary. Alien life, climate change, mythical assassins, and technology adorn this collection in a fierce battlefield which redefines heroes and antiheroes and reckons with form, memory, and morality.LAST OF HER NAMEBy Mimi LokWhat I love about this enigmatic story collection is how each ending leaves your consciousness teetering between ambivalence and hope without forcing your judgment. Each story is a precious gem. LIKE A MULE BRINGING ICE CREAM TO THE SUNBy Sarah Ladipo ManyikaMorayo Da Silva is an elderly woman living in San Francisco who is making the rounds to celebrate her birthday. She falls down, and thankfully nothing bad happens, but her rehabilitation becomes a reflection of her glorious and imperfectly radiant life.
Page 12
SHE WOULD BE KING: A NOVELBy Wayétu MooreA retelling of Liberia's past that combines history, magic, and myth from the perspectives of the invincible June Dey, the stealthy Norman Aragon, and the indestructible Gbessa. Such an invigorating read for fans of lush and woven narratives.CONVENIENCE STORE WOMANBy Sayaka MurataFor 18 years, fluorescent lighting, beeps, chimes, and even the food of the convenience store where she works courses through Keiko's veins. The convenience store provides for the life she knows, but when it clashes with her family's expectations to conform, she feels resigned. An entertaining and fresh critique on the pressures of society. EARTHLINGSBy Sayaka MurataA "coming-of-age" novella with a twist. The main character believes she's an alien. But that's not the only twist. Not even close. Sensuous and weird, Earthlings views our planet through iridescent, fish-eyed goggles. To her, our social constructs are inscrutable ciphers. Absurd and other-worldly, this was one I could not put down.LIFE CEREMONYBy Sayaka MurataA can of worms that's wriggling with intensity, weirdness, and appalling satisfaction featuring antiheroes, eerily placid social norms, and sex. A pleasure that'll make you wonder whether you're on the right planet.
Page 13
BEZOAR: AND OTHER UNSETTLING STORIESBy Guadalupe NettelI love love love Guadalupe Nettel's writing and this collection of gorgeous yet "unsettling" stories–unsettling, but the kind I can absolutely live with. For what can be as discomforting as the reality we accept everyday?THINGS WE LOST TO THE WATERBy Eric NguyenSometimes I wonder if I need another book about refugee experiences, about another person's struggles, about how hard and unfair life can be. Things We Lost in the Water reminds me to read a story for what it is. That is–letting it unfurl and allowing the characters to grow as intended–fighting my bias from making these words a monolithic experience and forcing my mind against efficiency. My advice is to read all of this and savor every aberration of human experience.LION CROSS POINTBy Masatsugu OnoPart Japanese ghost story and a young boy's reconciliation and catharsis from unspeakable brutality. 10-year-old Takeru casts a pure lens to heartless and dark places from his memories. In this eerie and breathtaking novel, the reader's path teeters on the verge of peace and anguish.THE BOOK OF FORM AND EMPTINESSBy Ruth OzekiLittle clues like freshly torn bread crumbs, guiding you through a maze of your brightest, darkest, and wholly true map of your soul in the form of a (not so little) book. This is a story that's equally splendid, strange, and wise.
Page 14
THE ASTONISHING COLOR OF AFTERBy Emily X. R. PanLeigh is a teenager whose mother dies by suicide. Soon after, she is visited by a large, wondrous crane that is without a doubt her mom. She travels to Taiwan to visit her grandparents, that she has never before met, to learn about her roots and the person her mom was. A transportative and vividly read.THE ART OF GATHERING: How We Meet and Why It MattersBy Priya ParkerIt's rare that you'll find one of my recommendations in this section of the store, but I'm genuinely interested in this particular subject and that is: how people gather and what makes these experiences so memorable (or not). I am not saying this writing will change your life, but I think everyone should own up to their interests. When you find that book on what you were meant to be a weirdo for, seize it.THE SECRET LIVES OF CHURCH LADIESBy Deesha PhilyawAn unbelievably breathtaking collection of stories oozing with intimacy and desire, sisterhood, boundless potential. I cannot describe it completely, but this book is an embrace.BRIGHTBy Duanwad PimwanaTold from the perspective of 5-year-old Kampol who is abandoned by his parents and cared for by neighbors. This whimsical yet delicate read, told in vignettes, has taught me so much about resilience, community, and how life is the most important teacher of all.
Page 15
MA AND ME: A MEMOIRBy Putsata ReangThis is a story in two parts. First, teased and determinedly exhumed by Cambodian American journalist, Putsata Reang, her mother's experience of escaping Cambodia and the Khmer genocide and raising a family in America, a folkloric account revealing buried trauma, seeded guilt, cultural chasms, and generational differences. Then, a coming-of-age story about familial duties, the rockiness that comes with straddling two cultures, sexuality, social debt, and the mending of two kindred and fiercely bound yet polarizing women. An extraordinary memoir that moved me to tears. AFTERPARTIES: STORIESBy Anthony Veasna SoAn experience akin to a warm welcome at an awkward family affair with stifling aunties and not-quite-relatives with questionable business ties. A collection of hilarious and dark stories of the tireless and exuberant lives within a tightly knit community of Cambodian Americans. So's caring voice expresses his clear adoration for chaos and uncertain conciliation. CHEMISTRYBy Weike WangWhat do we know about our unnamed narrator? She has roughly a year to finishing up her Ph.D. in chemistry (fulfilling her parents' dreams) and her boyfriend has proposed (twice). But all she can think about is how she's not up to the task. Brilliant, relentless, and sometimes lacking in certain social skills, she could be an unsung hero to us all.JOAN IS OKAYBy Weike WangOn top of being marvelous and funny, Joan is Okay is of those books that will get you through the day. It's one that will bring you closer to the people that feel far away–the ones you wish you could reach and the ones you think don't care–but probably care the most.
Page 16
THE COLLECTED SCHIZOPHRENIAS: ESSAYSBy Esmé Weijun WangIt's strange and discomforting how rapturously haunting it felt to read about Wang's life, her experience with schizophrenia, and the daily realities and treatment of people with disabilities. Reading this book has seriously brought me closer to understanding this gray space. Wang is brilliant.YOU'VE CHANGED: Fake Accents, Feminism, and Other Comedies from MyanmarBy Pyae Moe Thet WarWar has given us an achingly funny, smart, and comforting book that challenges us to explore nuance with regard to belonging, identity, and love. With that being said, it's one of those reads that will make you more hopeful and will linger on with you.LOT: STORIESBy Bryan WashingtonI'm from Houston, where the stories in this book take place. For me, the attitude, resilience, diversity, and vibrancy of the landscape and the people that inhabit it resonate profoundly in Lot. These stories cut deep and sometimes I wonder if I see bits of that here in Oakland too. MEMORIALBy Bryan WashingtonMemorial is about a gay couple, Benson, a daycare worker and Mike, a chef. Their relationship has reached a place between comfort and complacency. A reassuring debut with rhythmic prose and an air of unresolved positivity that percolates hope throughout the story. Easily one of my favorite books!
Page 17
SEVEN DAYS IN JUNEBy Tia WilliamsA flat out fun and steamy romance about two celebrated Black authors whose mysterious histories and complex emotional backgrounds collide for the most explosive chemistry. You'll have a real good time with this one!IRON WIDOWBy Xiran Jay ZhaoAn exhilarating and propulsive novel blending Chinese folklore and spirit powered mecha (giant robots!) in a battle of will.WHAT DID YOU EAT YESTERDAY? (Series)By Fumi YoshinagaA manga series about two middle-aged men and the meals they share together. I am convinced that this splendid series is the 6th love language. Also, includes tasty recipes.Book 1: Chestnut rice, boiled bamboo shoots with konjac and wakame seaweed, salmon-and-burdock seasoned mixed riceBook 2: Beef-and-celery oyster sauce stir-fry, milky agar cubes with brown sugar syrup, mustard-and-mayo dressed asparagus, foiled-baked salmonBook 3: Lotus root kinpira, Sapporo Ichiban miso ramen, snack-dish & side-dish crepes
Page 18
WHILE WE WAITBy Judy Ann Sadler, Élodie DuhameauA fidgety boy is with his grandmother while they wait for the baby to arrive. He is anxious so his grandma encourages him to focus on knitting on garment for his future sibling. Pretty soon his jitters disappear and he welcomes his new sibling with a gift. WITH A BUTTERFLY'S WINGSBy Pilar López Ávila, Zuzanna Celej (Illustrator), Jon Brokenbrow (Translator)A magnificent picture book about a child learning about the birds, flowers, and the beauty of nature from their grandmother and admiration for the knowledged being passed to them.BOOK OF QUESTIONSBy Pablo Neruda, Paloma Valdivia (Illustrator), Sara Lissa Paulson (Translator)A gorgeously done bilingual book in English and Spanish of the questions from poet Pablo Neruda's Book of Questions. A great gift for poetry or the philosopher at heart. THE BEAR AND THE LITTLE GREEN THINGBy DiandianA little sprout finds its way onto a bear's coat and they spend the season as friends in this spare and charming book about the subtle and everlasting impact of friendships.JUST TO SEEBy Morgane de Cadier, Florian Pigé (Illustrator)A girl decides to climb higher into the tree and is amazed by all of the things she discovers. An intriguing book about exploring and seeing things in new and unexpected ways.TELLING STORIES WRONGBy Gianni Rodari, Beatrice Alemagna (Illustrator)When one part leads to two, then three, and eventually multiple details of the story get mixed up, the results can be surprising and glorious.
Page 19
JOHN'S TURNBy Mac Barnett, Kate Berube (Illustrator)A charming book about everyone's hidden talents and how just by being yourself, you make the world a better place.THE BOY WITH FLOWERS IN HIS HAIRBy JarvisA stunningly done picture book about a child whose best friend experiences a quiet and devastating change. What's a friend to do, but find a way.WILDFLOWERS GROW (Board Book)By Amber Hendricks, Gavin Scott (Illustrator)The pictures and words are so pretty and remind me of some of the books I would gravitate to as a kid. There's also a different version of this board book about butterflies that's equally delightful.NOODLES, PLEASE! (Board Book)By Cheryl Yau Chepusova, Rebecca Hollingsworth (Illustrator)For me, this one's a no brainer. I'm not a foodie, but I love to eat so there is no going wrong with A-to-Z noodle dishes from around the world.99 TOMATOES AND ONE POTATO (Board Book)By Delphine ChedruA well done search-and-find board book that really does a lot more than you would think. I found the bright pictures in this book entertaining for examining details and comparing differences.HUNDRED YEARS OF HAPPINESSBy Thanhhà Lai, Nguyen Quang (Illustrator), Kim Lien (Illustrator)I never thought I would see some of the imagery from my Vietnamese culture in a book like this, but I'm in awe the vivid illustrations and tender story between a child, grandmother, and the passing of memories.
Page 20
What I've been cookingJasmine Guillory bought this book so I did too. Did I mention there are lemon bars in here?I'm an Instant Pot queen and use mine to prepare meals every week. I love the formatting of all the Milk Street cookbooks and this one of the few books that I've cooked entirely through.Tofu has always been a staple in my home. We have at least ten blocks of it at any given time so homemade tofu was something I was curious about. Consider it the new sourdough project.One of the most gorgeous and inspiring cookbooks. I love spice. I love curries, and the flavors that come together in Sambal Shiok are divine!I consider this more of a glossary on how to understand different vegetables in Asian dishes. For the recipes, simplicity and the natural flavors are the key. Honestly, this book is a feat in of itself. You can really tell a lot of creativity and thought was dedicated to each recipe. I think…you need it. Ok, some of y'all are not going to like this, but there are many important *delicious* flavors that you just don't get here in the Bay Area. Your best bet is to become a master chef instead of blowing hundreds of dollars on some of the spots popping up here. I say, start here.
Page 21
What I've been cooking cont'dI think we'll be seeing a lot more of these types of cookbooks soon, but honestly Cho has set us up with these comforting and scrumptious recipes for life.Newman's second cookbook on Filipino cuisine is soooooo dreamy. I think there are a lot of Filipino food haters out there and I cannot understand why. You can practically see the love cooked into every dish.Not gonna lie, I purchased this one based solely on looks. You'll never in a million years see me eating soup dumplings in such dramatic lighting, but one can dream. But also, I did prepare some bomb as hell dishes from the book.