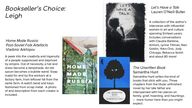 Return to flip book view
Bookseller's Choice - Leigh
Page 1
Bookseller's Choice:LeighLet's Have a TalkLauren O'Neill ButlerThe Unwritten BookSamantha HuntHome Made Russia:Post-Soviet Folk ArtefactsVladimir ArkhipovA collection of the author's interviews with influential women in art and culture spanning thirteen years. Includes conversations with Claudia Rankine, Anhoni, Lynne Tillman, Nan Goldin, Yoko Ono, Judy Chicago, Rebecca Solnit and about 80 more! Samantha Hunt writes the kind of books that stick with you. Three chapters from the titular unfinished novel by her late father are interspersed with her pieces on family, grief, hoarding, and hauntings – more humor here than you might expect. A peek into the creativity and ingenuity of a people suppressed and deprived by empire. Out of necessity, a hat and dress become a lampshade. An old spoon becomes a bubble wand. Soap made for and by the workers at a factory farm, from leftover fat from the same farm. A watch band and keys fashioned from scrap metal. A photo of and description from each creator is included.
Page 2
Body WorkMelissa FebosMy Autobiography of Carson McCullersJenn ShaplandStories I Might Regret Telling YouMartha WainwrightWhen Women Were Birds:Fifty-Four Variations on VoiceTerry Tempest WilliamsOf the incredible talent in this musical dynasty of a family, Martha will always be my favorite. Stories is honest, straightforward, and an inside look at a life lived always in music. Williams unpacks the history of her family in numbered sections, dealing with religion, relationships to nature, and writing. The voices and silences throughout are varied and fascinating. I'm not a writer but reading memoir and reframing/reworking personal narrative is important to me in a lot of ways – and Febos is fantastic. This book isn't so much instructional or prescriptive. For me it's all about changing the way we look at the life story.A Lambda Award winner and National Book Award finalist. I loved it.
Page 3
Heart BerriesTerese Marie MailhotPathologicalSarah FayI'm Very Into YouKathy Acker / McKenzie WarkSimply, a series of letters between two brilliant thinkers at the beginning of email. One of those books you're not sure you need to read until you read it. You do.One of my all time favorite memoirs – form forward, radically honest, fascinating. Mailhot's writing of fallible, vulnerable memory is freeing to read.
Page 4
A Tiny Upward ShoveMelissa ChadburnThe Soho Press Book of 80s Short FictionDale Peck, ed.PewCatherine LaceyWe meet Marina at the moment of her murder, her body about to be occupied by an aswang bent on vengeance against serial killer Willie Pickton. This is a brutal but revelatory story, told in a singular voice. Dreamlike, nightmarish, unstoppable. There is, of course, a lot to love in this collection, but it's worth the twenty bucks for just a few gems (imo):Girl by Jamaica Kincaid, River of Names by Dorothy Allison, Secretary by Mary Gaitskill, and Robin by Eileen Myles. Silent but not voiceless, Pew shows up unexpectedly in the week before the yearly "festival" in an anonymous southern town. Badgered and questioned, their refusal of ANY definition spreads a cloud of frustration, a fear of this intangible otherness through the town's residents. Never have I loved a narrator so much that I knew so little about. Strange, gothic, brilliantly amorphous work from Lacey, who never fails to bowl me over.Revenge of the ScapegoatCaren Beilin
Page 5
Devil HouseJohn DarnielleSpearNicola GriffithI've loved John Darnielle's work as a songwriter and storyteller for – well, a long time. Devil House vibrates on the California coast lost-kid wavelength his songs are famous for, but expands into ideas on true crime and authors' responsibilities to their characters (real or imagined), and the tide of gentrification that spreads from the San Francisco to the Bay Area's expanding outer edges. It's full of an overwhelming generosity of spirit. This is his best book so far, and that's saying something. I Love You But I've Chosen DarknessClaire Vaye WatkinsThis is the kind of memoir-adjacent fiction that you can tell is mostly true, but you can't tell all the time, and it doesn't really matter because that isn't the point. The way this thing is put together is a marvel. It picked me up and dropped me into another world. Screaming !!! in excitement to read this novella from the same world as Hild, one of my fave novels of the last decade.Fight NightMiriam ToewsToews' latest is brimming with joy and humor, and the weird and sometimes hilarious inheritances you get in a family haunted by religious repression and grief. I fell in love with nine- year-old Swiv's voice immediately. What a gem!
Page 6
For the TableAnna StockwellColu Cooks: Easy Fancy FoodColu HenryOnce a friend of mine made me a drink that included just soda water with a medicinal dose of Green Chartreuse (a gently psychoactive herbal liqueur) and it lifted my mood instantly. I imagine some of these might do the same, though I don't know where I'd find ayahuasca. Also, come on, look at this cover.High CocktailsTucker, Jones, and MarshallLarge plates for sharing, sides that can be easily doubled, big salads with lovely and unexpected flavor pairings, all fairly simple to make and organized by season. Bring a crowd pleaser to a barbecue or throw that dinner party!An understated cover, but inside! Soft boiled eggs with pickled chiles! Broccoli rabe toast with melted provolone! Skillet caesar with charred lemon and toasted garlic! Creamy risotto with crispy wild mushrooms! I was hungry when I wrote this, excuse me if it makes no sense!
Page 7
Lee Alexander McQueen: Mind Mythos MuseWhere They PurrPaul BarberaJust some truly shameless cat person behavior. Incredible rooms, made only more beautiful by their designers' cats. Each item of clothing is shown alongside a piece of art or historical fashion that inspired the work. Highlights McQueens fascinating ability for visual translation.
Page 8
Heaven is a Place on EarthAdrian ShirkBloodlandsTimothy SnyderNecropolisKathryn OlivariusThis book has been essential to my endeavor to better understand the physical and psychological geography between these two empires over time. Not an easy read by any means, but incredibly enlightening if you're looking for historical context to help make sense of what's happening now between Europe, post-Soviet states and Putin's Russia.
Page 9
Floral EvolutionCatherine FoxwellImprov QuiltingIrene RoderickThe Longing for Less:Living With MinimalismKyle ChaykaHow to Keep House While DrowningKC Davis, LPCThis book may be useful for anyone struggling with motivation, focus, or any executive functioning difficulties. It's vastly improved my ability to keep my house clean, and made me feel a bit less overwhelmed by things that "should" be easy but aren't. KC is affirming, gentle, and funny.Textile art is so my jam. Whether you're a quilter or not – incredibly beautiful to page through, and creative inspiration for all.
Page 10
The Trouble With Happiness & Other StoriesTove DitlevsenThe Hurting KindAda LimónAfter reading and loving The Copenhagen Trilogy last year, I can't wait to read Ditlevsen's newly translated short fiction. New work this year from two of my favorite poets!The RenunciationsDonika Kelly
Page 11
The New Handbook for a Post-Roe AmericaRobin MartyThe Man Without a FaceMasha GessenPoetic Remedies for Troubled TimesTaisia KitaiskaiaAsk Baba YagaTaisia Kitaiskaia
Page 12
Palette PerfectSara CaldasEveryday PlayJulian Rothenstein, ed.Make Time for CreativityBrandon StosuyBlack Blocks, White SquaresLeonard WilliamsNeither graphic designer nor illustrator am I, but this little book is a joy to flip through. With surprising suggestions for color combinations, and cultural references and meanings. This is a great book of puzzles, with fresh themes and none of the same old clues. Learning a bit about anarchist history as you solve is a bonus.