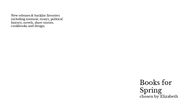 Return to flip book view
Bookseller's Choice - Elizabeth
Page 1
Books for Springchosen by ElizabethNew releases & backlist favorites including memoir, essays, political history, novels, short stories, cookbooks and design.
Page 2
NON FICTION1. Childhood: The Biography of a Place by Harry Crews2. Inter State: Essays from California by José Vadi3. Dog Flowers: A Memoir, An Archive by Danielle Geller4. Red Comet: The Short Life and Blazing Art of Sylvia Plath by Heather Clark5. Public Power in the Age of Empire by Arundhati Roy6. Black Spartacus: The Epic Life of Toussaint Louverture by Sudhir Hazareesingh1. 2.3.4. 6.5.
Page 3
FICTION1. Treasure Island!!!by Sara Levine2. Come Over, Come Overby Lynda Barry3. My Volcano by John Elizabeth Stintzi4. A Natural History of Transition by Callum Angus5. Slow Days Fast Company: The World, the Flesh and L.A.by Eve BabitzPREORDER:6. Ducks: Two Years in the Oil Sands by Kate Beaton1.2.3.4. 6.5.
Page 4
FOOD & LIFESTYLE1. Provecho: 100 Vegan Mexican Recipes to Celebrate Culture and Communityby Edgar Castrejón2. Super Natural Simple: Whole-Food Vegetarian recipes for Real Life by Heidi Swanson3. Natural Flava: Quick & Easy Plant-Based Caribbean Recipes by Craig McAnuff, Shaun McAnuff4. The Moon Juice Manual: Adaptogenic Recipes for Natural Stress Relief by Amanda Chantal Bacon5. Lotusland by Lisa Romerein and Marc Appleton 6. Simplicity at Home: Japanese Rituals, Recipes and Arrangements for Thoughtful Livingby Yumiko Sekine1.2.3.4. 6.5.