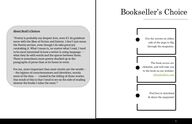 Return to flip book view
Bookseller's Choice - Brad
Page 1
Bookseller's ChoiceUse the arrows on either side of the page to flip through the magazine.The book covers are clickable, and will take you to the book on our website: ebbooksellers.comFeel free to download & share the magazine!•••1About Brad's Choices"Poetry is probably my deepest love, even if I do gadabout more with the likes of fiction and history. I don't just mean the Poetry section, even though I do take great joy caretaking it. What I mean is, no matter what I read, I tend to be most interested in how a writer is using language --what they do with words and the spaces between them. There is sometimes more poetry shacked up in the paragraphs of prose than at its home in verse. For me, more important than most stories are the worlds -- the legions of consciousnesses and identities, unruly most of the time -- created in the telling of those stories. One result of this is that I tend to err on the side of reading slowest the books I value the most."
Page 2
2Poguemahone - by Patrick McCableWhat is in the Irish water that frees their literary tongue from the shackles of normal speech and plot? The world may never know . . .Omensetter's Luck -by William H. GassOne of my absolute favorite novels. Period.I have an abiding affection for perverse preachers and fallen characters. (As you shall see in many of the books chosen for this catalog.) Read into that what you will! Ann QuinWould that "experimental fiction" was a redundant phrase. Would that more people read Ann Quin.
Page 3
3Pond - by Claire-Louise BennettMy friends were inundated with texts from me raving about and quoting this book. One of the most kick-down-the-door debuts in recent memory. Get lost in Bennett's narrator's headspace, and you may not wish to be found. One of those quiet sorts of books that are actually screaming. The Employees - by Olga Ravn, Martin Aitken (Translator)Olga Ravn has achieved a multi-layered minimalism perfect to reflect, in a sort of a spiral, on the gratuitous and persistent simplicity of consciousness. It's a helluva novel.When I Sing, Mountains DanceThe novels I cherish most are the ones that go about creating their own rules for reading them – for who matters in a story's telling, what doesn't, and the boundaries that keep them apart. Books very much like the very special When I Sing, Mountains Dance. They make me celebrate reading.Checkout 19 - by Claire-Louise BennettAs you might have gleaned, I'm a fan of Claire-Louise Bennett. Checkout 19 is a wildly ambitious follow-up to Pond, which in itself is a very tall task. Her style is so audacious and singular, where the avant-garde and the deeply-felt collide and pinball to places wonderful.Join me, won't you … the cult Bennett is strong, and it is taking new members.
Page 4
4What is Landscape - by John R. StilgoeThis is such an enlightening book. There is a language to every human experience, and thus a word for those things you are experiencing when viewing the world around you. John Stilgoe reminds us to slow down long enough to find the right words. Gallery of Clouds - by Rachel EisendrathIt's as if NYRB had a meeting to tailor-make a book just for me! An ode to prose whose purpose is not the plot! *fanning myself*This is an exquisite piece of writing, but not at all delicate. Eisendrath has been around the block, and will knock yours off if you're not careful. Dictée - by Theresa Hak Kyung ChaI steer pretty decisively toward writing that defies form and genre. If ever there was an example of this, it is Dictée, which is as defiantly original today as it was when it was first written before Cha's murder in 1982.
Page 5
5Monkey New Writing from Japan: Volume 1 (Food) & Volume 2 (Travel)I love these so much. A blend of short original fiction by Japanese writers such as Mieko Kawakami, Haruki Murakami, Hideo Furukawa, Hiromi Kawakami, Aoko Matsuda, and Kyohei Sakaguchi; new translations of modern classics; graphic narratives by Satoshi Kitamura and Jon Klassen; and contributions from American writers.Gigantic Cinema - edited by Paul Keegan (Editor), Alice Oswald (Editor)It's a little criminal how little fanfare met this fantastic anthology when it came out last year. But maybe that's because it doesn't demand your attention. Like the pieces in it, all subtly attributed, attention is at its best when instead given. Reading Gigantic Cinema is not unlike watching the clouds on a windy day. Suite for Barbara Loden, Exposition, & The White Dress - by Nathalie LégerLéger's trilogy of essay-novels are among the most exhilaratingly creative pieces of writing I've read in years. Again, very genre-defiant, as you've come to expect, but exceedingly welcome to all readers. Just a pure, if somewhat heady joy! Harrow - by Joy WilliamsHarrow feels as though it was written in a different time, fully disregarding the tropes and designs of contemporary American fiction -- all while being fully ofthis time. Williams' writing approximates that of an Old Testament/Hebrew Bible prophet. Lament and humor fuse into piercing insight into the past, present and future of a world in utter collapse . . . but one that lingers ever still.
Page 6
6The Life and Opinions of Tristram Shandy, Gentleman, by Laurence Sterne. I told you, I like preachers and charlantry literature. No book in the English language has made me laugh harder and longer than Tristram Shandy. Decisively proving there is no such thing as "ahead of its time" when it comes to the novel – which was already defying its own conventions at its very inception. Impostures -by Al-Ḥarīrī, Michael Cooperson (Translator)I am a lover of writing about and by con artists and charlatans. Hell, I spent nearly four years of my life deep-diving into Herman Melville's opaque, and mostly unread, novel The Confidence-Man. So, when I get a chance to read an ur-text, of sorts, to charlantry . . . yeah, count me in. Impostures is a artistic & translation feat. Counternarratives - by John KeeneIf I could put Keene's collection of short stories and novellas into every one of these catalogs, I probably would. Counternarratives is one of the true works of 21st-century genius.
Page 7
7Border & Rule, by Harsha WaliaTo my eyes & politics, this is one of the most significant books of the year. Walia's ability to take outrages that have a tendency to compound and debilitate, and to articulately synthesize them is remarkable in itself. She demonstrates that the the world's migrant/refugee crises are inevitable outcomes of conquest, capitalist globalization, and climate change generating mass dispossession worldwide. Black Nature - Camille Dungy (editor)I know it's not a competition, but if I had to decide what is the best anthology in the store . . . it very well may be this one. It's stunning in its scope --some 400 years of African American nature writing.Superlatives stacked cannot do it justice. An indispensable book, period … end of story. The Delectable Negro - by Vincent WoodardThis is one of the most exciting books I just happened to stumble upon this. Posthumously published, Woodard's thesis is jaw-droppingly original and compelling, exploring the linkages (metaphorical and real) between homoeroticism, cannibalism, and cultures of consumption in the context of American literature and US slave culture. A truly stunning piece of scholarship. The Spook Who Sat By the Door - by Sam GreenleeSam Greenlee's masterpiece satire of Black oppression in the United States and dead-cold serious analysis of militancy stands up over forty years after it was first written. No B.S., and no suffering of fools.
Page 8
8The Shape of Sex: Nonbinary Gender from Genesis to the RenaissanceThis is a wildly fascinating reappraisal of the place in history / science / religion of the non-binary body. It charts an embrace of nonbinary sex in early Christianity, its brutal erasure at the turn of the thirteenth century, and a new enthusiasm for nonbinary transformations at the dawn of the Renaissance. We Are the Land -by Damon B. Akins, Jr. Bauer, William J.This is a massively important contribution to our understanding of California history and the present of its first peoples.I suspect this book will become a classic in the field. Crowns: My Hair, My Soul, My Freedom - by Sandro MillerWe booksellers audibly gasped as was we flipped through this gorgeous book of photography / fashion. Behold for yourself.
Page 9
9Living as a Bird - by Vinciane Despret, Helen Morrison (Translator)For the moment I'm trading out J. A. Baker's The Peregrine for Vinciane Despret's Living as a Bird. While not as immediately lyrical, Despret's philosophical approach achieves a more mannered, humane depth than Baker's cult classic. Eschewing misanthropy, Despret encourages an all-too-human attention to the world in which it is but a part. Against Purity - by Alexis ShotwellThis is a provocative and wise use of theory to help amend our thinking about the past -- such that it might change our sense of what's possible in the future.One of East Bay Booksellers singular and surprisingly consistent bestsellers .An Inventory of Losses - by Judith Schlansky, Jackie Smith (Translated by)Much of living seems like an accumulation of losses. That's depressing, in a way. But there is something to the accounting. There is, if nothing, but the grasping, if for but a moment, the time it takes to do so. Anyway … Judith Schlansky's latest work, an exquisite grasping of what refuses it, is phenomenal.Conceptualisms - Edited by Steve TomasulaThis thing is a beast. A wonderful, sometimes unwieldy, but always something to behold beast. Tomasula has assembled a collection that defies convention and pushes at the boundaries of what we consider literature. Bring it on, Steve!
Page 10
10The Classical Music Lover's Companion to Orchestral Music - by Robert PhilipI'm a classical music dilettante, but definitely find I respond best when I have some cues about what to listen for. This book has been a treasure trove for listening. Now in paperback. Conversations - by Steve ReichSteve Reich is arguably America's greatest living composer. His conversations with the likes of Nico Muhly, Jonny Greenwood, Brian Eno are enlightening and open up a way of listening to the world around us and the music it makes. Arcana V: Musicians on Music, Magic & Mysticism - Edited by John ZornThis special edition of John Zorn's much acclaimed Arcana series focuses on the magical aspects of the act of making music. Neither historical overview nor musicological study, it illuminates the sympathies between music and the esoteric tradition with the help of today's finest experimental musicians and occultists.
Page 11
11The History of the World in Seven Cheap Things -by Raj PatelNature, money, work, care, food, energy, & lives … it's hard to argue we've not managed to cheapen them all, and in the process have sold the world short.Maybe let's re-think this, yes? Paths to Prison - by Isabelle Kirkham-Lewitt (Editor)The horrific reality of prison extends beyond the immediate walls. It is informed by a logic and constructed by way of a complex cultural architecture. This is a fantastic entryway to re-thinking the reaches of prison. How Forests Think - by Eduardo KohnWhat becomes of anthropology when the human is not stationed squarely in the center of its universe? When, rather, one attempts to position the human amongst the more-than-human / the natural world in which it participates and/or often attempts to dominate in one form or another. Kohn's book is an example of a specialist text with a non-specialist reach, and we are the better for it.The World Turned Upside Down - by Christopher HillChristopher Hill's book is a classic "what could've been" history of the seventeenth century -- wherein the possibility of communal property, a different vision of democracy and the protestant ethic was repelled and repressed. Alas!
Page 12
12The Radical Bookstore - by Kimberly KimberEast Bay Booksellers is not in this book, but I won't hold it against it. Kimberly Kimber asks pertinent questions that transcend our little niche industry –about whether there can be ethical commerce, the treatment of workers, etc. For our part, I don't make big claims about what we do here as being "radical." I prefer that we create an environment that helps facilitate radical activity – of our booksellers, of our customers, of our community. The Nutmeg's Curse - by Amitav GhoshThis follow-up to the stunning Great Derangement is an important critique of the natural history of imperialism - its historical roots, present effects, and future threats. I cannot recommend this book enough for those who wish to think (& read) deeply about the complex crises facing us. Buy Now - by Emily WestCan convenience and conscience co-exist? Emily West's focus here is on Amazon's branded ubiquity, and her book is wildly important for thinking about the economic infrastructure that conditions and constraints what we think is possible. Few books provide truly crucial analyses – this, however, is one.
Page 13
13The Book of Charlatans - By Jamāl Al-Dīn Al-Jawbarī, Humphrey Davies (Translator)Yet more charlatans! Not for the faint of heart, this medieval treatise on the art of getting one over on people! Surely in this case, given the minute details Al-Jawbarī gets into here, it takes a con artist to know a con artist. Who is fooling who in this absolutely bizarre book. Last Loosening - by Walter SernerWritten by the cofounder and infant terrible of Dada, and revised after he'd become disgusted with his own movement (we've all been there, right??), Last Loosening is a sort of moral guide for the amoral . . . and it's bewilderingly wonderful. John Donne – anything he ever put on paperI spent a significant portion of my Christmas Days reading John Donne's sermons & devotional material about sickness & death to my sleeping dog … because that's how I celebrate. I may not share Donne's piety, but I will bow down to his prose nearly any day. Suicidal - by Jesse BeringMany of us know this singular impulse. Either we've suffered the loss of people we love to it; or we suffer the thought itself. Bering's dealing is bracing and unlike any other I've encountered. Darkly funny at times, but never glib.
Page 14
14Timefulness - by Marcia BjornerudTime is long. This amazing book reveals how knowing the rhythms of Earth's deep past and conceiving of time as a geologist does can give us the perspective we need for a more sustainable future. It invites a new way of thinking about our place in time, showing how our everyday lives are shaped by processes that vastly predate us, and how our actions today will in turn have consequences that will outlast us by generations.Job: A New Translation- by Edward L. GreensteinA defiantly original and provocative translation of a text notoriously difficult –for interpreters and translators alike. Greenstein argues persuasively that the lesson of Job is not patience in the face of suffering, but speaking truth to power.Floating Coast - by Bathsheba DemuthMulti-layered; subterranean & inter-contextual links; exquisite prose. This is the sort of history writing that's sustenance to me. It is a true feast of a book, and one of my favorite examples of what "nature writing" that steps beyond the boringly sentimental.
Page 15
15Finalists - by Rae ArmantroutA new book by Rae Armantrout is always an event. Not least when it's a double-book release! Armantrout's humor allows her to upend your expectations of her poetry, and indeed of the world. She reminds you on each page why she is one of America's greatest living poets. Nobody - by Alice OswaldRead everything by Oswald, probably my favorite living poet at the moment, but for the sake of this I'll focus on the latest. Fractured, sometimes in a frustrating way, but a frustration built by a sort of design, or perhaps better a necessity. Read it out loud to the Pacific Ocean, and see how it responds.Imaginary Languages - by Marina Yaguello, Erik Butler (Translator)Recent years have seen something of a boom in invented languages, whether artificial languages meant to facilitate international communication or imagined languages constructed as part of science fiction worlds. Yaguello shows that the invention of language is above all a passionate, dizzying labor of love.Plans for Sentences - by Renee GladmanNo one dares write like Renee Gladman. Her latest collection blurs the "normal" distinctions between text & image, asserting that drawing can be a form of writing, and vice versa. She is a profoundly challenging writer, but the challenge in many ways is the point – in that it the implies something never quite complete, but also possibly enough, not unlike a doodle.