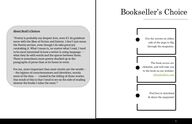 Return to flip book view
Bookseller's Choice - Brad
Page 1
Bookseller's ChoiceUse the arrows on either side of the page to flip through the magazine.The book covers are clickable, and will take you to the book on our website: ebbooksellers.comFeel free to download & share the magazine!•••1About Brad's Choices"Poetry is probably my deepest love, even if I do gadabout more with the likes of fiction and history. I don't just mean the Poetry section, even though I do take great joy caretaking it. What I mean is, no matter what I read, I tend to be most interested in how a writer is using language --what they do with words and the spaces between them. There is sometimes more poetry shacked up in the paragraphs of prose than at its home in verse. For me, more important than most stories are the worlds -- the legions of consciousnesses and identities, unruly most of the time -- created in the telling of those stories. One result of this is that I tend to err on the side of reading slowest the books I value the most."
Page 2
2Harrow - by Joy WilliamsOn one level, it's not surprising that I would like Joy Williams' latest novel. That I would love it this much, however . . . oh my! Harrow feels as though it was written in a different time, fully disregarding the tropes and designs of contemporary American fiction -- all while being fully *of* this time. Williams' writing approximates that of an Old Testament/Hebrew Bible prophet. (I dusted off my theologian cap and re-read Jeremiah after finishing this novel.) Lament and humor fuse into piercing insight into the past, present and future of a world in utter collapse . . . but one that lingers ever still. I dare not imagine I'll read a better novel this year. It gets its own damn page here.
Page 3
3The Peregrine, by J. A. BakerI've been referring to this as the Moby-Dick of "bird books" for a while. Shorter, of course, but so is a bird's life compared to a whale's ...but no less ambitious or profound. Rich beyond its page count. Join the cult following!In Memory of Memory, By Maria Stepanova, Sasha Dugdale (Translator)Truly mesmerizing piece of writing. The mining of memories, of yours and of others, those imagined, idealized or invoked, turns excavation into an art-form. Stepanova's novel has claimed its place as one of the great examples.Lanark - by Alasdair GrayThere are so-called "contemporary classics," and then there are books that seem as though they fell from the sky, irrespective of time or place. Reading Lanark for the first time, during a rainy winter in Glasgow, it was like scales had fallen from my eyes. I'm so happy for its re-issue.
Page 4
4Pond - by Claire-Louise BennettMy friends were inundated with texts from me raving about and quoting this book. One of the most kick-down-the-door debuts in recent memory. Get lost in Bennett's narrator's headspace, and you may not wish to be found. One of those quiet sorts of books that are actually screaming. Time is the Thing a Body Moves Through - by T FleishmannLine for line, one of the best written books in the store. I found myself stopping for long moments between sentences, or even clauses, both to marvel and to tease out what was happening on the page. A book about art, love, and community: about living.An Untouched House - by Willem Frederik Hermans, David Colmer (Translated by)What a book! There is so much happening on the page and in your head as you read this … short "tale"? "fable"? "bat-shit crazy horror show depiction of war's deading effects on everyone. There are no heroes. Even better: Archipelago Press has a new Hermans translation on the way, A Guardian Angel Recalls.Seiobo There Below - by László Krasznahorkai, Ottilie Mulzet (Translated by)Mysterious...mesmerizing...magical. László Krasznahorkai is, for me, "lit-bro" me all you want, the greatest living novelist. High praise, eh? How about this?This is his masterpiece. I've read this multiple times since it's release, and will keep reading for years to come.
Page 5
5What is Landscape - by John R. StilgoeThis is such an enlightening book. There is a language to every human experience, and thus a word for those things you are experiencing when viewing the world around you. John Stilgoe reminds us to slow down long enough to find the right words. Gallery of Clouds - by Rachel EisendrathIt's as if NYRB had a meeting to tailor-make a book just for me! An ode to prose whose purpose is not the plot! *fanning myself*This is an exquisite piece of writing, but not at all delicate. Eisendrath has been around the block, and will knock yours off if you're not careful. Dictée - by Theresa Hak Kyung ChaI steer pretty decisively toward writing that defies form and genre. If ever there was an example of this, it is Dictée, which is as defiantly original today as it was when it was first written before Cha's murder in 1982.
Page 6
6Bertolt - by Jacques Goldstyn, Claudia Zoe Bedrick (Translator)This book continues to give me joy. Each time we sell out - which is often - and it returns, I re-read it, and I'm in love with it all over again. As I've said at the store, "Think The Giving Tree, without the masochism." Hold on, don't get mad! I just mean, because here the tree isn't being celebrated for being consumed, but for a living something with which we might also share.Absentees - by Daniel Heller-RoazenMissing by choice. Absented by law. Departed by death. Daniel Heller-Roazen dives into the cultural and legal histories of "missing persons," and I found the depths astonishingly relevant to the close at hand.The meticulous, deliberate style made this a joy to read. Suite for Barbara Loden, Exposition, & The White Dress - by Nathalie LégerLéger's trilogy of essay-novels are among the most exhilaratingly creative pieces of writing I've read in years. Again, very genre-defiant, as you've come to expect, but exceedingly welcome to all readers. Just a pure, if somewhat heady joy! Intimacies - by Katie KitamuraOne of the things I love about Katie Kitamura's novels is that while there are plots, they're simultaneously necessary & don't matter AT ALL. "The story" is not the forward propulsion. The stakes, rather, come from somewhere else. This helps distinguish her from so much contemporary American writing.
Page 7
7No-No Boy - by John OkadaFirst published in 1957, No-No Boy was virtually ignored by a public eager to put World War II and the Japanese internment behind them. Too often we forget -- too often we silence. It's our responsibility us that Okada's classic should suffer neither.Echo Tree - by Henry DumasI'm beside myself with joy that our friends at Coffee House Press are re-releasing this masterpiece story collection. Would that 2021 be the year of Henry Dumas, perhaps we might have learned something from 2020 after all.Counternarratives - by John KeeneIf I could put Keene's collection of short stories and novellas into every one of these catalogs, I probably would. Counternarratives is one of the true works of 21st-century genius.
Page 8
8Border & Rule, by Harsha WaliaTo my eyes & politics, this is one of the most significant books of the year. Walia's ability to take outrages that have a tendency to compound and debilitate, and to articulately synthesize them is remarkable in itself. She demonstrates that the the world's migrant/refugee crises are inevitable outcomes of conquest, capitalist globalization, and climate change generating mass dispossession worldwide. Black Nature - Camille Dungy (editor)I know it's not a competition, but if I had to decide what is the best anthology in the store . . . it very well may be this one. It's stunning in its scope --some 400 years of African American nature writing.Superlatives stacked cannot do it justice. An indispensable book, period … end of story. The Delectable Negro - by Vincent WoodardThis is one of the most exciting books I just happened to stumble upon this. Posthumously published, Woodard's thesis is jaw-droppingly original and compelling, exploring the linkages (metaphorical and real) between homoeroticism, cannibalism, and cultures of consumption in the context of American literature and US slave culture. A truly stunning piece of scholarship. Being Property Once Myself - by Joshua BennettJoshua Bennett is a renowned poet AND a helluva literary-critical scholar. Here, he examines the intersection of the non-human and human, man and animal, and the role blackness has played / been denied in the relationship.
Page 9
9The Spook Who Sat By the Door - by Sam GreenleeSam Greenlee's masterpiece satire of Black oppression in the United States and dead-cold serious analysis of militancy stands up over forty years after it was first written. No B.S., and no suffering of fools. We Are the Land -by Damon B. Akins, Jr. Bauer, William J.This is a massively important contribution to our understanding of California history and the present of its first peoples.I suspect this book will become a classic in the field. Waiting for the Sibyl - by William KentridgeI very audibly gasped (probably cursed a 'Holy _____!") upon opening this for the first time. Words will defy you to describe it, as it is a work of visual art unto itself. Though a click of the book will take you to a description.
Page 10
10Second Place - by Rachel CuskMore plot than we're accustomed to in a Rachel Cusk novel, but we won't hold that against her. (Kidding!) Psychologically expansive, while also narratively explosive. Second Place is a great introduction to her oeuvre, as well as a intimate expansion of it. Against Purity - by Alexis ShotwellThis is a provocative and wise use of theory to help amend our thinking about the past -- such that it might change our sense of what's possible in the future.One of East Bay Booksellers singular and surprisingly consistent bestsellers .An Inventory of Losses - by Judith Schlansky, Jackie Smith (Translated by)Much of living seems like an accumulation of losses. That's depressing, in a way. But there is something to the accounting. There is, if nothing, but the grasping, if for but a moment, the time it takes to do so. Anyway … Judith Schlansky's latest work, an exquisite grasping of what refuses it, is phenomenal.The Quick & the Dead - by Joy WilliamsThere is no one writing like Joy Williams today. Heralded as a master of the short story, I actually think her novels are where she is at her most freakily wild & no holds barred. The Quick & the Dead is a contemporary classic, and will prepare you for one of the great novels later this year -- her NEW novel, Harrow, which you will definitely hear me crowing about repeatedly.
Page 11
11The Classical Music Lover's Companion to Orchestral Music - by Robert PhilipI'm a classical music dilettante, but definitely find I respond best when I have some cues about what to listen for. This book has been a treasure trove for listening. Now in paperback. A Little Devil in America - by Hanif AbdurraquibI knew this would be good … but I was not prepared for just how stunning it wuld be. Lyrical and insightful, rich with research and in memory, with joy and pain often twinned . . . as though in a dance. Just fabulous.Liner Notes for the Revolution - by By Daphne A. BrooksThis is one of the books I'm most excited this spring! Daphne Brooks' book kicks down the door and demands long overdue recognition and celebration of Black women musicians as radical intellectuals..Be sure to indulge in the 9-hour Spotify playlist, too!
Page 12
12The History of the World in Seven Cheap Things -by Raj PatelNature, money, work, care, food, energy, & lives … it's hard to argue we've not managed to cheapen them all, and in the process have sold the world short.Maybe let's re-think this, yes? Paths to Prison - by Isabelle Kirkham-Lewitt (Editor)The horrific reality of prison extends beyond the immediate walls. It is informed by a logic and constructed by way of a complex cultural architecture. This is a fantastic entryway to re-thinking the reaches of prison. We Do This 'Til We Free Us - by Mariame KabaWhat if social transformation and liberation isn't about waiting for someone else to come along and save us? What if ordinary people have the power to collectively free ourselves? In this timely collection of essays and interviews, Mariame Kaba reflects on the deep work of abolition and transformative political struggle.The World Turned Upside Down - by Christopher HillChristopher Hill's book is a classic "what could've been" history of the seventeenth century -- wherein the possibility of communal property, a different vision of democracy and the protestant ethic was repelled and repressed. Alas!
Page 13
13Fulfillment - by Alec MacGillisPotentially a game changer in terms of the human and economic scope of its reporting. Without a doubt the most compelling journalistic accounting / reckoning I've encountered of Amazon's effect(s) on American labor and inequality. Badges without Borders - by Stuart SchraderA pivotal work demonstrating the international implications of the militarization of police in the U.S. Casting a new light on American empire, Badges Without Borders shows, for the first time, that the very same people charged with global counterinsurgency also militarized American policing at home.America On Fire - by Elizabeth HintonThis is an indispensable contribution to our much-needed reevaluation of police power in the U.S. (and beyond). What the media and official narrative have denigrated as "riots," Hinton reads as rebellions, and she digs deep into the cycle of police injustices keep the violence circulating.
Page 14
14Picatrix - Dan Attrell (Translator), David Porreca (Translator)A manual for constructing talismans, mixing magical compounds, summoning planetary spirits, and determining astrological conditions -- all from a original text compiled in Arabic from over two hundred sources in the latter half of the tenth century? Translated first into Castilian & then Latin? Count me in!Last Loosening - by Walter SernerWritten by the cofounder and infant terrible of Dada, and revised after he'd become disgusted with his own movement (we've all been there, right??), Last Loosening is a sort of moral guide for the amoral . . . and it's bewilderingly wonderful. Devotions Upon Emergent Occasions and Death's Duel - John DonneI spent a significant portion of my Christmas Day reading John Donne's sermons & devotional material about sickness & death to my sleeping dog … because that's how I celebrate. I may not share Donne's piety, but I will bow down to his prose nearly any day. Suicidal - by Jesse BeringMany of us know this singular impulse. Either we've suffered the loss of people we love to it; or we suffer the thought itself. Bering's dealing is bracing and unlike any other I've encountered. Darkly funny at times, but never glib.
Page 15
15Timefulness - by Marcia BjornerudTime is long. This amazing book reveals how knowing the rhythms of Earth's deep past and conceiving of time as a geologist does can give us the perspective we need for a more sustainable future. It invites a new way of thinking about our place in time, showing how our everyday lives are shaped by processes that vastly predate us, and how our actions today will in turn have consequences that will outlast us by generations.The Ruins Lesson - by Susan StewartI'm utterly fascinated by the stuff that remains … the ruins that outlive their intentions. How have ruins become so valued in Western culture and so central to our art and literature? Stewart's book may not be the final word -- for who knows what will remain of even these -- but we are the better for it. Underland - by Robert MacFarlaneWas I too subtle with the theme of this set of books?I've long been a fan of MacFarlane's writing, and here it is wed in a deep, powerful way with a reflection on how time is etched into the earth itself. MacFarlane writes has a way of capturing both wonder and insight, and he is a treasure.
Page 16
16Written After a Massacre in the Year 2018 - by Daniel BorzutzkyDaniel Bozutzky's poetry is incandescent with anger at the violence suffered by those most vulnerable. What makes him a truly special poet, however, is how he harnesses his disappointment with the way things have been and are, and invites a pulsing hope for what might yet be. Nobody - by Alice OswaldRead everything by Oswald, probably my favorite living poet at the moment, but for the sake of this I'll focus on the latest. Fractured, sometimes in a frustrating way, but a frustration built by a sort of design, or perhaps better a necessity. Read it out loud to the Pacific Ocean, and see how it responds.The Craft of Poetry - by Lucy NewlynThis is such a fantastic idea for an intro to poetics and its sometimes intimidating terminology. That Newlyn pulls it off with such audacious, delightful flare -- the modelling of each term with her own verse -- is really something else. The Glass Constellation - by Arthur SzeSuch a delightful paradox, this book. It feels like a brick, but the verse feels as though it is falling between your fingers. It's light to the touch, but its emotional registers are profound.