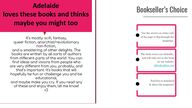 Return to flip book view
Bookseller's Choice - Adelaide
Page 1
Bookseller's ChoiceUse the arrows on either side of the page to flip through the magazine.The book covers are clickable, and will take you to the book on our website: ebbooksellers.comFeel free to download & share the magazine!•••1Adelaideloves these books and thinks maybe you might tooIt's mostly: scifi, fantasy, queer fiction, anarchist/revolutionary non-fiction, and a smattering of other delights. The books are written by all sorts of authors from different parts of the world. You can find ideas and visions from people who are very different from you, probably, and that's important. It's books that will hopefully be fun or challenge you and be educational, and maybe make you cry. If you read any of these and enjoy them, let me know!<3
Page 2
The City in the Middle of the Night by Charlie Jane Anders As with everything Charlie Jane writes, this book has veins of magic pulsing through it, bringing the words off the page and into new dimensions. The City in the Middle of the Night will entertain you; it is imaginative and exciting. But it will also make you feel; it's characters are real and the situations they are in are disconcertingly relatable. This book is wonderful.Assataby Assata Shakur Assata tells us one of the necessary stories. It is heartbreaking and inspiring by turns and reveals a life pushing the definitions of courage and bravery to their fullest limits. Assata Shakur currently lives in Cuba and continues to inspire revolutionaries everywhere.Pet by Akwaeke Emezi Wow! Akwaeke Emezi's vision of a post-liberation world is breath-taking. But they don't stop there; they show us how a revolution must be made every day and how complacency lets the horrors creep back in. CW for references to sexual assault and child abuse.We Want It Alledited by Andrea Abi-Karam & Kay GabrielFrom them. Magazine: Beyond a "narrow fight over particular rights and recognitions," as Abi-Karam and Gabriel note in their introduction, We Want It All offers a vision of trans liberation that "touches directly on movements for ecological and climate justice, for a world without prisons and borders, for a liberatory reworking of gender and sexual relations, and for universal access to housing and health-care." Put more simply, We Want It All takes its title literally: "What we want is nothing other than a world in which everything belongs to everyone."
Page 3
Fierce Femmes and Notorious Liarsby Kai Cheng Thom I don't want to say that trans people have magic powers, because there's already enough exoticising and dehumanizing of us in popular culture....buuuuuuuut Kai Cheng Thom has magic powers and she filled this story with so much of it, glitter oozes from the pages. Read and be delighted.Shut Up, You're Prettyby Tea MutonjiUmmm, yes please! This title is everything. The stories are real, and they hurt. But they are also beautiful and they tug the strings of my heart. The Raven Tower by Ann Leckie This book left me speechless, utterly, completely devoid of words. Reading it felt like Ann Lecking flexing on her readers, like a taunt on every page, goading us into her strange, unique world, until she finally pulled the rug out, leaving us flailing, falling, utterly undone. This book is absolutely perfect. A People's Future of the united statesedited by Victor LaValle and John Joseph AdamsThis is a spectacular collection. The futures imagined here are disparate, wild; some are hopeful, others...less so. Speculative fiction offers windows into our present time that realistic fiction is often unable to; the authors in this collection use it to great effect.
Page 4
Extratransmissionby Andrea Abi-Karam Wow! Andrea distills so much rage and anger into a most ferocious concentration in these poems. As I read I could feel them placing a switchblade into my hands, showing me how to use it, as "Kill Bro // Kill Cop" repeated in my mind.Lilith's Broodby Octavia Butler This is my favorite of Octavia Butler's works. She asks questions which don't have easy answers, and are perhaps, unanswerable, except by those of whom they are asked. Especially challenging are the themes of consent and hierarchy in, supposedly, symbiotic relationships. As with most of her works, Butler concerns herself with how people survive within these lopsided power structures, and in so doing, illuminates oft-ignored realities of the human experience.The Dreamblood Duologyby N. K. Jemisin (includes The Killing Moon and The Shadowed Sun)Everyone knows N.K. Jemisin from her Broken Earth trilogy, and rightly so as that is probably the best fantasy series to ever be written. And her older stuff is amazing too! The Dreamblood Duology is rich in everything that make books good and this series is excellent.The Incorrigible Children of Ashton Place series by Maryrose Wood (#1 is Mysterious Howling)This is my favorite series for young readers, ever. I even took a character's name as my middle name (no really). Maryrose Wood's writing is so absolutely gorgeous and her world so wonderfully whimsical, I never wanted to leave. Awhoo! Awhoo!
Page 5
The Wayward Children series by Seanan McGuire (especially and specifically Down Among The Sticks And Bones and In An Absent Dream)Okay, so stick with me. This series is kinda split into two strains: The odd numbered books tell a linear story and the even numbered books are stand-alone stories that tell the background of characters from the main one. What are they about? A child finds a doorway that asks her to 'Make Sure'. She steps through and finds herself in a world, tailored made for her needs and temperament. She lives in this new, magical place, making friends with its occupants, learning more about herself and finding the acceptance she has longed for her whole life. But then, Something Happens, and she is transported back to our own world, sometimes violently, sometimes by choice. The adults in her life believe she has been kidnapped, or run away, but whatever they choose, they will not listen to her. She becomes more and more isolated from those around her, desperately longing to find another doorway, to go back to her home. Her parents enroll her in Eleanor West's Home for Wayward Children, believing it to be a state-of-the-art boarding school dedicated to treating mentally unwell children like their own. But it is really a place where all the children who have been torn from their true homes too early can find solace in each other's company. And so begins our linear tale.This series is wonderful but it's the stand-alone tales that get me. They are heartbreakingly perfect, and I mean that in it's most literal sense; my heart was torn in pieces over and over again. My copies are tear-stained and the binding is weak from my grip as I pressed them to my chest. Each one feels so like a trans/queer allegory, they hit so hard and so close to the secret parts. If you like books full of magic that also make you cry, this series is perfect.
Page 6
Little Fishby Casey Plett Little Fish took me into its arms and swallowed me until I disappeared completely, only to spit me out again with all my secrets laid bare under the piercing moonlight of Casey Plett's words. No other book has felt so fully like an author dipping their pen into the well of my soul; no other book has been this overwhelming.We Both Laughed In Pleasureby Lou Sullivan, edited by Ellis Martin & Zach OzmaCome for the cute butt on the cover, stay for the most thoroughly self-documented life of a trans man to exist in the english language. Lou's diaries are beautiful to read and Ellis Martin & Zack Ozma have done a lovely job curating this book from literally thousands of pages.Bella Figuraby Kamin MohammadiKamin Mohammadi takes us through a year of her life in Italy, showing what it mean to live as a 'beautiful figure'. This book is so romantic, so sensual, and in a year where it can be hard to find a reason to change out of sweatpants, Kamin encourages us to love ourselves and find ways of injecting beauty into the mundane.The Mermaid, the Witch, and the Seaby Maggie Tokuda-HallThis book is so lovely! My favorite are the chapters when the Sea speaks; literally crying over every one. But everything else too! The Mermaids, the Witch, the enchanting world! This is a fabulous debut novel from Maggie Tokuda-Hall, I can't wait for more!
Page 7
Sketchtasyby Mattlida Bernstein Sycamore Gender pronouns are fluid, the drugs are in supply and everything is gay, Gay, GAY! This book is exciting, like when the molly hits, and exhausting, like the next day. Alexa is a wild and entrancing narrator and swept me away for the ride.Interiors edited by Phaidon I am currently accepting applications for someone to provide me with accommodations like the ones pictured in this book. Tell your friends. xox, AdelaideMy Sister, the Serial Killerby Oyinkan BraithwaiteThis is one of the most shockingly delightful books I've stumbled across. The title is SO intriguing and the book itself does not let down. In so many ways it is a traditional piece of realistic fiction, but the absurdity of the macabre that Oyinkan Braithwaite peppers throughout elevates it to a completely unique and singular place on any bookshelf. Disintegrate/Dissociate by Arielle Twist Disintegrate: a dream, a longing. Dissociate: all day.I am going to study Arielle Twists's words; resonate with them, learn from them. Feel them in my depths, they shake, they rock my bones.
Page 8
Heads of the Colored Peopleby Nafissa Thompson-Spires Reading the story, Belle Lettres, had me cracking up; I decided immediately that I like Nafissa Thompson-Spires's writing. It is sharp, full of wit and has many-layered textures, some of which I'm sure, as a white reader, I am not privy to. I'm looking forward to more of her short stories in the future, she is excellent at them.Pereira Maintainsby Antonio TabucchiWhat if journalists weren't so predictably disappointing all the time? What if they took an active role in fighting the injustices they report on? Pereira Maintains is a reference point for what that might look like. It contextualises the liberal hand-wringing so common today and is an accusation against everyone who speak excuses instead of actively fighting the rise of fascism. The Witches of New YorkBy Ami McKay19th century witchy-feminist fiction? That's pretty much all this girl needs. (Well, maybe a cozy chair, large glass of wine and my cat-friend Matilda curled up in my lap.)A Year Inside MS-13by Juan Jose Martinez D'Aubuisson Rather than a voyeuristic look into the lives of gangsters, this book is important for how it humanizes it's subjects and reveals the incredibly brutal and bleak worlds they inhabit. It is an indictment of u.s. immigration policy, past and present, and a prescient reminder that the news' caricatures of these men are as ridiculous and absurd as borders themselves.
Page 9
The Selected Works of Voltairine De Cleyre edited by Alexander Berkman Nothing I have encountered holds more beauty, joy, more exuberance for life than the Idea. What anarchism as a theory and anarchy as a social reality offer is nothing short of total liberation, for the collective and the individual. De Cleyre's writings are some of the most moving and provocative to come out of the early 20th century. Prepare to be entranced.They Were Her Propertyby Stephanie E. Jones-Rogers There is an unbroken line between the white women, slave holders detailed in this book, racist suffragettes, those who overwhelmingly voted for trump (twice) and those who insist on championing a 'tough on crime' candidate (biden) and his top-cop vice presidential pick (harris) during a national uprising against police and anti-Black racism. Until we (white women), reckon with this lineage and set aside any insistence on the progression of 'women's rights' as somehow distinct from racial equity, true social justice will remain as ashes in our mouths.Black Steel Magnolias in the Hour of Chaos Theory by James Cagney These are quite incredible poems. If you have an opportunity to hear them read aloud, take it! James Cagney (no, not that one, he dead) reads and writes in the small space wisdom inhabits.Soledad Brotherby George JacksonEvery summer we (Abolitionists) commemorate Black August. George and his brother Jonathan's actions during this month, though one year apart, have given us a legacy of resistance to the modern-day slavery of the prison system. This is an incredibly important book to read.
Page 10
Maroon the Implacable by Russell 'Maroon' Shoatz This book is comprised of essays written during Russell Shoatz's lengthy prison sentence, the majority of which he has spent in solitary confinement, due to the prison system's inability to crush his spirit (or keep him locked up; he has escaped prison twice!). He is currently struggling with severe health problems and the movement to demand his freedom has been reinvigorated. For abolitionists and revolutionaries everywhere, he is revered. The Girl Who Circumnavigated Fairyland in a Ship of Her Own Makingby Catherynne M. ValenteAt the beginning of 'rona I read my insta followers a bedtime story every night. I chose this book and it was a smashing success. It's a lovely fairytale, at turns exciting, others more somber. It is delightful and inventive and I highly recommend it for children of all ages.Pangayaw and Decolonizing Resistanceby Bas UmaliThe struggle for decolonization and total liberation is alive and strong in the Philippines, despite duterte's best efforts to stamp it out. Anarchism takes so many different forms, depending on local context; this book does a wonderful job of furthering the struggle and offering potential strategies that we can all learn from.Like a Mule Bringing Ice Cream to the SunBy Sarah Ladipo ManyikaMorayo, the protagonist of this perfect novella, is the type of older woman I hope to someday be. She lives a vibrant life, remembering the fullness she has lived while remaining intensely curious about the young people around her. This is a wonderfully meditative book.
Page 11
My Eighty-One Years of Anarchy by May Picqueray May Picqueray writes with such joy about her life in anarchy and wow, it is intoxicating! The whimsy! The violence! The absolute dedication to total liberation! I swoon!Thursday's and Every Other Sunday Offby Vertamae Smart-Grosvenor Race, gender, and class all intersect in this incisive examination of the lives of Black domestic workers. Originally published in 1972, many of the stories, and certainly the analysis, are just as prescient today; it's a gift that it has been reprinted.What it Means When a Man Falls From the Skyby Lesley Nneka ArimahIn each story Lesley Nneka Arimah beckoned me forward, up a hill, with promises of wonders too incredible to imagine, just over the peak. By the time I crested each ridge, it was too late, and I found myself plummeting over the edge of a cliff. Take these stories slowly and let each wreck you in it's way.How Mamas Love Their Babiesby Juniper Fitzgerald, illustrations by Elise PetersonOther picture books have made me cry more than this but I've never felt so grateful for another to exist. Juniper Fitzgerald and Elise Peterson have given a gift with this creation.
Page 12
Annals of the Western Shoreby Ursula K. Le GuinOne day my friends and I decided we were going to get the archipelago from Earthsea tattooed across our butts, so our fannies, when seen in total, would reproduce the map at the beginning of each book in the series. We probably aren't going to get any tattoos from Annals of the Western Shore, but I am going to read it and reread it. I love Ursula Le Guin so much and I go to her books when I need to slow down, dream better and get in touch with truths deep within the foundations of existence.Queer and Trans Artists of Colorinterviews by Nia King, edited by Maliha AhmedThis third volume of Queer & Trans Artists of Color is easily my favorite, not only because Nia King interviews some of my friends (!!!) but I was able to see several of the contributors when they debuted the book. There is such a great and wide array of artists and artistic disciplines represented in these pages, it truly is a delight. *this book is self-published and so not able to be linked to our website. Please give us a call or stop by if you would like a copy!
Page 13
100 Boyfriends by Brontez PurnellFind a friend, a partner, a random, and read each other chapters, preferably in bed. Guaranteed to up the vibes and, goddamn if you aren't wet, then I dunno, call a doctor.I Hope We Choose Loveby Kai Cheng ThomIn many ways these essays are a love letter to movements for liberation. Kai Cheng challenges us to do better, to act from love. Her critiques are sober reflections on the gaps between our desires to create more magical worlds and our behaviors which so often reflect the carceral logic of our current one.The Lamb Will Slaughter the LionBy Margaret KilljoyA queer anarchist traveler arrives in Freedom, Iowa, a utopic community of former itinerants and misfits, searching for answers to her friend's recent suicide. While there she experiences a taste of anarchy; a society with no obvious hierarchy, no material want and an abundance of care and generosity. But lurking beneath this appealing veneer is a force strange and mysterious, otherworldly and oh so deadly. This novella is a lot of fun, and Margaret Killjoy does a fantastic job of teasing out the contradictions inherent to utopic enterprises.