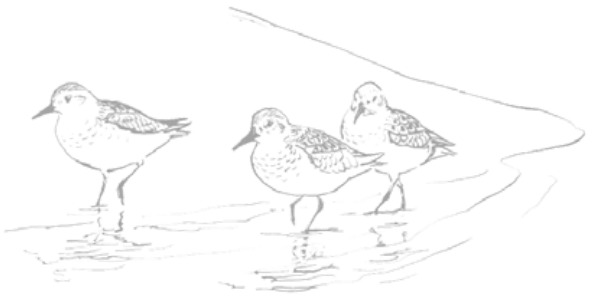 12
Birds and Bird Conservation Matter An Interview
with David Yarnold, President of Audubon
Interview by Chris Peterson
is is BirdNote.
[Calls of Sandhill Cranes]
We like to know what leaders value. Here, David
Yarnold, president of Audubon, describes being
deeply moved by birds: "I was in Kearney, Nebraska
to watch the Sandhill Cranes and when they took o
at dawn, … twenty thousand of them, and it was just
deafening…. You know, the juveniles with their high-
pitched screeches, it just made the hair on my arms
stand up!"
And on the Atlantic Flyway, south of Charleston,
there's a small barrier island called Deveaux Bank…
[Calls of Brown Pelicans, Sandwich terns]
"…it's home to about 5,000 pairs of breeding Brown
Pelicans, and I had the chance …to take my wife and
daughter out there – and there were oystercatchers
…and terns and the pelicans and … they just lled
the air and it was one of those moments when you
know…you're in some other creature's place on earth!
Very magical place to be."
We asked David why bird conservation matters.
"…I know that where birds thrive, you're going to
have clean water and clean air, and that's …good for
kids, it's good for birds, so conservation to me is a
core principle about how to live my life."
You'll nd a link to Audubon on our website,
birdnote.org. [Sandhill Cranes]
And once again about those cranes?
"So if I do have a sound in my soul now, it's the
Sandhill Cranes.
[Calls of Sandhill Cranes – thousands]
Las Aves y la Conservación de las Aves Sí Importan
Entrevista con David Yarnold, Presidente de
Audubon
Entrevista por Chris Peterson
¡Esto es BirdNote!
[Vocalizaciones de Grulla Canadiense]
Nos gusta saber qué es lo que los líderes valorizan.
Aquí, David Yarnold, Presidente de Audubon,
describe cuán profundamente lo tocan las aves:
"Estaba yo en Kearney, Nebraska con el propósito
de observar las Grullas Canadienses y despegan
al amanecer… veinte mil grullas… y fue
ensordecedor… sabe usted, los gritos agudos de los
jóvenes, ¡provocaron que los vellos de mis brazos se
pusieran de punta!"
Y en la Ruta de Vuelo del Atlántico, al sur de
Charleston, existe una pequeña isla de barrera
llamada Banco de Deveaux… [vocalizaciones de
Pelícanos Marrones, Charrán Patinegro]
"…es el hogar de aproximadamente 5,000 parejas
de Pelícanos Marrones que se reproducen y tuve la
oportunidad… de llevar a mi esposa y a mi hija– y
había ahí Ostreros… y Charranes y Pelícanos…
y llenaron el aire y fue uno de esos momentos en
que, usted sabe, ¡está usted en el sitio de alguna otra
criatura del mundo! Un sitio sumamente mágico".
Preguntamos a David por qué importa la
conservación de las aves.
"…Sé que donde las aves viven bien, hay agua y aire
limpios, y eso … es ideal para los niños, es bueno
para las aves, así que para mí la conservación es un
principio básico para saber vivir la vida",
Hallarás un vínculo con Audubon en nuestro sitio
web, birdnote.org. [Grullas Canadienses]
Otra vez, ¿y esas grullas?
"Así que, si tengo un sonido en el alma ahora, es el
que producen las Grullas Canadienses".
[Vocalizaciones de Grullas Canadienses– por miles]
[Vocalizaciones durante vuelo – incluyendo de
alarma- de Zarapitos]