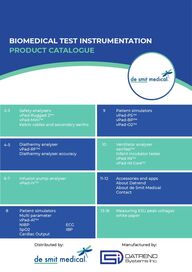 Return to flip book view
Biomedical Test Equipment Catalogue
Page 1
Biomedical Test InstrumentationProduct Catalogueplease click to viewDistributed by Manufactured by86-72-3Safety analysersvPad-Rugged 2vPad-MiniKelvin cables and secondary earthsInfusion pump analyservPad-IVPatient simulatorsMulti parametervPad-A1NIBPSpO2 ECGIBP4-5Diathermy analyservPad-RFDiathermy analyser accuracy10Measuring ESU peak voltages white paper13-1611-129Patient simulatorsvPad-PSvPad-BPvPad-O2Ventilator analyservenTestInfant incubator testervPad-IN vPad-IN CoreAccessories and appsAbout Datrend About de Smit MedicalContact
Page 2
vPad-Rugged 2TMvPad-MiniTM2vPad Safety Analyser Range The vPad-Rugged 2 and the vPad-Mini both offer automatic, semi auto and manual testing for Class I, II and battery-operated devices. The vPad-Rugged 2 also offers automated sequence testing and the ability to connect, control and receive data from the multi-parameter simulator, vPad-A1, vPad-RF and venTest.vPad-Rugged 2 safety tester• Automatic, semi and full auto modes• IEC 62353, IEC61010, IEC 60601• Insulation testing• Data recording to text and PDF• On board ECG Simulator• Sequence and Inspection PM routinesvPad-Mini safety tester• Automatic, semi and full auto modes• IEC 62353, IEC61010, IEC 60601• Data recording to text file• Lightweight, small footprintvPad-Rugged 2 test sequence eding Tesng AP leakage on vPad-Rugged 2
Page 3
3vPad Safety TestersKelvin Cable TechnologyBoth the vPad-Mini and vPad-Rugged 2 use 4 wire measurement techniques for obtaining protective earth measurements. The Kelvin clamp and Kelvin probe cable ensure any protective earth point can be easily accessed. The Kelvin cable technology removes the need to calibrate the protective earth test cable. It is self-adjusting which eliminates the need to zero the test lead at regular intervals. Both vPad-Mini and vPad-Rugged 2 have been tested to work with cables of up to 25 metres, useful when a protective earth bond test is being performed on fixed equipment utilising the twin measurement technology in both testers.The Kelvin protective earth measurement system also makes testing of devices with a secondary earth, or those attached to a ceiling pendant easy. The protective earth measurement system in both testers is not ground related, it floats, therefore it ignores any secondary earth connections. Devices that need to be tested no longer need to have all the connections to other devices removed, they are tested in situ. The vPad-Rugged 2 automatically checks for a secondary earth when performing a safety test, if one is found the engineer is advised and prompted to remove the secondary earth or switch to another test mode.vPad-Mini start screenTesng protecve earth on vPad-Mini
Page 4
vPad-RF diathermy analyser• Manual and automatic tests• Power output in mA and watts• Voltage measurement Vpeak• Leakage in mA• Patient plate resistance • Picture based PM routines• Data recording to text and PDFRead the white paper on measuring ESU peak voltages on pages 13-164vPad-RFTM Diathermy AnalyserThe vPad-RF offers unrivalled flexibility from manual testing of diathermy outputs to leakage and REM tests, as well as fully automated PM procedures. The vPad-RF digital signal process ensures accurate measurements of all diathermy outputs, whether it is power in mA, watts or voltage. The wideband 12Mhz amplifier enables the vPad-RF to test Medtronic Ligasure, and 4Mhz diathermy with ease.
Page 5
vPad-RF Diathermy Analyser AccuracyvPad-RF is an all-in-one tester for all diathermy. Its 12Mhz amplifier bandwidth enables easy testing of all types of waveforms, cut, coag, blend, fulgurate, bipolar etc. The on-board digital signal processing ensures the measurements are accurate: ±3% on power, and ±1% on current, RMS and peak voltage. The DSP ensures measurements that would otherwise require the use of an oscilloscope are automatically measured, such as Vrms, Vpk, Vp-p, crest factor, time on, time off. The vPad-RF is complimented by an on-board oscilloscope and spectrum analyser.The waveform measurement is complimented by a digital patient plate tester, 1% accuracy and earth leakage resistances. Automated PM routines can be downloaded for Conmed, Erbe, Medtronic, Valleylab, Eschmann, Bowa, Olympus, Ethicon and others from de Smit Medical. A free Windows program allows the user to create new or modify the existing tests.5
Page 6
6Infusion and syringe pump testervPad-IVTMThe modular design and accuracy of the vPad-IV offers both the field and hospital based biomedical engineer a unique syringe and infusion pump tester. The modularity of the analyser offers complete flexibility, with one, two or up to six channels of testing for flow rate, volume, piggyback, KVO, or PCA testing. The vPad-IV can be upgraded to provide more testing channels one module at a time. The vPad-IV has been designed with accuracy in mind. Any type of pump can be tested. The vPad-IV offers 1%-2% accuracy for flow rate, volume, or pressure. The vPad-IV is back pressure compatible.
Page 7
7The vPad-IV high resolution graphics simplify the user interface and negate the need for additional PC software to perform any type of test.Any of the six independent channels can be primed, run an occlusion, flow or automated PM procedure. Hi accuracy sensors start recording when the volume is as low as 0.1ml. Flows can be measured from 0.1 to 3000ml/hr. The vPad-IV features an on-board PM procedure designer, user definable limits on flow, pressure, time and volume and a unique hold pressure after occlusion function for BBraun pump testing.
Page 8
8Paent simulatorsNIBP simulator pressure (manometer)NIBP simulationsOver pressureLeakageGeneral and custom O curvesSpO2 simulator Sp02 50-100%General and custom R curvesArtifactHeart rateSp02 amplitudeOptical density, 12-100%ECG 12 lead ECG ArrythmiasIBP2 channels including intrauterine pressure1 channel temperature, timer and optional cardiac output, foetal mechanical heart.The vPad-A1 multi parameter simulator is a complete 4 in 1 simulator. The vPad-A1 uses a full sized or mini Android tablet or Windows for control.The vPad-A1 supports cardiac output and mechanical foetal heart.vPad-A1TM
Page 9
vPad-O2TMvPad-O2 SpO2 simulator supports SpO2 simulation from 30-100% SpO2 in 1% steps, including heart rate, and amplitude. The optical density can be set from 12-100%. vPad-O2 supports all current and future SpO2 monitors via its on-board ability to make custom R-curves.9vPad-BPTMThe vPad-BP NIBP simulator is a mains or battery powered NIBP simulator, providing pressure (manometer) NIBP simulations, over pressure and leakage. General use and custom O curves enable the vPad-BP to support any NIBP monitor.vPad-PSTM vPad-PS simulator includes 12 lead ECG, temperature, respiration, two channels of invasive blood pressure, including support for intrauterine pressures, and support for cardiac output, foetal mechanical heart.Paent simulators
Page 10
10Venlator testerInfant and transport incubator, radiant warmer testervenTestPending regulatory approval, de Smit Medical is temporarily suspending the sale of the venTest gas analyser from Datrend Systems Inc. Further updates will follow.vPad-INTM & vPad IN CoreTMThe vPad-IN is a comprehensive infant incubator and optional radiant warmer analyser. • vPad-IN provides six channels of temperature measurement (five air, plus mattress), including five pucks• Air flow, humidity, sound (external and internal)• Two applications, IEC infant incubator testing and real time incubator analysis. • Transport incubator, radiant warmer and skin temperature control testing can be added.vPad-IN Core includes air flow, humidity and sound measurement, one temperature monitor with single puck. vPad-IN Core is supplied with the real time application. vPad-IN Core can be upgraded to a full vPad-IN version.The pucks provided with the vPad-IN simulate the thermal mass of the infant in the incubator. The pucks include a magnetic mount enabling the sensors to be moved as required.
Page 11
11Accessories and appsEvery Datrend product is supported by a range of accessories, from IBP cables to interface apps.We offer product training for every major device, ensuring you get the best from every product.
Page 12
For further information support or a demonstration of any Datrend product contactsales@desmitmedical.com0845 345 4226www.desmitmedical.com12Datrend Systems Inc. have produced state-of-the-art biomedical test instrumentation since 1991, their testers are sold worldwide, supported by highly trained product specialists and a service team.Datrend Systems Inc. is a Canadian based biomedical engineering company focused on developing and manufacturing cutting edge biomedical instruments and solutions for hospitals, clinics, third party service organizations and medical device manufacturers.de Smit Medical has family values and customer service at the heart of everything we do. de Smit Medical develop long-term partnerships with healthcare organisations, providing quality, value for money products and services with support that is second to none. The de Smit Medical team are united in our desire to grow the company both ethically and professionally, maintaining our reputation for quality, and our constant requests for customer feedback helps shape and develop our services and improve standards to meet your needs.de Smit Medical is a quality company and is accredited to ISO 9001:2015, ISO 14001:2015, ISO 22301:2012 and ISO 13485:2016.All the Datrend Biomedical test equipment is supported by our support team based in South Gloucestershire.
Page 13
Accuracy Matters • www.datrend.com 1 Figure 1: Display shown by a compeng ESU analyser; Vpeak-to-peak is labelled as VoltagePkPk. Electro-Surgical Units (ESU) are Medical Devices that are constantly evolving with new innovave modes used in surgery. To ensure the safety of medical professionals and paents, Prevenve Maintenance (PM) procedures are also evolving and adapng to these new ESU technologies. Biomedical teams from manufacturers, service companies, and hospitals require an accurate and capable ESU Analyser to perform such PM procedures. Today, there are some ESU tesng procedures that require engineers to record peak voltage (Vpeak) readings on cut or coag outputs and compare them with limits provided by the manufacturers. Some ESU Analysers on the market measure only peak-to-peak voltages (Vpeak-to-peak). Careful choice of the ESU Analyser needs to be made to ensure manufacturers' required tesng can be performed properly. "Vpeak-to-peak" is the total voltage between the negave peak and the posive peak, while "Vpeak" is the voltage between the zero volt line and the largest peak of the signal, which could be on the posive or the negave part of the curve. The following drawing shows the dierence between "Vpeak" and "Vpeak-to-peak": Demands of the modern ESU PM procedure By: Howard Brobin, UK, Datrend Product Specialist & Laurent Olive, Datrend EU Business Development Manager Figure 2: Vpeak vs Vpeak-to-peak for an asymmetric sinewave.
Page 14
2 Vision-Pad Technology • Looking to the Future A story of Symmetric or Asymmetric ESU waveforms… We must consider that ESUs output waveforms can be symmetric or asymmetric. For symmetrical output waveforms, ESU Analysers can obtain the Vpeak of the ESU by measuring the Vpeak-to-peak voltage and dividing the result by 2. Alternavely, the analyser may simply display the Vpeak-to-peak measurement and then the engineer will have to manually calculate the Vpeak value. For asymmetrical output waveforms, however, the above method would provide the wrong results and should be avoided. The correct way to measure Vpeak for asymmetric waveforms is to measure only the largest posive or negave part of the output waveform (whichever is greater). Datrend's vPad-RF ESU Analyser measures both the Vpeak-to-peak and Vpeak independently as these values may not relate to each other. On the vPad-RF display captured below, we can easily see that the ESU waveform is asymmetric and, as expected, the Vpeak measurement does not correspond to half of the Vpeak-to-peak value. The output waveforms of many modern ESU's are asymmetrical. Measuring these waveforms is more complex and requires special consideraons. In these cases, the 'easy method' where we measure the Vpeak-to-peak voltage and divide the result by 2 (as in the case when the output waveform is symmetrical), simply will not work. It could signicantly underesmate the Vpeak values. This is a big mistake to be making when you are trying to test an ESU to ensure it passes its own safety requirements. The engineer could be conrming the ESU is within specicaons and pung the device back to service, when in fact the device could have failed the manufacturer's requirements and would have put the paent's safety at risk. Figure 3: Screenshot of vPad-RF app displaying an ESU waveform. Continues on Page 3...
Page 15
3 Accuracy Matters • www.datrend.com A story of accuracy… We must also consider the capability of the ESU Analyser to determine the voltage. Accuracy of Datrend's vPad-RF is ±(1% +10V) for Vpeak measurements, but be aware that other ESU testers could be ±(10% +50V)! This means a test at 2,500V using other ESU testers could be inaccurate by up to 300V (which is 10% of 2500V plus 50V). At 250V, such testers may be inaccurate by up to 75V (which is 10% of 250V plus 50V). Is it acceptable to measure high voltage with 12% error (2500V ±300V)? Is it acceptable to measure lower voltages with 30% error (250V ±75V)? You must consider what the manufacturer of the ESU is asking for to ensure accurate measurements are made. Compare that to Datrend's vPad-RF: at 2500V, the error is under 1.5% (or ±35V); and at 250V, the error is only 5% (or ±12.5V). So how is Vpeak measured? There are two methods of measuring Vpeak: The 1st method uses an oscilloscope and manually captures a signal of the output. This waveform can then be measured with cursors placed on the highest or lowest point to measure Vpeak in relaon to the zero-volt line. This requires a good scope, but more importantly, we need to appreciate the output of the ESU is not ground referenced, so we should not be grounding the paent return or neutral output of the ESU to the scope. The vast majority of modern ESUs are F Type. Therefore, we need a oang interface, and with such high voltages as well as high frequencies present, it needs to be a dierenal oscilloscope probe of the highest performance and safety. Such high voltage probes do exist but have a high price of around $3500 USD, which adds signicantly to the cost to the equipment required to perform the test properly. The 2nd method relies on the internal workings of the ESU Analyser to determine Vpeak. Some can do this measurement, some cannot, some perform it correctly, some do not. Take our case. We need to deduce the voltage from the resistance and the current (as most modern ESU Analysers measure current, not voltage). Ohm's Law, V = I x R, can be helpful to obtain the voltage. But at a typical ESU signal of 450KHz, the radio-frequency characteriscs of the load can add more complicaons! A load at DC is "X" Ω, but at 450KHz we may no longer be dealing with resistance, but impedance (Z). This causes all kinds of eects; it can make accurate readings dicult to obtain. The load at 450KHz could be "X" Ω +/- some other "resistance", which may either be a capacive or inducve reactance. So, V = I x Z, not R. And remember... Z changes with frequency. Continues on Page 4...
Page 16
4 Vision-Pad Technology • Looking to the Future The challenge does not end there, because when applying a 2500V @ 450Khz into an ESU Analyser can cause other eects. The analyser needs to be correctly designed to safely withstand the high power and high voltage that the ESU may produce, while at the same me protecng the sensive measuring circuits inside the analyser. At Datrend Systems, we have considered these challenges very carefully. Datrend has designed a special test tool that takes into consideraon the high voltage and also the impedance of the test circuit. With this tool, vPad-RF correctly measures Vpeak, so you can conrm with condence that the modern ESU you are tesng is funconing correctly and safely. Datrend's test tool reduces the cost of the special equipment required to a fracon of the cost of a high-voltage dierenal oscilloscope probe. The overall package is cheaper and gives more accurate results than any other analyser on the market. Click here to learn more about the vPad-RF. vPad-RF is just one of the modern analysers available from Datrend Systems, contact us at Sales@Datrend.com to learn more about our full-line of Biomedical Test Instrumentaon and Soluons. vPad-RF is the complete ESU Analyser!